Christmas has become one of the most anticipated holidays of the year. It's also the perfect time for brands to better connect with their customers. and level up their Christmas editorial calendars for Facebook, Twitter and Instagram.
If you're in charge of your brand's social media accounts, you're surely wondering what type of content you might want to post and where should you post it.
We've pulled out some ideas and inspiration you can use to brighten up your followers' social media feeds just before Christmas.
There are always trends to follow, but this doesn't mean all of them are good.
Here's a hint: combine engaging and quality content with highly appealing visuals. And don't forget the power of Christmas emojis.
But let's explore together step by step what to post and, most importantly, where! So here's how to write the best Christmas social media posts and what tweaks can boost your engagement
How to write the best Christmas posts on social media: Last-minute tweaks that boost engagement
1. Celebrate Christmas with special social media holiday posts
2. Boost your Christmas content engagement by picking the right platform
3. Write short captions in your Christmas posts for better engagement
4. Don't just use Christmas specific hashtags
5. Liven your Christmas posts with emojis
6. How to get Christmas content ideas?
1. Celebrate Christmas with special social media holiday posts
Christmas can bring your company visibility on social media. Now is the perfect time to start working on your plan. We've put together a few ideas on how to spice up things when it comes to engaging customers.
Whether your company prepares a release of a seasonal product or service, or a long term one, you can use it to your advantage by launching it near Christmas.
A good example is Swarovski's 2019 Christmas campaign. It's built up around two concepts related to Christmas: nice or naughty - these two words are usually associated with children.
If they have been naughty all year, they won't receive the gifts they want, but if they were nice, Santa Claus will bring them the wanted reward. In Swarovski's case, Santa Claus can bring everyone a gift, no matter if the customer has been nice or naughty.
They've coordinated on Facebook, Twitter, Youtube, and Instagram, and the result is pretty amazing. Check it out!

Engage your audience with a contest. Contests perform well engagement-wise and during the holidays, people tend to participate in contests more than at any other time of the year.
Try adding a healthy dose of humor, to make it more entertaining.
For example, try to post a funny image related to our company and ask people to caption it. You'll see that the results will be amazing. You'll be surprised how many unexpected brilliant responses you'll get.
At the end, you can also offer a reward for the best caption.
❗️Tip: Try to explain your decision when announcing the winner of the contest. People appreciate the transparency of decisions and you'll gain a lot of buzz and attention with fairly little effort.
GIFs and MEMEs have become favourites when it comes to  expressing feelings or emotions without saying or typing a single word. They've become so popular because they're catchy and relatable.
So how can brands incorporate memes? Take Coca-Cola's example!
It's a bottle of Coca Cola that has the following text on the label: "Baby I was born this way!" If you haven't lived under a rock in the last 3 years, you'll instantly associate it with a song by Lady Gaga.
So if you like to interact with your social media followers, maybe a GIF or a MEME will cheer up things a little bit more than a comment.
2. Boost your Christmas content engagement by picking the right platform
Before starting to craft your posts, you must decide your content calendar: what type of content is most engaging and, most importantly, where to post.
It has been proven: Instagram is the most engaging social media platform, with an average engagement rate/post of 2.26%, as opposed to 0.21% on Facebook and only 0.06% on Twitter, as shown in a social media content study by Socialinsider and Planable.
However, Christmas posts don't typically work too well on Instagram.
The result is pretty amazing. While on Twitter these posts have a neutral effect, on Facebook the average engagement rates go up to 0.35% for Christmas mentions, from 0.21% which is the average for a regular post.
The conclusion? Facebook is the place to be if you want to promote your holiday campaigns.
Keep this in mind next time you're sketching your social media blueprint strategy for Christmas. Use the info to make some last-minute tweaks to this year's campaigns.
3. Write short captions in your Christmas posts for better engagement
Short is the magic word when writing a caption. No matter which platform you're using, remember to keep it on point. The fewer words you use, the better.
Let's break things up for each platform:

on Twitter the best practice is to post videos with short captions of under 10 words for the highest engagement rate per post - 0.26%;
on Instagram carousels perform best in combination with short captions under 10 words;
on Facebook albums with captions written for the whole album, not on individual images, lead to the topmost average engagement rate - 0.70%.
However, you must also take into account the context of the post. As you can see from the charts, sometimes certain posts need more explanations, which results in longer posts.
Another thing to consider is whether to use questions or not in your Christmas posts. You should know that 9.8% of our post analyzed on Twitter, Facebook, and Instagram included questions and they saw a decrease in engagement.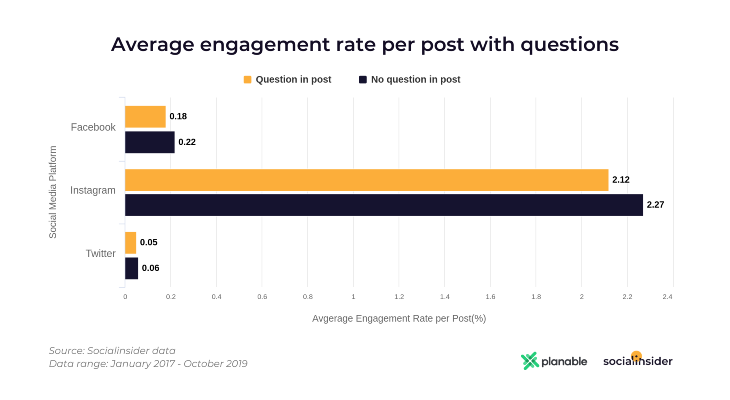 So try to keep things simple and stay away from the questions.
Now you already know that albums, carousels and videos are the most engaging types of posts on Facebook, Instagram and Twitter. So here's how you bring a little Christmas cheer to these types of posts.

The spirit of Christmas is visually represented by the colors red, white and green. Add visuals to your posts that reflect this, with festive decorations and winter and Christmas images.
Try to have a unified approach during the season and always integrate Christmas elements such as snow, Santa Claus, gifts, Christmas tree, snowflakes, etc. But keep in mind that all images should be optimized for each social media platform.

When you're posting a video or a gif, choose a theme that is related to your brand or brand values, and also pick topics familiar to this time of year, such as joy, giving or spending time with family and friends.
Add your products to these videos. Tell a story and show your followers why they need your products and encourage them to make a gift for themselves or their loved ones.
Carousel posts can bring a little creativity in the process of drafting the perfect posts. This tool allows you to publish  multiple images in a single post.
Instagram first launched photo ads in the carousel in 2015 and expanded them to include videos one year later. Integrate carousel posts with short captions and you'll have a better engagement that single photos posts.
Another type of message that attracts the public's attention very easily is status. Status is as old as yahoo messenger, but it's still a very simple way, fun and straightforward way to interact.
With a Christmas status, you can connect with your audience by showing that your brand is just as tuned in with the holiday spirit as they are. You'll get an audience that relates to your brand and is more engaged with your content.

When you post content on social media it is good to post links to your website from time to time to keep followers connected - when the platform allows it, of course.
Always associate the link with a relevant image and caption that represents a correct description of the information. Avoid clickbait or misleading headlines at all costs.
4. Don't just use Christmas specific hashtags
Hashtags are another engagement weapon you have at your disposal. No matter if you're using Instagram, Facebook, or Twitter, hashtags are friendly with all these platforms, especially when it comes to Christmas campaigns.
Highly used by brands and great to integrate in your social media strategy, hashtags can boost your post visibility on most platforms.
Starting from general ones such as #Christmas or #Snow, you can play with words and mingle terms in order to create more specific hashtags. But before using them, make sure they are available and used in quality, context-appropriate posts.
However, the social media content study has shown that Christmas hashtags don't necessarily bring post engagement up Instagram.
So should you use only Christmas hashtags? Not really. Or at least not just Christmas hashtags. Contrary to expectations, Christmas hashtags alone won't cut it.  Mix them with more general hashtags to raise engagement, like in the example above.
On Facebook, the average engagement rates go up to 0.39% for Christmas hashtags, while on Instagram and Twitter the results are less than satisfying. So, when publishing posts that include Christmas content, Facebook is the best choice.
Even if these social platforms do not work the same way, you need to use a similar marketing strategy, but adapt it to the specifics of each platform.
This means you should use similar Christmas themed posts and hashtags. It creates the consistency that defines your online Christmas campaign.
Liven your Christmas posts with emojis
5. Liven your Christmas posts with emojis
Short captions tend to be completed by adding emojis to your posts. Using over 20 emojis brings higher engagement, according to data.
So you'll think 20 emojis or more is excessive, but it's really the opposite. They are easy to spot and to understand, and they're ultimately a fun way to add some color in your captions.
On Instagram, regular emojis are more engaging than Christmas related ones. Add the top-performing emojis in your captions: camera 📷  and camera 📸 with flash, heart ❤️ and heart eyes 😍, fire 🔥 and sparkles✨.
Twitter followers love the most heart emoji ❤️ which is followed by the Christmas tree 🎄, heart-eyes 😍, winking 😉, pointing right 👉 and smiling eyes😊.
Facebook brings on the Christmas spirit and joy. The top emoji by engagement is the party popper 🎉, followed by heart ❤️ , Christmas Tree🎄, heart-eyes emojis😍, sparkles✨ and pointing right 👉.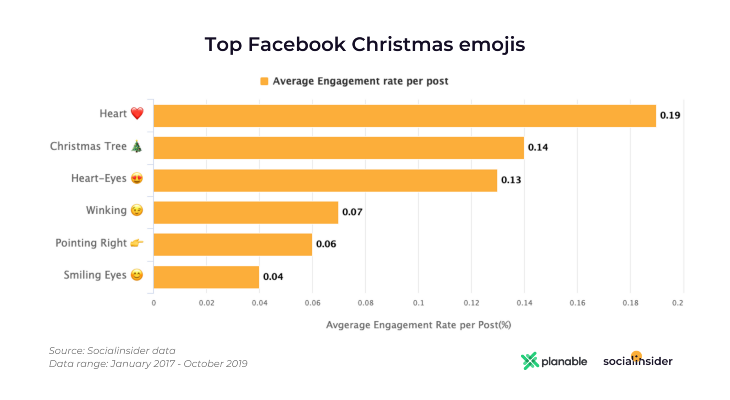 If you look closely, you can see that emojis are used for storytelling. So try to express your Christmas thoughts and stories through emojis!
6. How to get Christmas content ideas
It's not always easy to come up with new, fresh Christmas content ideas. The fear of using, the same ideas over and over again might slow down the process of creating your content calendar.

Get inspired by Google suggestions. Many people are looking for answers on Google and it can be a quick and very efficient idea.
Start with a broad subject such as "Christmas gifts" or "Christmas decorations ideas", and then follow the suggestions Google generates. You'll be guided by people's searches and then you'll be able to narrow it down to the perfect idea.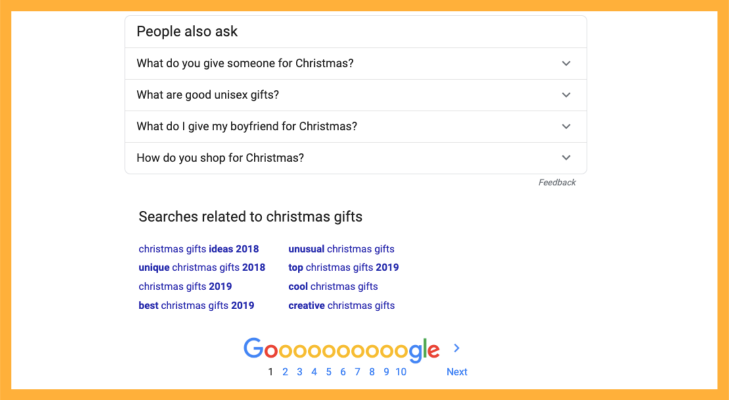 Round up great content ideas while learning from the best and the top-performing social media pages. One way to do so is with the help of the Content Explorer option from Socialinsider. The app digs through its database to display the most liked and commented posts on Facebook, Instagram, Twitter, and Youtube.
Just enter a keyword to find which posts containing that word have performed well. You can observe the patterns and strategies that these top posts have in common. Filter your results by platform or sort them by engagement, weakest engagement, newer, older, engagement rate, weakest engagement rate, and follower count.
Try different ideas and play around with them. You might get unexpected content suggestions and whimsical ideas for this Christmas media strategy.

Ask for your followers' help. Whether you're already planning to launch a Christmas campaign or you're just testing waters, you can benefit from your community help.
Post a few ideas on the platforms you're using and see which resonates better with your audience. After analyzing the results, go with the one which brought you the best feedback and create a giveaway to reward your followers.

Analytics tools are not only good for reports and KPIs. You can use the results to see which are the top-performing posts and get some ideas about how to adjust your content accordingly.
Whether you're using Facebook, Twitter or Instagram, you can access your analytics to see how your posts are performing and what's the strategy to follow. Make sure you follow patterns and apply the strategy to your Christmas posts.
Final thoughts
Remember, the idea of the perfect post is relative. But give it a go, you might just craft the perfect post for your own audience! Data tells us that a perfect post contains over 20 emojis, short captions combined with albums (on Facebook), carousels (on Instagram) or videos (on Twitter).
Social media posts - and especially Christmas ones - require time and dedication, but a little help from specialized tools can work wonders for your brand's exposure.
This holiday season is about getting closer to loved ones so it also means your brand should be closer to its followers, no matter the platform.
Download the study to learn more about writing the perfect captions on Facebook, Instagram, and Twitter⇣
Related articles: