Even now, when Instagram is pushing forward Reels, as a way of adapting to the short-form video consumption trend that emerged with TikTok's rise, the platform's main appeal remains its highly visually aesthetical nature.
Capitalizing on this, a couple of industries started investing big in Instagram marketing, this channel being an extremely powerful one for sales increase.
With beauty standing among those business lines that focus massively on Instagram marketing, we wanted to take a peek at how online conversations about beauty brands and industry-related topics shape the market, in an attempt to identify insights and trends that can be leveraged in the future.

Let's dive in!
Beauty industry: Instagram listening data
1. Top 6 beauty brands consumers are talking about on Instagram
2. Related interests to the beauty industry
3. Sentiment and emotions in the beauty industry
4. Most used keywords within the industry
5. Beauty retailers
6. Market interest and size
7. Related topics
1. Top 6 beauty brands consumers are talking about on Instagram
By using Socialinsider's new AI Instagram listening feature, we made a branded hashtags analysis, showcasing the split between personal and creator's (aka influencer's) posts to identify the brand awareness and interest level of the Instagram audience for different brands within the market.
Starting from this, we integrated multiple research pillars within this study, from sentiment and engagement to demographics analysis and more.  
When comparing the branded hashtag data related to some of the top players within the beauty industry, we discovered that Huda Beauty is the most referenced beauty company on Instagram.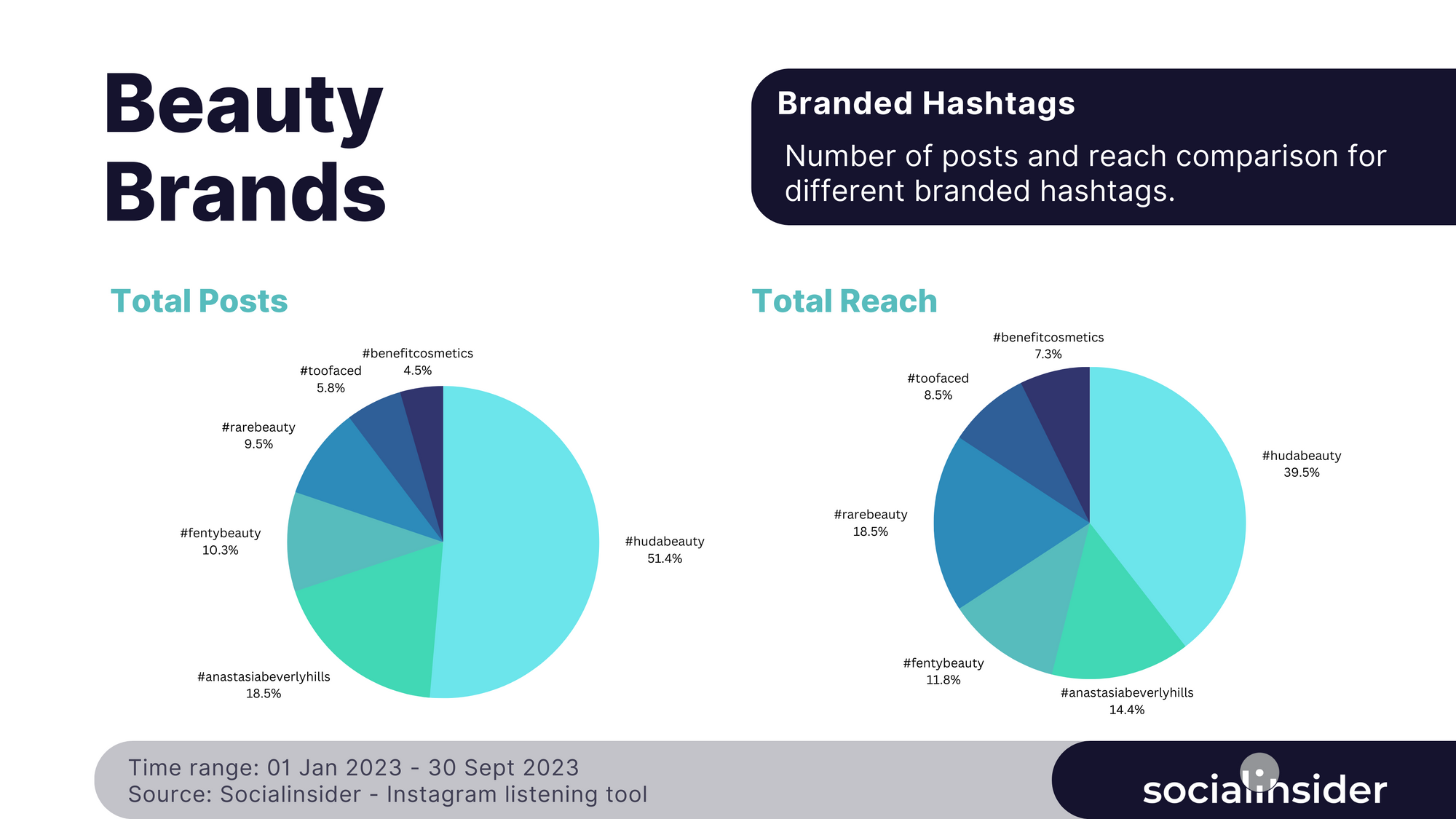 Stirring the largest number of conversations, Huda Beauty is the brand with the highest visibility on Instagram within the makeup industry. Moreover, most of the posts that include #hudabeauty are actually coming from influencers, which also contributes to greater brand awareness.
From an engagement perspective, #hudabeauty's related posts are also the ones that sparked the most reactions, driving people to share their opinions.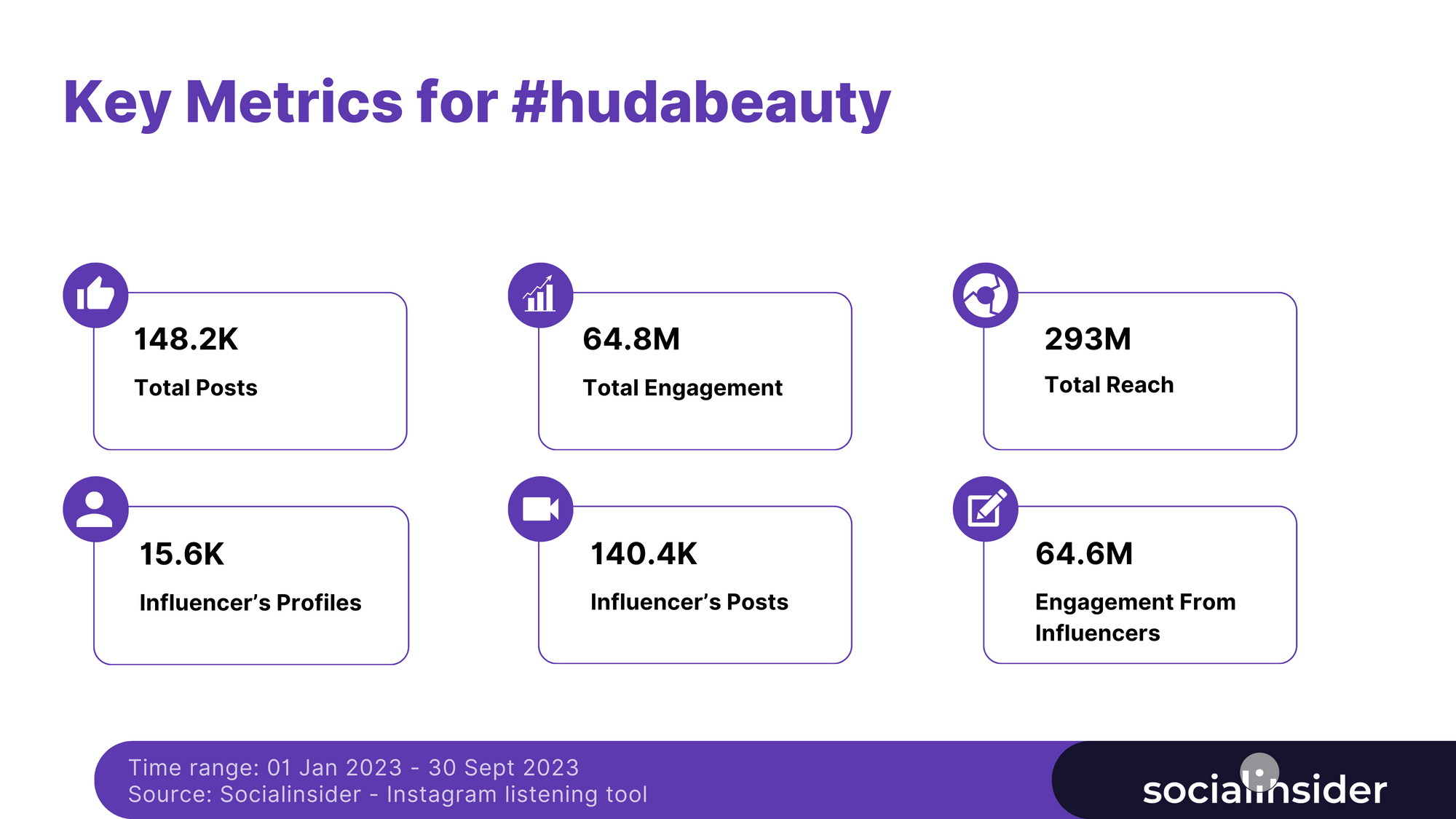 Engagement data and influencer's participation
An analysis including branded hashtags posts coming from influencers represents a very helpful angle of looking at data.
By identifying the influencers that are talking about a specific topic, together with relevant numbers regarding their accounts, such as follower size and engagement, businesses can easily spot potential collaboration opportunities.
As always, engagement is a very important metric to look at, given that it shows the impact that those posts mentioning a brand triggered.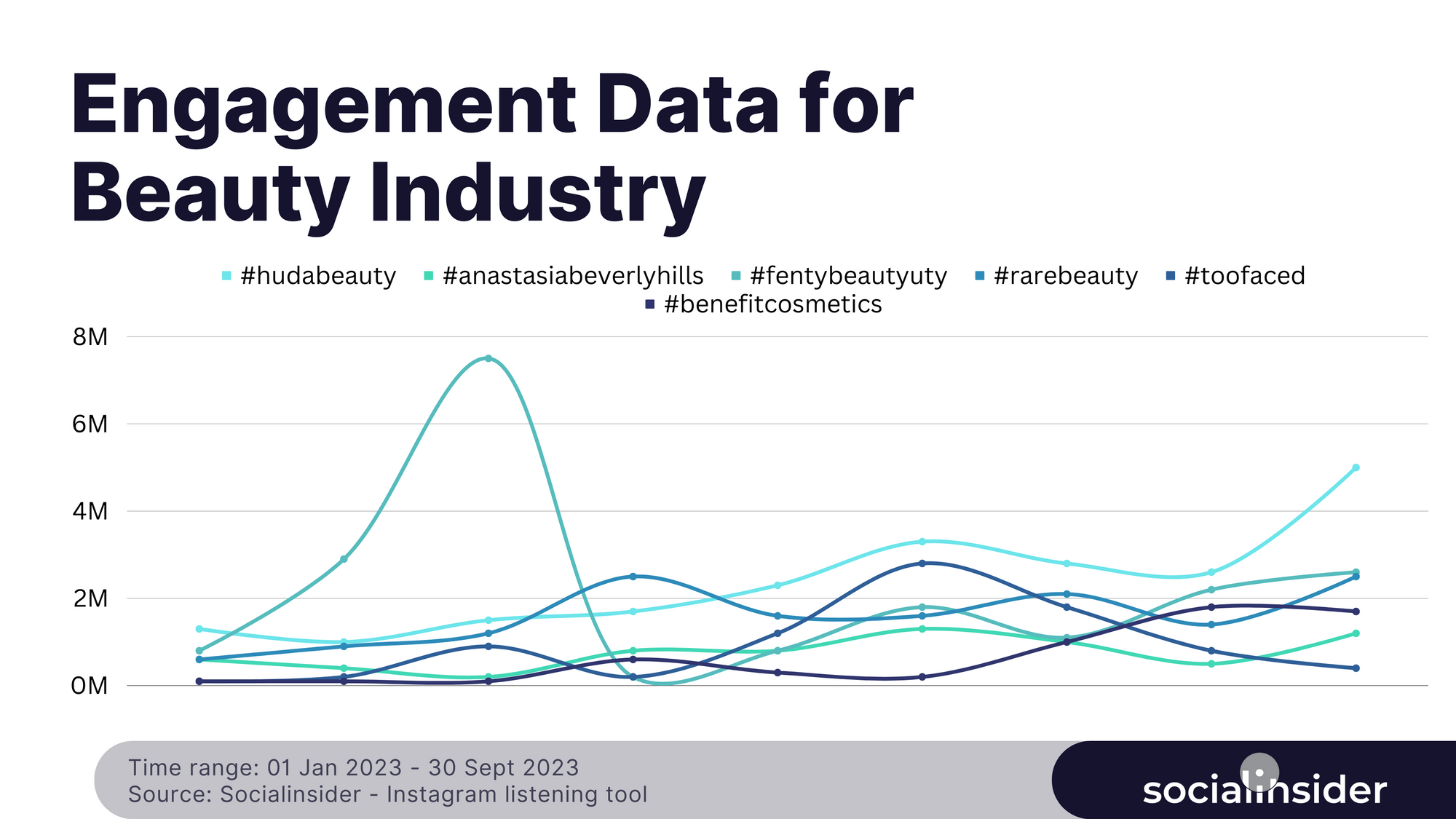 Moreover, when correlating that data with additional KPIs such as sentiment, brands will be able to gain a more in-depth understanding of how their brand image and reputation are shaped within the market.
Demographics data
Brands that are interested in gaining a deeper understanding of their Instagram audience, should always keep an eye on their demographics data so that they could create targeted, more successful campaigns.
By monitoring brand-linked posts, businesses can discover where the greatest interest in their companies is, and invest more effort into the markets that have the highest potential of providing loyal customers and increased sales.
Needless to mention that in the case of global brands, (like category leaders are), English is likely to be consumers' most used language for thought expression.
In spite of that, a peek at the secondary languages of the posts integrating branded hashtags, and the affiliated volume, can be seen as a great opportunity for the brands in question to grow and gain a competitive advantage in certain regions, by leveraging local marketing initiatives.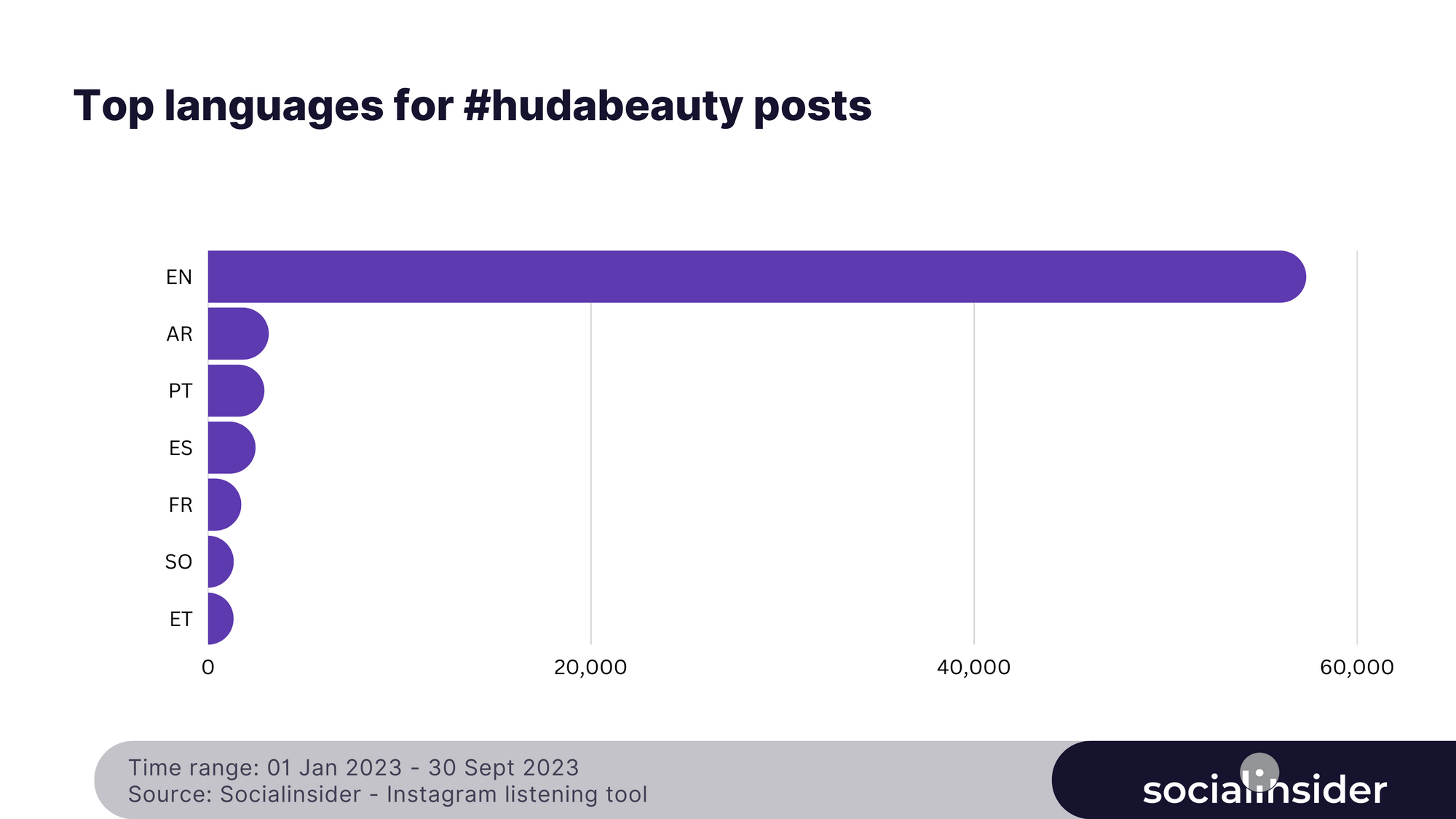 2. Related interests to the beauty industry
While we mentioned earlier that most of the posts containing #hudabeauty belong to influencers, this is equally the case for branded hashtags connected to other beauty brands, even if not at the same scale.
Speaking of influencers, as expected, the ones integrating the below-mentioned branded hashtags into their Instagram posts have beauty as their primary content niche.
In spite of that, for a more in-depth comprehension of the type of consumers that their brands attract, it's also helpful for businesses to look at secondary topics associated with the influencers' accounts. Ultimately, this can lead to better buyer personas creation processes and more fruitful collaboration ideas.
For example, in most of the branded hashtags integrated so far in this analysis case, the secondary interests of the influencers using them are luxury and entertainment.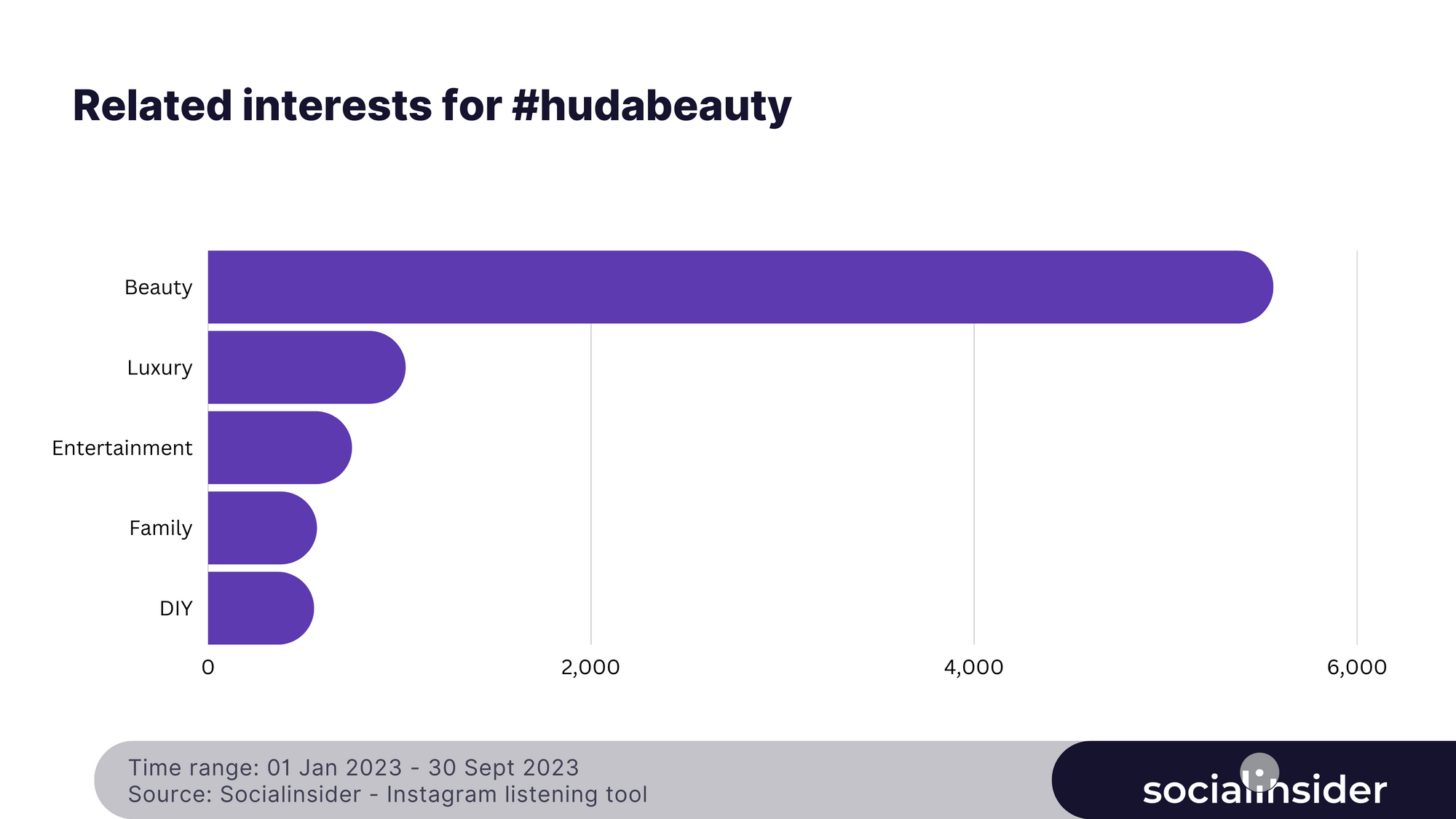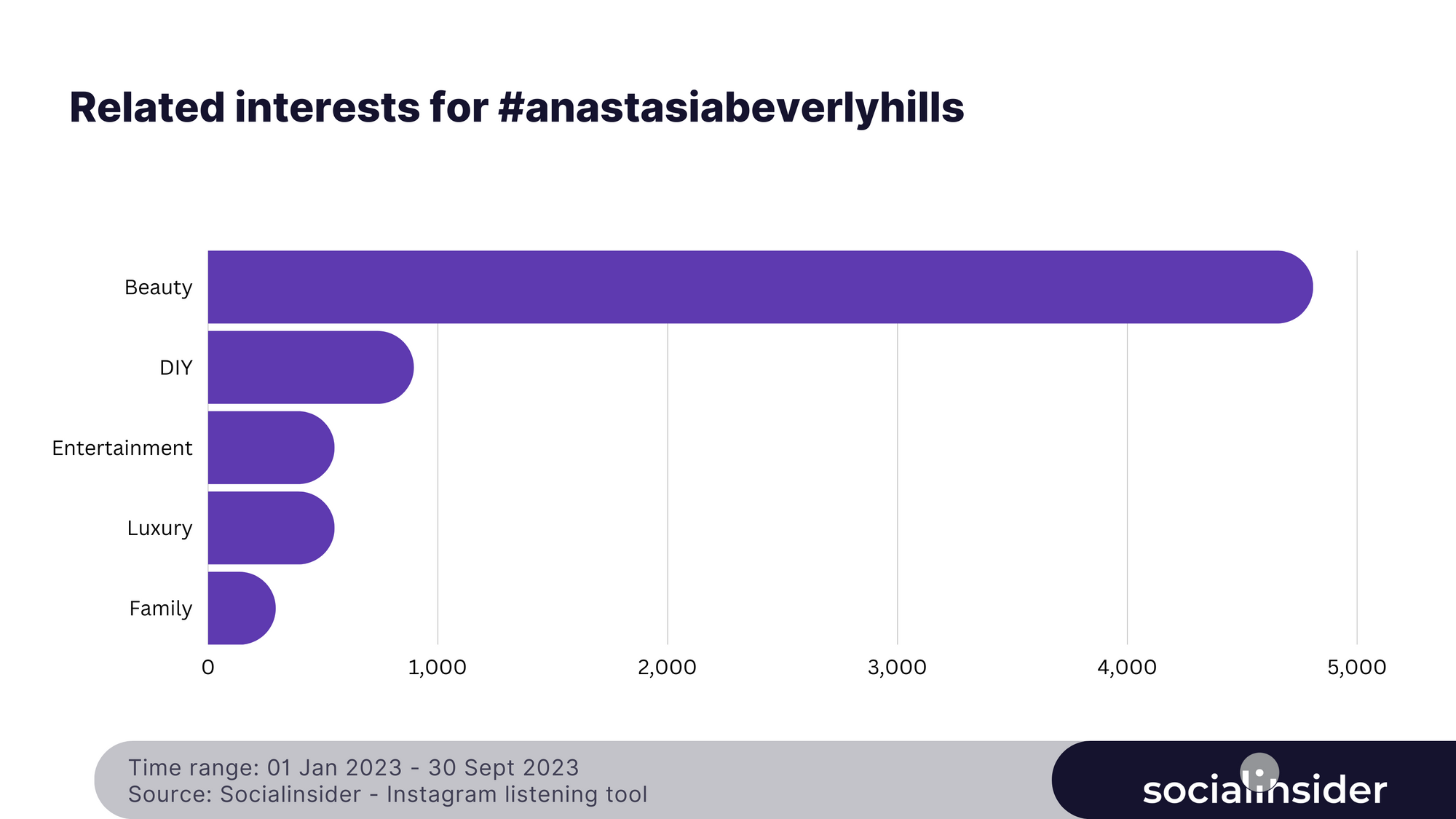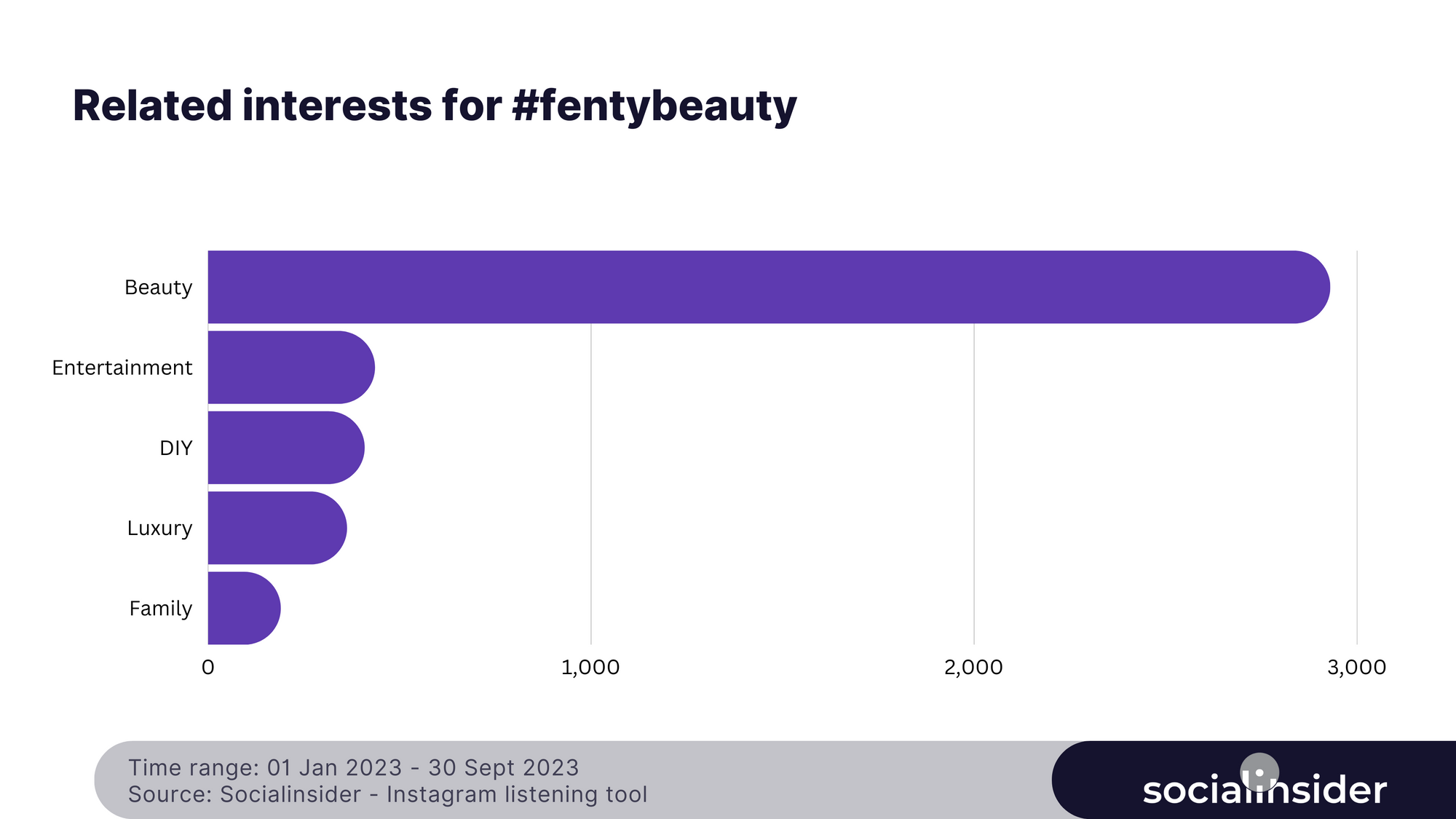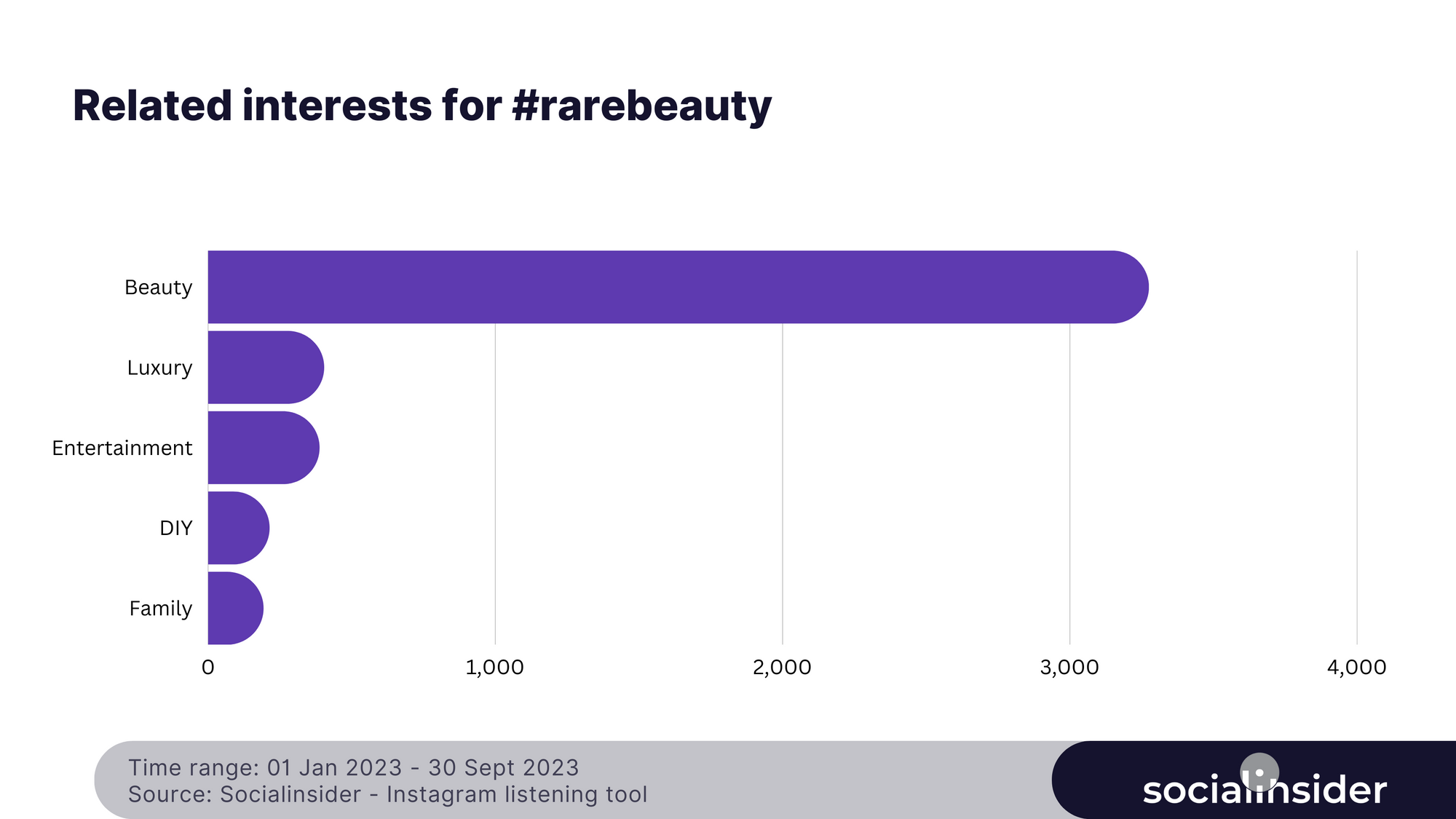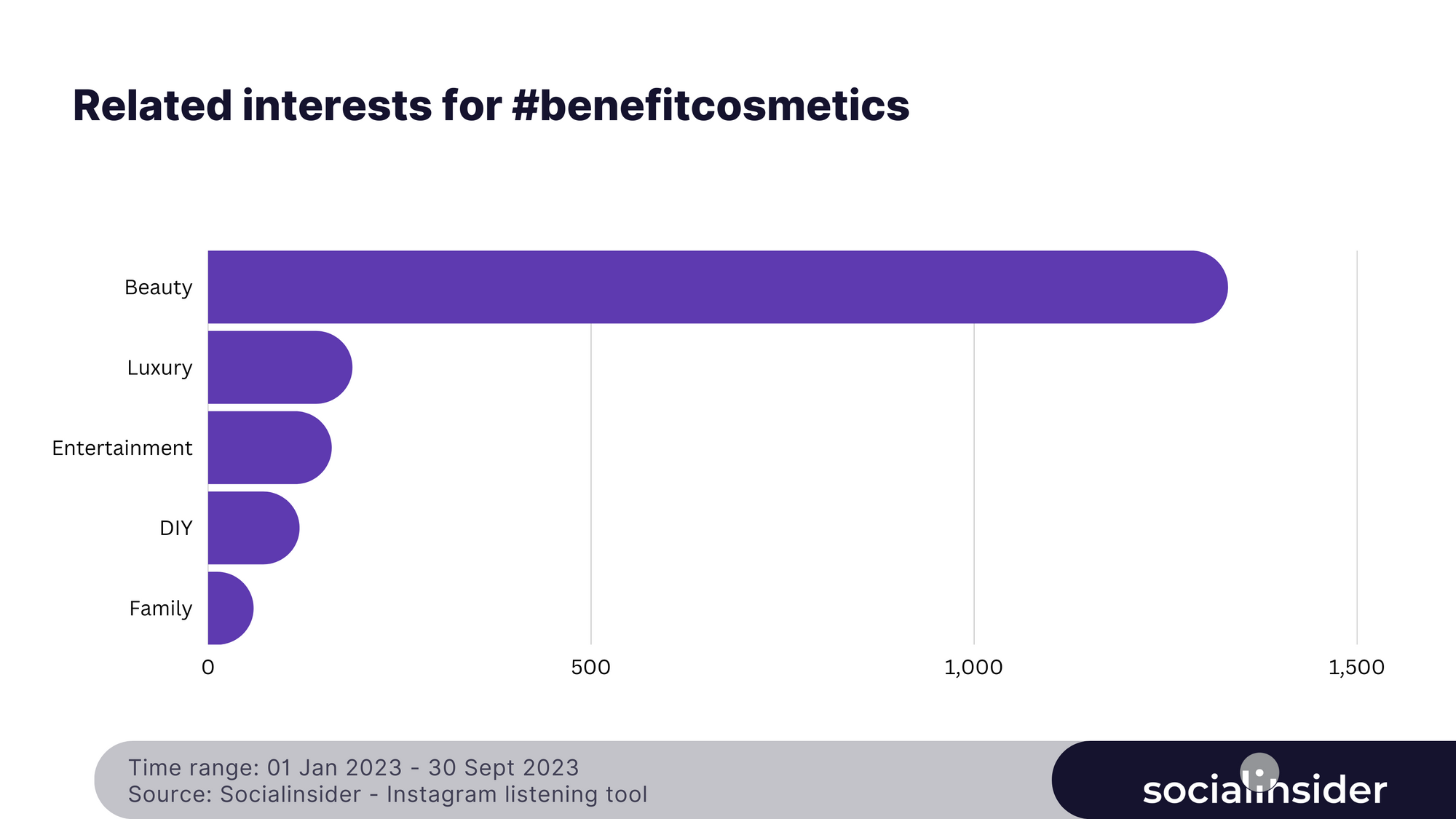 3. Sentiment and emotions within the beauty industry
Within the social listening data sphere, one of the most important metrics to monitor is brand sentiment and emotion, as such insights can explain specific situations businesses can go through, like a decrease in sales.
When it comes to the beauty industry, the universal sentiment is neutral and the prevailing emotion is joy, at least when referring to conversations around beauty brands.
This can be seen as a testament to the high-quality products these companies deliver.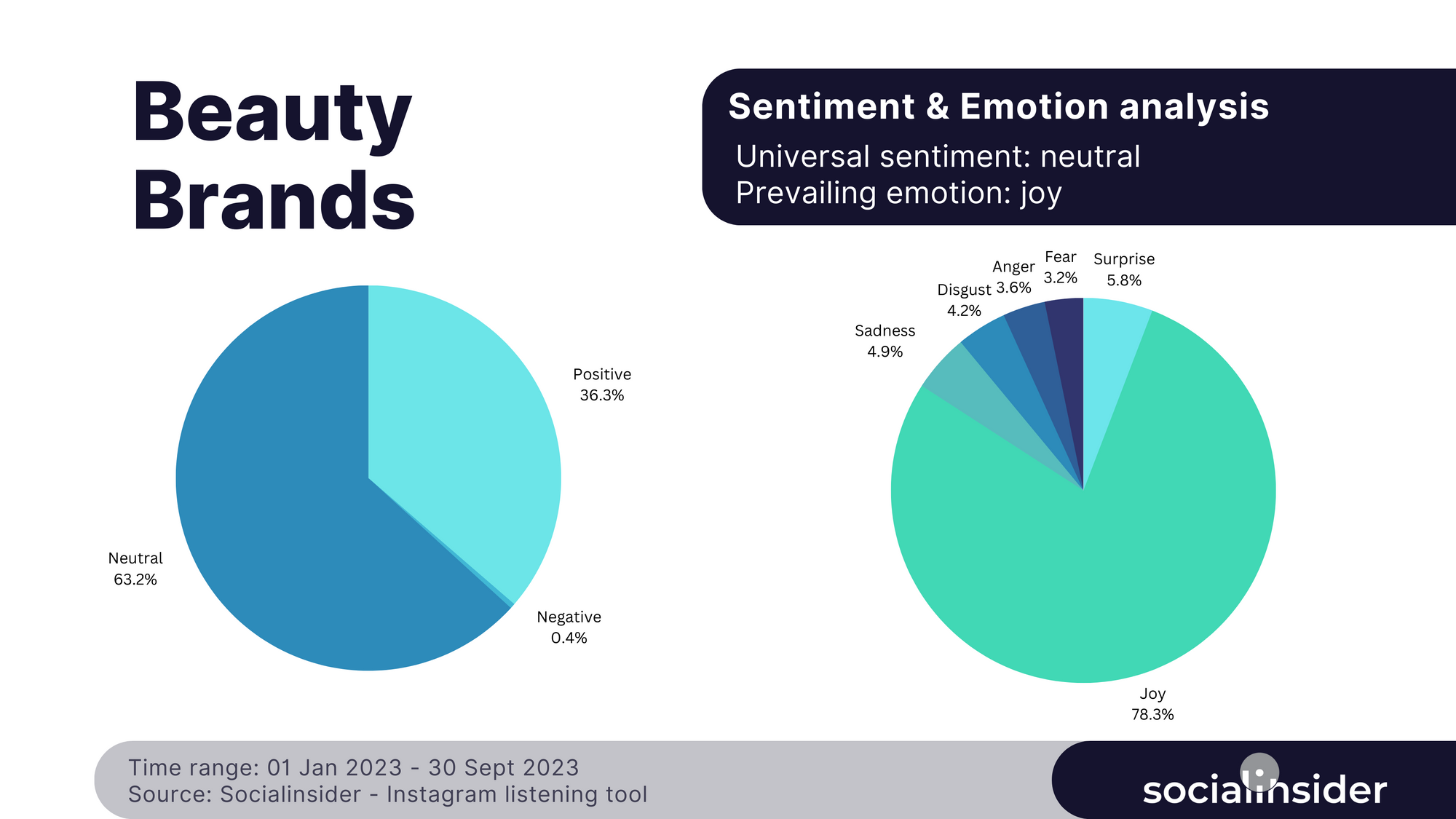 4. Most used keywords within the beauty industry
Beauty brands that are looking for ways to gain a competitive advantage on social media can discover powerful insights through social listening.
Navigating through multiple layers of data allows the identification of competitors' strongest strategies and best products, which serves as a great starting point for differentiation tactics, emphasizing a brand's uniqueness.
When analyzing the popular keywords associated with a particular branded hashtag, we discovered that each beauty company's hashtag is primarily linked to a specific product, probably its star product category.
For example, for #hudabeauty and #fentybeauty, "setting powder" is the most used keyword that's coupled with the branded hashtags mentioned.
On the other hand, the most paired keyword with #benefitcosmetics is brow pencil, while liquid lipstick is the most mentioned product affiliated with #toofaced.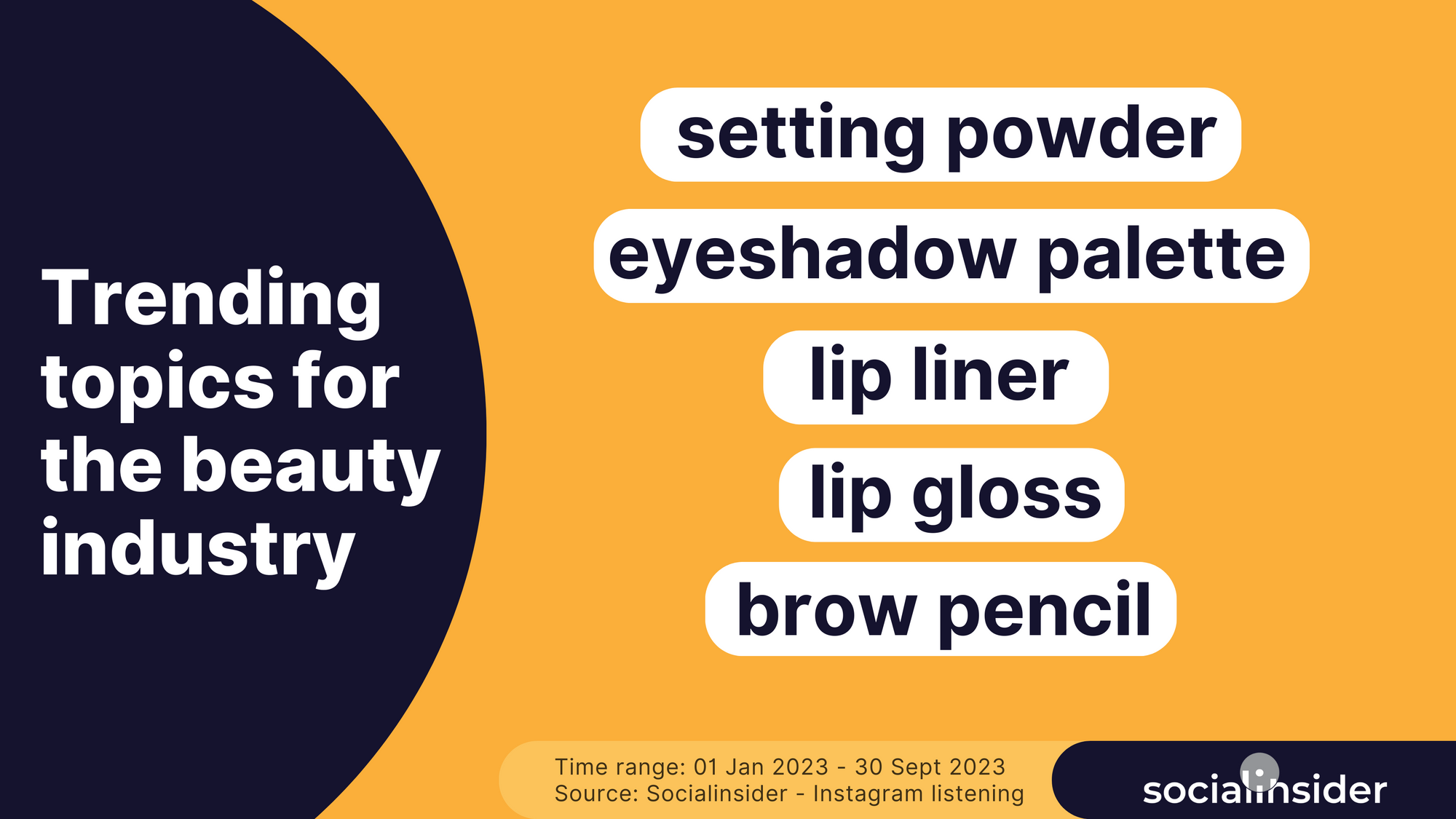 Surprisingly enough, a distinctive, contrasting case is the one of #rarebeauty, where the most popular keyword associated with the hashtag is not actually a product category, as seen so far, but rather a cause that the brand Rare Beauty is known in supporting - world mental health.
Given that mental health awareness is one of Rare Beauty's main communication directions, it's fascinating to see the impact this particular content pillar has on the consumers' perceptions of the brand.
The data we uncovered stands for amazing proof of how extremely powerful the correlation between a brand's mission and vision and its image and associations within consumers' minds is.
5. Beauty retailers
Having multiple subdivisions, we extended our beauty industry analysis to further than just manufacturers of makeup products.
For a complete report and status regarding the business sector in question, we also included data related to beauty retailers, that, thanks to their own line of items, also position themselves as beauty brands. Think of Sephora, Ulta Beauty, or Douglas and you'll understand what I mean.
As we can see by looking at these hashtags benchmarks, Sephora is the beauty retailer brand that people on Instagram discuss the most.
Equally, the conversations around #sephora have raised an engagement that's about 6 times higher than the ones mentioning #ultabeauty and 20 times higher than those integrating #douglas.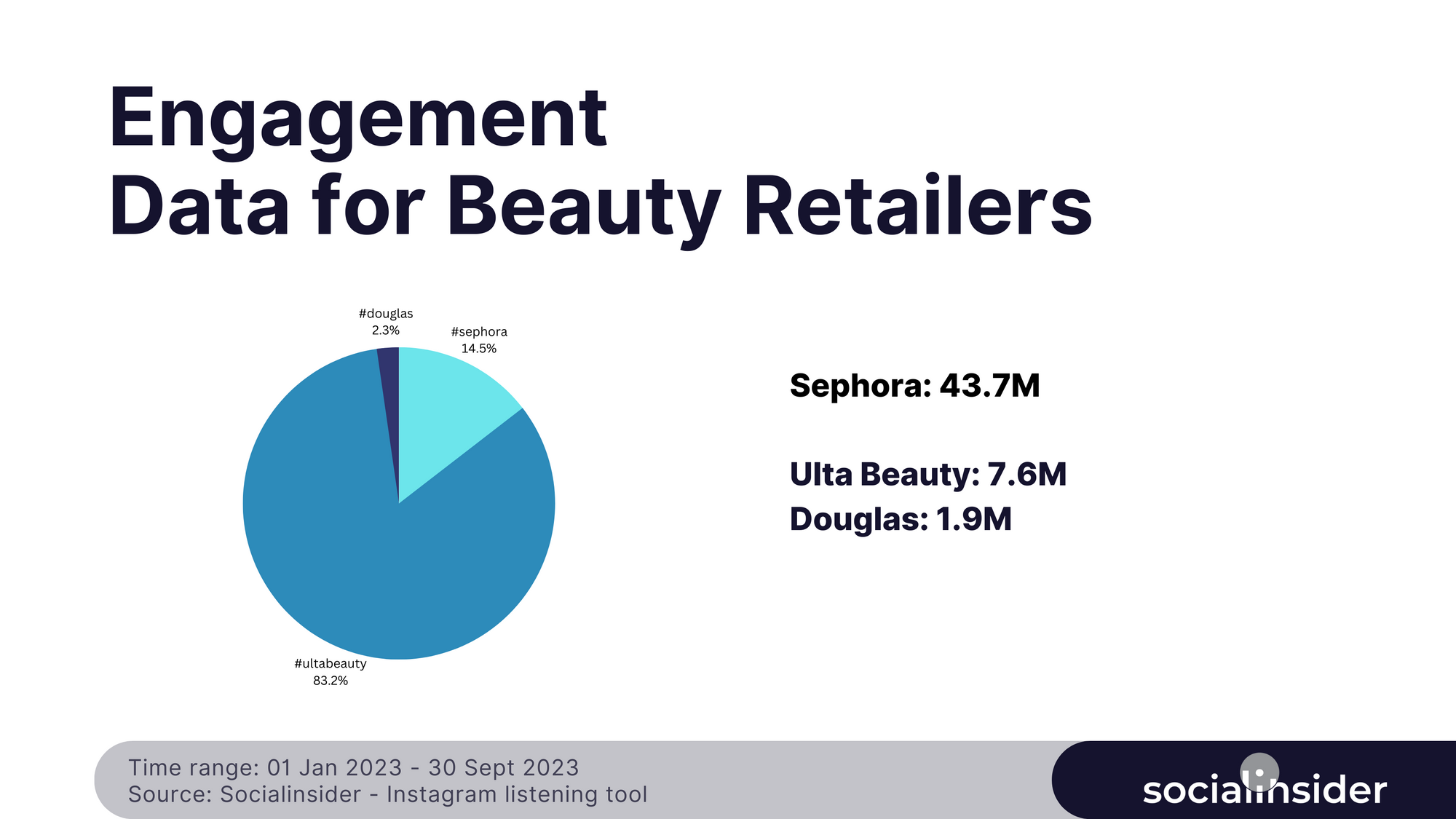 Particularly interesting about this category is that while most of the branded hashtags analyzed so far were associated with a neutral sentiment, the case is different for #ultabeauty, which is correlated with a positive sentiment.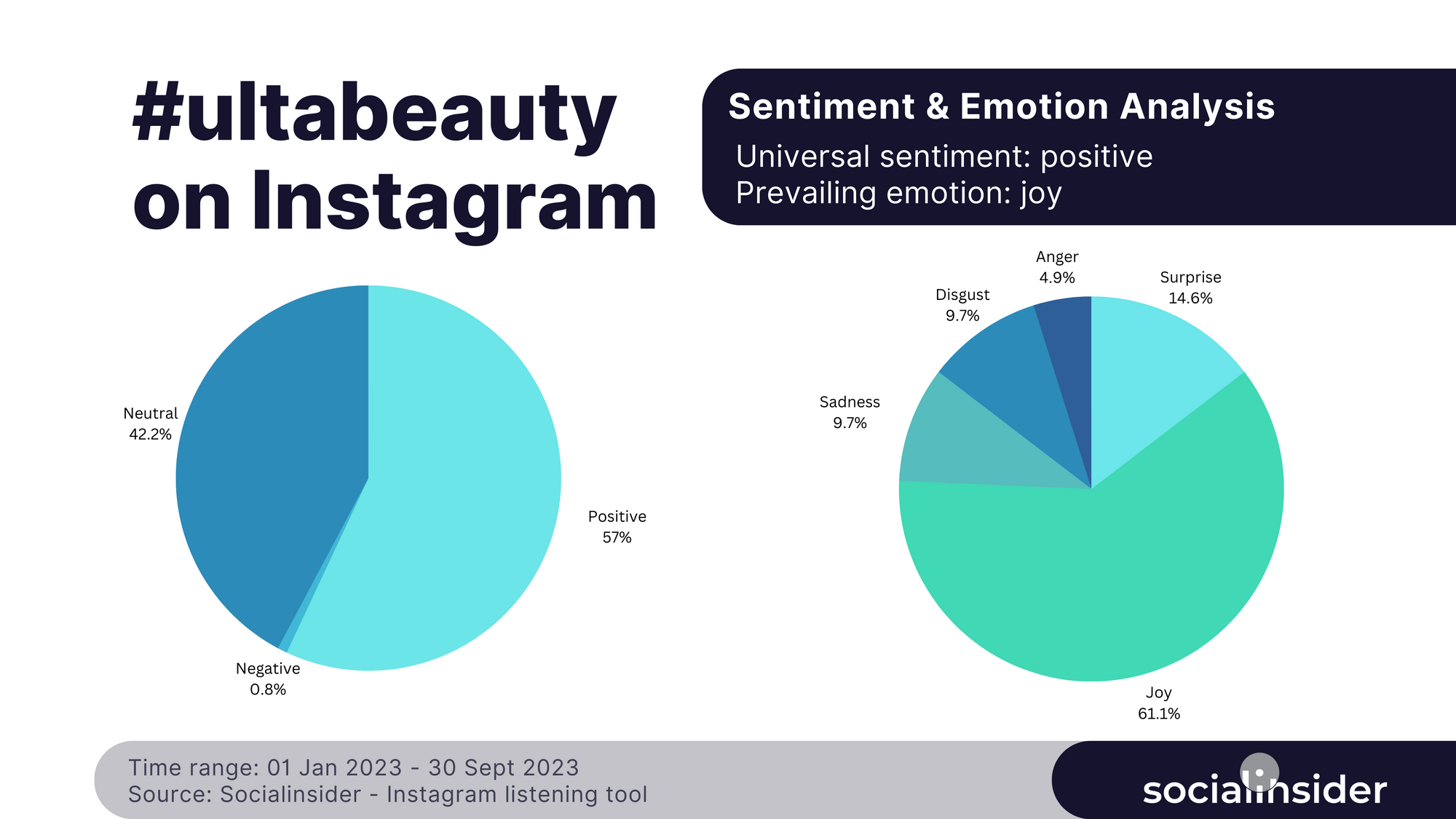 6. Market interest and size
Now that we've seen consumers' interest in makeup brands, we wanted to also put the data we got so far into a broader context. Therefore, we tried to dig even deeper, by analyzing the level of attention the beauty market as a whole receives from Instagram's users.
So, we selected a couple of the most general hashtags related to beauty, such as #makeup, #makeuphacks, #makeuptips and #beauty, #beautytipcs and #beautyhacks and looked at their mentions volume, to highlight how big is the beauty industry's audience on Instagram.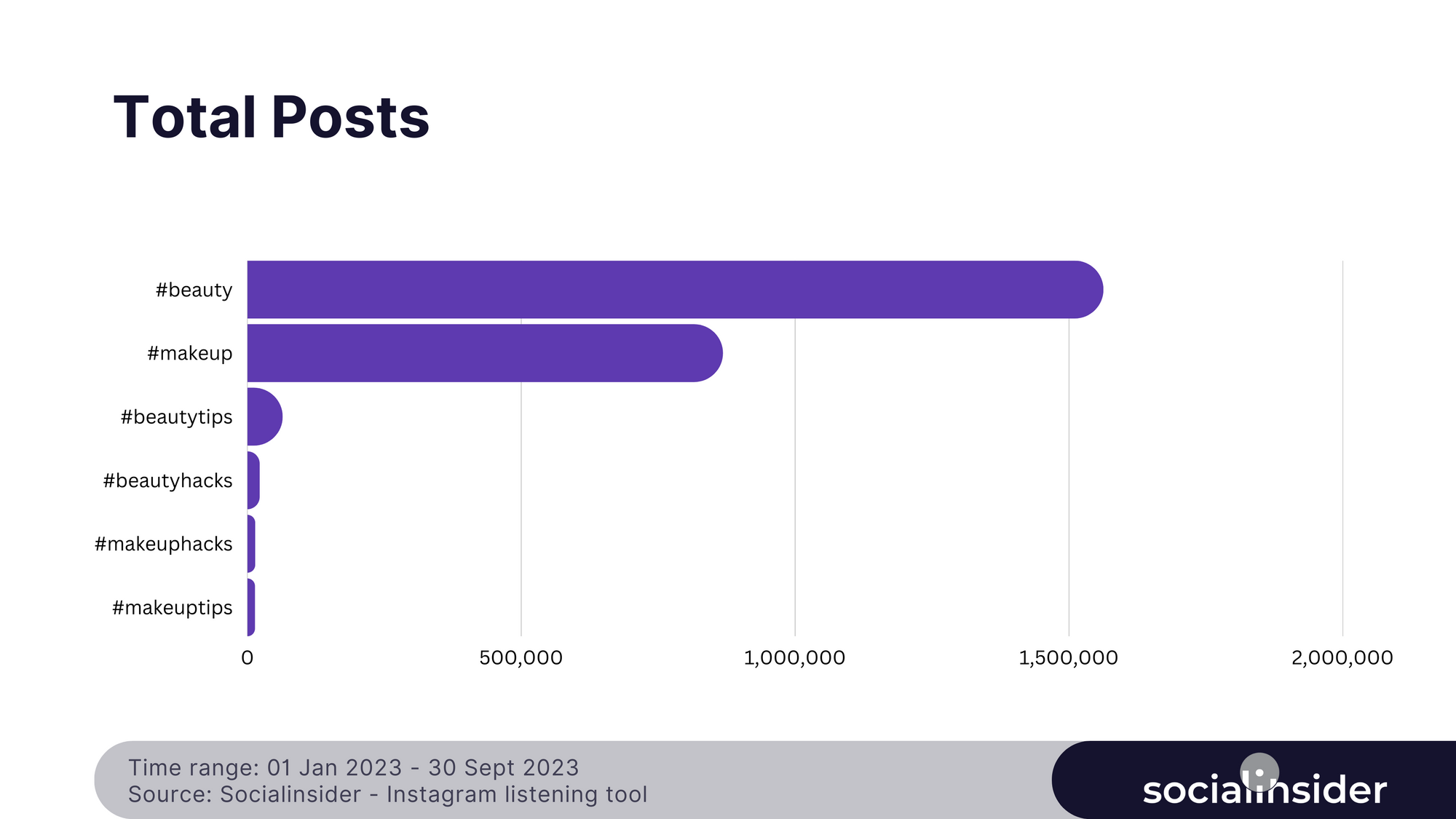 The conclusions were that #beauty and #makeup, each of them being included in millions of Instagram posts - most of them belonging to influencers - has led to an engagement exceeding 600 millions.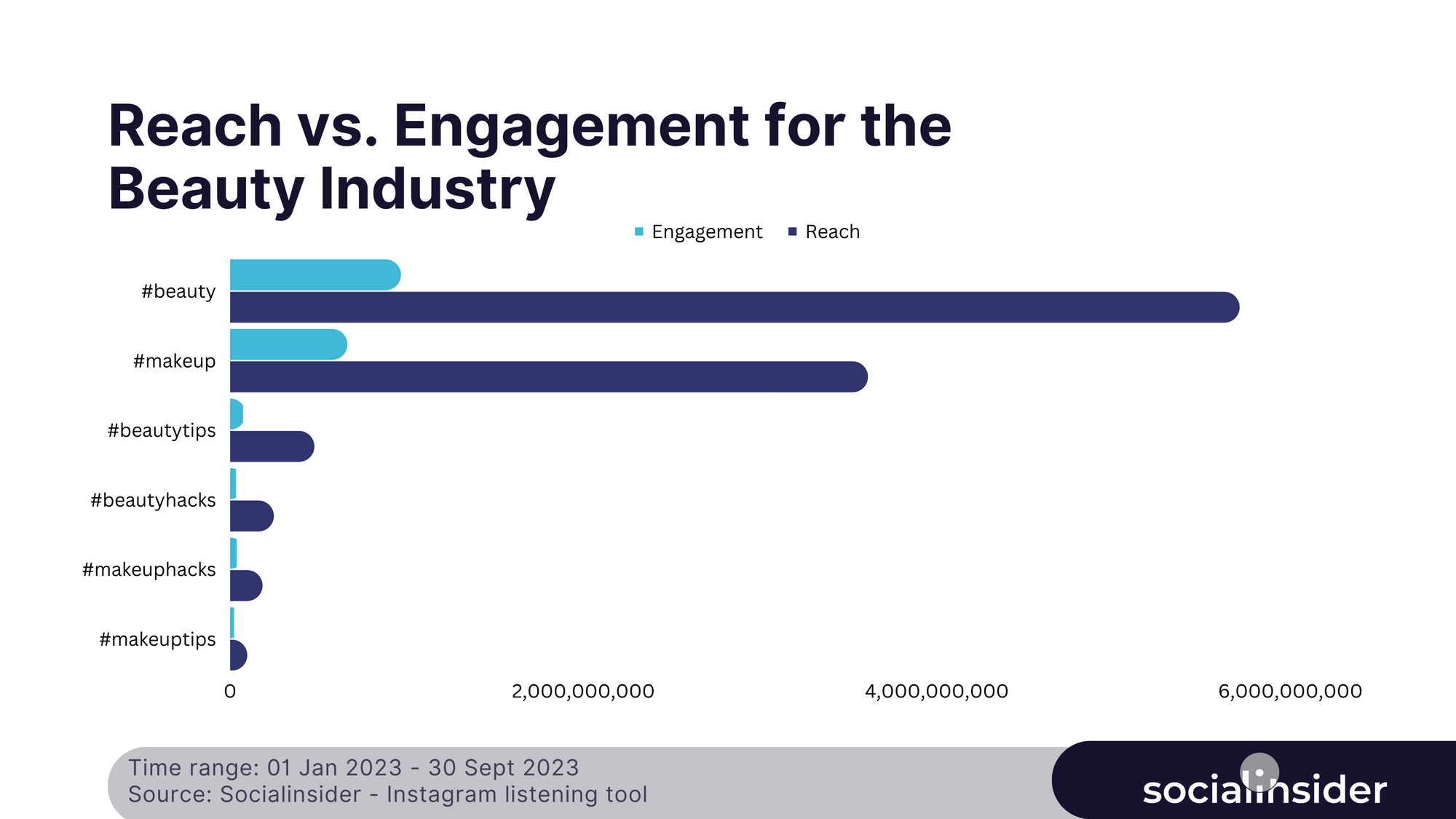 In terms of perceptions and attitudes, consumers' sentiment regarding the beauty industry is neutral, with joy remaining the prominent emotion expressed.
7. Related topics
While not directly linked to the beauty industry, related topics such as "skincare", "skincare routine" or "cruelty-free" are still relevant to be analyzed by brands, to discover needs or preferences that they could integrate into their current product ranges.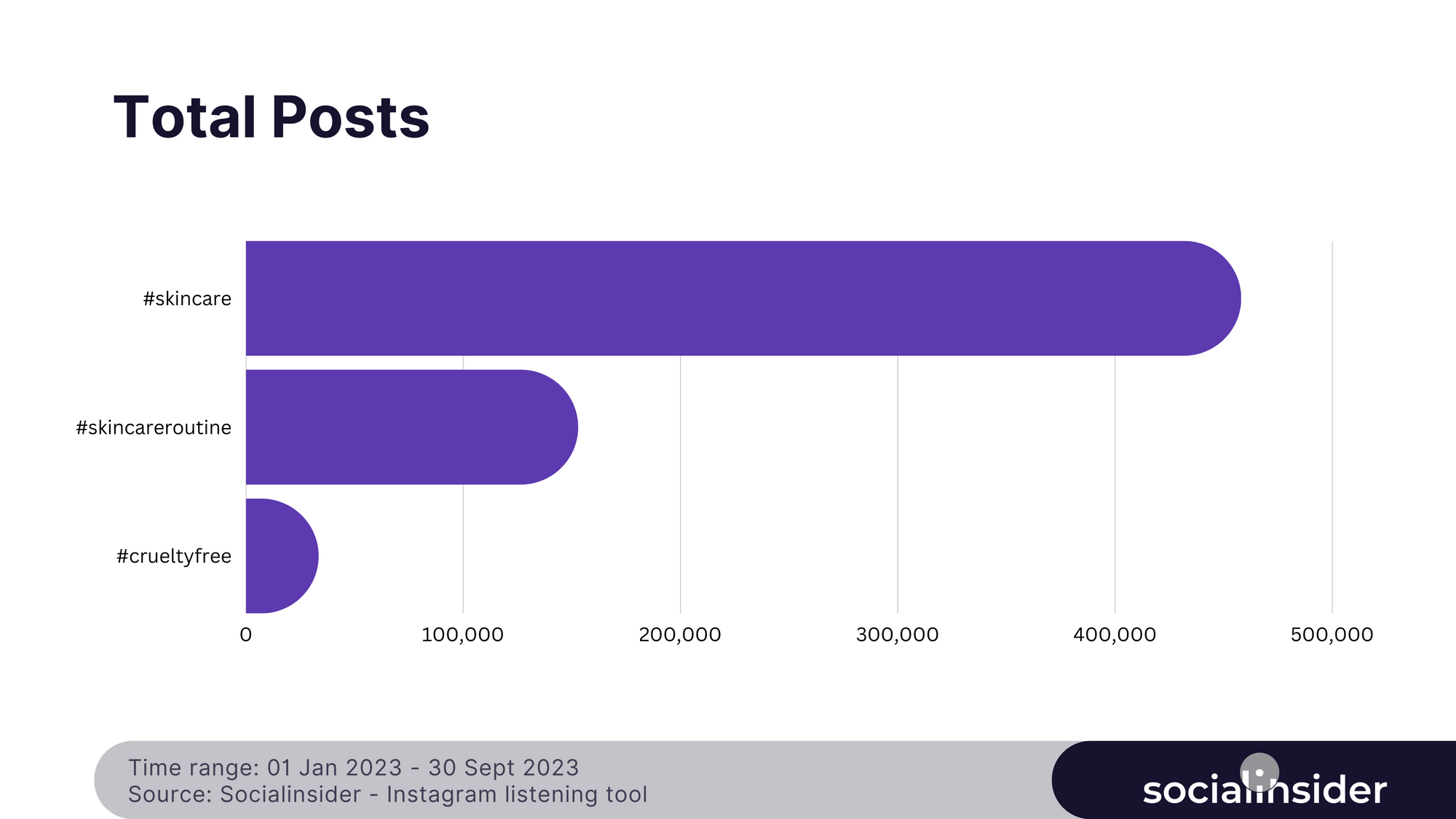 Integrating a series of insightful metrics such as average reach, impressions and engagement, and more, Socialinsider's listening feature provides all the necessary information for brands to develop a top-notch hashtags strategy.
And since we mentioned engagement, let's take a look at how these complementary topics for the beauty industry stand from this perspective.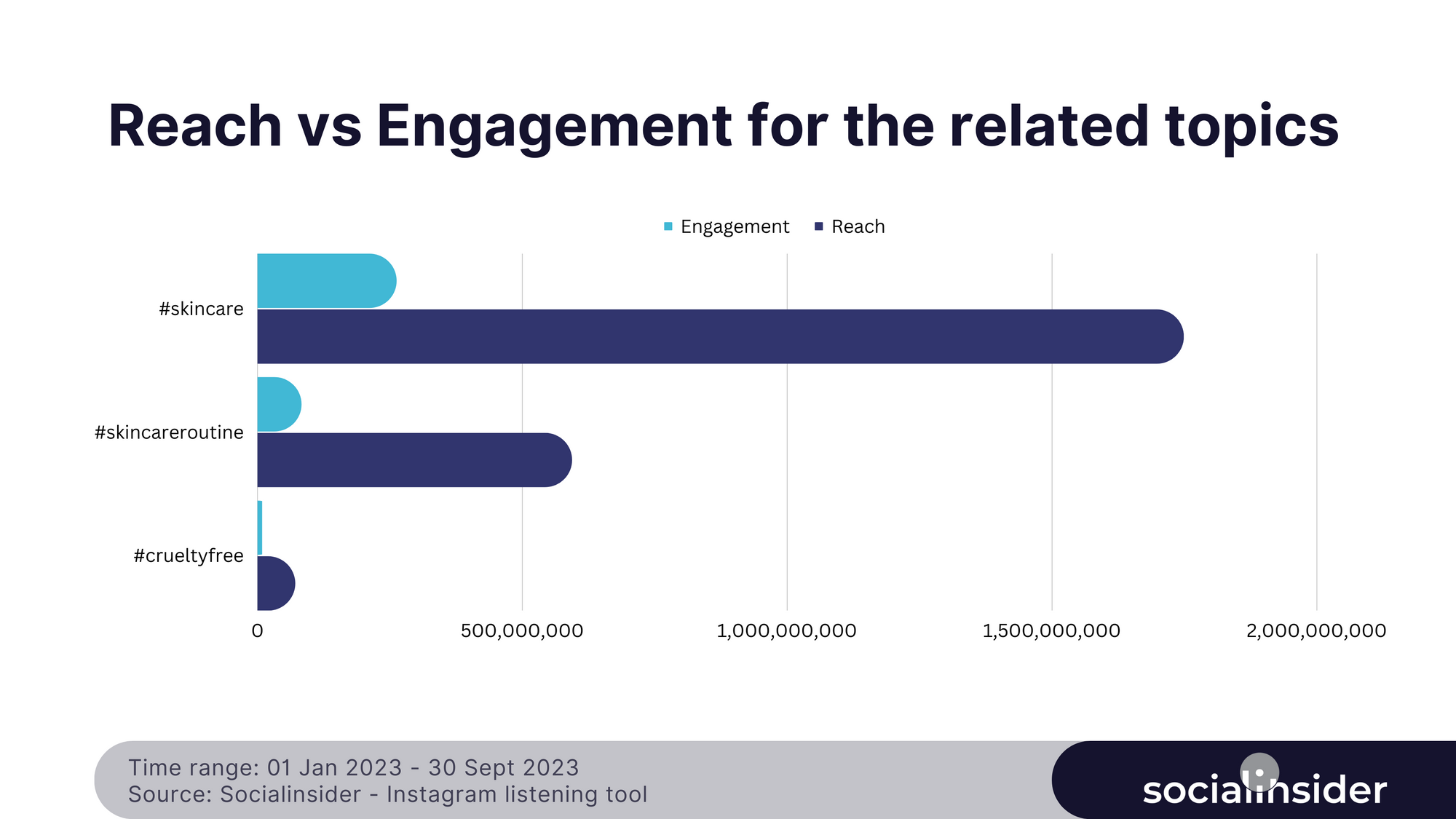 As we can see, the posts including #skincare, #skincareroutine, and #crueltyfree - although still generating a high engagement - led to significantly lower values than what #beauty and #makeup scored.
What is exceptionally interesting for this particular hashtag category is that, while joy remains the dominant emotion, the sentiment changes.
As opposed to most of the cases we've seen so far, where the sentiment was neutral, the posts including #skincare, #skincareroutine, and #crueltyfree drove a positive sentiment.
Methodology
For this social media beauty industry research we've analyzed Instagram posts including the mentioned hashtags over January-September 2023, to identify consumers' interests and posting patterns.
Our focus study points were engagement and demographics metrics, alongside sentiment and related topics and popular keywords within the industry. Through these beauty industry insights, we hope to help businesses within this business sector create more targeted campaigns and data-driven Instagram strategies.