Working in the social media field is both dynamic and engaging and often implies putting a great effort into crafting the perfect strategies, posts, and content for targeted audiences.
It also means mingling with ideas and collaborating with other specialists to get the best results for the brands.
Whether you are new on business or a social media manager with a lot of experience, attending conferences is a great way to advance your career, exchange ideas, and obtain valuable insights into your fields from experts.
And believe me, there are many of them around the globe.
In 2020, there are lots of social media conferences you can attend, and learn things like:
Keep up with trends
View a particular subject from different angles
Have conversations with many great people
Discover new tools or technologies that will make your work easier
Below you'll find a list with the names, dates, locations, and topics of the most important marketing conferences to attend in 2020!
Let's start!
2020 conferences marketers should attend
Social media conferences in March
1. SXSW Conference [March 13-22]
Located in Austin, Texas, USA, SXSW Conference will cover many domains and trending topics such as:
Advertising & Brand Experience
Climate & Social Action, Design
Experiential Storytelling
Media&Journalism
Tech Industry & Enterprise, and many others.
If you decide to take part, you'll be introduced into the ever-evolving worlds of film, culture, music, and technology.
The organizers pledge to give attendees compelling, timely topics from the world's most inspired thinkers. Among them you can find:
Lulu Wang - A professional storyteller in the film industry with an impressive ability to captivate audiences, she released The Farewell movie, which was highly praised. Internationally and nominated to two categories at the 2019 Sundance Film Festival.
Roger Waters - He is one of the founding members and the creative force behind Pink Floyd.
Gabo Arora - A world-renowned award-winning immersive artist, professor, and former UN diplomat who works with the most cutting-edge emerging technologies, such as virtual and augmented reality, Gabo Arora will tell some of the most important stories of our time.
Erin Lee Carr - Named one of the "30 Under 30" most influential people in media by Forbes, Erin Lee Carr is a director, producer, and writer.
Note!
The fees start from $595 up to $1,725, depending on what you are interested in. But if you want primary access to all events, you'll have to pay $1,725 on the Platinum Badge.
2. Super Niche Media Event [March 23-25]
If you are tech-savvy and want to find out more about managing budgets and strategies, you'll love Super Niche that takes place in San Antonio, Texas, on March 23-25.
Super Niche 2020 branded itself as the ultimate event for niche magazine publishers and signs for helping your company, expanding your digital audience, attracting and also converting new audiences.
You'll also learn how to engage and retain current users. Moreover, you'll get a glimpse into the world of digital media channels and effective strategies.
Among the keynote speakers you'll find:
Drew Davis - He is a best-selling author and a marketing guru. He will approach compelling methods to reach unexpected audiences and to find the right opportunities, no matter the niche.
Adam Ryan - He is the president of The Hustle and will share how his company uses audience research to launch new products and services.
Note!
For 2-day registration on Super Niche (March 24-25) you'll have to pay $1,197.
3. B2B Marketing Expo [March 25 - 26]
With 130 masterclasses, 300 seminars, and 350 leading exhibitors, B2B Marketing Expo is an important marketing event that takes place in London on March 25 - 26.
The organizers promise to connect you with other professionals, as well as with the newest tools, techniques, and innovations in social media and marketing.
Sophie Sarin - Account Director at Microsoft Advertising
George Morris - Partner Manager at Facebook
Marianne Bunton - Director of Enterprise Product Marketing at Shutterstock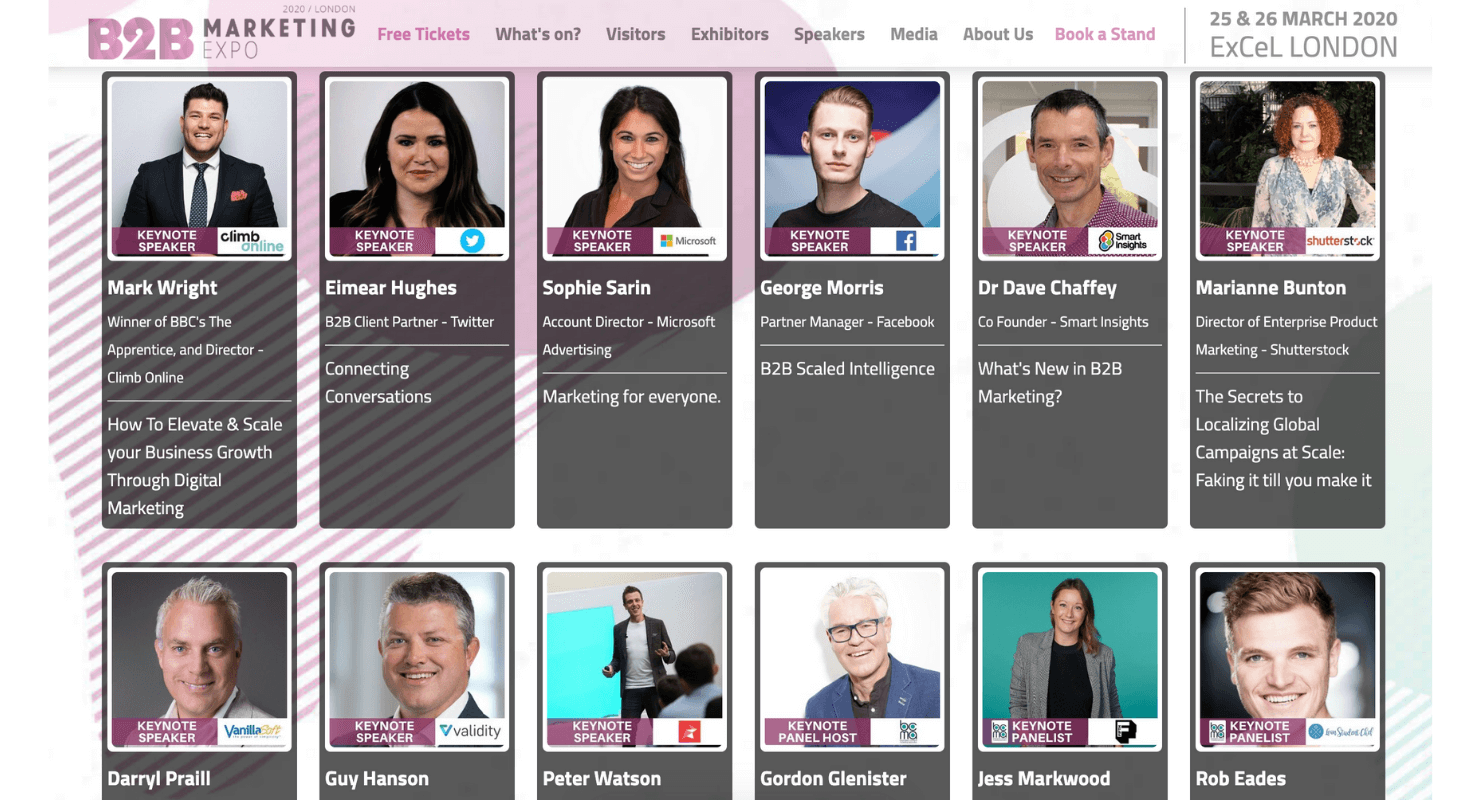 These are 3 of the speakers that will bring their knowledge and expertise to help you better engage with audiences and will give insights about the best B2B techniques.
Don't hesitate to participate. The entrance is free. Claim your free ticket at B2B Marketing Expo.
4. Traffic & Conversion Summit [March 31 - April 2]
In the world of fast changes, Traffic & Conversion Summit wants to keep social media managers up to date and to present them what is working in digital marketing.
So whether you're a marketing lover, and agency owner, a social media coordinator, or an entrepreneur, this is the event you want to attend.
If you are in San Diego, California, USA, between March 31 - April 2, you'll be able to receive actionably, proven, strategic content from experts.
The most prominent figure from the 80 speakers is, for sure, Arnold Schwarzenegger, actor, former California governor, accompanied by Marcus Lemonis, Founder at Marcus Lenonis, LLC, Ryan Deis, CEO & Co-Founder at DigitalMarketer or Jeff Walker, CEO at Internet Alchemy and many, many other digital marketers.
The complete all-access pass is only $1,995 right now from $2,595.
Social media conferences in April
5. Digital Sales & Marketing World [April 5-7]
This is the conference where marketers, sales, and leadership teams get together to help businesses thrive in their fields.
Based in Hartford, Connecticut, USA, the event will span over two days - April 5-7.
Organizers promise to provide you valuable lessons from world-renowned keynote speakers who will give you the right tools to take your business strategy to the next level.
Choose between Community Pass ($399), All-Access Pass ($1,699), or VIP Experience ($2,199) and attend Digital Sales & Marketing World.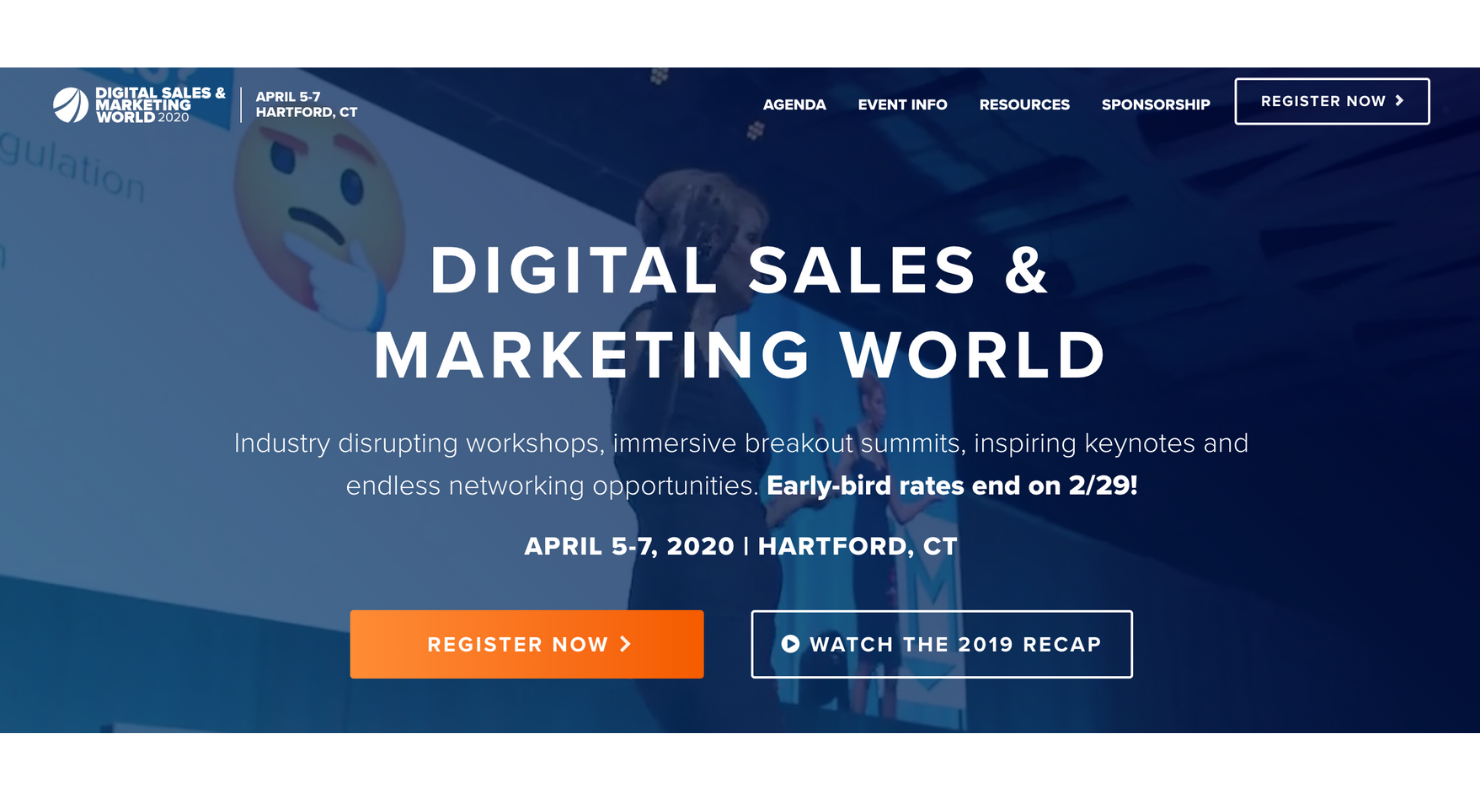 6. Midwest Digital Marketing Conference [April 8-10]
With more than 2.000 attendees around the globe, Midwest Digital Marketing Conference was rated by Forbes as a top marketing conference in 2019.
Free your calendar between April 8-10 and join social media and marketing professionals that will gather in St. Louis, Missouri, USA.
This year, the event features over 90 speakers from world-famous companies such as Google, LinkedIn, GoDaddy, Johnson & Johnson, Adobe, Purina, and more.
The panels will cover the following topics:  Leadership, Personal Branding, Entrepreneurship, Brand Building, SEO, SEM, Data and Analytics, Content Marketing, Social Media, Digital Marketing Strategy, MarTech, Creative, and Innovation. Data, Digital, Social Media, Creative, E-commerce, Innovation, Academic, Tech, and Entrepreneurship.
The tickets prices range from $199 to $349.
7. MarTech [April 15-17]
For marketing and social media aficionados alike, the MarTech Conference is a huge opportunity to learn about actionable tactics that will solve many marketing problems.
If you decide to join it on April 15-17 in San Jose, California, USA, you'll meet senior-level marketers like you who are redefining how their organizations use MarTech to achieve business results. And you'll discover time-saving solutions that deliver ROI.
Claim your free pass at Martech!
8. Content TECH Summit [April 20-22]
The organizers want to bring valuable insights and to show how the effective use of technology and better processes can help your strategic efforts to create, manage, deliver and scale your enterprise content and provide your customers with better digital experiences.
Attendees of the 2020 ContentTECH conference in San Diego will learn from practitioners and experts in content technology and marketing strategy.
Register now and choose between Regular Pass ($2,199) and Onsite Pass ($2,399).
Social media conferences in May
9. SiriusDecision Summit [May 3-6]
Based in Austin, Texas, USA, SiriusDecision Summit attracts the best B2B marketers around the globe.
The event will bring together the best and brightest leaders in B2B and will focus on providing insightful analysis about the latest data-driven best practices research.
Moreover, the conference will provide an all-in-one location for attendees to engage with similar peers and learn about new agencies, technologies, and services.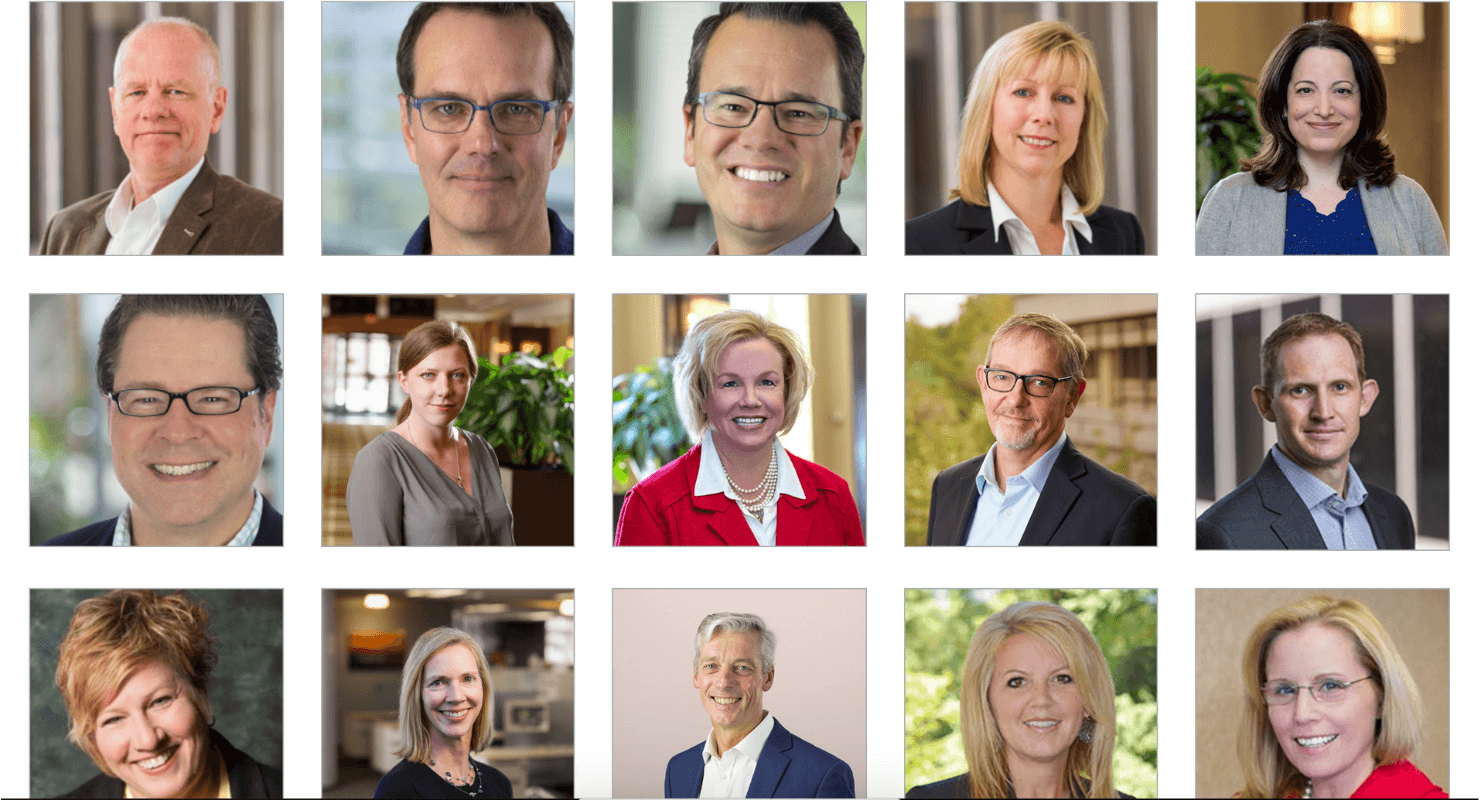 A single-pass costs $2,695 if you're a client and  $2.895 if you're not. Don't forget to save the location and the dates: Austin, Texas, USA, May 3-6.
10. Social Media Camp [May 5-7]
Social Media Camp is Canada's largest social media conference and is taking place in Victoria, British Columbia, on May 5-7.
Whether you're a beginner or an agency owner, you'll find tailored sessions for your needs, based on your experience level.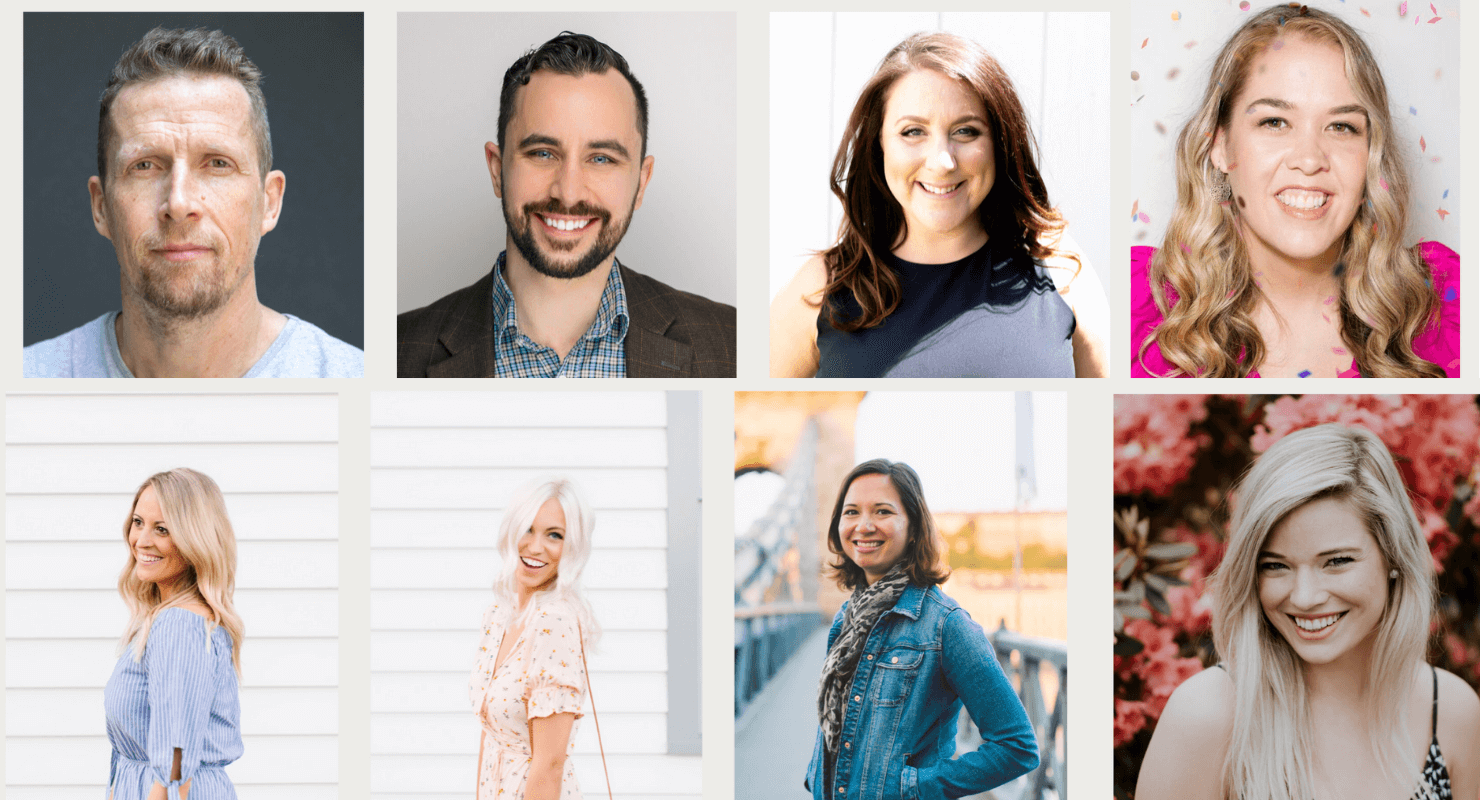 The conference is in its 10th edition and will gather together industry innovators and influencers who are excelling in their field.
The tickets' prices vary between $450 and $750. Don't hesitate to secure your spot!
11. Social Media Week [May 5-7]
Pack your gears and get ready for New York's premier event for leaders in digital marketing - Social Media Week.
Gathering marketing, media, and technology specialists from more than 50 countries, the event will bring together over 3.000 attendees and 200 speakers for a two-day conference.
The keynote speakers will be:
Gary Vaynerchuk, Chairman, VaynerX - He is one of the most sought after public speakers alive today. He is a venture capitalist, 5-time New York Times bestselling author, and an early investor in companies such as Twitter, Tumblr, Venmo, and Uber. Gary has been named to both Crain's and Fortune's 40 Under 40 lists.
Pam Wasserstein, President, Vox Media - Pam the President of Vox Media, the leading independent modern media company, where she oversees strategic initiatives, including e-commerce and consumer businesses, as well as the New York Magazine brands.
Alison Moore, CEO, Comic Relief US - With a broad experience in media and technology industries, Alison Moore has successfully expanded business operations and growth initiatives for several content-driven organizations and world-renowned brands - such as Conde Nast, NBC, HBO.
Ticket prices start from $539 to $2,499 depending on if you choose from NextGen, Standard or Premium Passes.
12. The Social Shake Up [May 12-14]
On May 12-14, you have the chance to level up your skills at The Social Shake-Up conference in Atlanta, USA.
The event is one of the greatest opportunities for marketers around the globe to talk seriously about social media and to grow your businesses.
Learn from successful entrepreneurs or social media specialists:
James Gregson, Head of Social Studio at LEGO - He is responsible for creating best-in-class digital content for LEGO's social media channels.
Leah Feygin, Twitter - She has a decade of experience in marketing and business development, specializing in building startups and leading storytelling for brands.
Emmy Berlind, Sephora - Emmy has also played a vital role in helping to expand upon new and exciting ways to engage with Sephora's audience of more than 42 million fans and followers across social and the innovation of sample marketing programming.
Buy passes ranging from $1,345, up to $2,295. Don't forget to bring a person. You'll get a $100 discount.
Social media conferences in July
13. MozCon [July 6-8]
Branded as "Not your typical marketing conference," MozCon will get you into the most profound journey of search marketing.
If you decide to give it a try, you'll meet SEO specialists, agencies, content marketers, marketing executives, and all kinds of marketers around the globe.
Among the speakers you'll be happy to meet:
Alexis Sanders, Senior Account Manager, Merkle - She helps brands drive organic search performance. She is a contributor to the Moz blog, Search Engine Journal, Search Engine Land, and is the creator of the technical SEO.expert / .guru challenges.
Brian Dean, Founder, Backlinko -  He is an internationally recognized SEO expert and the Founder of Backlinko.
Britney Muller, Senior Scientist, Moz - Britney Britney taught herself to code, manipulate search results, and founded a medical marketing agency (Pryde Marketing) in 2012. She is currently the Senior SEO Scientist at Moz.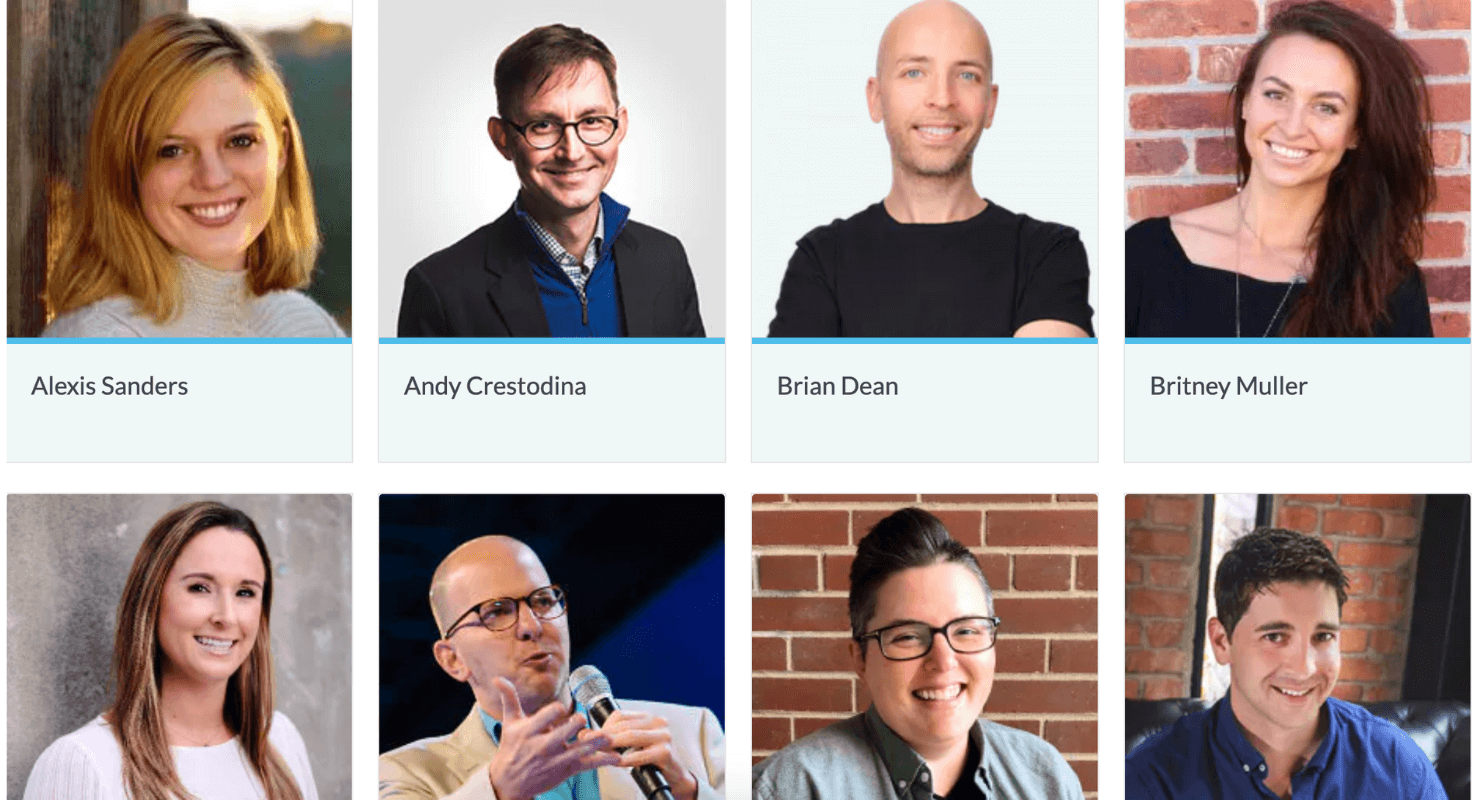 Grab your ticket to the MozCon that will take place in Seattle, USA, on July 6-8.
14. Marketing Artificial Intelligence Conference [July 14-16]
MAICON is designed to help marketing leaders understand AI, educate teams, receive executive support, and develop a near-term strategy for successfully scaling AI.
In 2019, 300+ marketers, from 12 countries and 28 states, came together for the inaugural event. This year (2020), the conference is taking place in Cleveland, USA On July 14-16.
The current ticket price is just $1,199 but will increase up to $1,799. Get yours and explore the next frontier in digital marketing transformation.
Social media conferences in October
15. Advertising Week [October 5-8]
This event is a gathering of marketing, advertising, technology, and brand professionals that will bring together the industry's brightest minds and will give you career-enhancing insights and will approach the industry's most important topics.
Advertising Week will take place in New York.
Buy passes from $299 to $1,899 and choose from the following options: NewGen Delegate, Delegate, Super Delegate, Platinum Delegate.
16. Content Marketing World [October 13-16]
Content Marketing World welcomes you to join one of the events from which you can learn from the best in the content marketing community.
You can experience over 125 sessions and workshops presented by leading brand marketers and experts from around the world. The event is in Cleveland, Ohio, USA.
Don't forget to buy a pass. There are many options to choose from.
Social media conferences in November
17. MarketingProfs B2B [November 3-6]
MarketingProfs B2B it's a place where leaders, innovators, and people who make things happen will gather to make you learn about the latest in B2B marketing and share the secrets to success.
The keynote speaker of this San Francisco conference is David Meerman Scott, a marketing strategist, entrepreneur, and bestselling author of 10 books including, The New Rules of Marketing & PR.
Choose from the All-Access VIP, Conference Only, or Workshop Only passes.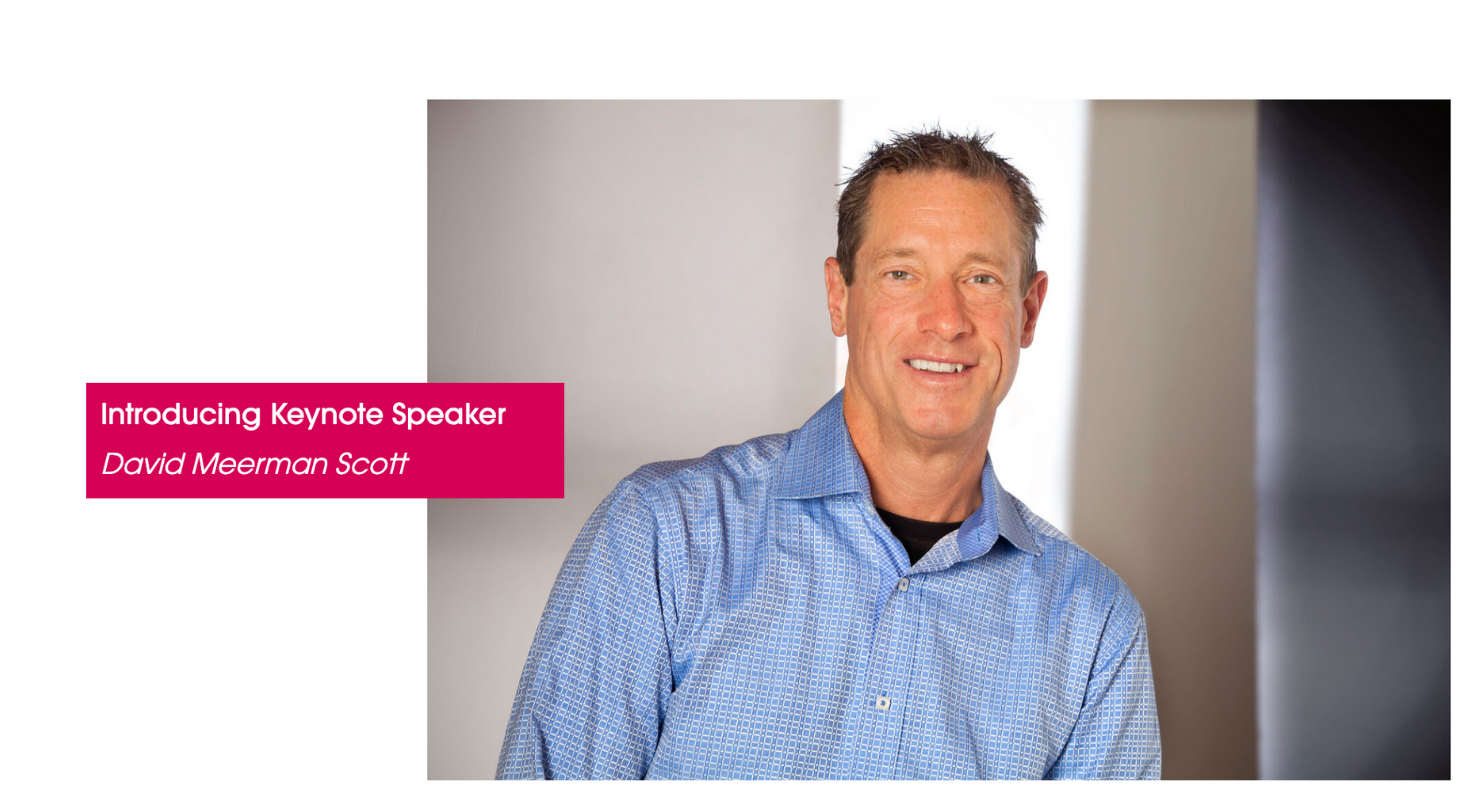 Final thoughts
Social media conferences have a lot to offer in 2020.
Attend at least one of them, and you will see that the experience will be one that you can rarely find elsewhere.
---
Related articles