Instagram Storie feature has changed how people use Instagram, and has changed the platform into something more than a regular online photographs album.
Initially, Stories was a thinly-veiled feature that mimicked the more popular Snapchat feature but recently, it has grown to include a new product – the stickers feature.
If you are running an online store, you can link your website to the Instagram profile so that your customers can discover your shop and buy more products from you directly through Instagram.
But what happens if your Stories are performing poorly? How can you use data to strengthen Stories and publishing behavior?
In this article, I'm going to share with you three common problems marketers  are facing on Instagram and the best way to avoid them.
---
How to create Stories based on insights and features
---
Problem #1: A small percentange of my audience watches my Stories
Stories are a fast engaging format that suits mobile performances perfectly. Most brands have noticed that, and data from Instagram shows that around one-third of the highly viewed stories are from businesses.
In other words, Stories are more fun to make and consume and their ephemeral format minimizes the stakes in addition to making the experience less formal.
Instagram Stories also offer an authenticity level that brands can apply.
How to improve 👇
Stories data is your best friend here. To understand how to create performing Stories requires to access in-depth Story insights - only available to Instagram business profiles or verified accounts.
Here's what insights to need to analyze to reach your audience with Stories:
Most business people hate playing favorites, but if you just need a single metric for Instagram Stories to rule them all, you just need the retention rate.
The retention rate is computed as a percentage of the impressions of the last story divided by the impressions of the first story.
If most of your viewers have been sticking around, that should validate your content strategy. Apart from attracting more audience, you were able to keep them for long with your engaging content. A strong retention rate will indicate good health of the other analytics. The vice versa is also true.
When it comes to Stories, you will have to choose the best days for publishing. The best thing to do is to post Stories on each day of the week and then monitor the performance of each Story. At the end of the week, you will have identified the day with the best results.
Best time to post is a controversial topic across all social media platforms. However, there is no size fits all. You will have to determine the posting frequency plus the content to post on a daily basis. You will have to determine the time to publish depending on the reach of your stories. Use metrics to analyze the best time and track your industry.
You can use tools like Socialinsider to understand the audience behavior, when they are online and eager to watch stories online. In my case, best day is Monday at 10:00AM EDT.
Number of Stories per day for better reach


Most brands think that posting more Stories per day will make the Story viewers leave and prevent them from coming back. Analyze the exit rate and the forward rate for your stories to see when people tend to ignore your content.
Another metric that can help you track your performance on Instagram is the reach. The Instagram Stories reach refers to the number of people who come across your Stories. The number of followers limits the number of people who will see the Stories.
Type of content in stories


Around 80 percent of Instagram users follow at least one brand. However, they will only follow your account if you are sharing valuable, creative and engaging content.
Ultimately, you will not have engagement without good stories posting, which means you have to think of how to use your Instagram business profile.
Instagram analytics will help you know the type of content that will work perfectly for your brand.
Take @socialinsiderio account for example. Based on our exit rate / story, we've noticed that people are more engaged with photos than videos.
Problem #2: My Stories don't drive traffic
Attracting the attention of your audience is one thing, but holding their attention is another thing. For your marketing or advertising message to be successful, you will have to keep your prospects engaged by giving them a reason to do that.
You can achieve that by explaining to them the problems they have been facing through storytelling or through any other method that makes them feel the pressing issues. That way, you will influence them to search for the best solution.
How to improve 👇
Create Stories based on the AIDA model. Take @wholefoods for example. Before inviting people to swipe up, they created a series of stories where they described what's new in April (create Attention, Interest, and Desire), and if you're curious to find out more, you can swipe up for more.
Problem #3: People do not engage with my Instagram Stories
Worried about your engagement in Stories?
If you're not creating engaging content, here are some of the things you should try to make more people engage with your Instagram stories.
How to improve 👇
Improve your interactions by using polls and emoji stickers


Story polls are interactive stickers you can use to spice up Instagram Stories.
The polls are two types – the traditional question/answer polls and the emoji slider polls. With emoji slider, you can ask questions and invite your followers to slide the interactive emoji on the sliding scale to show their feeling about the topic. They can slide the emoji to the left or right.
The story poll prompts the user to ask questions and include two answer choices. The answers can be in the form of Yes/No. The two will help you get feedback about your products, events or marketing campaigns.
For example, I follow @mimieux.necklace which is a Bucharest-based handmade necklaces brand. Before launching a new necklace model, they use the poll feature to get feedback from their audience.
Create AMA stories with questions sticker


The concept of Ask Me Anything (AMA) is popular on Reddit and later on all social media networks. People are using it to promote new features, products, updates and engage with audiences in addition to connecting with users.
You can use AMA stories in place of scripted content to promote transparency and engagement with your audience. With AMA, they will get to know your brand in a better way.
I love @everlane' Instagram Stories. They have a themed day - Transparency Tuesday - where its audience ask questions about the everlane products. Chapeau, Everlane!
Use local or branded hashtags
It will help you spread the news relating to your events and attract the attention of your audience. You can use this Stories feature to post behind-the-scenes videos and pictures and hashtag them with your companies hashtags. Tracking the performance of hashtags on Instagram is straightforward and easy.
@Naluunderwear, for example, is a brand of lingerie and swimwear with minimalist views. Naluunderwear is using Instagram Stories to promote their products and gently includes some branded hashtags.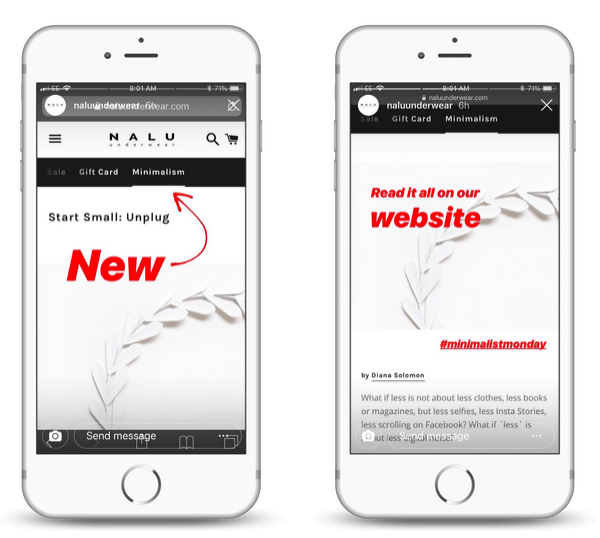 Share the Instagram stories where you are mentioned


The volume of mentions is a perfect indicator of your Instagram hashtags popularity. You can monitor the number of conversations about your event, company or even a marketing campaign.
Final thought
What happens if your content in Stories doesn't reach new audience? How can you improve the behavior of the audience in Stories and create engaging content?
Hope that you are more prepared with Stories and following the insights described here helps you improve your Stories performance.
Analyze and plan the content, be more creative. Set your goals, purpose and theme to reach a wider audience.