Want to understand your results on Facebook better?
Wondering why brands should track their Facebook performance?
In this article, I'm going to share a complete list of metrics you should know about Facebook and how to improve your campaigns' performance.
Let's dive in!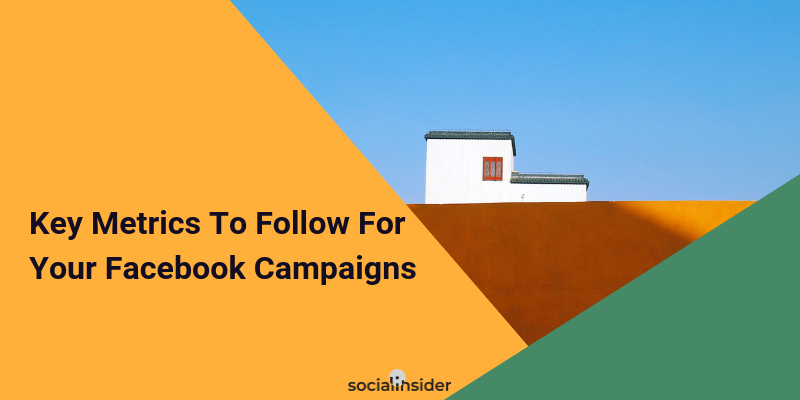 ---
10 Facebook Metrics Every Brand Needs to Track
👉 Engagement
👉 Average engagement rate per post
👉 Post evolution
👉 Reach
👉 Impressions
👉 Likes & Followers
👉 Net Likes & Followers
👉 Video Engagement
👉 Video Retention
👉 Link clicks
---
#1. Engagement
Engagement is one of the most important Facebook metrics you can track.
Engagement measures the number of times someone took action on your posts.
That could mean clicking a link, sharing your post, making a reaction or leaving a comment.
There are a couple of ways to track engagement, but the easiest is to use a Facebook Analytics tool like Socialinsider.
In 20 minutes you can generate reports that will show you how much engagement your page and posts receive, as well as the types.
#2. Average engagement rate per post
This metric represents the sum of likes, comments and shares on a specific post divided by the number of total posts * followers divided by 100.
#3. Posts evolution
This metric will show you exactly how your account looks like. You will see when did you post and if you post in one specific day. It is the variation of the numbet of post per day.
It's like a mirror of your account. For a proper engagement, you should post at least once a day.
#4. Reach
Reach is the number of people who saw the content of your posts on Facebook. It can be either paid or organic efforts.
You can see an overview of your reach by going to your page Insights and if you want more details, you can click on the Reach tab.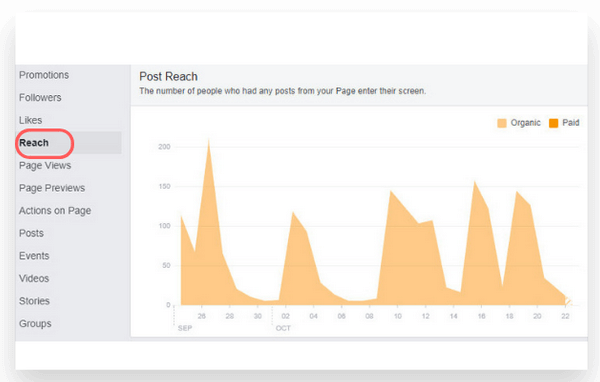 #5. Impressions
Impressions can give you a good idea of the "viral" nature of a post.
While reach tells you how many people saw your posts, impressions measure the number of times your posts were seen. That includes if one post was seen multiple times by a single user.
To find Facebook Insights, go to the posts tab. Click on the button for "reach" and switch it to impressions.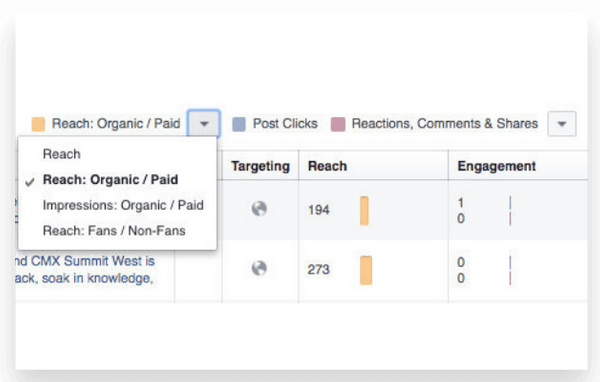 #6. Likes & Followers
Page Likes are the number of people that follow your brand on Facebook. They liked your page or opted-in to be able to have your posts show up in their feed. You can think of them as fans or subscribers.
If you want more information about your page, you should know that Facebook also provides you with a breakdown of where your Page Likes happen.
Why page likes are important
They are considered a vanity metric. Likes don't represent how successful your Facebook marketing efforts are compared to engagement, reach or other metrics. This number is showing your audience size on Facebook.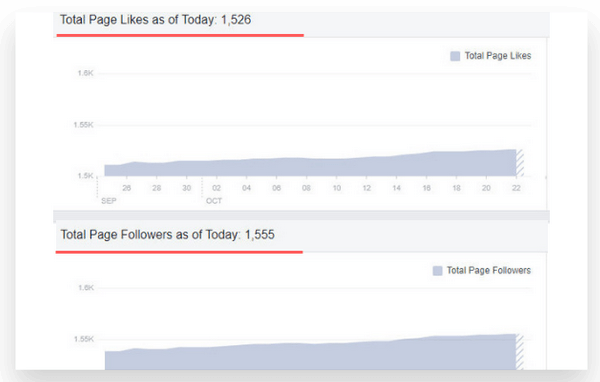 #7. Net Likes & Followers
Net Likes shows the number of new likes minus the number of unlikes.
Net Followers shows the number of new followers minus the number of unfollows.
#.8 Video Engagement
Besides likes, shares and comments, another engagement metric you'll see is clicks to play.
Clicks to play measures the number of times people click on your video to play it rather than viewing it through an autoplay in their feed.
#9. Video Retention
If you're publishing 10 minute videos, but a majority of your audience only watches 30 seconds of it or less, you might want to consider cutting it down.
To find out how what percentage of your videos people watch, you can check out the Post Details section in your Page Insights.
You'll be able to see where most of your viewers are dropping off, and change your video according to them.
#10. Link clicks
The number of clicks on advert links to selected destinations or experiences on or off Facebook-owned properties.
The metric counts link clicks attributed to your adverts that lead to selected destinations or experiences.
Websites
App stores or app deep links
Clicks to call
Clicks to message
Map/direction links
Facebook Canvas
Facebook lead forms
Facebook Marketplace
Final thought
As you imagine there are a lot of Facebook metrics you can track. It's up to you and your brand to decide which ones are important.
Your Facebook engagement rate will fluctuate a lot.You should monitor your engagement rate consistently; perhaps daily.
Remember: Engagement means nothing if it doesn't stimulate your audience to action.
Look through your Facebook metrics to ensure people are actually viewing and engaging with your content.
Start a free Socialinsider trial and get in-depth, easy to read graphs displaying your Facebook insights like
followers' evolution, average engagement rate per post, reach, impressions and history data. Research your competitors on Facebook and optimize your page's growth.
---
Related articles: