When it comes to the soft drink industry, the competition has always been fierce.
Whether it's print, TV - we all remember the old, but captivating, Coke versus Pepsi spots - or digital, the top soft drink brands have always strived to keep a leg up on the competition.
Social media marketing is no different, each of the top soft drinks brands fighting for engagement on Facebook, Instagram or Twitter.
And for good reason, as social media engagement seems to have a strong impact on soda choices, according to a study done by The University of Connecticut.
The better the social media campaigns for these soft drinks, the bigger the sales increase.
The same study shows that Coca-Cola's 2011 "Share a Coke" campaign, in which consumers could personalize their bottles through Facebook, resulted in an 870% traffic increase on Facebook and a 7% increase in sales.
But what are these top brands doing on social media today?🤔
We looked at what Coca-Cola, Pepsi, Fanta, Sprite, Mountain Dew, and Dr. Pepper have been doing on social media during the past 6 months.
Which one is winning the social media game? Let's see ⇣
Social media analysis of the top 5 soft drinks brands on social media
Key findings
Coca-Cola has the biggest profile sizes across all three platforms
When only looking at the sheer size of the profile, our social media analytics tool shows Coca-Cola is winning the followers game across Facebook, Instagram and Twitter.
There's no doubt that a big number of fans or followers is an important social media KPI for Coke.
Here's how ⇣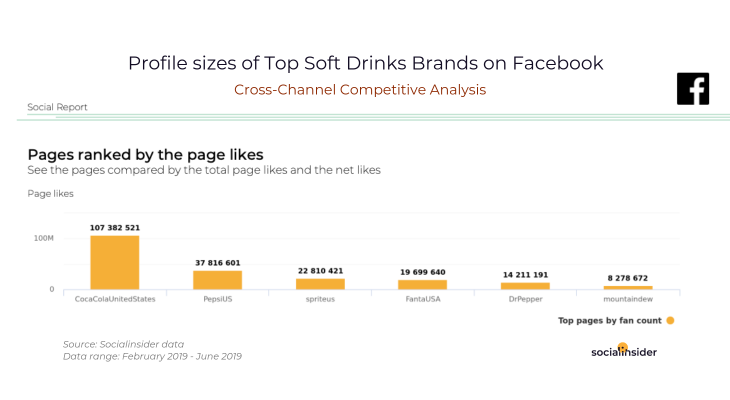 On Facebook, the Coca Cola page has over 107 million likes, almost three times more than Pepsi, which is in second place.
Count wise, while Sprite and Fanta are relatively close, with 22 and 19 million likes, Mountain Dew is far behind, with just over 8 million likes.
On Instagram, Coca Cola and Pepsi are still the two leading brands by profile size, although Coke has around 1 million followers more than its main competitor.
Sprite keeps its number three position, while Dr. Pepper, Fanta and Mountain Dew have considerable less followers.
All in all, Coca Cola has over 2 million more followers than Mountain Dew.
Twitter is another fan favourite platform, which for the top soft drinks brands translates into an important battlefield.
Although Coca Cola still has the largest profile, Pepsi is very close behind this time, both accounts having over 3 million followers.
The big surprise is Mountain Dew, in third place, with over 100k followers more than Dr. Pepper, almost 300k more followers than Sprite and well over 400k more followers than Fanta.
The largest numbers of fans are on Facebook
When only taking into account the number of followers or page likes, undoubtedly the largest accounts are on Facebook, for all of the five brands in question.
Facebook accounts for over 88% of any of these brands' social media audience, while Instagram and Twitter are fighting over the remaining 10-11%.

This would mean that the brand message would have a wider audience on Facebook.
However, it is important to note that Facebook takes into account the number of fans that liked all of the brand's pages and creates a total number of likes, which is the number that is displayed.
For example, a big brand like Coca-Cola has multiple business pages, including pages for different geographical regions.
So the number of fans of 107 million is actually the total number of page likes across all of these different business profiles.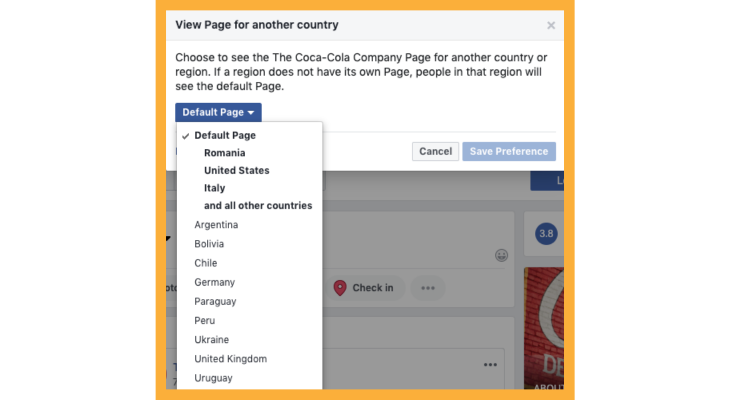 Instagram brings the biggest engagement rate per post for all brands
While Facebook may give access to the largest audience, it is a dormant audience compared to Instagram.
When calculating the average engagement rate per post across all channels, meaning the people who are actually interacting with these brands' posts, Instagram seems to be the most effective.

This means bigger isn't always better. The best engagement rates were obtained by one of the smaller brand profiles: Dr Pepper.
Actually, Dr. Pepper has the best engagement rates per post on both Instagram and Facebook, while Sprite is the engagement winner on Twitter.
Tip❗
Having a smaller, but highly engaged and loyal community might be better than having millions of fans that don't really interact with your brand. Strong Instagram KPIs are the key to better engagement, so choose wisely.
Twitter is the favourite when it comes to the number of posts/tweets
During the past 6 months, all of the top soft drinks brands have posted the most on Twitter, by far.
After Twitter, their social media efforts were focused on Instagram, with Facebook being the platform with the fewest posts.

Granted, given the nature of Twitter and the short messages you post on the platform, it does make sense to have more tweets than posts on Instagram or Facebook.
However, it is pretty obvious that these brands have a well-defined social media strategy which has engagement as a main objective.
And Twitter analytics agrees! An engagement rate of 0.017%, which is what Sprite received per post, may not seem like much, but if you take into account the number of tweets posted by each brand, it all adds up.
Social media partnerships: Soft drinks and binge-watching go hand in hand
It's no secret that brand partnerships result in higher social media engagement, impressions and reach.
But when it comes to large brands such as Coca-Cola, Pepsi, Sprite, Mountain Dew, Dr. Pepper and Fanta, these are not ordinary partnerships.
Going through the posts, a clear preference emerges: nothing is more satisfying than enjoying a great series with a cold soda.
The top performing post across all channels is Coca Cola's tweet about Stranger Things 3, with 107,000 engagement (a rate of 3.2%).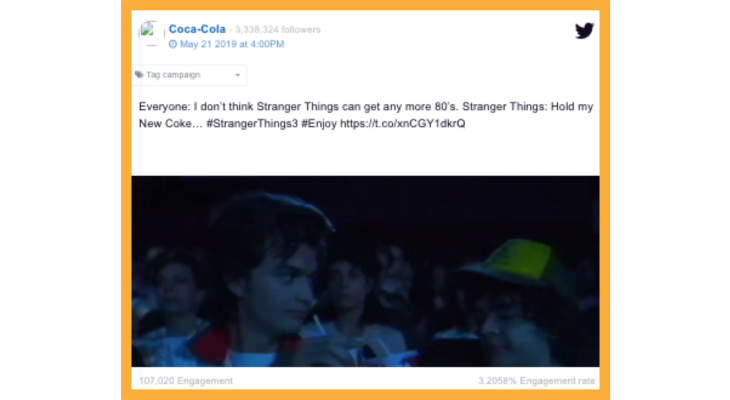 What can be stronger than a Coca-Cola and Netflix partnership? The other brands will try to answer that for you.
Another great partnership was the one between Mountain Dew and HBO.
Mountain Dew's great Facebook post about the final season of Game of Thrones was among the fan favourites, with an engagement of over 31,000.
Pepsi could not ignore the trend, so the brand decided to drop a hint regarding the new Star Wars film that is set to be released at the end of this year.
However, they did it their way! By having a nab at Coke.
And it worked, reaching close to 60,000 in engagement.
Comparative ads work: Pepsi vs Coke battle is still up and running
All of us advertising fans fell in love with the epic "ad war" between Coke and Pepsi. And the good news is that it continues in social media!
In true form, Pepsi continues to market its product as superior to Coke, in the most ingenious ways.
Apart from the above-mentioned Star Wars Instagram post, which is the second ranking post across all channels and across all five brands (after Coke's Stranger Things post), Pepsi continues the friendly war on Coca-Cola with more posts.
And they do it across all channels.
Coca-Cola's new Orange Vanilla product was making waves on social media with posts like this one Facebook.
This Facebook video post seems to have gained quite a bit of traction, when you turn to the key social media metrics, gaining over 50,000 engagement.
Wanting to stay ahead of the game, Pepsi immediately put out the message that some things are better left untouched, promoting their Pepsi Vanilla product.
Knowing the audience loves the banter between them, Pepsi and Coke play on that when they get the chance. A great example is the below exchange.
Coca-Cola did not stay on the sideline and hit back. This time, the response came from Coca-Cola Australia.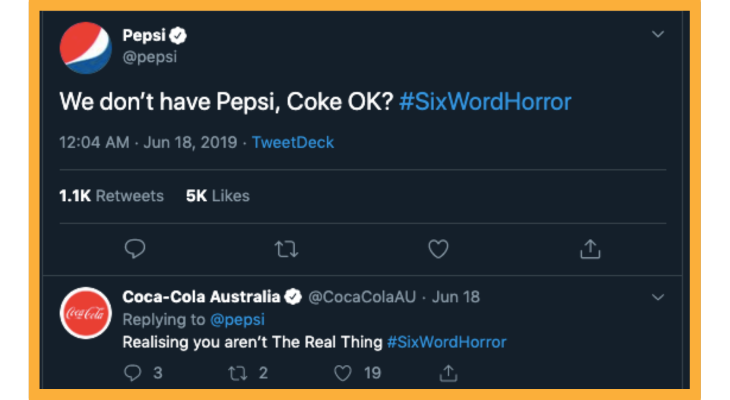 Looking behind the curtains, this seems to have been Pepsi's third most successful tweet, according to the engagement.
In the end, all is fair in love and war. They do go to war, and we love it.
Final thoughts
In such a competitive landscape, each brand is trying to stay ahead of the trends. Here are, in short, some of the ways they do it:

While the two biggest brands, Pepsi and Coke are battling each other, a (slightly) smaller profiles such as Dr. Pepper is slowly building a more loyal and more engaged audience.
All of the brands love tweeting, but the highest engagement comes on Instagram
Brand partnerships are engagement gold, and binge-watching is the key
Fanta seems to fall in the shadows, compared to the rest of the brands
With all the efforts, Pepsi seems to mostly land in second place, as Coke is always slightly ahead on social media when it comes to both profiles sizes and engagement
Which brand do you think has the best strategy?
Find out how your brand ranks among competitors!

Related articles: