The beauty industry is known to be one of the business lines that, over the years, have had incredible advertisement investments.
While later arrived at the party, a brand that really shaked things up within the industry, quickly becoming a social media superstar and addiction, was Rare Beauty - Selena Gomez's owned company.
Although having a famous founder surely brings some level of success, Rare Beauty's incredible bloom was certainly not solely based on that but also on skillfully executed social media marketing.
Let's quickly have a deeper dive into the tactics leveraged by the brand.
Deconstructing Rare Beauty's marketing strategy
1. What is Rare Beauty's social media strategy?
2. Rare Beauty on social media: performance data across channels
1. What is Rare Beauty's social media strategy?
Surely, for a beauty brand, product presentations and tutorial videos are indispensable marketing materials. Which, we have to admit, are pretty helpful sometimes and, therefore, very much appreciated.
However, this doesn't mean that should be the end of the road.
When it comes to social media content, such ideas may bring some easy wins, but in the long term, will probably not be the ones that will create buzz around a brand.
That is why every business needs a differentiator factor - that "it" in its social media strategy that will make the audiences immediately associate a certain vibe or concept with a specific brand.
Now it's time to see which is Rare Beauty's magic social media content formula.
TikTok is the brand's focus social platform
Launched during a worldwide crisis situation (during the COVID-19 pandemic), Rare Beauty owes its nowadays success to a very atypical and unique marketing strategy.
Taking advantage of TikTok's growing popularity at the time, the brand fully embraced the platform's marketing potential.
Having no hold-backs, Rare Beauty went all in with its TikTok marketing endeavors and, sooner rather than later, understood and started creating content aligned with the platform's audience's request for authenticity.  
Being the best-perming social channel of the moment according to data, TikTok is a channnel in which Rare Beauty invests heavily.
When analyzing Rare Beauty's TikTok strategy, the most striking discovery is the brand's multiple content angles, which blend harmoniously and successfully create a unified brand personality.
To keep it short and sweet, if you're a fan of Rare Beauty's TikTok account and you thought about using it as inspiration, here's what you need to know.
Rare Beauty's TikTok strategy is constructed around four main content pillars consisting in:
product presentation videos;
funny and relatable POV situations;
inspiring and empowering videos for mental health education featuring Selena Gomez;
tutorials (inspired by the community's questions).
From a more technical point of view, when looking at Rare Beauty's TikTok videos, you'll surely see a content pattern.
If you pay attention, you'll notice that most of Rare Beauty's TikToks are short - usually under ten seconds - and frequently feature real human voices and faces.
This is a smart move, as the user's attention span is lower than ever before while equally contributing to highlighting the brand's human factor.
The brand's identity is consolidated around the founder's image
Besides being the company's founder, Selena Gomez is also the core piece of Rare Beauty's image.
However, while Selena is the center of the brand, around whom Rare Beauty's story is created, portraying her life beliefs and depicting some of her life's events, Rare Beauty is not a celebrity brand.
With Selena herself filming plenty of videos for the brand's social media accounts, many of which are inspired by her life journey, experiences, and challenges, Rare Beauty is a brand that stands out for its personal and relatable approach.
Wanting to make Rare Beauty more than a beauty brand - one that would actually make a difference in the world, Selena's strategy for Rare Beauty's social accounts was inspired by the brand's main mission - that of breaking down standards of perfection within the industry.
Rare Beauty embraces diversity and promotes empowerment
As we mentioned earlier, Rare Beauty is a brand that puts people first - both figuratively and literally speaking.
Besides Selena's emblematic figure, Rare Beauty's social media accounts - especially TikTok - also feature a ton of influencers and beauty creators of multiple nationalities, genders, and so on, showcasing how the passion for beauty should not have any boundaries.
While some are more fun and others more emotional, Rare Beauty's social media posts are about creating a connection with its audiences.
Mental health education is one of the brand's primary objectives for social media and one of the content pillars contributing to Rare Beauty's uniqueness and social support.
2. Rare Beauty on social media: performance data across channels
While Rare Beauty's other social media accounts follow the same strategy pillars we identified on TikTok, each social network's content is tailored to its specific audiences.
Heading over to Instagram, from a glance, it's easily noticeable that Rare Beauty has implemented a Reels-first approach.
Truth be told, given that right now Reels make for the hottest Instagram feature, and also for the best-performing post type within the platform, it would be perfect sense for the brand to leverage more this particular content format.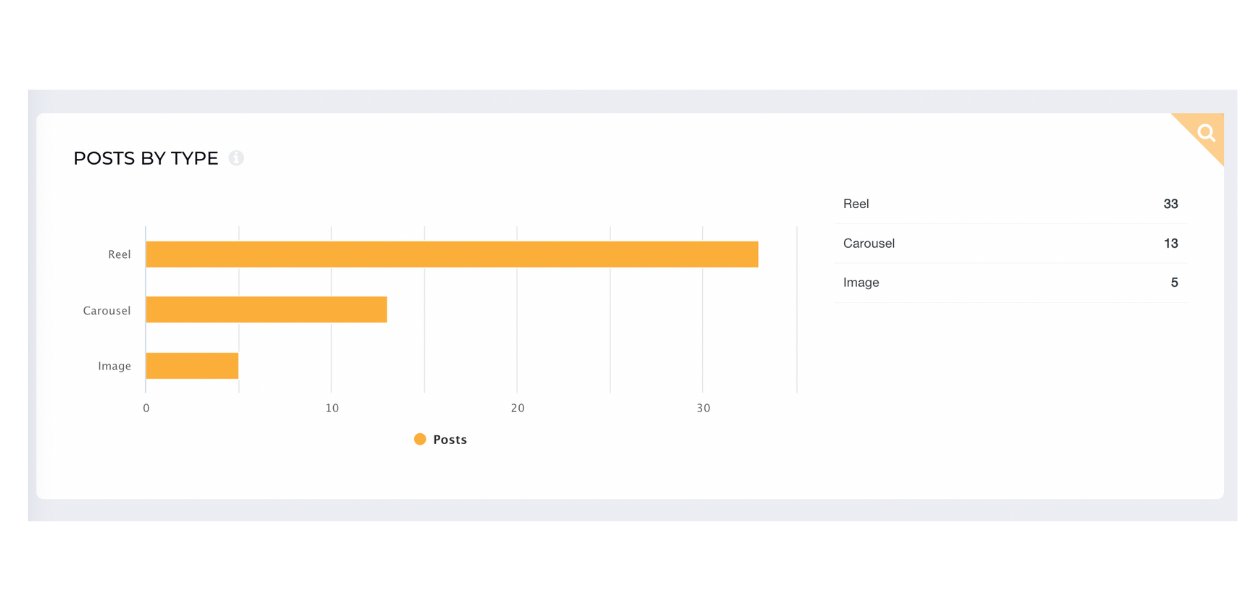 Considering the growing bickering between TikTok and Instagram and marketers' many questions related to which social platform is better to leverage nowadays, it would be interesting to have a peek at data performance comparison between Rare Beauty's TikTok vs. Instagram these days. Don't you think so?
By using Socialinsider's "Brands" feature, I was able to do a multi-channel analysis to discover which is Rare Beauty's best-performing social account. This feature allows you to look at and compare a series of KPIs across a brand's multiple social channels, getting in-depth engagement, content or audience insights.
But wouldn't it be much more interesting to see for yourself? 😉
When doing Rare Beauty's cross-channel analysis, an unexpected discovery was that both of the brand's accounts recorded above-average performance.
Surprisingly enough, in terms of engagement, for Rare Beauty, Instagram delivers values comparable to TikTok's.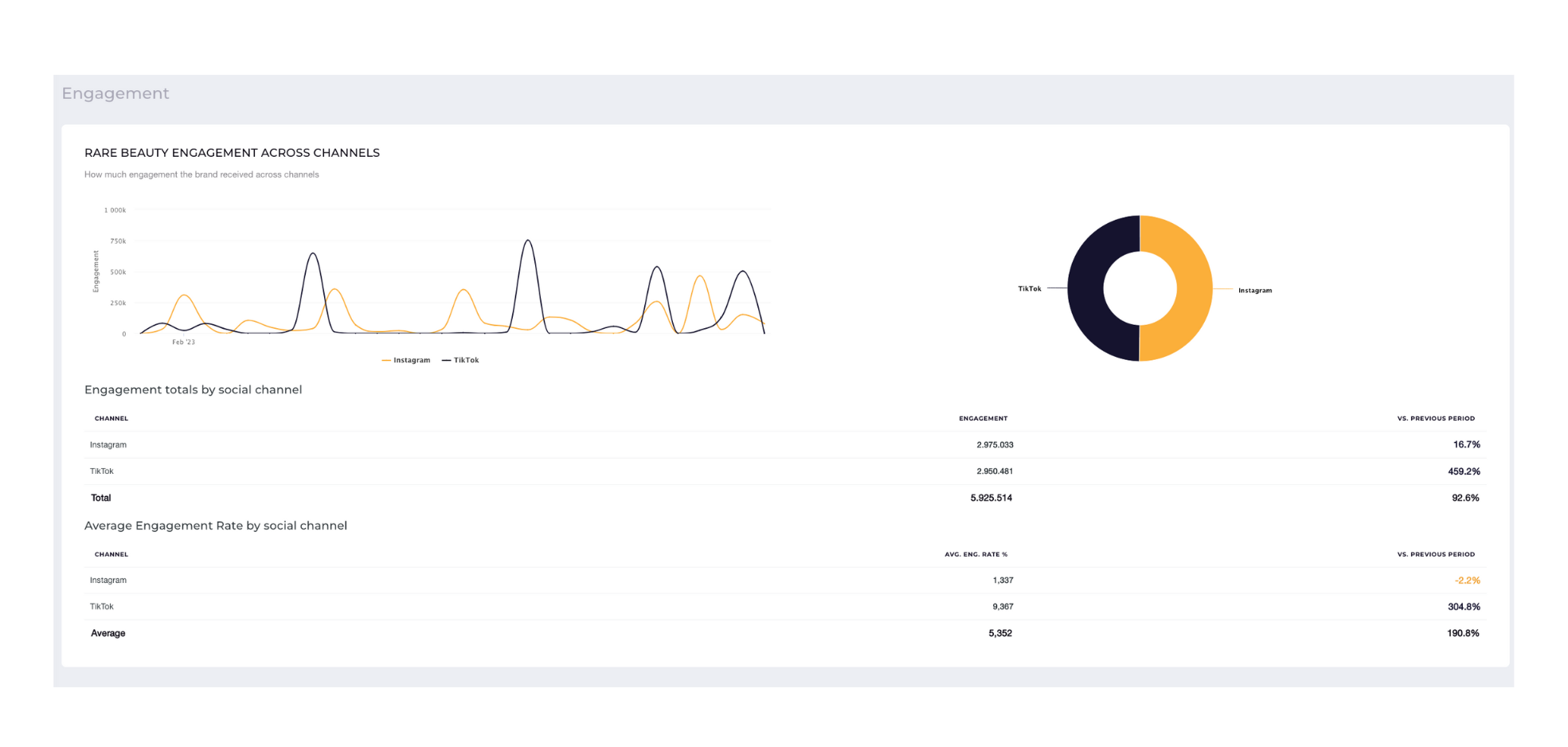 However, if looking solely at the average engagement rate per post, TikTok becomes the clear winner.
With Instagram being the leading platform from a fanbase perspective, TikTok holds the crown when talking about the number of video views.
If you ask me, these results are clear indicators that Rare Beauty's social media strategy for each channel is optimized to match each platform's algorithm and audiences, which make the brand the best inspiration source.
Final thoughts
While there's a hearsay that in nowadays' marketing world, paid advertising is the cornerstone of a successful business, Rare Beauty's case is probably the perfect counter-example.
Truth be told, organic content on social can equally work wonders - once you understand the importance of creating a relationship with your social communities - once that extends the goal of selling your products.
Lastly, the other key element of a successful organic social media strategy is to explore and understand each social network and create content tailored to each platform's particular audience.
As to one final tip: leverage the power of trends - especially whent it comes to TikTok marketing. After all, who knows - your TikTok fame might be just one trend away. It would surely be a shame to miss it.