In a world where the fashion industry is trying to bring attention to either luxury brands or fast fashion ones, you could just wear your favorite sneakers and a hoodie that will make you feel comfortable.
And somehow, the sportswear brands are always on top. They are more relatable, and they're always trying to connect with their audiences.
A great social media strategy is a key element to this. This is how the brands get closer to their fans, listen to their needs and include them in new projects.
And because stories and podcasts go hand in hand, we had the pleasure to talk to Abigail Rogers, Senior Social Media Manager at PUMA. She's the one managing the football global digital campaigns, content, and strategy.

Let's discover the behind-the-scenes story.
PUMA's Marketing Strategy
1. Get to know the brand
PUMA is a German company based in Herzogenaurach that designs and manufactures athletic footwear, apparel and accessories. It was founded in 1948, becoming a public company in 1986 when it was listed on the stock.
The brand is all about achieving greatness, being brave, confident, and passionate. And PUMA is definitely a core element in helping people succeed in whatever they put their minds to.
According to the brand, PUMA supports over 14,000 employees across more than 120 countries.


This German sportswear company definitely deserves its place in the industry, considering that people trust a brand that is always dedicated to getting to their hearts.

With the help of technology and in a century in which social media is the center of attention, PUMA found the secret to engaging with its audience and pushing the limits in sports and culture.
2. PUMA's content strategy
As one of the big sportswear brands, PUMA's team relies a lot on social media activity. And because everything goes social nowadays, being present and engaging with the audience is one of the big goals.
To do that, there is a need for a great marketing strategy.
Any brand, big or small, is more than just a nice logo. A brand is a way of communication between people, and it is strongly related to how you make your customers feel.
And the team from PUMA knows how to go from brand storytelling to new marketing opportunities.
As we're all aware, there is no recipe for the perfect marketing strategy, but it's safe to say that practice makes perfect.
Abigail Rogers told us during the podcast episode that the key to success is to keep testing and trying a lot of different things on social media. So it's time to take advantage of all the opportunities out there.
Find out more about Abigail's insights regarding PUMA's marketing strategy in Insider Insights podcast episode:
Now that we're all spending time on social, Abigail said that the pandemic changed their social media strategy 100%, meaning that they had to do a lot more for a lot less.
And because people are online more, that's the perfect reason to try new things and new types of content. If creativity is by your side, then all is well.
For instance, if you're a big fan of sneakers, then you should definitely follow PUMA on Instagram. There you'll find photos of new products and footwear designs, as well as many influencers who will motivate you to be more active.
Or you could just choose your next pair of sneakers according to your zodiac sign.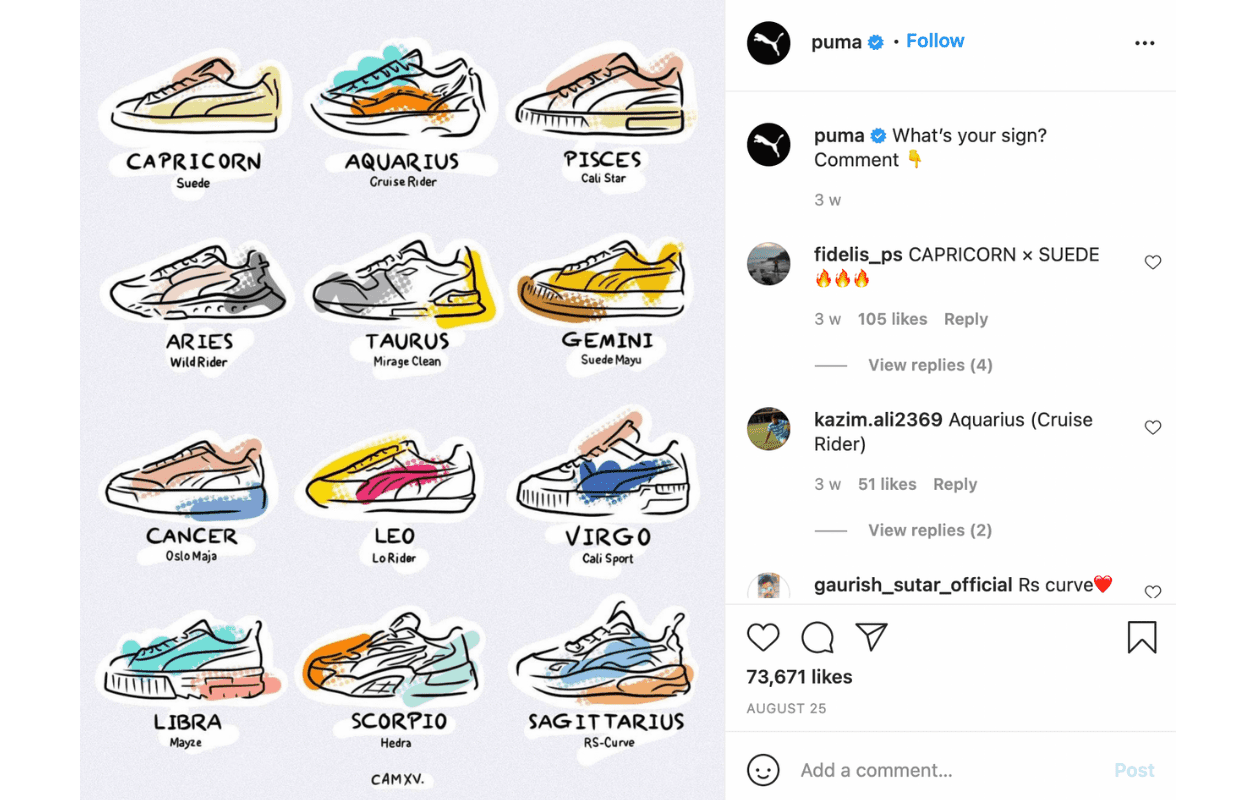 IGTV, Instagram's video platform, is the place where creators go wild and play around with their ideas.
And because video is a really popular type of content, all social media managers know how important it is to keep up with this trend.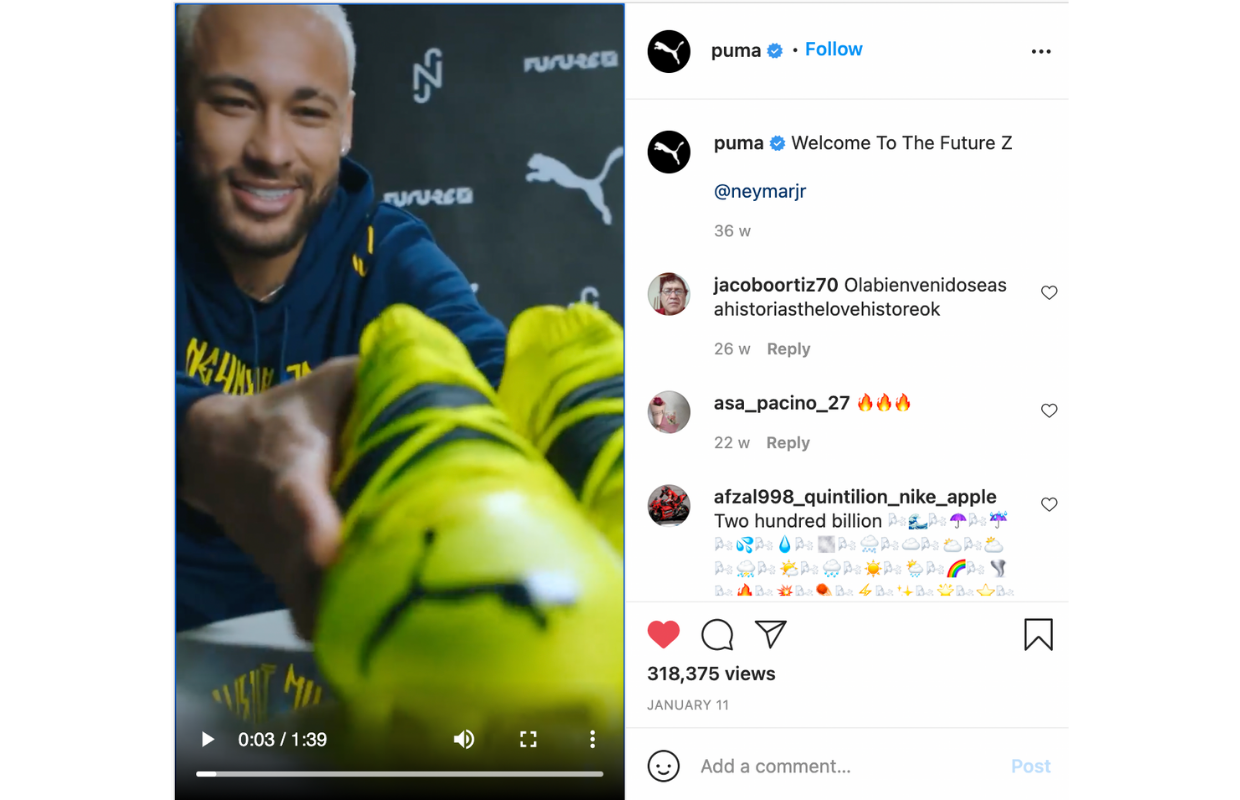 PUMA publishes IGTVs to promote various collaborations or create motivational videos that will make people more active. Start your day with a Yoga session with Cara Delevingne.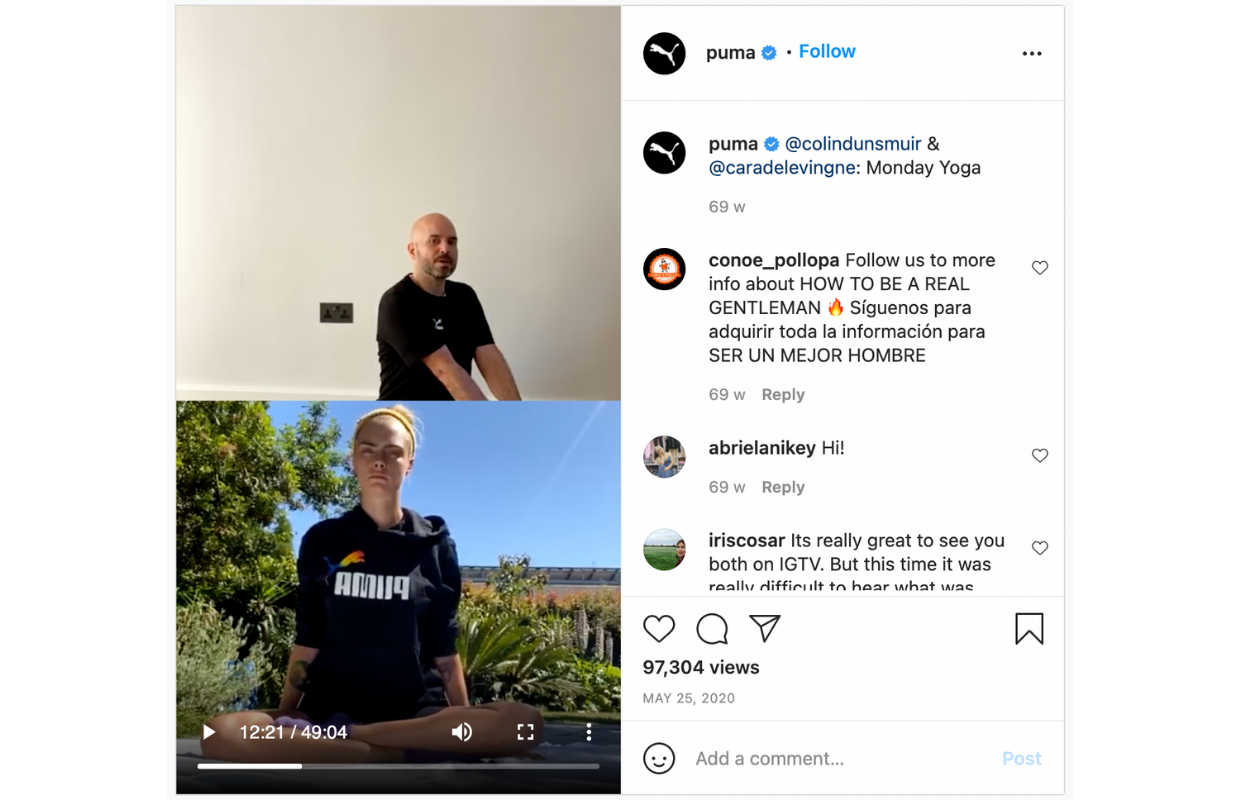 With more than 21 million fans on Facebook, the brand has recently started to promote its newest collection: PUMA x Animal Crossing.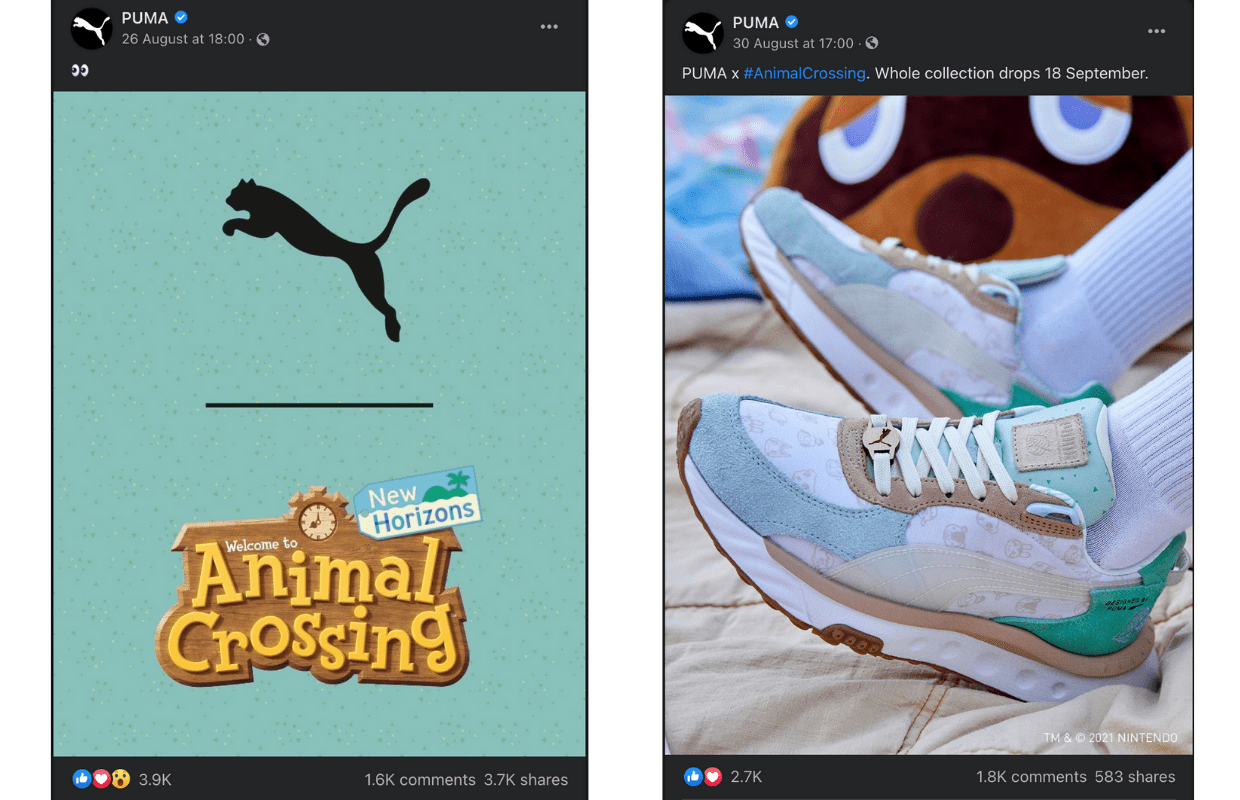 Take a deep breath and go buy your pair of sneakers. You won't regret it!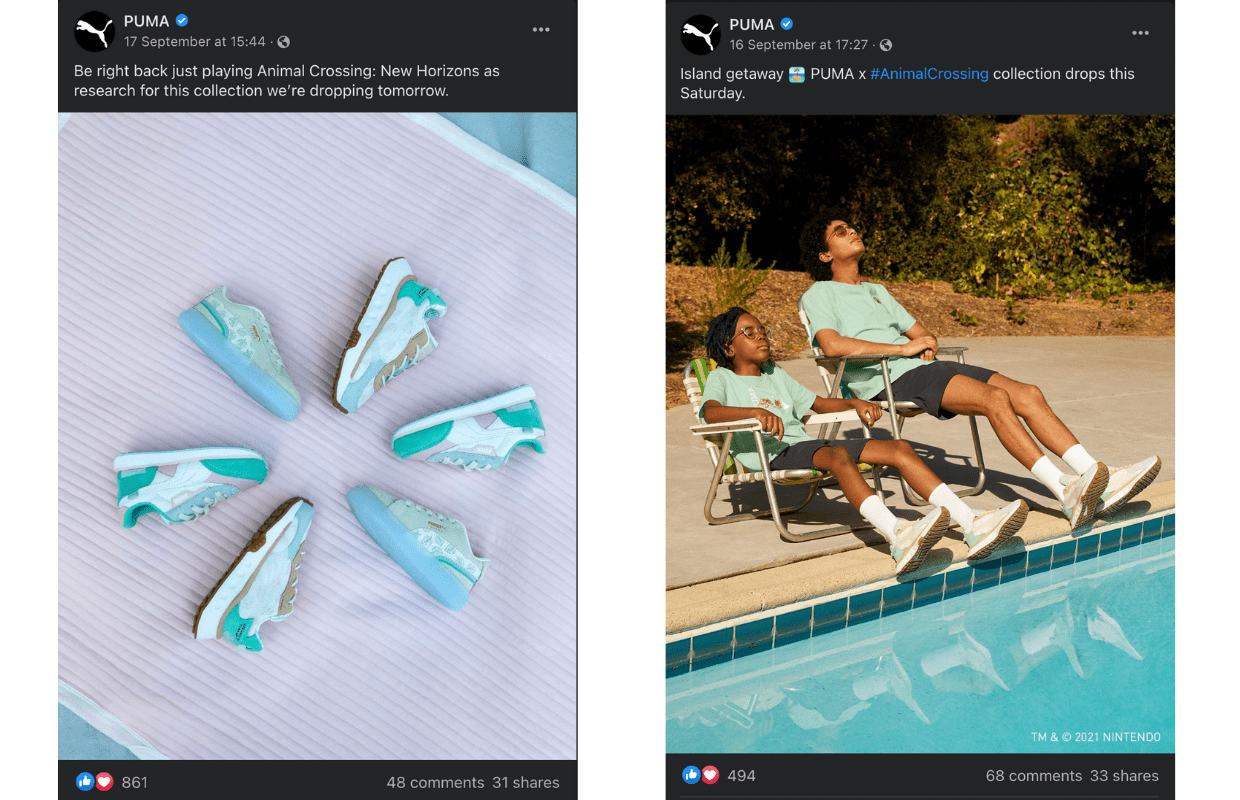 More than that, Facebook is also the place where we see the fun side of engaging with the audience.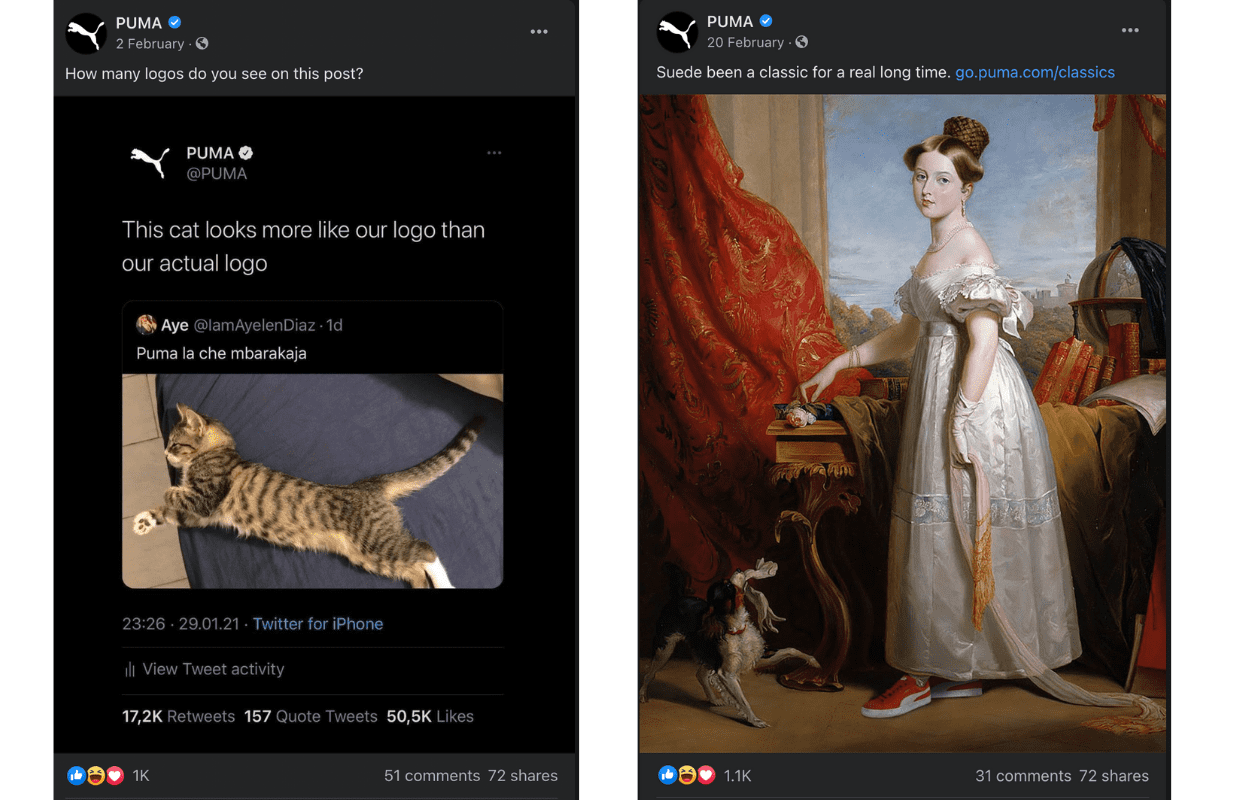 On the other had, Twitter seems to be the place where crowd surfing is everyone's favorite activity.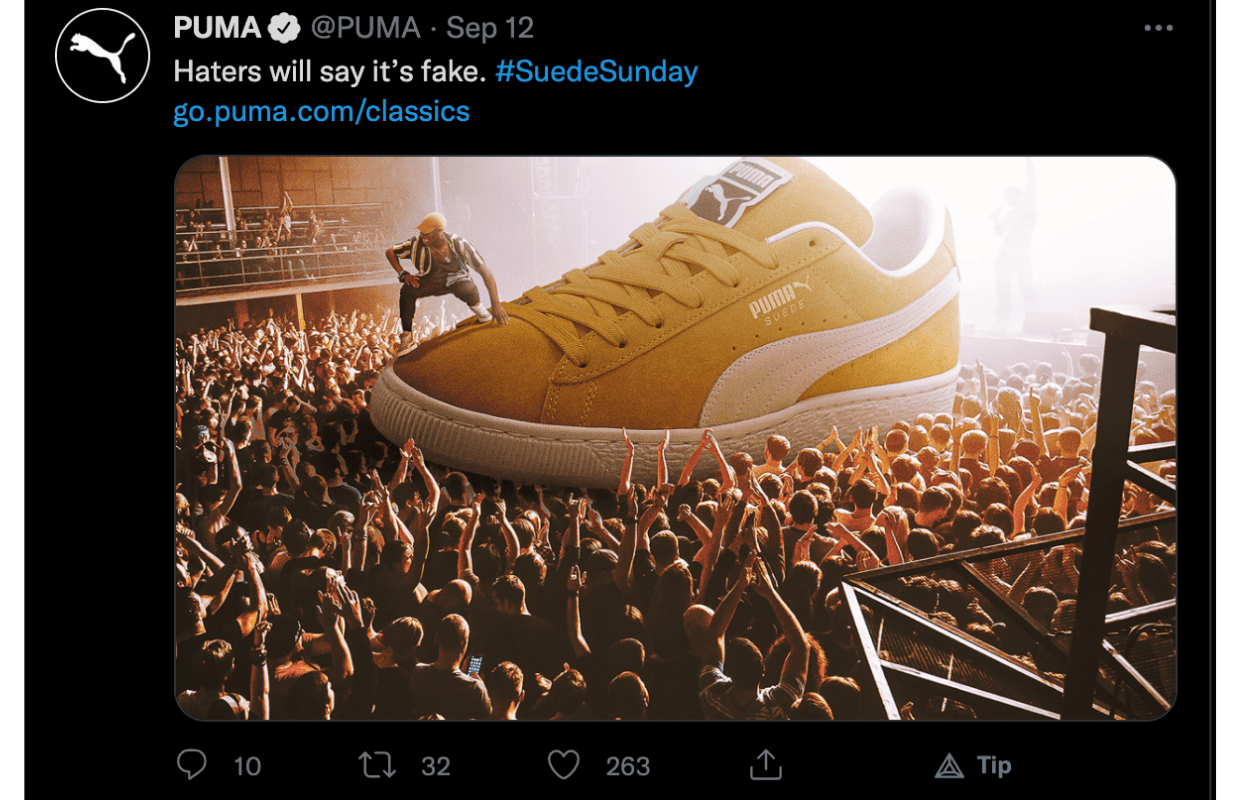 3. PUMA's social media campaigns
Everybody loves a great campaign. As we can imagine, a well-done campaign is always an opportunity to get closer to people and ultimately achieve some goals.
PUMA is the type of brand that embraces change: from the change that comes within ourselves to the change in our environment.
And social media is the mediator between the brand and the community.
Trying to find better ways to connect and collaborate with their communities, the team at PUMA has created some fantastic social media campaigns which are more than just promoting nice sneakers or new clothes.

For example, Only See Great is the campaign created to bring light into this world full of uncertainty.

PUMA's ambassadors joined forces in order to tell one story: what it means to achieve greatness and the struggles that come along the process.

Abigail told us a lot more about the hard work that was behind the campaigns created in collaboration with Neymar Jr., PUMA's ambassador.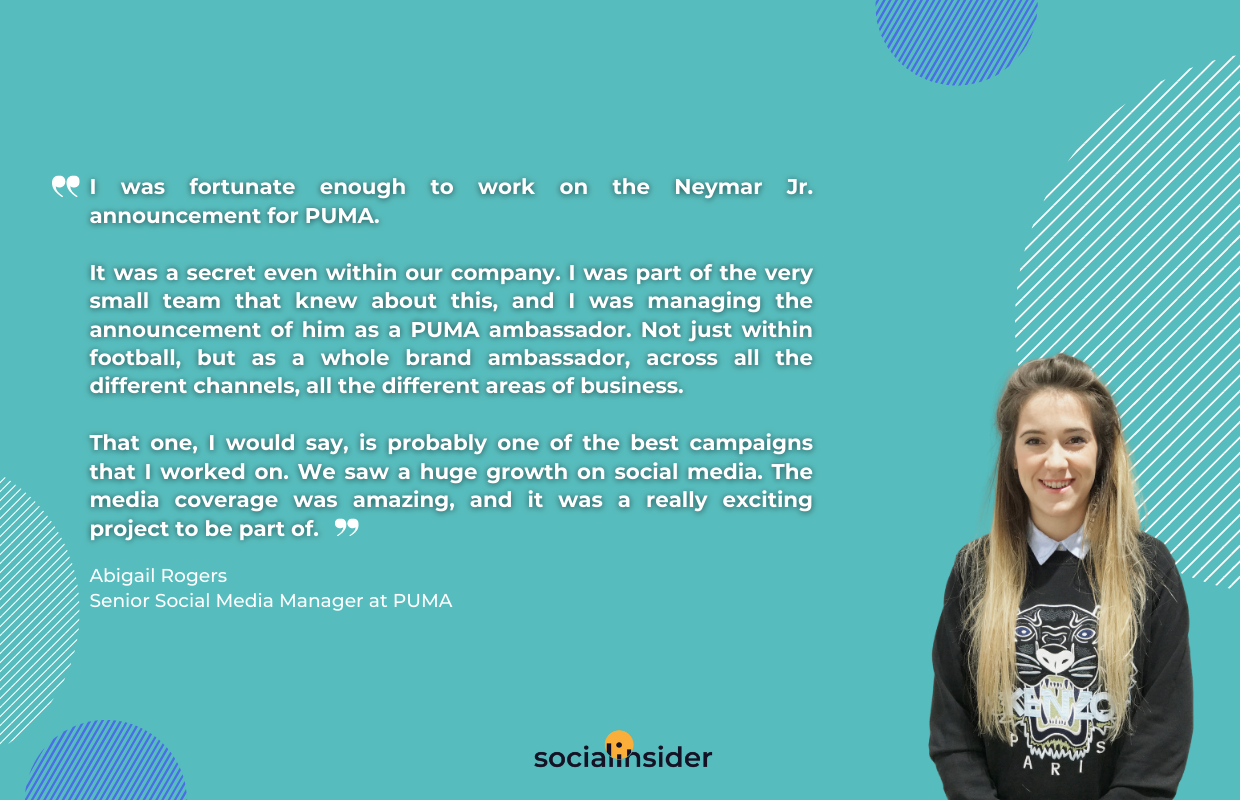 Another amazing campaign is She Moves Us. This one is meant to empower women from all over the world. It's all about confidence, style, and being a force of nature.
According to them, the PUMA Woman inspires the other women around her to get active and get with the movement - and they inspire her right back.

With this campaign, PUMA also wants to promote gender equality in sports.
The brand aims to increase the visibility of female athletes in the sports world.
More than that, you can find more about the PUMA Woman on this special Instagram profile.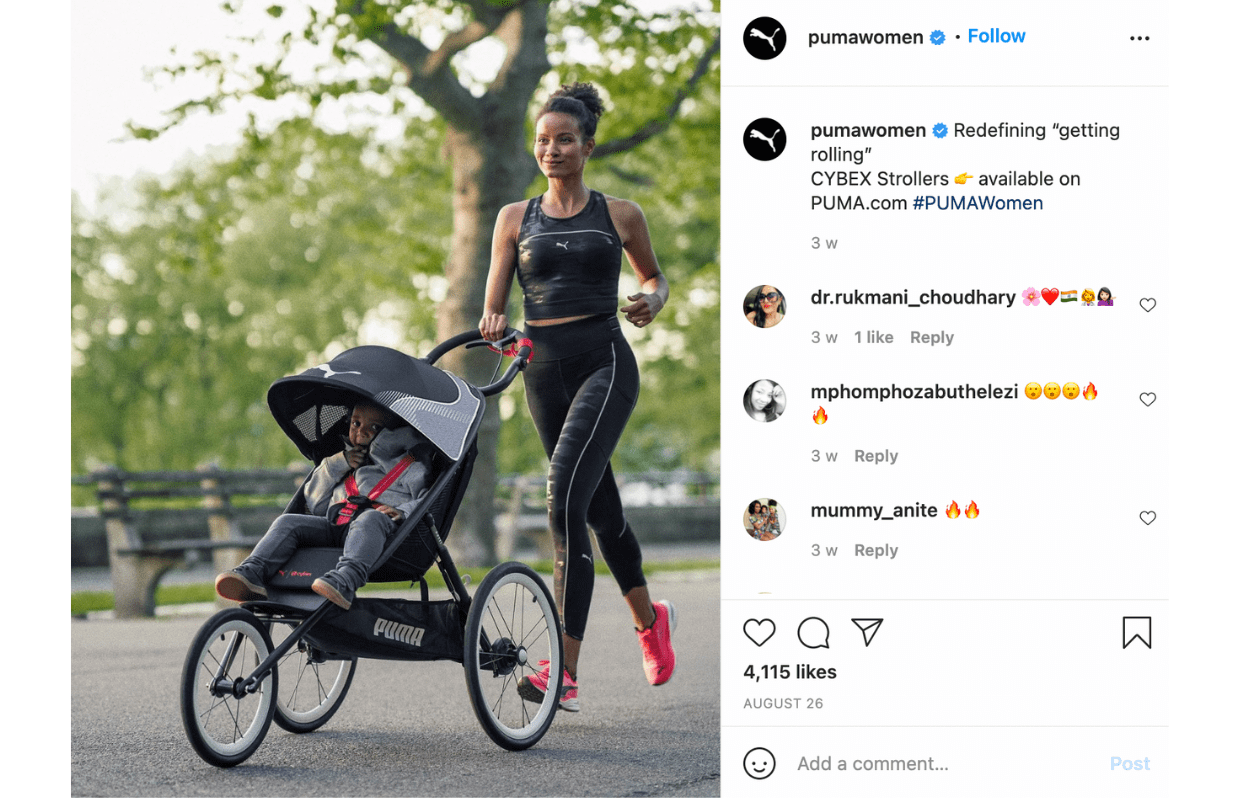 4. PUMA's ambassadors and collaborations

The brand ambassador is the one who represents and advertises the company. You can think of an ambassador as the embodiment of the brand's identity.
PUMA chose its ambassadors according to their stories and shared beliefs.
Considering that an ambassador is meant to give the brand a human touch, finding the right person may not necessarily be an easy thing to do.
Probably the defining element for a collaboration between the brand and its people is honesty. Why? Because this is exactly what we all want, what customers are looking for.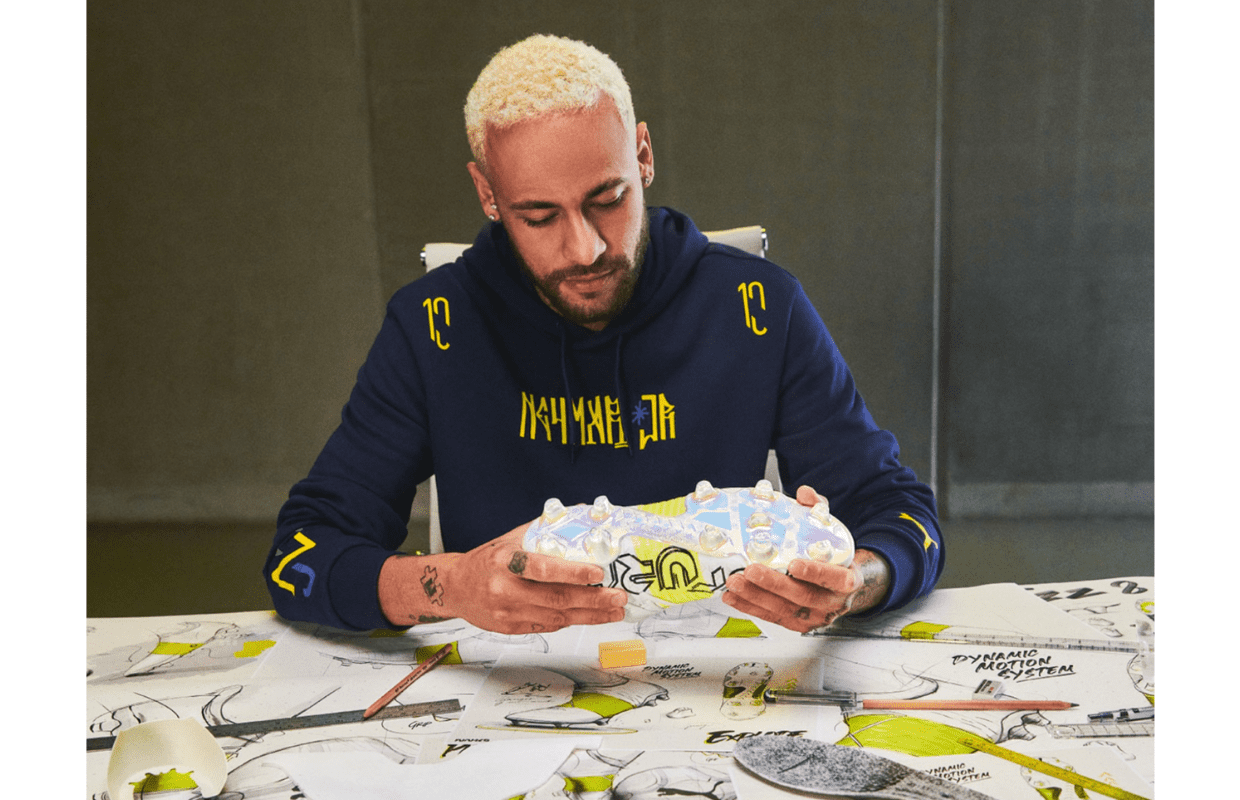 As Abigail said, Neymar Jr. is one of the biggest brand ambassadors that they have ever signed.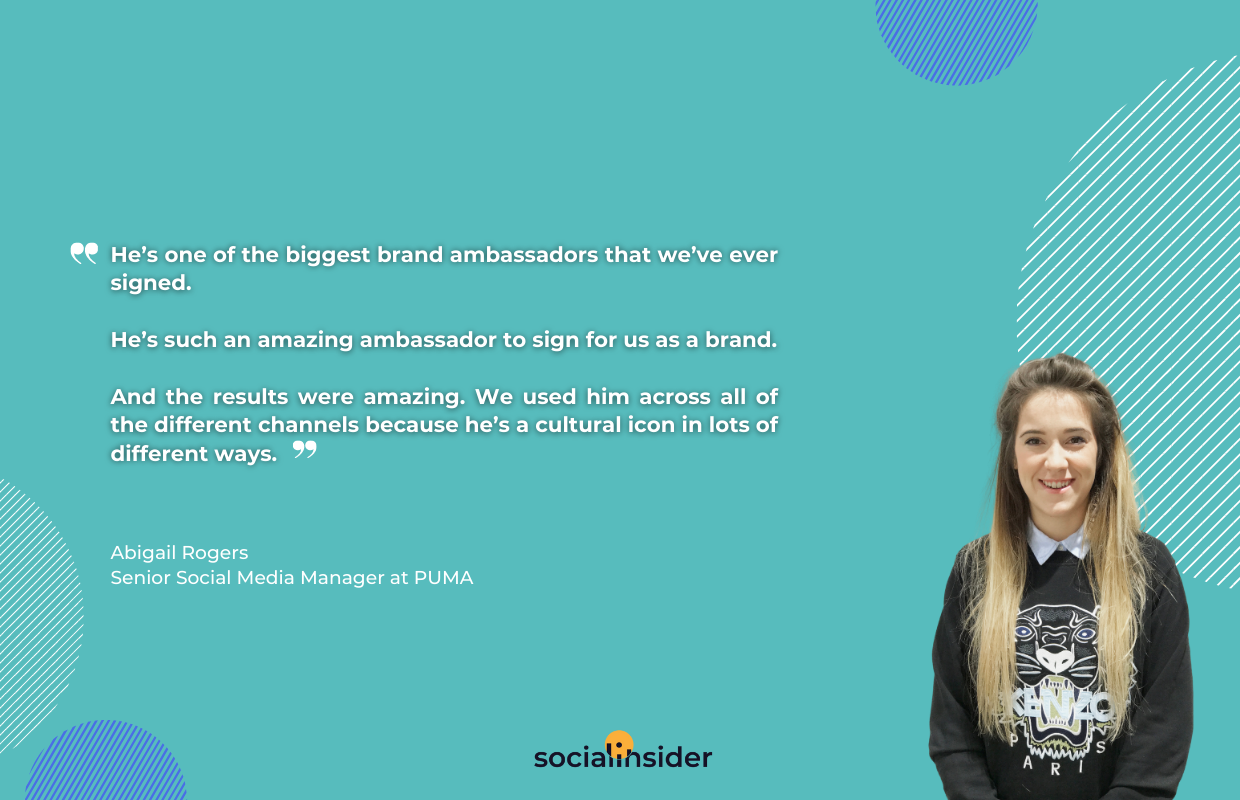 Abigail was also the one who worked closely with the team that created the announcement campaign, which made the entire collaboration between PUMA and Neymar Jr. a lot more fun for her.

Probably one of the best collaborations was the one with Rihanna. PUMA Fenty x Rihanna is a wonderful collection that brought a lot of attention to the brand.

Another new addition to the team would be Selena Gomez. As an artist, Selena knows how important creation and evolution are.
PUMA has taken the same approach to re-imagine some of the brand's original products.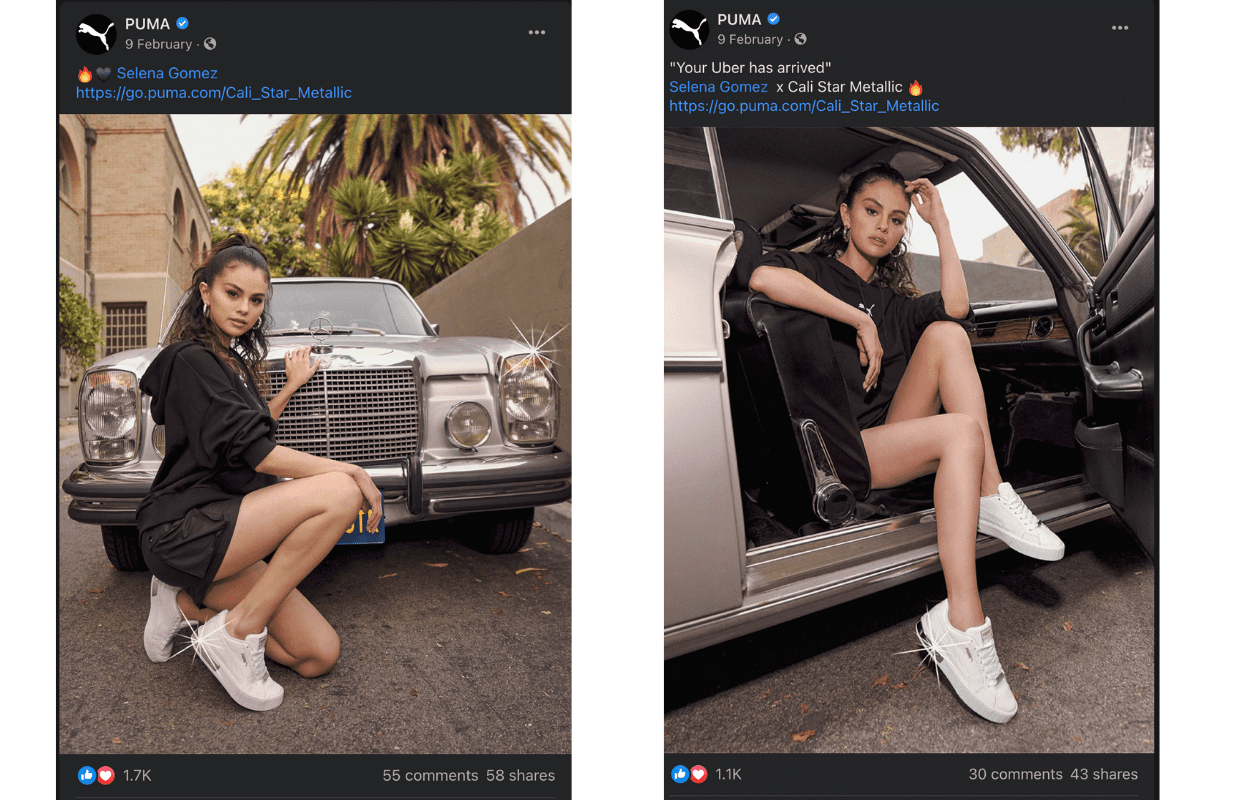 Cara Delevingne, Dua Lipa, and J. Cole are also part of their collaborative projects.

5. PUMA and its competitors
In the course of more than 70 years, PUMA has made history with its impressive footwear, apparel, and accessories.
Through innovations and wonderful designs, the brand has become an essential presence in the world of sportswear.

But behind every success, there's always hard work and a strategy that's meant to keep the business going.

With almost 37 million followers across all social media platforms, it's safe to say that the team has created a powerful marketing strategy.

In order to bring data into the game, I used Socialinsider, a social media analytics, reporting, and benchmarking tool.

With the help of Socialinsider, I discover that although most of the fans are on Facebook, the engagement is not quite as good. That's why PUMA relies massively on Instagram.
As a result, the most engagement comes from this platform which means that the team's work was well received.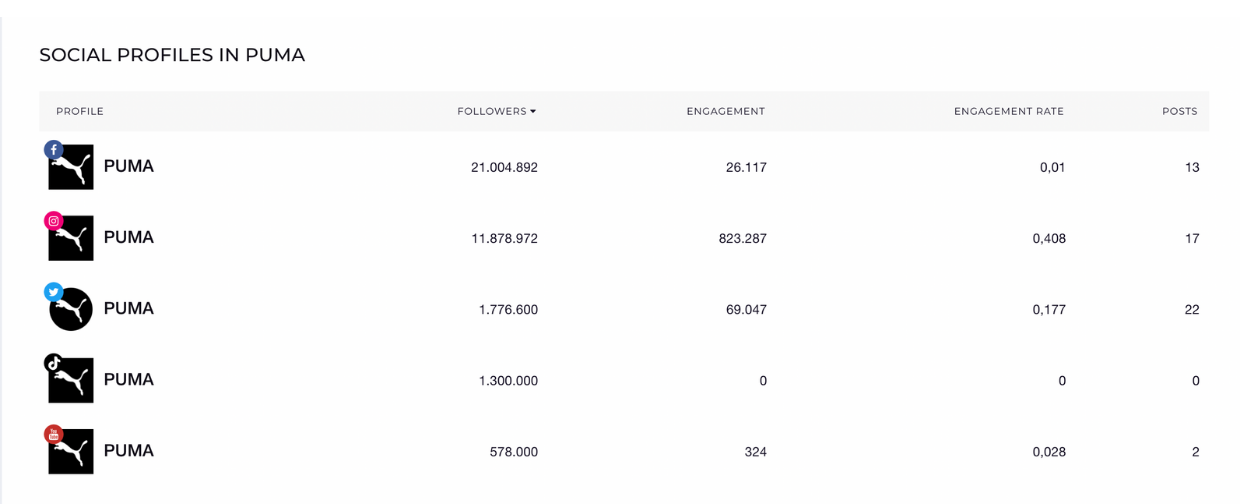 More than that, in order to understand where to place yourself as a brand, it's important to take a look at what your competitors are doing.

In this case, I added the Instagram profiles of PUMA's main competitors (Adidas, Nike, ASICS, Reebok, Under Armour) to see exactly the brand's performance. With the Benchmarks feature, I was able to get in-depth analytics.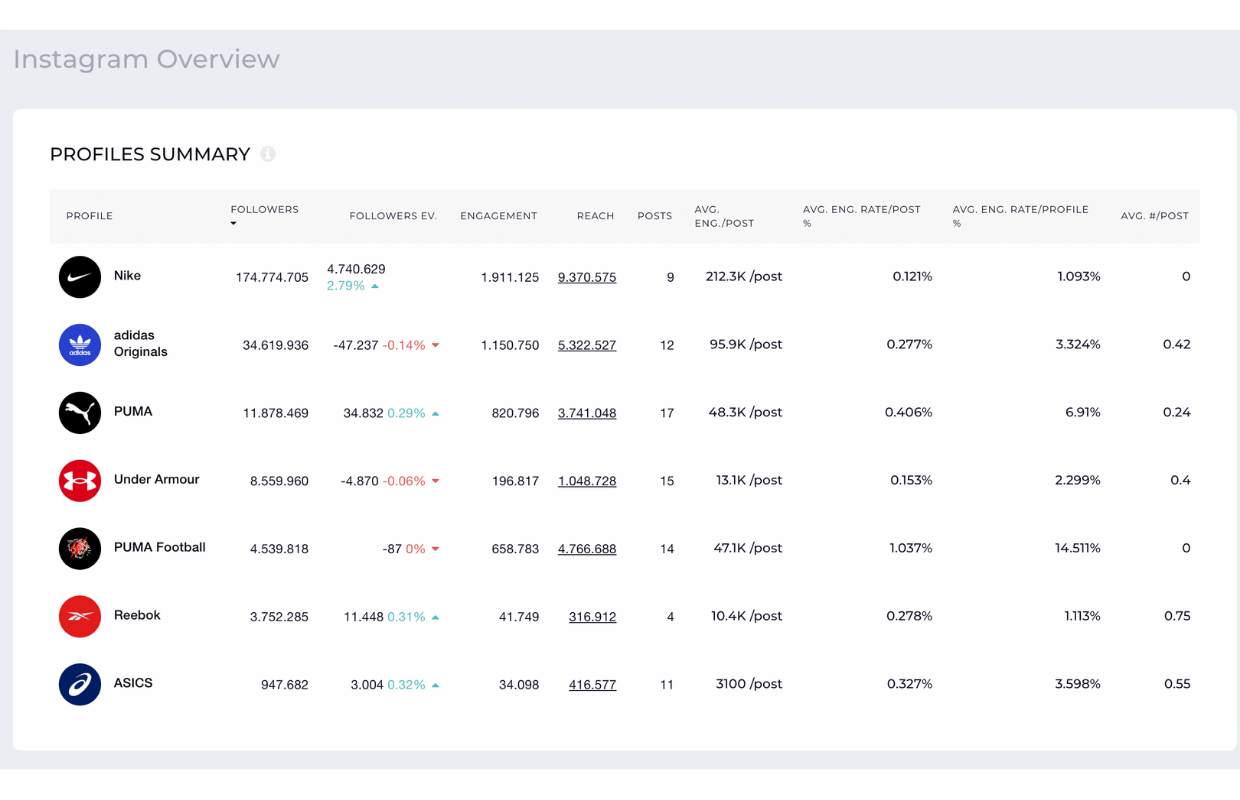 As you can see above, PUMA keeps its head in the game.
It's not always about numbers, but it's also about engaging with your audience beyond social media: sharing common beliefs and creating a powerful community is one of PUMA's primary goals.
Going further, we'll see that despite those numbers, PUMA is the most active on Instagram, considering that it has the most posts published in the course of the last 30 days.
PUMA Football's Instagram profile, Abigail's area of expertise, comes in first place with the highest average engagement rate per post. Yaay!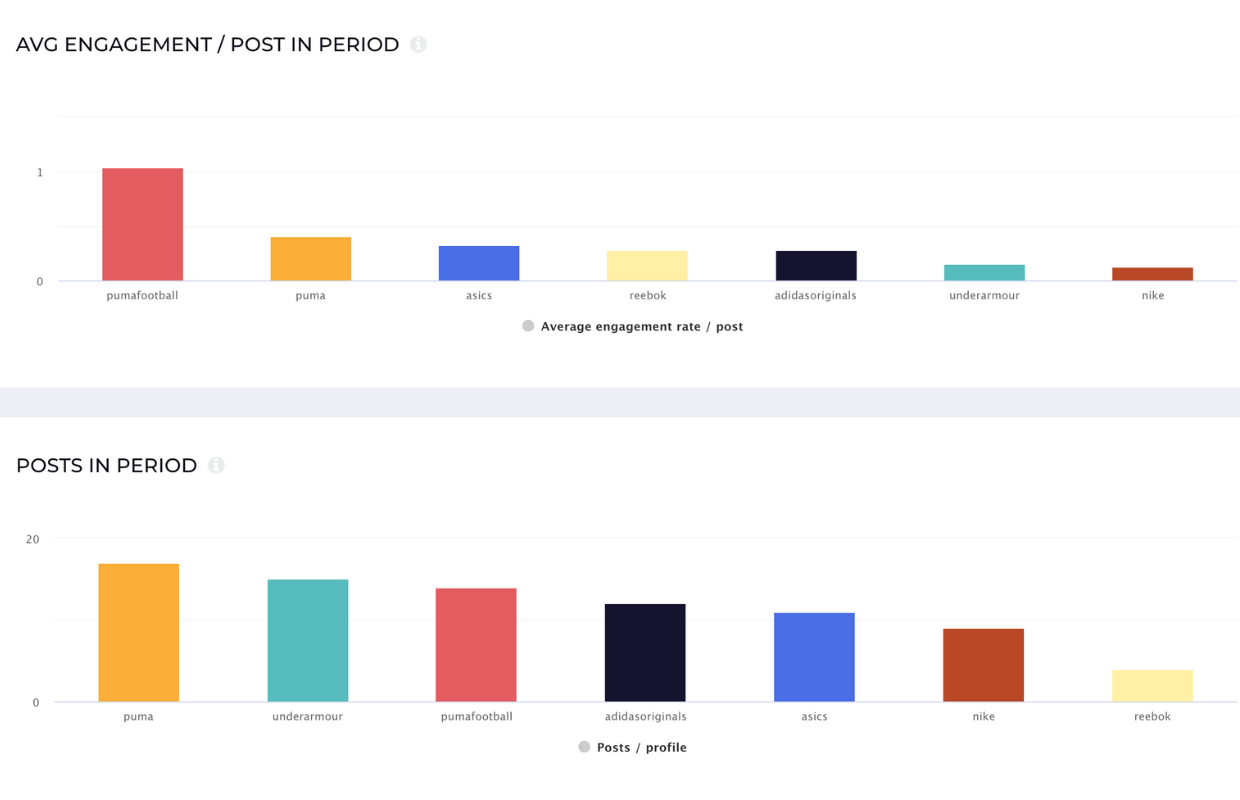 What's really awesome is that an analytics tool is able to give you more insights than you might think.
For example, you could compare any Facebook page or Instagram profile with the industry of your choice.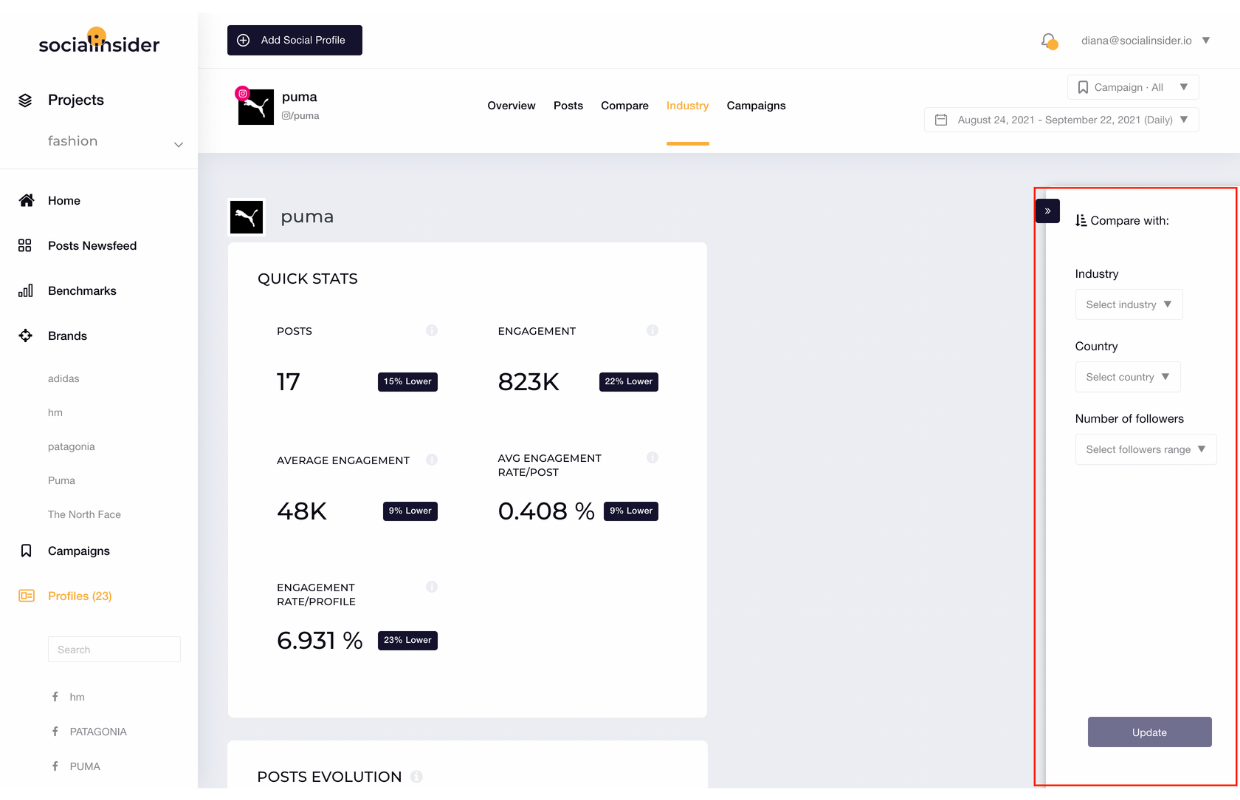 This way, it's easier to see how your brand performs against an industry as a whole.
Final thought

PUMA has a creative and well-thought marketing strategy, which indeed brings great results.
Being one of the world's leading sports brands, the entire team pushes sports and culture forward all over the world.
We all know that the perfect recipe for social media success is part of fairytales, while the real world focuses a lot on keeping up with everything that's evolving.
Change is good, and when social media is constantly changing, it's obvious that the next step comes from us.
And as Abigail said, this means testing everything and trying new things all the time.
The big brands know this by heart, so it's good to know that you can always pay attention to what those around you are doing.
Take a look at what the team at PUMA is doing to understand how to be a great creator who puts passion in everything.