Nowadays most people tend to be more attracted to the innovative ways marketers advertise their products on Instagram, paying attention to the details that lie in the posts.
Since the average time spent on Instagram on a daily basis is sometimes higher than 30 minutes, marketers need to learn how to steal the thunder and use that time in their favor.
To make sure they made the right call, marketers need social media data to analyze their impact on prospective clients.
In order to access main Instagram data, you need to upgrade to a business account to measure your performance on social media.
Here are some top gear insightful tips about your visitors, who they are, what they like and how to attract more of them.
The know-how of Instagram Analytics
1. Why is Instagram analytics so important?
To enable successful social media marketing, marketers need to uncover primary Instagram audience insights. This is how they can understand more about who is their audience, what social media content they prefer and when they are active.
Instagram analytics provides the proper data that can help you improve your business and pave your way to success.
Instagram analytics can help you boost your brand's performance, by teaching you how to improve your social media strategy.
Due to Instagram audience insights, you can learn what results different social media posts bring. By finding the proper Instagram metrics to track, you can grow your community.
Instagram statistics and insights offer you the chance to make your brand shine and stand out from the online crowd.
2. How to access and use Instagram analytics?
To easily access Instagram analytics, you need to switch to an Instagram Business account. This is how you'll have access to ads and your visitors will find it easier to contact you.
If you haven't done that yet, you have to go to the "Settings" page, that drops down under the Options menu, to gain access to Instagram analytics.
From the "Settings" page, you access  "Account" and then select "Switch to Professional Account".
After you have converted your profile, you are all set to explore Instagram analytics. All those Instagram statistics and insights will help you improve brand awareness and performance.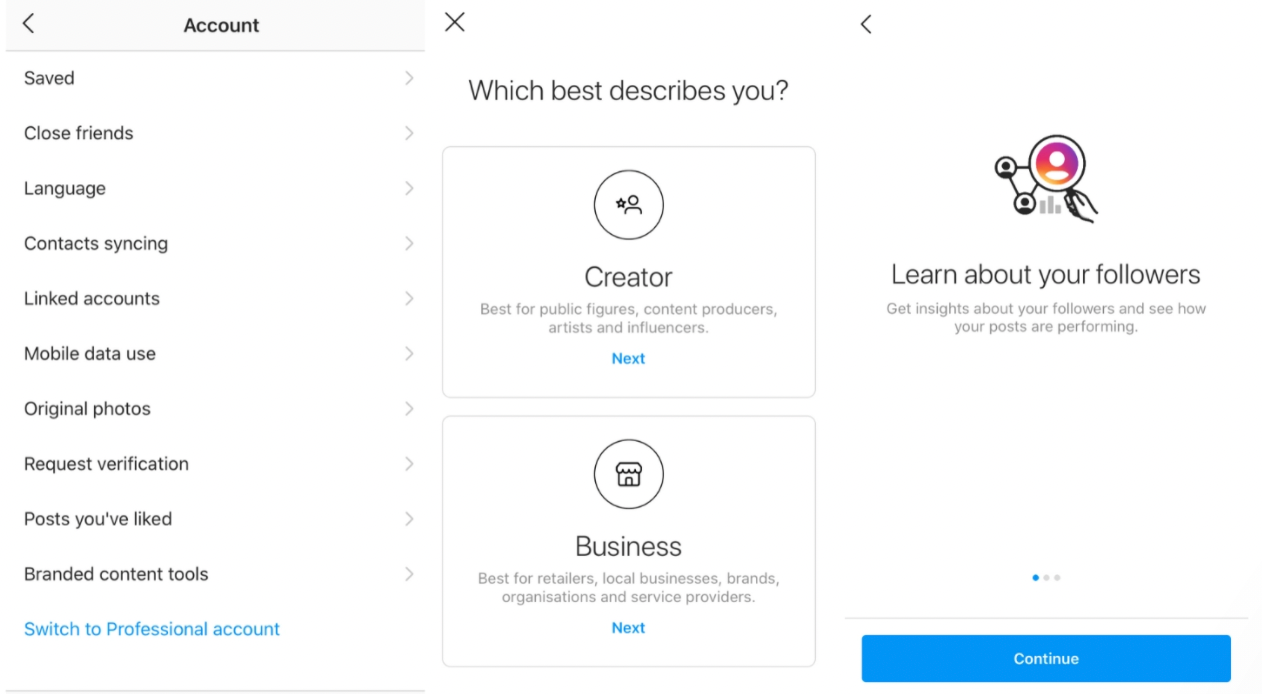 Once you've switched to Instagram Business account, a new button will appear on your profile that looks like a bar chart, situated above the number of followers.
Tapping this button will take you to a new page where you can view all your Instagram profile analytics.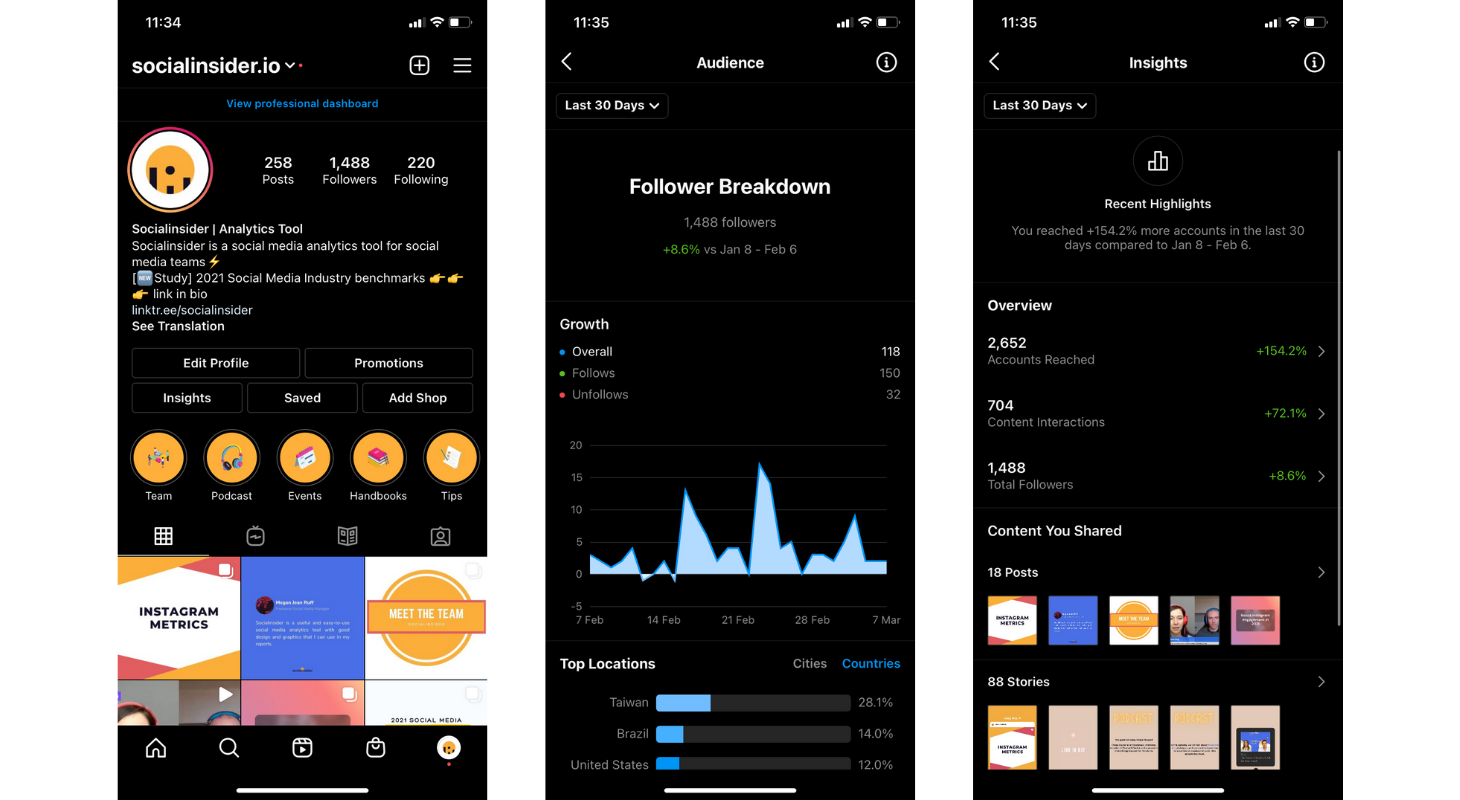 Be aware of the fact that Instagram offers you the opportunity to check analytics for only 7 days or 30 days.
If you need data from previous posts or more in-depth information, a tool like Socialinsider can be of greater help.
Socialinsider offers you comprehensive and well-documented Instagram analytics, with complete reports and statistics. Moreover, Socialinsider will allow you to view competitive insights.
Here is a complete and detailed list of all the KPIs that are provided by Instagram analytics tools.
Instagram profile analytics
Level-one performance metrics
For marketers to calculate level-two performance metrics, their own data is the benchmark they should use to establish what their followers love about their brand.
Here are three types of level-two performance metrics that can help improve brand awareness.
This Instagram metric shows you the decrease or increase of any other metric. For instance, follower growth displays the count of your followers and how it changes over time.
There are also other Instagram insights that track your growth, like we previously explained, such as reach, impressions and engagement.
Rate metrics offers you a percentage figure to help you make better use of certain metrics.
A useful example is the interaction rate. This represents the percentage of your audience who have interacted with your posts and Stories.
For Stories, shares, replies and likes are considered to be interactions with your followers. For Instagram posts, comments, likes, shares and saves are grouped as interactions by Instagram analytics.
Average metrics offer you insights about your general performance of your Instagram posts.
For instance, when it comes to average likes per post, you can find out the total number of likes your posts got. You can also select a time period for a more accurate result.
Level-two performance metrics

Reach
The reach of a post measures the number of unique users who have seen your content on Instagram, including photos, videos, Reels, Stories and carousels.
In order to check this feature through Instagram analytics, you need to access the overview section to get the number of accounts your content reached in the last 7 or 30 days.
The number of accounts reached by your posts is the reach of your profile.
Instagram impressions represent the total number of times your content has been displayed, even if some users have seen your posts multiple times.
Sometimes when a user randomly sees one of your posts in their newsfeed, they'll often turn to your profile, if the content they see is engaging enough.
By reaching your Instagram profile, it means they want to learn more about your brand.
Profile visits reflect how efficient your content is and how it can drive users' interest towards your brand.
Average engagement rate per post by followers
Any successful marketer knows that they need to keep an eye on several Instagram analytics metrics, but the top priority is engagement.
Here are several ways you can use engagement to analyze your Instagram performance and gain actionable insights.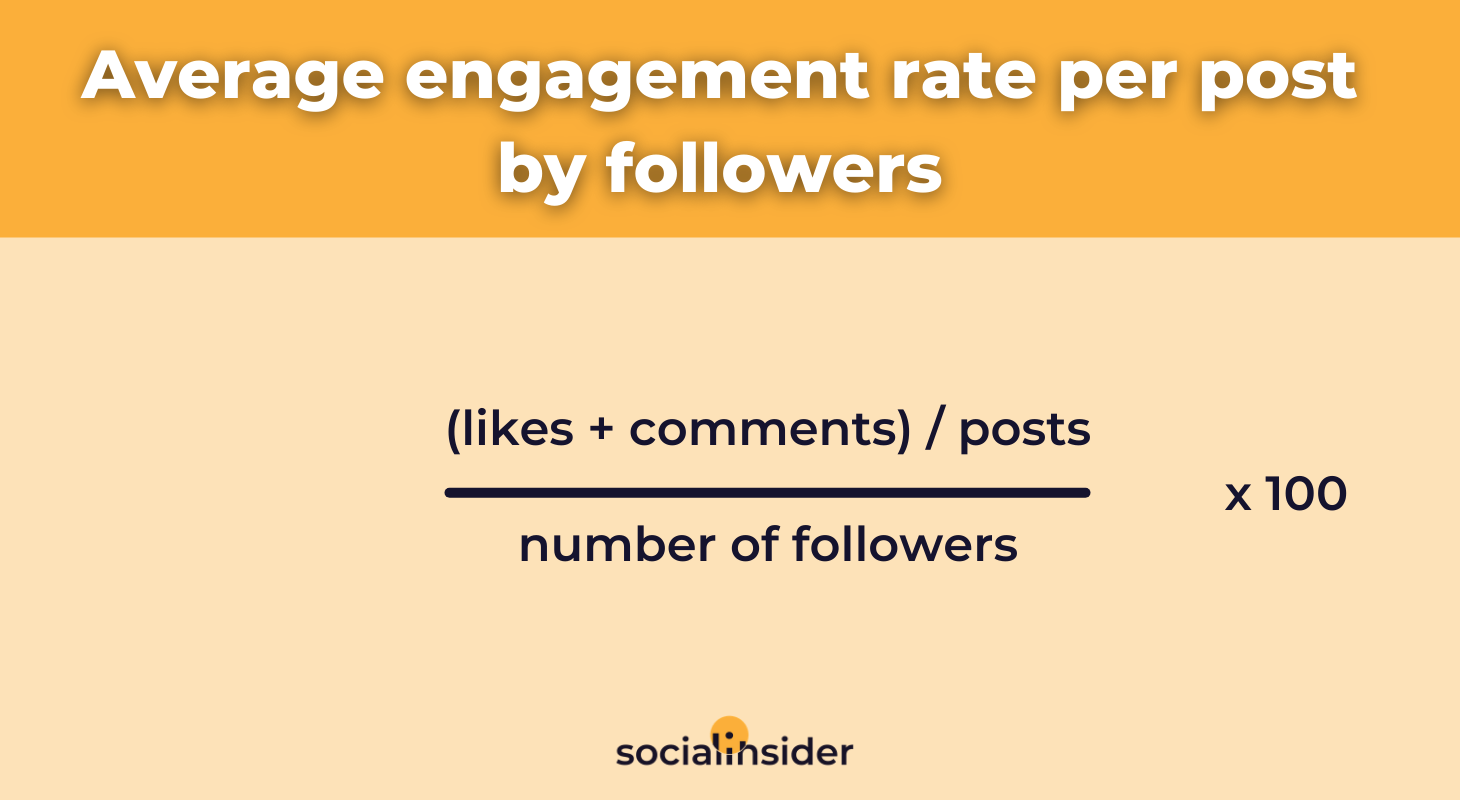 Look at:
Total engagement sums up the total number of likes and comments your Instagram profile has received.
The average engagement is the total engagement of all posts (likes and comments) divided by the total number of posts on your profile. This way, you will find out how involved your audience is.
The average engagement rate per post by followers is the average engagement divided by the number of followers your page has and then multiplied by 100.
By monitoring this analytics on Instagram, you can obtain useful social media insights about your profile, helping you establish marketing strategies that can help your brand elevate.
Average engagement rate per post by reach
Most marketing specialists and social media managers use this Instagram insight to visualize their Instagram performance.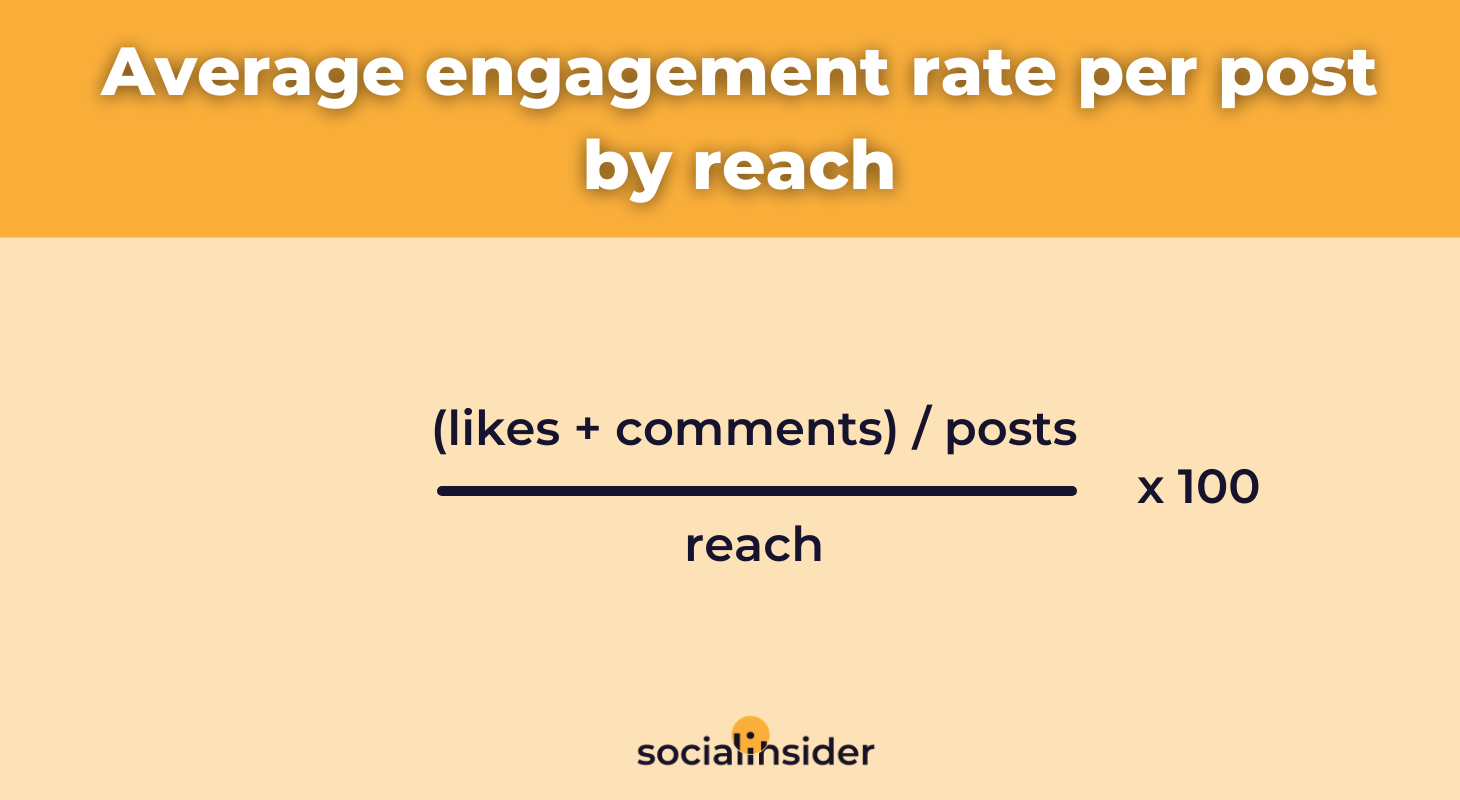 The average engagement rate per post by reach is calculated as percentage of likes and comments divided by total number of posts for a specific period of time, all divided by reach.
Instagram analytics shows that engagement rate per post by reach is accurate only for own accounts due to the fact that reach values are not available for competitors.
Followers growth on Instagram
The followers growth metric offers marketers a better understanding of the evolution of your Instagram profile over time.
This Instagram metric shows you the ratio between gained followers and the ones you lost. Even if Instagram analytics doesn't display this number, you can easily find it using an Instagram analytics tool such as Socialinsider.
Metrics for branded hashtags

This Instagram insight also measures the effectiveness of your brand's Instagram strategies.
A useful Instagram analytics tool can display the results and activity of your most used hashtags.
To make sure you use the appropriate Instagram analytics hashtags, you can use a hashtag generator.
This tool will help you find trending hashtags that best suit your brand. Branded hashtags on your profile will increase brand awareness.
When your branded hashtags are used by someone, you can check their post, but also the results they obtain for their post, like reach and engagement.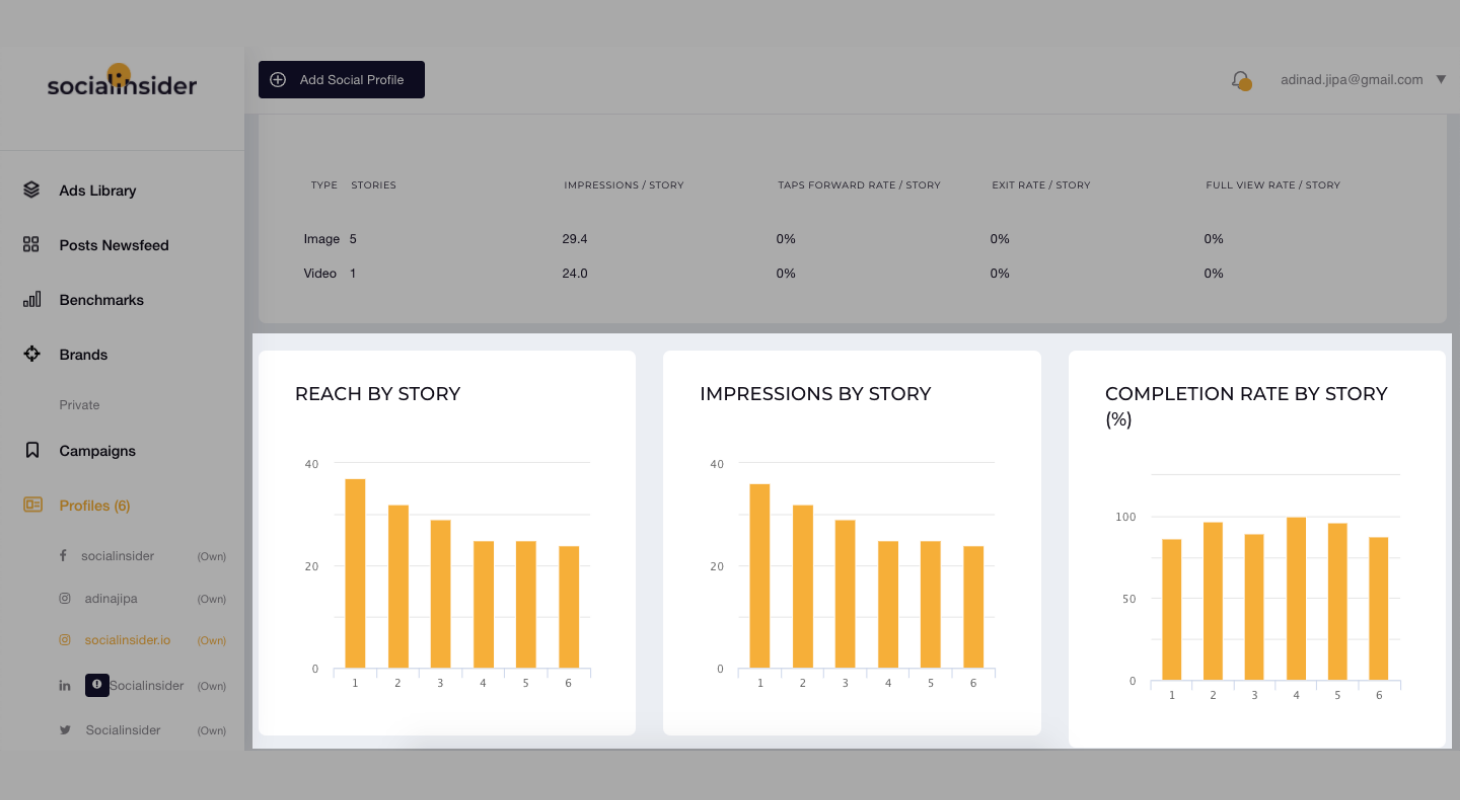 Moreover, this metric will display for you the total posts with your branded hashtags, the evolution of those posts and other hashtags used together with your own.
This suggests that you should thoroughly think about what hashtags to use to increase brand awareness.
An app such as Socialinsider can help you discover which are the most engaging posts based on the strategies you have implemented.
Instagram analytics provide statistics and insights that can help you build your future content strategies accustomed to appeal yours and users' needs.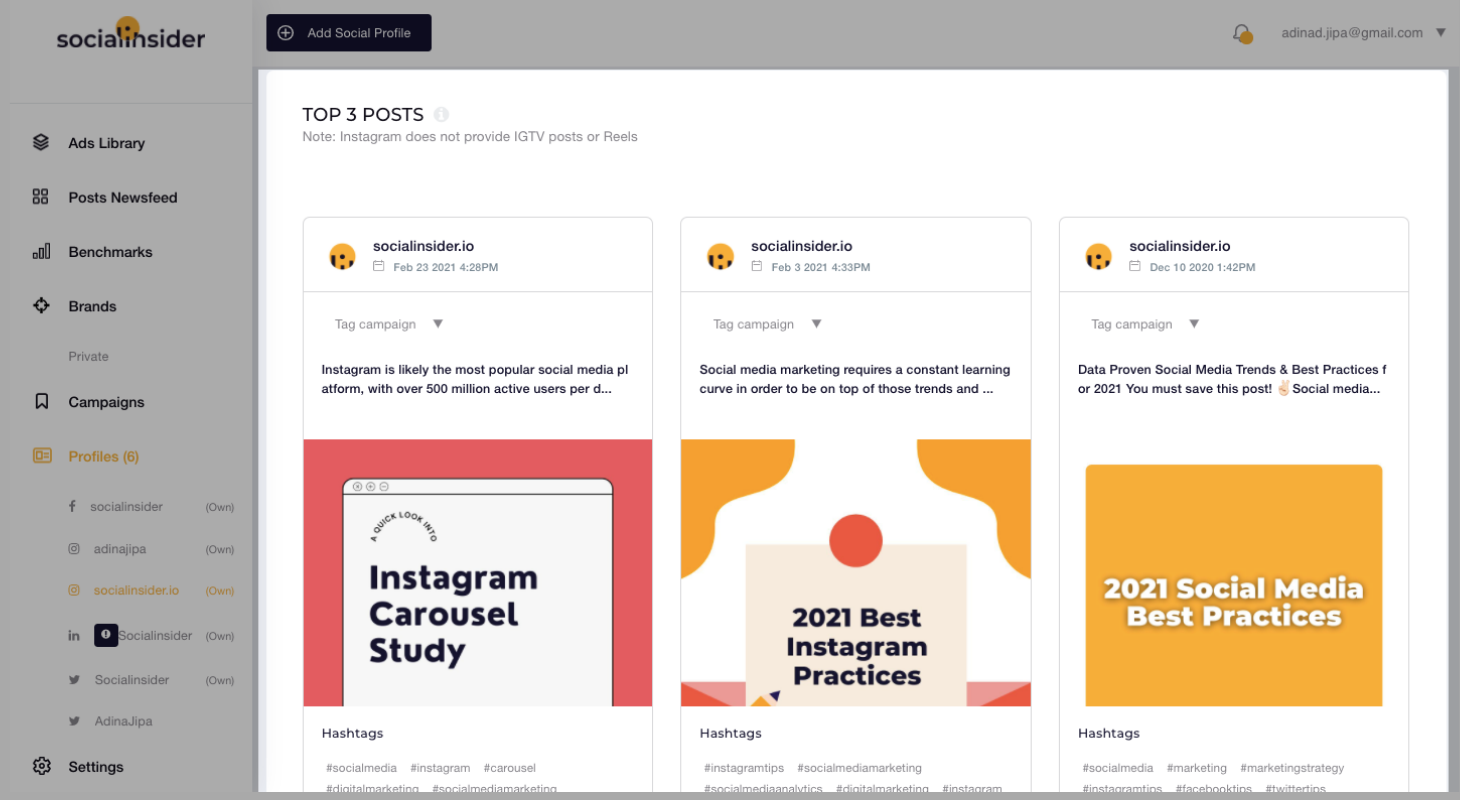 For instance, if you are using carousel posts and video content and your Instagram statistics show that the most engaging ones are carousels, you should continue using them.
Best time to post on Instagram
To find out which is the best time to post on Instagram, you have to think about the time zones of your brand's followers.
In this way, if you mainly post when they are not online, in order for them to like, share and comment, your posts will have a lower engagement.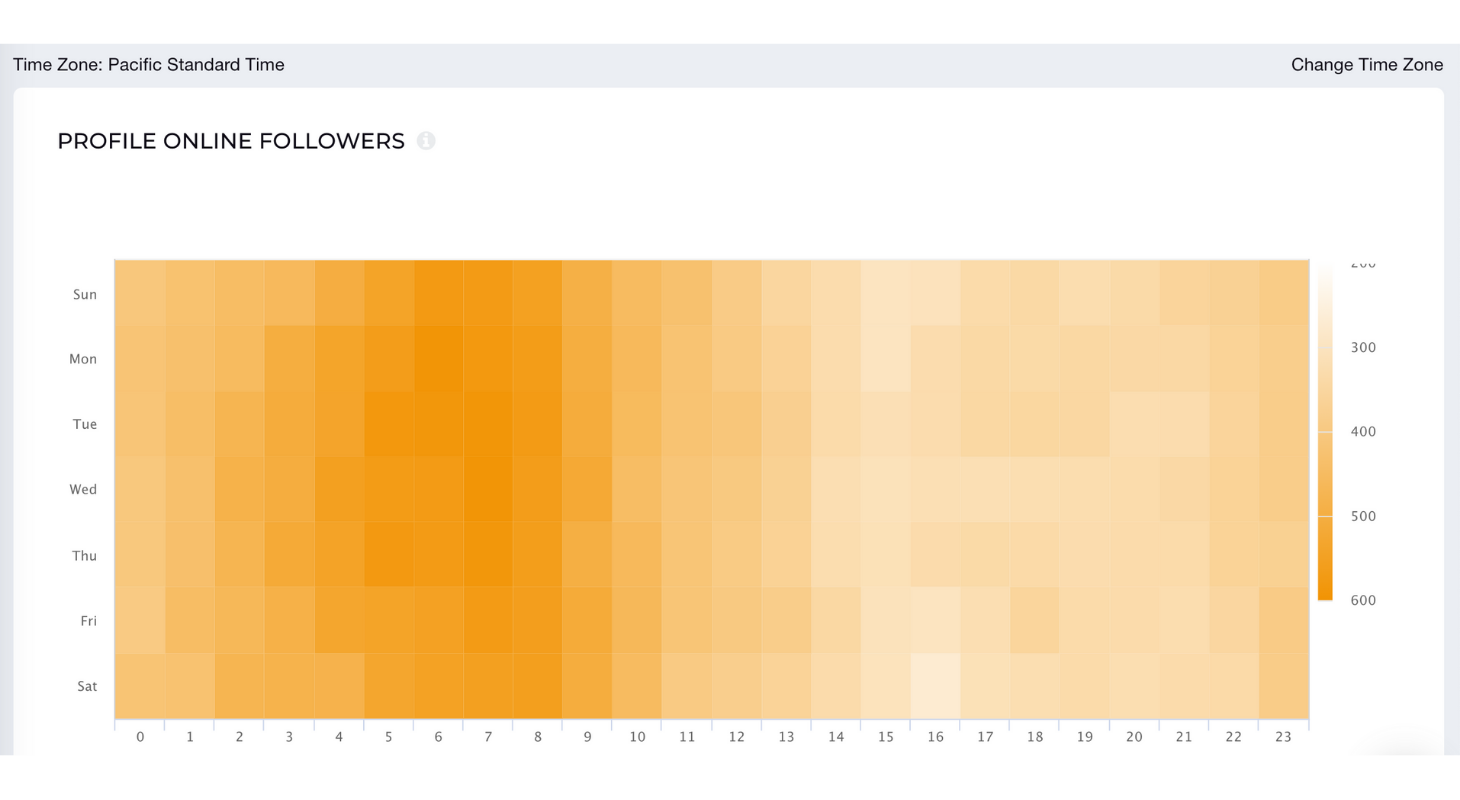 For establishing the best posting time, you need to research your audience. To see the results, you can either use Instagram analytics or a useful tool.
Instagram audience analytics
Instagram followers analytics tools can help you obtain information about your viewers and followers.
To find out how to promote your posts best, you need to discover your viewers' gender distribution.
This Instagram insight shows you the location of your followers and viewers.
When you notice you have viewers from unexpected countries, states or cities, you should accustom your content to their needs to engage with them even more.
To find out if the content you create is engaging enough to determine users to follow you, you need to check followers' evolution.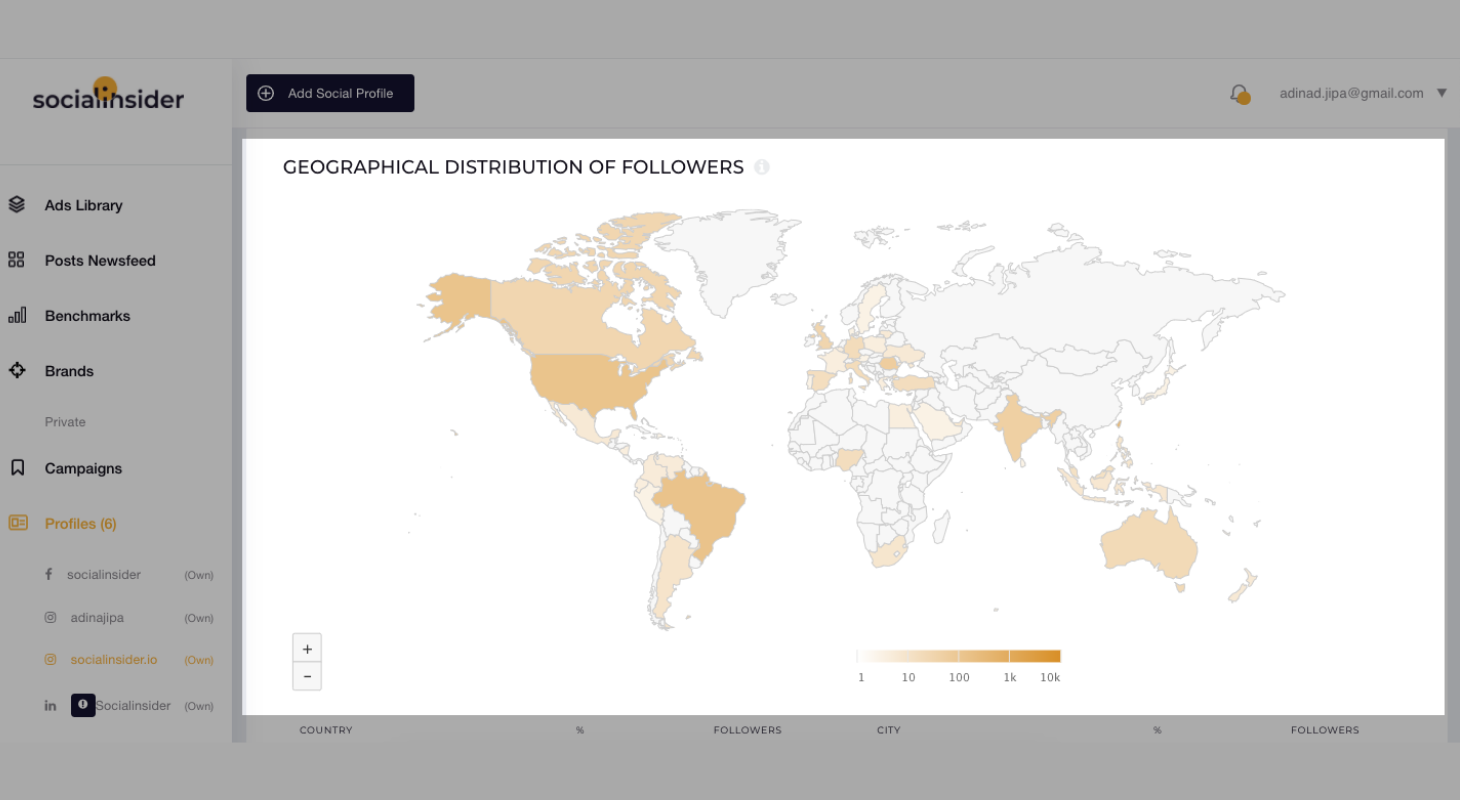 This Instagram followers metric will show you an increase or decrease in the number of followers you have.
Another Instagram followers metric which can help you personalize your brand's content to your viewers' needs is language distribution.
Finding out which languages your followers speak, will help you establish which language to choose to address them. In this way, your content will be tailored to their interest and culture.
Geographical distribution of followers
To support the language distribution metric, the geographical distribution shows you where your followers come from and the numbers are displayed by percentage.
When you find out where your most engaged audience is located, you can adapt your content, including the posting time and post messages to better suit their needs.
Instagram content analytics
Instagram audience analytics offers you insights about your content in order for you to examine your growth.
Likes represent the total number of likes your content got in a specific amount of time.
This feature shows how many people have commented on your posts.
This metric offers you insights about the number of viewers who have saved your content in order to review it later on.
Like most social media apps, Instagram also has a call button. You can use this feature from Instagram analytics or any other Instagram insights tool to find out how many phone leads your posts have generated.
The Instagram emails feature from insights shows the total number of emails your brand has received based on followers' use of the built-in button available on Instagram.
Instagram audience analytics has a designated feature that measures the number of times a person has requested and gotten instructions on how to physically get to a location referenced in your content. This helps you keep count on walk-inleads.
This metric displays how many people have accessed your website directly from your Instagram content.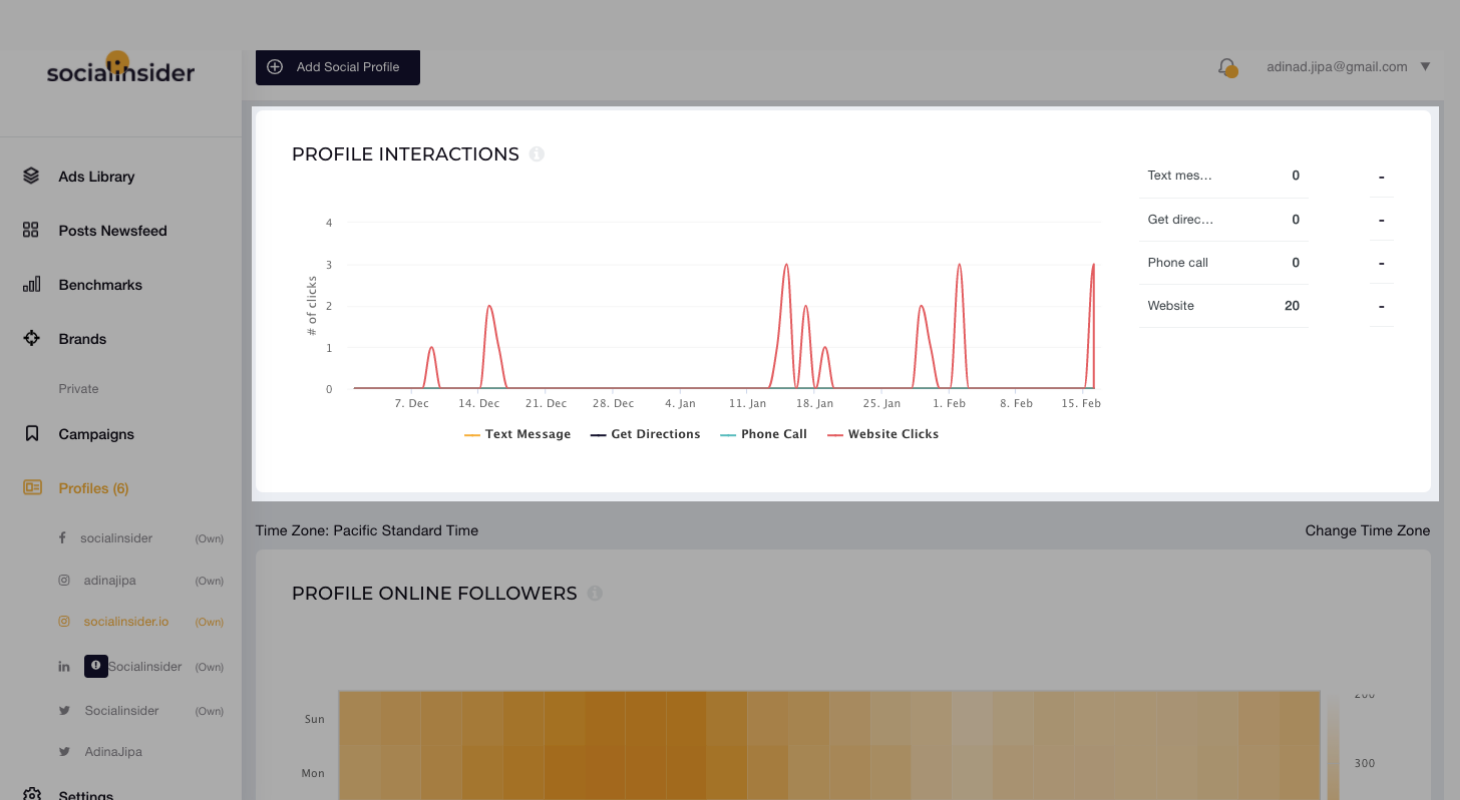 Instagram Stories analytics
While the previous Instagram analytics are essential for analyzing your Instagram content, what follows focuses only on the metrics you can measure by looking at Instagram Stories.
The insights you get will definitely help you tailor your Stories to suit your viewers' needs.
This metric shows the total number of times a user has seen your Instagram Stories.
Story reach measures the number of unique users who have seen your Instagram Story. If you also look at Story impressions, you will be able to figure out how many viewers have seen one of your Stories more than once.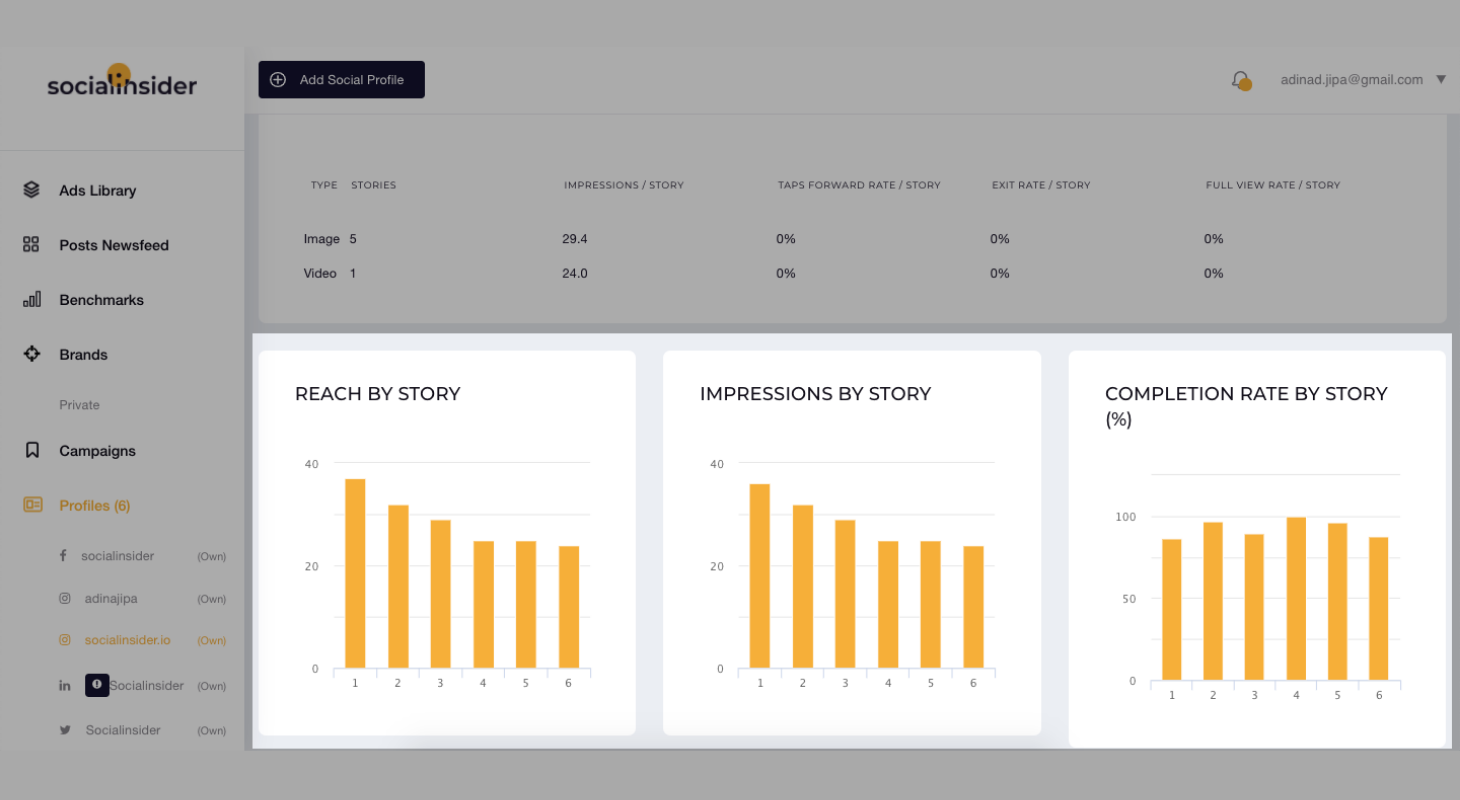 This metric can also offer you data about your average story reach, depending on published hour or published day.
This Instagram Stories insight shows you how many people have tapped forward during your Story.
Generally, viewers tend to tap through Stories when they are not engaged with the content you present and they get bored. Your focus should be to maintain this number low by creating on point content.
Back taps on Stories is a metric that offers you infos about the number of times a person has gone backward through your Story to view or listen to your content again.
Unlike the tap forward on Stories, a high number of back taps shows that your viewers are engaged and interested in the content you promote.
This metric offers insights on the number of times a viewer has exited your Story before it's finished. Most of them close the app or tap the "X" to exit Stories.
You would want to keep the exit rate at bay since this shows that your viewers are not engaged. If this rate increases, some followers might stop following you.
This Instagram Stories insight shows the number of DMs you get as a result of a Story.
Your focus should be to have a high rate of replies on Stories because this would mean that your audience is engaged with the content they see.
Nevertheless, if one of your Instagram Stories is considered controversial, you might get a lot of angry messages.
Irrespective of your viewers' DMs, you need to make sure that the responses you give them will satisfy them.
Even if users might get bored when seeing a Story, some of them still want to see your next story to find out more and skip the introduction.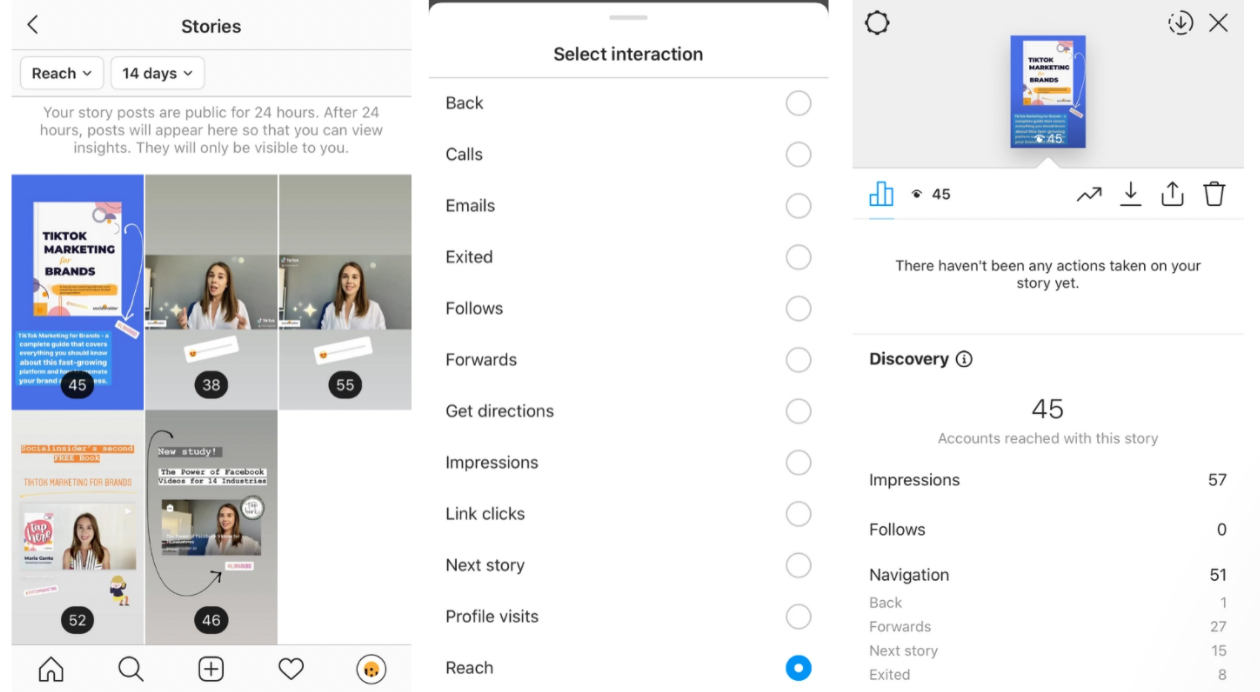 Generally, Stories which inform the audience about upcoming content will have a higher "next story" metric since your viewers will want to get to the good part.
This Instagram feature has limited support when it comes to Instagram analytics. To better make use of this insight, it's better to keep count of the number of viewers by yourself.
When you close a Live session, Instagram shows you how many people watched your broadcast after you close it. It is better if you save the number.
The Story retention rate metric displays the number of impressions of the last Story divided by the number of impressions of the first Story within a 24-hour time period.
If you analyze the Instagram statistics by story type, you will notice a difference between the performance of video stories and picture stories.
Instagram Reels analytics
Instagram Reels seem to be here to take over TikTok, its greatest competitor.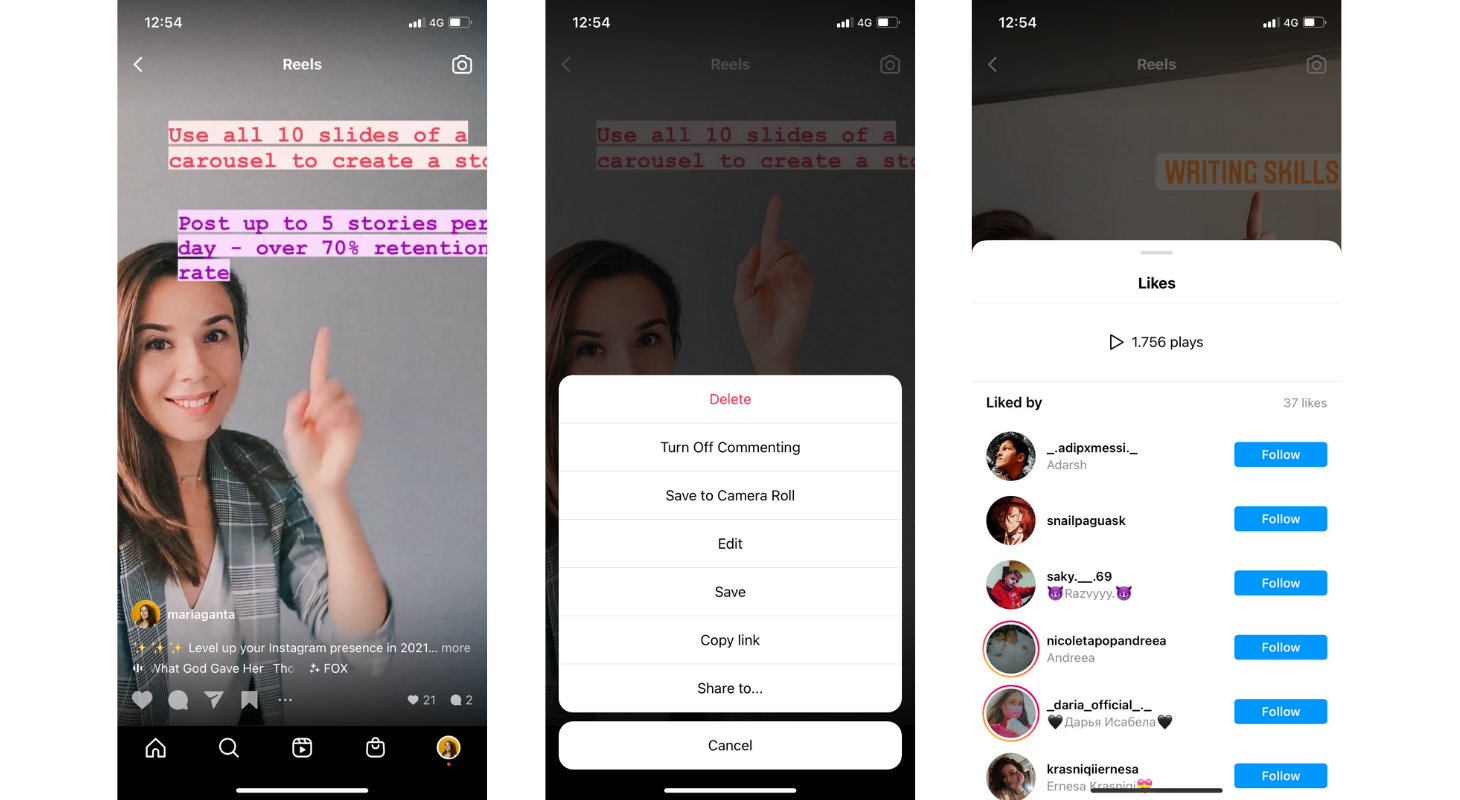 This metric gives you insight of your video's total number of plays. The insight will show you if your videos are exposed and viewed by your audience.
The Likes insight shows how many viewers are interested in your Instagram Reels. This feature displays the total number of likes your posts get from an engaged audience.
This Instagram analytics is extremely useful to measure engagement. If you post Reels that appeal your viewers, then they will generate increased engagement.
Instagram Shopping analytics
When you tag products in your content using Instagram Shopping, it is important to pay attention to those that draw more viewers towards your business.
To have an insight of how your Instagram Shopping posts are performing, you can access the Insight tab, scroll to "Content You Shared" and then tap the arrow near your recent posts or stories.
This metric will help you sort your content by some product-specific metrics. The results here may vary depending on whether your business has enabled Instagram Checkout or not.
If you want to see how a specific post with a tag product is performing, tap "View Insights" to see more shopping-oriented metrics.
Product button clicks and product page views can really help you improve your marketing strategy for the future.
When a product post has a high number of page views, but only a few clicks, it is possible that your product's price, imagery or description might not be engaging enough.
3. How can Socialinsider help you measure Instagram analytics
Socialinsider can help you keep an eye on those Instagram KPIs which are not provided by Instagram analytics.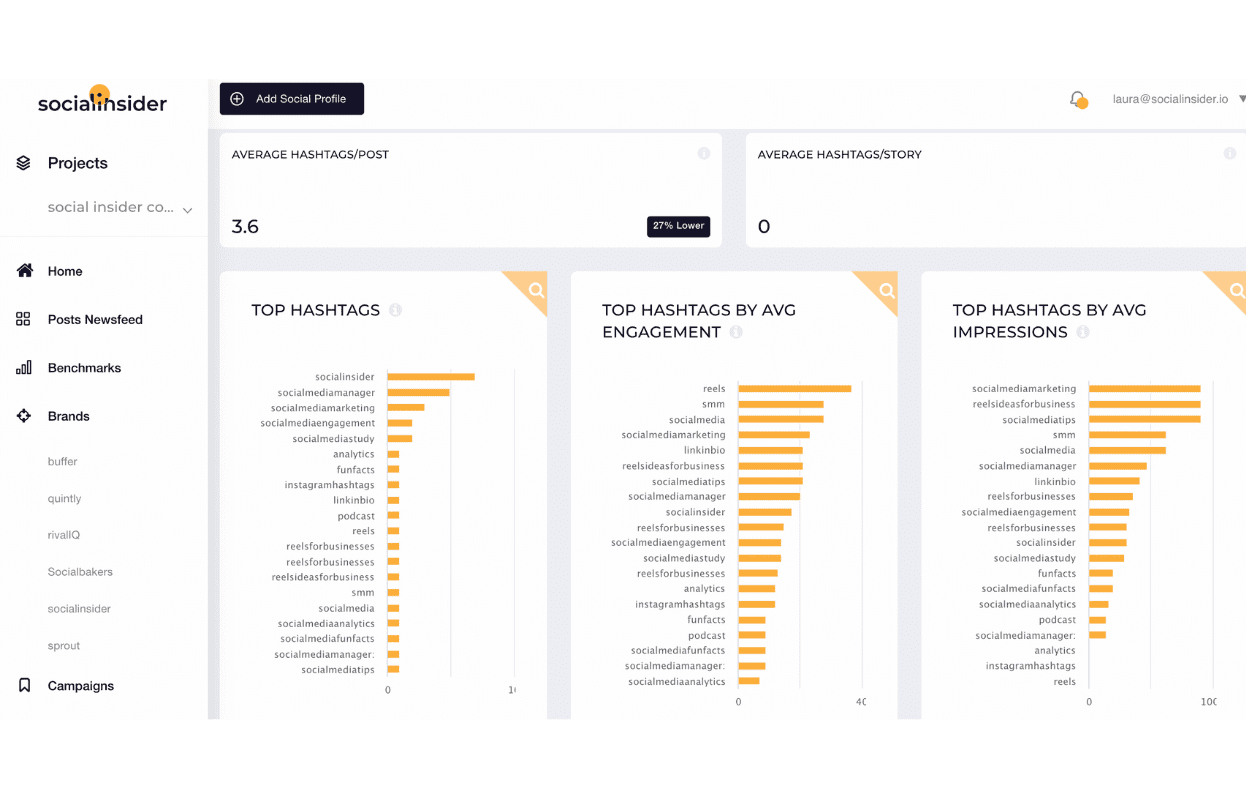 The insights offered are more detailed, being of great value when it comes to implementing new strategies meant to work your business and audience.
The statistics and metrics will help you compare your results to those of your competitors to know exactly what your next step should be to get ahead of the rest.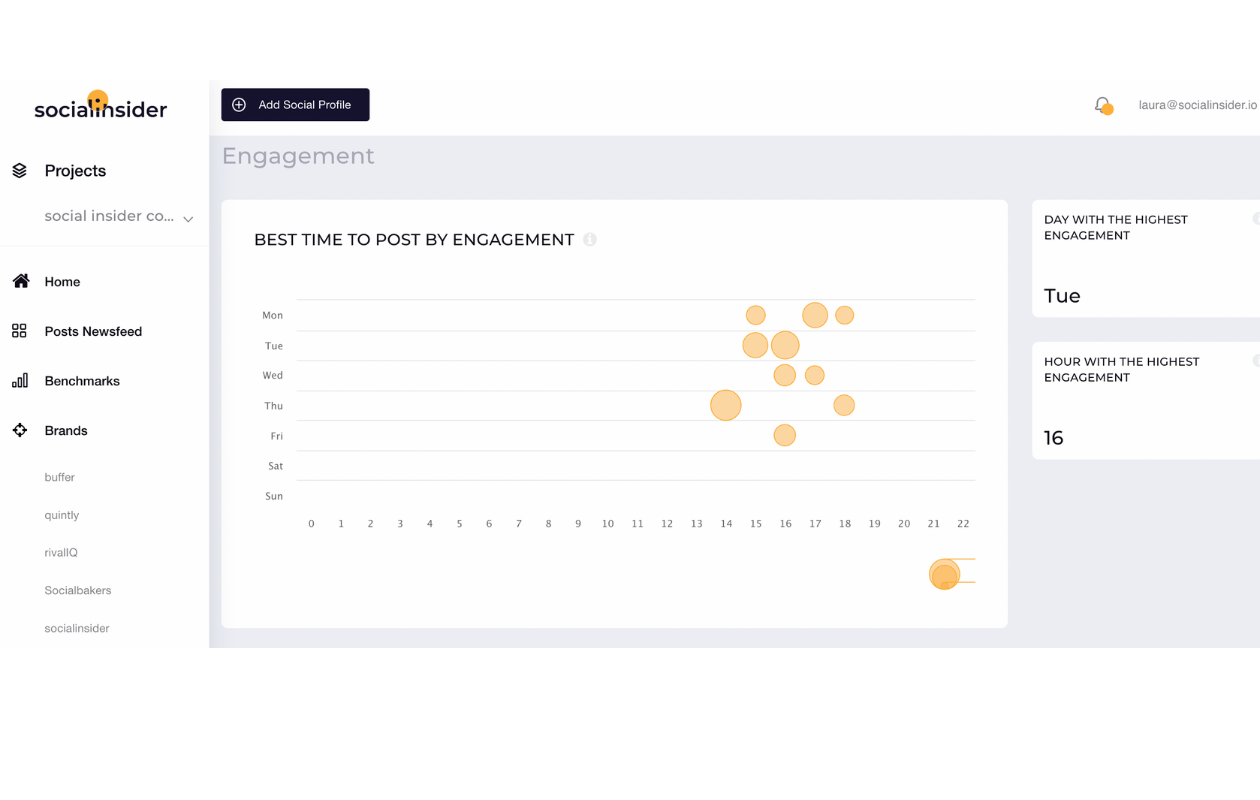 The insights provided by Socialinsider will help you learn how to best make use of your profile's results to improve your business objectives.
In this way, you will be able to target more users, by customizing your content to their needs and your benefit.
Final thought
All this information will surely help you learn how to bring your brand into the spotlight, for better exploiting your abilities.
Now it's your turn. What Instagram analytics are more useful for better measuring your brand performance and how did you improve your marketing strategy based on it?
Share your thoughts with me on Twitter.