February seems to be a month dedicated to Fashion. So how is social media celebrating it?
It's one f the most exciting months for fashion lovers who are not only looking forward to one Fashion Week but several of these events running one after the other.
With huge Fashion Week events planned in New York, London, Milan, and Paris, it's safe to say that Valentine's day's got nothing on the power of the Fashion industry this month.
To find out how Fashion week is creating anticipation on social media in the days and weeks leading up to the event, we looked at Fashion Week's Instagram, Twitter, and Facebook page.
Continue reading to find out:
How Fashion Week started
What social media platform is used the most
How Fashion week posts look like
What social media platform is more engaging for fashion posts
Curios? 🤔 Us too! Let's dive in ⇣
Fashion Week on social media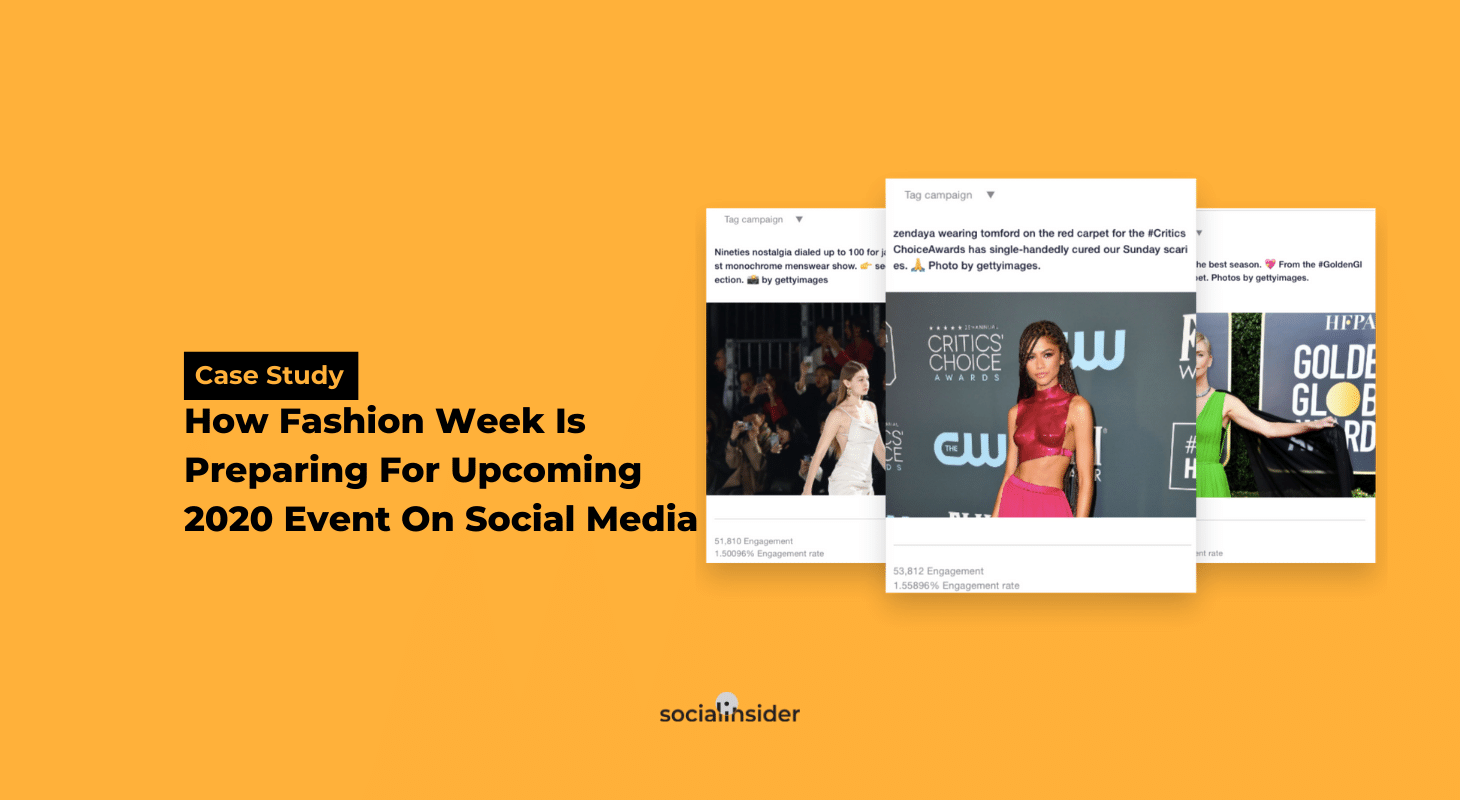 Where does the Fashion Week event post?
Fashion Week audience on Facebook vs. Instagram vs. Twitter
Where people interact with Fashion Week
Best 2020 Fashion Week online posts
What Fashion Week actually is
It's hard to believe that there's anyone out there who hasn't heard of Fashion Week. But what's the history of this event?
In short, this is one of the biggest fashion industry event where top fashion designers or brands showcase their latest collection during eye-catching runaways. And they better bring their A-game.
Both buyers and media keep a close watch on what the top of the top in fashion have to say through their collections - and expect to be impressed.
Apparently, the concept of "Fashion Week" began when fashion shows started to be clustered seasonally, according to Fashion Week online. Eventually, an organization stepped in and began to put together this show.
But the very first Fashion Week took place in New York, in 1943, so the event has a rich and impressive history behind it.
Slowly but surely more and more capitals joined in, the most common events being in:
Fashion Week New York (February 6th - February 13th, 2020)
Fashion Week London (February 14th - February 18th, 2020)
Fashion Week Milan (February 18th - February 24th, 2020)
Fashion Week Paris (February 24th - March 4th, 2020)

And with names like Prada, Max Mara, Bottega Veneta, Versace, or Gucci, it's no surprise that the pressure is mounting each year. So how does the event keep up the hype on social media?
Let's take a look 👀!
Where does the Fashion Week event post?
Facebook, Instagram, and Twitter are excellent means to showcase stunning runway videos and images.
By mixing the colorful visuals with the experience of a catwalk, it's easy to achieve results on all three platforms, but one of them works better than the others.
In the last 30 days, the event brand posted more on Facebook (41 posts) than Twitter (32) or Instagram (31).
Given how instagramable the entire show is, it definitively took us by surprise that they decided to publish fewer posts on the most visual platform.
So what is the reason behind this? Let's see if the brand is reaching its audience with this strategy?
Fashion Week audience on Facebook vs. Instagram vs. Twitter
Instagram seems to be where most of this brand's audience can be found. It's not only their largest platform, with 3.4 million followers, it's also the fastest-growing profile, with over 13,000 new followers over the past month.
Twitter and Facebook profiles of the Fashion Week brand, however, are pretty equal in size.
Combined, on all three platforms, the Fashion Week brand has a following of 4,9 million followers/fans.
Where people interact with Fashion Week
On closer look, the engagement numbers would indicate that it might be better to distribute the volume of posts differently.
Despite having the least number of posts over the last 30 days, Fashion Week's Instagram page received an engagement of 490.653, while the engagement on the two other platforms doesn't even compete.
But it's worth to mention that their Instagram profile does have many more followers.
The event's Facebook and Twitter pages are pretty even in size, with 722,809, respectively 729.504 fans. But when it comes to engagement, Facebook trumps Twitter, with 26,087 engagement, compared to just over 3.000.
Best 2020 Fashion Week online posts
Within any social media strategy, it's not only relevant where you post, but also what you've posted.
For example, a burst of color in a statement outfits, accentuated by a simple, yet powerful backdrop chromatically speaking, will stand out in any feed, but will also be extremely easy to remember.
And, in this case, a simple image is not enough to express the sentiment behind the collection, so the brand used a carousel post.
Funnily enough, carousel posts perform much better on Instagram than any type of post, as shown in one of our studies.
Once you've rounded up the greatest looks, it's time to decide how to showcase them: through an image, an album or carrousel, or through a video?
To find out what works for the Fashion Week brand, we go back to post engagement on each platform.
So what's it going to be: videos, images, or carousels?🤔
As most of the brand's engagement happens on Instagram, the top posts overall, across all three platforms, will be Instagram posts.
But, surprisingly, the top Instagram posts are unrelated to the main event.
The most engaging post from the past month is all about the Critics Choice Awards, which isn't that big of a surprise when you take into account people's interest in celebrity outfits at staple events.
And the engagement speaks for itself: over 53,000.
True to form, the second most engaging post comes straight out of the catwalk, with an outfit that is a throwback to the nineties.
Yes, nostalgia always works. The engagement of over 51,000 is proof of that.
The third and fourth images are also depicting celebrities on the red carpet of significant award ceremonies.
Names like Charlize Theron and Anne Hathaway  - among many others will not go unnoticed, especially when they're wearing eye-catching designer gowns.
The key takeaway here is that, except for the first post, these extremely engaging posts are all carousels, perfectly used to deliver and share the atmosphere of certain events.
However, not much of the actual Fashion Week event brings engagement on this platform, despite it being so strong.
It could be the reason why the brand doesn't post too much on Instagram.
Videos rule engagement for the Fashion Week brand on Facebook.
Interestingly enough, unlike on Instagram, the top-performing posts on Facebook are all video snippets of the NY Fashion Week shows.
Granted, they may not carry the weight of Instagram engagement numbers, but the connection to the real intent behind the page is much stronger.
As opposed to the previous case in which we saw an engagement of tens of thousands, the top two most engaging Facebook posts have only gathered between 3,000 and 4,000 in engagement.
But it is important to note that this engagement, be it only of a few thousand, is all about the Fashion Week event, hyping up the upcoming event.
Which, after all, is the desired and intended outcome. And judging by the number of posts we discussed earlier, it seems they know it.
In the copy, information about the Fashion Week models, collections, or designers becomes center-stage.
The posts become more personal, as they bear names and faces all fashion addicts know and love.

As a takeaway, we see that engagement is essential, but connecting it with a brand's main product or intended message might be more significant.
From an engagement standpoint, Twitter is further behind since the platform's capability to engage is much lower, as proven by our social media content study.
This is also the case with this brand's Twitter page, with the highest engaging reaching only 328.
On the other hand, when it comes to the types and subjects of the Fashion Week posts, tweets seems to be somewhere in between the posts on the other two platforms.

The brand's Twitter posts stand closer to Facebook posts in regards to the subjects of the most engaging posts. Meaning that runway shots, big designer brands, and collections are center-stage.
But unlike on Facebook, videos are not essential types of posts. The highest engagement seems to be reached when Fashion Week posts one or multiple images.
Get a clear overview of how your brand is doing across all brand profiles.
Top Fashion Week hashtags
Although the brand is trying to generate hype around the upcoming New York Fashion Week even through the use of hashtags, the most engaging  Instagram hashtags remain the ones related to the main awards shows like #criticschoiceawards, #goldenglobes, #grammys.
While #CrisicsChoiceAwards is a great hashtag on Twitter as well, hashtags related to fashion shows are placed much higher at the top than on Instagram.
Some examples are #GivenchyCouture, or #NYE, and #MFW - typically used together with the brand's signature hashtag #NYFW.  
Wrapping up
Having an overview of the entire brand speaks volumes. And this is the case for Fashion Week as well.
While at first glance you can draw a particular conclusion when looking at social media platforms individually, this may sometimes be deceiving in the grand scheme of things.
We know that Instagram is the most engaging posts, which means that you need to keep a regular posting schedule, but are people engaging with your core message?
If the posts that showcase your main product are on Facebook or Twitter, despite the much lower engagement, perhaps those platforms are the ones that need more focus.
In the end, it all depends on your social media marketing.

Related articles: