In the digital world, the most important touching point is engaging with your users through content.
The world-leading OTA (Online Travel Agency), Booking.com, is the perfect brand example whose marketing activities are clear and well-executed.
Beyond high numbers that speak for themselves, Booking.com has another peerless advantage: the combination between a strong brand positioning and a savvy social media strategy which translates into a front-of-mind brand for consumers who are looking for travel services.
So, in today's case study, we will take a closer look at Booking.com's marketing strategy.
We'll shortly examine some of the marketing tactics and social media strategies that Booking.com uses to win people's hearts.
Are you ready? Let's dive in!
What is Booking.com's digital marketing strategy?
1. Get to know the brand
Booking.com is the world-leading OTA and has been one of the most prominent travel and tourism industry players for the past years.
Marketed as not just a platform for booking accommodation, but a technology that makes travel easier, Booking.com has been growing impressively and is one of the most recognizable travel brands worldwide.
A quick look at the numbers tells us that the brand has an average monthly traffic of 394.84 million users, while 35.79% is generated by Google searches, of which 54.98% is organic.

Sure, numbers play a huge role when defining a brand's success, but Booking.com is far more than that. When a consumer sits down and makes a plan for traveling, Booking.com is the first that comes to mind.
This is achieved thanks to a well-put marketing strategy, using both traditional and digital channels.
When it comes to social media, Facebook is not only the social channel with the highest number of followers (more than 15 millions).
And it also seems to be the number one channel that drives traffic to the brand's website, having an average 49.11% of the total traffic generated through social media.
2. Learn about the social media content strategy behind Booking.com
It's no secret anymore that the key to keeping your online communities hooked, apart from being present, is to engage with them and be relatable.
As such, in today's digital world, storytelling is a must for every brand that wants to shine online.
While it may not be easy for an OTA to build strong brand loyalty through emotional appeal, Booking.com did its homework and understood how to make the best of its marketing strategy efforts through the power of storytelling.
For example, they publish regular travel articles on their website, sharing helpful information and tips and tricks for travel lovers or those planning their next holiday.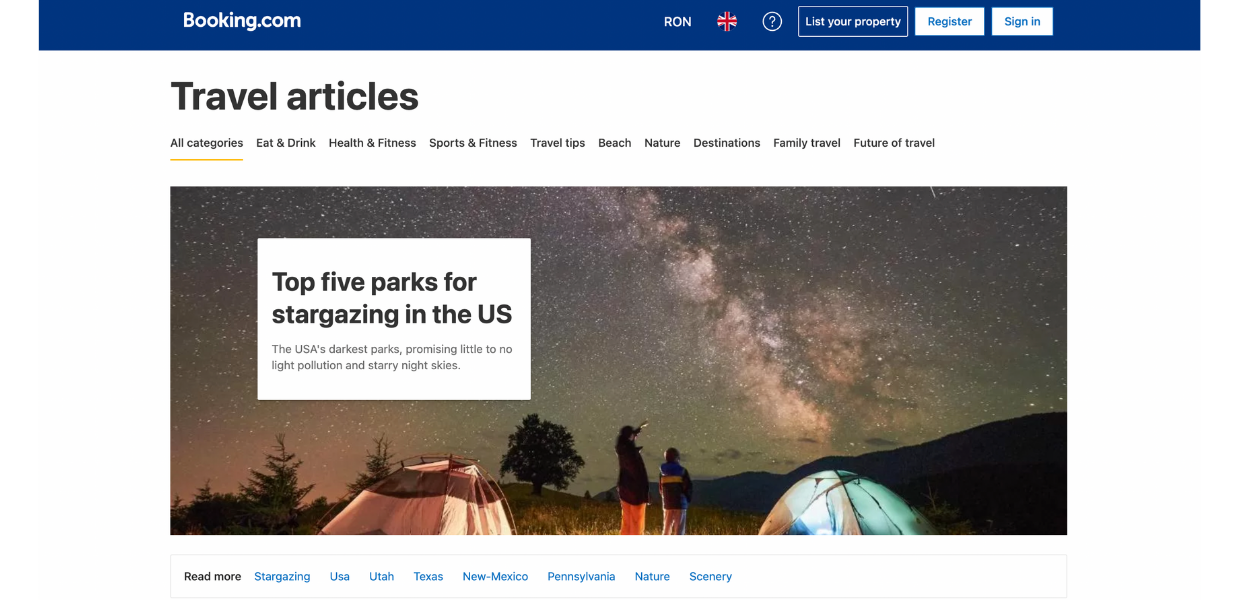 They write under several categories, such as "Eat & Drink," "Destinations," "Family travel," or "Nature," making it easier to navigate and find the exact topic that you were looking for.
This theme continues on Booking.com's social channels.
They often post these articles on their Facebook page, which automatically brings more traffic to their website.
The brand's YouTube channel is one of the most creative ones and has a collection of short travel videos.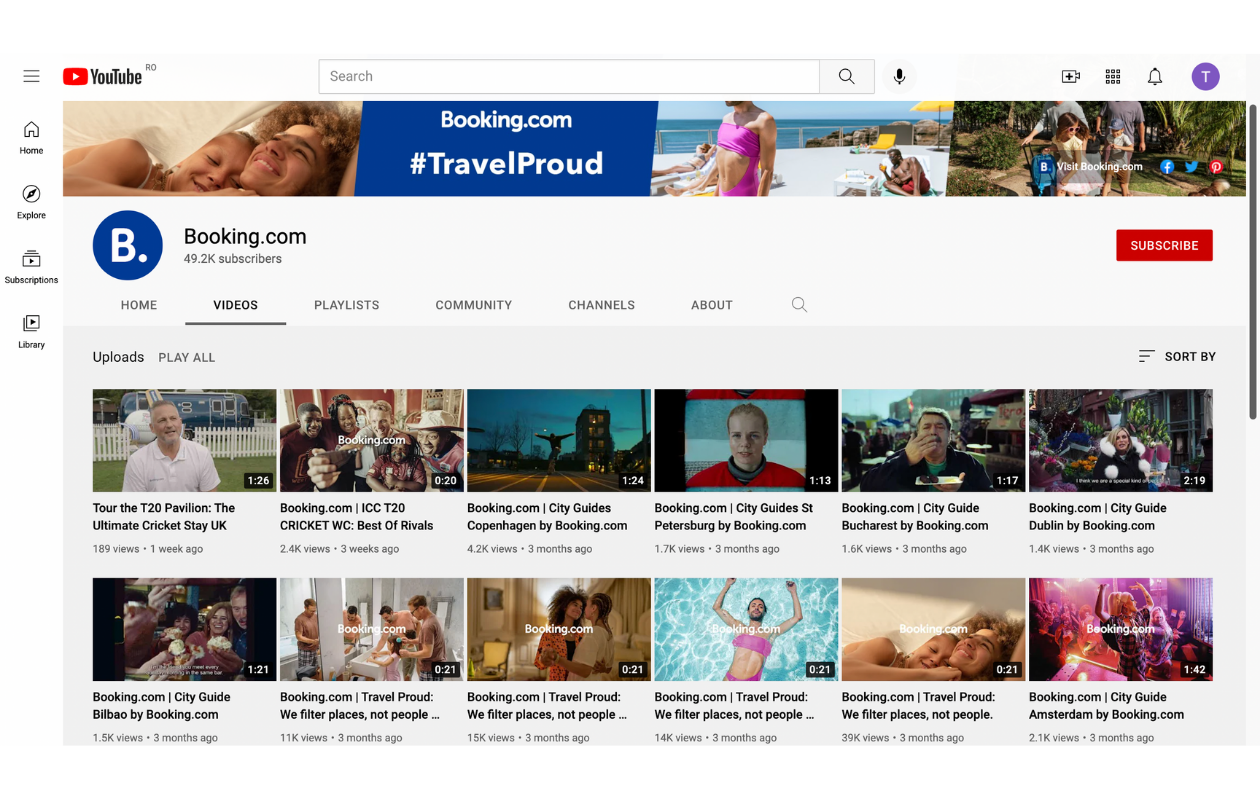 My favorite playlist is the one categorized as "Booking.com | City Guide," whose concept involves imagining a place as a person with specific personality traits and passions.
The Booking.com's digital marketing strategy is all about storytelling.
Actually, the storytelling theme follows a broader trend that has become extremely popular within the content marketing community, where storytelling and experiences are the fundamentals.
Now that we have gone over Booking.com's social media content strategy let's go even deeper and understand how and what the brand does on every social channel.
3. Uncover the most successful social media channels of Booking.com
Relying massively on the power of storytelling, as demonstrated earlier, Booking.com has a solid social media presence, a key component for becoming one of the world's most inspiring travel brands.
Booking.com is present on all the major social platforms, from Facebook or Instagram to Twitter, LinkedIn, and YouTube.
With more than 17 million brand followers, Booking.com has a brand engagement of 1.3 million and has gained 550K followers in the past year.

With more than 15 million followers and an engagement of 768K on Facebook, this channel is by far the biggest social channel of Booking.com.
This social channel is another great example of how the brand uses storytelling to touch its customers just by looking at the mission statement on Booking.com's Facebook page:

From apartments, holiday homes, and B&Bs to 5-star luxury resorts, tree houses, and even igloos, we've got every type of trip – and every type of traveler – covered. With over 2 million properties in over 225 countries around the world, we make it easy to find and book your perfect place at the right price.

The brand uses this channel heavily by posting content almost daily.
Booking.com uses a mix of images, short videos, and articles to promote specific touristic locations, share tips and tricks about safe traveling, or do fun games to better engage with its consumers.
Apart from their regular geographical content, Booking.com has a fun side, which can be seen in the images below.
For the World Emoji Day, the brand posted an image inviting its users to test their geography skills with a travel quiz made out of emojis.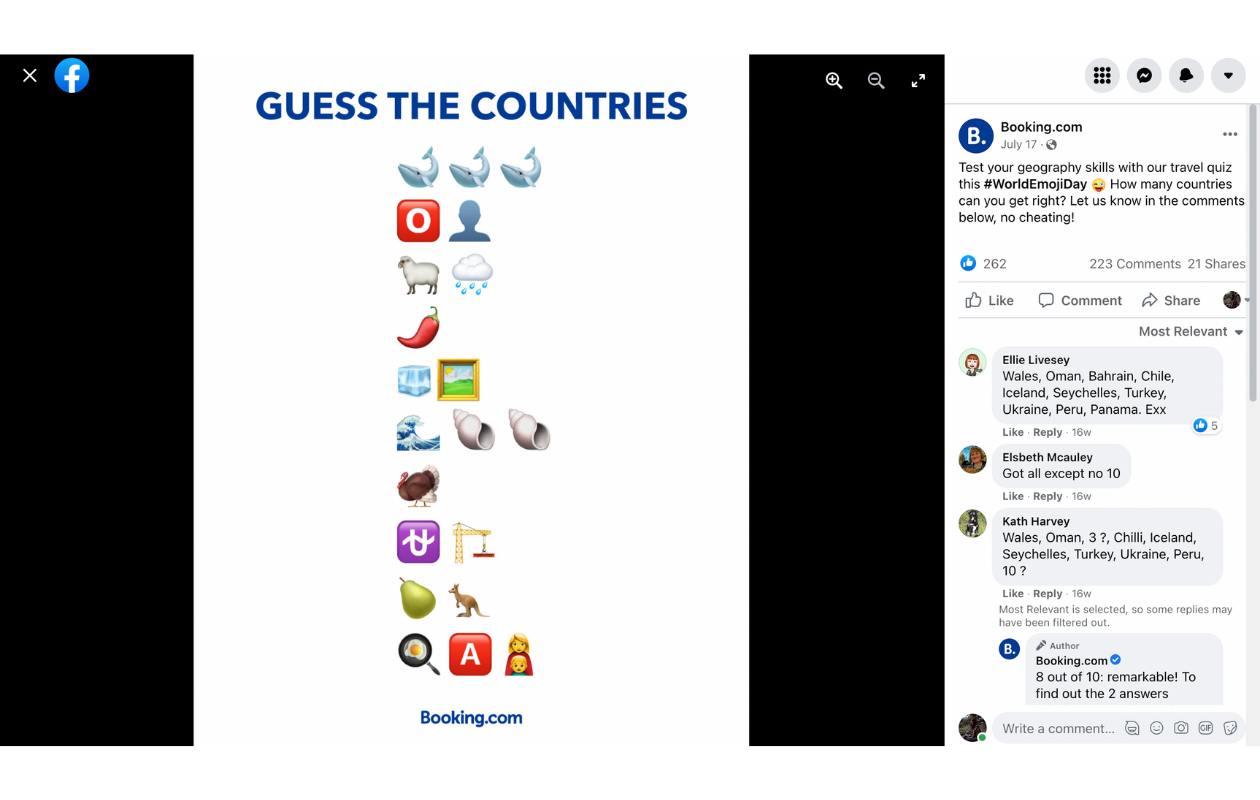 They also made a series of memes that show the difference between what people thought traveling was in 2020 and how traveling actually was in 2020 in the context of the pandemic.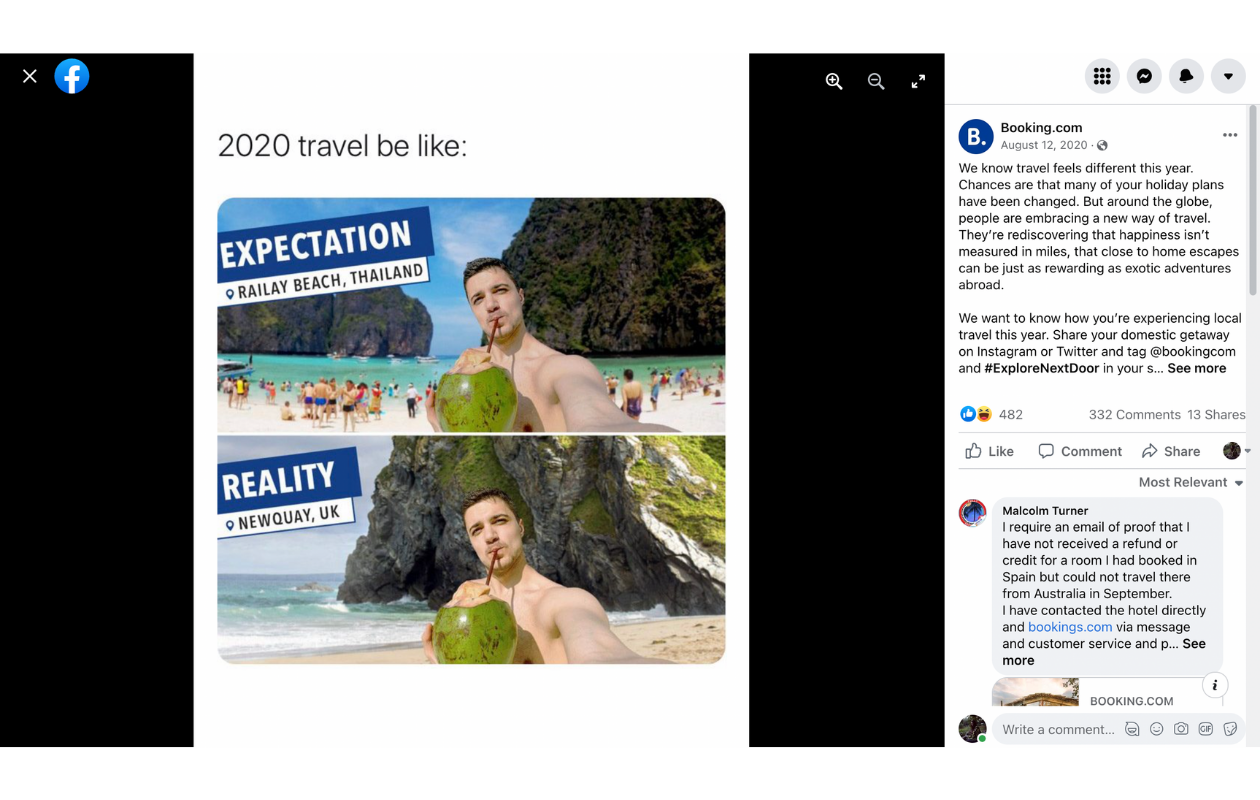 Booking.com's Instagram profile is newer, with just 1.6 million followers.
However, the account has gained 323K followers over in the past year and has an average engagement rate per post of 0.155%, data that was possible to discover by using Socialinsider's analytics features.
Bookin.com's social media strategy for this social platform is somehow similar to its Facebook one.
They use a mix of images, videos, carousels, and very rarely IGTVs to share traveling content that inspires people and invites them to use their services.
Even though the content itself doesn't differ that much from the content posted on the other social platforms, the brand's Instagram page has clean visuals and is very well-put.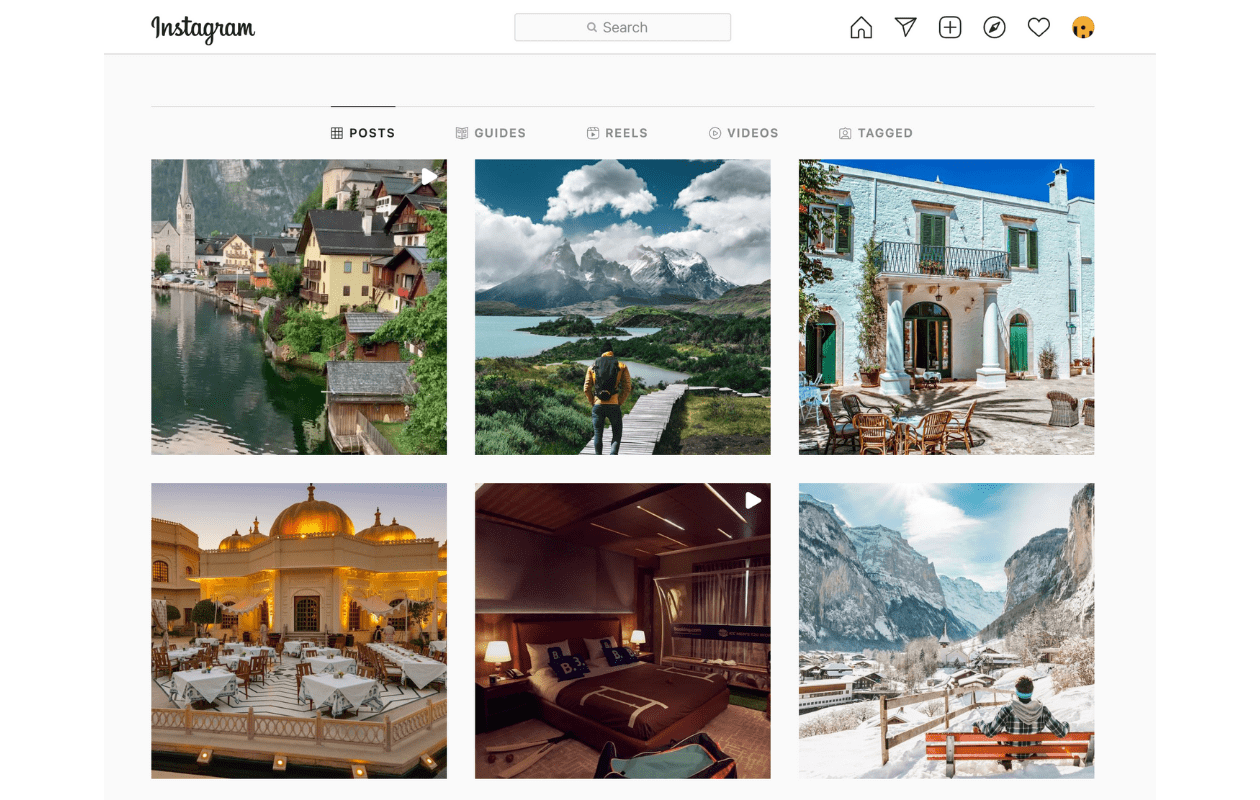 Beyond great aesthetics, Booking.com's Instagram strategy uses the network to raise issues that concern this social media platform's user base, which is formed mainly of Millenials and Gen Zs.
As such, they often share content to share their support for the LGBTQ+ community, as can be seen in the image below.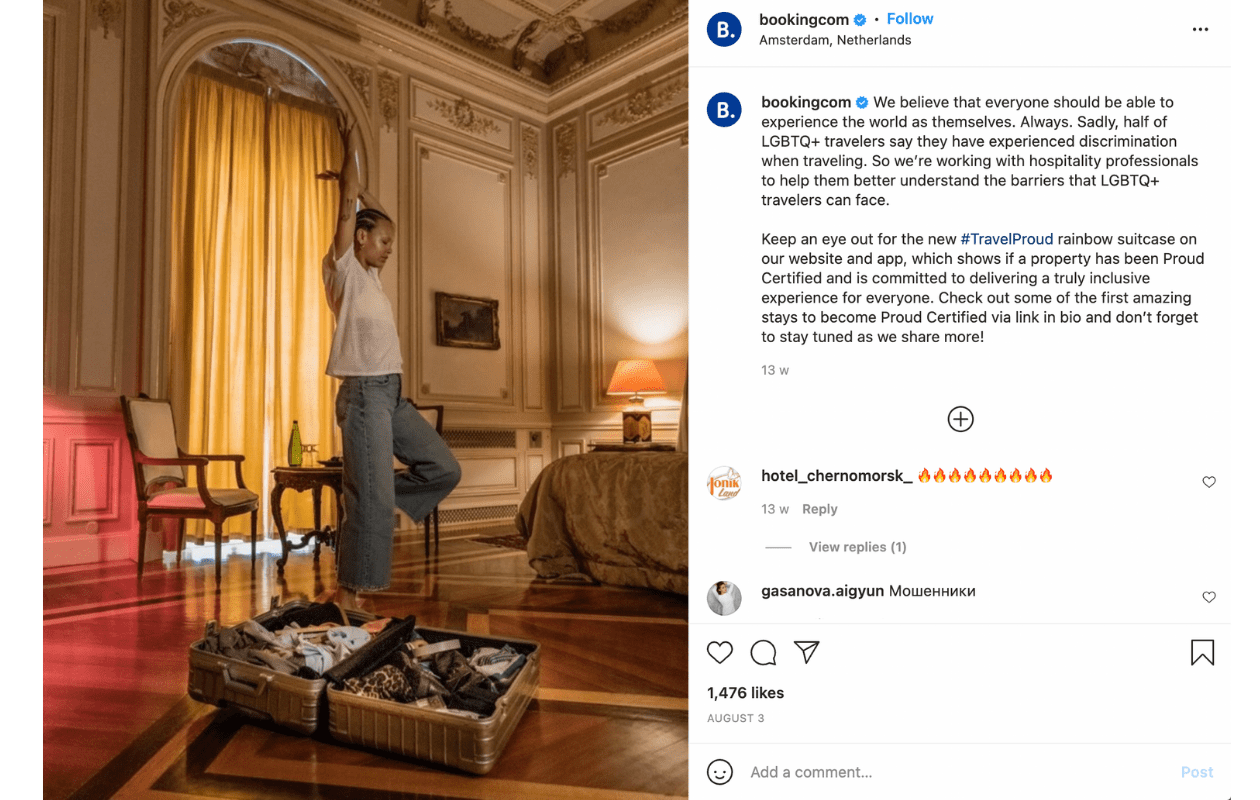 On Twitter, Booking.com has 175.8K followers and an average engagement rate per profile of 5.092%.
With Socialinsider's analytics feature, I was able to see that the brand posts more frequently than on the other social platforms, with an average of 0.6 tweets per day.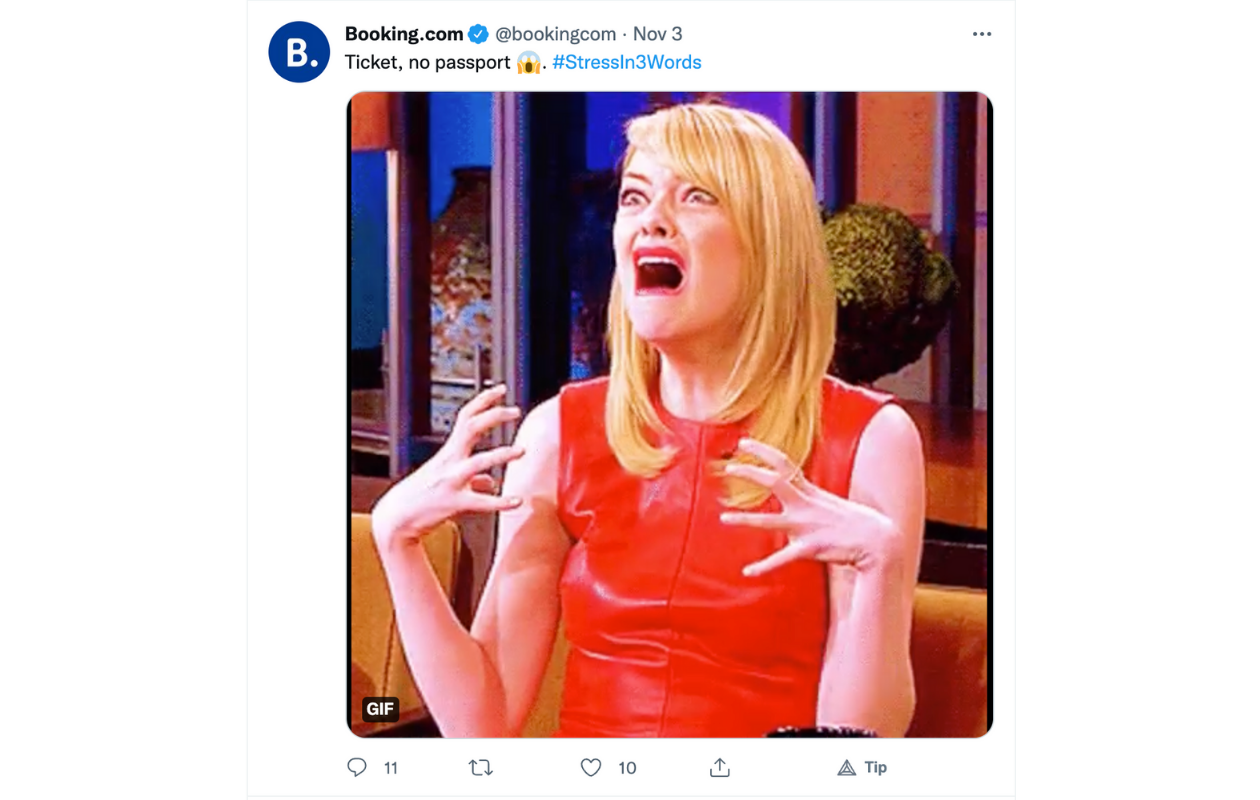 The content strategy behind this social channel is pretty much the same as the one for Facebook or Instagram, but two elements of novelty make Twitter stand out.
One of them is the bio, built around the brand's central theme - the power of storytelling that invites the followers to dream about the next place they'd like to travel to.
Welcome back to all the little things we've missed. Welcome #BackToTravel. Where shall we go first, as it becomes possible?

The second striking element is represented by polls, which Booking.com often uses to start conversations with its customers.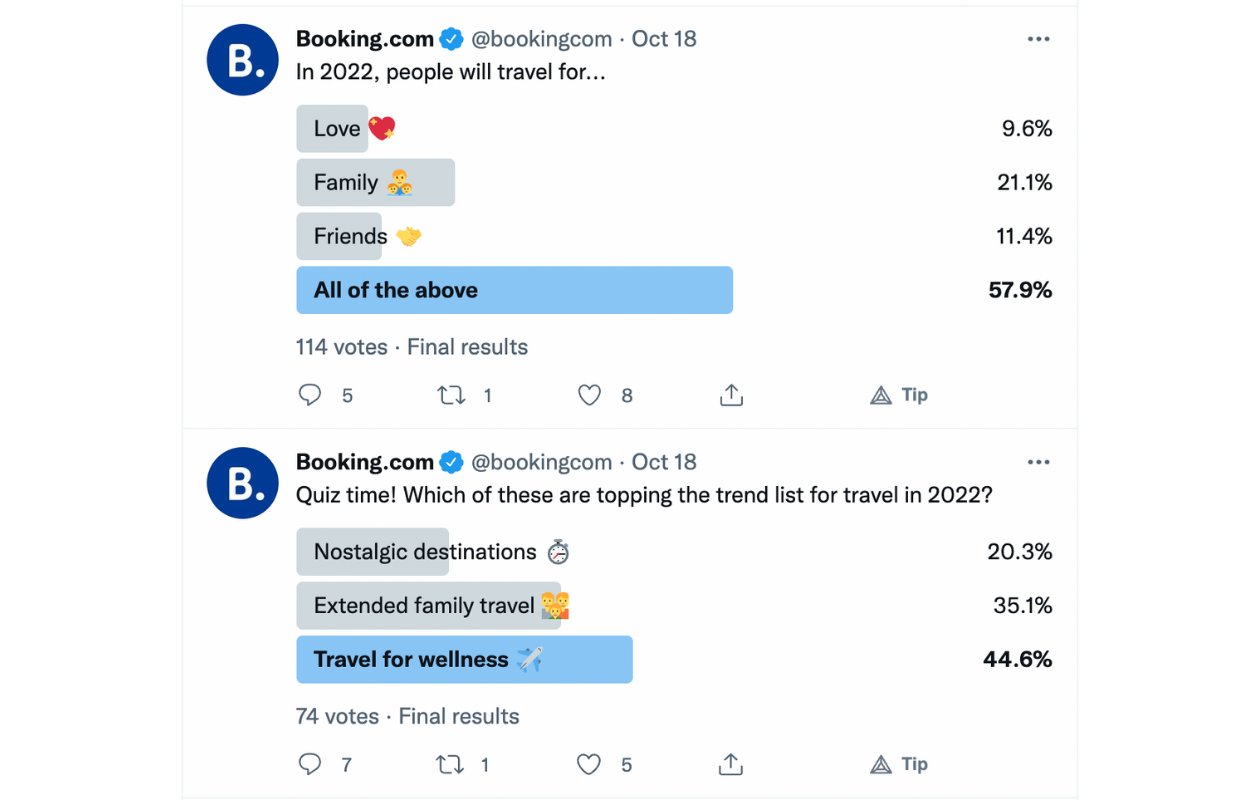 Even though it's the social media platform with the least amount of followers (49.3K subscribers), Booking.com's YouTube channel is by far my personal favorite because it relies heavily on the emotional component.
Even though the brand only published 15 videos in the past year, Booking.com has pretty good performance metrics, data that was possible to analyze thanks to Socialinsider.
For example, I discovered that the average engagement rate per video is 0.411%, while the engagement rate per channel is 6.170%.
As seen in the picture below, Booking.com organized its videos by playlists to be easier to navigate.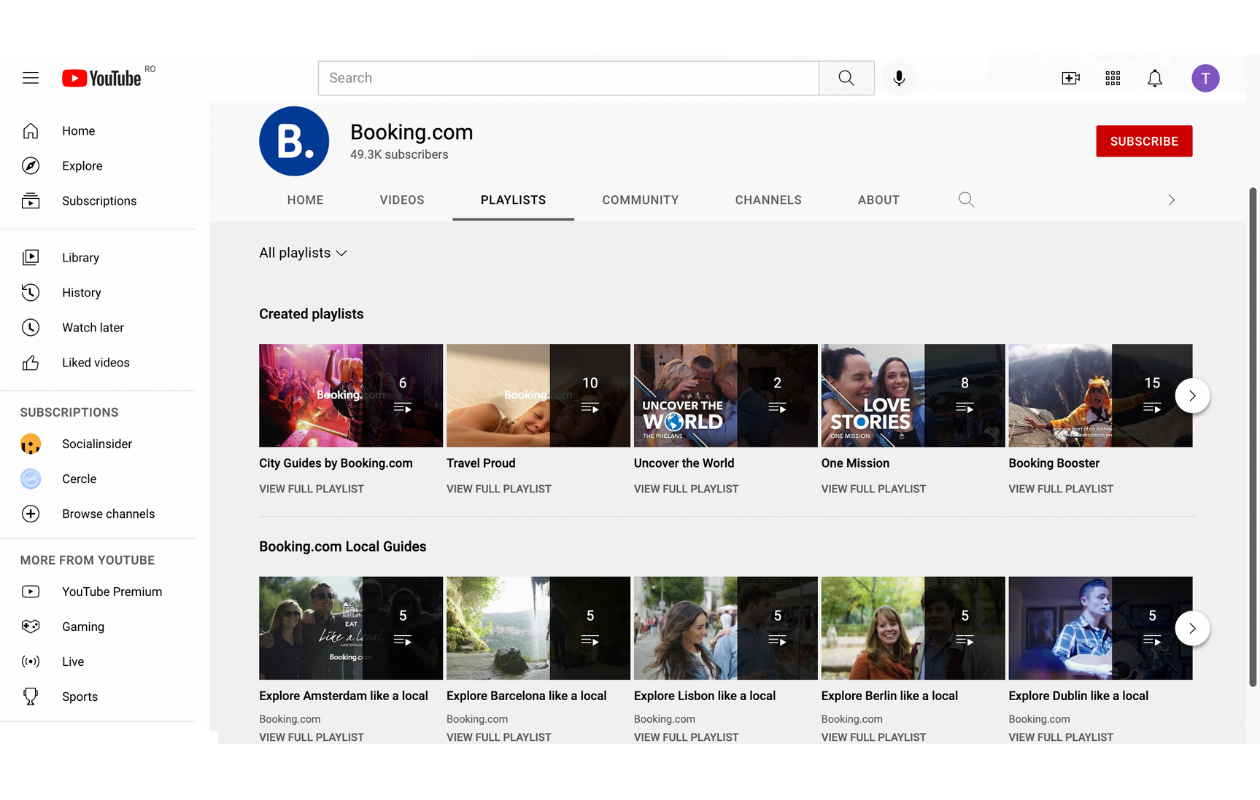 The "Booking.com Local Guides" series is a collaboration between the brand and different locals who show the best places from the town they live/were born in.
What's great about these videos is that they have that sense of familiarity and coziness, like you were talking to old friends in the intimacy of your home.
4. Discover the most powerful social media campaigns of Booking.com
They say that social media campaigns are a brand's best friend.
As Corina Bordeianu, global social media marketing manager at Booking.com, told us during our latest podcast episode of Insider Insights, every campaign that the brand does is different and depends on multiple variables, such as budgets, the culture you're in, and most importantly, the audience.
#AmericaIsForEveryone
One of Corina's favorite campaigns is the one that Booking.com did last year for the United States and is called #AmericaIsForEveryone.
The campaign aimed to inspire people across the United States by acknowledging how different cultures and communities around the world are living.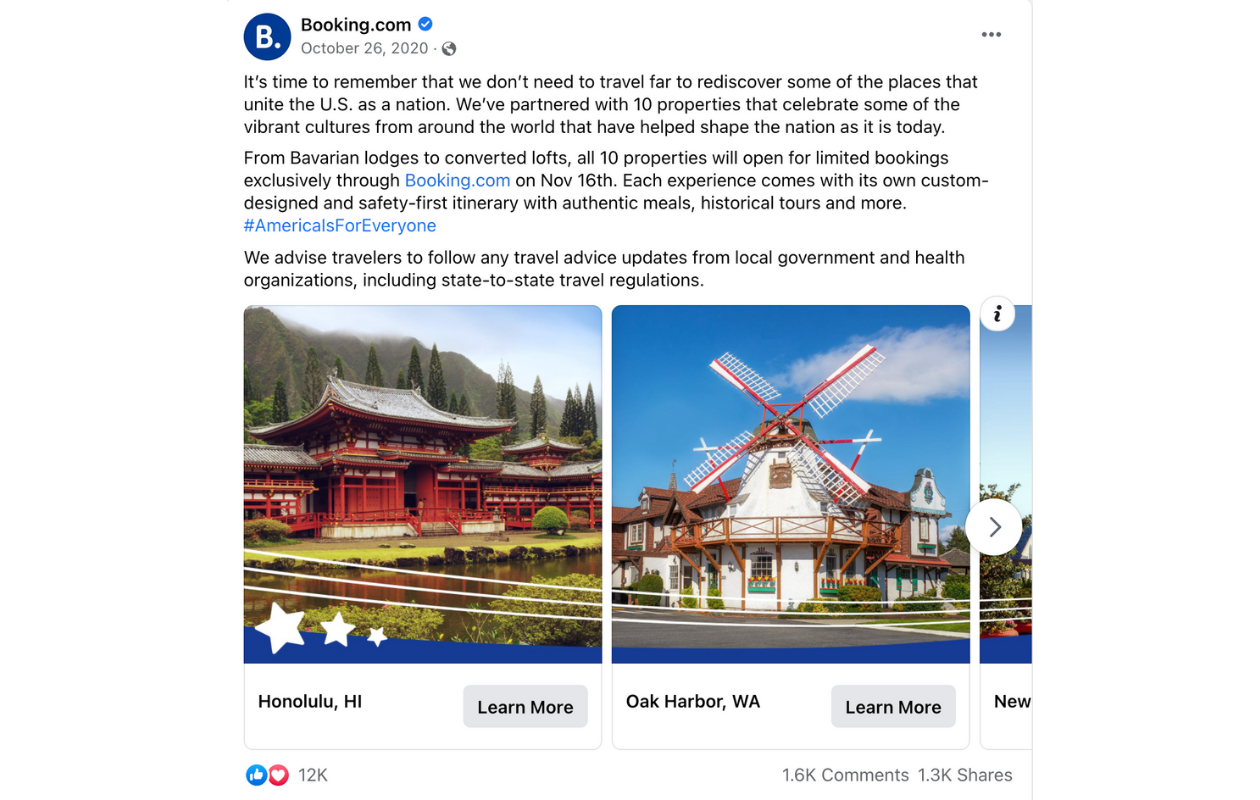 Corina told us that they selected 10 U.S. destinations and allowed travelers to transpose themselves in these places while remaining close to home.
They invited Americans to reconnect with their culture and to transmit what really makes their nation unique.

The main result was that it generated a lot of positive engagement - the campaign resonated with a lot of Americans, the message was very strong, and people were starting to engage in comments and responding with questions. - Corina Bordeianu, global social media marketing manager at Booking.com

With two posts on Facebook, two on Instagram, and 13 tweets posted in the past year, this campaign was really successful on social media with an engagement rate of 1.7%.
#BackToTravel
Another impactful social media campaign included in Booking.com's marketing strategy was their most recent one, called #BackToTravel.
Booking.com knew at the beginning of 2021 that travel was coming back, maybe slower in some countries or faster in some others.
So they created co-content together with influencers, launched this hashtag, and started talking about the joy of traveling again, the pleasure of getting your troller back from the closet.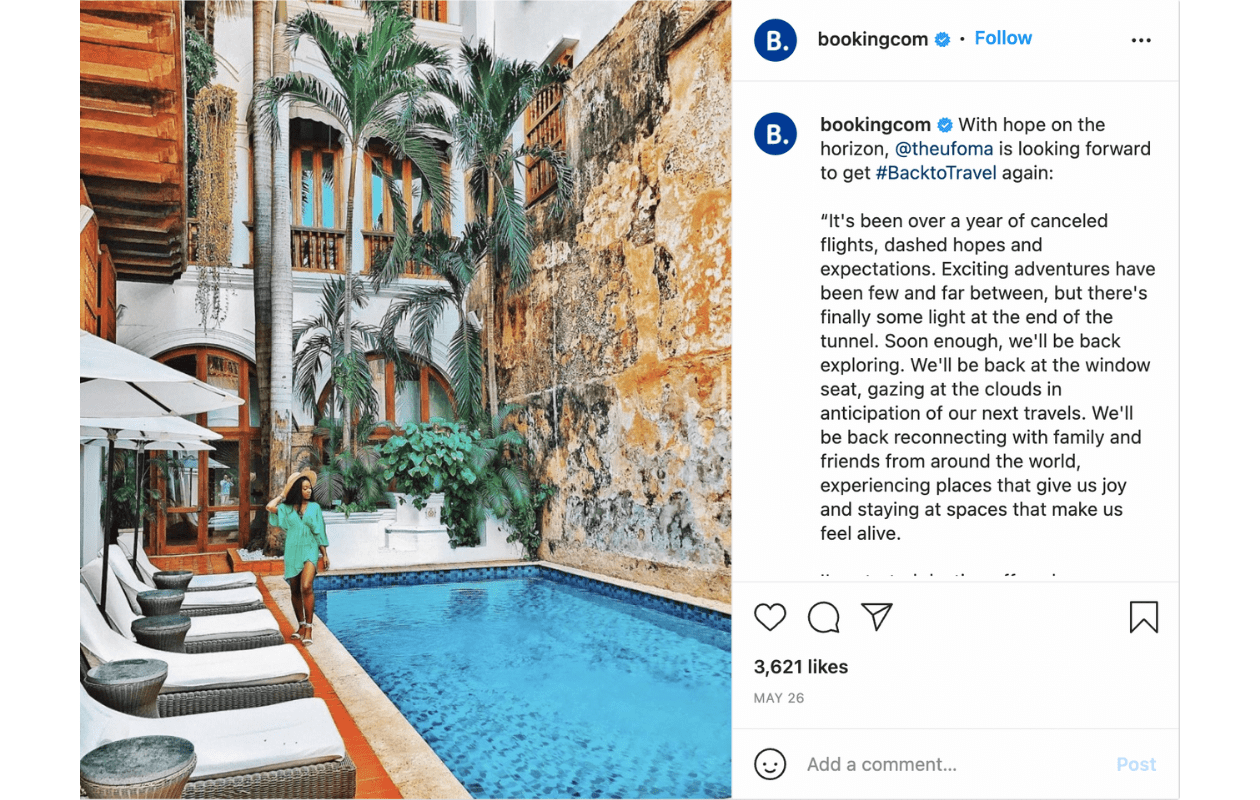 Corina told us that she takes great pride in this campaign because they partnered with many influencers and co-created content for both channels.
Find out more about Corina's insights regarding Booking.com's digital marketing strategy in Insider Insights podcast episode:
With 106 posts published in the past year and an engagement rate of 7.5%, this campaign had skyrocketed reactions from Booking.com's fans.
#BookingHero
Last but not least, the #BookingHero social media campaign launched in 2018 is all about bringing people together.
Starting from the idea that what makes traveling really special are the people you meet along the way, Booking.com asked travelers to share their stories, inviting guests to nominate their #BookingHero: someone working at their accommodation who went above and beyond to make their trip unforgettable.
The brand gathered a collection of beautiful stories, which were later transformed into videos published mainly on their YouTube channel.
5. Booking.com and its competitors
It's clear that Booking.com is a brand with an active social media presence and great performance results.
But data means nothing if it isn't placed in the right context.
In today's busy digital world, benchmarking your results against your competitors is key if you want to see where your brand stands.
It will also help you improve your performance and achieve your goals.
To see how Booking.com's social media profiles perform compared to its biggest competitors (Tripadvisor, Airbnb, Trivago, and Expedia Group), I used Socialinsider's benchmarks feature to get in-depth analytics.
By looking at the Facebook profiles, it seems that Booking.com outperformed its competition in terms of reach (2,698,960) and average engagement rate per post (0.029%).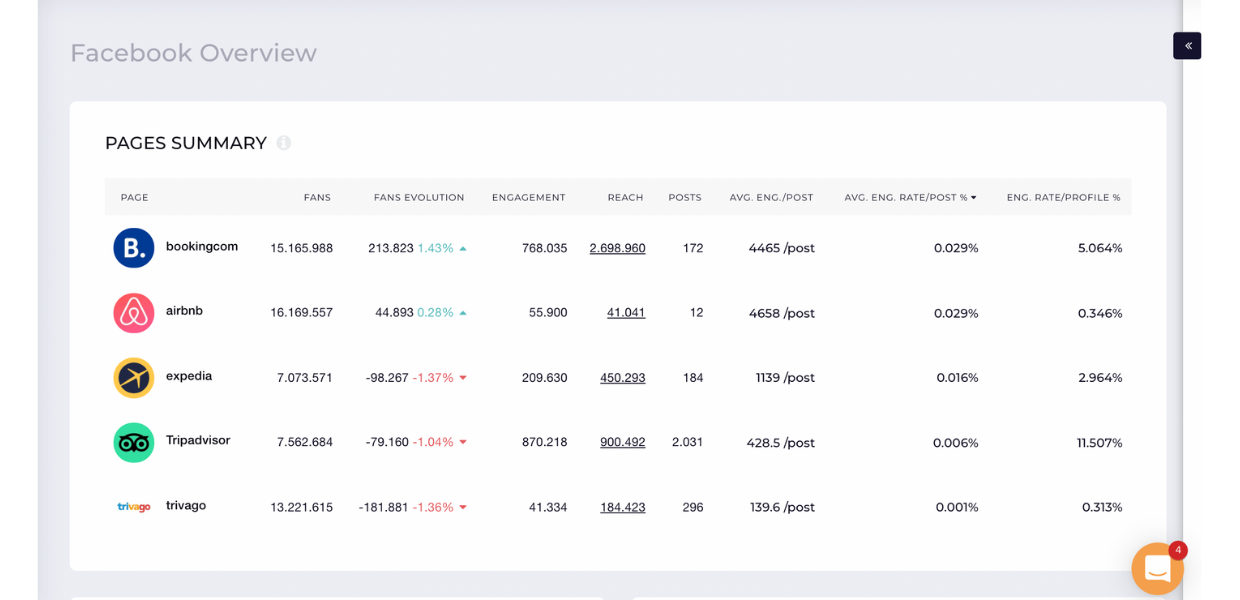 This insight comes as no surprise, as Booking.com's Facebook profile is the one with the most following.
When it comes to Instagram, Booking.com's biggest competitor is by far Airbnb.
This may be because Booking.com posted the least out of all the profiles analyzed in the past year (only 209 posts), but it has the highest followers evolution, gaining 323,409 followers in the selected time frame.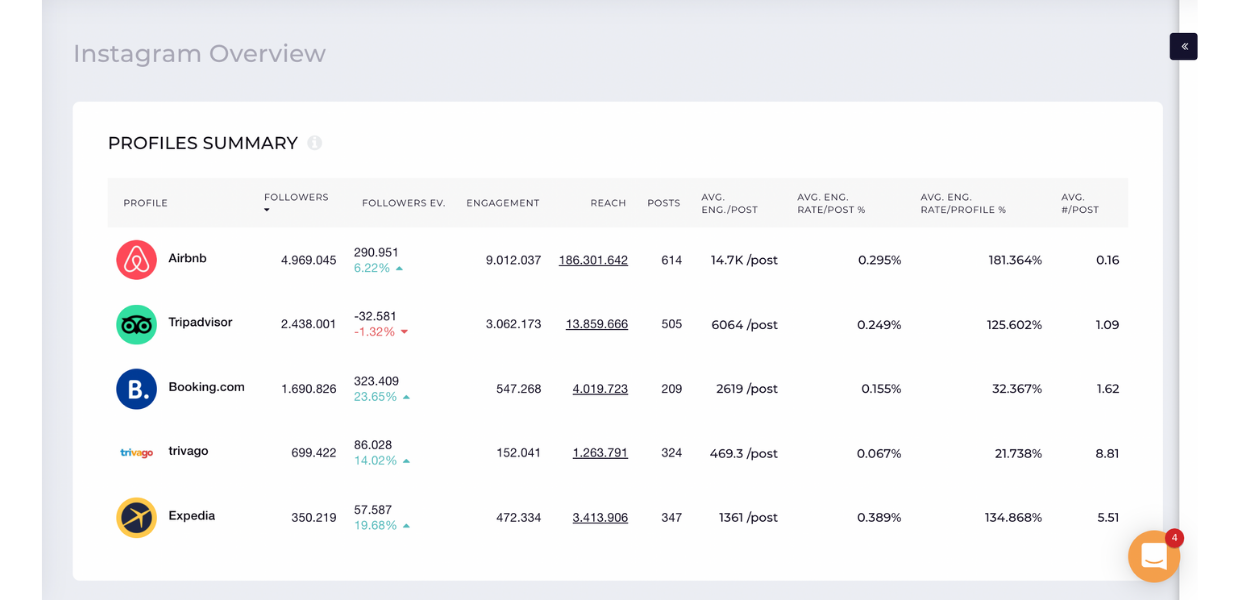 Here's how the social media data looks for both brands in Instagram's case:
Booking.com: average engagement per post: 0.155% and average engagement rate per profile: 32.367%
Airbnb: average engagement per post: 0.295% and average engagement rate per profile: 181.364%
You can also compare some specific social media accounts. In the example below, I compared Booking.com's Twitter profile with Tripadvisor's.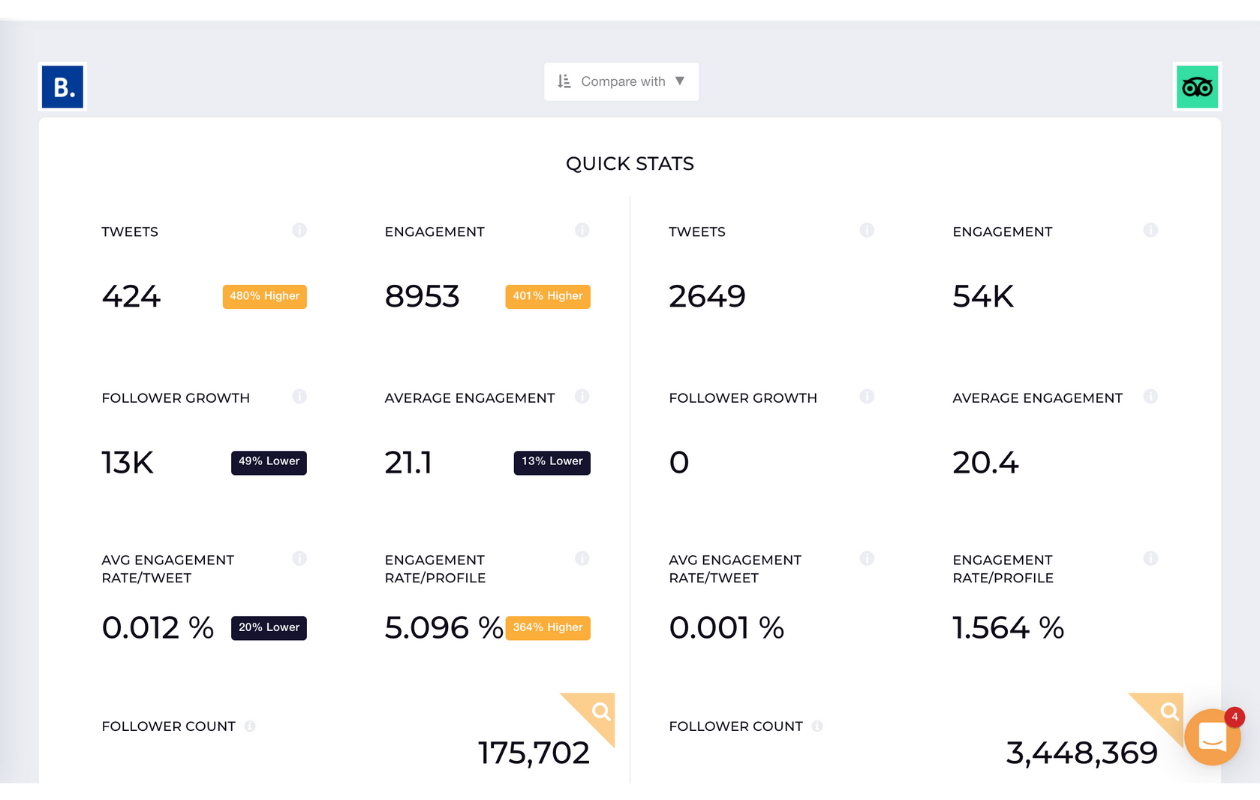 This analysis shows that Tripadvisor's Twitter profile surpassed Booking.com's Twitter profile in terms of the number of followers and tweets, but Booking.com has a higher engagement rate per profile (5.096%).
To go even deeper in your benchmarks analysis, you can compare any Facebook, Instagram, or Twitter profile with the industry of your choice.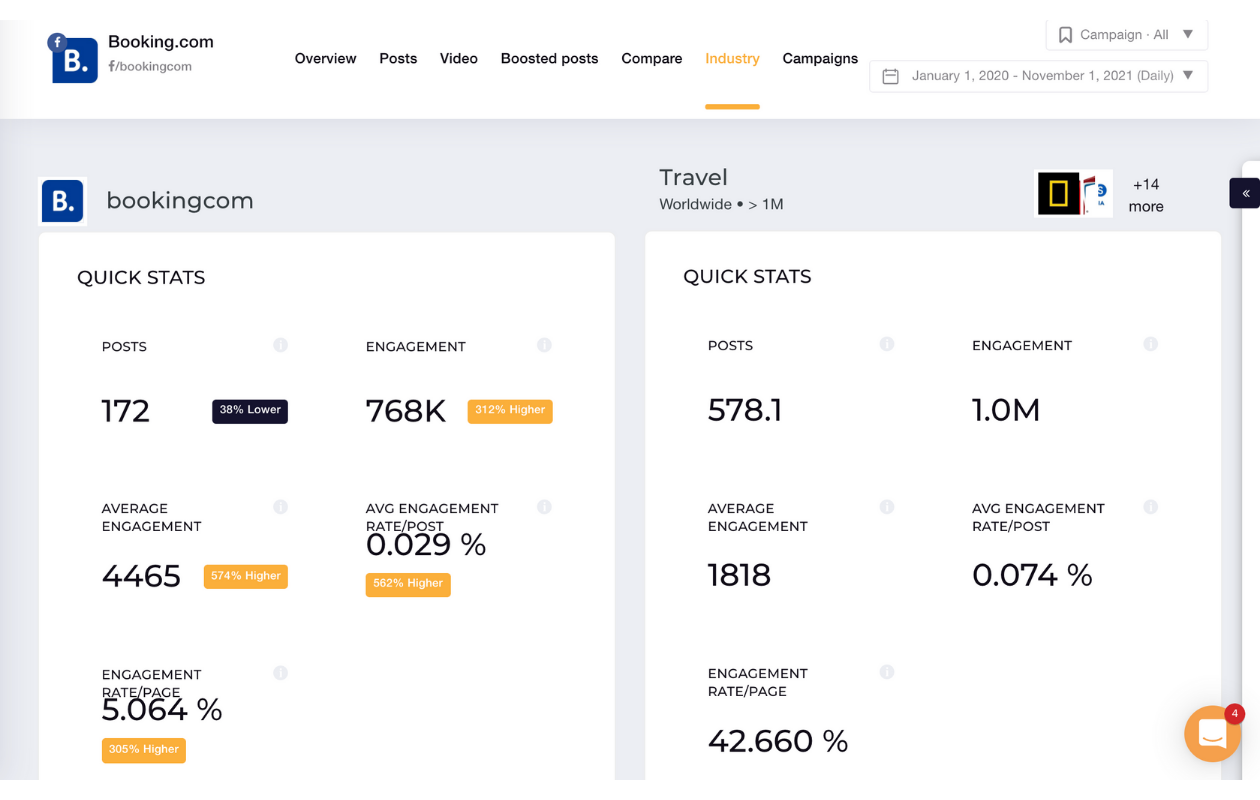 For example, you can see how your brand performs against the industry's engagement metrics or the average number of posts.
Final thoughts
This analysis of Booking.com's social media strategy demonstrates the high awareness of the brand among consumers.
Booking.com's marketing strategy focuses on the value the brand brings to its consumers, which, beyond pricing, room selection, and easy-to-use products, is also about storytelling.
Even though the travel industry is not the most creative one, it's highly competitive, particularly in the digital space, with giants like Airbnb or Expedia who have a global presence.
However, with well-thought strategies and social media campaigns that are hitting the right spots, Booking.com became a strong player with an excellent social media presence.
This case study is the perfect example that if a brand stays true to its beliefs, constantly engages with its communities, and tries to bring value to them, will be rewarded with great engagement metrics, regardless of the industry.