Nestlé has been around for a long time - for so long that it is over 150 years old.
The Swiss multinational conglomerate is probably one of the oldest and most famous brands of our time.
Over the years, Nestlé positioned itself as a brand leader in terms of approaching the digital era. What started as a manufacturer of milk-based products, today owns 10,000 different products across 2,000 different brands.
In today's case study, we'll go over Nestlé's social media strategy and discover how the brand managed to maintain a unique brand image through innovative campaigns and marketing strategies.
And because case studies and podcasts complete each other, we talked with Alexandra Reay, global social media and community manager at Nestlé, to see the marketing strategy behind this brand's success.
Let's get started! 🙌
Nestlé's Social Media Strategy
1. Get to know the brand identity behind Nestlé
Nestlé is a multinational food and drink processing corporation that is based in Switzerland. It is the biggest food company in the world, measured by revenue.
According to its LinkedIn profile, the company has around 273,000 employees and factories or operations in almost every country in the world.
Its main products include baby food, bottled water, breakfast cereals, coffee, teas, confectionery, dairy products, ice cream, frozen food, pet foods, and snacks. Its most well-known brands are Nespresso, Nescafe, KitKat, Smarty's, Nesquick, Stouffers, Vittel, and Maggi.
As the world's largest food and beverage company, Nestlé's marketing strategy has always been one step ahead. And they understood that the key behind digital success is creating value for customers.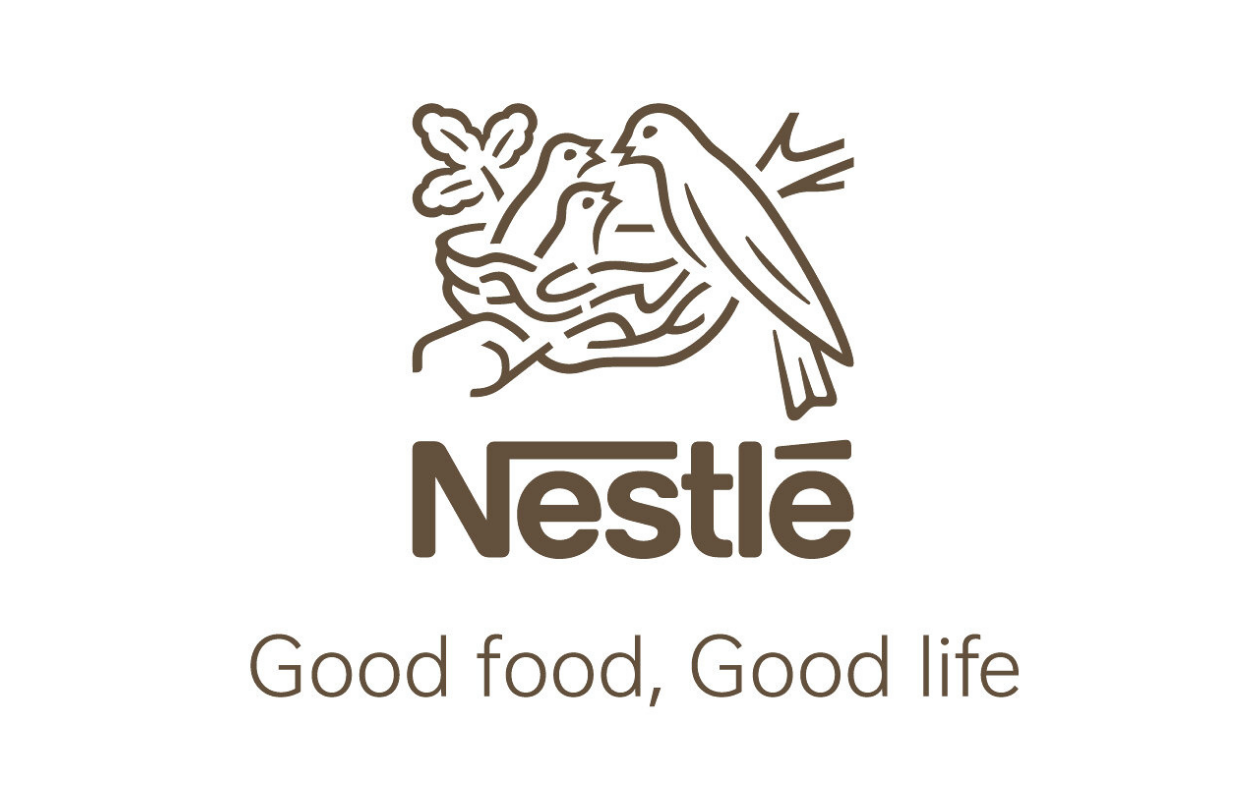 However, the brand had its ups and downs.
In 2010, Nestlé went through a PR and social media catastrophe that was on everyone's lips at the time.
But they didn't give up. They worked so hard on their social media strategy, that the brand remained a major player in the food and beverage industry.
They managed to do that through a unified marketing strategy and a strong brand positioning. A significant role in this plays the logo and the slogan, which are easily recognizable.
2. Nestlé's social media channels
Nestlé has a solid presence on all social media platforms, but it's most active on Facebook, Instagram, and Twitter. The brand uses social media sites to engage with its consumers and enhance its brand identity.
The food conglomerate created regional social media profiles to connect with its customers globally for its wide range of products.
Nestlé uses social media to drive marketing, innovation, and leadership potential. To do that, the brand creates different content tailored to every platform's specifics, as Alexandra told us during our podcast episode.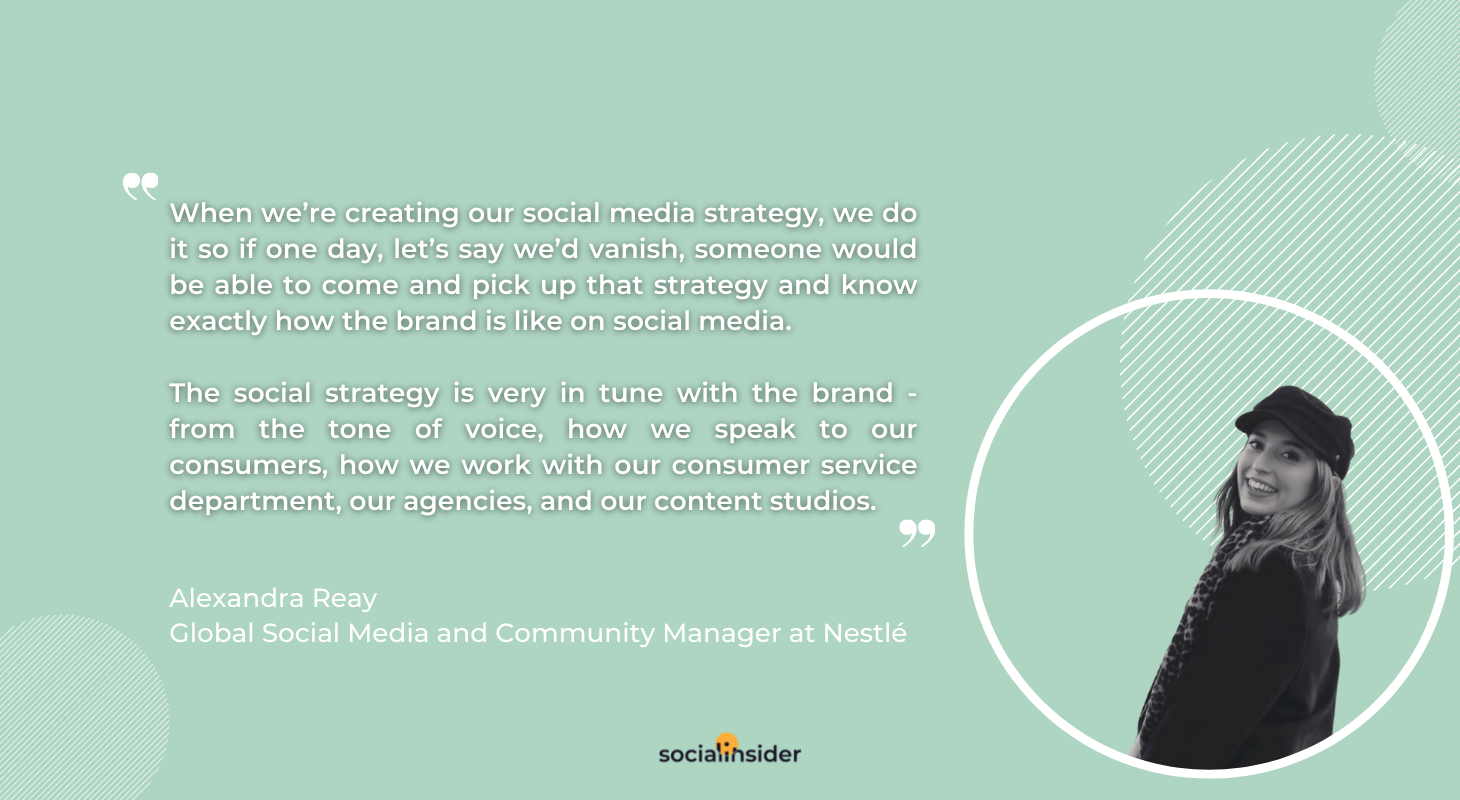 According to Unmetric, Nestlé has 95 social media profiles, among which 36 are on Facebook, 21 on Twitter, and six on Instagram.
To better understand Nestlé's social media strategy, I used Socialinsider, a social media analytics, benchmarking, and reporting tool.
With the tool's help, I discovered that Nestlé has over 11 million followers on Facebook, more than 306K on Instagram, and over 276K on Twitter, which sums up to more than 12 million brand followers.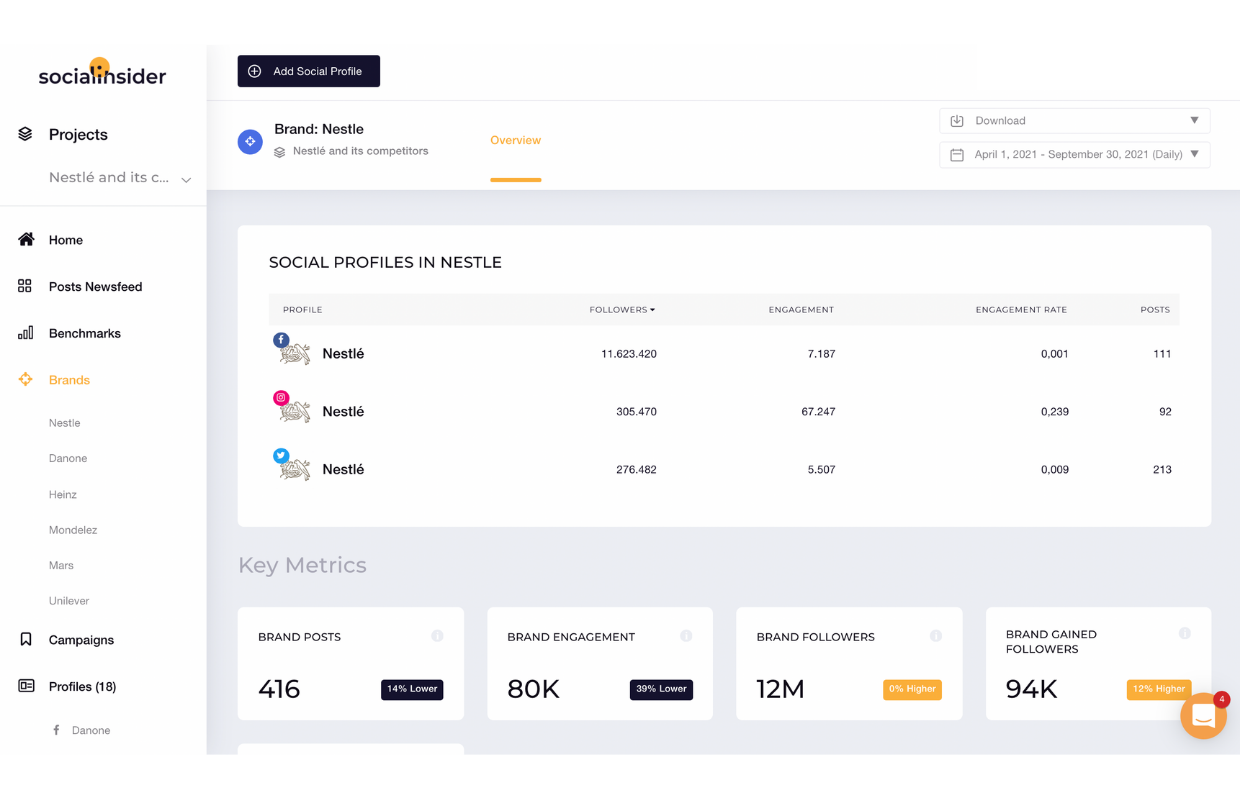 Now that you have a sense of Nestlé's social media presence, let's go even deeper and understand how and what the brand does on every social platform.
With ​​11,624,391 followers, Facebook is by far the biggest social channel of Nestlé. One of the brand's objectives as part of their social media strategy was to improve their social channels, especially Facebook. And they succeeded!  
Nestlé shares posts related to what the brand is currently up to, its ongoing campaigns, and new product releases on this social platform.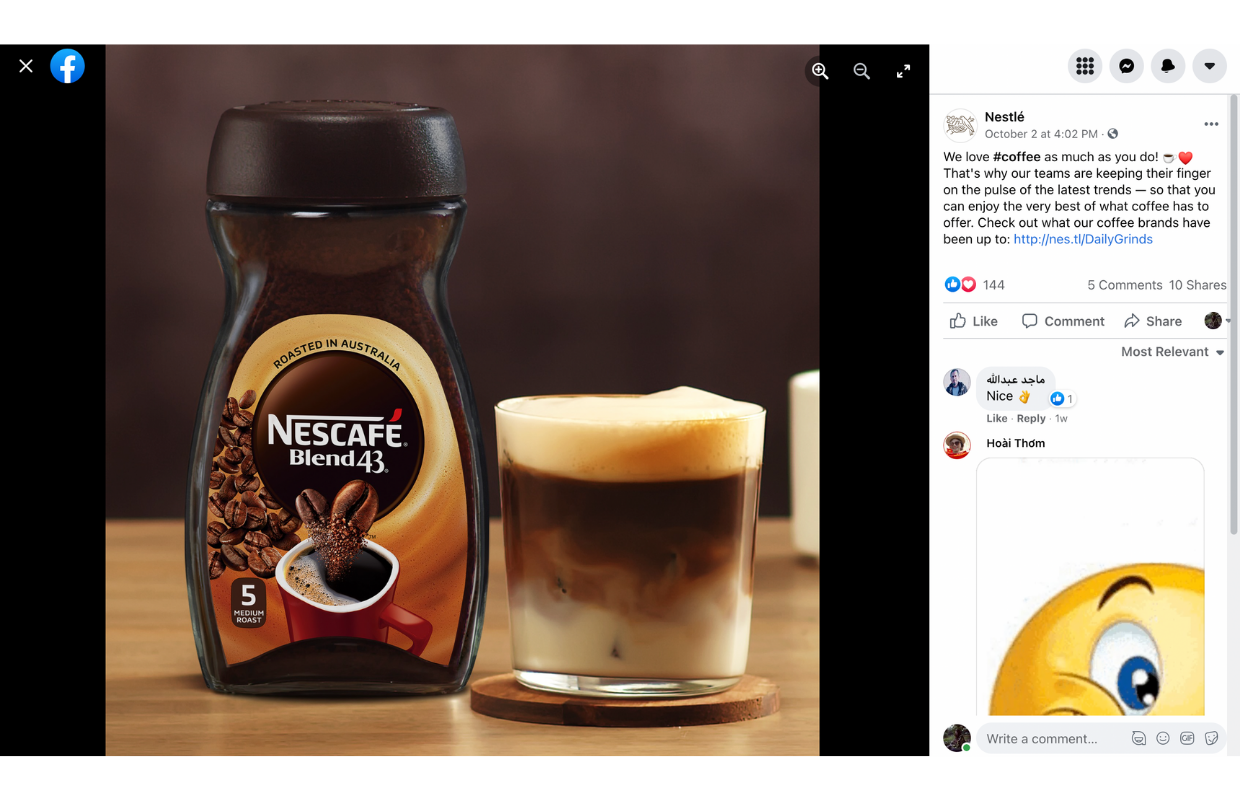 The brand also uses this channel to talk about its corporate social responsibility measures.
Using an analytics tool like Socialinsider, you can evaluate a brand's performance on each social media channel.
For instance, you can see the brand's top-performing posts over the past six months in the image below.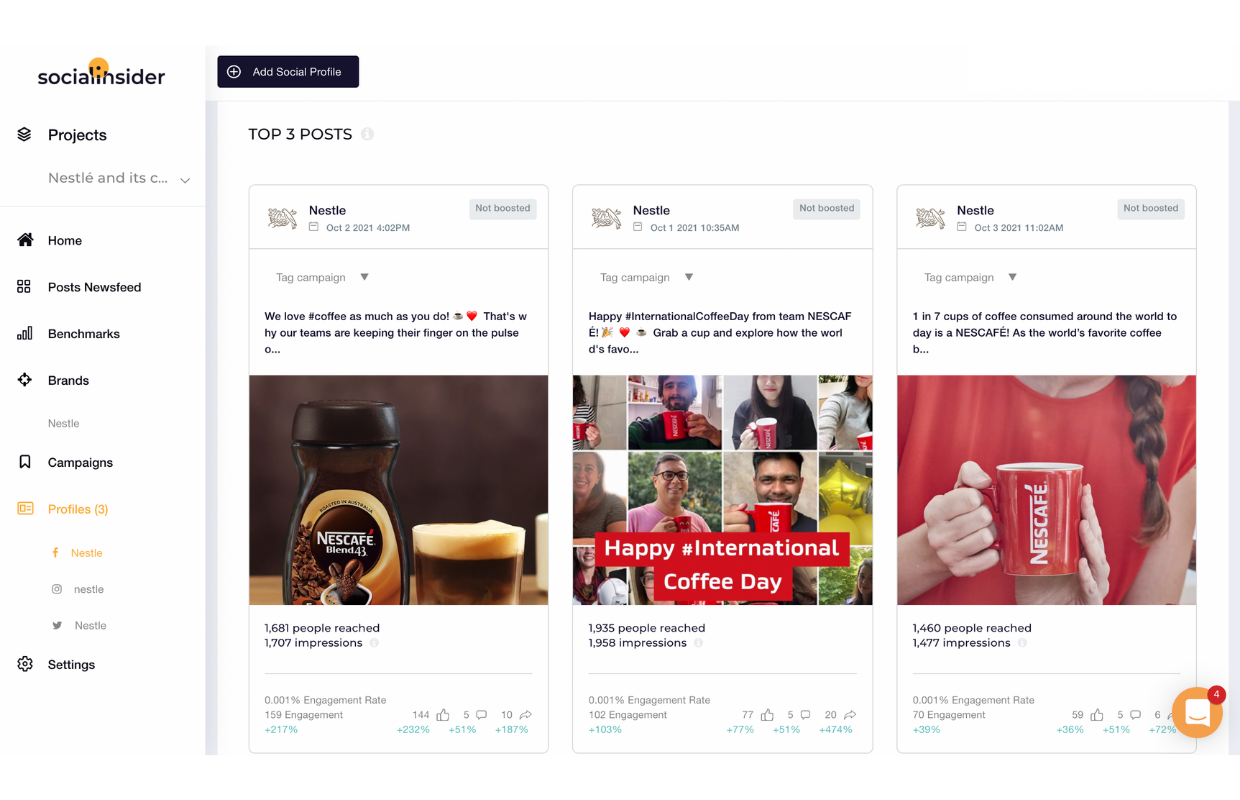 Nestlé has 306,741 followers on Instagram and an engagement of 12K. The brand gained 3,011 new followers in the past six months, indicating that this platform's social media strategy pays off.
Like Facebook, Nestlé's Instagram page is designed to announce campaigns, new products, or even competitions.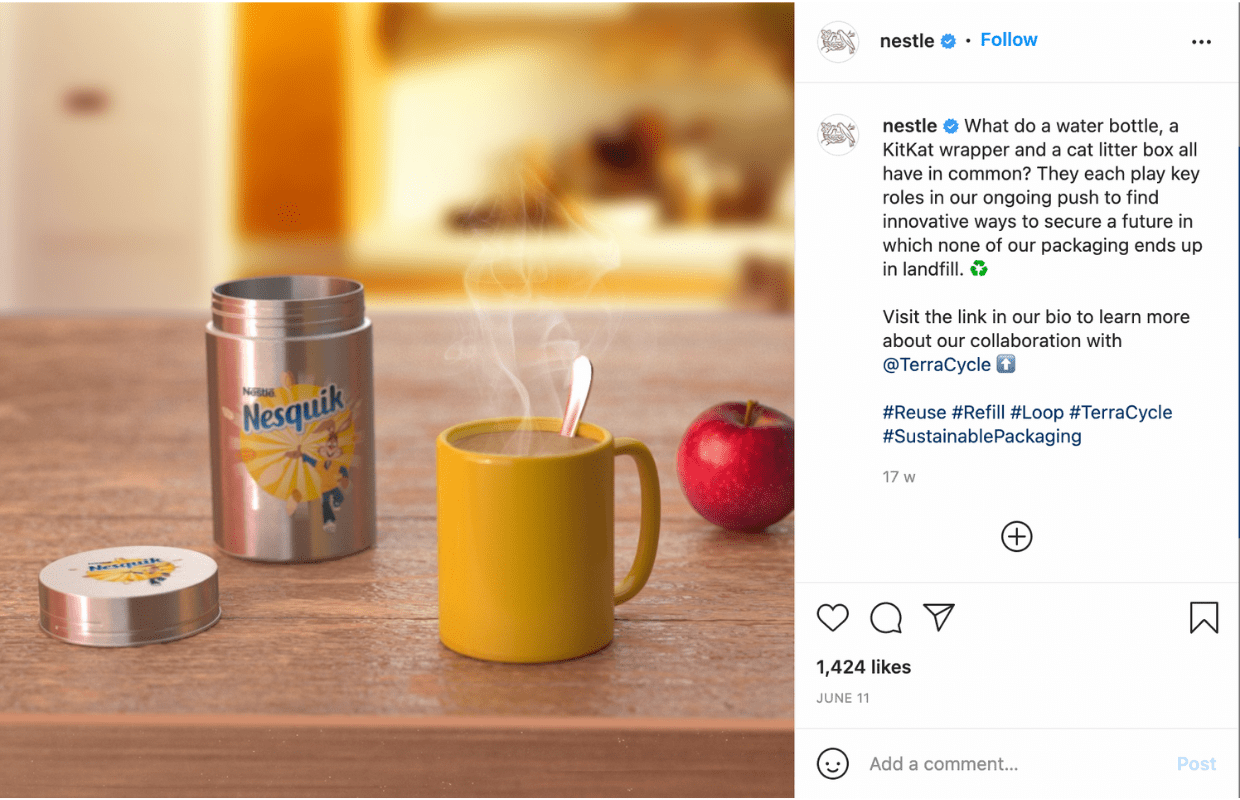 Having separate social media profiles is very smart because it can help a brand organize its marketing campaigns more effectively and target the right audiences.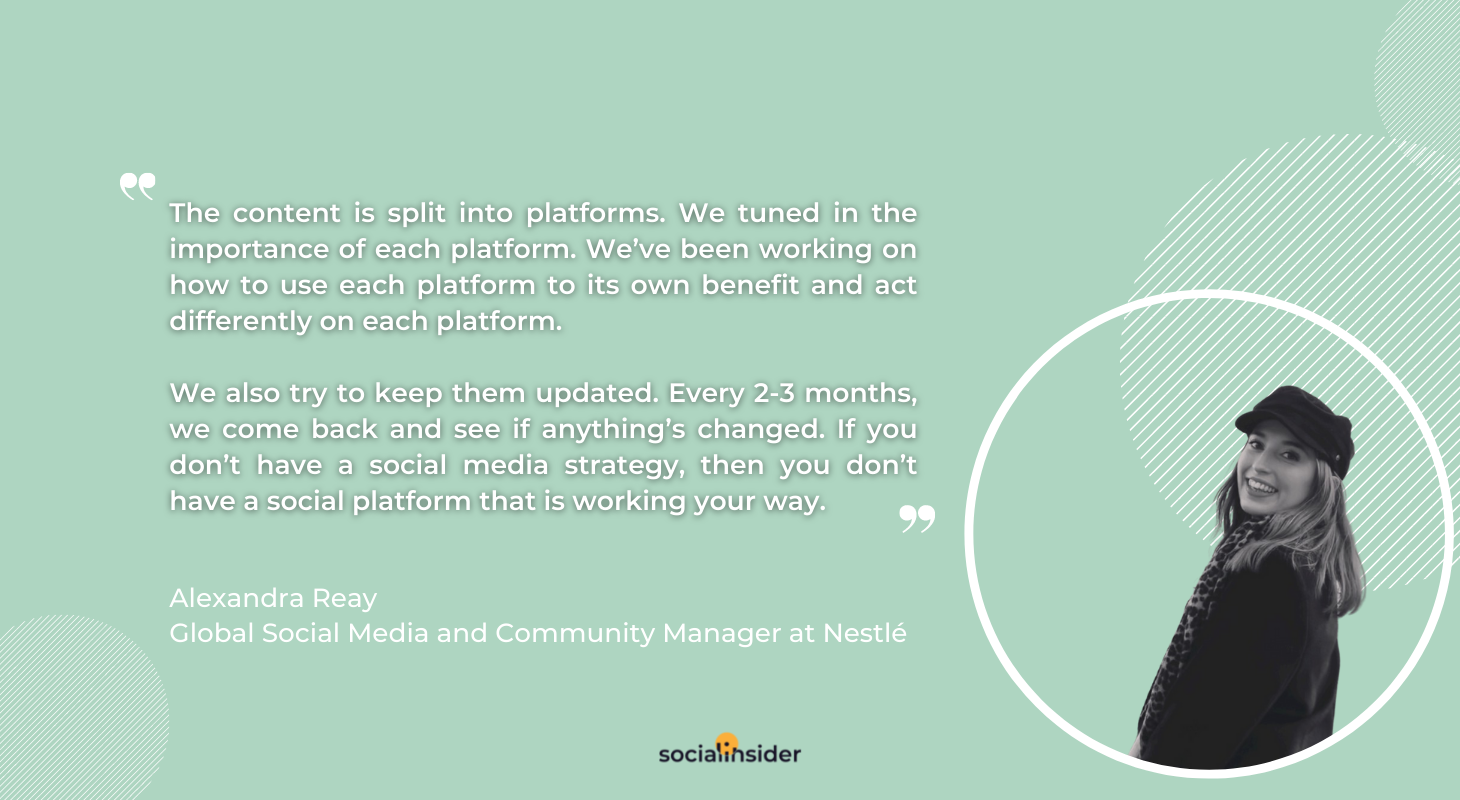 Interestingly, even though Nestlé has many more followers on Facebook, the average engagement rate per post on Instagram was 0.169% in the past six months, compared to Facebook, where the average engagement rate per post was zero.
So if you needed another confirmation, there you have it - people tend to engage more with a brand on Instagram than on Facebook.
On Twitter, Nestlé has 276,807 followers and a pretty good overall performance, according to Socialinsider.
Nestlé gained 2,456 new followers in the past six months and has an average engagement rate per tweet of 0.009%.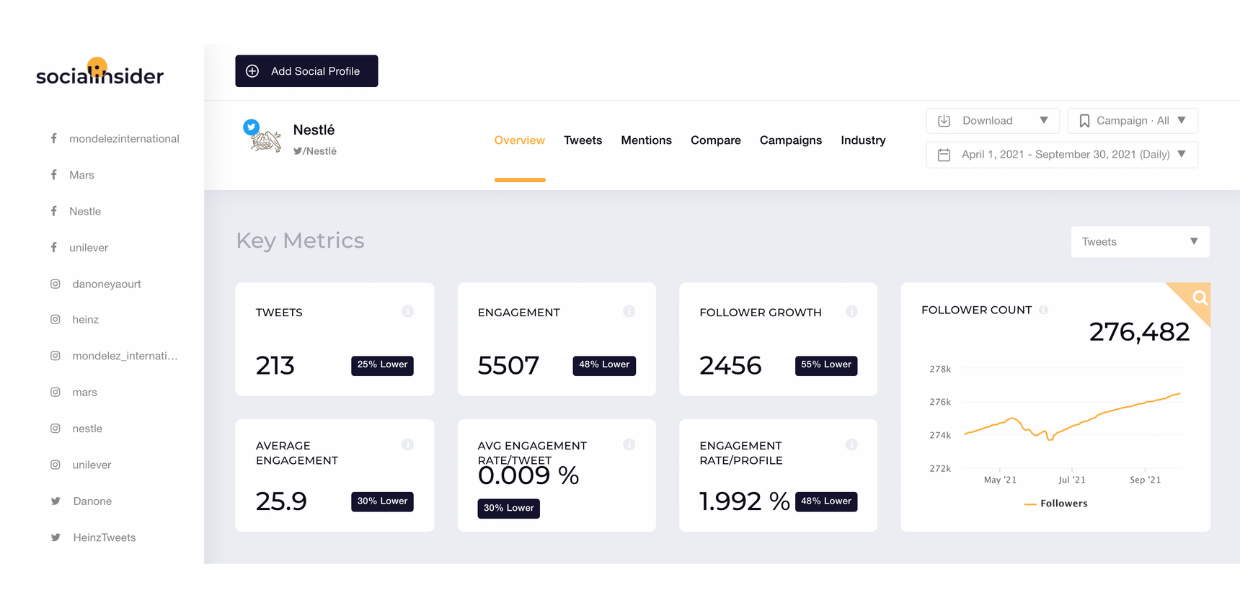 Even though its Twitter profile doesn't differ much in terms of content compared to Facebook or Instagram, it's worth mentioning that Nestlé seems to maintain Twitter as a medium of communication between the company and its audience.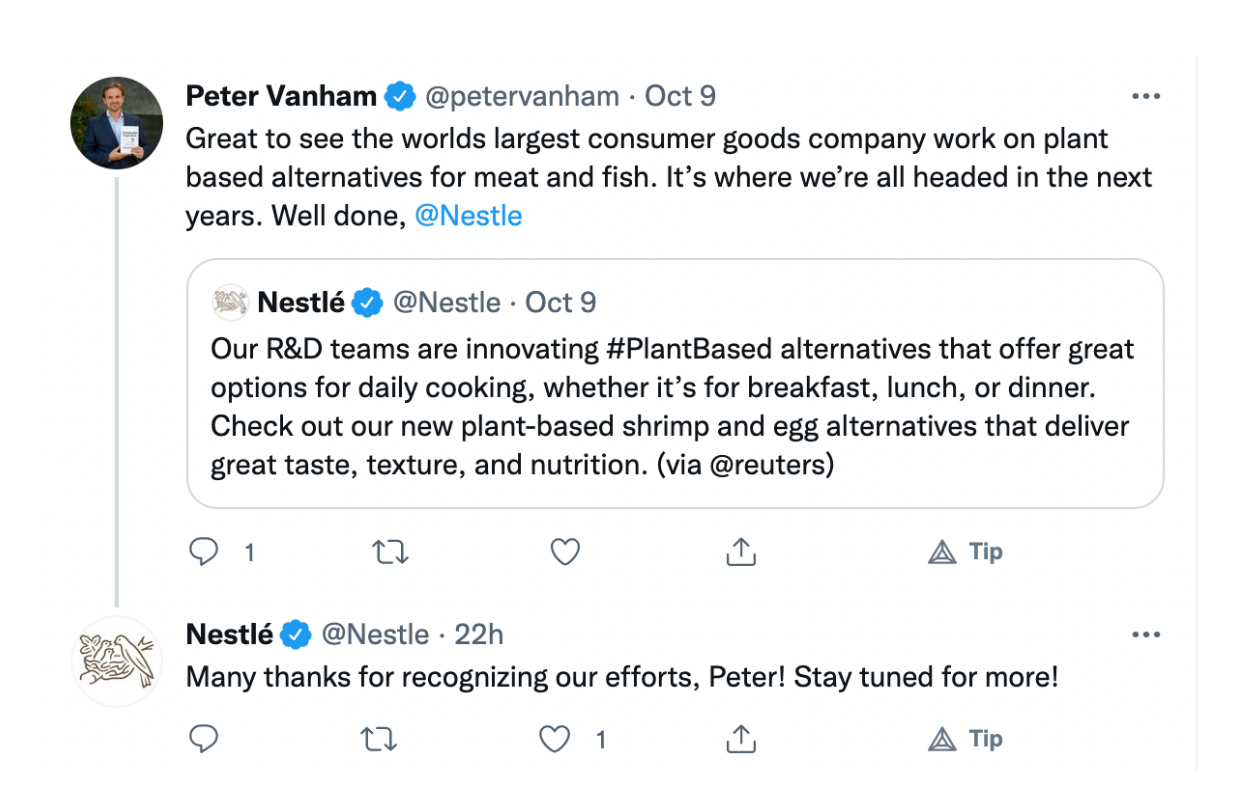 3. Nestlé's social media campaigns
Who doesn't love great social media campaigns?
Nestlé certainly does, as it managed to design clever campaigns to get closer to people and ultimately achieve essential business goals over the past years.
Social media campaigns represent the perfect funnel to connect and collaborate with your community. These are meant to have strong concepts with meaningful messages that can strengthen the brand's identity.
One of Nestlé's social media campaigns that has left a lasting impression on its audience is the one called "Generation Regeneration."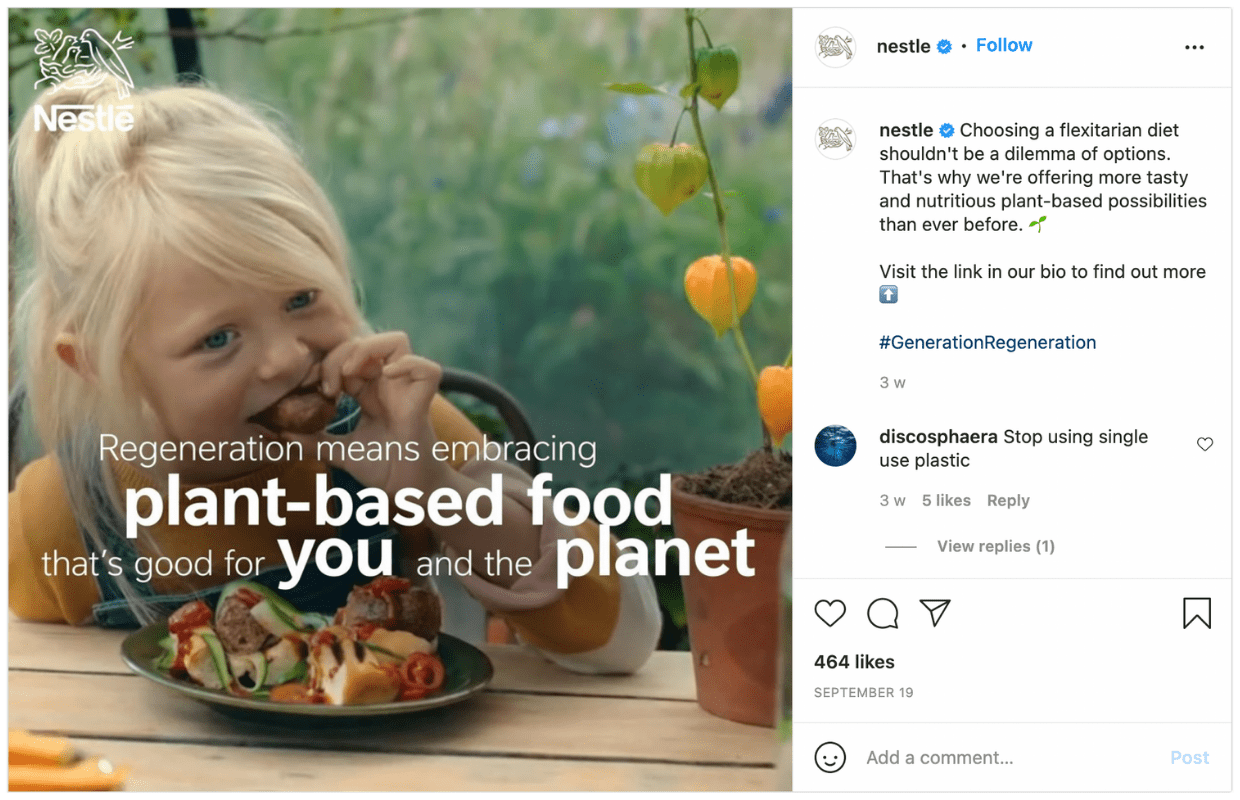 According to Nestlé, this campaign is built around the environmental threats of climate change. As a big corporation, the brand is committed to the cause, declaring to take actions in regeneration and thus helping the environment.
With 48 posts on Facebook, Instagram, and Twitter in the past six months for this campaign, Nestlé advocates for the benefits of having a plant-based diet or at least a flexitarian one.
This marketing campaign was the most successful on Instagram, with an engagement rate of 0.145%.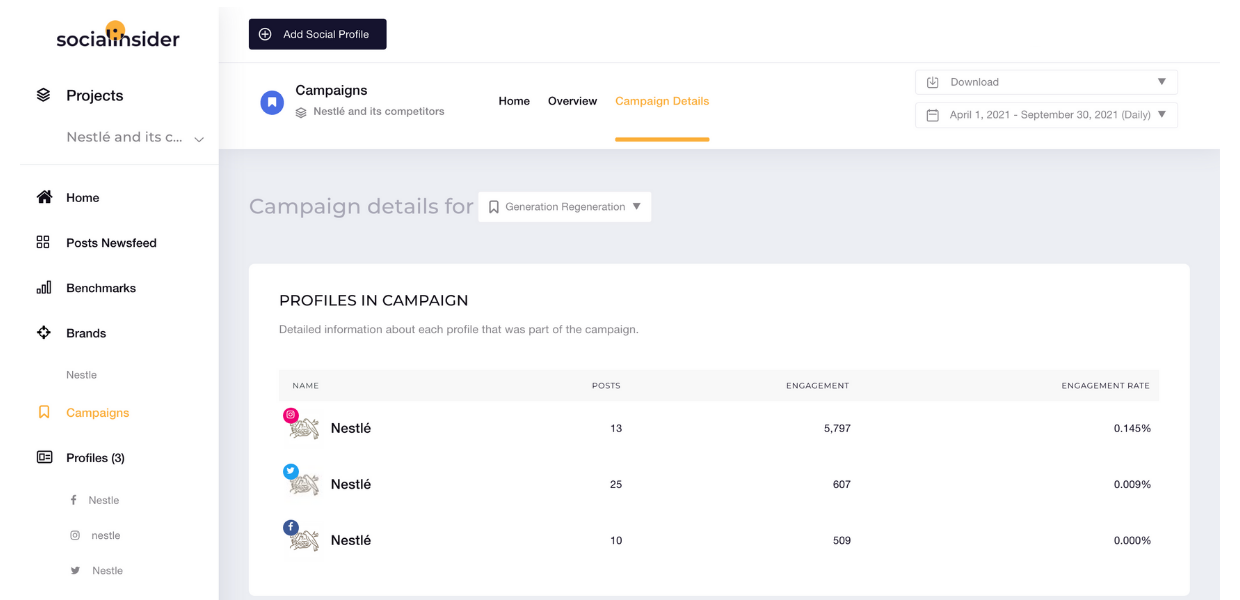 Another fun and creative social media campaign of Nestlé is called "Healthier Kids" and is designed with a simple concept: ensuring healthy eating habits from a young age.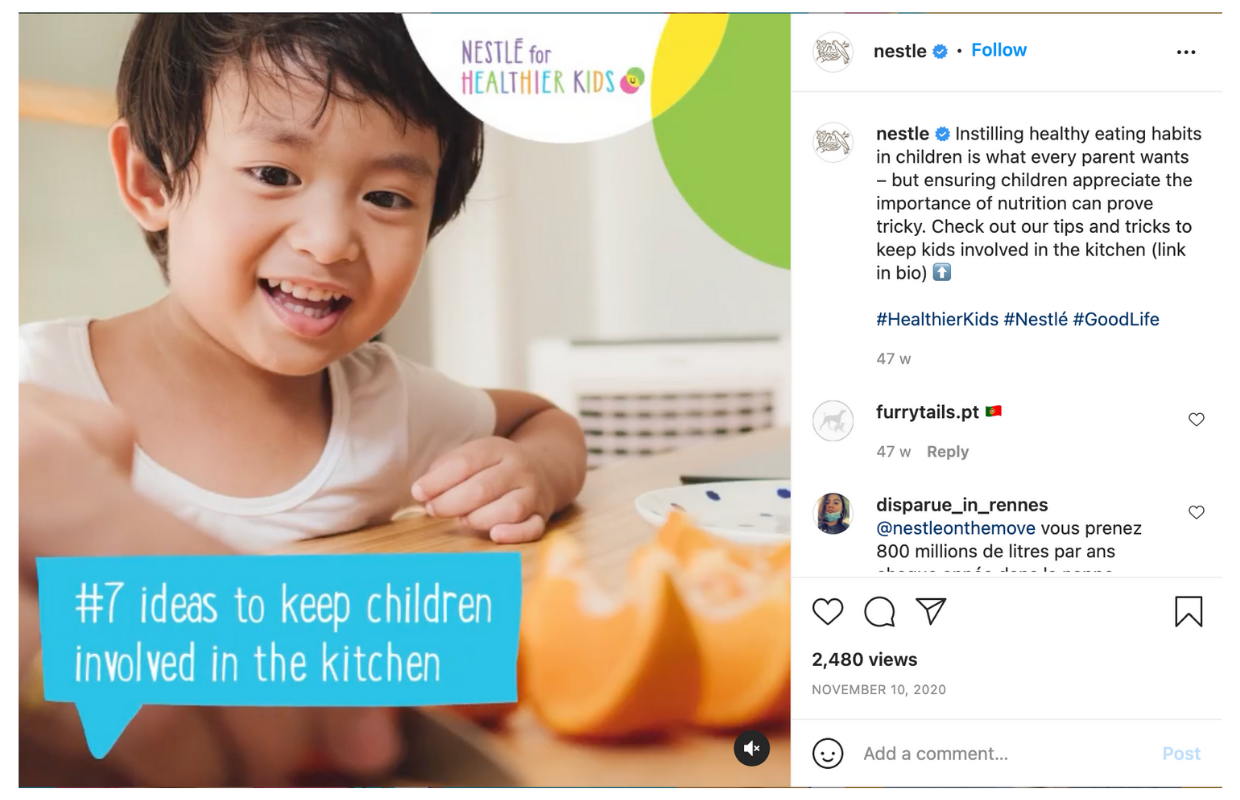 And last but not least, Nestlé's "Empowering Women" social media campaign is pretty self-explanatory. Its message is to enhance gender balance in the workforce and to empower women through gender-neutral internal policies that defy stereotypes.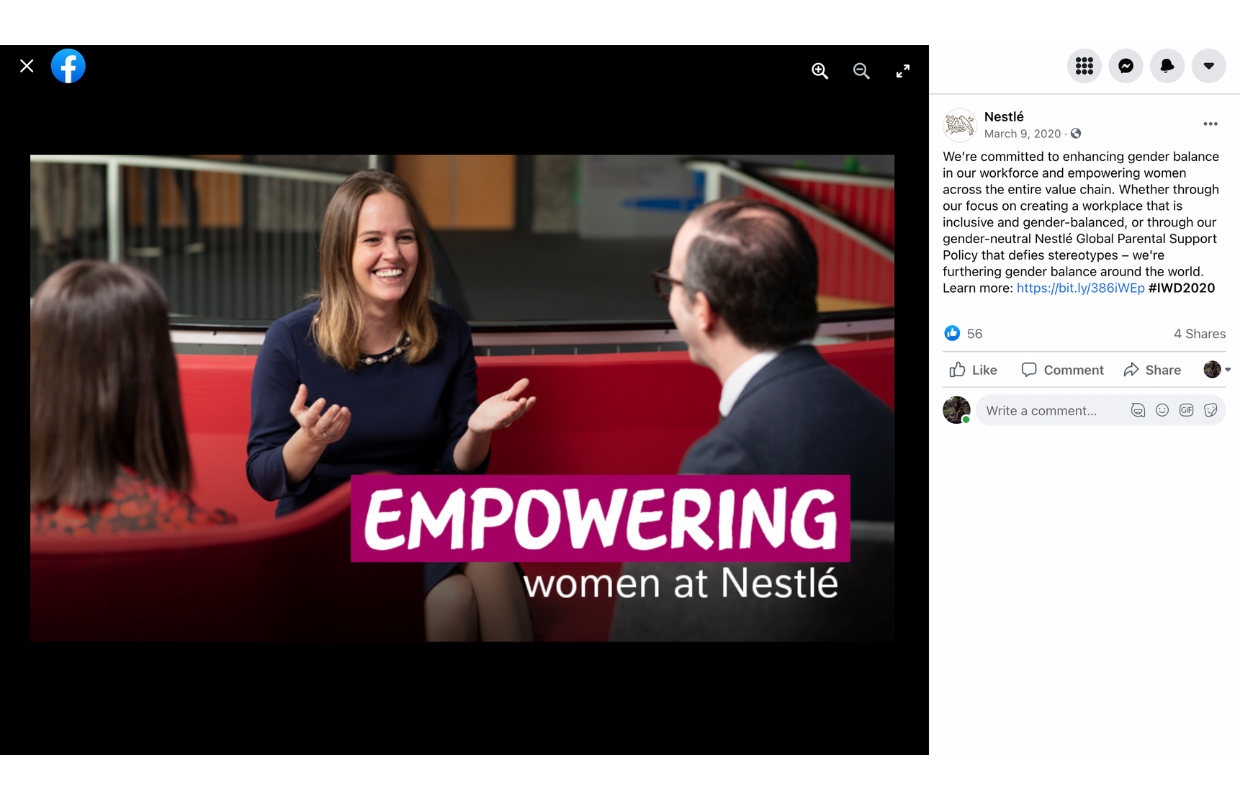 4. Nestlé turns a social media backlash into brand innovation
In 2010, Nestlé went through a social media crisis when Greenpeace linked the food manufacturer with mass deforestation, criticizing its methods for acquiring palm oil.
This issue generated a massive buzz on social media. An analysis made on Twitter showed over 215,000 tweets on the topic only from 13th March to 22nd March 2010.
Nestlé not only became a trending topic on Twitter and basically every social platform, but it gained so much attention that it soon was picked up by traditional media, causing significant damage to the brand image.
So how did Nestlé handle this social media backlash?
The brand first suspended its sourcing from Sinar Mas, which was the first step to gaining its consumers' trust.
In terms of marketing strategy, Nestlé hired a new global head of digital and social media, who created the "digital acceleration team."
The DAT monitors social media sentiment 24 hours a day, communicating any issues observed in the social media sphere.
More than 10 years later, Nestlé tries to maintain the same marketing and communication strategy through its various sustainability campaigns.
Not only that, but they believe that the key to having a good relationship with your consumers is communication and honesty.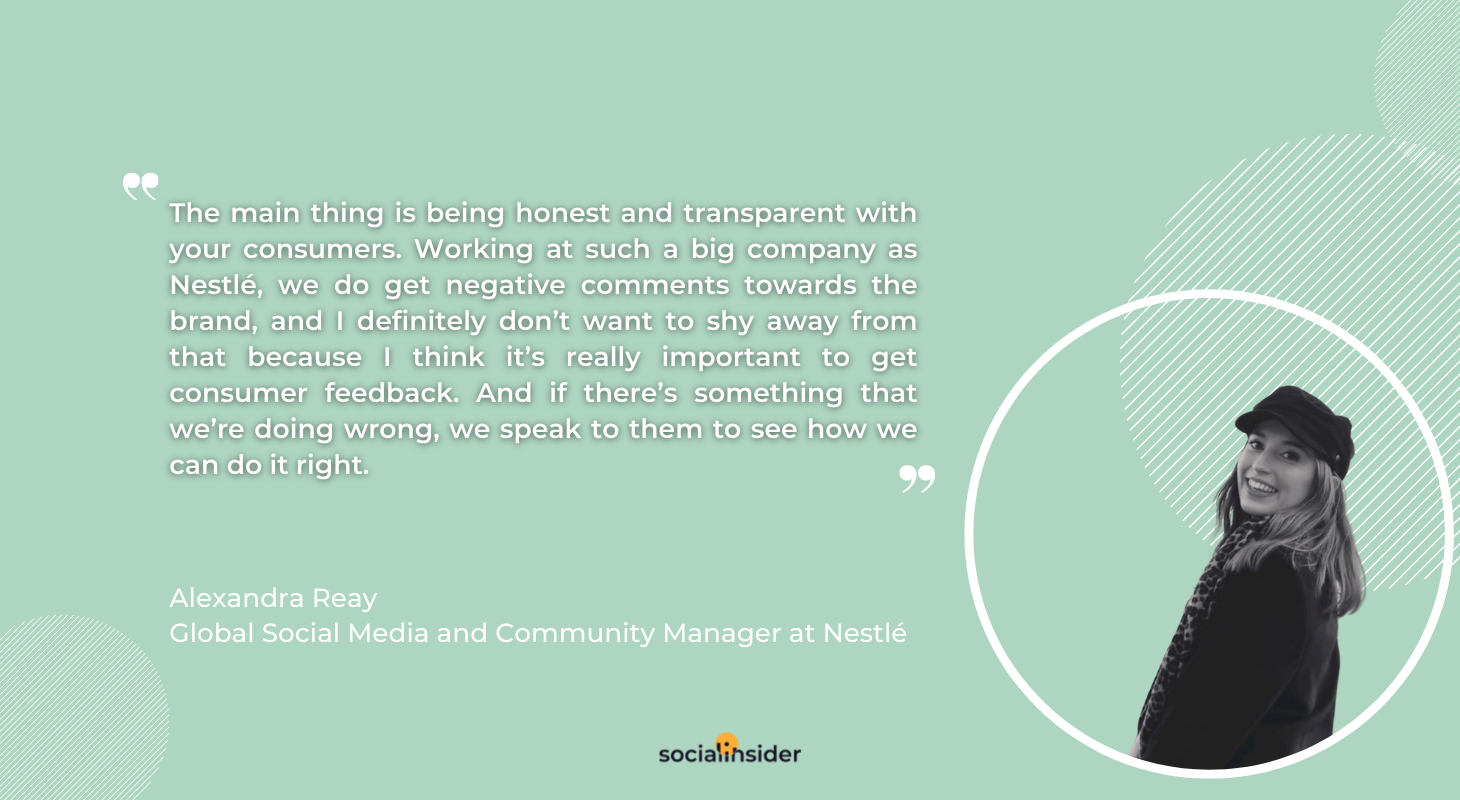 As Alexandra told us during one of our podcast episodes, she believes that the worst thing you can do as a social media manager when the brand receives negative comments is to stay silent.
Find out more about Alexandra's insights regarding Nestlé's marketing strategy in Insider Insights' podcast episode:
5. Benchmark Nestlé against its competitors with Socialinsider
After all is set and done, the real success behind a long-lasting social media strategy is dictated by data.
Apart from its solo social media performance, to see where a brand stands in today's crowded digital space, you must benchmark its performance against its competitors as well.
And to bring data to the game, I used Socialinsider, an analytics, benchmarking, and reporting tool.
In this case, I added Nestlé's biggest competitors (Mondelez, Unilever, Danone, Mars, and Heinz) in Socialinsider's benchmark tool and got in-depth insights regarding the brand's performance.
The profiles analyzed were the brands' Facebook, Instagram, and Twitter profiles in the past six months.
For example, on Facebook, Nestlé has the most followers and the highest fan evolution, but Mondelez had the highest average engagement rate per post in the past six months, which is 0.332%.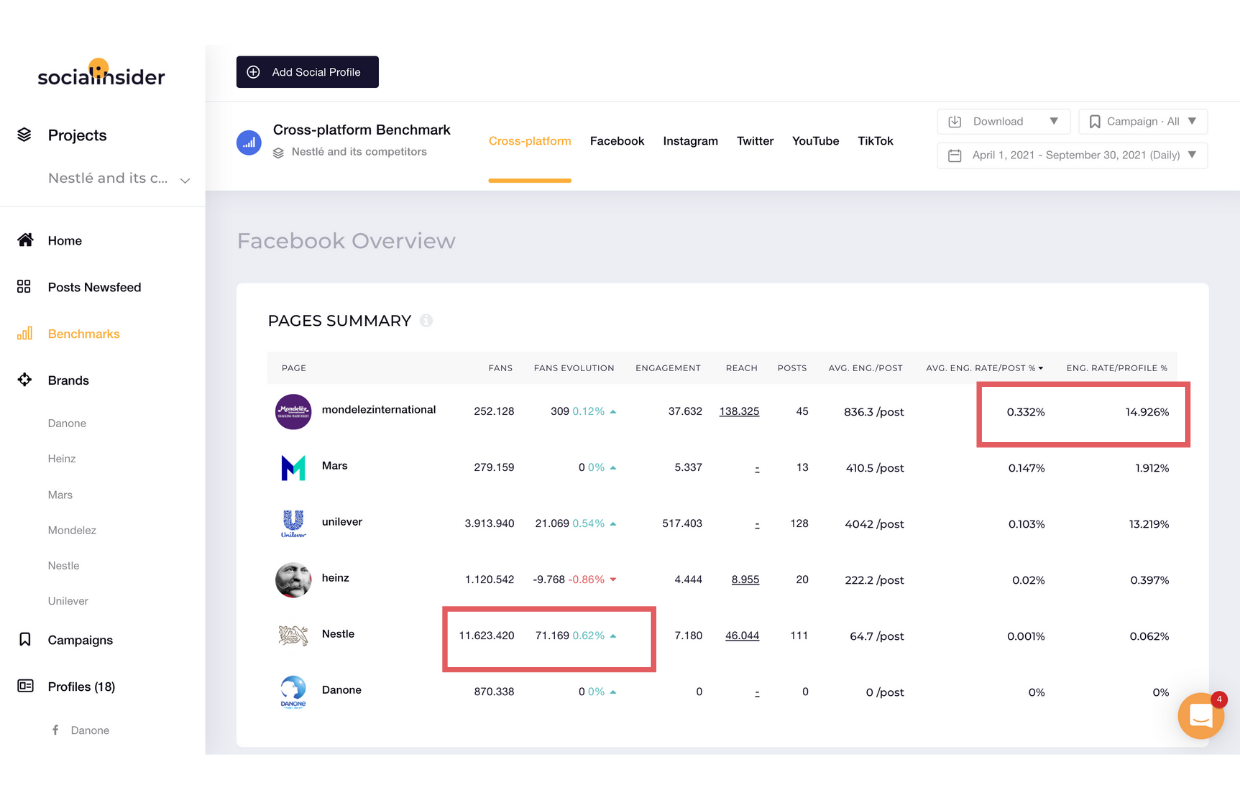 This indicates that even though Nestlé attracts new followers each month, they don't engage that much with its content despite posting 111 Facebook posts in the analyzed time range.
On Instagram, Mondelez posted the most content, on average, in the past six months, but Unilever was the one with the highest average engagement per day, followed closely by Nestlé with an average engagement rate per day of 367.43.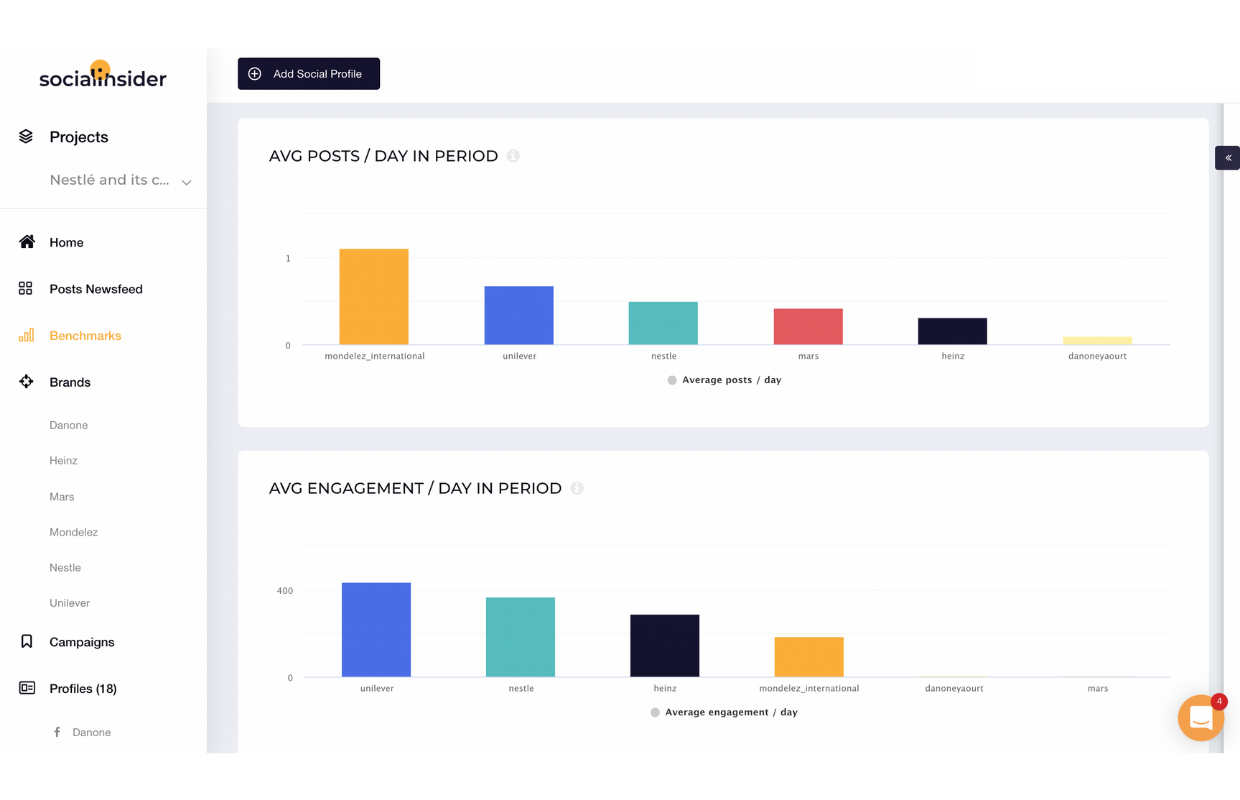 What's cool about Socialinsider is that you can compare any Facebook, Instagram, or Twitter page with an industry of your choice.
In the example below, I compared Nestlé's Twitter page within the FMCG food industry with Twitter profiles worldwide that have between 100K - 500K followers.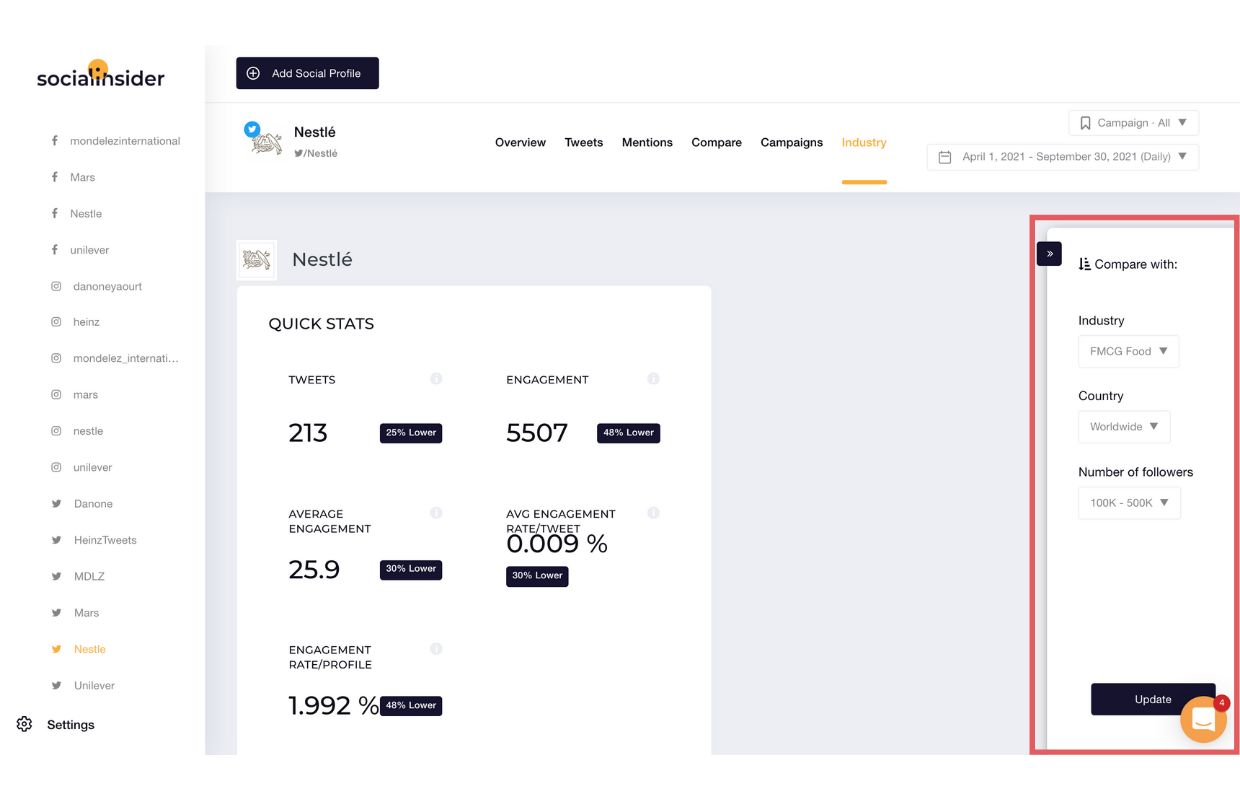 According to our database, the engagement rate per profile, on average, in the FMCG food industry for profiles with 100K - 500K followers is 39.164%, which is 19.6 times higher than Nestlé's engagement rate per profile.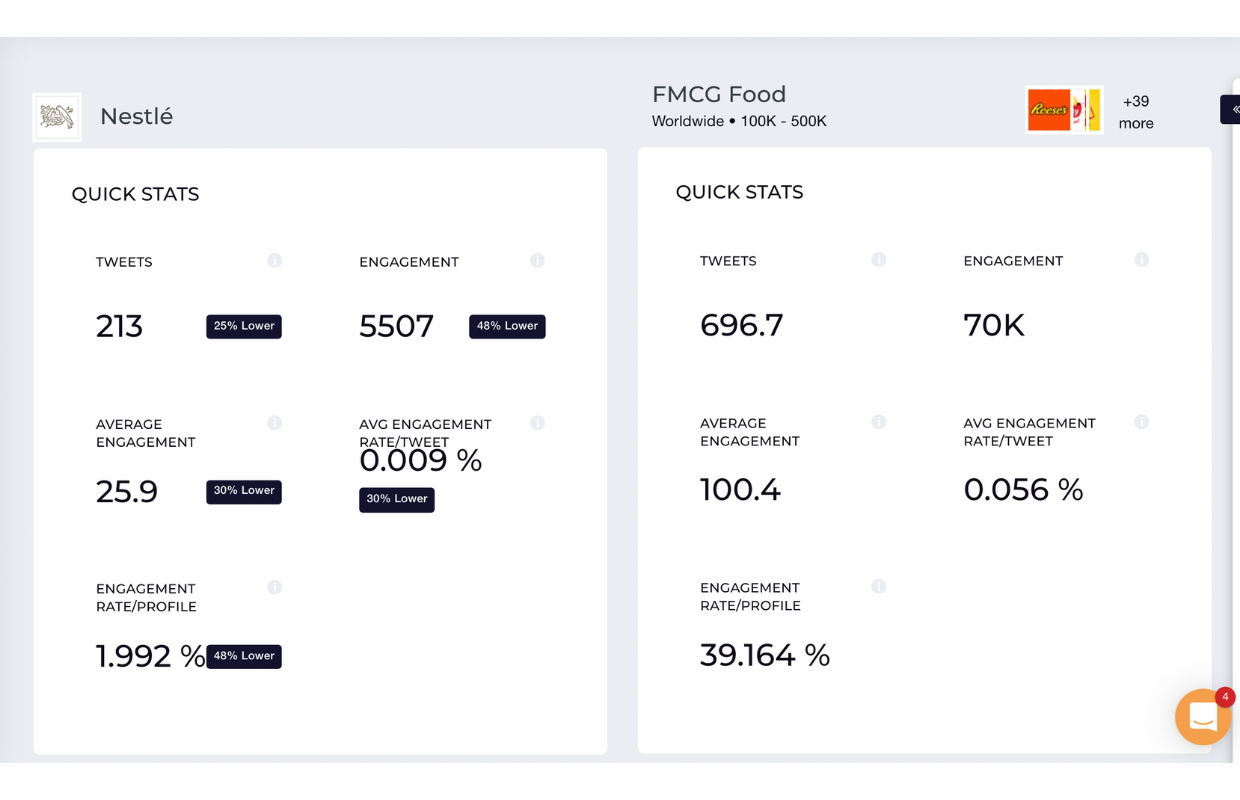 Since the brand only posted 213 tweets in the past six months and the average number of tweets for this industry is 696.7, Nestlé could improve their Twitter performance by posting more.
Final thoughts
Nestlé's social media campaigns have always been short and sweet. They rely heavily on organic content, knowing how to promote inventive ideas and place content to the most appropriate viewers.
But a successful social media strategy isn't all about that.
It's also essential to engage in honest conversations, solve issues, and use social media to listen and inspire your consumers.
Hopefully, this case study gave you a glimpse of Nestlé's social media strategy's different facets. And don't forget that these tactics can be applied to every marketing strategy in any industry.