Fashion brands face multiple challenges, unlike any other industry.
They must adapt quickly to all the seasonal trends, maintain an assortment of multiple sizes, fulfill the right products to their customers, but most importantly, stay relevant in the fast fashion scene, which is often criticized.
Since fashion brands are primarily about aesthetics, they heavily rely on everybody's most beloved interactive technology - social media.
Why may you ask? Well, because social media is all about visual content, through which people get inspired.
One of our social media industry benchmarks studies has shown that brands in the fashion industry benefit a great deal from using social media.
To better understand how fashion brands integrate social media into their overall strategy, I analyzed Mango's marketing strategy.
And because everyone loves personal stories and real-life examples, we talked with Estela Alcaide, online communication manager at Mango, in one episode of The Life of a Social Media Manager podcast to find out how they do it.
Let's get to the juicy stuff!
Mango's Marketing Strategy
1. Get to know the compelling brand behind Mango
Mango is an international multinational that designs, manufactures, and markets clothing and accessories. The company was founded in Barcelona, Spain, in 1984.
The brand produces clothes and accessories for women, men, and children and is a leading brand in the industry. Its main focus is to create fashion for the young and urban woman.
According to their LinkedIn profile, Mango has more than 15,000 employees and over 2,200 stores in 118 countries worldwide.
But beyond numbers and statistics, most people know Mango for its compelling brand.
Whether we've seen Mango's stores in malls, on the streets during our tourist walks, or in media, everybody heard of the brand and can visualize their refined yet straightforward logo.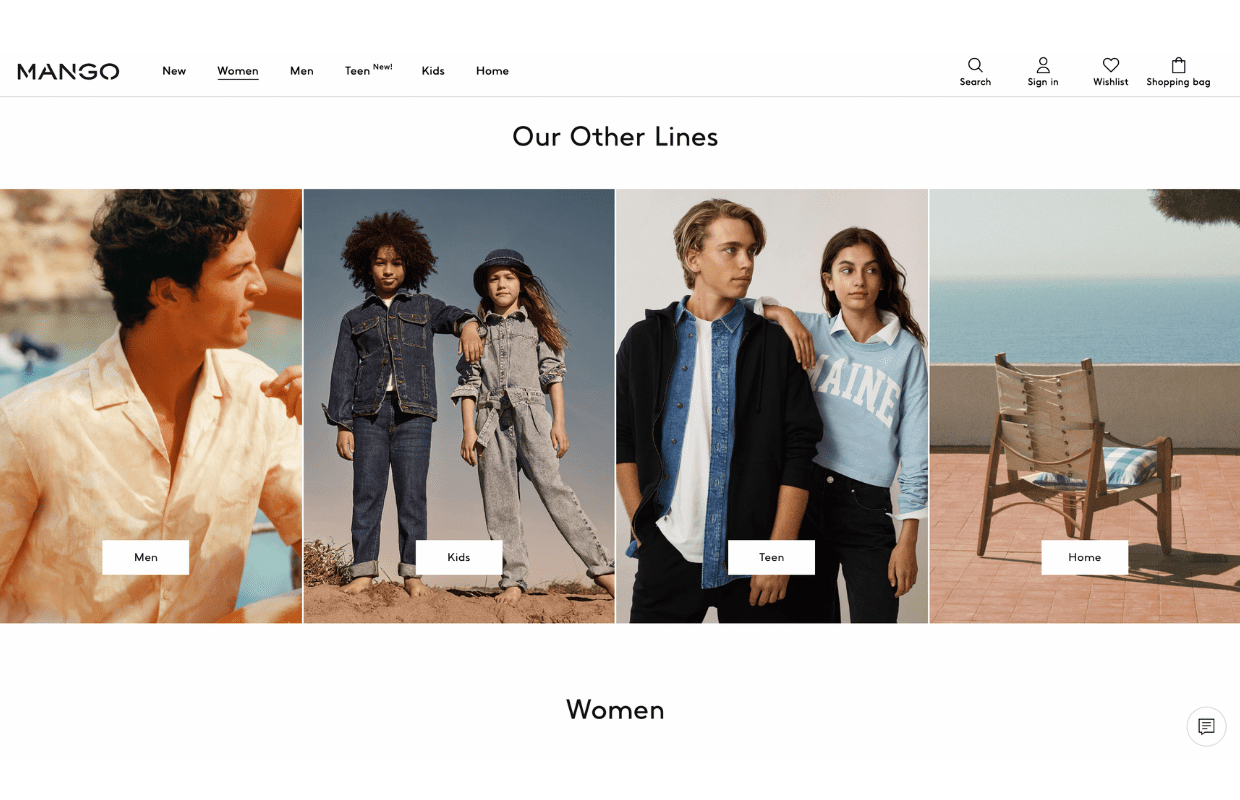 Even though it's the youngest of its competitors (Zara, H&M, or Massimo Dutti), Mango succeeded in positioning itself as a trendy, chic, urban brand of good quality at an affordable price.
How do they do that? Through powerful marketing strategy.
Mango has a solid social media presence, communicates more and more on its sustainable collection, developed a close and positive relationship with its followers, and invests in influencer marketing.
2. Mango uses a human aproach as part of its content strategy
Social media allows brands to engage in bidirectional communication with their followers, so sharing exclusive and engaging content is a must.
As such, social media plays an essential part in Mango's communication strategy.
Mango constantly adjusts and adapts its social media content to what's popular, sharing the latest fashion trends and thus delighting its customers.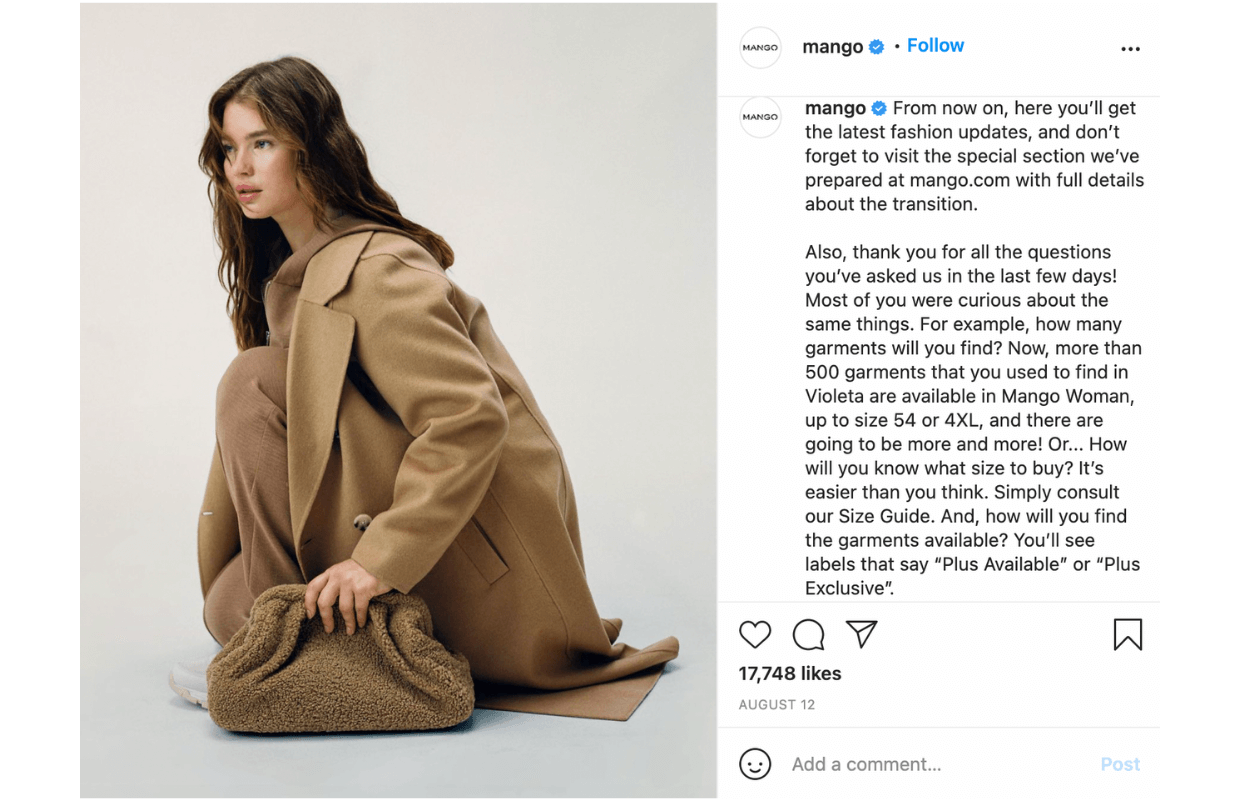 As Estela shared with us in one of our podcast episodes, Mango is constantly testing and experimenting with social media content, always trying to understand how content is changing and how they can create better content that speaks to their consumers directly.
Find out more about Estela's insights regarding Mango's marketing strategy in Insider Insights' podcast episode:
On Facebook, you'll find many posts with fashion tips and tricks and outfit ideas centered around Mango's products.
All such Facebook posts contain the products' codes, making them easier to find and buy on their website.
With 11.7 million followers on Facebook and almost 12 million likes, Mango seems to have found the key to Facebook success.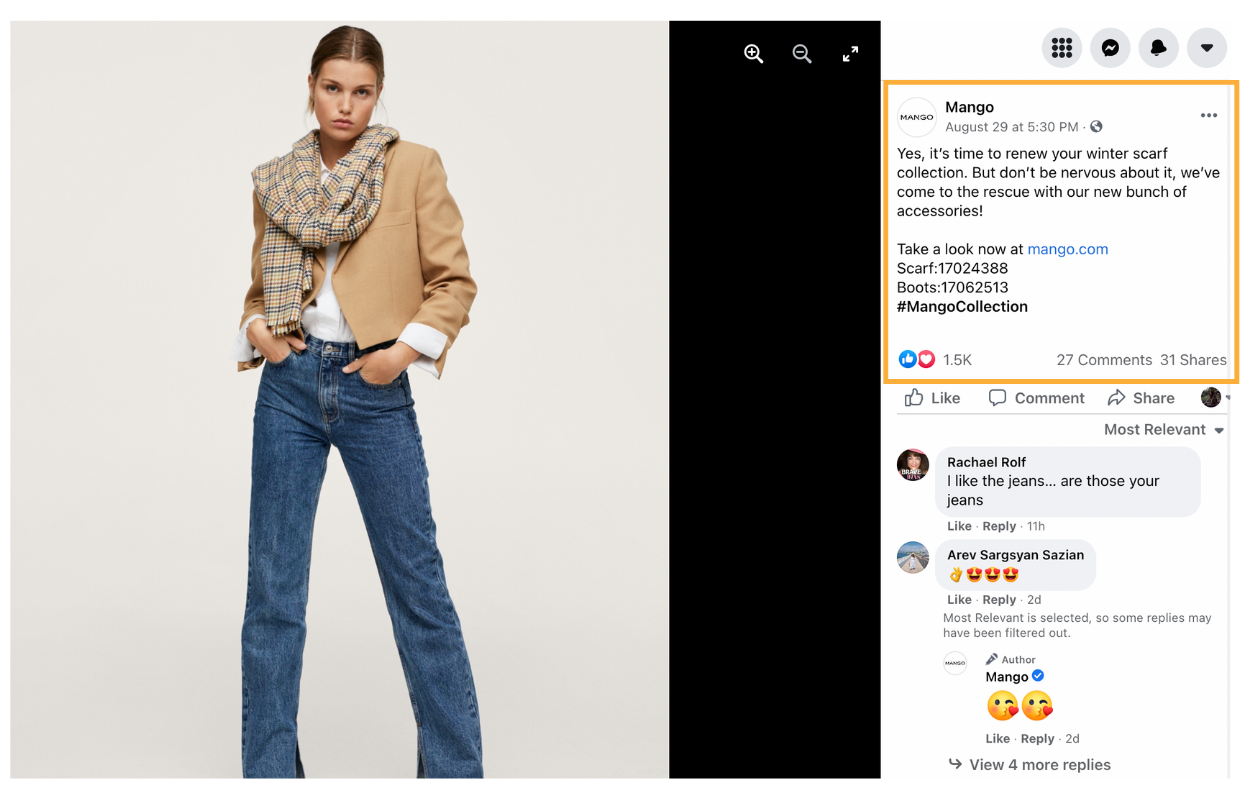 On Instagram, their content is pretty similar to what you find on Facebook, which means a mix of inspirational fashion outfits, pictorials, campaigns, or postcards.
They also tag their products in Instagram posts and usually have the swipe-up feature that takes you directly to their website on Stories.
With 12.4 million followers on Instagram, Mango managed to gain 529k followers in the last six months. Using a social media analytics tool like Socialinsider, you can keep track of your followers' growth.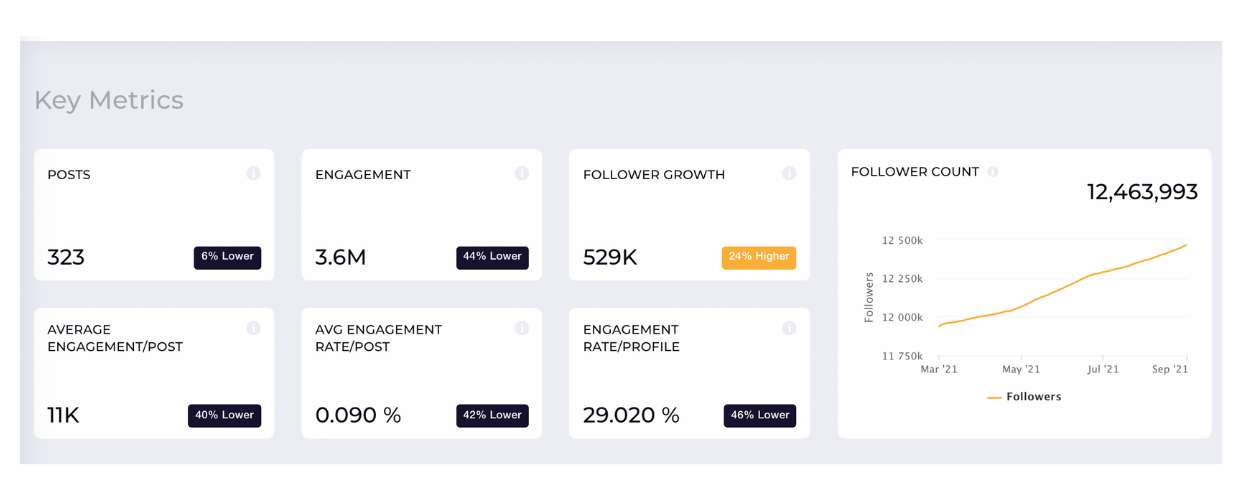 If you take a glimpse at Mango's social media presence, you'll notice that they put a great emphasis on approaching their clients emotionally.
According to Estela, Mango's main goal is to be more human, create authentic conversations and relationships with the community, and better understand what people really need from the brand.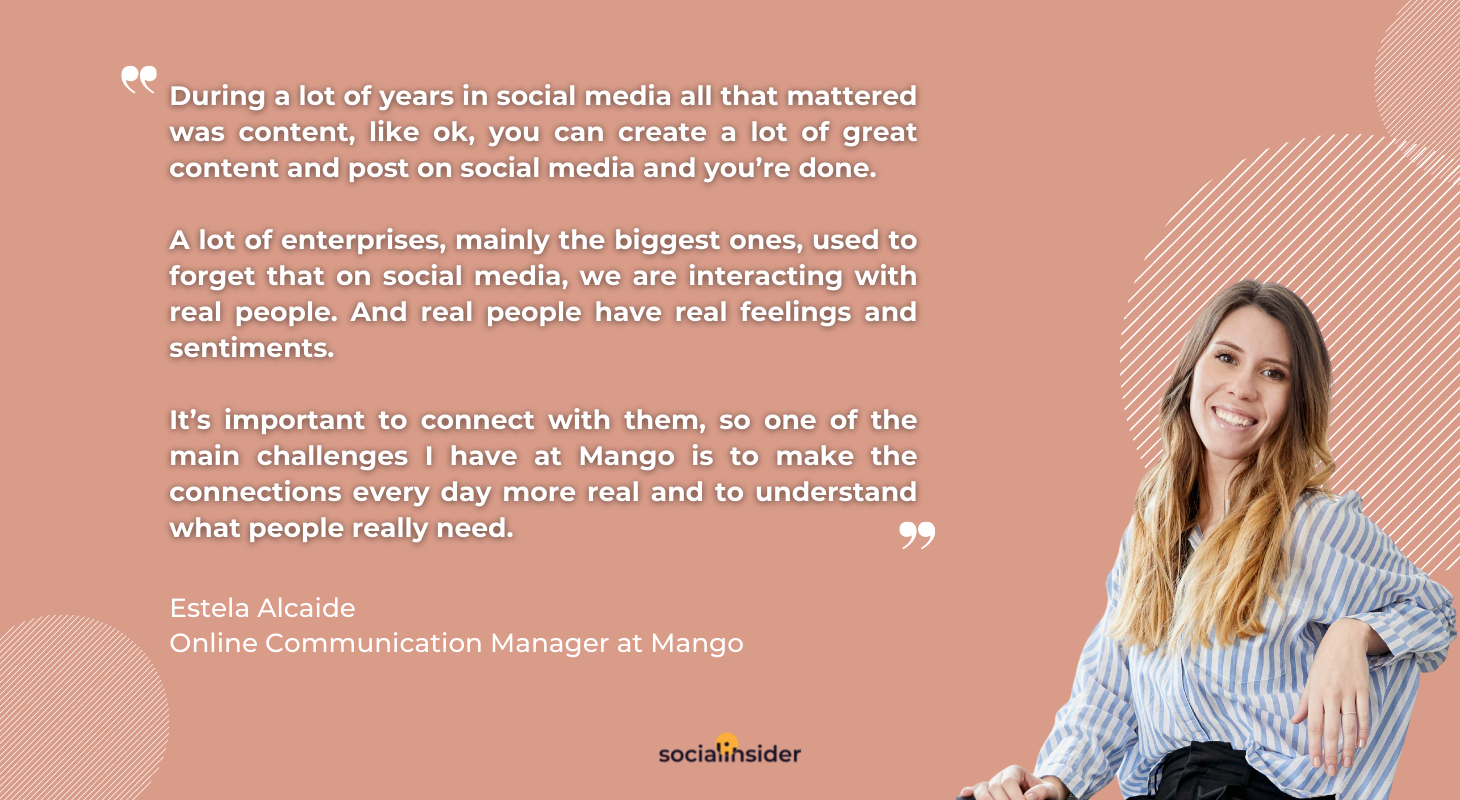 In the past, enterprises were mainly focusing on creating great content but were sometimes forgetting that they were addressing to real people with real feelings.
But nowadays, brands understood that the key to having an engaged community is through a human-centered strategy.
As Estela told us, Mango now has a customer team that is in charge of responding to every message of customers who want to connect with the brand.
They've been doing this strategy for more than one year, and they have great results, as more and more people want to connect and talk to them.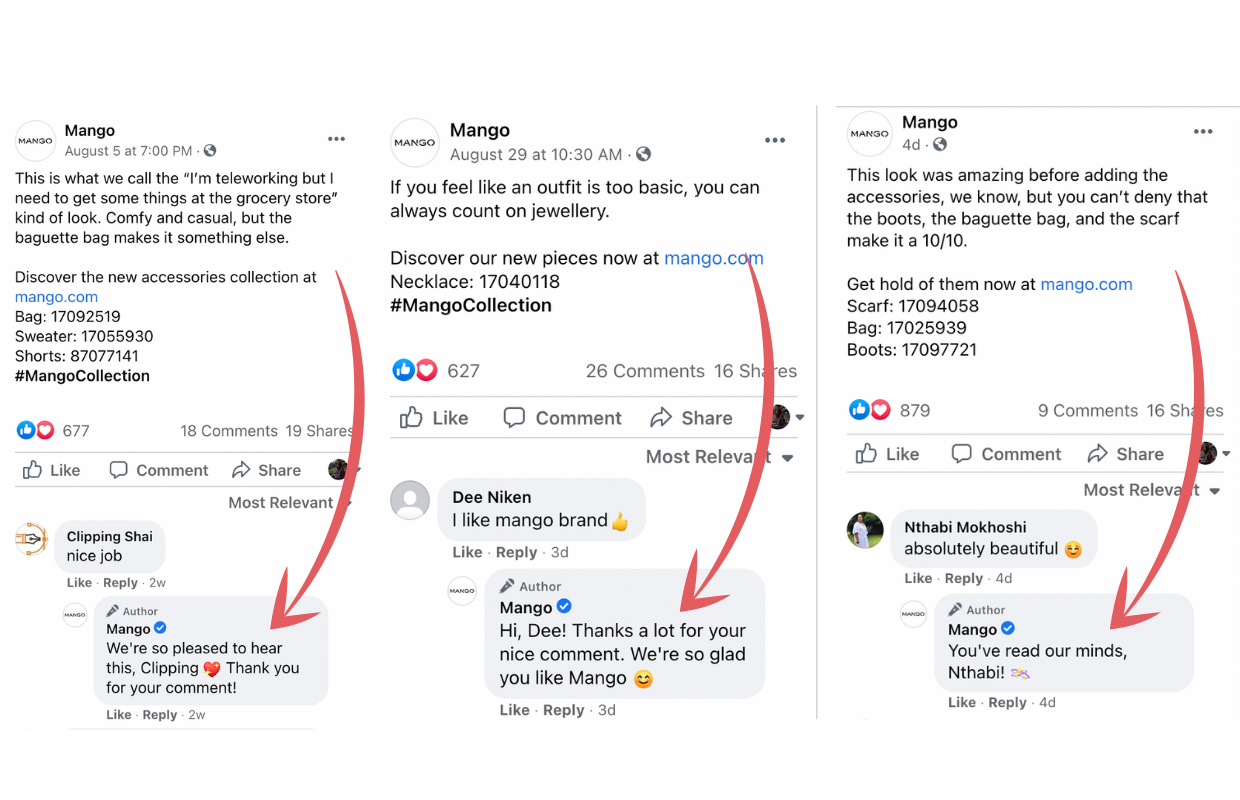 Among many insights Estela shared about Mango's marketing strategy, we also found out that they adapt their content to every platform's specifics.
If in the past, Mango had the same campaign across all social media channels, now they have different teams specialized in every social media platform.
For example, Mango started doing more Reels on Instagram because people are more interested in visual content.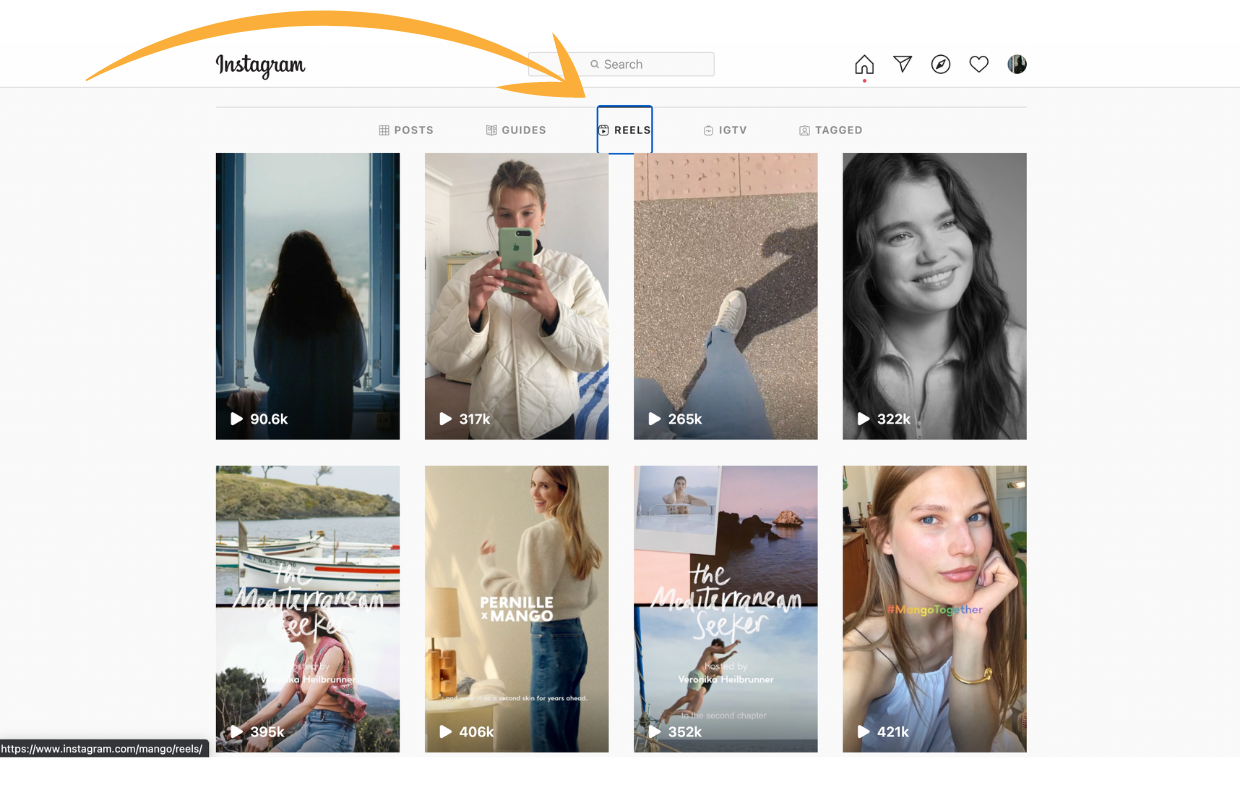 3. Mango's social media campaigns have strong concepts
Trend forecasting is the answer to Mango's questions on social media strategy, collection planning, and sustainability efforts.
Their ads are not only trending but are designed around a strong concept.
One of Mango's most impactful campaigns is called "The Sustainable Choice."
More and more, consumers are demanding sustainable practices from their favorite clothing brands, and Mango is no exception.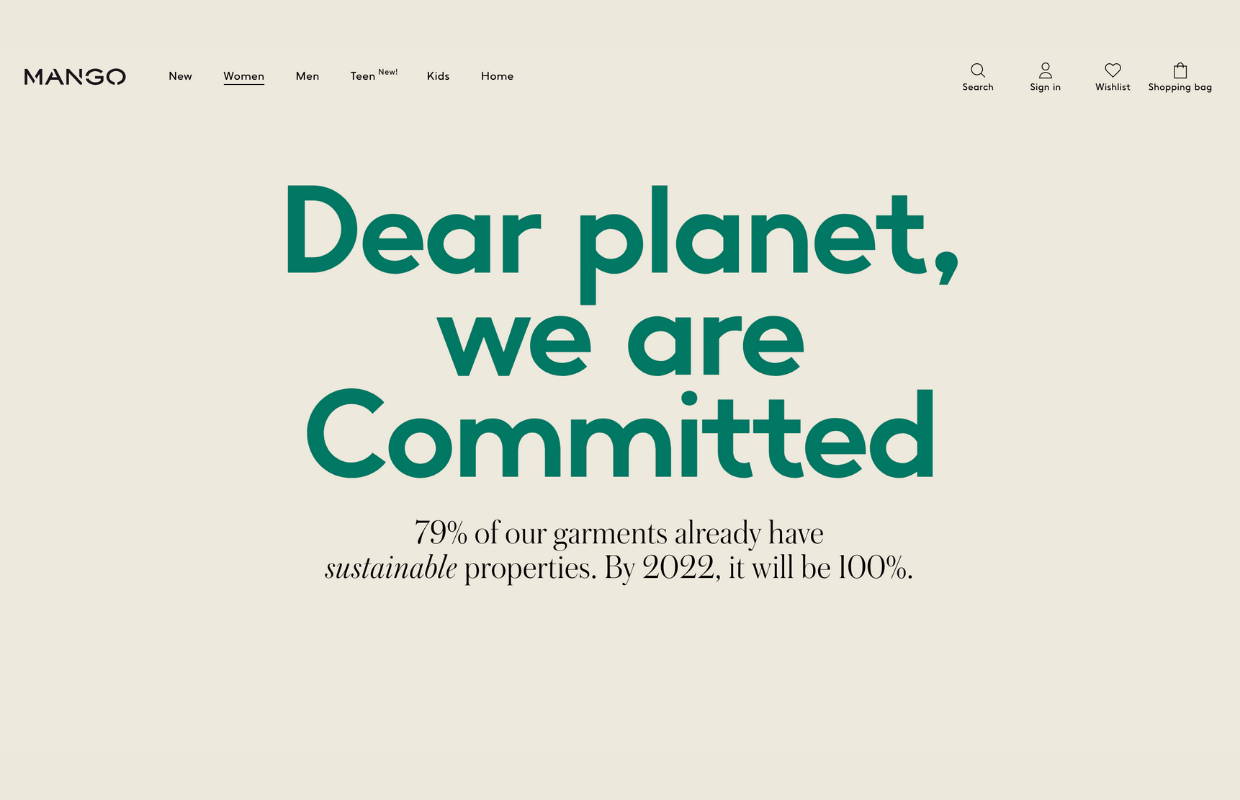 The brand seems to be aware that younger people are more conscious of fast fashion, so it's trying to attract them through this new clothing line.
Through this campaign, Mango has upped its communication surrounding sustainability to help spread awareness to its consumers about this growing topic in the industry.
Apart from having a dedicated page on their website to this campaign, "The Sustainable Choice" took over Mango's Facebook and Instagram profiles, receiving impressive engagement.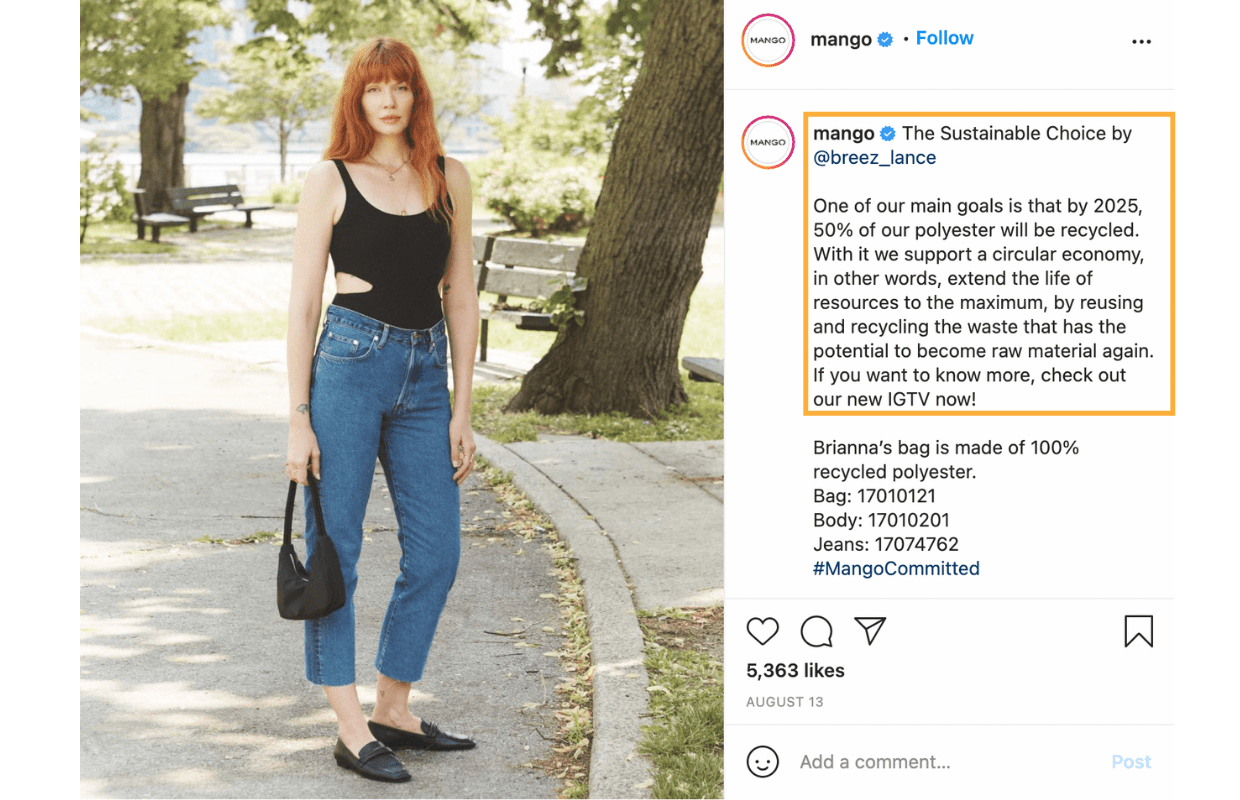 Another great campaign is called "Postcards from…" created around the idea of nostalgia.
The campaign tries to bring back the beauty of sending postcards from vacations and has a feminine and laid-back vibe.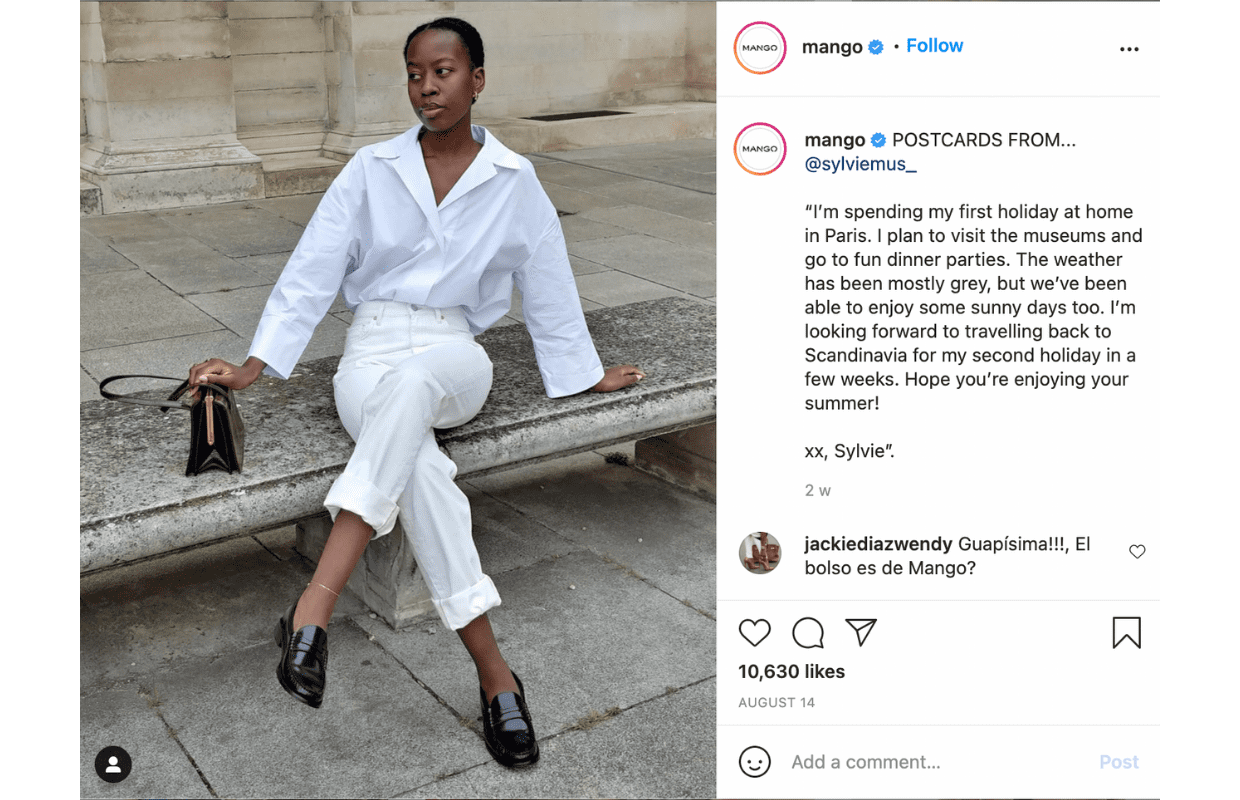 Such campaigns are very smart social media content ideas because they invite the community to have conversations.
People feel a mutual ground with the brand, and social media channels become safe spaces to share memories and personal experiences.
"Violeta" by Mango is a campaign that promotes a clothing collection that ranges from size 40 to 52. I love such campaigns because they show that the brand is committed to inclusivity and diversity.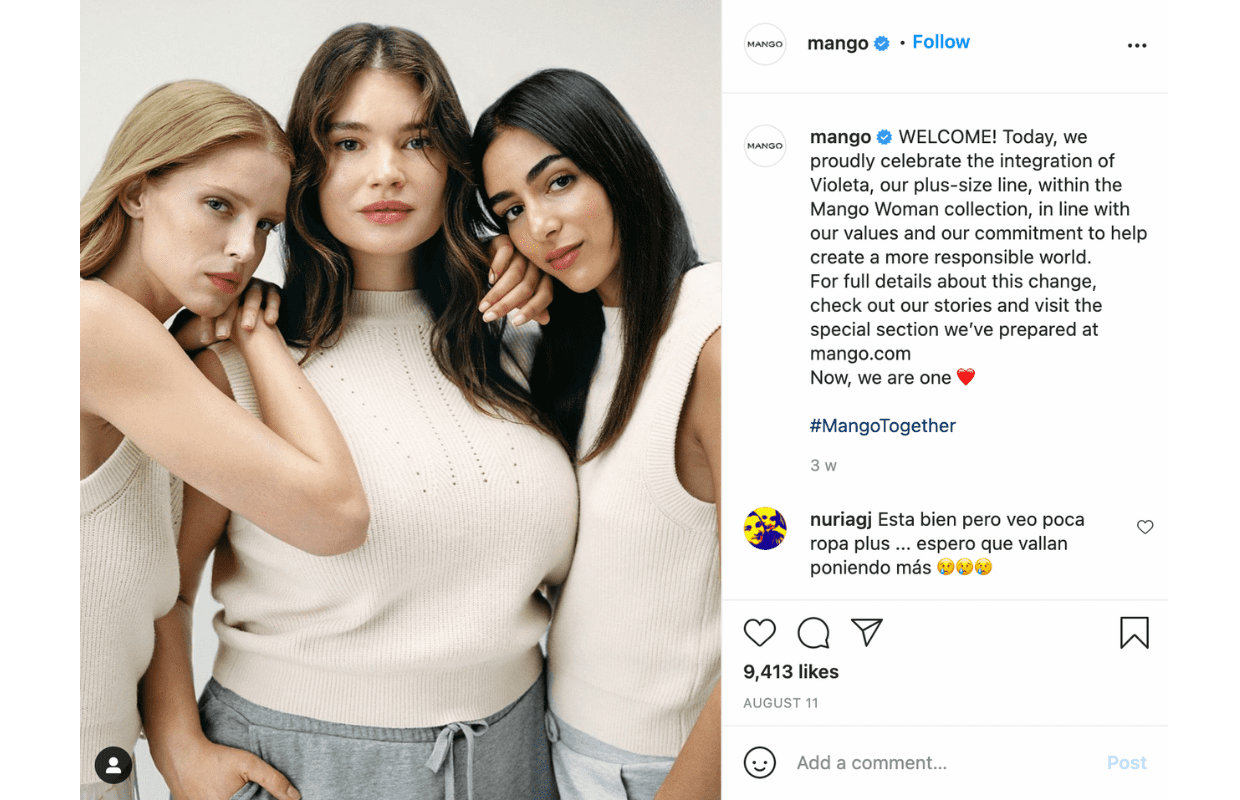 One of the most challenging campaigns of Mango was launching a TikTok page, as Estela told us.
Since the brand's general voice on the other platforms was not necessarily funny, their biggest challenge was finding Mango's tone of voice adapted to TikTok's content.
Mango's TikTok page inspires the world by sharing its passion for Mediterranean style and culture, taking pride in its natural and contemporary style.
The brand's TikTok content embodies the Mediterranean essence, which translates through timeless designs and collections.
One year ago, Mango was beginning its TikTok journey, struggling to find the key to success. Now Mango is a heavy TikTok user, with 153k followers and approximately 687k likes.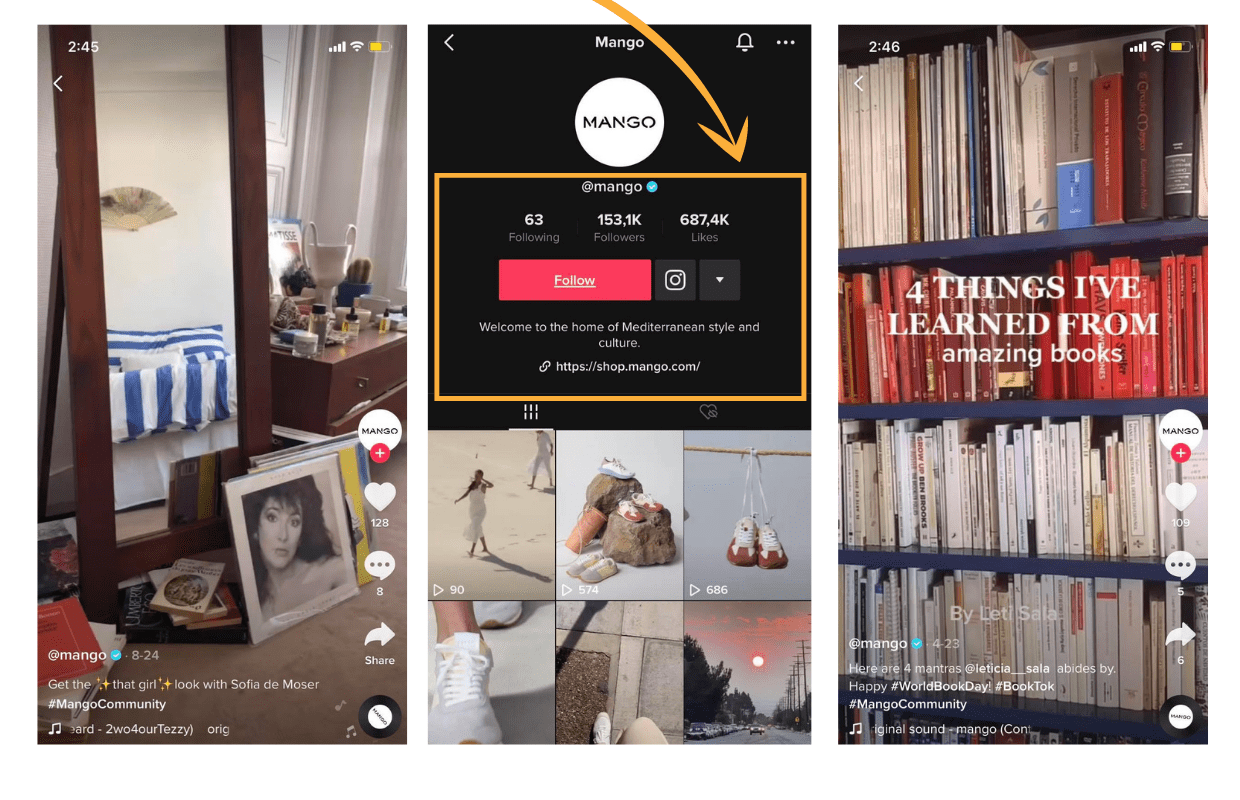 Mango uses a TopView to showcase weekly outfits featuring international influencers.
Their ads have official music to boost engagement, driving users to Mango's profile with a CTA and a hashtag, inviting people to join the community (#MangoCommunity), according to TikTok for Business.
An interesting TikTok content idea Mango had was to post yoga sessions.
As Estela shared, social media content, especially after the COVID-19 pandemic, is not that polished anymore.
Even though the quality is still a must, people are more interested in the story behind a post, the message the brand wants to echo.
And Mango realized that showing your community the real side of your brand is fundamental to keeping them hooked.
Now, Mango shares yoga sessions or the home office of Mango people, content you did not see before.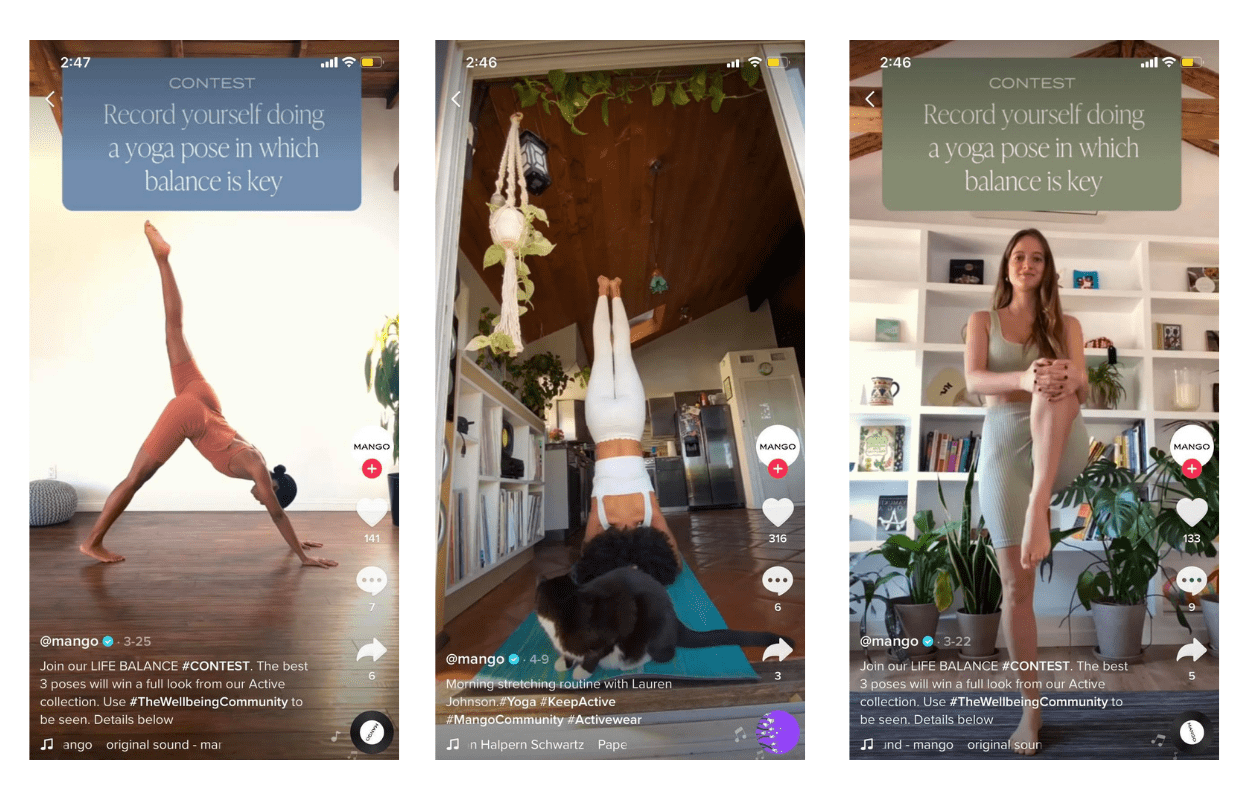 4. Mango approaches influencer marketing
According to Influencer Marketing Hub's 2021 benchmark report, the influencer marketing industry is set to grow to approximately $13.8 billion in 2021.
From football legend Zinedine Zidane, who was the face of the Mango Man campaign, to Kate Moss, who was Mango's probably most well-known muse, the brand understood that partnering with social media influencers is a must.
During one of our podcast episodes, Estela confirmed to us that influencer marketing is a crucial part of Mango's social media strategy.
She explained that Mango pays attention to the influencer's community when choosing someone to collaborate with rather than their followers' number.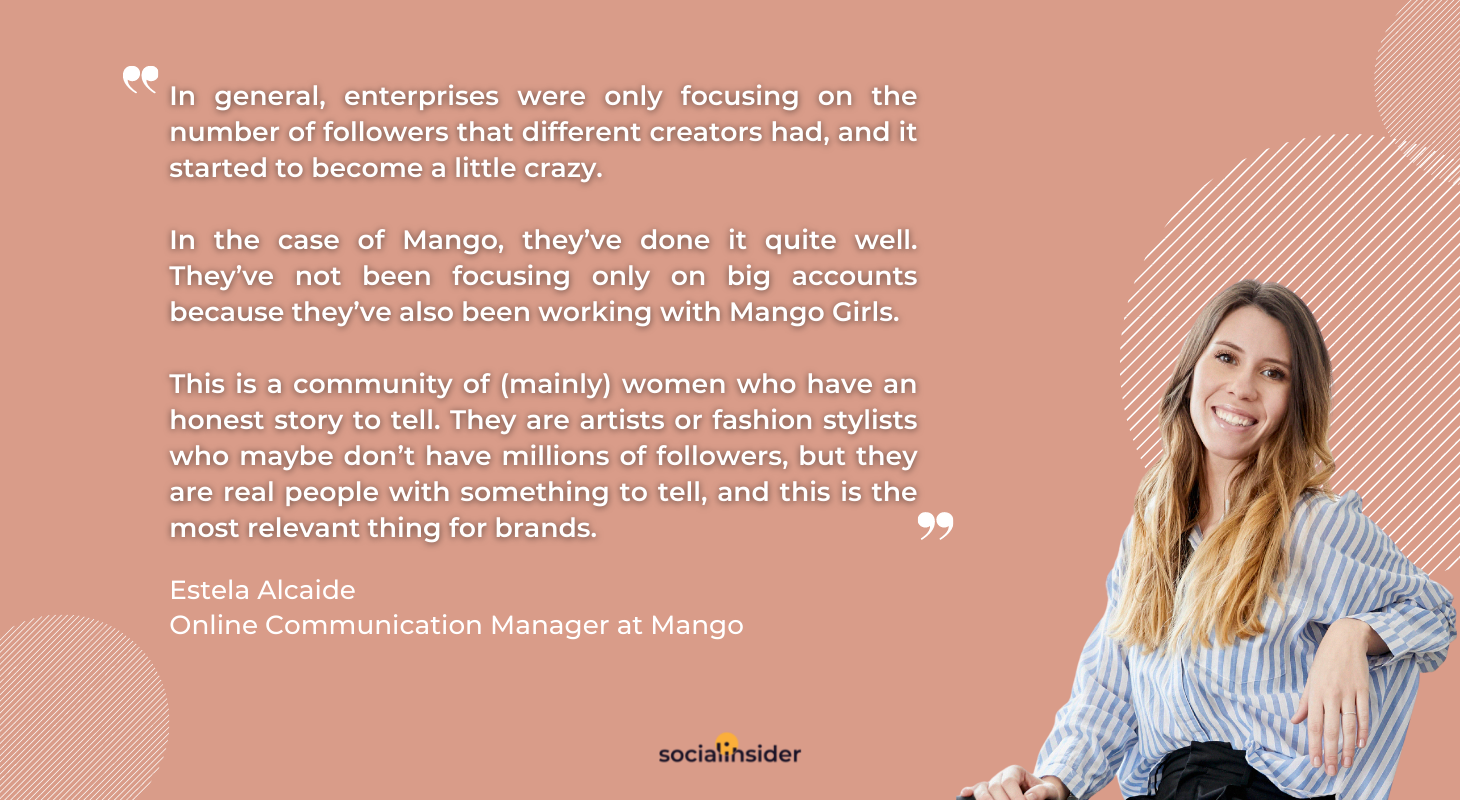 Mango mainly collaborates with women (stylists, artists) who have an honest story to tell and easily find common ground with the brand's community.
For Mango, the most important thing when doing influencer marketing is sharing stories that people can relate to.
And as a brand that is all about fashion, Mango knows how to choose the perfect muses who can combine realness with style.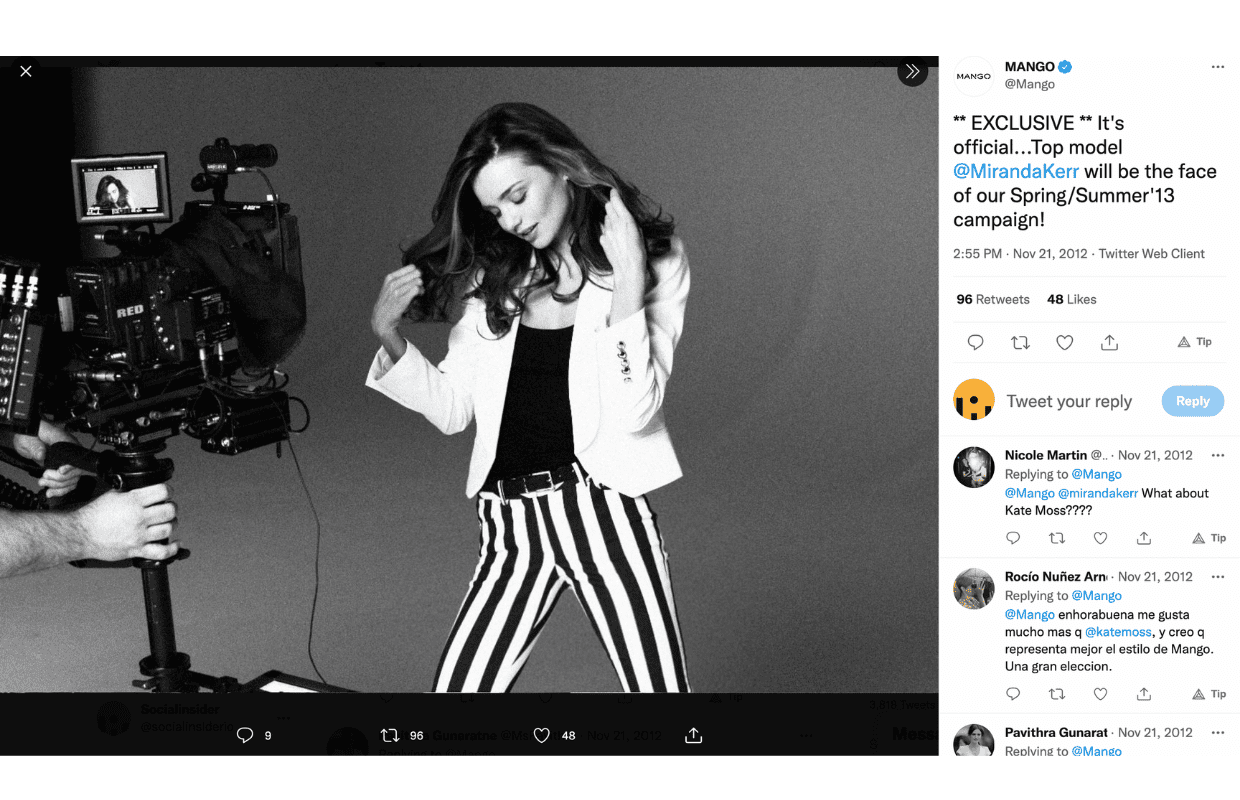 For example, their latest collaboration is with Australian model Miranda Kerr, which generated a lot of fuss because it shows urban outfits that can be incorporated into everyone's routine.
Apart from their partnerships with influencers, Mango has a campaign called "Mango Girls," which shows their collaborations with regular women who shoot pictorials wearing Mango clothes.
This campaign is really inspiring as it gives women a platform to express themselves.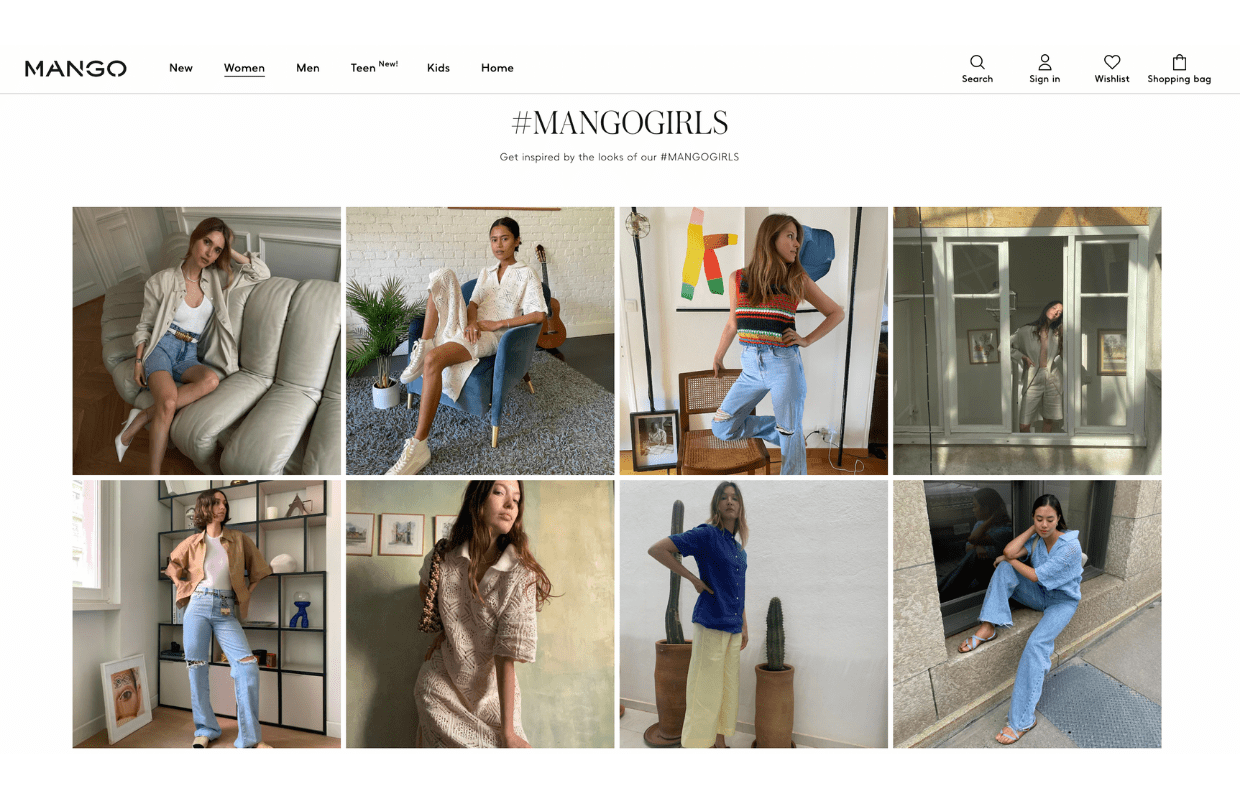 5. Mango's social media data performance
With 25 million followers on Instagram, Twitter, Facebook, and TikTok, Mango has an important social media presence on almost all social media platforms, including LinkedIn and YouTube.
Through its active social media activity and powerful campaigns, Mango makes its audience glued to the brand.
To go even deeper and discover comprehensive analytics insights regarding Mango's social media activity, I used Socialinsider, a social media analytics, reporting, and benchmarking tool.
Through Socialinsider, I found out that even though Mango has the most followers on Instagram (almost 12.5 million followers), its most significant engagement rate is on TikTok, with only 20 posts in the past six months.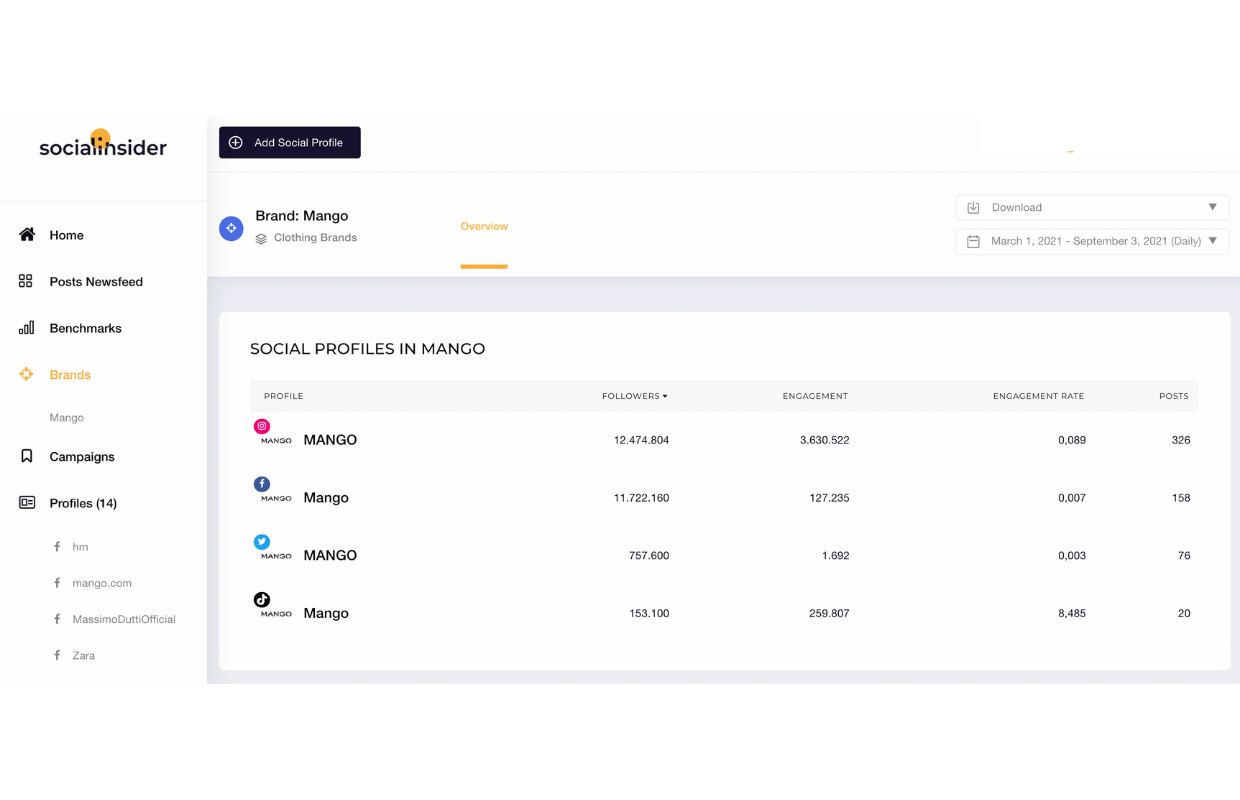 It seems that Mango's fan base is more interested in interactive video content, so their decision to start a journey on this platform was the best one for growing their engagement.
With Socialinsider, you can also see Mango's top performing posts, as the picture below shows.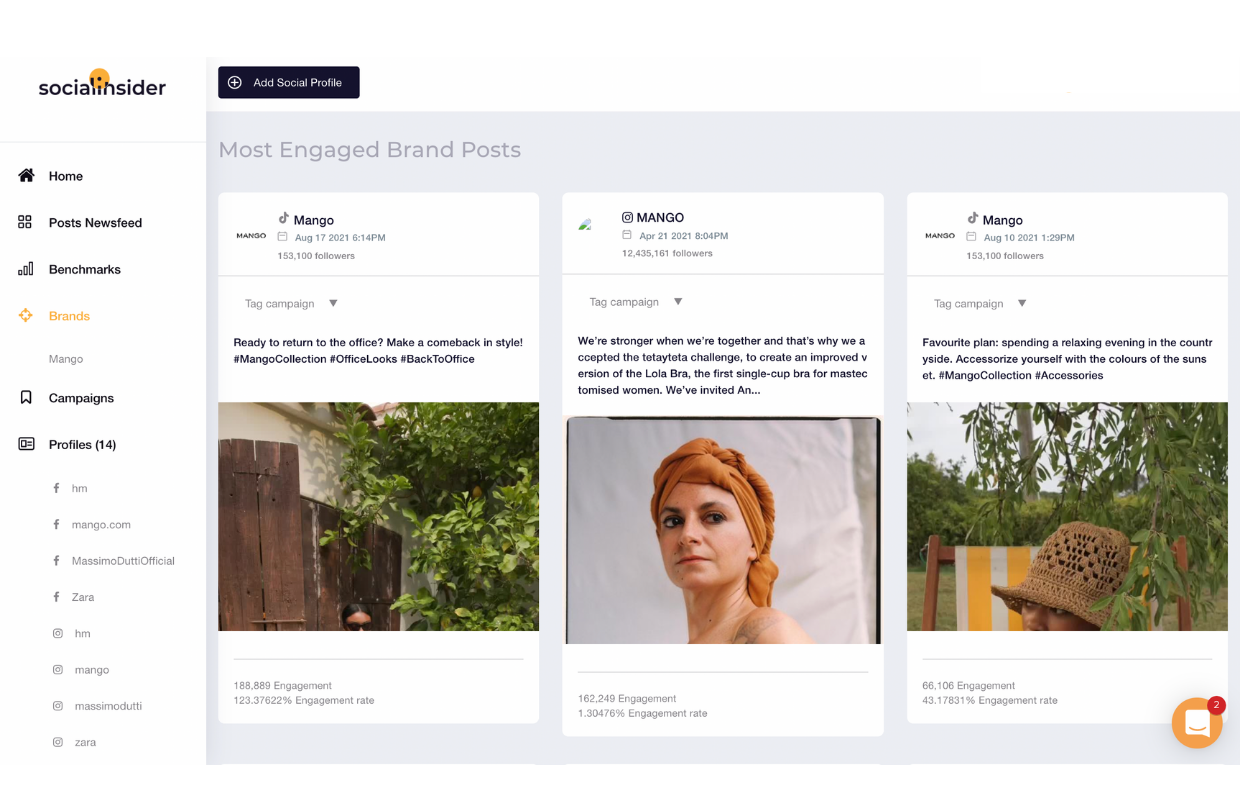 To see where Mango stands against its competitors (H&M, Zara, and Massimo Dutti), I used Socialinsider's benchmark tool.
With this feature, you can group the competitors' profiles into projects, get competitive insights for any platform, and run a side-by-side comparison.
For example, on Facebook, even though H&M has the highest number of followers, Mango had the biggest average engagement rate per post in the past six months.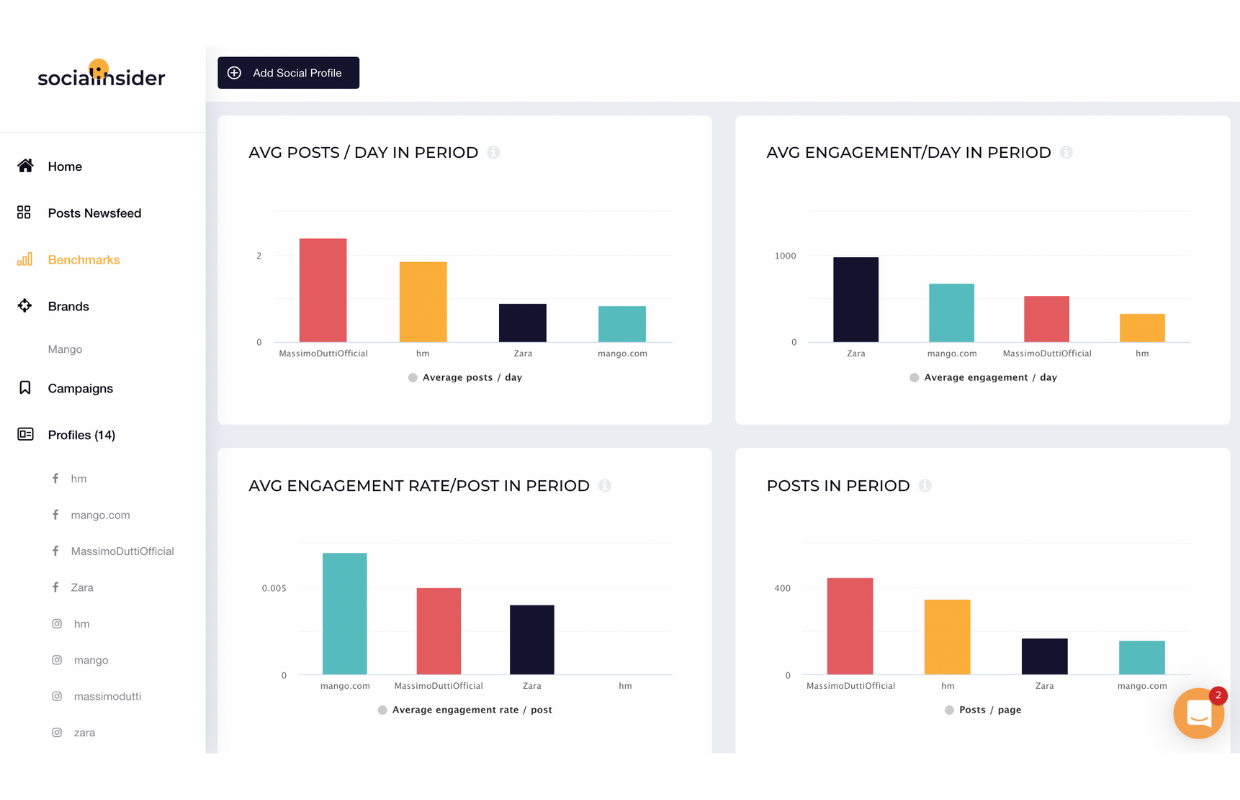 You can also compare some specific social media accounts. In the example below, you can see the comparison between Mango's and Zara's Instagram pages.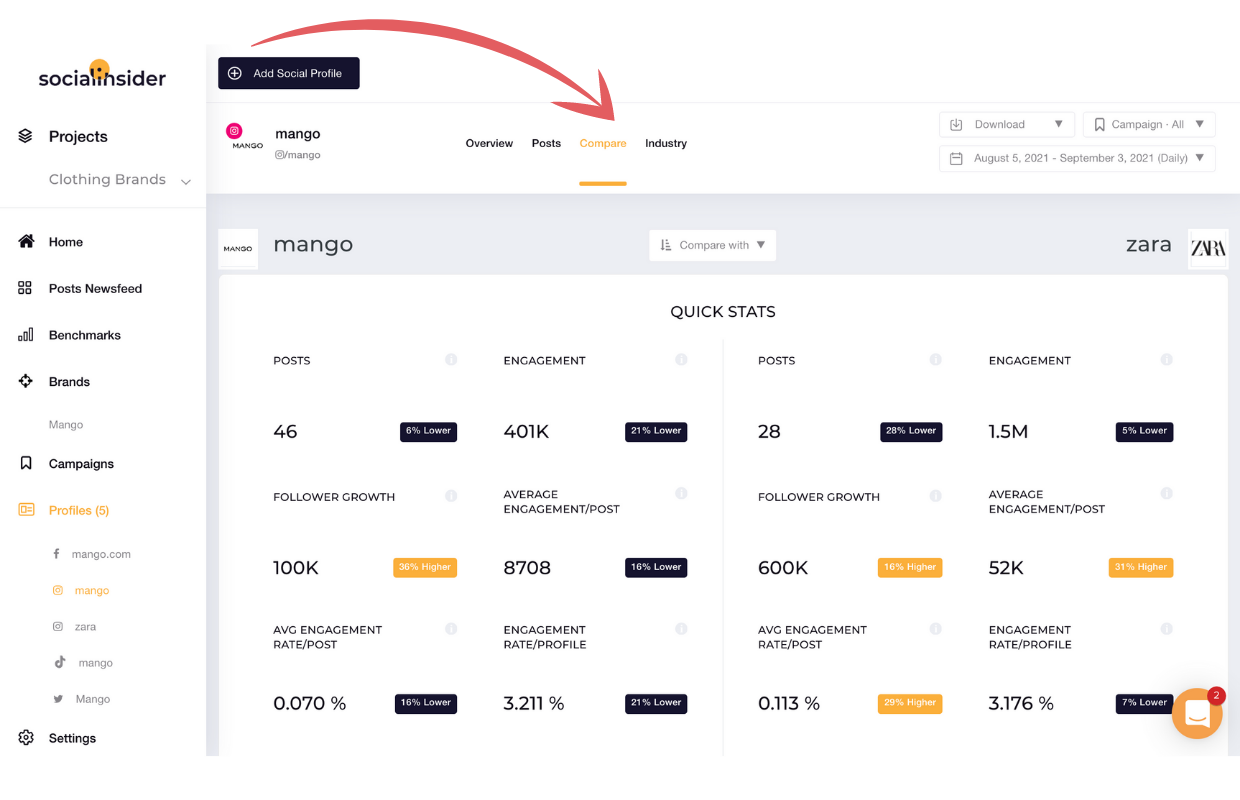 Or you can use Socialinsider's latest feature, industry, through which you compare any profile from your project with an industry of your choice.
The picture below shows how Mango's Facebook page performs against the beauty industry.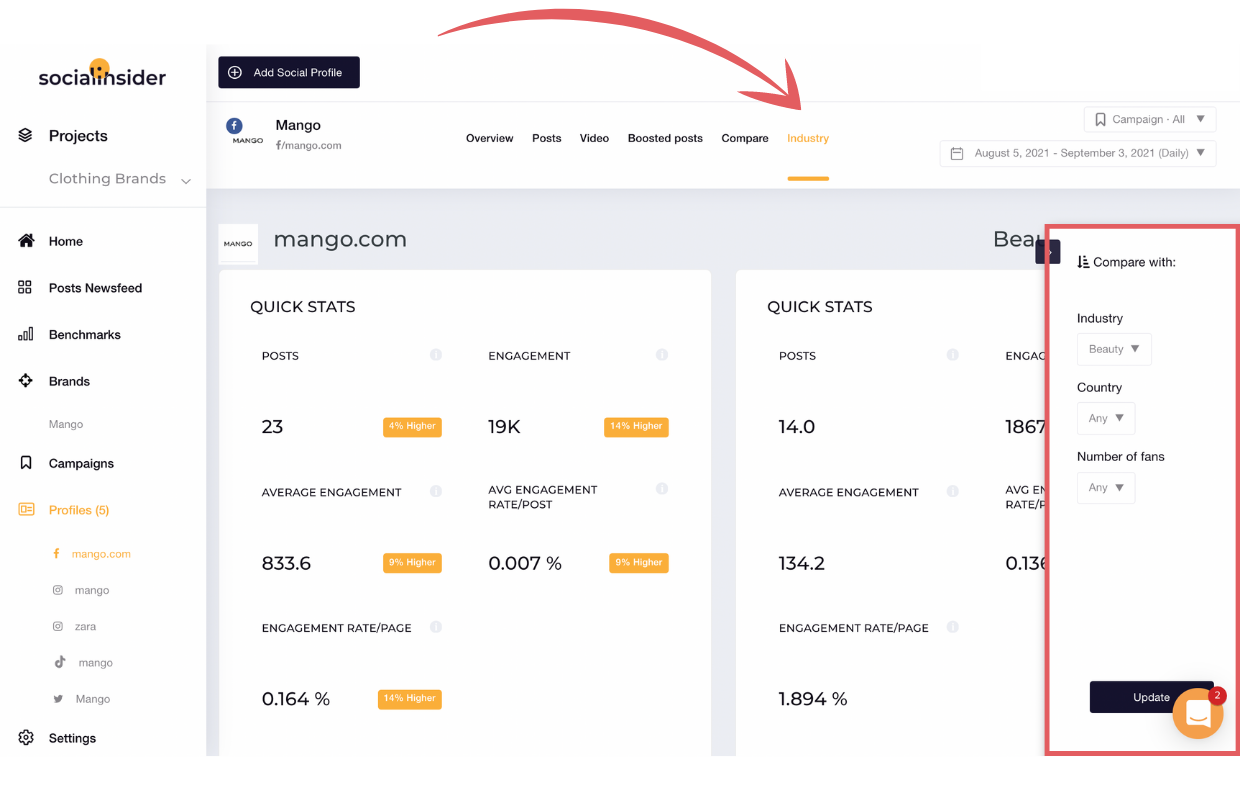 Final thoughts

Mango uses a variety of well-implemented online marketing strategies.
From a recognizable brand, a platform-oriented and humanized content strategy, diverse and trendy social media campaigns, to an intelligent approach to influencer marketing, Mango seems to have found what it takes to be successful online.
The medium through which all these functions is, of course, social media.
An active presence and a high engagement rate on social channels are essential for a brand's success, mainly if one's audience is particularly formed of millennials and Gen Zs, as is the case of Mango.
I am sure you already know that there is no standard recipe for social media success.
However, Mango's social media strategies can be adapted to every type of business and incorporated into any existing marketing strategy.
Mango already understood the value of social media channels, as seen in their direct-to-consumer approach for input in their collection planning, so next time you need a change, think of how Mango does it on social media and get some inspiration.