TikTok might be a new player in the social media field, but it comes with incredible growth. Almost all the Z Generations, teens and kids, will tell you that TikTok is the best platform ever.
Undoubtedly, this video-sharing platform is the fastest growing at the moment. It allows anyone to create short videos, add some funny music, make use of filters, and upload unique content online.
As the popularity of viral video is skyrocketing across all the social media environment, TikTok is getting a larger piece of the pie.
The platform has over 800 million active users, following the first three social media platforms closely: Facebook, Instagram, and WeChat.
In 2020, this was the most downloaded app of the year.
To gain success with this platform, you need to understand that it's not an overnight venture. It takes time and experience.
Read on to find out how you can get more followers on TikTok in 2022.
---
Tips on how to get more TikTok followers in 2022
---
1. Properly identify your target audience
If you truly want to increase the number of followers on this platform, you should know that each niche is different. Each group of age interacts in their way on TikTok.
You should know that there is a wide range of content that caters to all groups of ages and niches, so basically, there's room for everyone.
However, you won't be able to satisfy everyone, and it becomes crucial to know your target audience and create videos that cater to their unique needs.
Think about the type of content your audience likes. If you want to target an audience of between 13 and 25 years of age, you should probably create more engaging, funny videos.
If you target adults over 35 years of age, focus on creating more "specialized" content, which educates your followers and offers them precious advice.
Of course, you should throw some of your services or products in the mix and create videos showing people how you can help solve their problems, as we did in this video.
2. Use this platform to educate your followers
TikTok is the perfect platform if you want to create educational videos. Of course, you can use the same video on YouTube, Facebook, and Instagram.
You can also split test with videos to see where it performs better.
To discover precisely what works best, you should upgrade your account to the Pro version of TikTok.
This updated version offers you TikTok insights, enabling you to see exactly how your videos are performing based on your audience's age, country of residence, and other criteria.
3. Capitalize on the power of trend
Maximizing your impact on TikTok can best be done by taking into account the trends available on the market.
Just like Instagram, Twitter, or LinkedIn, TikTok utilizes hashtags to showcase the trendiest topics.
Note! Using Socialinsider you can get a complete view of the hashtags you have used: top hashtags and top hashtags by average engagement.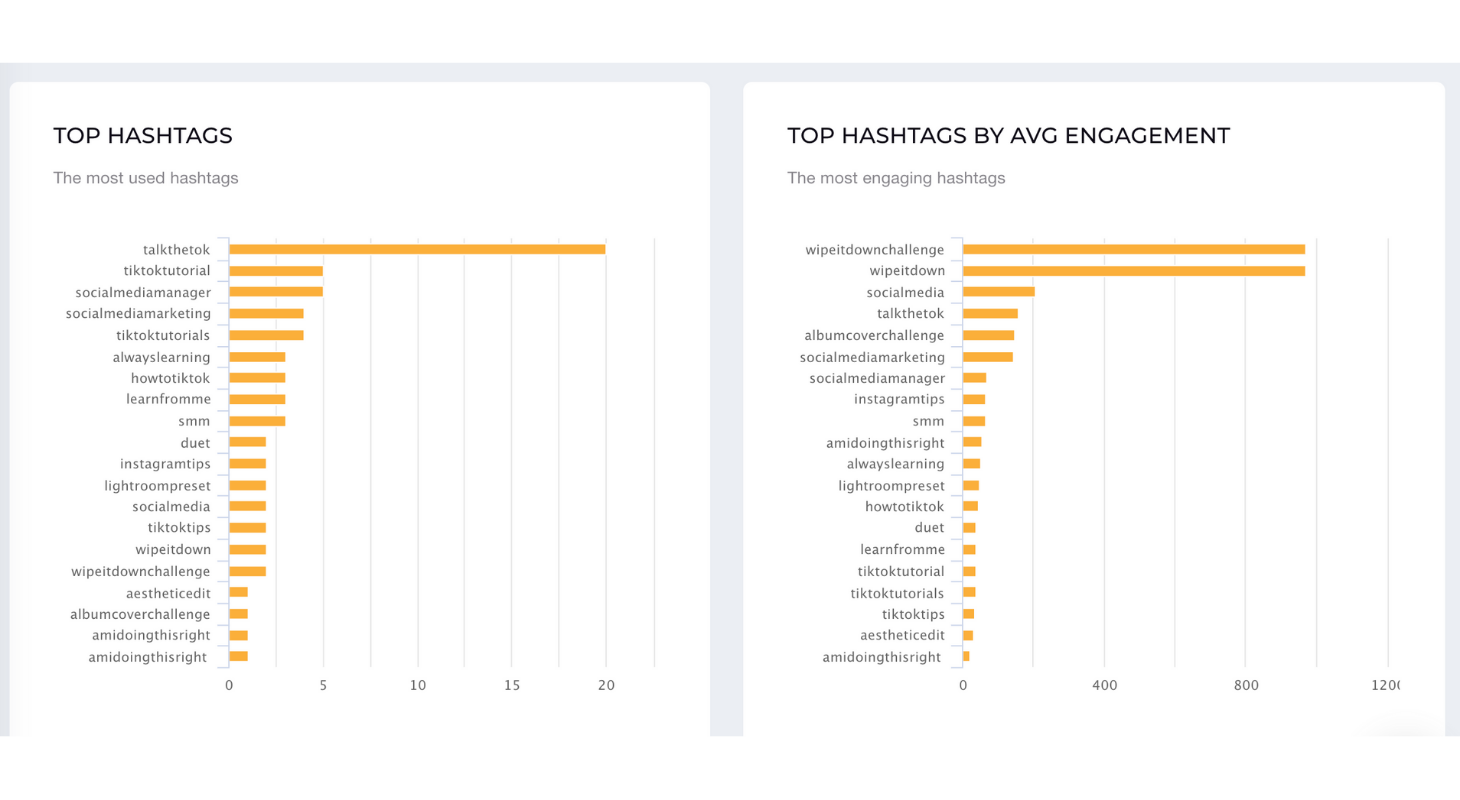 If your followers love a song that is trending, you can use that song to create a unique video showcase your brand.
You can easily hop on a trend and add your spin, creating a fun, engaging offer.
While it's essential to be aware of the trends, you should also try to create your trends.
Use your ingenuity to set your company apart from your competitors, and you'll certainly gain the respect and appreciation of your fans.
Take a look at The Washington Post. The newspaper incorporates trending news stories into short TikTok videos to not only entertain but also inform the public.
4. Create your own challenges
While you should try to integrate the main TikTok trends into your video posts, you should go one step further and create your own "challenges."
An example of a challenge comes from Jennifer Lopez. She challenged her fans to create videos dancing on her songs and then upload them on the platform, using a certain tag.
Another great example comes from Chipotle, who has created a unique challenge to stimulate people to have fun.
5. Use hashtags as much as possible
Using hashtags on social media platforms is one great way to make sure your business gets discovered quicker.
A growing number of Twitter and Instagram users who have migrated over to TikTok are now using hashtags to search for big things.
The best way to grow your business reach on TikTok is to use a smart combination of general, trend-driven hashtags and business-specific ones.
For instance, if you want to create a video about how your restaurant employees are working, you can use some popular hashtags such as #restaurant and #employeesworking.
Do not forget about the mandatory hashtags, #fyp, and #ForYoum to earn that coveted spot on the For You page.
However, you should add more hashtags that are unique to your niche, plus a couple of hashtags with your business name and your brand signature.
6. Post at peak times
Another exceptional TikTok strategy you can use in 2022 to increase followers and take your TikTok presence to a whole new level is to post exactly when your audience is online.
Using a Pro account and looking into analytics, you'll discover when your potential customers are more active on this platform.
Note that this social network displays all stats in the UTC zone, which is the universal time.
This means it falls on you to do the time zone conversion to ensure that you target your audience when they are more active in your timezone.
Note! With a TikTok Pro account, you'll have access to your analytics only for the last seven days. If you want to analyze more, Socialinsider is a good fit in this case.
Another thing you can do here is to use the stats you already have from other social media platforms.
If you know for sure that your audience responds to your posts between 4 PM and 7 PM, upload your videos during that time interval, and only leave a few other videos for split testing with different time intervals.
7. Cross-promote your videos on other social media accounts
TikTok is not a standalone network that floats in the universe.
A complete digital marketing and video strategy include all other social media platforms, such as YouTube, Twitter, Instagram, Facebook, and even Reddit or Pinterest.
The amazing thing about TikTok is that it makes it super easy for you to share the videos on other platforms.
If you already have a strong following on other platforms, this means that you can let them know about your TikTok profile by sharing your videos on those networks.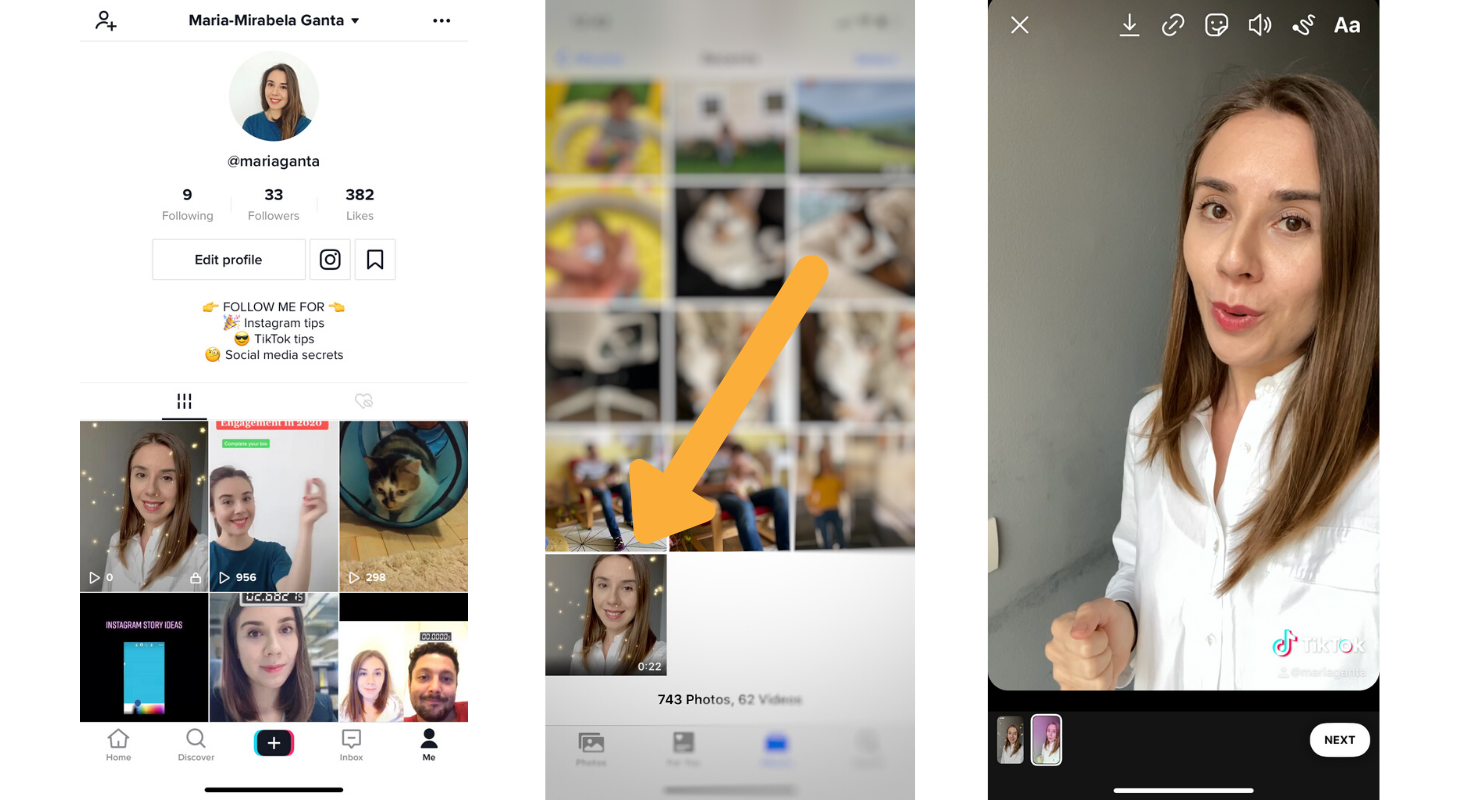 After you publish a TikTok video, it will be automatically saved on your phone.
You can share that video on Instagram, Facebook, Twitter, or any other social media platform and let your followers know that they can find you on TikTok as well.
Use your TikTok video to create an engaging Instagram Story or you can also turn to influencers to promote your content.
Brand-influencer partnerships work amazingly well, and you now have tools at your disposal that can help find the right influencer and make an informed decision.
8. Engage with the TikTok content you enjoy
Lastly, you can boost your TikTok followers by simply looking around you and discover what others are doing right.
Do not forget that this is a social media platform, so you should check it out and find out the latest trends to know what works and what doesn't. Have you seen a funny video? Do not forget to leave a comment.
The only way to engage with other users is through comments.
Start engaging with content that revolves around the products and services you offer, but try not to be spammy. Engage with the videos posted by influencers and create a solid network of users around your brand.
You'll soon notice that you have a growing number of followers because you simply engaged with random videos you enjoyed.
Final thoughts
We hope that you enjoyed these eight tips to on how to get more TikTok followers in 2022.
Do not forget to get creative and find new ways to boost your TikTok following and make the most out of this exceptional social media platform.
Related articles