Instagram has grown to be one of the most powerful social media platforms business people use daily.
Here are some facts: 🤔
The visual nature of the social media network has attracted a large number of engaged users. The available data shows that Instagram has around 500 million daily users (as of January 2019).
That should sound like an excellent opportunity to reach a wider audience and attract the right people to your business.
However, without good analytics, you are unlikely to get good results with your Instagram marketing.
That why, today, I'm going to show you how tracking analytics helps you increase your Instagram presence and get more followers.
Let's find out more!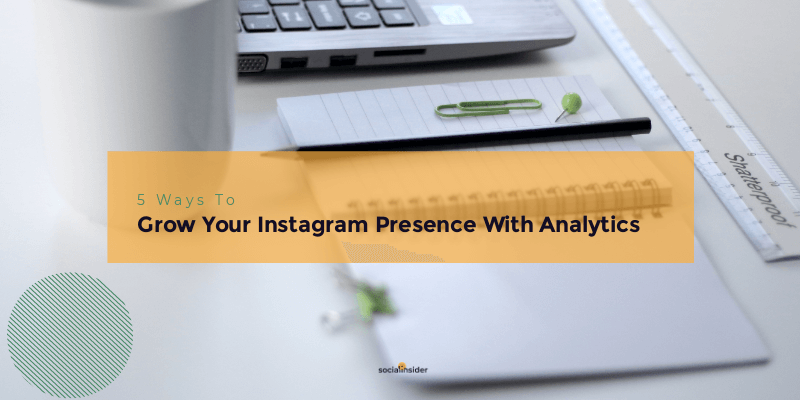 ---
How to grow your Instagram presence with analytics
---
#1. Reach new audience with a content analysis
Content analysis for Instagram is a faster way of uncovering what is working for your account and what is not working. By understanding what happens on your feed, you will learn what to do less or more and what is working.
Instagram is a vital tool in any business marketing, but to harness the benefits it provides, you will have to develop good marketing strategies.
One of your marketing strategies should involve understanding your audience and ability to optimize the content you publish.
It will be fascinating to know the number of people your post reached, but the content analysis helps you meet most of your goals too.
Before you start the analysis, you will have to come up with a clear goal because without one, you will not be aware of what to do with the results you get after your content analysis.
Measuring your content habits helps you craft your video posts, photo posts, carousel posts, and IGTV previews. Analyze your content based on:
The most performing posts in terms of engagement and comments
Type of postings - photos, videos or carousel
Engagement rate per post
Number of posts per day or week
If you want to get real followers on Instagram, keep an eye on your captions too.
When it comes to Instagram, things have changed and coming up with the perfect Instagram caption in 2019 is really, really hard.
Metrics that help you understand what's the optimal caption length for your business are:
Distribution of comments
Distribution of likes
Reach
Impressions
Test, analyze, compare, repeat. The testing has no time limit and you will have to do it until you get new followers based on content optimization. If your goals are clear, you will manage to outperform your key competitors within a short time.
#2. Improve your content discoverability with hashtags analysis
Each time you use hashtags, you will be increasing your reach and engagement on the Instagram platform.
Hashtags have stood as one of the most effective organic social media strategies, but to improve their performance, you will have to track them.
Make sure you create a good content strategy around what your target audience needs instead of sticking to the popular hashtags that are irrelevant to the audience or your brand.
By adding the relevant hashtags and keywords in your Instagram posts, you will generate more buzz and engagement around your brand on the online platform.
Let's take for example - #feelyourway campaign by Burger King. Burger King has partnered with Mental Health America on the campaign, a leading community-based non-profit dedicated to addressing the needs of those living with mental illness and to promoting the overall mental health of all Americans.
This way, their customers can share their photos and use the branded hashtag created this particular campaign, which leads to content discoverability and increase the followers both for Burger King and Mental Health America.
There are two ways to measure your hashtags performance from posts:
Average engagement per post for the hashtag used
Top hashtags mentioned with your hashtag ranked by engagement
Top hashtags mentioned with your hashtag
The most performing posts used with your hashtags
Type of posts: video, photo, carousel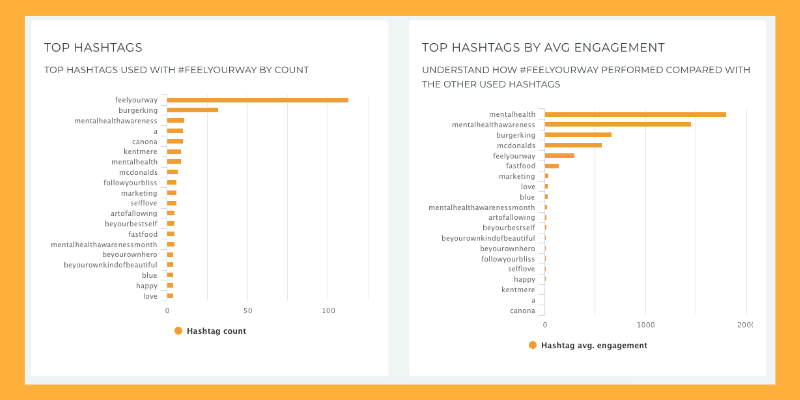 You can analyze your hashtag performance using the Instagram native insights - available for business accounts:
Tap on 'View insights' on posts
Go to the Discovery section and you'll see the impressions from hashtags. This is an aggregated number for all types of hashtag used, you don't have access to impressions per hashtag used.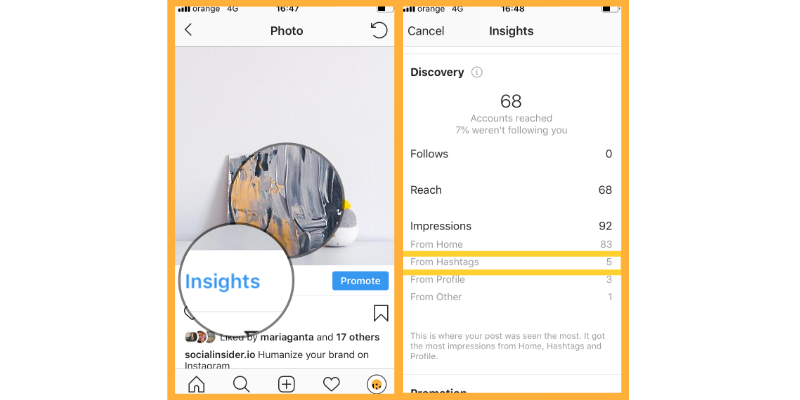 #3. Increase your Stories views with analytics
Instagram Stories analytics tracking helps you understand your audience, optimize your content and evaluate the overall performance.
Similar to the analytics of Instagram posts, you can find stories data by tapping on the "Insights" button situated on the right corner of your profile.
If you have converted your profile to a business profile, you should do it before you start the analysis.
After opening the Instagram Insights, switch the "Content" tab situated at the top of your screen so that you can get the data for your regular Instagram posts and the Instagram Stories.
To understand your Instagram Stories analytics in a better way, you can use an analytics tool. An analytics app displays several metrics that you can use to measure the success of your Instagram Stories.
Here's what insights to need to analyze to reach your audience with Stories:
The retention rate is computed as a percentage of the impressions of the last story divided by the impressions of the first story.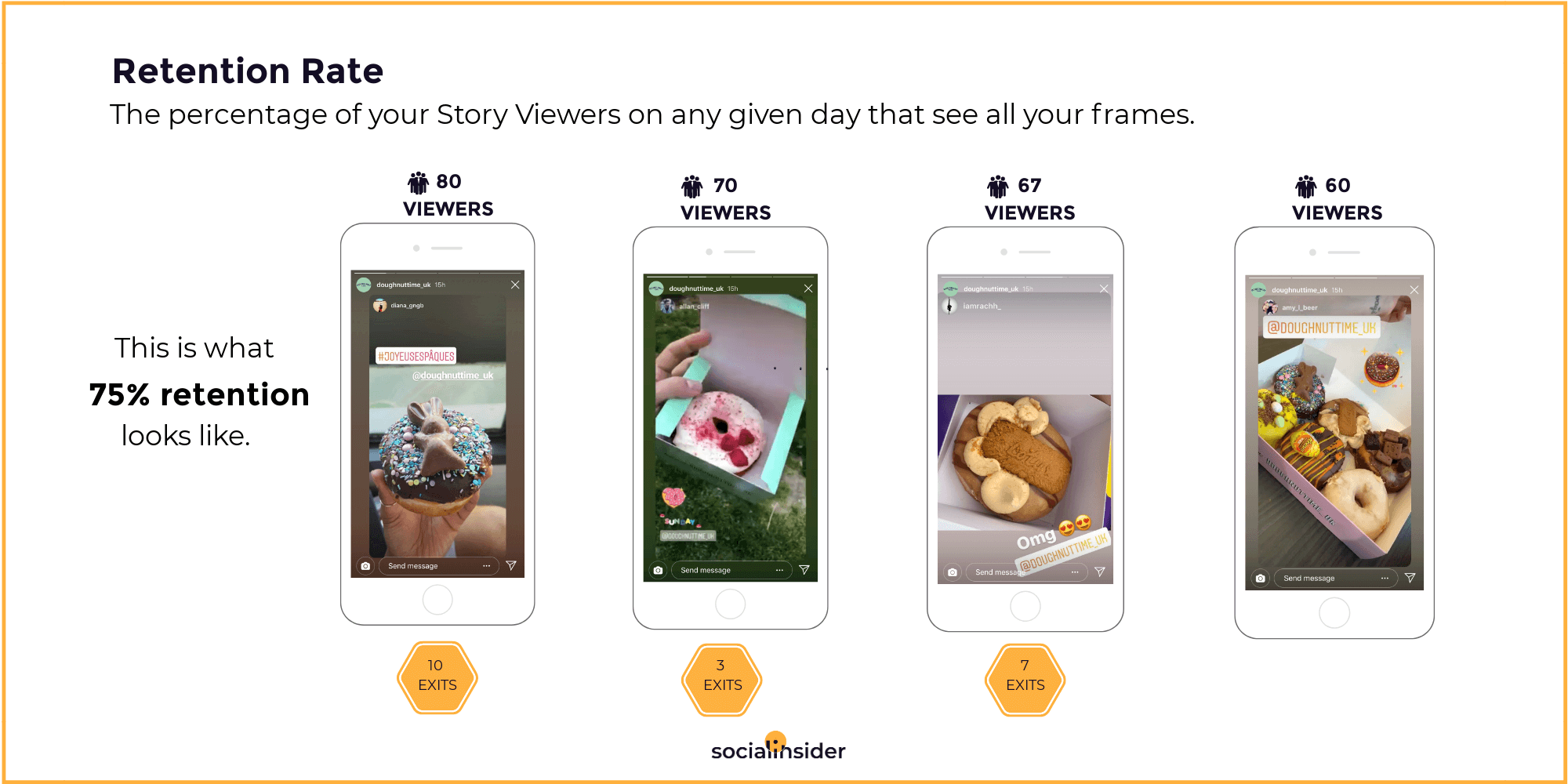 Best time to post is a controversial topic across all social media platforms. However, there is no size fits all. You will have to determine the posting frequency plus the content to post on a daily basis. The time to publish depending on the reach of your stories. Apply metrics to analyze the best time and track your industry behavior.
Exit rate and the forward rate for your stories
Understand when people tend to ignore your content.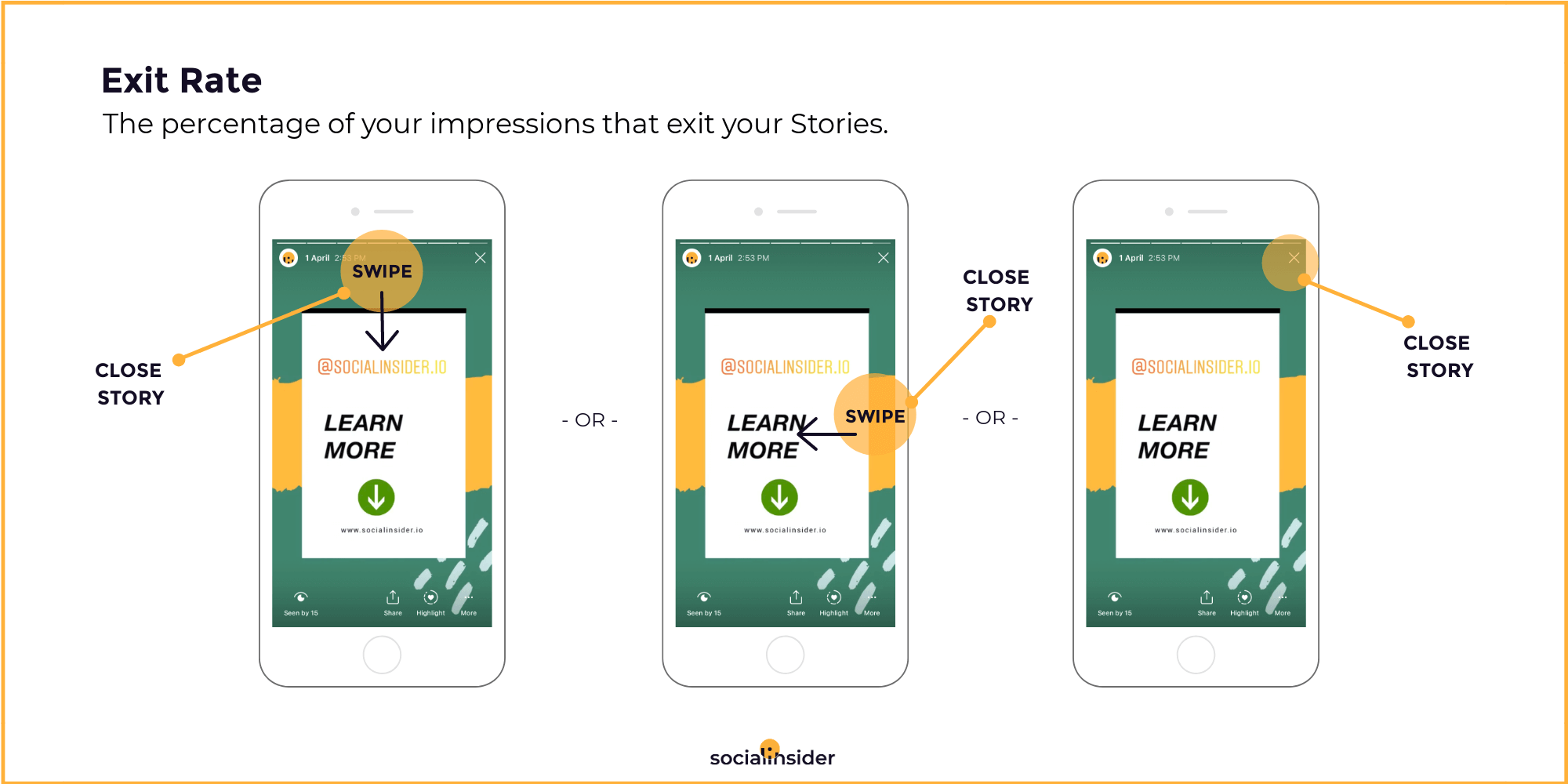 Reach represents the number of visits a particular account viewed every slide in the story you published. Each time you realize that your reach is declining, you will have to rethink the content you share. Try to switch things up so that you can know what your audience needs.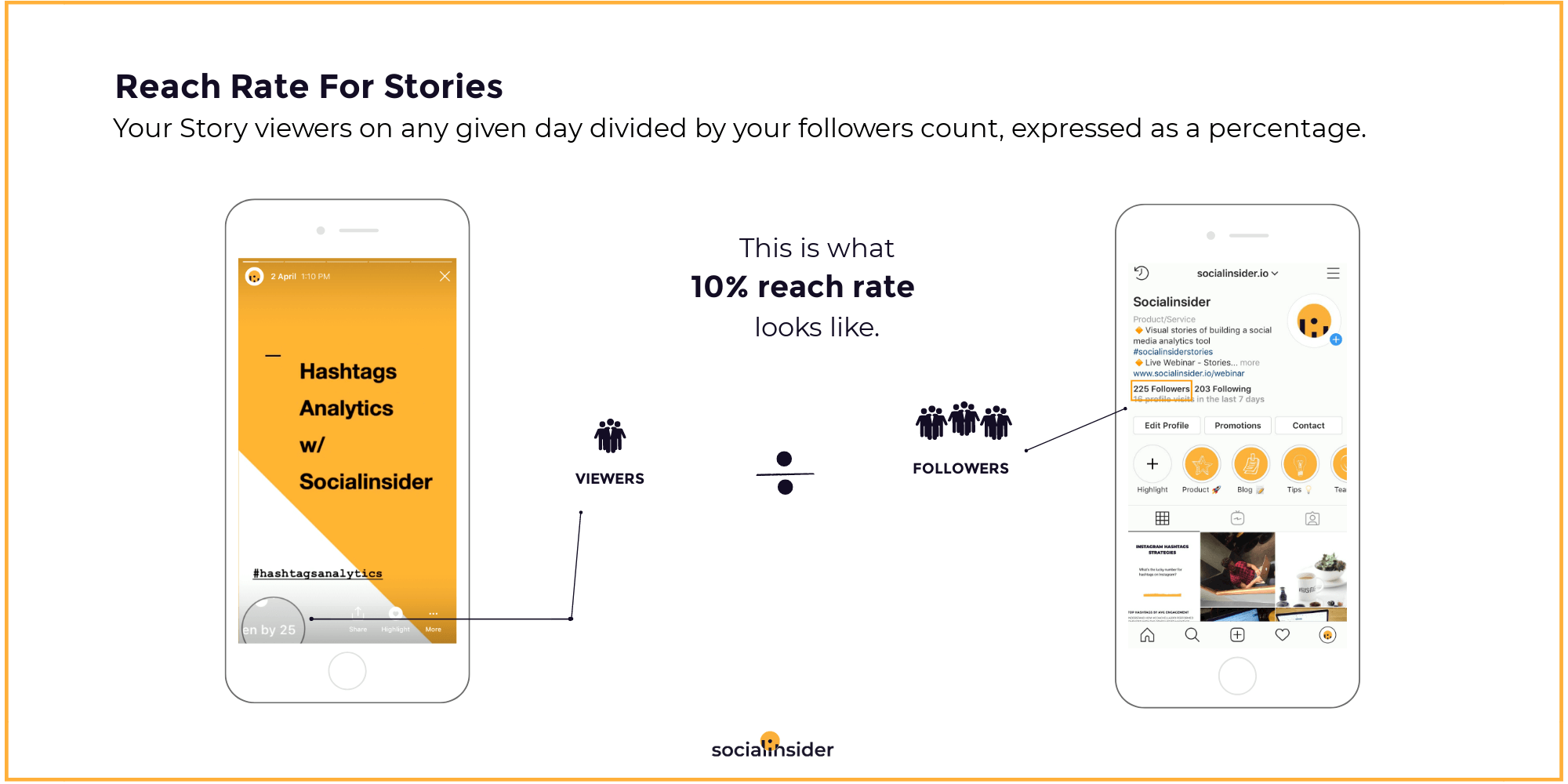 The Impressions refers to the number of views on every Instagram Story you have published.
Impressions also provide relevant data relating to when the person watched your story severally. If the impressions are higher than the reach, you should know that the visitors are replying your stories severally.
Type of content in stories
Take @socialinsiderio account for example. Based on our exit rate / story, we've noticed that people are more engaged with photos than videos.
#4. Improve your postings time with audience analysis
So, you might ask, which is the right time to post on the platform?
Unluckily, there is no right answer to the question. People browse the social network differently and depending on the audience you are targeting, you might realize that some hours are better for posting than others are.
Good post timing will highly depend on your location, the time zone and your marketing goals. With most businesses reaching a wide global audience, varying time zones are becoming a huge concern.
Instagram was designed for mobile devices, which means that over 60 percent of the users rely on a mobile device to share content on the platform. Even though it is evident that most individuals start using the app after the work hours, they might do that during the lunch breaks and immediately they work day ends.
To access your audience insights using the native app, you need to follow these steps:
Go to your profile.
Tap the icon from the top right corner
Tap Insights.
Select Audience. Here'll find a list with top locations (cities and countries), age range, gender, and when your followers are the most active - hours and days.
#5. Get better at content with a competitors' research
To know whether your brand is stacking up against the competitors in the industry or whether your engagement on Instagram is good, you will have to do Instagram competitors analysis.
Most brands rely on their growth rate to know whether they are successful. For example, if the number of your followers on Instagram has increased by 20 percent or the number of comments averages at 10 percent, your marketing is providing good results.
While the numbers can be great, you will have to check how your brand stacks up against that of the competitors. A competitors analysis will help you benchmark your metrics against the others to see your performance.
To do the competitor analysis for your Instagram marketing, you will have to identify the competitors on Instagram, the content they post and the hashtags they use.
Possibly, you have a good idea of the main competitors, but you want to focus on the competitors that are active on Instagram. Keep in mind that some businesses succeed without any social media marketing.
After you have narrowed down the competitors, your next step should be to gather data. The public data on Instagram is minimal, but with a good tool, you will manage to compare and benchmark your business against that of your key competitors.
To understand how your competitors are increasing their audience on Instagram, analyze these metrics:
Followers' growth
Engagement metrics
How many posts per day they are publishing
When they are posting on Instagram
How many hashtags per post they are using
See what are the most performing posts
Check whether the competitors respond to comments
The amount of time they take before publishing the next post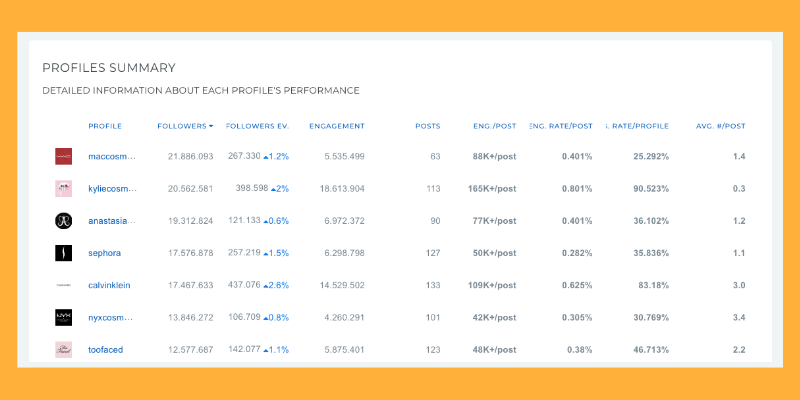 Final thought
Constant sharing of visuals that surround us leads the world of social media marketing. The popularity of Instagram has been growing, which means that many businesses are using it to reach their audience and achieve their short term and long-term goals.
With a full understanding of what you should monitor, you should start seeing your business grow.
Create your Instagram strategy today so that you can start moving forward. Keep in mind these tactics to increase your followers on Instagram:
Reach new audience with content analysis
Improve your content discoverability with hashtags  analysis
Increase your Stories views with analytics
Improve your postings time with audience analysis
Get better at content with a competitors' research
---
Related articles: