Throughout the year, there are a few holidays that get people over the moon.
We have sentimental holidays, like Valentine's Day, or holidays meant to bring families together, like Christmas. Still, most notably for marketers, we have Black Friday, which marks the year's busiest shopping days.
And because our new normal looks a bit different due to the pandemic, more and more consumers are choosing to shop online, not wanting to wait hours in line for the most wanted product.
The 2020 pandemic pushed consumers to shop online more than ever. In fact, 50% of consumers said they are unlikely to shop in-store in 2020 for Black Friday.
So, marketers, it's time to pull up your socks with Black Friday social media campaign ideas and make sure to optimize your Black Friday marketing strategies.
In today's case study, we went over some Black Friday campaign ideas for brands, Black Friday's posts performance on Instagram and Facebook, and social media campaigns examples to get inspired.
Let's level up your Black Friday marketing strategy!
Best Social Media Marketing Campaigns For Black Friday 2020
1. Black Friday campaign ideas for brands
Black Friday is all about being bold, creative, and fun. At the end of the day, the objective is to catch the consumer's attention, right?
For that, brands need to come up with unique ideas for every Black Friday campaign. And we all know that this isn't easy and requires a team effort and preparations.
Some Black Friday campaigns will have excellent performance and drive a ton of sales, while some others won't. And that's ok.
To increase your chances of success in the marketing pool, we came up with top inspirational Black Friday campaign ideas that you can try out this year.
Extend your sales from Black Friday until Cyber Monday
One effective Black Friday marketing idea that has become very popular recently is extending your sales.

In the past, Black Friday used to be a one-day only kind of deal, but now, the offers keep rolling until the next Monday, which is known as Cyber Monday.

This basically gives retailers the advantage of having four days of sales. And extending your sales means gaining more customers and profit.

For example, Target posted an image on Facebook specifically mentioning that they're extending their deals until Cyber Monday.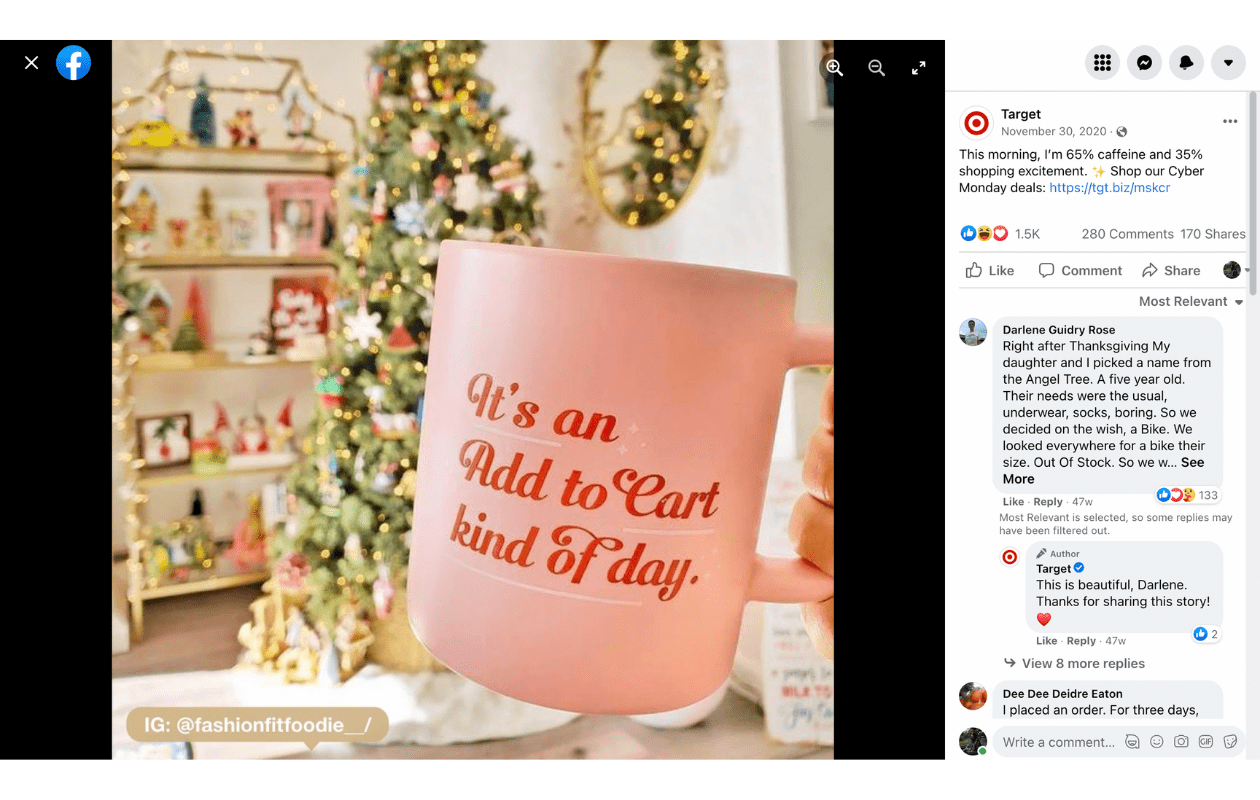 If you have an online business with a broader audience, you can take advantage of this exciting Black Friday campaign idea and cover several bases at once.

People love playing games. So you can change your products that are on sale every hour or even make some items available until a certain time.

This will potentially skyrocket your sales and make your customers keep coming back. And don't forget to add a banner for each hour you'll have a deal!

Space NK, a British retailer of personal care and beauty products, offered £25 off every £100. They also set a time limit, making the consumers buy more.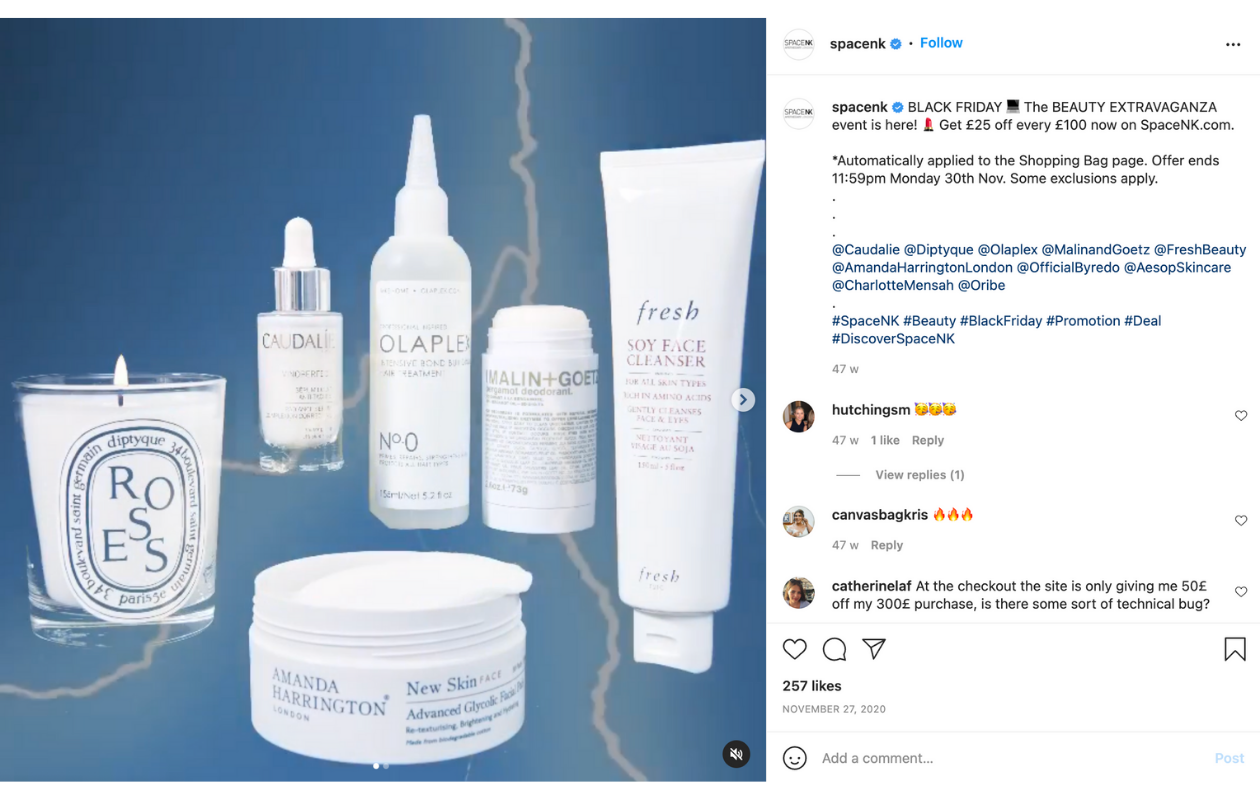 Offer rewards for a minimum spend
It's no secret that people love free stuff. This Black Friday marketing tactic isn't new, but it works every single time.

The concept behind it is to give away free stuff with every purchase. This way, customers will be more inclined to buy your products, and maybe you'll even convince the indecisive ones to buy.

Make sure to make this deal visible on your homepage banner. You can also set an ordering requirement on receiving the gift, such as "with every $100 spent, you'll get a gift."
This is another Black Friday marketing idea that I'm sure we've all seen through the years. And if done properly, it does wonders.

With this marketing tactic, you can convince people to buy more than they planned initially.

And you can play around with all kinds of variations, such as offering 50% off everything at midnight and then buy-one, get-one 50% off during the rest of the day.

The image below shows how Urban Outfitters adopted this Black Friday campaign idea. The brand highlighted the big sale with flashy colors and bold fonts, saying in the copy of the Facebook post that if you buy one product, you get 50% off.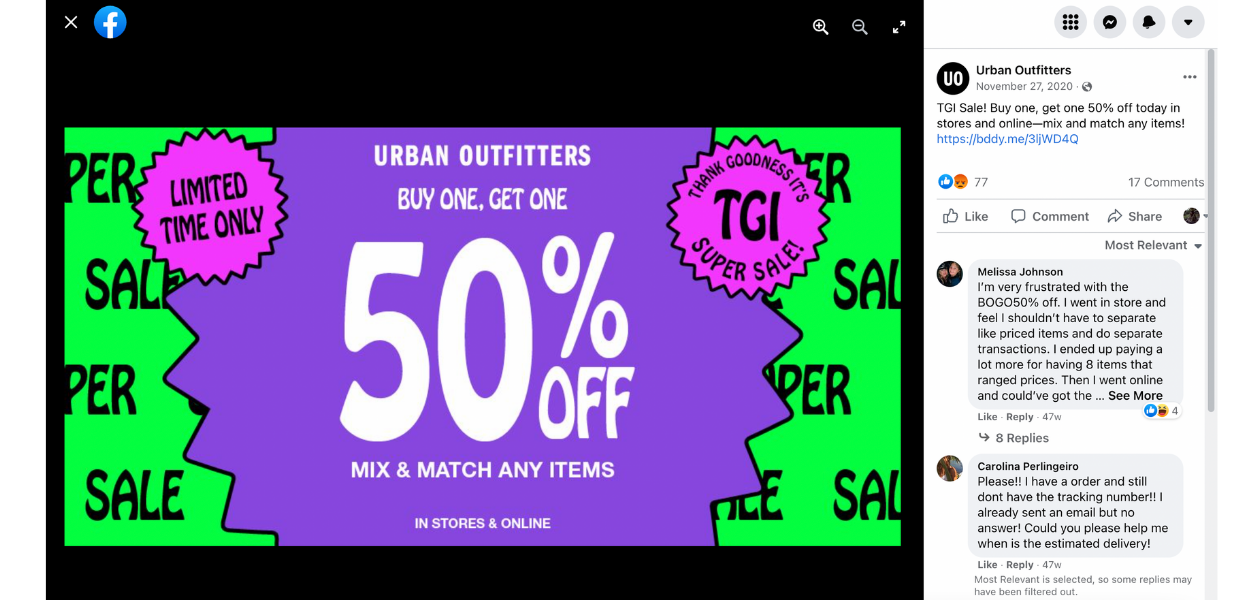 Investing in an influencer program to promote your sales has proven extremely effective for all sorts of brands.

We recommend turning your attention to Instagram or TikTok influencers since these two platforms are the most popular at the moment.

The most important thing when deciding to partner with influencers is to choose the ones who complement your brand. You can host live sessions or promote your Black Friday deals via Instagram Story.
Offer a VIP early-bird discount
Who doesn't want to feel special? Use your email list, VIP Club, or loyalty program to offer your closest customers exclusive discounts for Black Friday.

Because they're your most loyal customers, they'll likely buy more from your brand and repeat the purchase throughout the year.

You can send preferential emails, create a Facebook event, or a landing page informing your closest clients about the possibility of accessing early Black Friday special deals.

New Skills Academy offered VIP Early Bird Access to their VIP members two weeks before Black Friday.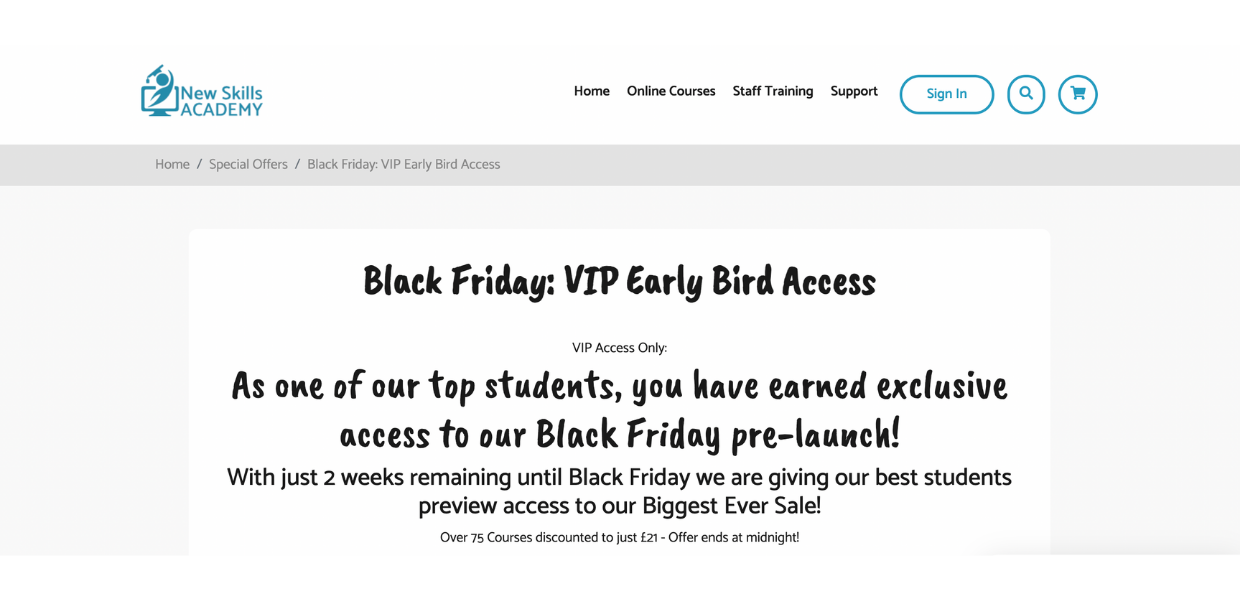 2. Black Friday's posts performance on Facebook and Instagram
Now that we've walked you through some inspirational Black Friday marketing ideas, it's time to turn our attention towards what matters most - data!

We analyzed 64,271 Facebook posts and 108,163 Instagram posts to understand better which is the most performing type of post on these platforms on Black Friday.
Engagement stats for Black Friday on Facebook and Instagram
The average engagement rate per post on Facebook is 0.135%, while the average engagement rate per post on Instagram is 0.304%.

On Facebook, brands should post links for a higher engagement rate (0.239%), mainly because the intent of the consumer is to see the offer on the website and ultimately proceed with the purchase.
Albums come in second place, with an average engagement rate of 0.17%, followed closely by photos which have an average engagement rate of 0.15%.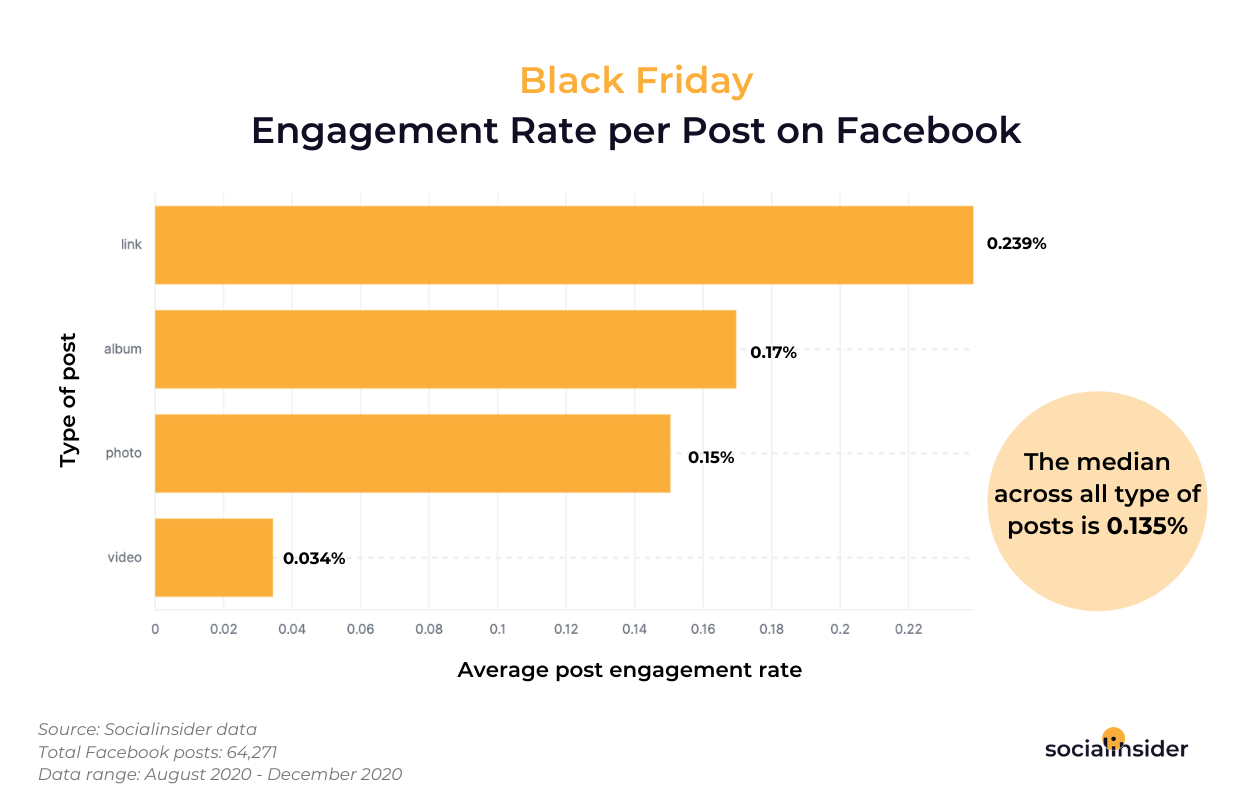 Surprisingly, even though our latest Facebook video study has shown that Facebook's video usage is increasing, reaching a percentage of 15.5% in 2021, for Black Friday, Facebook videos don't perform that well, having an average engagement rate of just 0.034%.
Discover how to calculate the engagement rate for all social media platforms
Overall, in 2020, brands published photos (57.25%) and links (15.86%) on Facebook, followed by videos (15.22%) and albums (11.68%).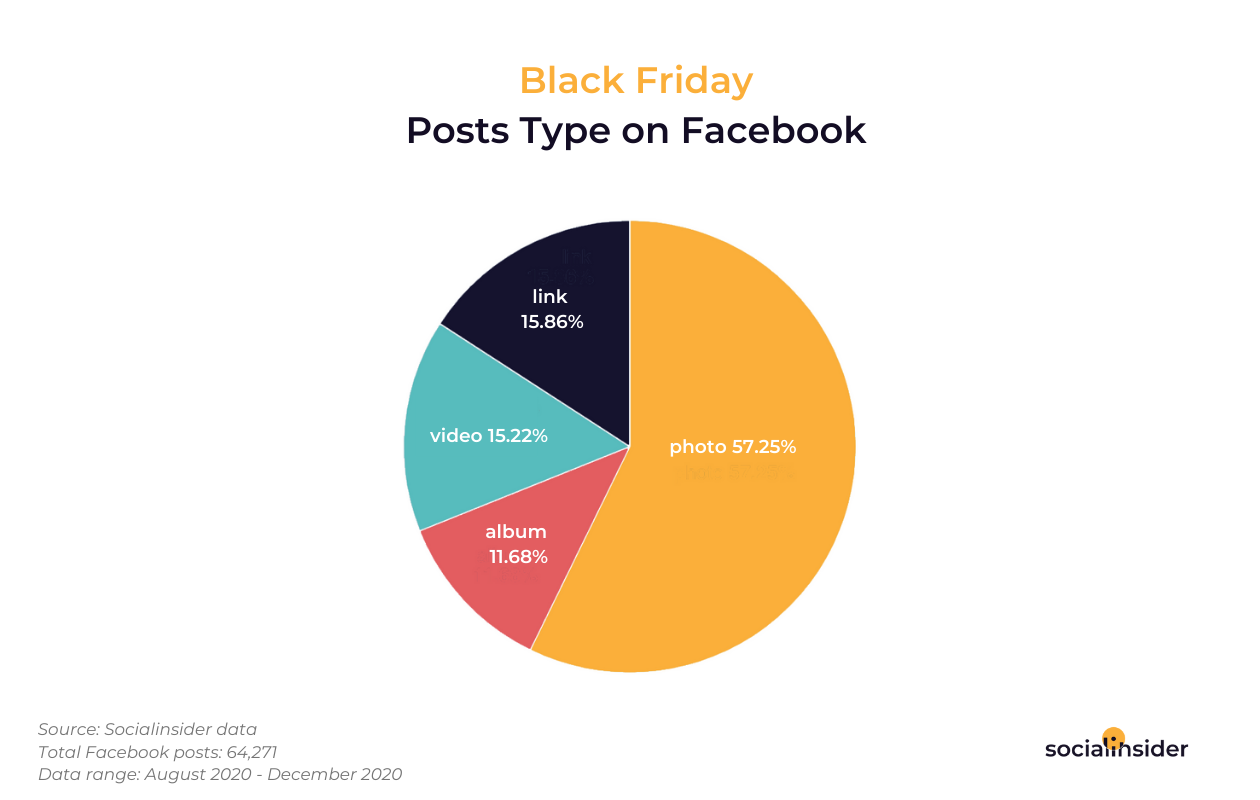 On Instagram, which is the most visual platform out there, videos perform best, with an average engagement rate of 0.461%.

And since one of our past Instagram studies showed that carousels posts get more likes on Instagram, these come in second place, with an average engagement rate of 0.288%, followed closely by images, with an average engagement rate of 0.278%.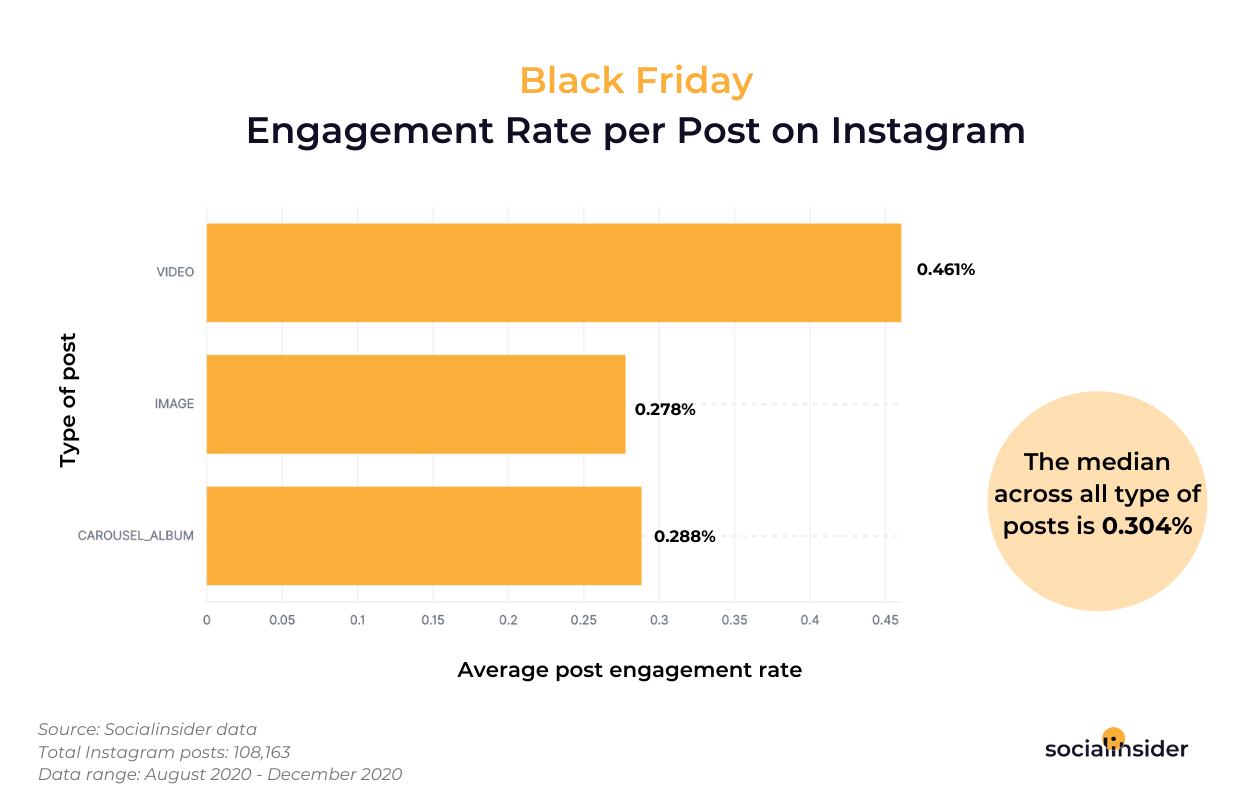 In 2020, most brands published more images (67.27%) on Instagram, followed by carousels (19.72%) and videos (13.01%).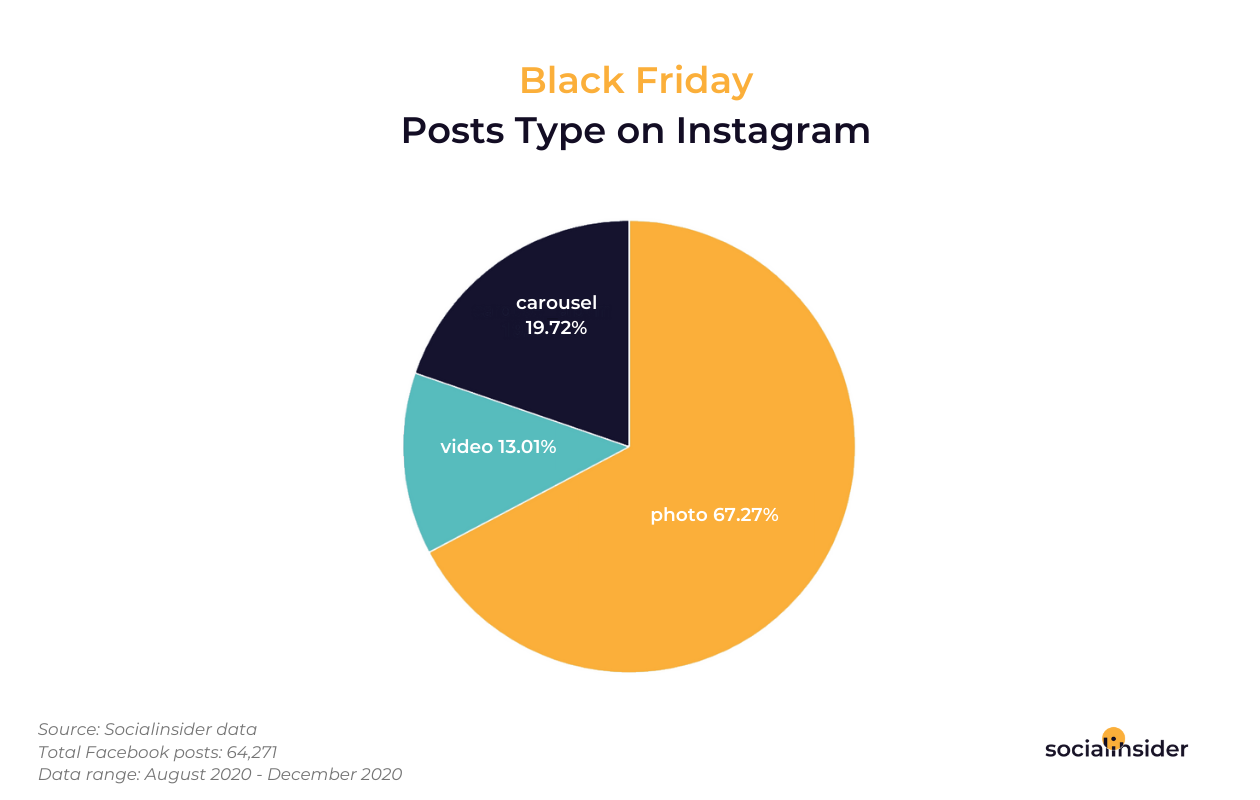 Black Friday post distribution by type of industry
If you want to know which type of post you should go for on Facebook or Instagram, depending on the industry you operate in, don't worry; we also looked into this matter.

On Facebook and Instagram, images seem to be the first choice regardless of the industry, having ownership of more than half of all the posts sent.

On Facebook, videos are the second most used type of posting, especially for the beauty industry, which posted 27.35% of videos in the selected time range, followed by albums.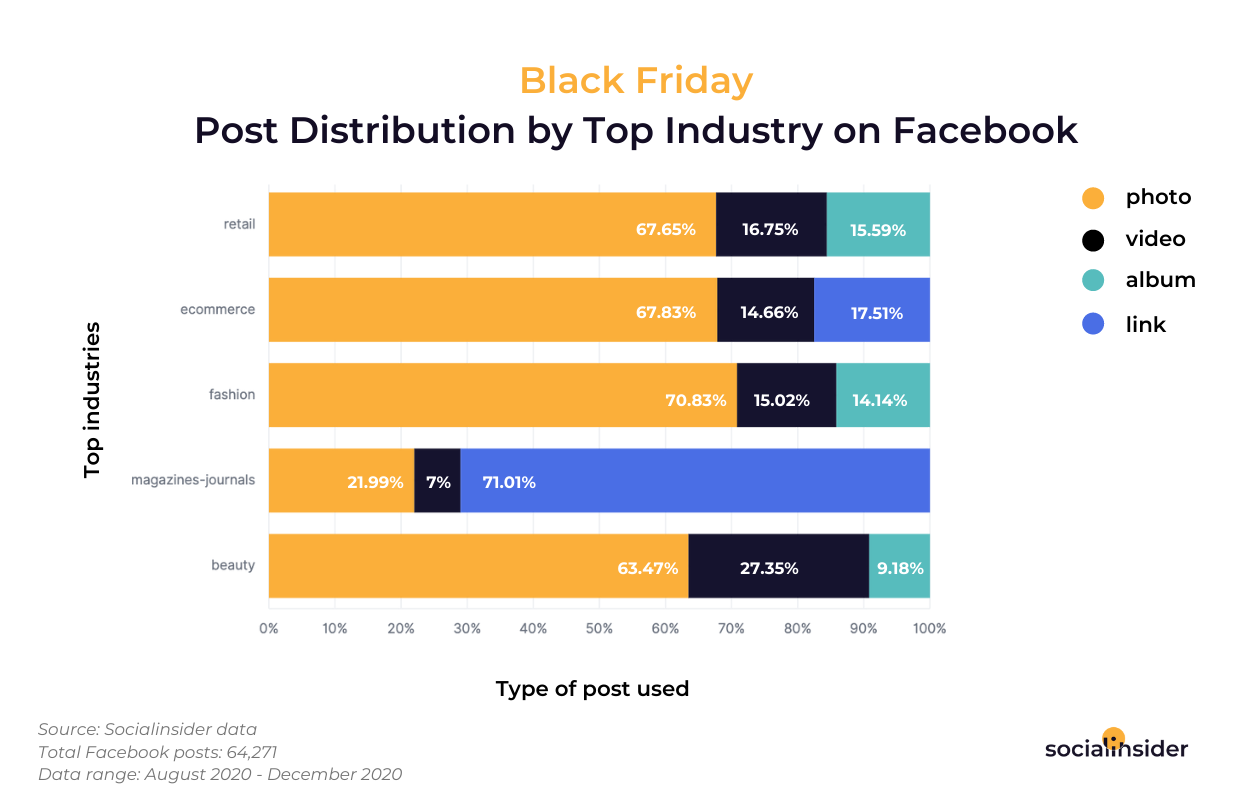 Links come in fourth place, being heavily used by the magazines-journals industry (71.01%) and e-commerce (17.51%).

On Instagram, after images, industries posted videos for their Black Friday campaigns. And again, the beauty industry had a heavy usage of videos (22.12%), followed by the home-living industry (14.07%).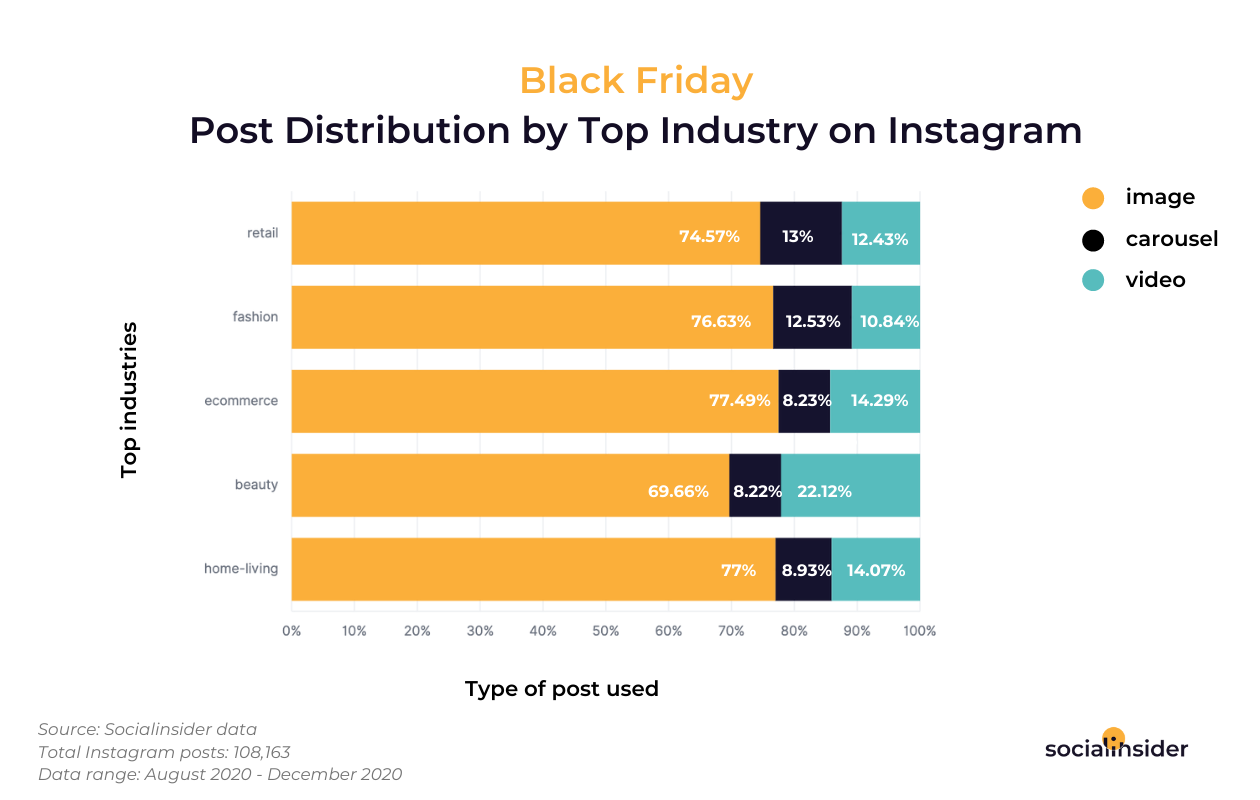 Carousels come in third place, being mostly used by the retail industry (13%).

As seen in the graphics above, the top industries that post content on Facebook and Instagram for Black Friday are retail, e-commerce, fashion, beauty, home-living, and services.
Best days to post on Facebook and Instagram for Black Friday
Our latest UK social media benchmarks study revealed that people engage the most on social media on Friday.

And as the name of the event itself suggests, Friday is also the day that generates the most engagement during the Black Friday period.

While this is no surprise to anyone, Black Friday isn't a one-day event anymore, as demonstrated earlier.

On Facebook, Thursday comes second in terms of engagement, followed closely by Monday and Wednesday.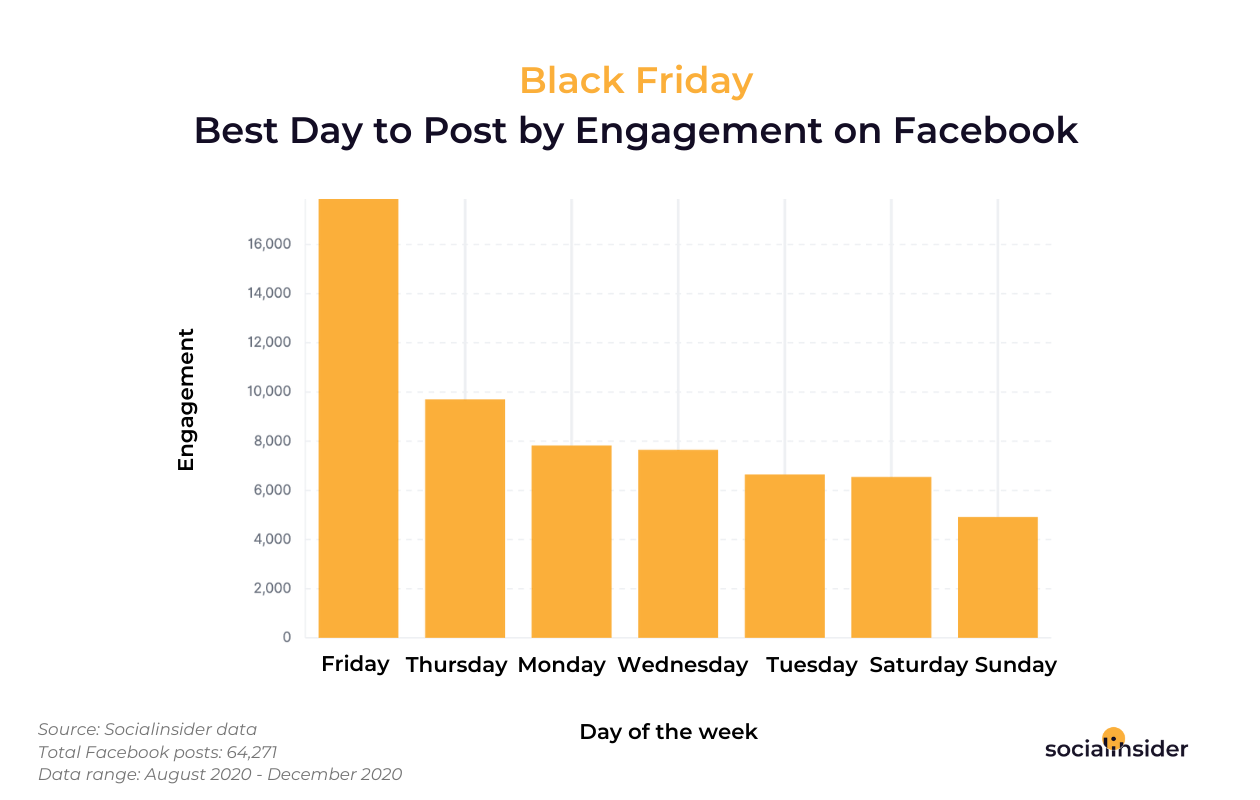 On Instagram, Thursday comes second as well in terms of engagement, followed closely this time by Wednesday and Saturday.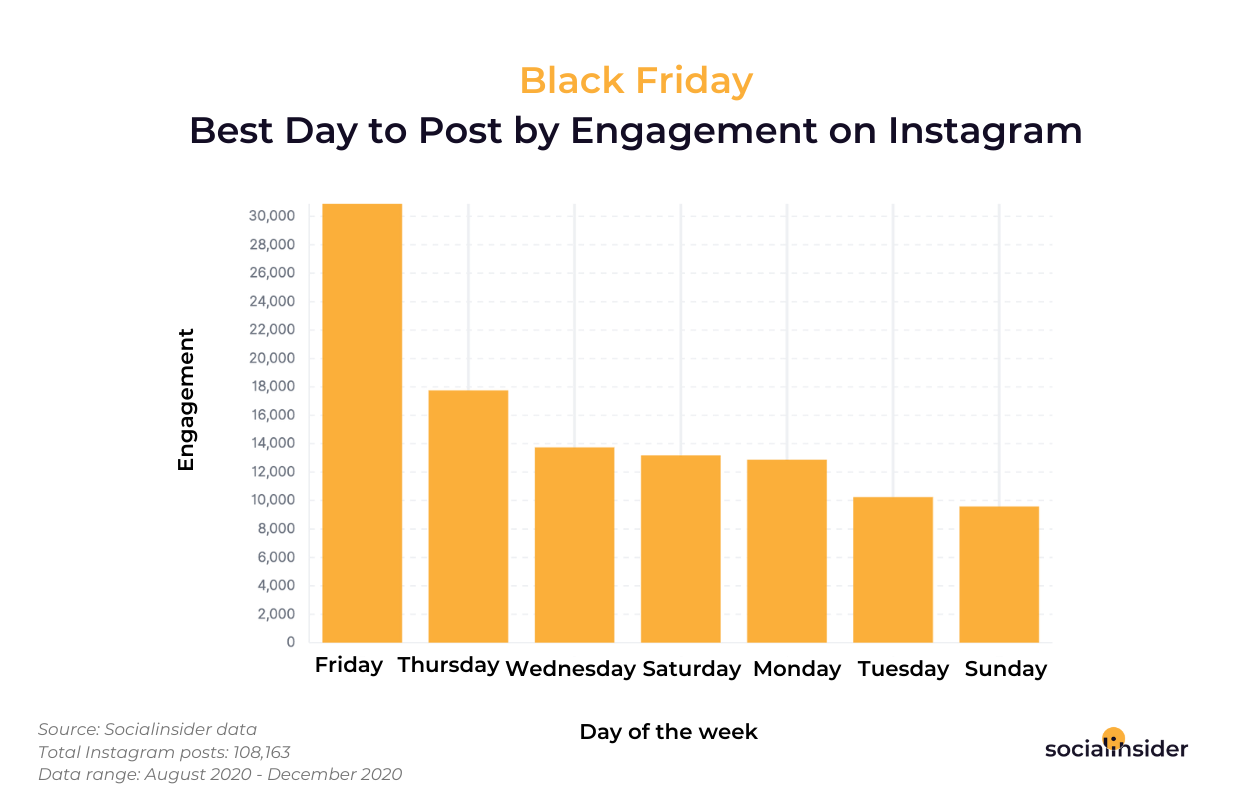 So, if you want to step up your game this Black Friday, we recommend you start posting before and after on social media, depending on which platform you're most active.
3. Black Friday social media campaigns examples
After all is set and done, the real inspiration always comes from the biggest brands' social media campaigns.

So, how are brands approaching Black Friday on social media? Let's find out!
As one of the most well-known e-commerce companies globally, Amazon sure knows how to put a spell on consumers with its Black Friday marketing campaigns.

In 2020, Amazon pulled out its sleeves another social media ace and changed the Black Friday marketing tactic that everyone was so familiar with.

So instead of going for flashy and eye-catching social media posts, Amazon did quite the opposite and chose to announce the beginning of its Black Friday campaign on a chill note.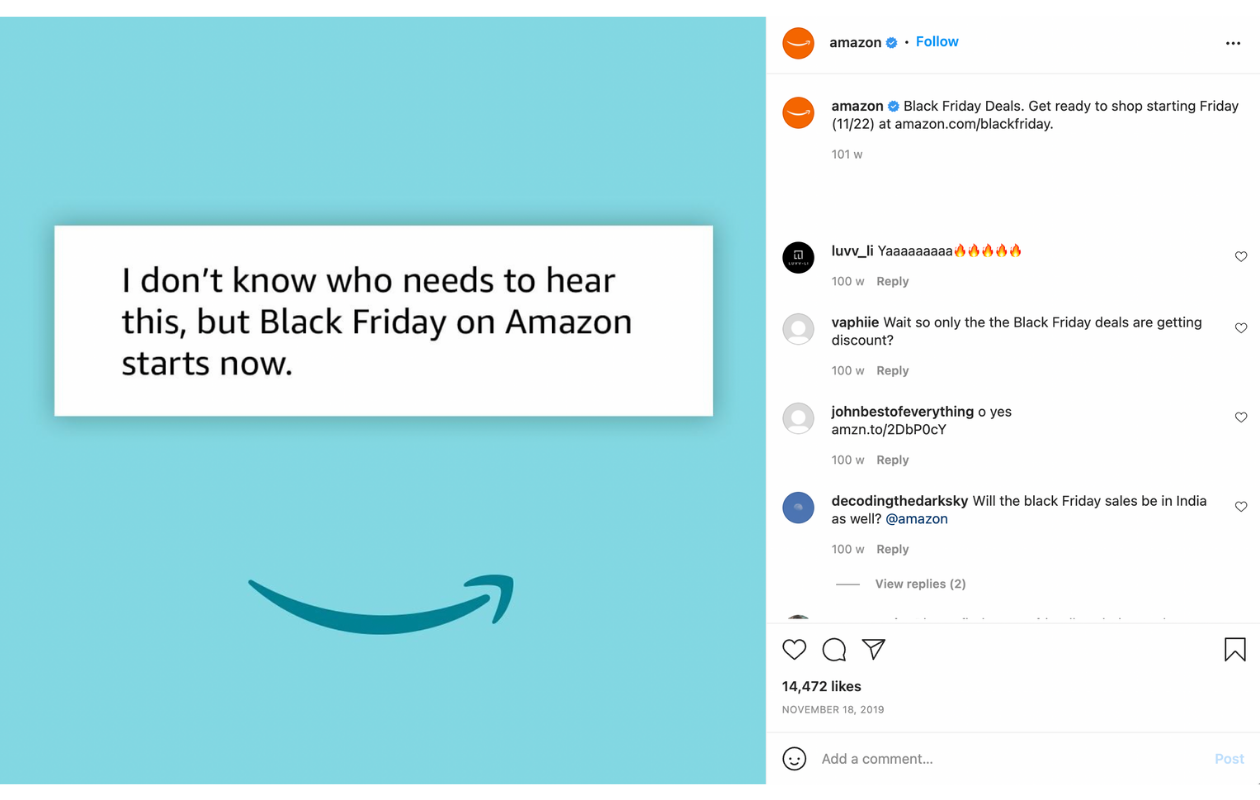 They also understood the importance of consistency, so they chose the same color palette and created a series of catchy memes that hooked everyone who was scrolling.
And, of course, they didn't forget to take advantage of trending hashtags (such as the popular #blackfriday), increasing their chances of reaching customers specifically looking for Black Friday deals.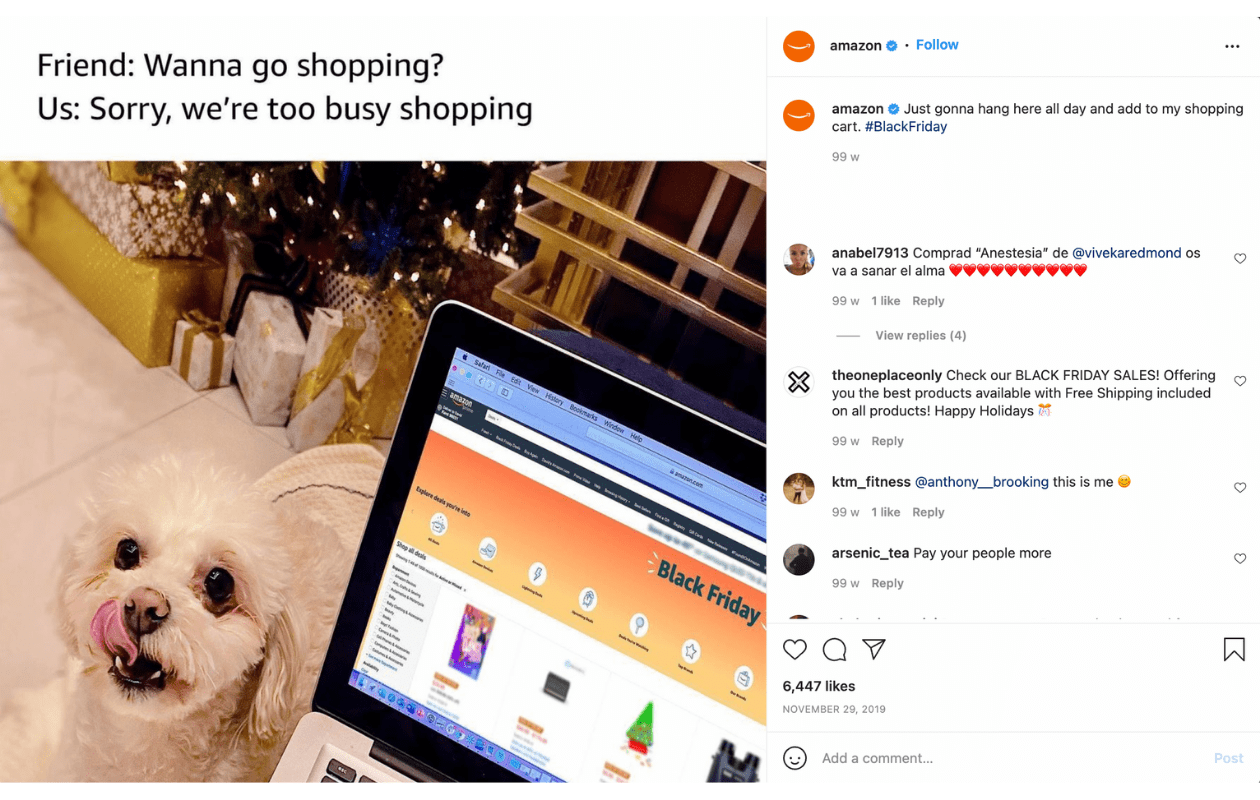 Walmart, the American multinational retail corporation famous for its discounts, went for the traditional Black Friday marketing approach in 2020.
Bold colors, big fonts, and a recurring theme - this is the recipe for a successful Black Friday marketing campaign that can't go wrong.
In its Black Friday promotions on Facebook, Walmart also used advertising slogans to get more attention (Black Friday Deals for Days). They also came up with a funny catchphrase to enhance their chances of going viral.
And because I couldn't forget about my favorite cosmetics company who always impresses me when it comes to its social media presence, let's have a look at Benefit's marketing approach for last year's Black Friday.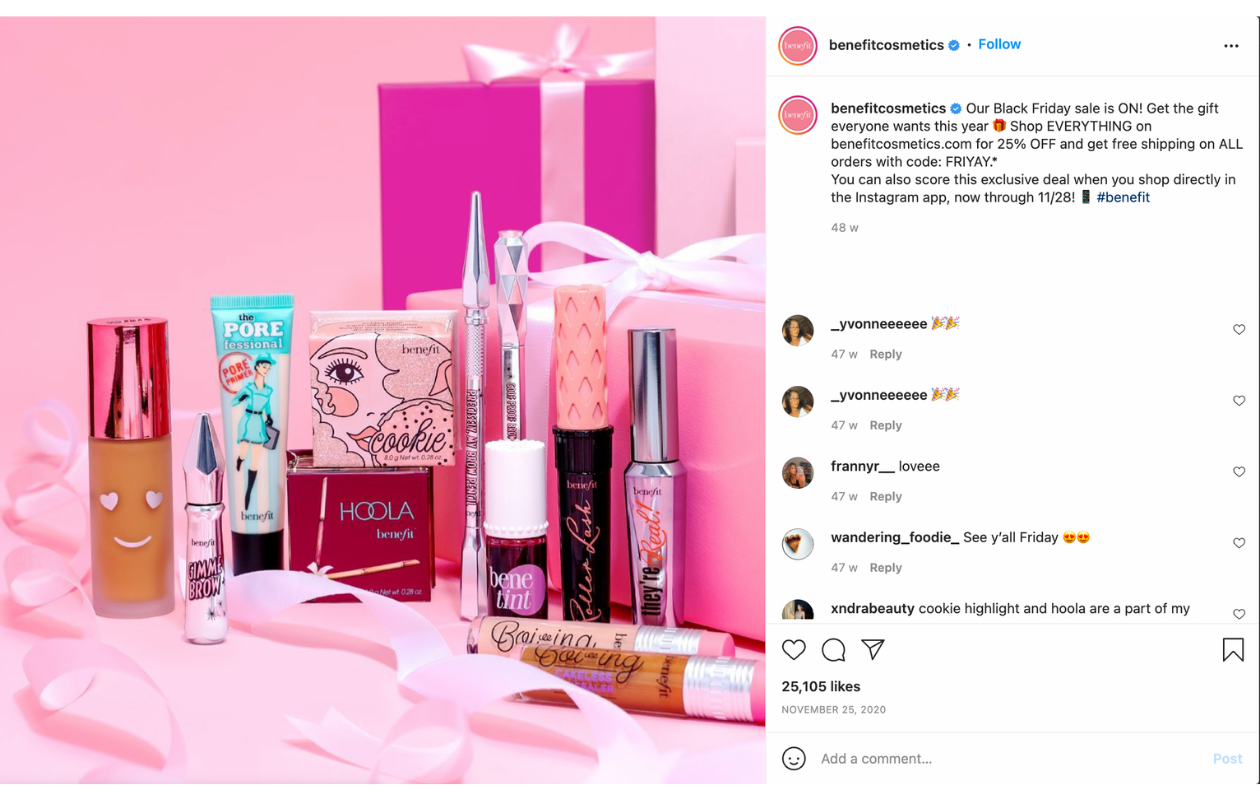 As usual, Benefit looked pretty in pink and hosted several sales with cheerful promotional codes.
Their Instagram account was filled with luring promo codes for their most beloved products who got everyone ecstatic. Plus, they offered substantial discounts and free shipping during their Black Friday campaign.
Sephora, another dear brand of mine, also stepped up its game last year for its Black Friday social media campaign, as it does every year.

This time, Sephora put on its festive hat and created a sparkly and jolly concept. The brand went for black with a splatter of color and offered the shoppers discounts, promotional codes, and free shipping.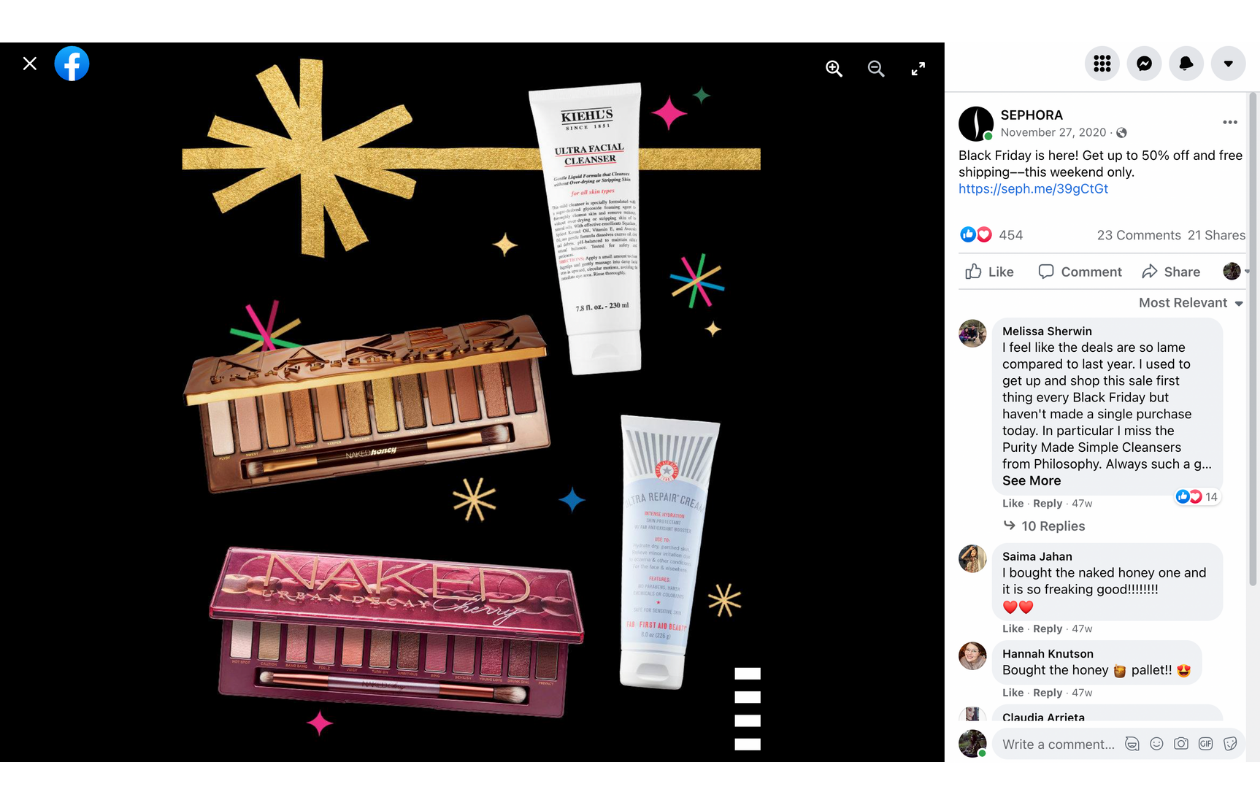 Not only that, but Sephora understood that the key to keeping customers hooked is to make them feel special through little games. So they set a time limit on their sales.
Last but not least, the UK fashion retailer went big in 2020 for its Black Friday marketing campaign.

With lively colors and a playful vibe which the brand has already accustomed us to so far, Pretty Little Thing went all out with a doorbuster deal.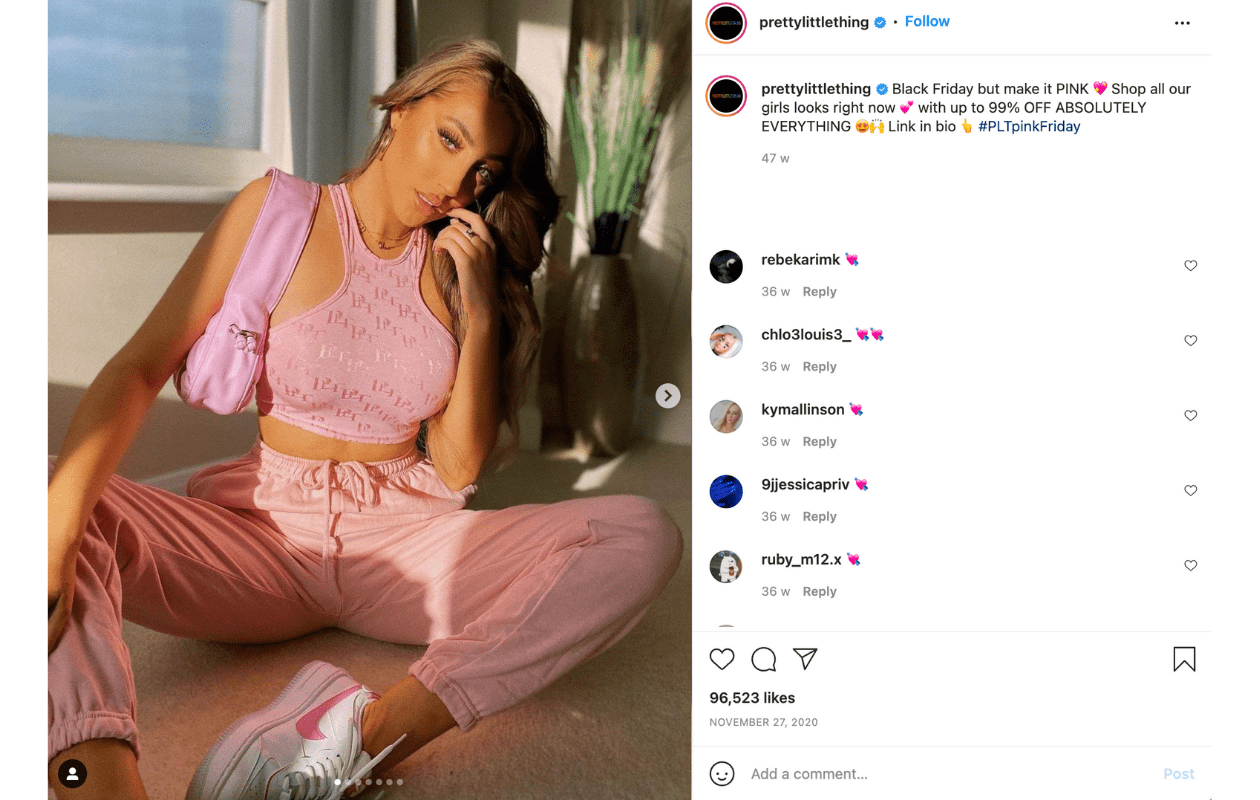 The brand offered its customers 99% off absolutely every item on their website, an offer that no buyer would want to miss.
Final thoughts
As the holiday season approaches, every online marketer wants to have a variety of options for promoting their brand.

While you probably won't implement all the Black Friday marketing strategies mentioned in this article, hopefully, this guide will give you a glimpse into what social media approach you should choose in 2021.

This case study has shared important Black Friday campaign ideas for brands, stats on Black Friday's post-performance on Facebook and Instagram, and some successful Black Friday social media campaigns from 2020.

Now, it's time to get started on these Black Friday marketing strategies!
Methodology

To have a clear overview regarding the performance of Black Friday's posts on Facebook and Instagram in 2020, we analyzed 64,271 Facebook posts and 108,163 Instagram posts that were published between August 2020 and December 2020.

We define engagement as the measurable interactions on Facebook and Instagram, including comments, reactions, and shares, with the particularities for each platform as it follows:

Instagram - includes likes and comments
Facebook - includes comments, reactions, and shares
The average engagement is the sum of all these interactions (reactions, comments, and shares) divided by the number of posts.
The average engagement rate per post is defined as the average engagement of the posts divided by the number of fans or followers the page has, all multiplied by 100.
Related articles: