Is there such a thing as a perfect Instagram post? We know that Instagram is mostly about visual, but with an ever-growing list of new features, it's more important than ever to understand what other ingredients of a post help bring higher Instagram engagement.
In the age of content creators, Instagram still has some secrets for some of us. If you haven't figured out how to create a closer-to-perfection post, you've come to the right place.
From captions lengths to videos or giveaways, we've put together some great ideas you might want to follow in the quest of finding the perfect recipe for your brand.
And if you're sketching your digital marketing strategy right now, then let's dive in!
How To Create The Best Instagram Post
Get the in-depth study about Instagram content and engagement strategies 👇
1. Best Instagram post size: Use short captions
The best Instagram captions are short, to the point, and easy to remember.
You know that good stories are the ones that get stuck in your head for a long period of time. They intrigue you and they create either a strong emotion or a desire.
That should be a must for your Instagram posts as well. Apart from the compelling images, the captions are also a big part of the equation.
Don't leave them to the last minute and plan in advance. Of course, you can edit later, but why shouldn't you have the perfect caption from the beginning?
And the texts don't even have to be super long, on the contrary. In this case "less is more" has the right meaning.  You don't have to go that extra mile to make your captions too lengthy.
Try to make your Instagram captions engaging, but with as fewer words as possible. In fact, the perfect post has fewer than 10 words. .  Don't move the spotlight out of the images or the videos.
In a nutshell, a good Instagram should be like this: simple, catchy, very tailored to your brand and wrapped up in a context.
2. Post more carousels than images or videos
Easy to set and to swipe through, carousels are a fun thing and they can take you the pain of choose only one perfect photo for your Instagram post.
The app allows you to add up to 10 photos or videos in one single post - this is called generic carousel.
Since its release in 2015, it has conquered users. Choosing high-quality images is a must on Instagram.
Also, pay close attention to the first photo or video you're using. They should appeal to swipe left to see the others. If you want to be extra sure, include a reminder in the caption to swipe all the images.
If you want to be creative, create a step by step process, post before and after photos, zoom in your product or launch one using this cool feature Instagram provides.
Or you can use it to break videos longer than 60 seconds.
And if you're not convinced to follow this approach, you'll be pleased to find out that, according to our recent study,  depending on the profile size, carousel posts exceed in engagement both single images and videos between 1.65% and 5.13%.
3. Keep your Instagram content relevant
When they say "Content is the king", they're right. And because not any type of content is relevant to your brand, make sure you choose wisely your posts.
First of all, make a list of things your company wants to emphasise the most. Then put it in action.
Here is a list of ideas that might help you create a consistent brand image on Instagram.
Give a sneak peek of your next product or service release.
Engage with your followers and ask for their opinion. This is a good way to grab some feedback in advance.
Share some info about the founder/founders.
People really like to have a glimpse of the ones who make decisions, especially if they are recognizable.
Here's a perfect example. The new ambassador of Sweden in Romania's asking for  social media advice:
Post a how-to-video. Or more.
The chances are your target audience is going to love it. If you company is a travel agency, show how you're planning a tour in an exotic place. Keep it real and tell about the good sides, as well of the challenges you're facing.
4. Take advantage of the power of Instagram videos
Every social media platform tries to provide an integrated experience so that the users won't leave the platform in search of  a different kind of content.
With Instagram, IGTV gives you the opportunity to experiment and test what content resonates with your followers. You could use that information as a guide when posting videos as part of your feed.
When you create a video for your Instagram post don't forget that the first seconds count the most, they will make the audience to stay tuned or bounce away.
There are some great tips that will make your videos more appealing to your audience:
Make sure that your video answers questions that your followers might have or that at least it can provide an entertaining value to the experience of the viewers.
Ask questions within your video so that you make it more engaging. This may also provide, depending on the subject, the guarantee of a call to action behavior if you direct your audience towards making a decision that will bring you the desired benefits.
Engage with your followers as much as possible. If you asked them a question and they answered in high number, make time to respond to every comment.
5. Ask questions in your post
Marketing and branding are all about understanding the needs of customers and providing the best answers in a well-defined budget and time.
Using Instagram to promote yourself, a product or a service provides you the best tool to understand the demand. Use this tactic to learn more about your audience and get valuable information that you can use for future strategies.
Just as in videos, getting direct input from your audience humanizes your posts/brand or what you want to promote.
Asking questions on Instagram is a strategy that enables you to obtain key data from your audience and to better understand their preferences when it comes to your brand.
You can also use an Instagram poll to generate buzz. This will make people feel part of a decision-making process for you and generate the engagement that you are looking for.
This is your best opportunity to get real feedback and to adjust your future strategy depending on the answers.
However, asking questions will not help you with your post engagement. Questions will give you insights, not better Instagram stats.
6. Include tons of emojis
Emojis humanize texts and make readers better understand the emotion, context, and message you want to communicate.
Brains are primed to see faces in every corner of the visual world so it is very natural to connect emojis with the state of mind that you want to emphasize.
Even more, because Instagram is the most visual social media platform, you should use emojis for all captions and comments to ensure a better response from your audience.
We were in a quest to find out how to create the best Instagram post. This is why we conducted a comprehensive content and engagement study which also looks at how brands use emojis and how Instagram performance is affected by them.
Among others, we found out the following:
on average, that 23 is the special number you're aiming for when it comes to emojis. Adding 23 in a single post can increase your engagement rate to 4,95%.
When it comes to images, the engagement rises from 2.15% to 2.72% when adding emojis. For carousels, the engagement goes from 2.52% to 3.06%. Adding emojis in your video posts increases your brand engagement from 1.88% to 3.20%.
And if you wondered what are the most popular of them, well this is the answer: the "heart-eyes"😍, followed by "sparkles"✨, "heart" ❤️ and "camera with flash"📸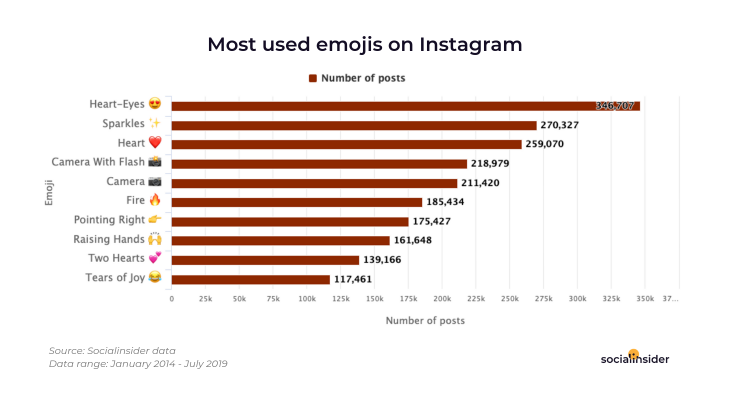 Don't shy away from them and use as many as possible!
7. Create a do-it-yourself post and attach carousel images
Have you ever considered posting a DIY post? It turns out they perform very well on Instagram, especially when it comes to images.  
They're fun to watch and they'll all about being creative. It seems like a good fit for Instagram.
But if on other platforms videos perform better, you should  switch your attention to carousels when it comes to DIY on Instagram. Why? Well, the data shows this.
For images, DIY posts have an average engagement rate of 2.73% vs. 2.41% in non-DIY posts.
When it comes to carousels,  DIY posts have an average engagement rate of 3.23% vs. 2.54% in non-DIY posts, while video don not perform that well: an average engagement rate of 2.06% vs. 2.09% in non-DIY posts.
8. Keep in mind that giveaways are golden content
Since everyone loves free stuff, spreading the word about a giveaway is not a hard thing to do. You'll invest some money in the things you're giving away, but the number of followers and the engagement you'll receive is priceless.
Running an Instagram giveaway can easily boost your posts if you prepare an early campaign well. This is why you should carefully decide on the giveaway prize, draw a plan and draft rules available for all your followers.
Giveaways will help you better interact with your audience, you'll have the chance to break the digital barrier and to actually give them something palpable.
Here are some findings from our study to help you get a better idea about this type of content
For images: Giveaway posts have an average engagement rate of 3.25% vs. 2.40% in non-giveaway posts
For carousels: Giveaway posts have an average engagement rate of 3.58% vs. 2.53% in non-giveaway posts
For videos: Giveaway posts have an average engagement rate of 2.34% vs. 2.09% in non-giveaway posts
9. Turn to Instagram analytics
Posting your content is not the end of the crafting. It's only the middle of it. Because you have to monitor, analyze and draw conclusions, and then rethink or reshape your marketing strategy, you have to use a complete Instagram analytics and reporting tool.
Always double check your work. Socialinsider lets you compare your posts and tells you which one performs better.
Because Instagram app only gives you restricted data, Socialinsider Instagram analytics dives you deep into content behavior.
Get a free trial and start monitoring your content performance!
Final thoughts
There are many rules you can follow and some steps you can make but most importantly, stay honest and true to your values in order to create the Instagram type of content.
Your brand needs to make its voice "heard" in this ocean of excellent Instagram posts. This is why  you shouldn't forget to interact with your followers. They are the engine of your complex "machinery".
Related articles: