It's the most wonderful time of the year, and brands are hitting that Christmas sweet spot with some of the greatest holiday adverts on social media. So we checked YouTube analytics to see how they perform.
Emotional, funny, and creative, there are quite a few adverts that stood out from the crowd this year, making almost all of the top Christmas ads lists and bringing in those Youtube views, likes, and comments.
So we already know they're popular, but which ones are the ones that have stirred up the public the most?
You probably already know the ads, now let's check the numbers as of mid December and see our engagement winners.
Don't worry, the king of Christmas ads, John Lewis, is on our list as well! See how it ranks⇣
Top 2019 Christmas adverts on YouTube
5. Aldi UK's Christmas festival of food
4. Sainsbury's travels 150 years back
3. Apple's family story
2. John Lewis's adorable Edgar
1. Xfinity brings back E.T
Take a look at some honorable mentions
5. Aldi UK's Christmas festival of food
Aldi turns their Christmas ad into an amazing show in which Kevin the Carrot is the star, singing an adaptation of 'Let me entertain you', a catchy tune perfect for this vegetable world.
Not a bad way to make children eat their veggies.
This supermarket chain encourages you to "put on an amazing show this Christmas" and a table full of mouth-watering holiday dishes.
The strategy seems to be working, as this Christmas treat earned the fifth spot in our list, with its 3.3 million views and a score of over 12,000 in engagement.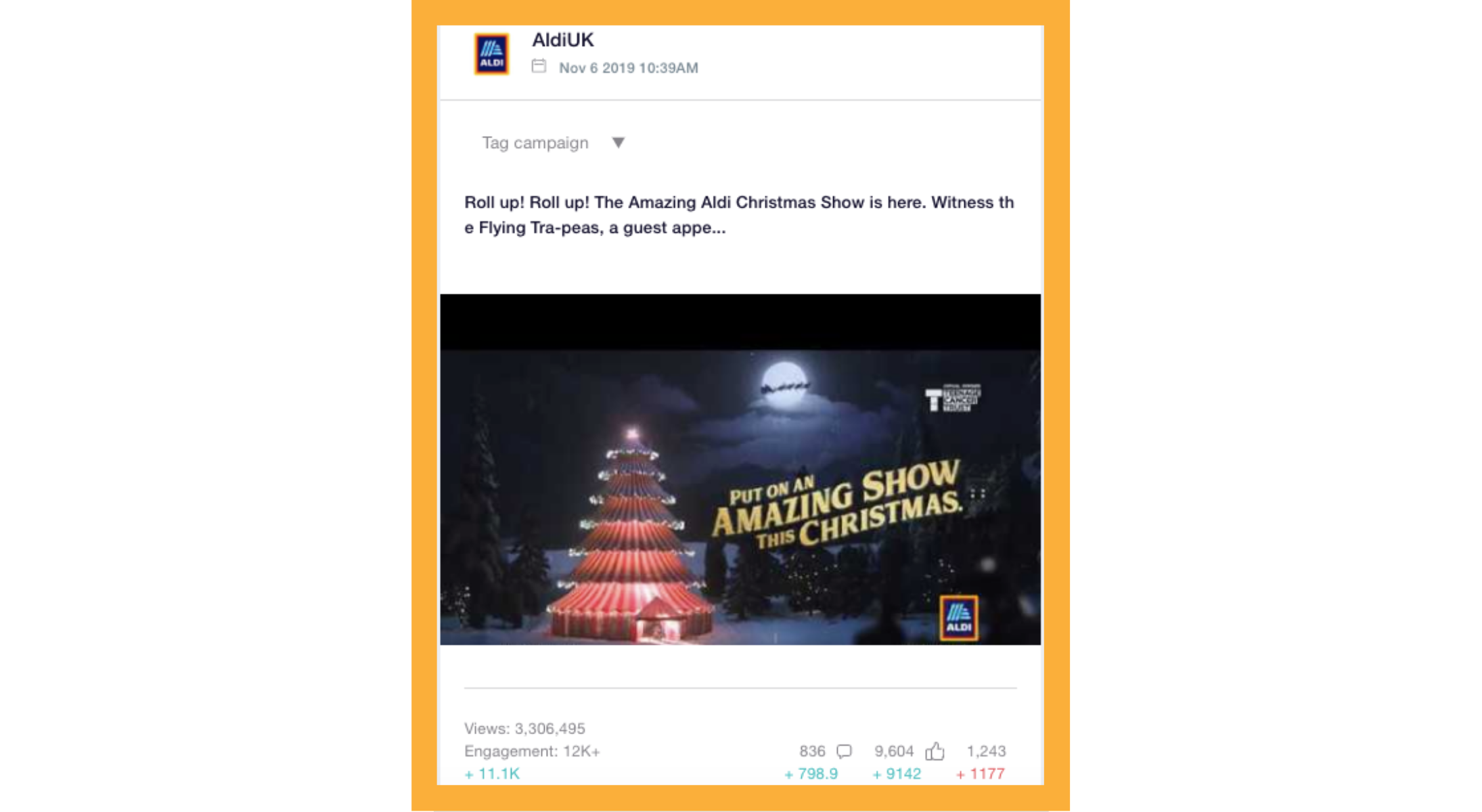 4. Sainsbury's travels 150 years back
Tradition, empathy, and kindness are at the core of Sainsbury's ad. And there's no better start to the story than placing it in 1869, the year Mrs. Sainsbury opened the first store.
The ad shows the "rags to riches" story of Nicholas the Sweep, whose treasure consists of some delicious Sainsbury's oranges shared with other kids in need.
It may be a story as old as time, but that's exactly what you want to showcase your brand when it has a 150-year old tradition.
This, together with amazing cinematography, landed Sainbury's ad over 6 million views and an engagement score of over 21,000.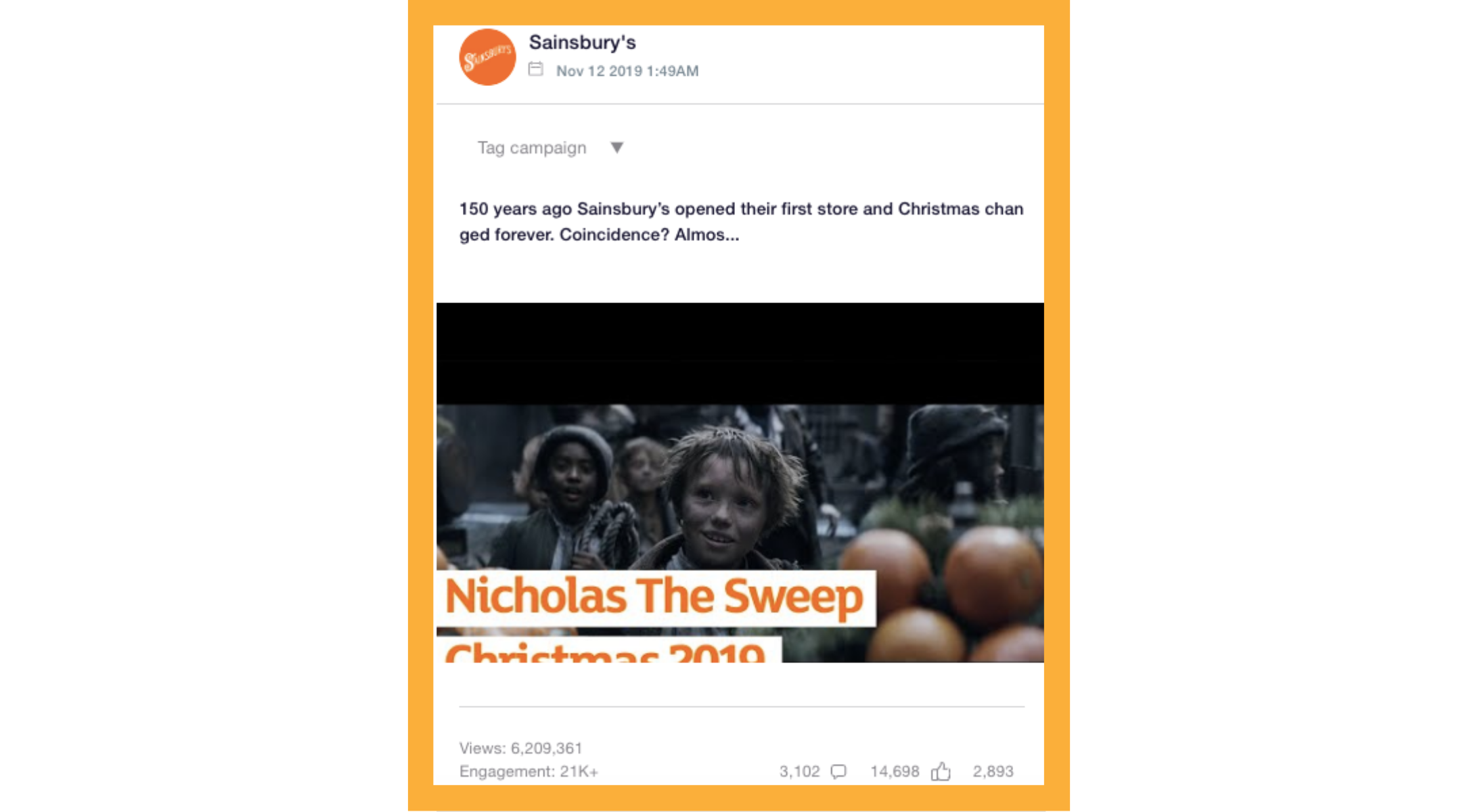 3. Apple's family story
This year, Apple is all about family. And there's nothing more chaotic than a big family during a Christmas trip to their lonely grandfather.
Luckily, they have an iPad to keep the kids entertained, and ultimately, to help create an amazing family album made out of old happy pictures.
A nice way of blending the physical and emotional aspects of gift-giving, wrapped up into one single present - they have to make that product shine somehow, right?
This family Christmas story with a realistic twist managed to gather over 93,000 in engagement from over an impressive 23 million views.
It's also worth mentioning that this ad had the most dislikes out of our entire list, but the overall like to dislike ratio is rather ok.
2. John Lewis' adorable Edgar
The most anticipated Christmas advert ranks at number 2 when it comes to engagement. John Lewis & Partners shook hands with Waitrose & Partners to create the story of Excitable Edgar and his magical friendship with a little girl called Ava.
Of course, since Waitrose was involved this year, the entire story wraps up with a huge Christmas dinner.
This little dragon melted our hearts, but, much like in the ad, gathered a few critics along the way.  Over 7,000 dislikes mostly due to John Lewis ads being held at such high standards.
However, that didn't stop this Christmas advert to gather quite impressive overall results.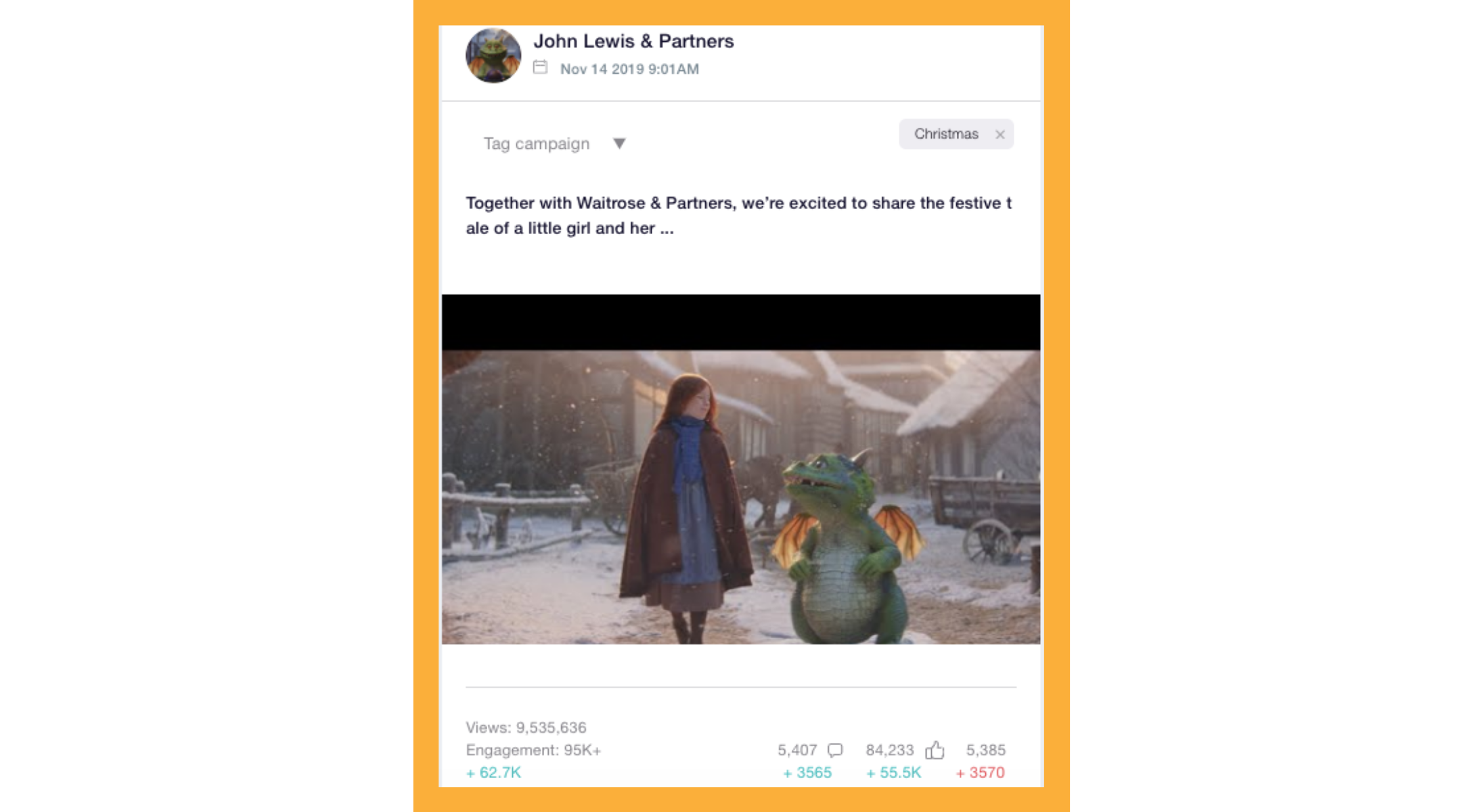 The lovable Edgar received an engagement on over 94,000, with over 5,000 comments and over 82,000 likes, gathered from more than 9 million view.
Not bad for a little dragon with breathing issues.
1. Xfinity brings back E.T
It's impossible to watch the legendary E.T. movie without shedding a tear. And this cable company goes straight to the heart with an emotional reunion of the adorable alien with his friend, Elliot.
Few of us managed to get through the movie with dry eyes. The unforgettable story of this alien and his friend Elliott is an all-time classic that defines most people's childhood.
So, naturally, a throw-back to this story just in time for Christmas almost broke Youtube.
This heartwarming ad shows E.T. going back to his friend after 37 years only to discover a grown-up with a family of his own. But this only means more friends for the adorable alien. Hey, the more the merrier!
And the engagement spiked to over 151,000 in engagement and over 12 million views 😲.
Despite Apple's ad having more views, the engagement is much higher in this case. It's safe to crown Xfinity's ad the winner.
However, there are a few more Christmas adverts worth mentioning.
Take a look at some honorable mentions
Despite not stacking up to the other ads in engagement, these five holidays stories still made us smile just in time for Christmas.
McDonald's UK is getting reindeer ready again
Fast food on Christmas? Tough brief.
But McDonald's diligently continues last year's campaign, making Christmas all about those adorable reindeers chasing treats instead of traditional holiday goodies. Treats like McNuggets, apparently.
This time, the ad is an amazing animation about one little girl's imagination that turns herself and her entire family into reindeers.
One of the more underrated aspects of Christmas, "getting reindeer ready" brought this year's Christmas advert over half a million views and lucky number 5,555 in engagement as of this time.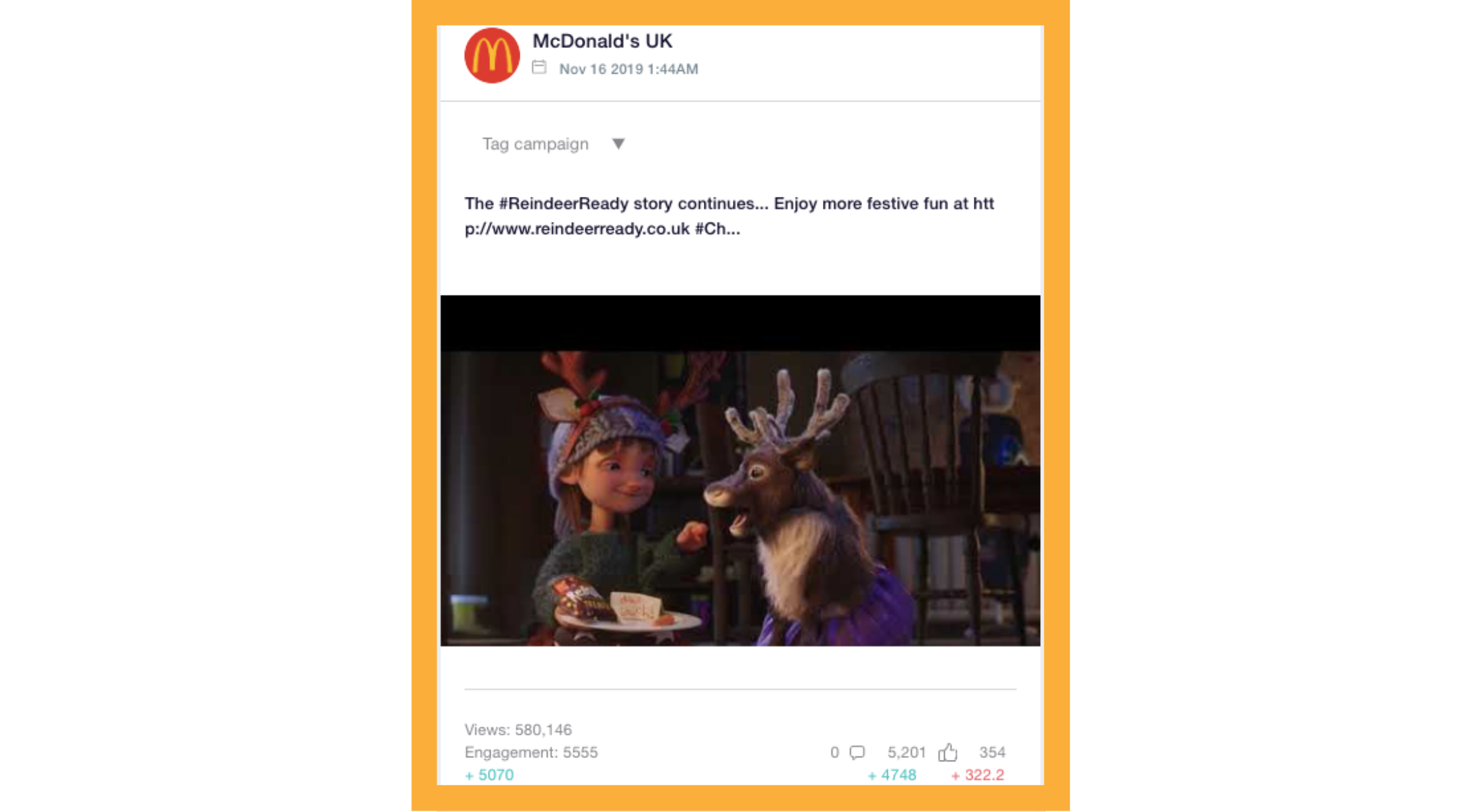 Chick-fil-A's mastering of time
Another stunning animation, Chick-fil-A's 'Time Shop' is an outstanding production that makes it impossible to look away.
Sam, a little girl is longing for some time with her family. Her wishes are met when she discovers the time shop, where she meets 'lost time', 'time that flies', and ultimately walks away with 'together time'.
The clip has around 512,000 views and an engagement score of 2918, but the secret lies in the details.
In this case, the comments, where people explicitly point out that they can't watch enough of the stunning animation.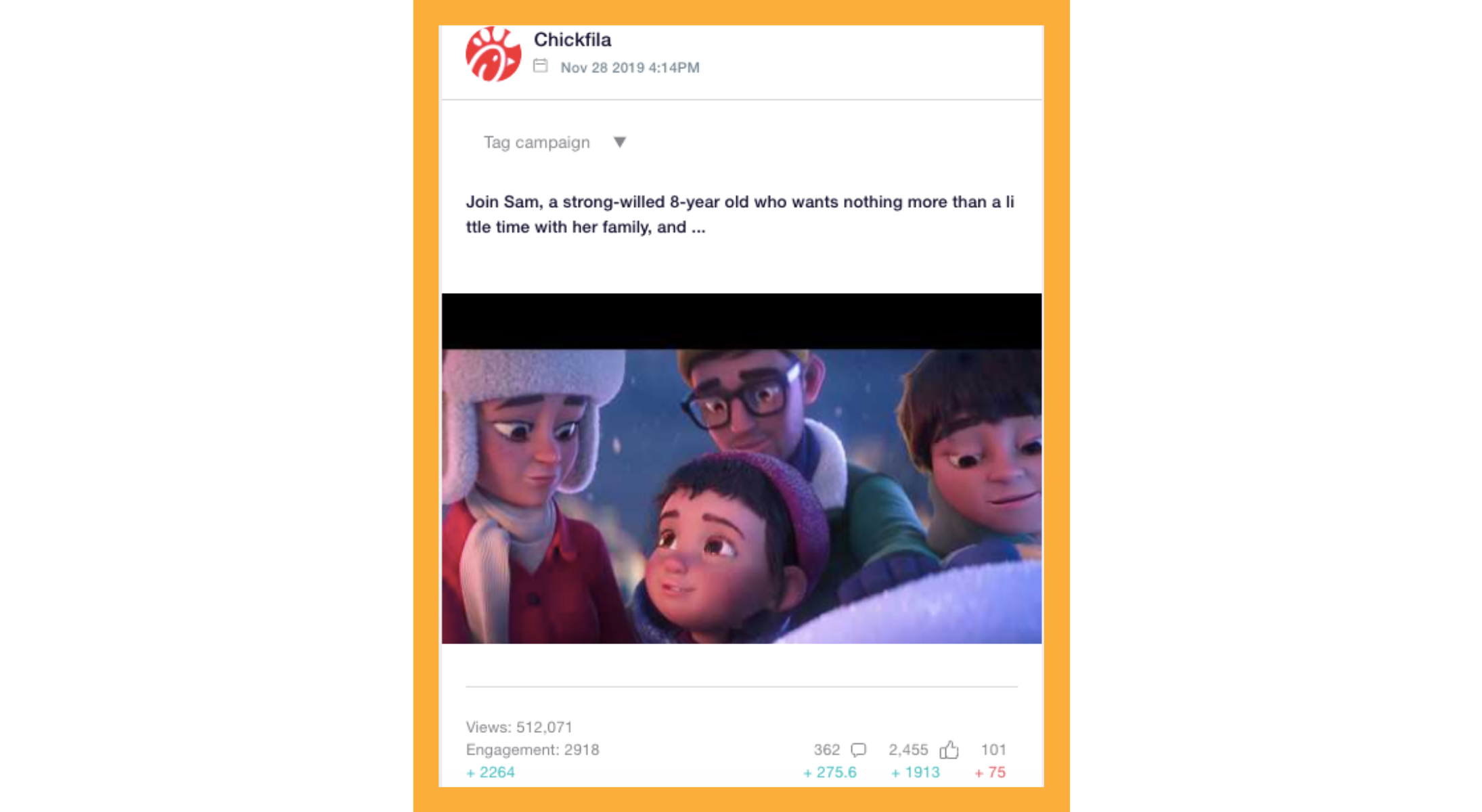 Tesco's delivery through time
The story of a Tesco delivery driver with quite an uncommon route and an unexpected mission: going back in time in order to spread some "food from the future".
This fun and entertaining short clip reminds everyone that Tesco has been delivering food for a hundred years, in a much more lighthearted - but also less popular - way than Sainsbury.
The results, however, aren't too impressive: over 2,600 engagement and just over 220,000 views.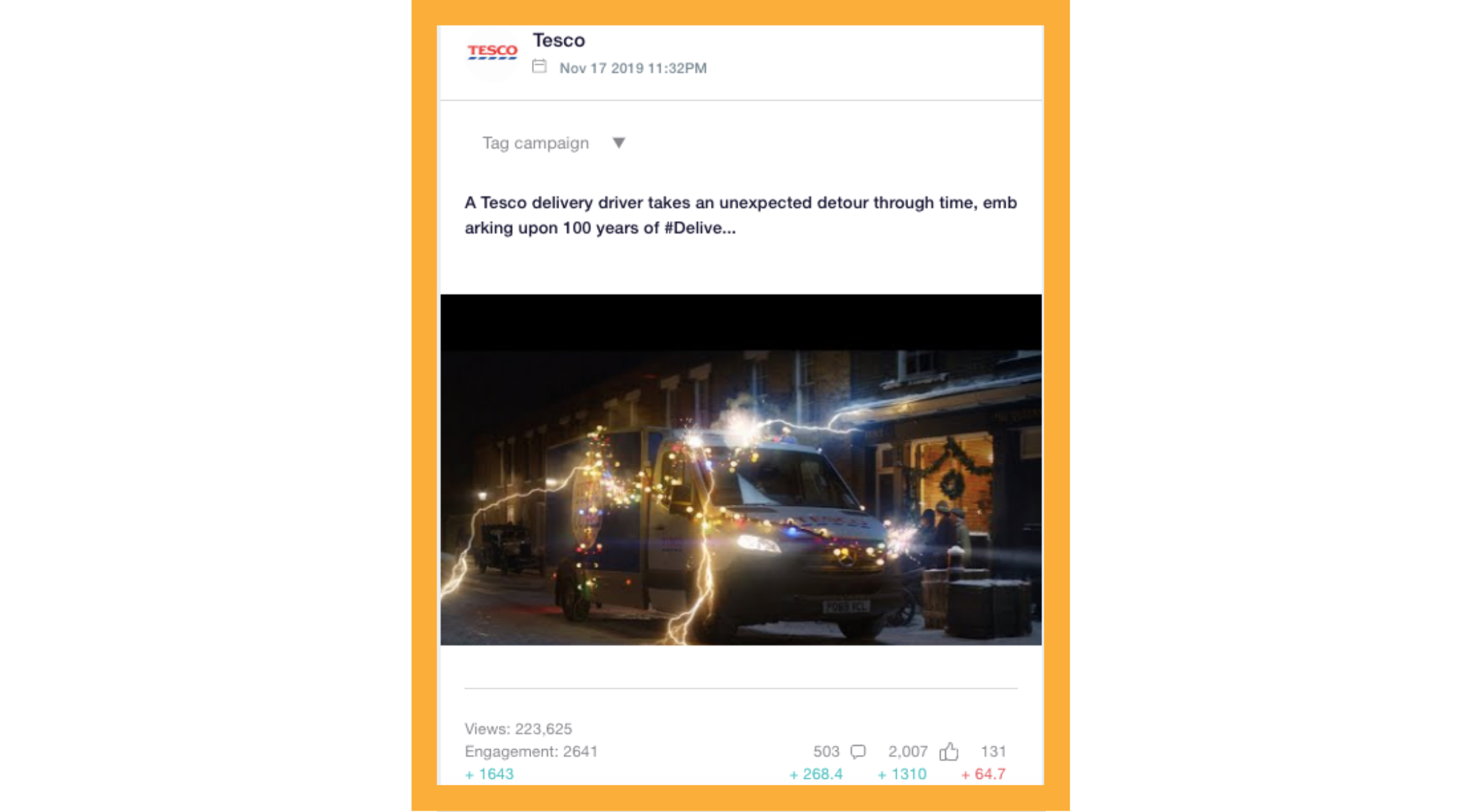 Asda's colorful Christmas magic
Asda tells the story of Jack and Tilly, who spread some magic around her gloomy, grey town, leaving behind an amazing display of colors and fairy lights.
The goal? To make this Christmas extra special, as the slogan says.
This fun and colorful adventure fathered over 450,000 de views, with 2500 in engagement.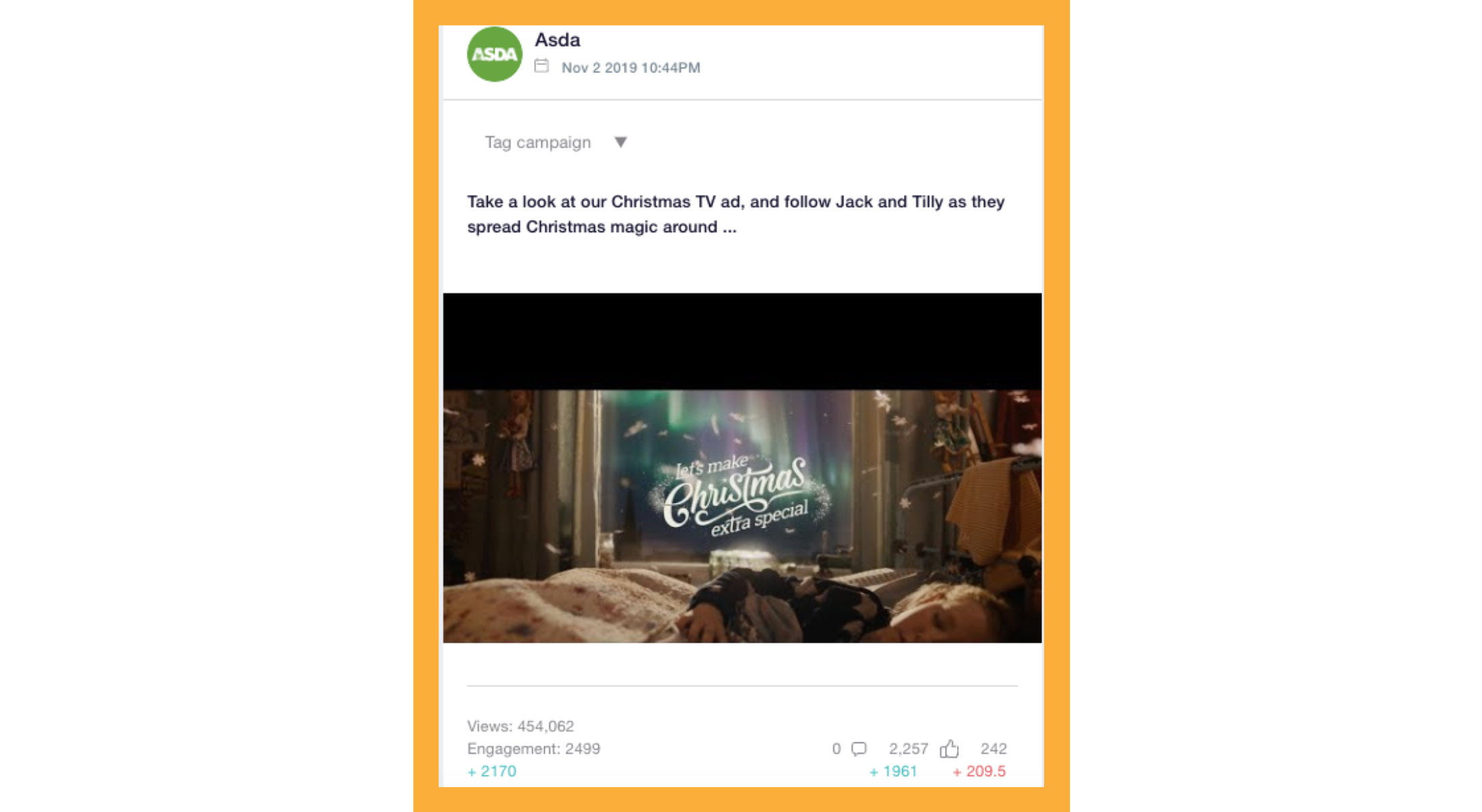 Microsoft's chat with reindeers
This giant is trying to showcase the power of technology and their translator by having Lucy, the most curious little girl, communicate with a few reindeers.
Unfortunately for the reindeers, as they're bombarded with an array of questions.
But the engagement is far from anything the company's competitor, Apple, reached.
With a little over 110,000 views and an engagement of around 1,400, Microsoft's 'Lucy & The Reindeer'  makes for a cute ad.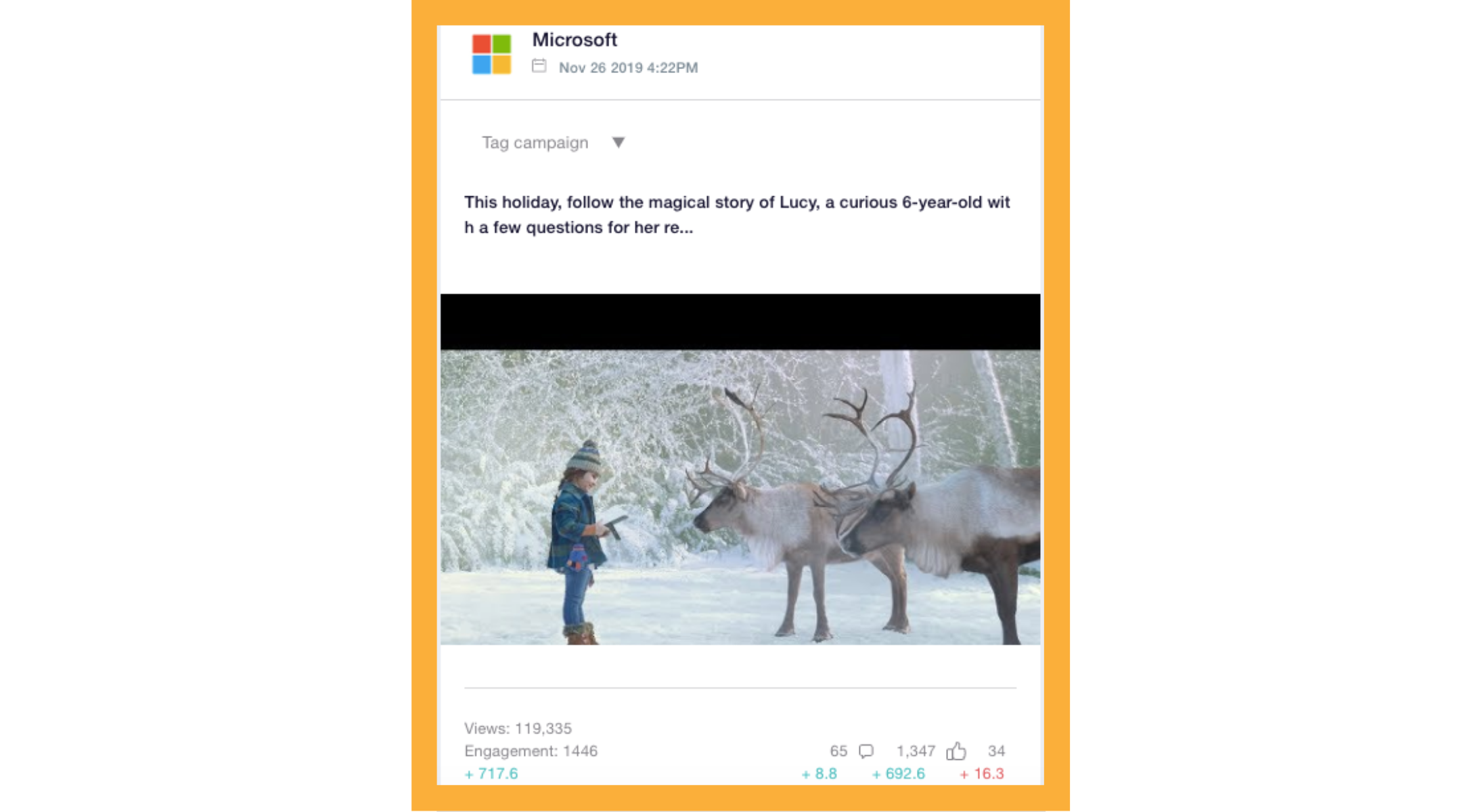 Wrapping up
Needless to say, using an emotional message in a Christmas advert, but giving it a fun and optimistic spin, is absolutely important to get it noticed, but it doesn't guarantee social media video engagement.
A carefully crafted storyline, great cinematography, and subtle and natural inclusion of your product are absolutely essential.
Of course, having a huge brand name behind you doesn't hurt either.
However, for those not lucky enough to manage one of those giant brands there are studies and articles available that tell you how to write Christmas posts, and what 2020 predictions you should prepare for.
For more data, read our social media content study.
Related posts: