Social media has changed dramatically in the last few years, millions of people are engaging on social media sites like Facebook, Instagram, Twitter, YouTube, or LinkedIn. Using different tools for your business may come as a help.
Social media gives you the possibility to personalize your brand and helps you to spread the message in a free way, with no boundaries.
People want to follow their favorite brand on Instagram, even more, they use this to find out the news. We can talk here of fashion, car, beauty brands, and all kind of industries.
Recent studies shoes that 80% of Instagrammers follow at least one business and 51% of internet users are more likely to buy from a brand they follow on social platform.
On the market, there are a lot of competitors' analysis tools, and each of them can offer relevant insights to particular niches.
In this article, I am going to share a list of tools for competitors research for these areas: social media, website, brand awareness and and seo tactics.
Let's take a look!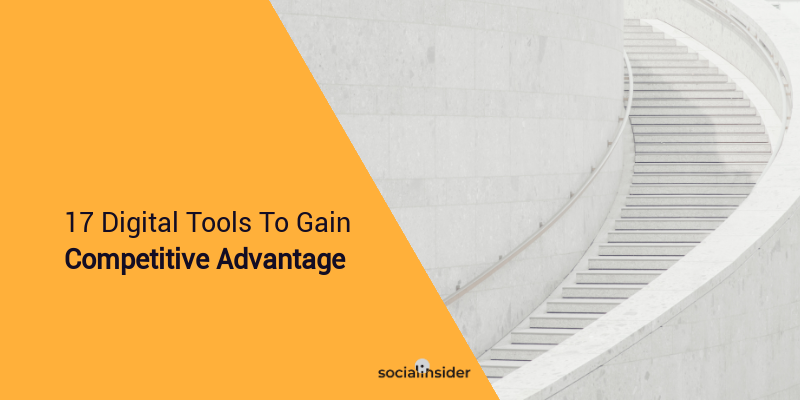 ---
👉 Social media competitors' analysis tools
👉 Monitoring competitors' websites
4. SpyFu
5. SimilarWeb
6. QuickSprout
7. Keyword Competitor
👉 Brand monitoring tools
8. Brand24
9. Mention
10. BrandMentions
👉 Monitoring competitors' seo tactics
11. Ahrefs
12. SEMrush
13. Serpstat
14. Nightwatch
👉 Monitoring competitors' ads
15. Facebook's "Info and Ads" tool
16. Swiped.co
17. PowerAdSpy
18. Adsova
---
👉 Social media competitors' analysis
You should know that with the right tools on deck, you can spend less effort trying to dig on your competitors and more time actually marketing.
#1. Socialinsider
Socialinsider is a social media analytics tool which serves up a full view of a competitor's digital strategy for Facebook, Instagram & Twitter.
This tool gives you a glimpse of your competitors' content performance, when they post, their engagement metrics, audience growth since the day the page or profile was created, and their overall digital strategy.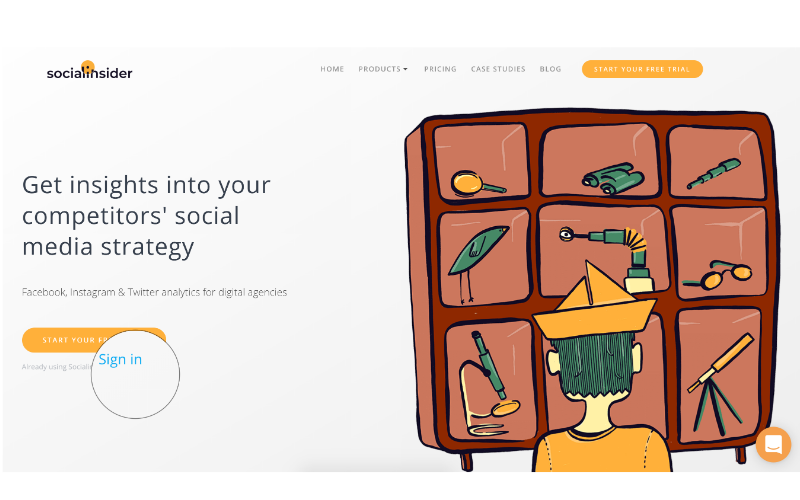 With Socialinsider, you'll get:
Competitor analysis and benchmarking - Analyze your competitors' Instagram profiles and monitor their growth over time.

Access historical data for any Instagram account - Understand why, and how, they've performed over time.

White-label reports - Reporting is essential when it comes to data. This tool gives you clear reports on content performance, engagement and/or hashtags.
#2. Quintly
Quintly is a web-based applications developed to help businesses monitor their social media performance, set benchmarks, and optimize their reach of their social media strategies.
With Quintly, users can also benchmark their figures against their competitors', have it analyzed, and come with more viable, effective plans.
Quintly integrates with Facebook, Twitter, Google+, LinkedIn, YouTube & Instagram, which makes data gathering and analysis of your information and that of your competition fast and easy.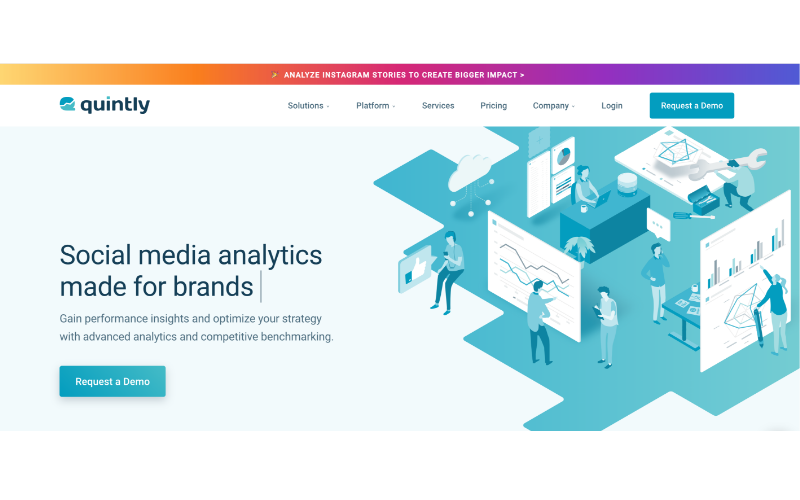 #3. Rival IQ
Rival IQ is a powerful social media analytics software to boost performance, strengthen strategy, and save time.
This tool allows you to enter your company along with your competitors' companies to research website design, social media activity, and search optimization.
Rival IQ offers:
One-stop shopping for all your social stats - All major channels, Facebook and Instagram ads and Google Analytics.
Stay ahead of your competition - Boosted post detection and competitive benchmarking.
Dive deeper into your social performance - Facebook, Instagram and LinkedIn insights.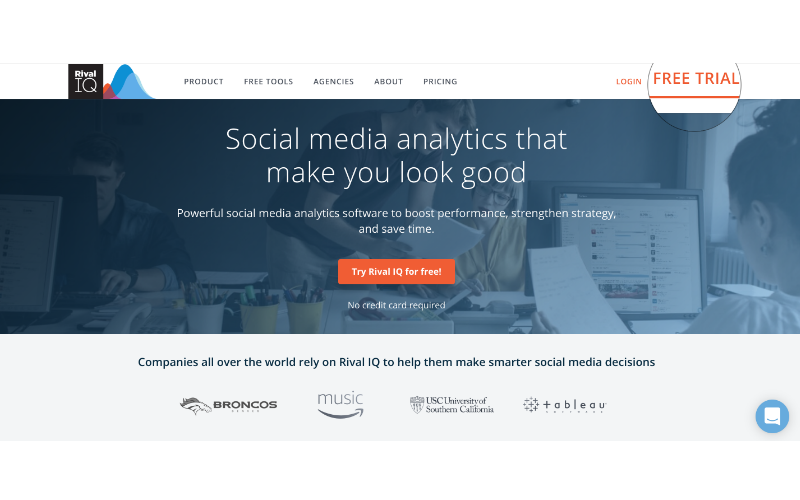 👉 Monitoring competitors' websites
You can learn a lot from the competitive landscape, and with the perfect tools you can see exactly their marketing strategy and make adjustments to your content.
#4. SpyFu
Want to find out your competitor's top keywords and where they are ranking on Google? SpyFu is what you need in this case. This is a competitor analysis tool that helps you research and download your competitors' most profitable keywords.
It shows you the paid keywords that competitors are targeting, as well as the organic search keywords to improve your SEO performance.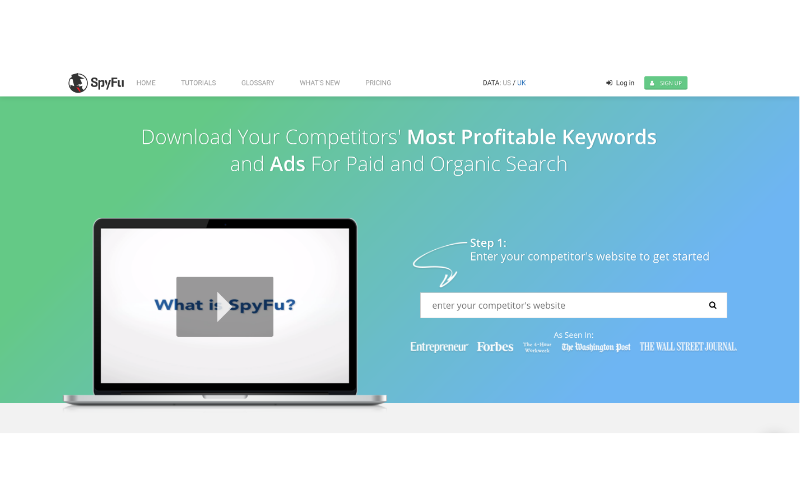 Are you still wonder "what does spyFu do?"
SpyFu exposes the search marketing secret formula of your most successful competitors.
Search for any domain and see every place they've shown up on Google: every keyword they've bought on Adwords, every organic rank, and every ad variation in the last 12 years.
#5. SimilarWeb
SimilarWeb is primarily a competitive analysis tool for digging into a site, app or platform. Top brands use it, because it's versatile and provides one of the most accurate insight sets about any given site.
SimilarWeb: "We empower you with the insights you need to win your market.
SimilarWeb gives you global multi-device market intelligence to understand, track and grow your digital market share."
This tool is recognized as the industry standard in market intelligence, with the world's greatest database of digital behavior.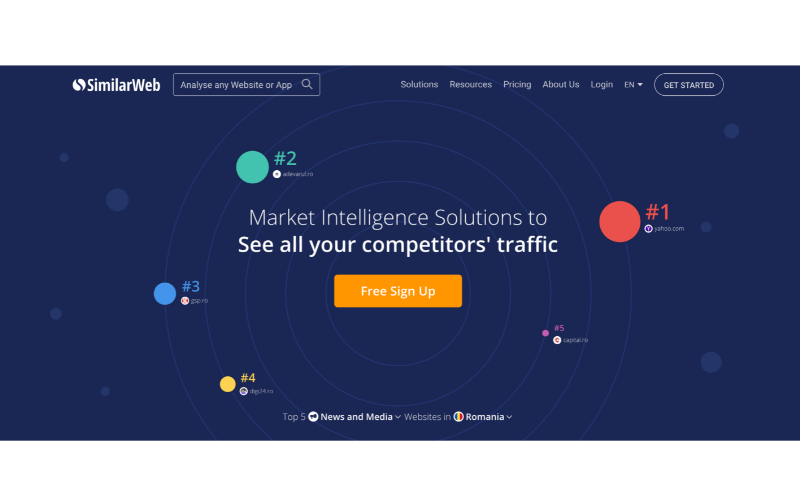 #6. QuickSprout
It doesn't matter how valuable your products and services are. Without the right kind of traffic, you'll fail, and no one wants that.
Blogging is a powerful traffic and sales driver, but it requires you to create the kind of high-quality content that'll attract search users, social media fans and your target audience.
Use the QuickSprout competitor analysis tool to learn about sites similar to yours and figure out how to outrank them.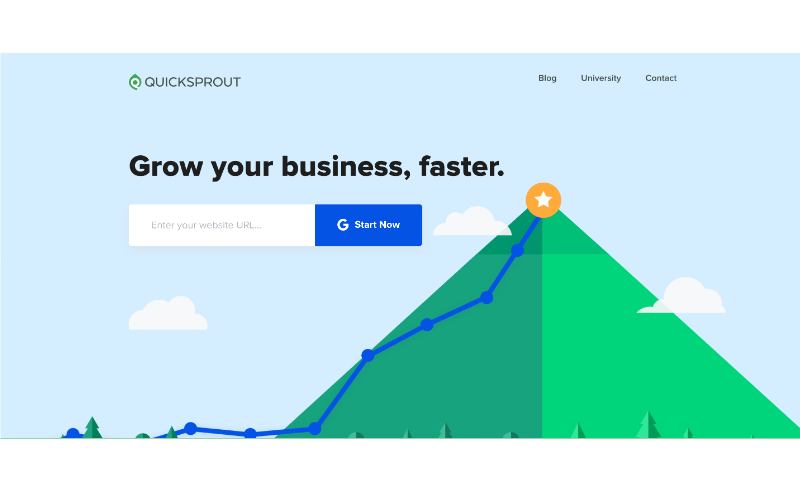 #7. Keyword Competitor
Keyword Competitor is an all-in-one competitive analysis tool that shows you keyword opportunities that your competitors have been ignoring.
With the deep insights that you'll collect from the competitors, you can create multimedia content.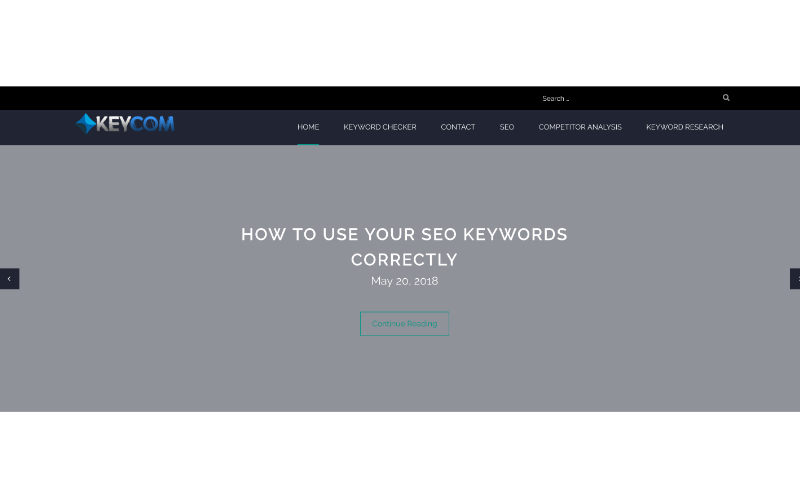 When you use Keyword Competitor, you can achieve these things:
Discover your competitor's organic keyword phrases and paid keywords
Get to know what's happening to your competitor's ads
Create your settings and get email notifications when competitors' campaigns are performing better than yours. Email notifications are important as 82% of US workers check their work email at least every few hours outside of normal work hours.


👉 Brand monitoring tools
It's important to always know what people are saying about you -- whether it's your customers, your competitors, or the press. Reputation is everything. And on the internet, that couldn't be more true.
#8. Brand24
Brand24 serves as your social media listening post so you get to be aware what people are talking regarding your product, brand, business, and industry. This is crucial especially today when most people are on social media.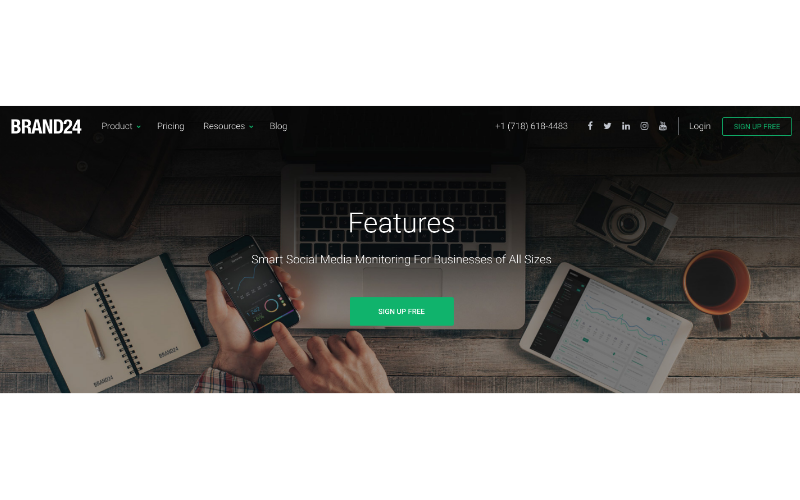 Brand24 benefits
Uncover what the public is saying and take action
Spot issues at the onset
Identify top influencers for your brand
Get vital analysis and statistics
#9. Mention
Mention is a platform that is specialized in different types of business monitoring activities over the web. Mention is able to monitor billions of sources, providing a vast and rich source of information for businesses.
Marketers can utilize this platform to identify and tap influencers who can drive interest to their brands while being able to monitor how the brand performs through generated reports.
All mentions are consequently segregated by source type, date, location, sentiment, language, and nfluence.
#10. BrandMentions
If you have a business monitoring your brand is one essential step.BrandMentions in monitoring for you the most important channels on the web and social media.
BrandMentions:"We dig every corner of the internet to find all the relevant mentions about anyone or anything"
This tool keeps you up to date with everything that matters in your niche and in your company.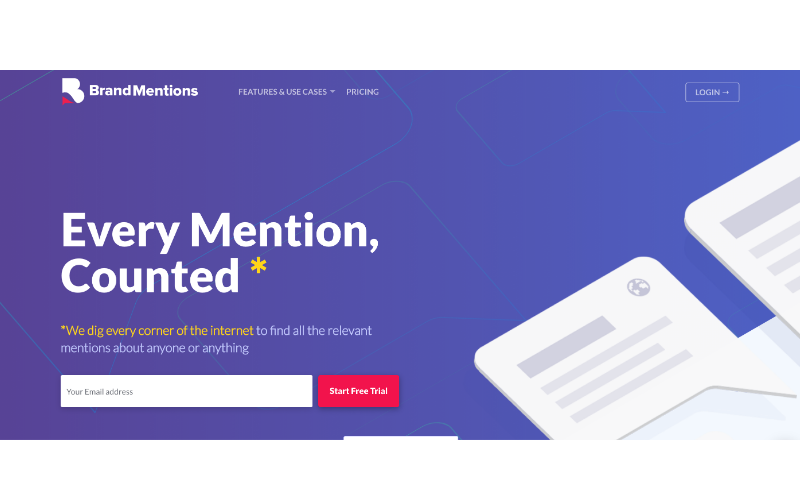 👉 Monitoring competitors' seo tactics
It doesn't matter what industry you're in, you should keep track of your main competitors.
#11. Ahrefs
Ahrefs is a toolset for backlinks and SEO analysis. With this tool, you can analyze your site's backlinks profile and the websites of your competitors. Also, you can explore most profitable keywords for organic and paid search in your niche.
Ahrefs: "We have data for ~240 Million keywords in the United States alone (+ over 100 more countries)"
You'll be notified of new & lost backlinks, web mentions, and keywords rankings.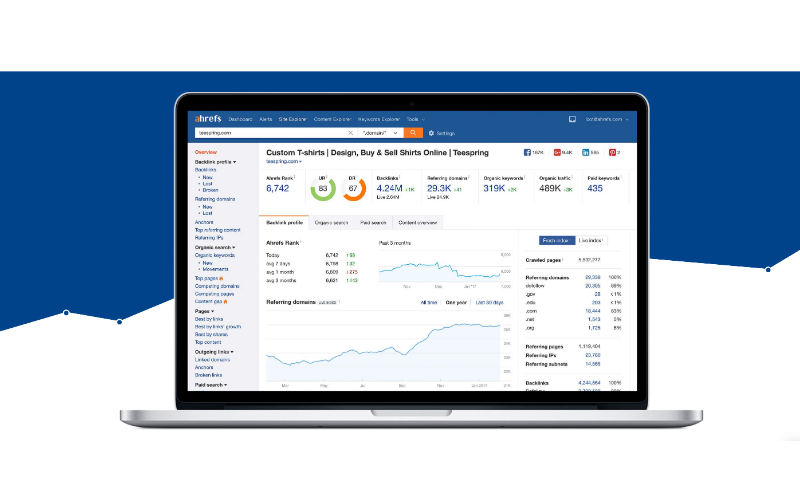 With Ahrefs you'll be able to see the exact keywords that your competitors are ranking for in organic search results and how much traffic this brings them.
However, if it doesn't seem like the option for you, there are plenty of Ahrefs alternatives you can look into.
#12. SEMrush
SEMrush is an SEO tool that does your keyword research, tracks the keyword strategy used by your competition, runs an SEO audit of your blog, looks for backlinking opportunities and lots more.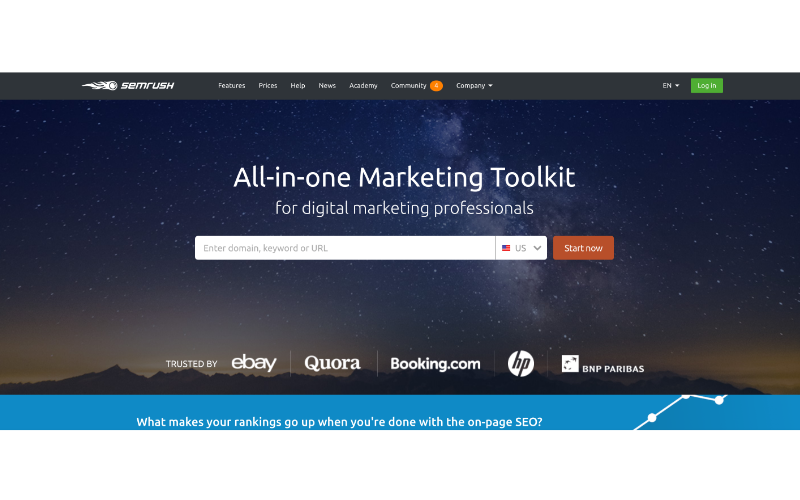 With SEMrush, you will get:
More effective keyword research
Comparative competitive intelligenc
Keyword opportunities
Past and current rankings
Advertising opportunities
Guest blogging strategy
#13. Serpstat
Serpstat: "We create the product that increases a search marketing specialist's productivity and allows business to outpace competitors and get high income"
Serpstat is a tool which offers search engine optimization (SEO) services, such as keyword research and backlink analysis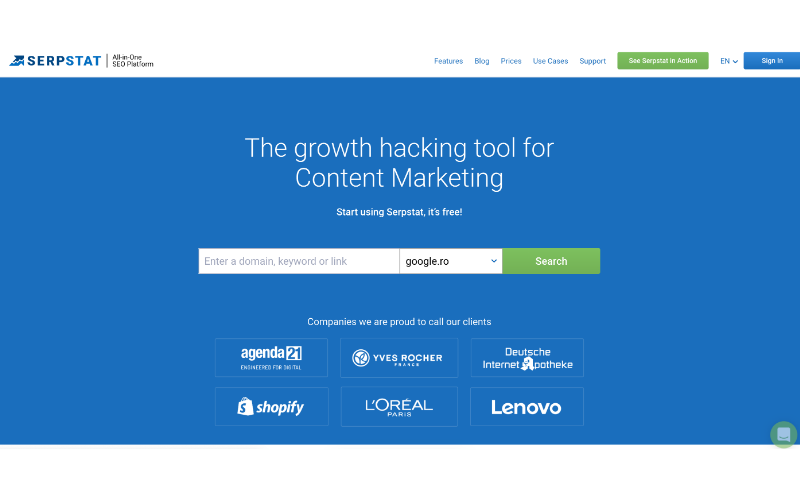 #14. Nightwatch
Nightwatch is an SEO tool which offers keyword tracking, backlink monitoring, reporting and site auditing.
It connects data from Google Analytics and Google Search Console so you can track all your data in one place.
👉 Monitoring competitors' ads
Do you want to spy your competitor's Facebook ads? You can also use one of these tools:
#15. Facebook's "Info and Ads" tool
Transparency became Facebook's priority, and with the help of this tool, you can see the running ads that your competitors are running.
#16. Swiped.co
Swiped.co is the go-to resource for marketers, copywriters & savvy business minds who want profitable inspiration for their next big promotion or marketing campaign.
#17. PowerSpy
PowerAdSpy is an excellent database of Facebook advertisements which provides best solutions to media buyers, advertisers, ad agencies, and not only to spy on their competitor's Facebook Ads.
#18. Adsova
Adsova is a database with designs for ads campaigns. Searching through, you'll get sidbar ads or access to newsfeed.
👉Continue reading: Social Media Competitive Analysis Playbook (Free Template Included
Final thought
It doesn't matter what industry you're in, keeping track of your top competitors shapes your strategy and defines your communication guidelines.
Your turn. What tools do you have in your arsenal?
Report and analyze social media performance for multiple business profiles from one dashboard with Socialinsider! Create social media benchmarks for your clients or industry, generate .pdf or .ppt reports, and automatically send them to clients. - *For users on an Agency plan.
---
Related articles: