Social media has changed in the last few years, millions of people are engaging on social media sites like Facebook, Instagram, Twitter, LinkedIn, or TikTok.
Social media gives you the possibility to personalize your brand and helps you spread your message with no boundaries, and social media tools help you learn how to package that message for your audience.
There are many competitors' analysis tools on the market, and each of them can offer relevant insights to particular niches.
In this article, I will share a list of tools for competitors' research for areas like social media, website, brand awareness, and SEO tactics.
Let's take a look!
Social media tools you should try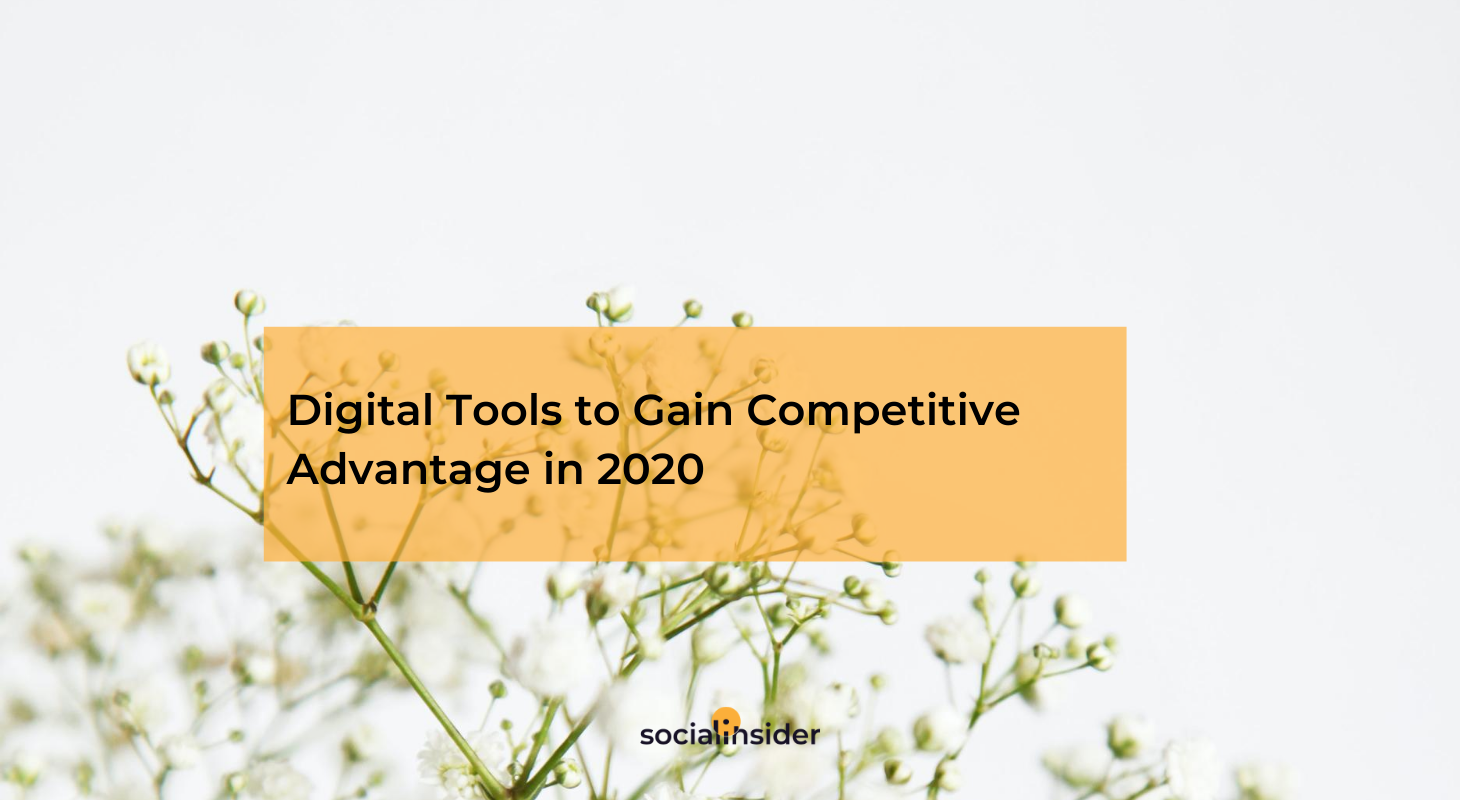 1. Social Media Competitors' Analysis Tools
With the right tools, you should know that you can spend less effort trying to dig on your competitors and more time actually marketing.
Socialinsider is a social media competitive benchmarking, analytics, and reporting tool that provides a full view of your competitor's digital strategy for Facebook, Instagram, YouTube, Twitter & TikTok.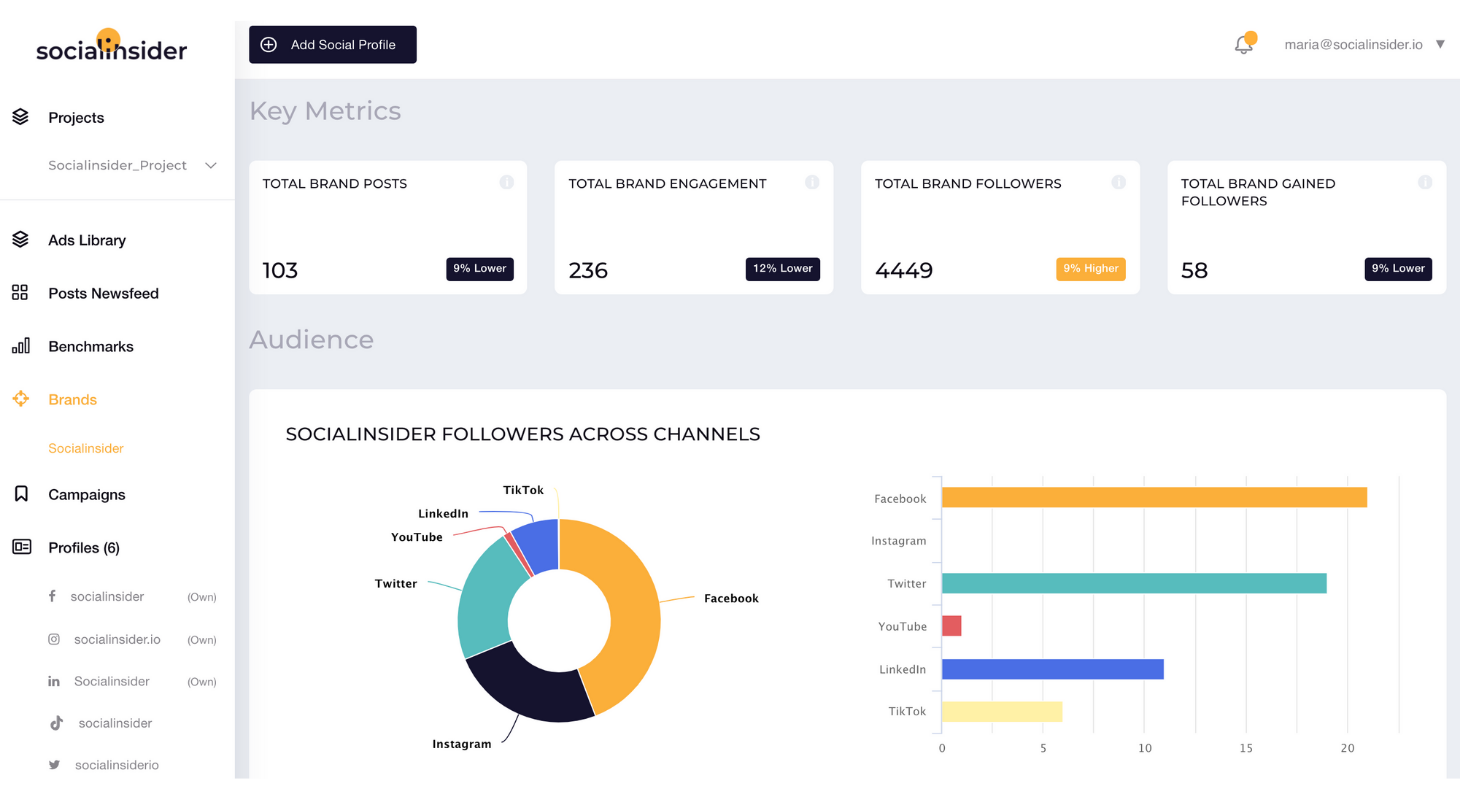 This tool gives you a glimpse of your competitors' content performance, when they post, their engagement metrics, audience growth, and their overall digital strategy.
You can analyze photos and video posts, plus Facebook Live videos so that you can adjust and improve your future content.
You can create branded reports with your logo and brand colors and download them as PPT and PDF, and share them with your clients.
Pricing: Starts at $83/mo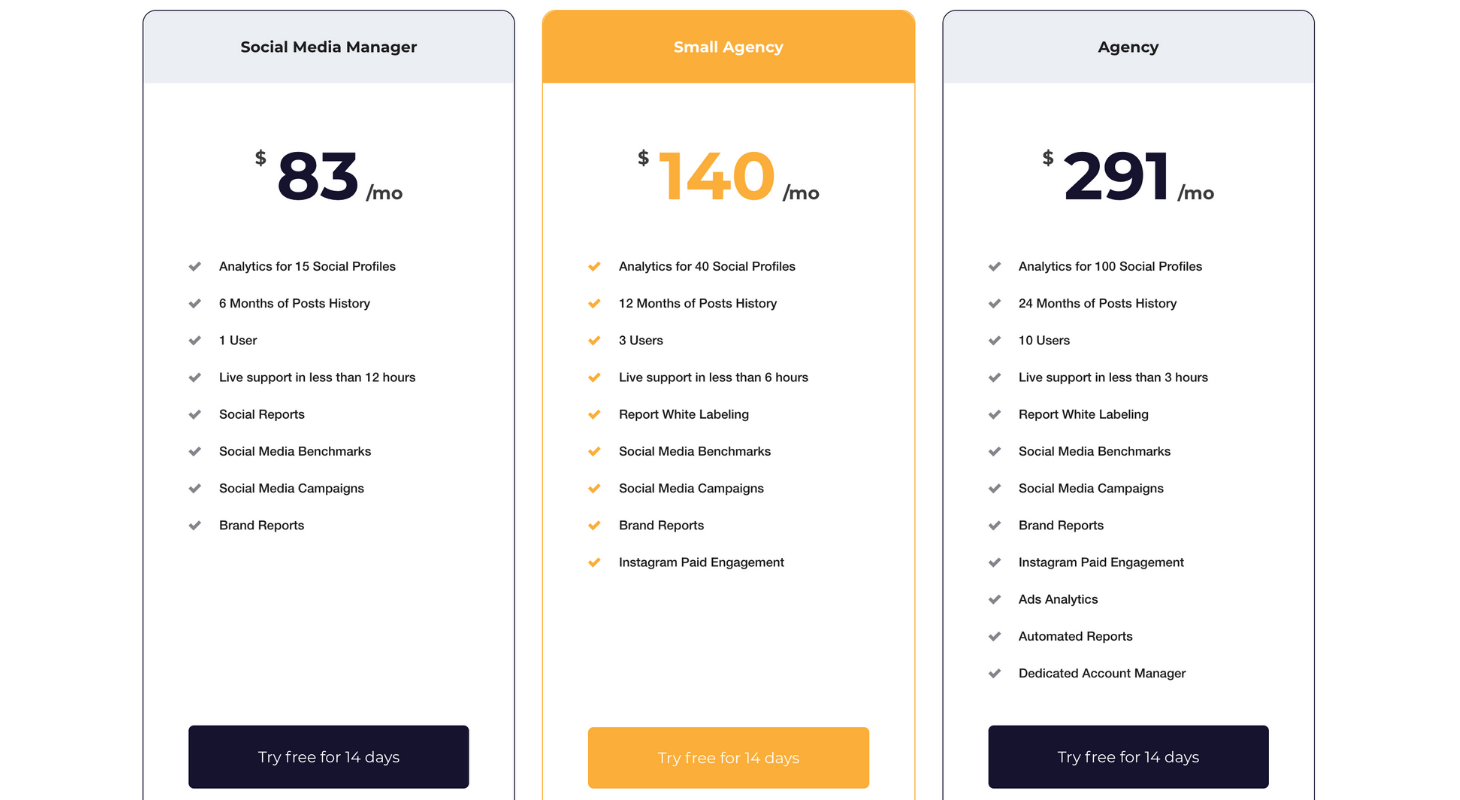 Quintly is a web-based application developed to help businesses monitor their social media performance, set benchmarks, and optimize their social media strategies' reach.
With Quintly, users can also benchmark their figures against their competitors', have it analyzed, and come with more viable, practical plans.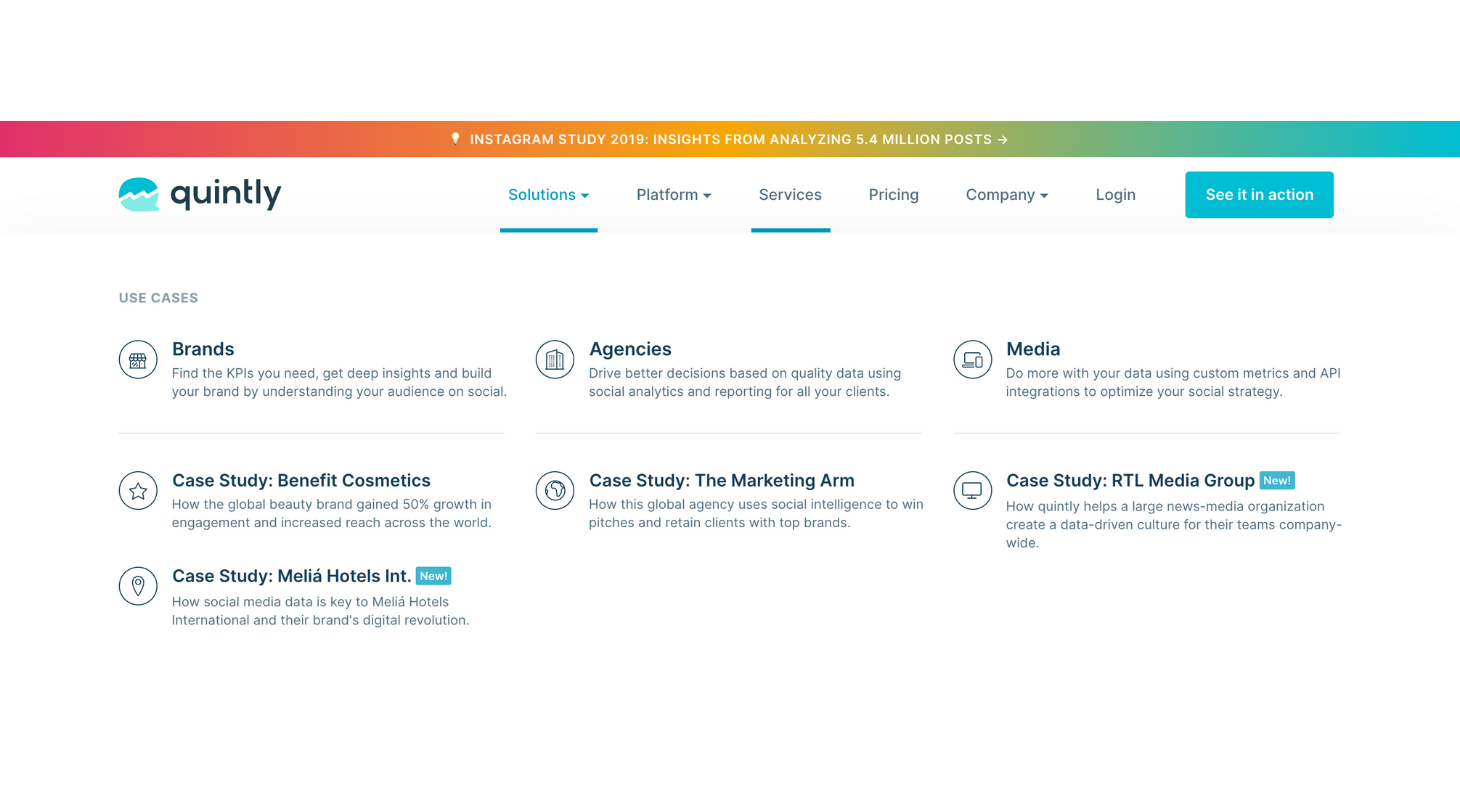 Quintly integrates with Facebook, Twitter, Google+, LinkedIn, YouTube, Instagram & Snapchat, which makes data gathering and analysis of your information and your competition fast and easy.
Pricing: Custom plans start at just €300/mo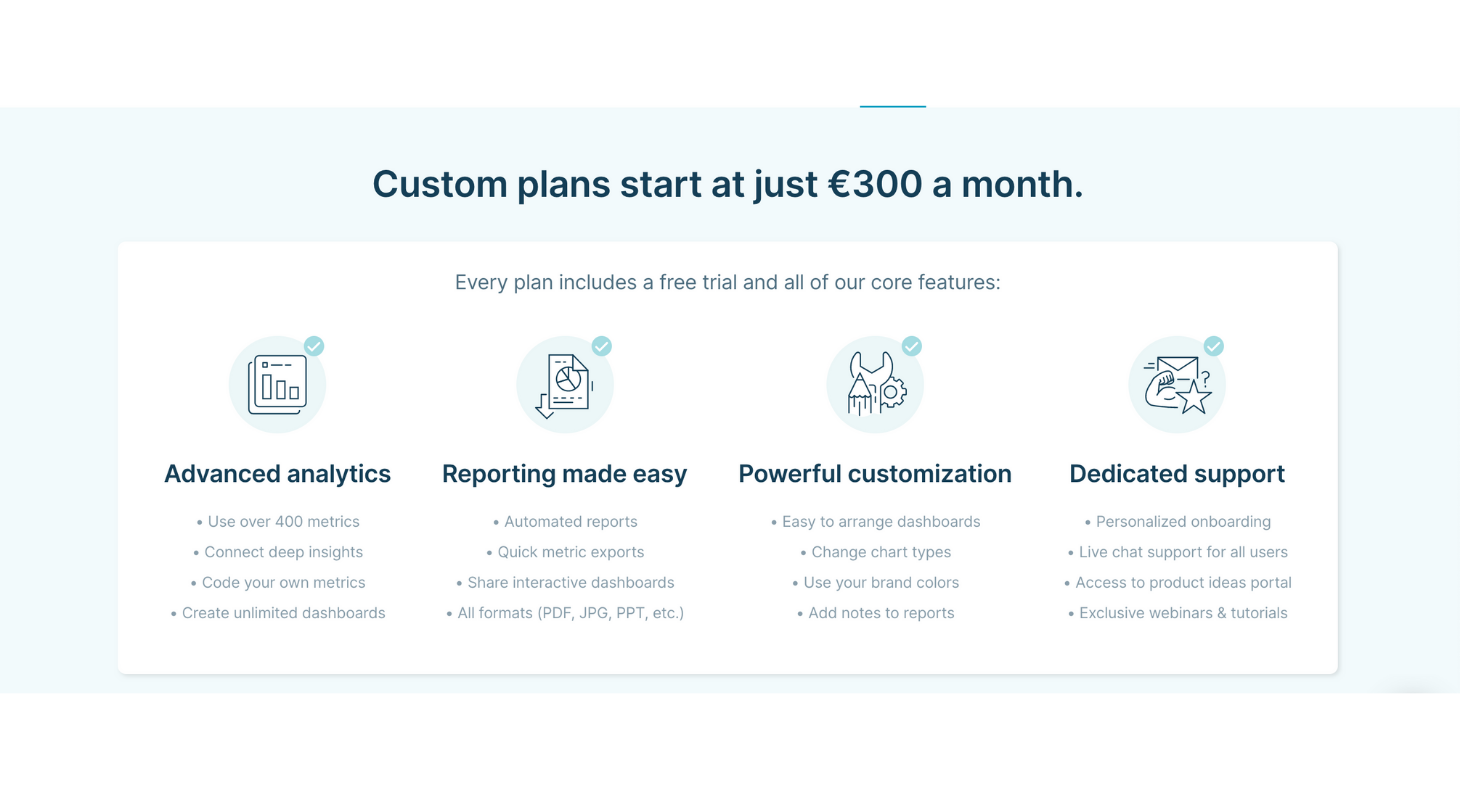 Rival IQ is a powerful social media analytics software to boost performance, strengthen strategy, and save time.
This tool allows you to enter your company and your competitors' companies to research website design, social media activity, and search optimization.
Pricing: Starts at $199/mo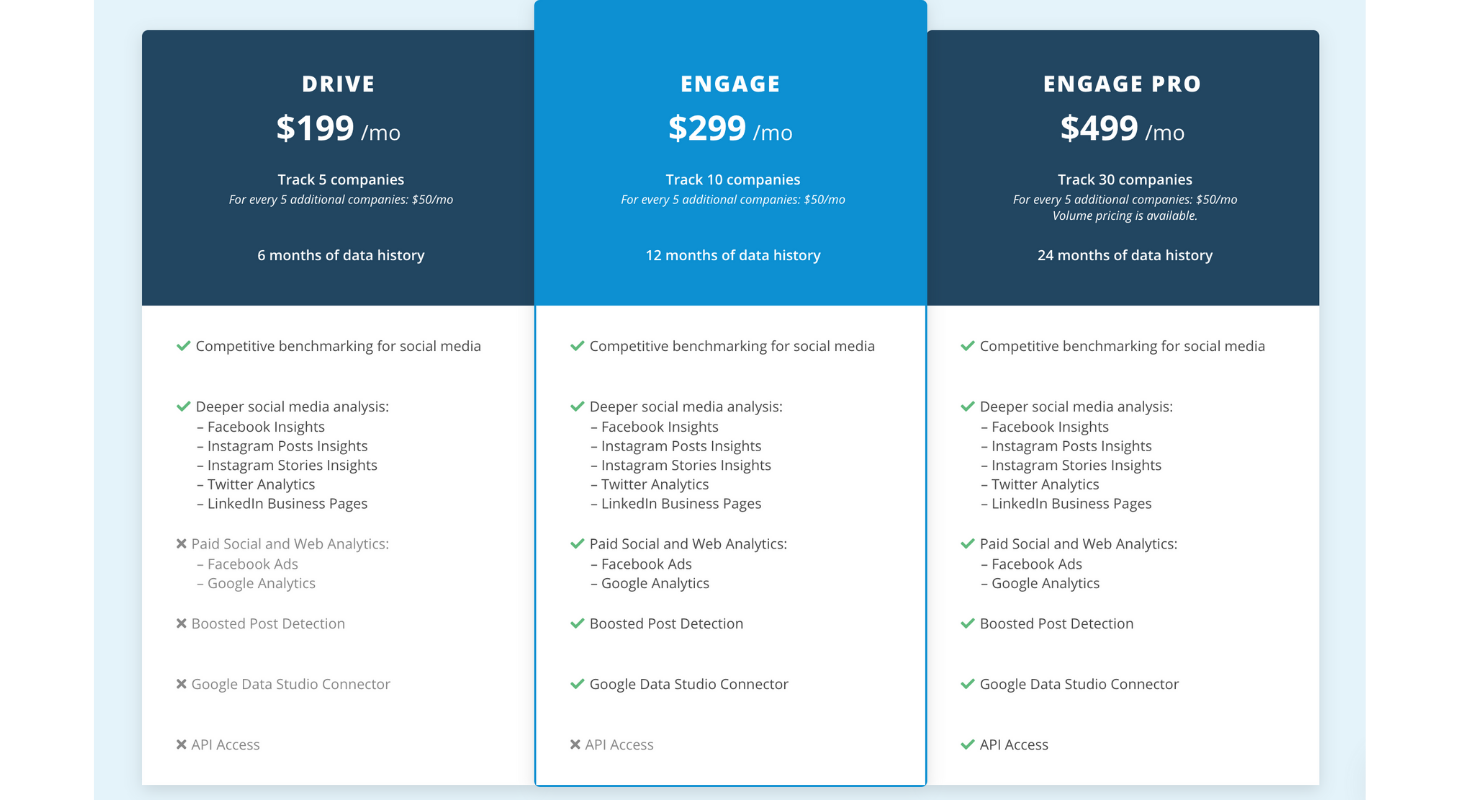 2. Monitoring Competitors' SEO Tactics
You can learn a lot from the competitive landscape, and with the perfect tools, you can see exactly their marketing strategy and make adjustments to your content.
Ahrefs is a toolset for backlinks and SEO analysis. With this tool, you can analyze your site's backlinks profile and the websites of your competitors. Also, you can explore the most profitable keywords for organic and paid searches in your niche.
You'll be notified of new & lost backlinks, web mentions, and keywords rankings.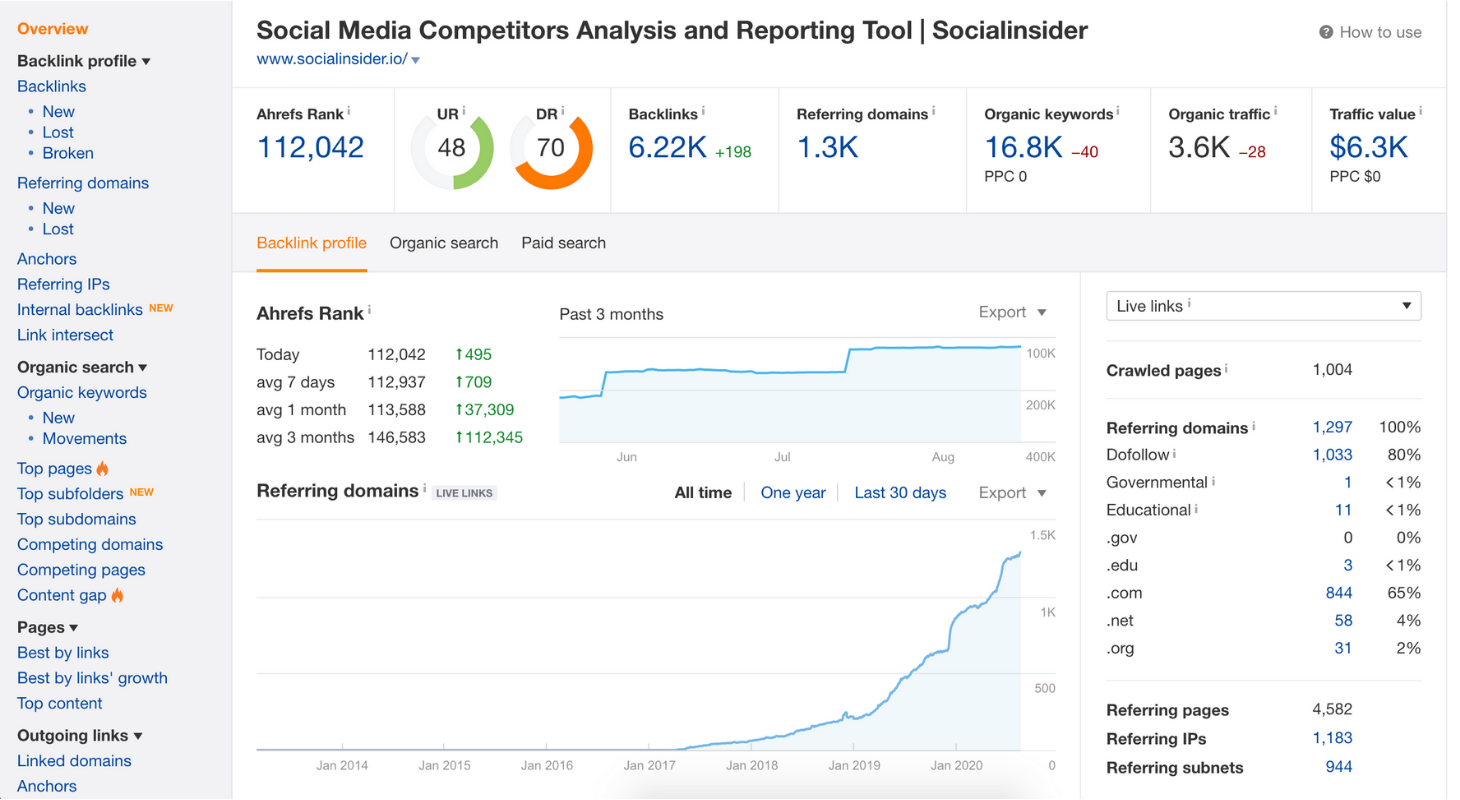 With Ahrefs you'll be able to see the exact keywords that your competitors are ranking for in organic search results and how much traffic this brings them.
Pricing: Starts at $99/mo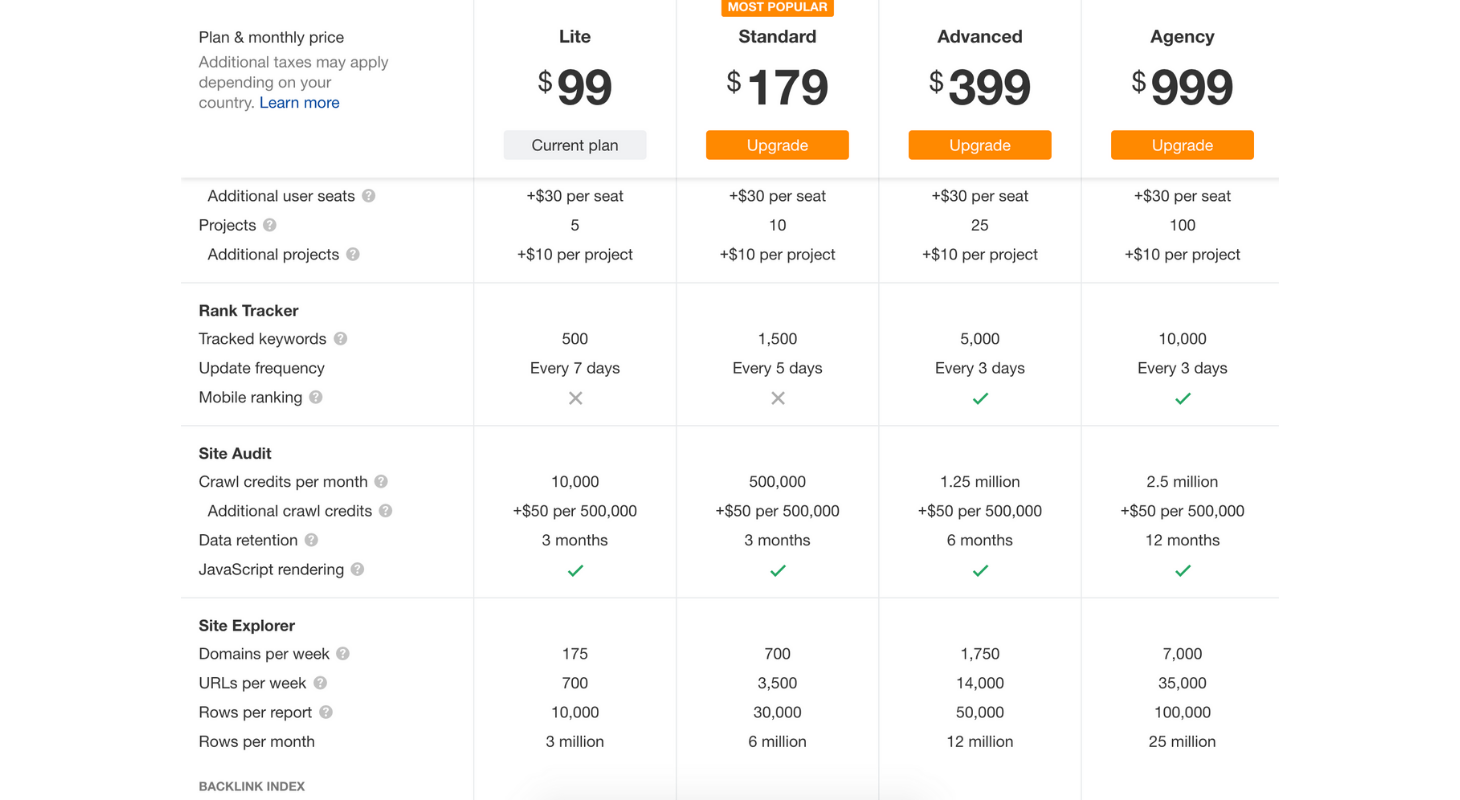 SEMrush is an SEO tool that does your keyword research, tracks the keyword strategy used by your competition, runs an SEO audit of your blog, looks for backlinking opportunities, and lots more.
With this tool, you can get analytics for Twitter, Facebook, Instagram, Pinterest, LinkedIn, and YouTube.
Pricing: Starts at $99/mo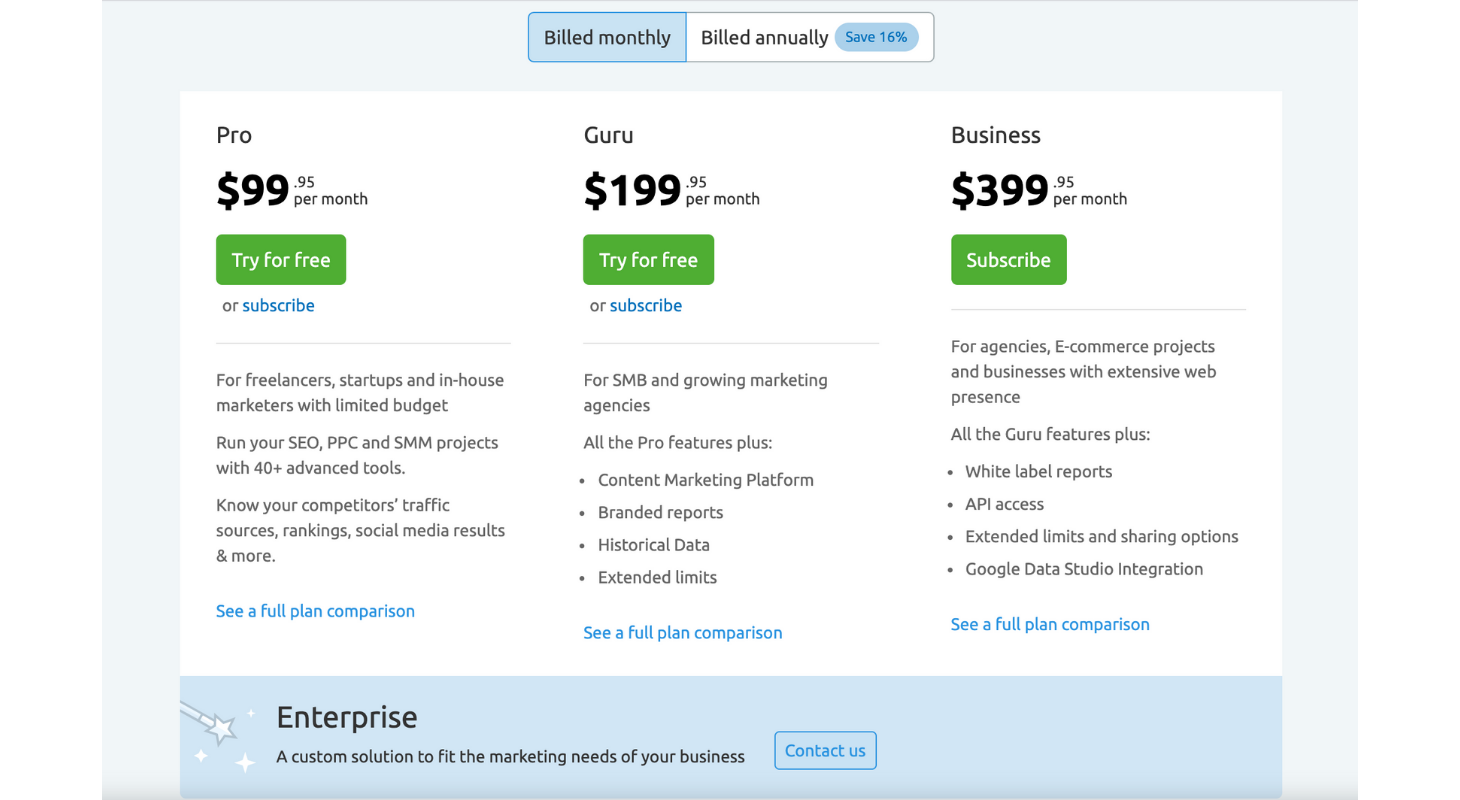 It doesn't matter how valuable your products and services are, without the right kind of traffic, you'll fail, and no one wants that.
Blogging is a powerful traffic and sales driver, but it requires you to create the kind of high-quality content that'll attract search users, social media fans, and your target audience.
Use the QuickSprout competitor analysis tool to learn about sites similar to yours and figure out how to outrank them.
We're here to help you grow your business online and get more traffic.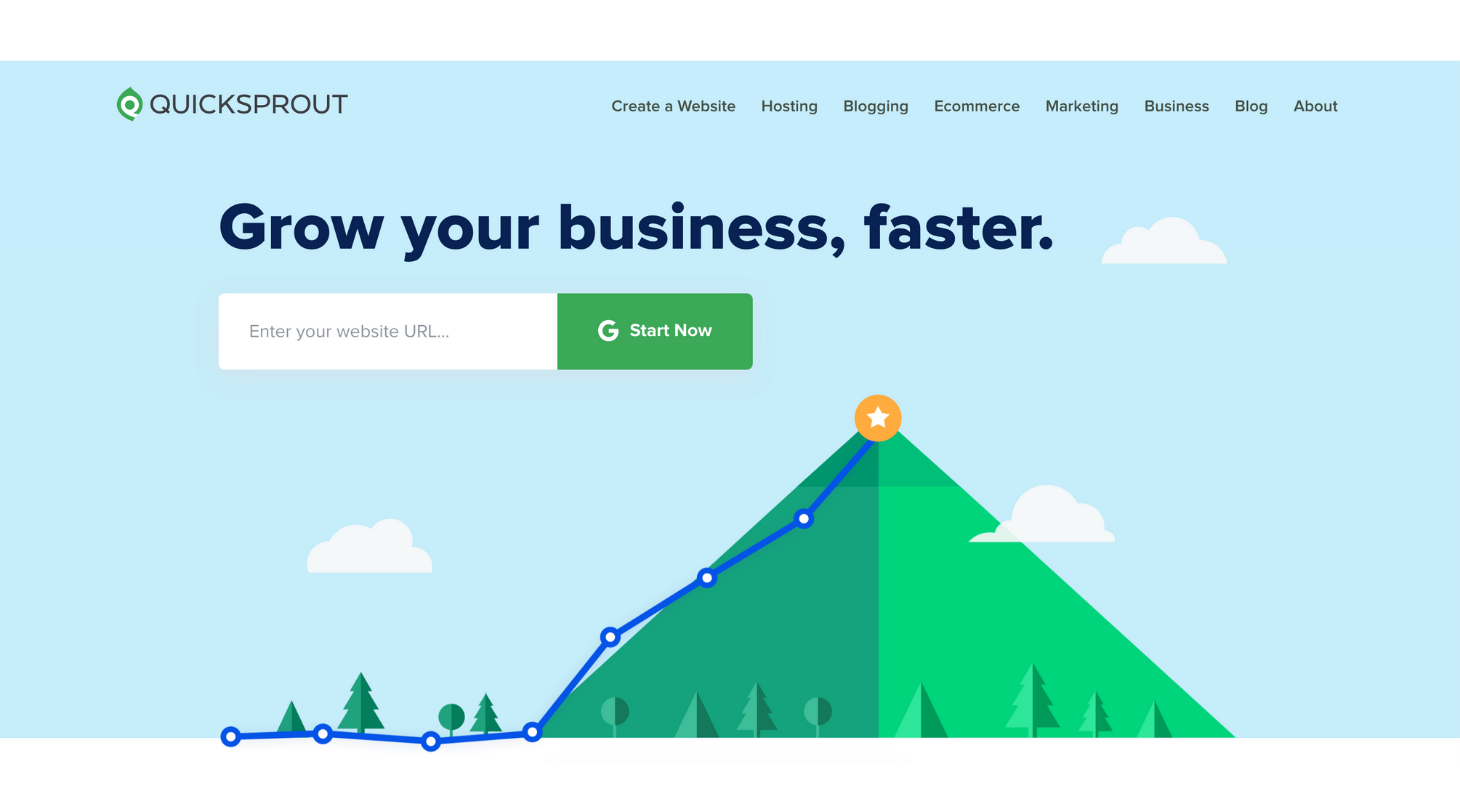 Want to monitor backlinks?
Open Site Explorer is a popular and easy-to-use tool from Moz that will help you do this.
You can check out what links your competitors have, compare their link profiles with your links, and boost link building strategies.
With Moz you can audit your on-page SEO and get recommendations to boost rankings, get insights to help you attract quality, authoritative links and more.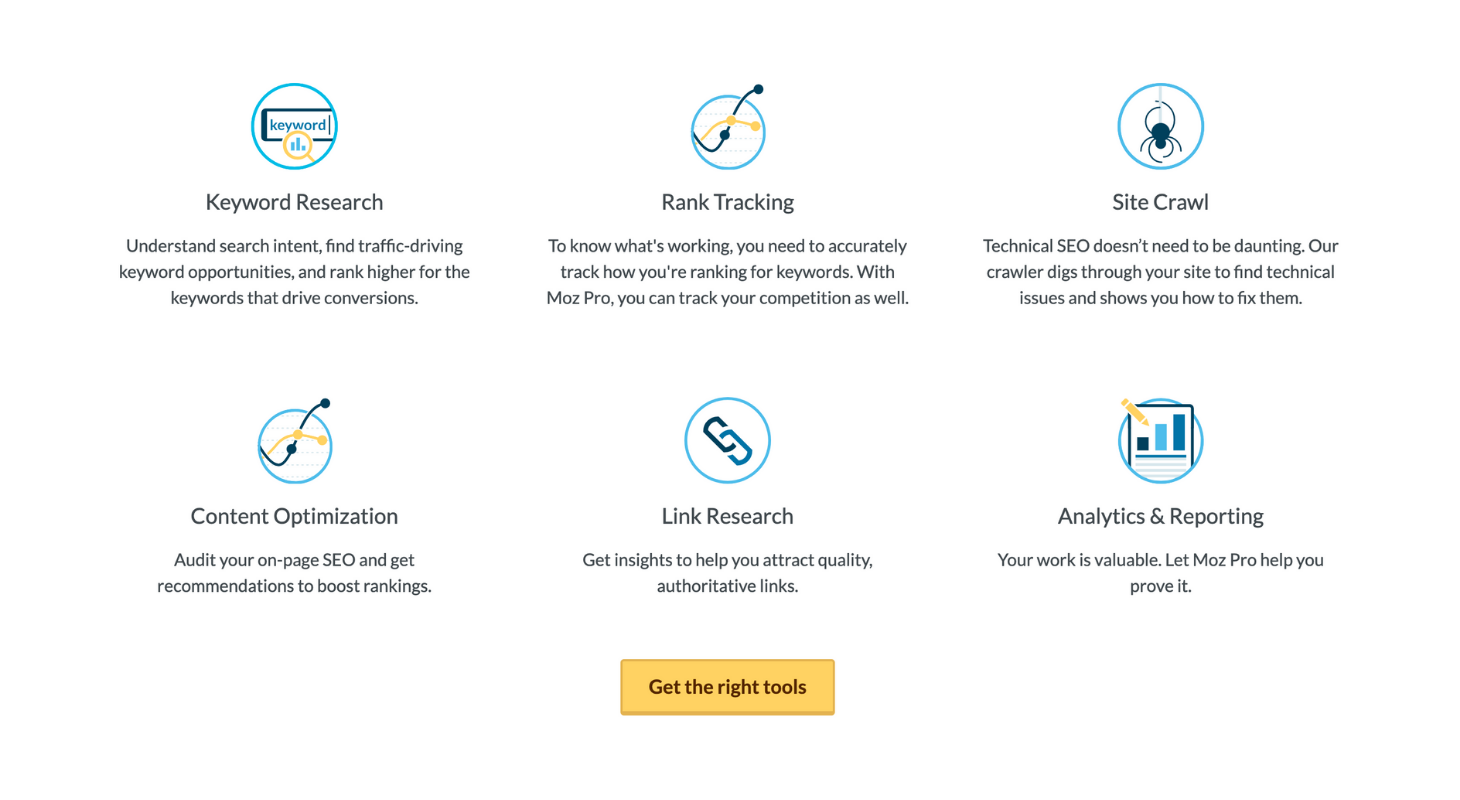 3. Brand monitoring tools
It's important always to know what people are saying about you -- whether it's your customers, your competitors, or the press. Reputation is everything. And on the internet, that couldn't be more true.
Brand24 serves as your social media listening post, so you get to be aware of what people are talking regarding your product, brand, business, and industry. This is crucial, especially today, when most people are on social media.
Get instant access to brand mentions across social, news, blogs, videos, forums, podcasts, reviews and more.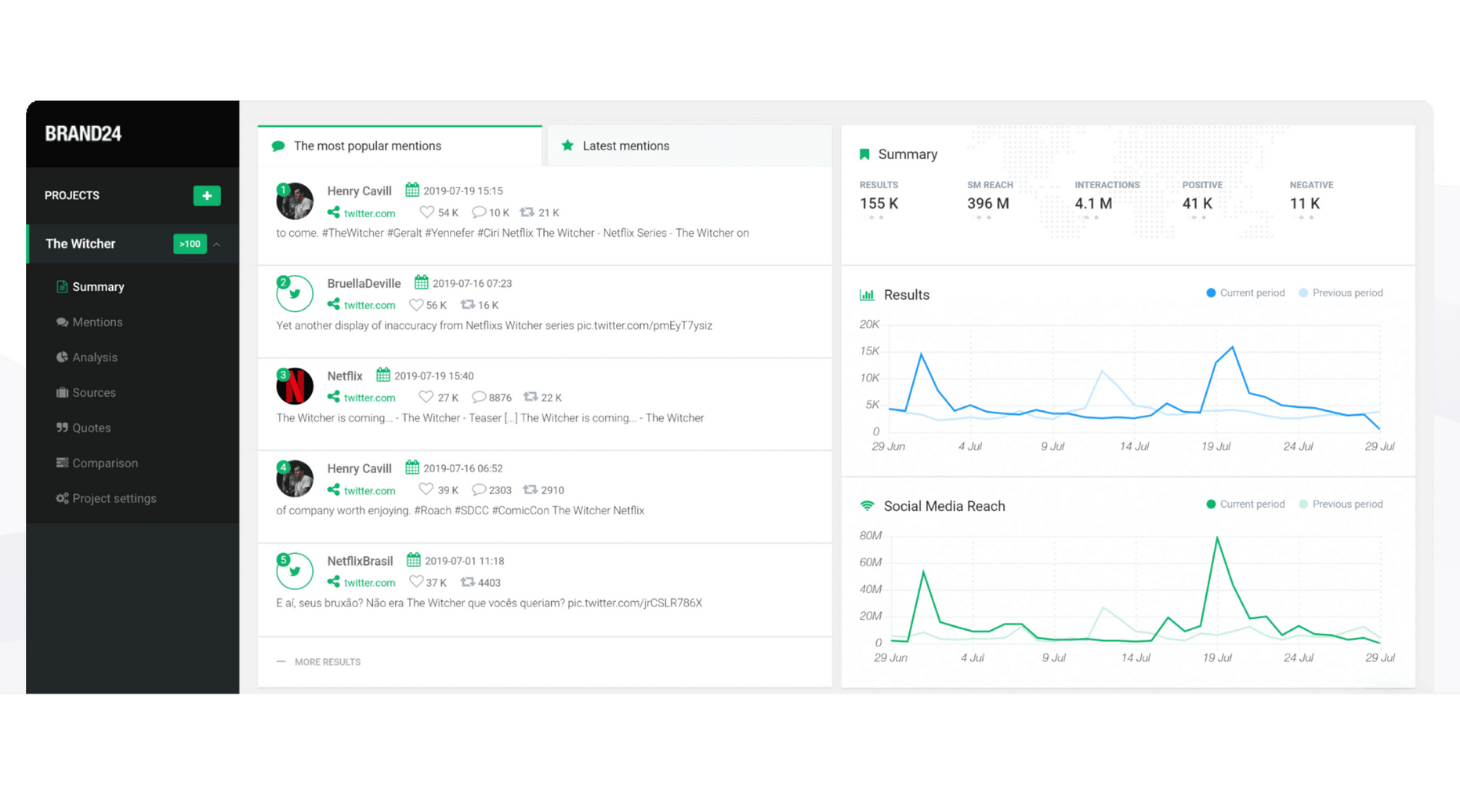 Mention is a platform that enables brands and agencies to monitor the web, listen to their audience, and manage social media accounts.
Mention can monitor billions of sources, providing a vast and rich source of information for businesses.
Marketers can utilize this platform to identify and tap influencers who can drive interest to their brands while being able to monitor how the brand performs through generated reports.
With this tool, you can connect with your audience across social media and grow your online presence. Quickly draft, schedule, and publish posts from multiple channels.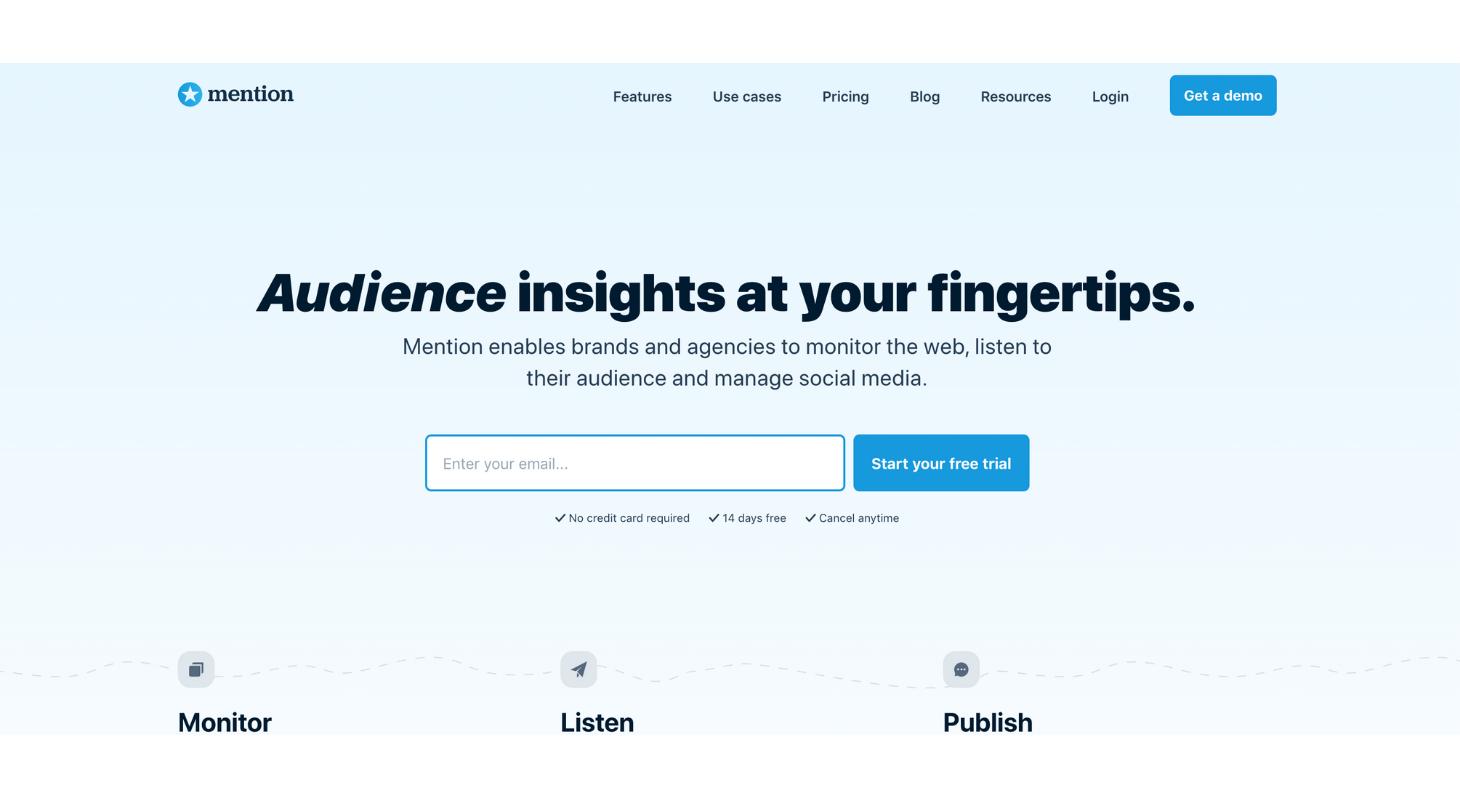 Pricing: For 250 mentions the tool is free, or you can choose the Solo plan for $25/mo
4. Native Social Analytics
If you don't want to use one of the above analytics tools, you should know that each social network has its free analytics tools.
Let's take a quick look at what you get.
If you want to see how people are engaging with your Facebook posts, access Facebook Insight. From here, you'll be able to see metrics like:
Actions on Page: see what actions people are taking on your Page. Maybe visiting your site, contact info's or clicking on your call-to-action button.
Reach and engagement: find how many people saw your posts and who liked, shared, and commented on them.
Views: see how many people view your Facebook Page and what segments they're most interested in.
Videos: the number of times your videos played for at least 3 seconds
Page followers: the number of people who have followed your page.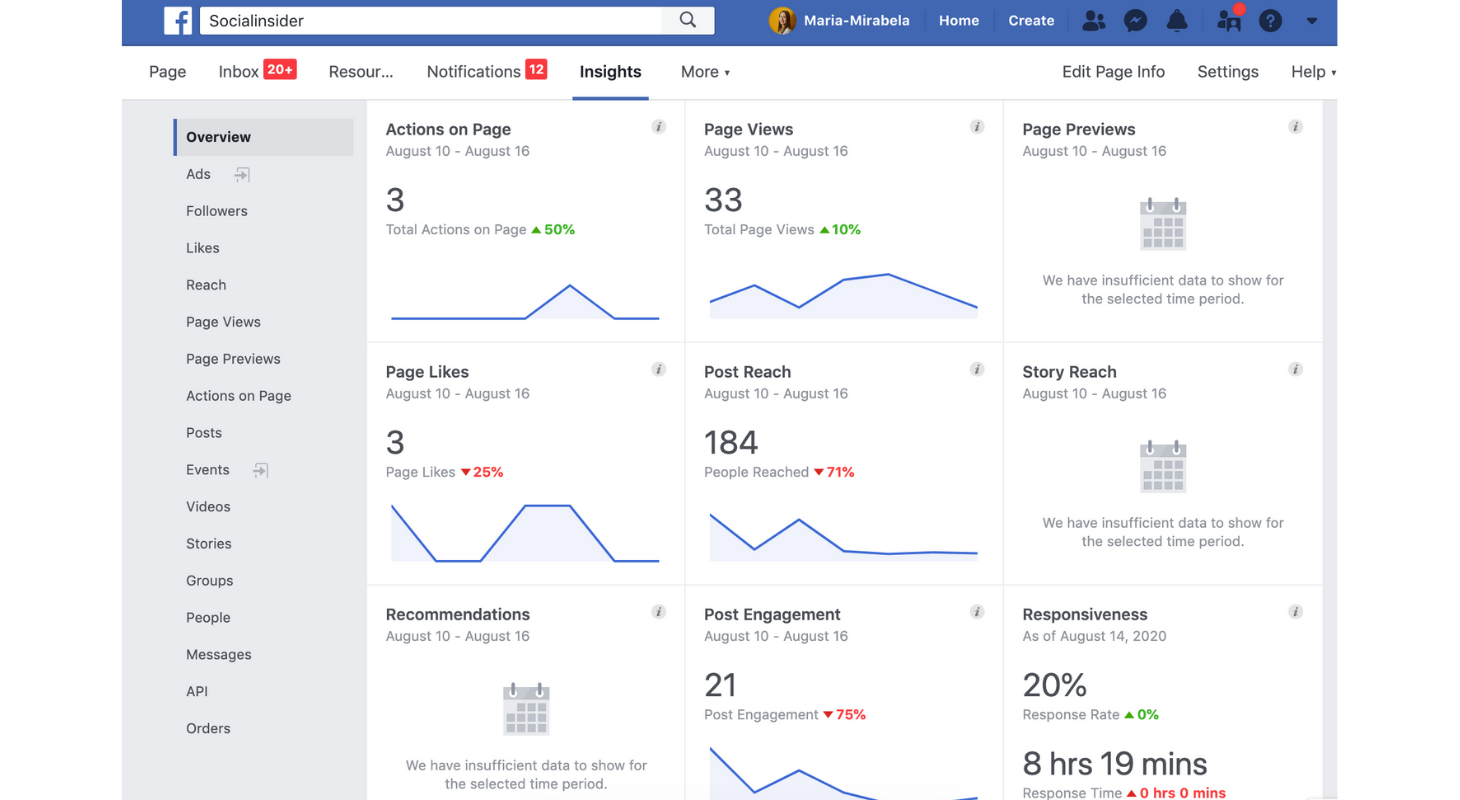 Note! You can see your Facebook Page summary for the last 7 or 28 days. If you want to see more data, you should use an analytics tool.
You can also export your Facebook Insights Data.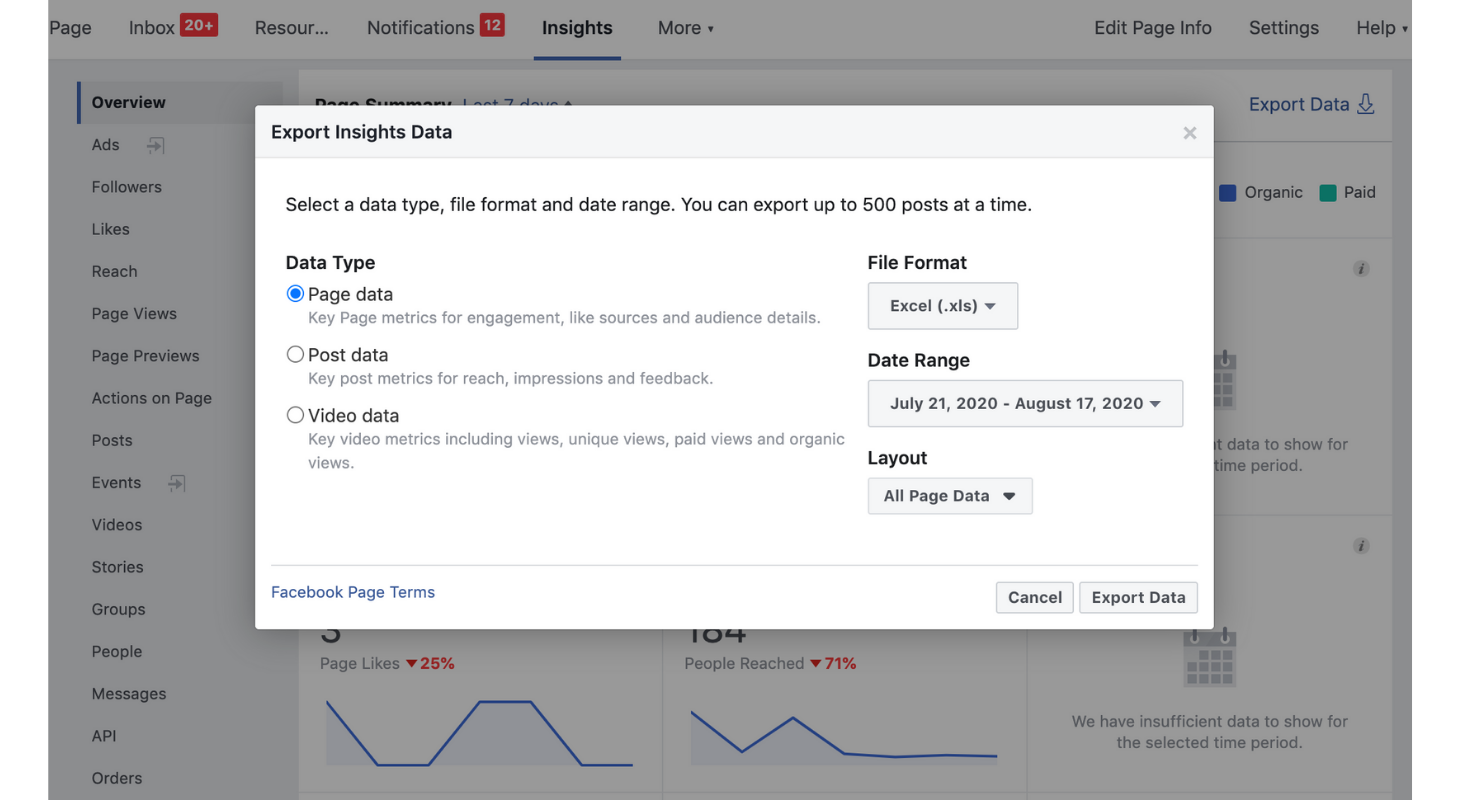 In order to view this data, you'll need to switch over to an Instagram Business account. In case you don't know the steps, here you can find them.
After you make to switch, here are the Instagram metrics you'll be able to see:
Content insights
Overview: from here you'll see the total number of posts and stories you created in a week
Posts: your posts, ordered by number of times that they were seen
Stories: your active stories
Activity insights
Reach: the number of unique accounts that have seen any of your posts
Impressions: the total number of times that all your posts have been seen
Interactions: actions that people take when they engage with your account like profile visits and website clicks
Audience insights
Growth: how many accounts followed you in your selected time frame and how many unfollowed you
Top locations: the placed where your followers are concentrated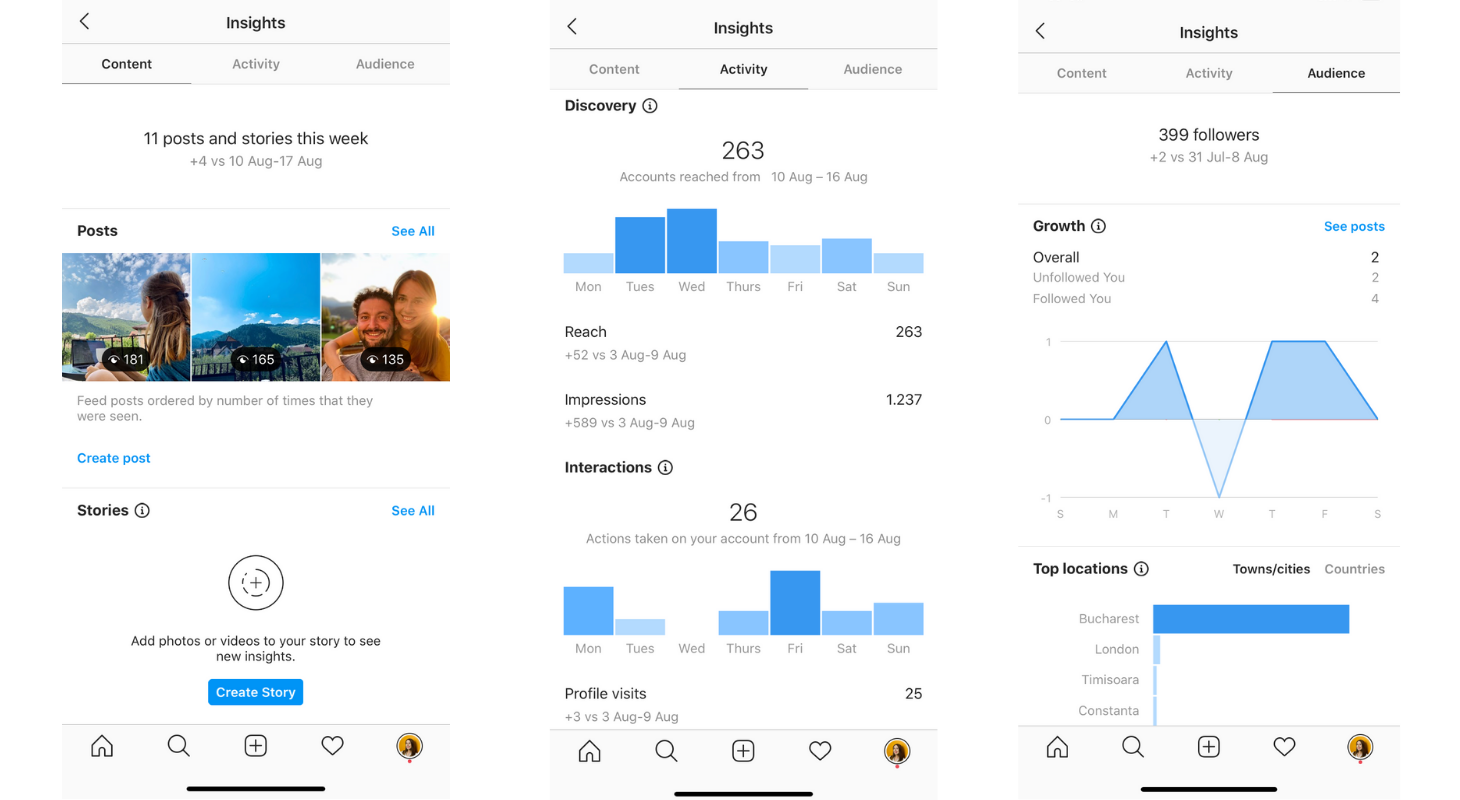 Twitter Analytics provides data on your overall account performance and individual Tweets:
Home: you'll see your total Tweets, Impressions, Profile visits, Mentions, and Followers.
Tweets: Metrics for every one of your Tweets, including Impressions, Retweets, Likes, and Replies.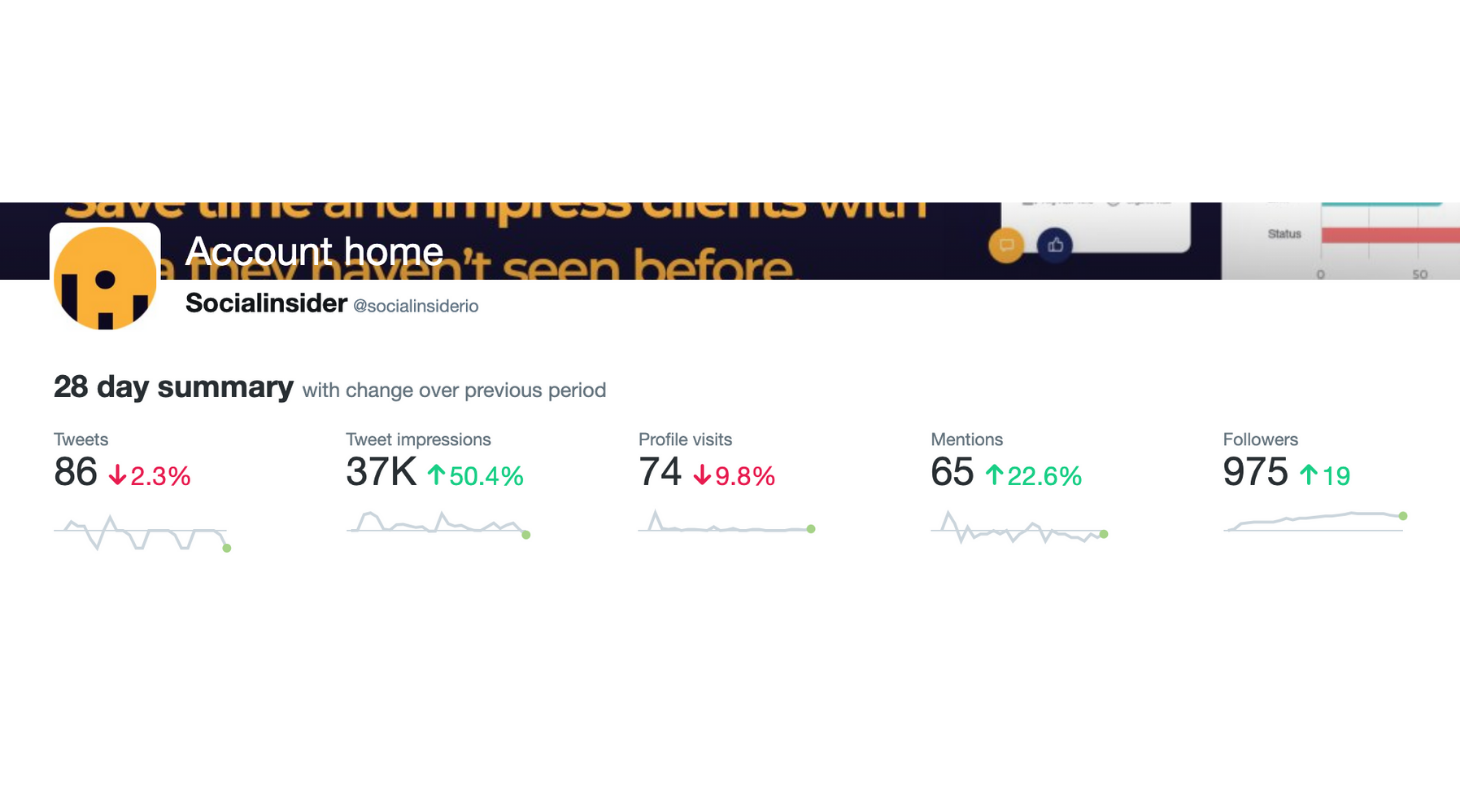 The first thing you should do if you want to have access to your TikTok analytics is to switch to a Pro account. If you don't know how to do this, here are some simple steps you should follow.
Video views: see the total number of times your videos were viewed
Profile views: this metric is divided by day and shows how many times your TikTok profile was viewed over the past seven days.
Interactions: your total number of comments, likes, and shares
Followers: this metric will show you how many followers you've gained or lost every week
Gender: the total distribution of followers by their gender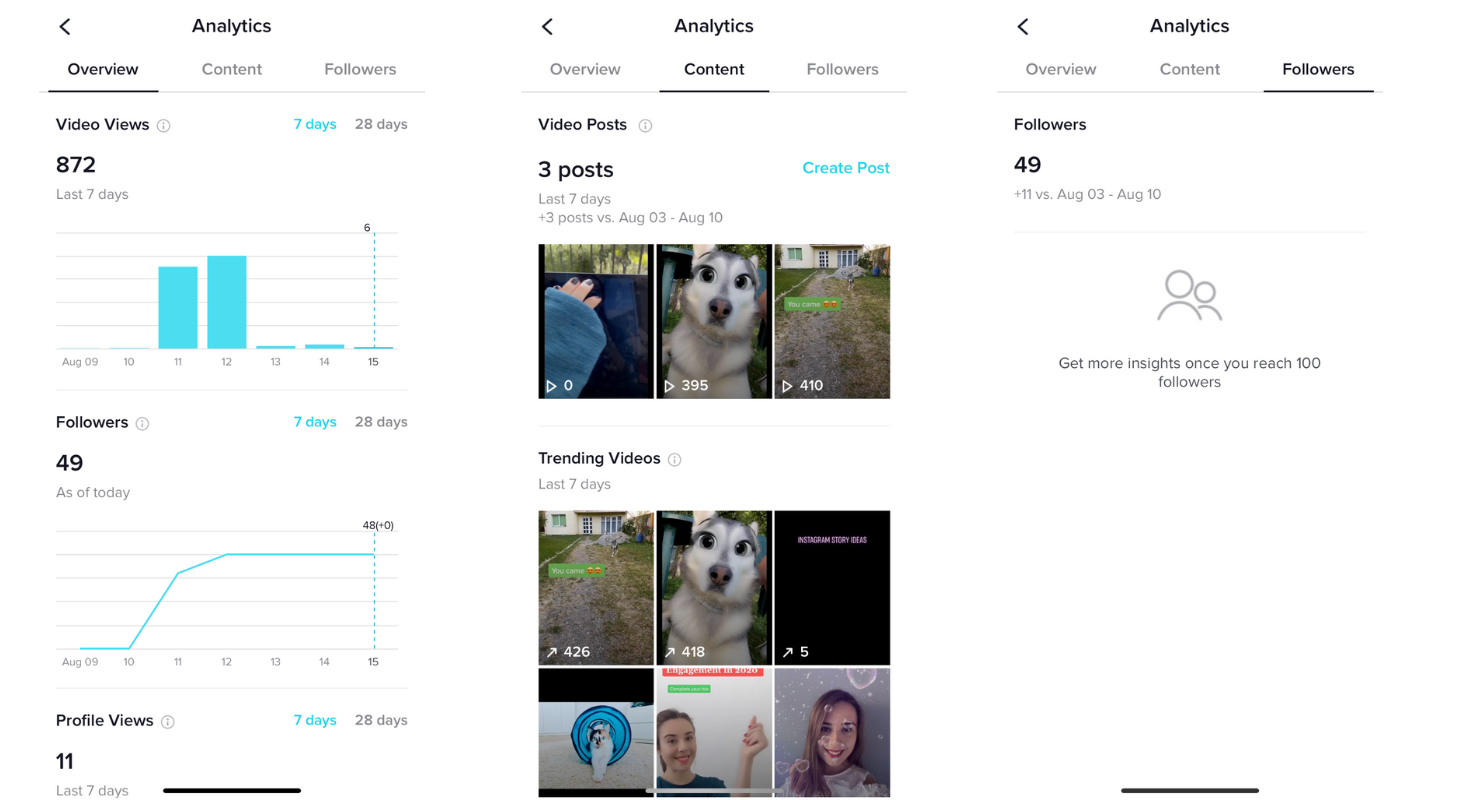 Final thoughts
Each social media network provides it's own set of insights, but if you want a complete view of your brand's presence on social media, you'll need more than that.
Also, from the native app, you can't always download the data and reports you want for you or your clients.
That's why you need a social media analytics tool!
It doesn't matter what industry you're in, keeping track of your top competitors shapes your strategy and defines your communication guidelines.
Your turn. What tools do you have in your arsenal?
---
Related articles: