As a social media manager, you've probably realized that choosing a third-party social media tool can come with certain issues and bugs.
More and more social media related tools have been found to be faulty, so even Facebook is now reviewing all their 600+ social media integration tools to ensure they correspond with the quality needed to work seamlessly.
It all started with the Cambridge Analytica scandal and then it continued with Facebook limiting and restricting the use of their platform, including Instagram.
Both Facebook and Instagram APIs were limited to partners: Instagram accounts details who use a specific hashtag, analytics for individual accounts were being removed.
It seems that Facebook is finally taking a deeper look at the breaches that occurred in their systems through their business partners and API integrations.
Nevertheless, it seems that certain third-party apps are still able to access users' data from Instagram using unauthorized means.
Although these are part of Facebook Marketing Partners group, a group strongly endorsed by Facebook, they do not respect Facebook's rules.
Instead, they are harvesting users' data without their specific consent (in Europe, this could cause huge fines because of GDPR), storing Instagram users' password and also storing stories posted by users on the platform.
Thus, it is imperative to choose a safe third-party app tool that protects your data and follows all Facebook's policies.
Things to look at when choosing a social media tool

Here are some vital aspects you need to look at when choosing a third party social media tool in 2019:
The tool should not store your login credentials. When choosing a social media scheduling or analytics tool make sure an authorization flow with Facebook is required and not a web view where you could insert your login credentials. Giving your login credentials to a third-party app puts your social media posts at risk and they may disappear or the account might get banned.
It should enable you to log in with your Facebook or Instagram account directly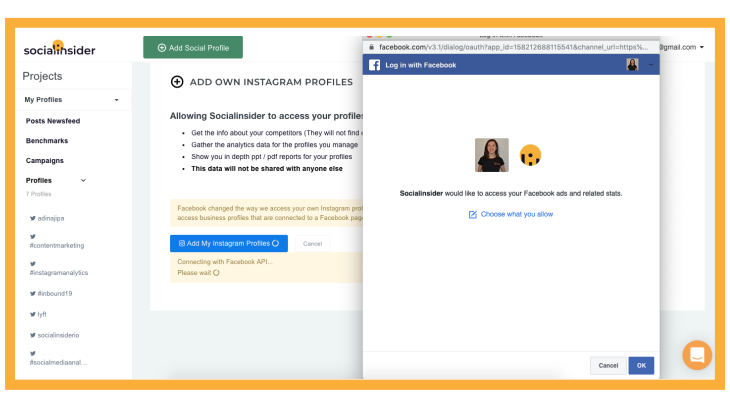 Should not solicit you badges or login credentials of other users
Should not show you data gathered from individual user profiles.

Additionally, the social media tool should not:

Show you details about certain profiles on Instagram that use a specific hashtag
Show you geo location of posts from other users
Show you geo location based on hashtags used in posts
Apply data analysis on photos
Allow you to see the stories of your competitors or influencers in the industry
Enable you to see the reach metric of your competitors on Instagram or Facebook.
Instagram's official API doesn't allow to schedule Instagram Stories, except for a group partners from the Facebook Marketing Partners program.
However, there are apps which are using a workaround for publishing Stories on Instagram by sending a notification to the account owner to manually publish a Story post. That's the legit way of scheduling Stories.
Scenarios to consider before sticking with a social media tool
Now that you know what you should avoid, let's go over a list of scenarios you need to consider.
You basically need to ensure that the tool you want to use is created by a legit company that complies with Facebook's policies in terms of data tracking.
Here are the main scenarios to consider:

Find out the exact process used by the company to track data and to offer you support
Understand if whether you need to authorize your accounts before being able to log into the tool
Question all the features and benefits promoted by this tool, especially if they seem remarkable and they seem superior to any other benefit offered by their competitors
Try to find out if there are certain platform limitations and if Facebook restricts certain features the tool has
Request a free demo or a trial to test for yourself all the features of the tool
Try to assess the responsiveness of the company behind the tool. Are they eager to respond to your questions? How responsive is the customer service team? How well prepared it is? You need to choose a platform that offers round the clock customer service, especially if you're planning to use the social media tool for all analytics and reporting tasks for your clients.

At Socialinsider, we pride ourselves with 100% compliance with Facebook, Instagram, YouTube and LinkedIn APIs.
We follow all the rules imposed by the social media sites and we're continually improving our platform and reviewing our marketing materials and business practices.
Razvan and Andrei - co-founders & dev at Socialinsider - have over 20 years of technical experience in this field. We are offering round the clock support service and we guarantee that your data is safe with us.
Join our live training webinars to learn more about how you can boost your company's impact in your niche, better interpret your KPIs and understand the API limitations.
Feel free to use this infographic and share it with your community 👇
How to Choose The Right Social Media Tool To Use In 2019
---
Related articles: