Keep your brand relevant in social media by using a social media analytics tool!
Given the amount of data insights available, you need to use the entire digital toolbox to boost your social media marketing efforts.
Data matters more than ever and the social media analytics process is the key. That's why smart marketers bring their creative team and data geeks together.
You should know when is the right time to post, what content brings you more engagement and how to promote yourself to become an industry influencer.
A social media analytics and reporting tool helps you record the business results and how your brand is perceived online.
Creating a great social media app isn't a piece of cake, that's why I created a list of 10 social media analytics tools that you should give it a try and see what best fits your needs.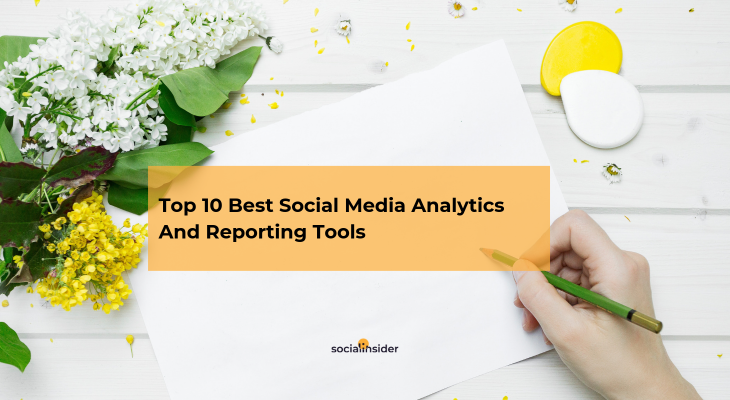 ---
10 social media analytics tools that you should try
What's in this article:
👉 Socialinsider
👉 SocialBakers
👉 SproutSocial
👉 Iconosquare
👉 Fanpage Karma
👉 Buffer
👉 Hootsuite
👉 Agorapulse
👉 Keyhole
👉 BrandWatch
Socialinsider is a Facebook, Twitter, Youtube and Instagram Analytics competitive tool which aims to deliver quality insights to brands or businesses through their social media professionals, working in agencies or companies.
There's a 7-day free trial, so you can test it out before investing.
Competitor analysis and benchmarking - Analyze your competitors' social media profiles and monitor their growth over time.
Cross-channel analysis - You can find out how your campaigns or individual posts rank and perform across all social media channels, with this side-by-side analysis option.
Access historical data for any social media account - Understand why, and how, they've performed over time.
White-label reports - Reporting is essential when it comes to data. This tool gives you clear reports on content performance, engagement, hashtags, without having to worry about creating social media reports with templates or samples.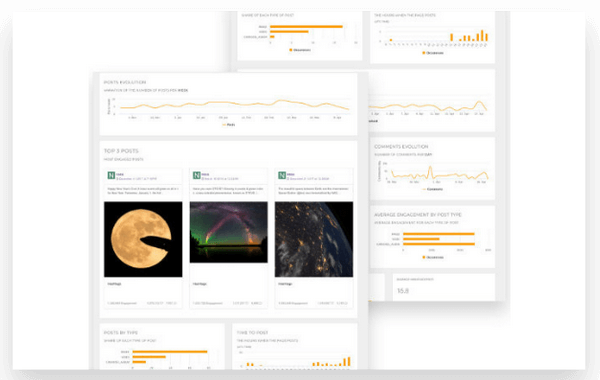 Eye-catching designs for your reports that impress your clients or customers.
Give it a go with a free trial!
#2. SocialBakers
This app can be used for publishing, measurement, monitoring, reporting and optimization of social communication.
It enables you to do a complete audit of your account - however the insights and features are limited unless you decide to upgrade your plan.
Instagram analysis and reporting - With this, you'll be able to access data dashboards that are used for data interpretation.

Campaign measuring - Socialbakers enables you to measure campaigns into metrics and identify trends. This will lead you to a successful campaign.

Followers growth and engagement analysis - Examining your followers, makes it easier to understand your target audience.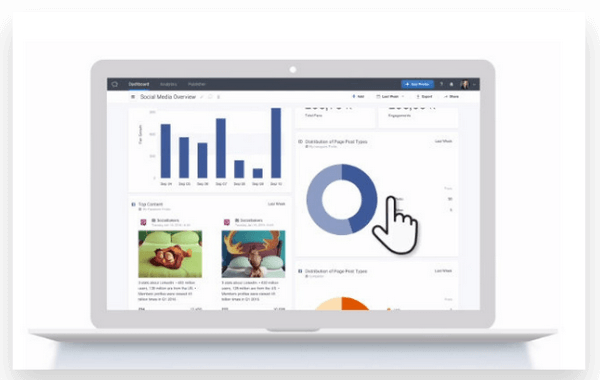 As well as other tools you can try this app for free for a few days, then decide if it's a yay or nay.
#3. SproutSocial
SproutSocial has grown from a platform that only managed and monitored your Instagram account, into a well-rounded analytics, publishing and monitoring tool across most social media channels: Facebook, Instagram, Twitter, LinkedIn, and Pinterest.  
This platform includes analysis, competitors' comparison, and the most important element - social media reporting:
Tracking – This tool gives you access to a range of data insights to help improve your campaigns.

Data analysis – It's easy to analyze your data to locate top posts based on comments, likes and/or engagement.

Reporting – Reporting is also comfortable with SproutSocial, it provides meaningful and easy to interpret information that can aid in decision making.
With a free 30-day trial you can decide if you can transform your campaign or not using this tool.
#4. Iconosquare
This tool helps you improve interaction with your clients by giving you insights on when to post and what to post on Instagram and Facebook based on what your audience preferences.
Performance tracking and planning your content are two essential elements.
WHY?
Because you can understand the social metrics like including engagement rates or demographic data. All these insights help you create a successful campaign.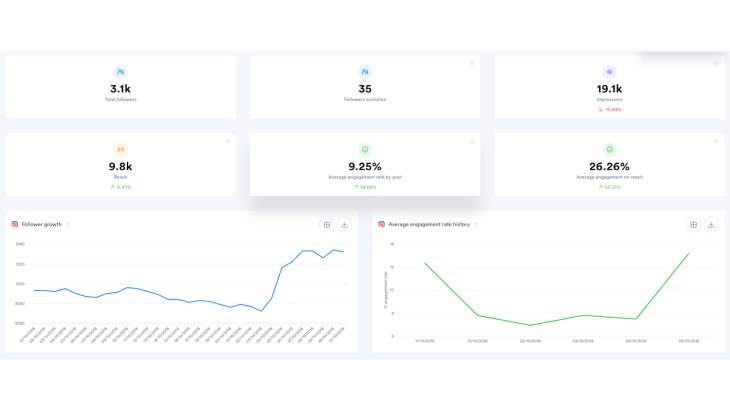 You can also manage your content, schedule and publish your posts, draft and automatically post content and measure the performance of your activities with Iconosquare during a 14-day trial.
#5. Fanpage Karma
Fanpage Karma is an all-round online tool for everything that has to do with social media management.
In short, it helps social media managers and agencies engage fans better and reach a growing community on social networks.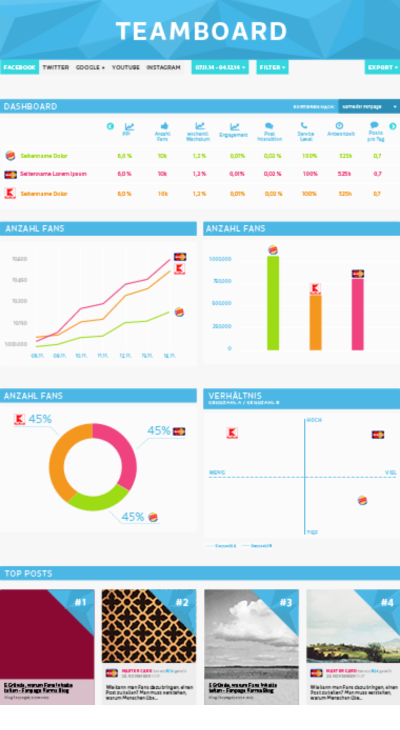 Using this tool, you can analyze your own pages and those from competitors, you're able to create the best campaigns, but also allows you to communicate with your clients, as well as plan and publish your posts.
#6. Buffer
Buffer makes it easy for businesses and marketing teams to schedule posts, analyze performance, and manage all their accounts in one place. Buffer schedules, reports and publishes content for brands' own pages.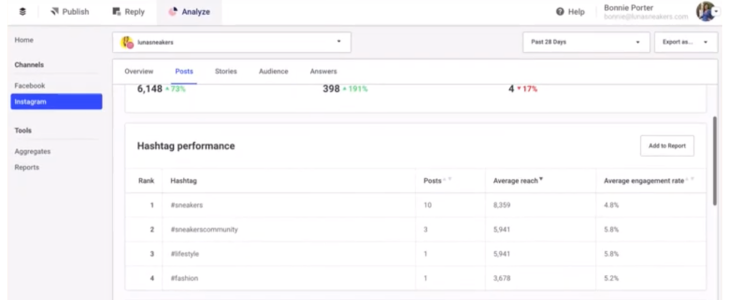 Their product is divided into 3 tools available for trial: publishing, replying and analysing.
The publishing tool supports Instagram, Facebook, Twitter, LinkedIn, and Pinterest, while the analytics and reporting tool focuses only on Facebook and Instagram.
#7. Hootsuite
If you want your social presence active 24/7 and you don't have time to do this yourself Hootsuite is your answer.
This is a team management, scheduling, curation, measurement, and monitoring tool. It supports Instagram, Facebook, Twitter, LinkedIn, Pinterest, and Youtube.
With a free 30-day trial, you can see if this tool fits your needs and stop worrying.
#8. Agorapulse
Agorapulse is a social community and moderation tool that helps business manage all their social network profiles.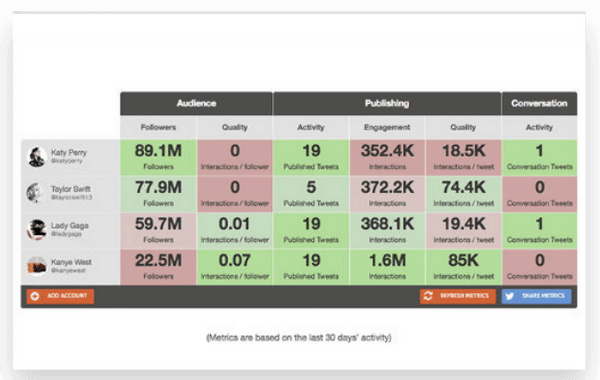 The platform is built to enable enterprises to implement total management of their accounts in top social networking sites: Facebook, Twitter, Instagram, LinkedIn, and Google +.
#9. Keyhole
This social media tool that blends media monitoring, social listening, and social media analysis to offer real-time insights.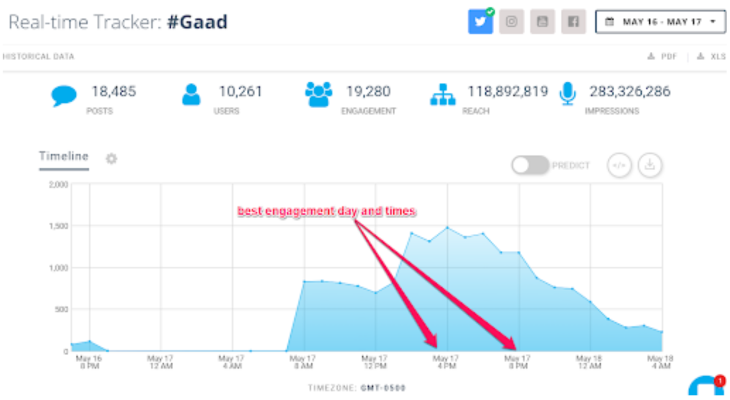 The tool also helps brands with their influencer marketing efforts and advertises a big focus on hashtags analytics.
So if Instagram marketing and analytics is your main concern, keyhole might be worth looking into.
#10. BrandWatch
Specialized in social listening, Brandwatch takes data from across all social media platforms as well as the web in general. This is helping brands keep up to date with their digital presence quickly in order to better understand their image and position.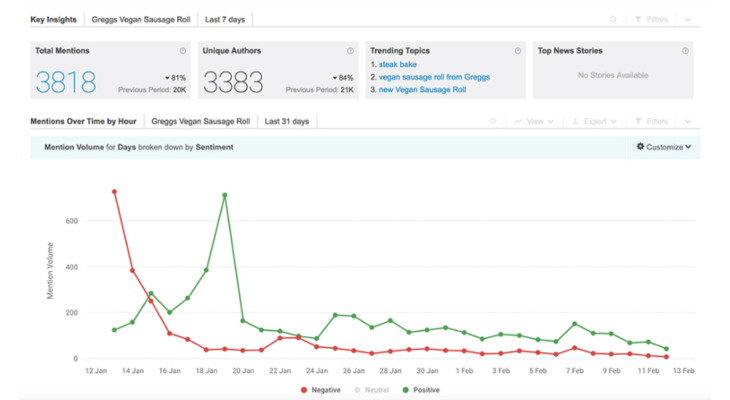 The big plus of this tool is that it also provides competitive analysis, offering easy access to consumer insights overall.
Final thoughts
Whether you're a brand, agency or small business owner, these tools will help save time, energy and effort when implementing and executing a social media marketing strategy.
These social media analytics tools offer a free trial, so you can try out each of them, or at least three of them before you make a decision for your social media reports.
Start a free Socialinsider trial and get in-depth, easy to read graphs displaying your Facebook insights like followers' evolution, average engagement rate per post, reach, impressions and history data.
---
Related articles: