Social media managers are the detectives of everything social. Their job is to gather, analyze, and draw conclusions to make sense of the marketing efforts.
Since social media reporting matters more than ever, social media managers and social media analytics tools complete each other - one just won't work without the other one.
What are my top-performing posts?
When is the best time to post?
What is the growth rate of my followers this month?
These are just some of the questions that social media managers must answer.
According to Sprout's 2019 Social Index, 47% of social marketers say developing a strategy that supports their organization's goal is their biggest struggle.
However, it doesn't have to be.
In this article, I am going to show you 22 of the best social media analytics tools to use in 2021.
Top 22 social media analytics tools every marketer should try:
1. Socialinsider
Socialinsider is one of those social media analytics tools that offers premium social media analytics and reporting, competitive insights, brands metrics, and social media campaign reports.
With Socialinsider, you can measure the performance of your social accounts at the same time and track all the meaningful social metrics, like engagement rate, reach, impressions, followers' growth, posts evolution, demographics, and much more.
Using this social media analytics and reporting tool, you can get in-depth insights on any social profile or hashtag, run competitive benchmarks, and create presentation ready-reports.
One of Socialinsider's coolest feature is performing benchmarks, through which you can run a comprehensive analysis on your competitors, influencers, and top players in your industry.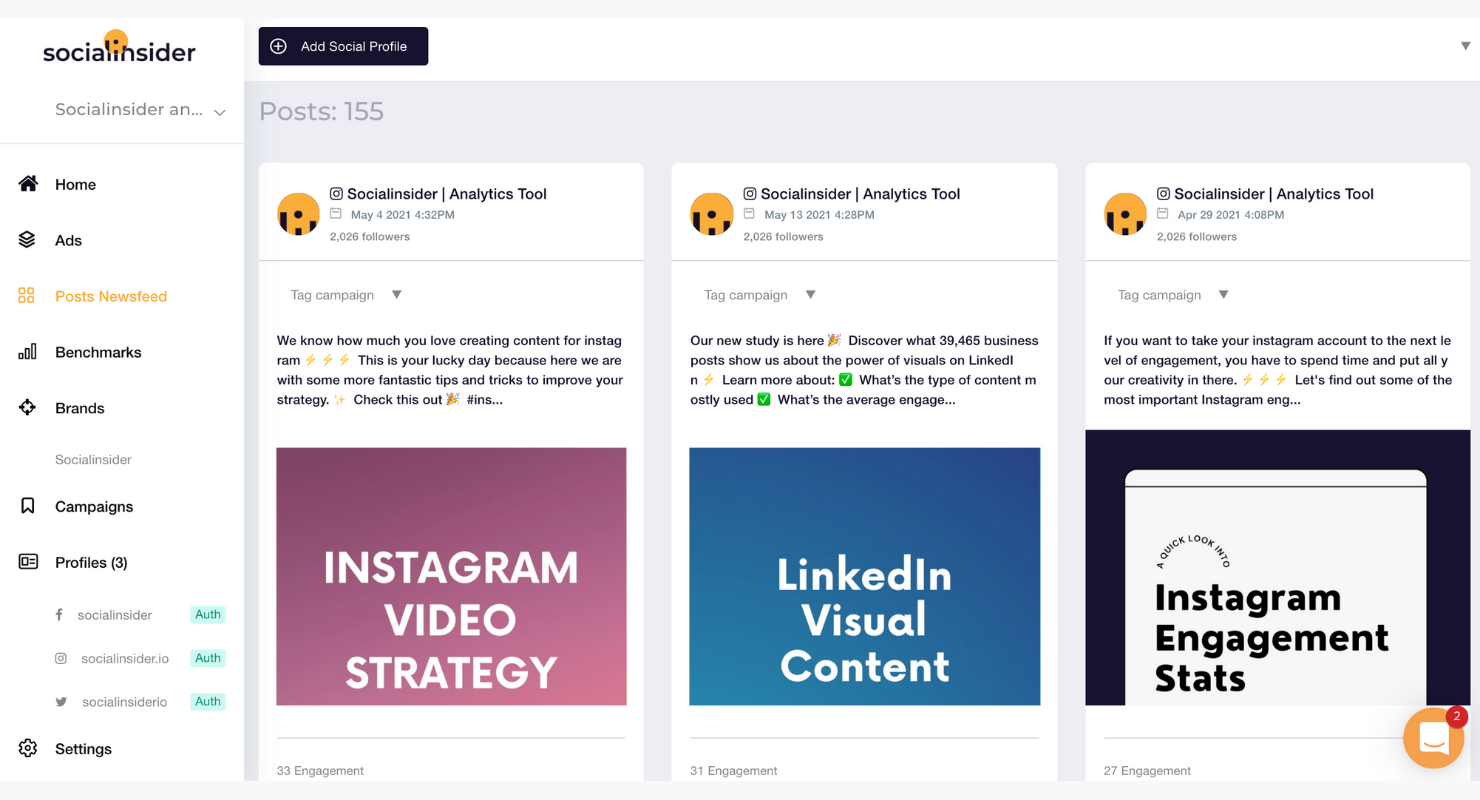 You can also create social media reports reports for your social media campaigns with the post tagging feature and measure your campaign's KPIs.
Additionally, you can tag and report your competitors' campaigns, discover their content strategy, and compare your performance.
One big plus is that Socialinsider allows you to create white-label social media reports so you can use your logo and brand colors.
Top Socialinsider features: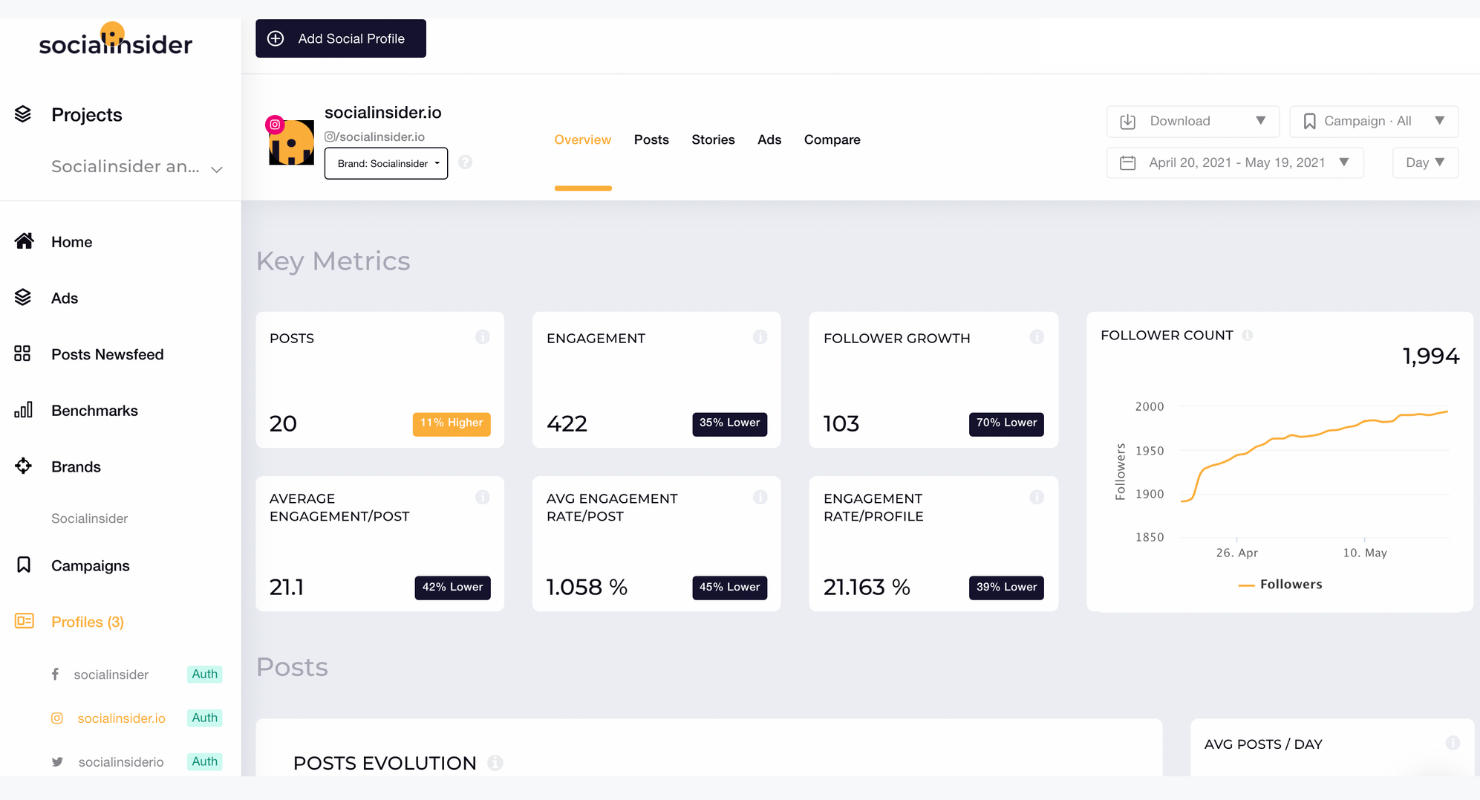 Pricing options: $99 per month for social media managers, $169 per month for agencies, or custom packages to adjust your needs.
There's also a 14-days free trial so you can test it before investing!
2. Rival IQ
This is a social media reporting tool that helps you track your social media performance, identify social media trends, and analyze results across your own accounts and SEO.
What makes Rival IQ stand out from the crowd is that it will send you alerts whenever your competitors post high-performing content.
This way, you can be one step ahead and adjust your own content so you don't lose your market share.
You can see what content your audience enjoys most and integrate Google Analytics to get an overview of your customers' journey.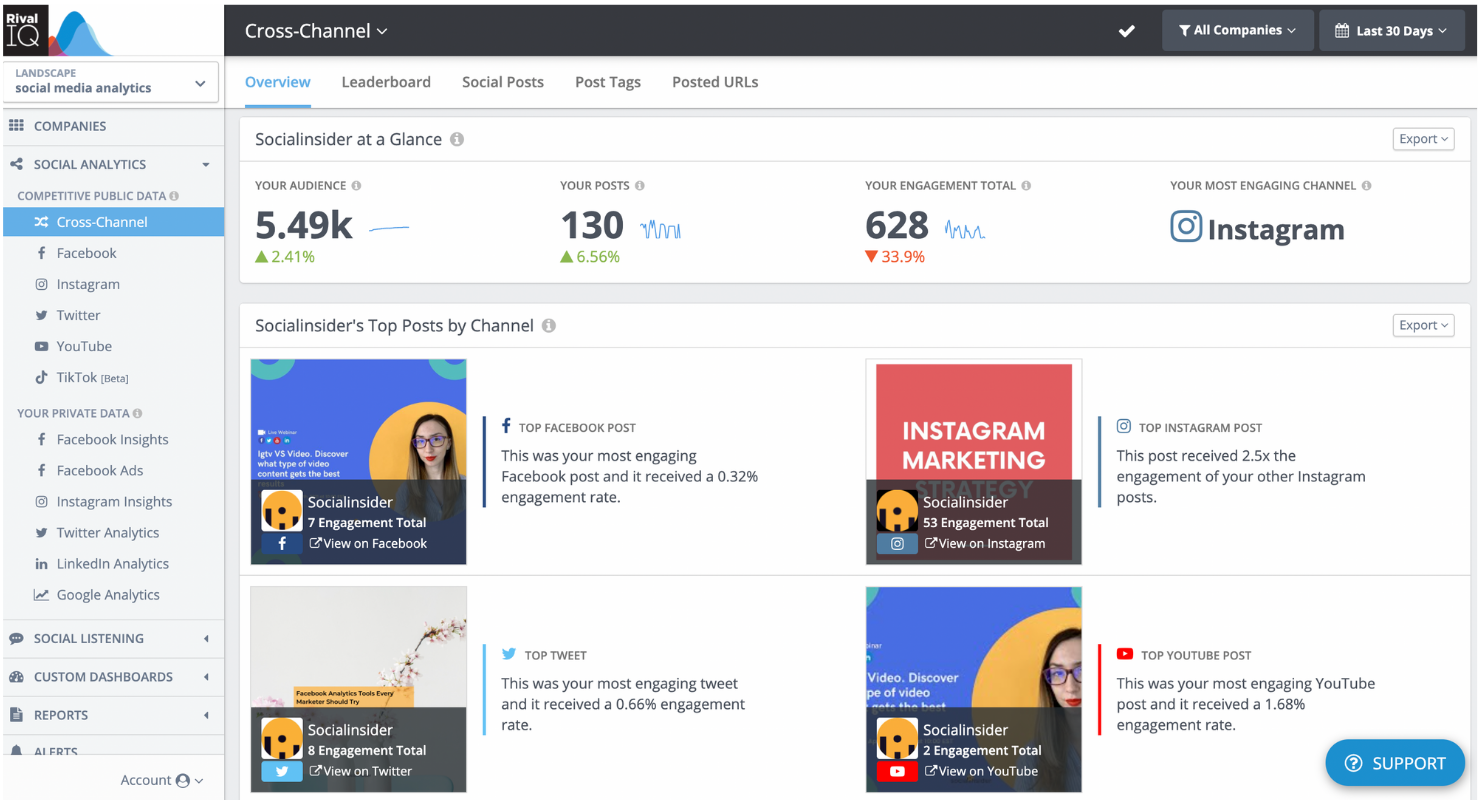 What Rival IQ offers you:

competitive analysis
social posts analysis
social media audits
social reporting

Pricing options: between $199 and $499 per month.
3. Semrush
Stay creative and step up your marketing campaigns and goals! Semrush started in 2008 as a group of SEO and IT specialists whose goal was to create equal marketing opportunities for everyone.
Since its founding, this company has grown into an all-in-one marketing suite which has a large palette of tools and add-ons that help companies achieve their goals.
You can access valuable SEO, social media, advertising, or competitive research data from a single dashboard.
Having clients such as Forbes, Nike, or Apple, Semrush is a trusted data provider, with a large database that consists of 20 billion keywords and 310 million ads.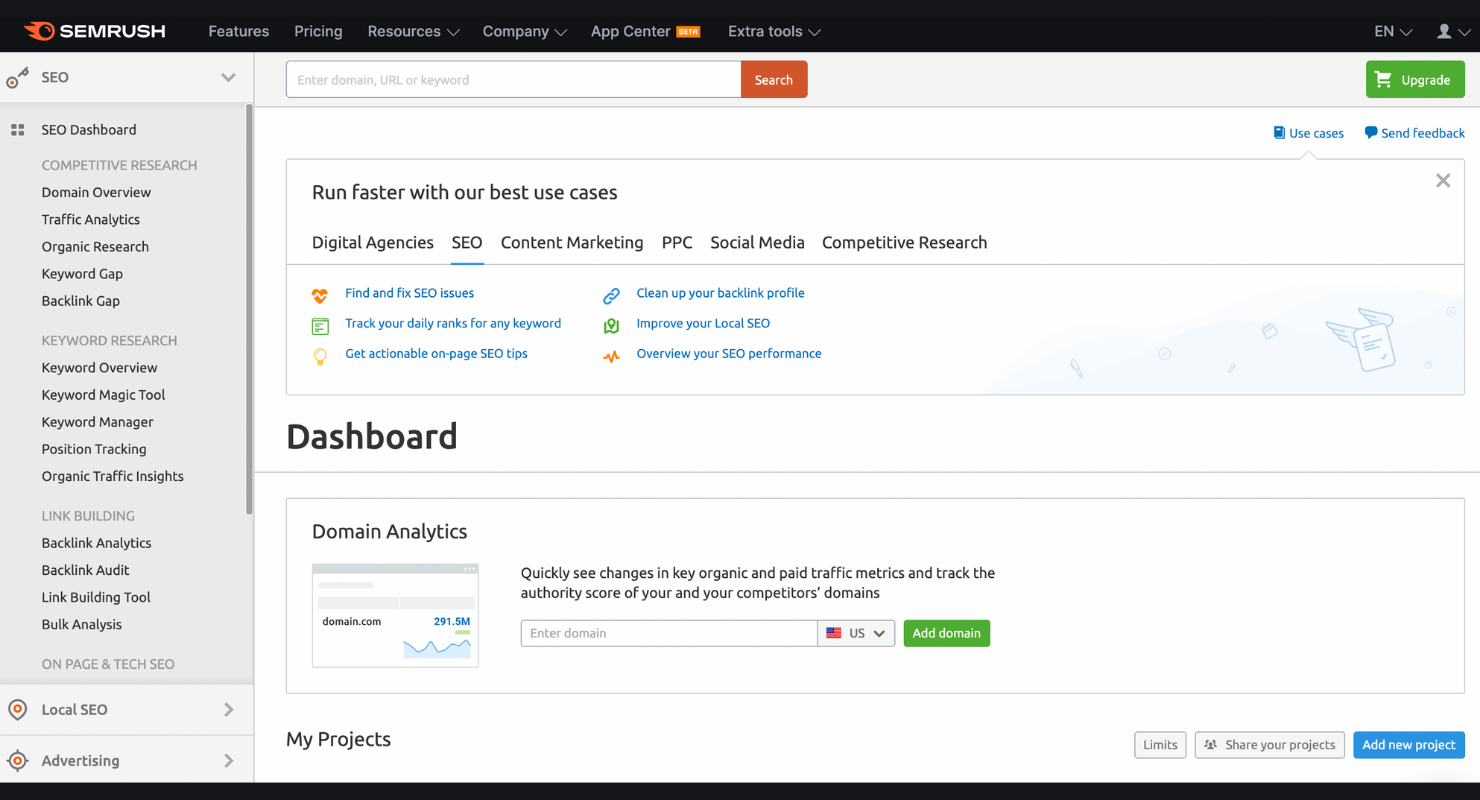 With Semrush, you can:

streamline your social media marketing with its social media analytics tools
grow your organic traffic with its complete and easy SEO tool
create content that ranks with its content marketing toolkit
perform market research and unveil your competitors' strategy and tactics

Pricing options: between $119 and $449 monthly.
4. Socialbakers
Socialbakers offers a collection of analytics tools that enables you to do a complete audit of your accounts - from tracking your social media activity, to measuring your social performance, or benchmarking your competition.
This unified social media platform uses AI to discover marketing personas, target your audience, and discover the content they're interested in.
All of these help you automate your content strategy by knowing when it's the best time to post, what are the posts with the highest engagement, or what are the needs of your audience, among others.
Here are some of the solutions Socialbakers gives to its clients:

research and planning
content strategy
social media management
listening and intelligence
measurement and reporting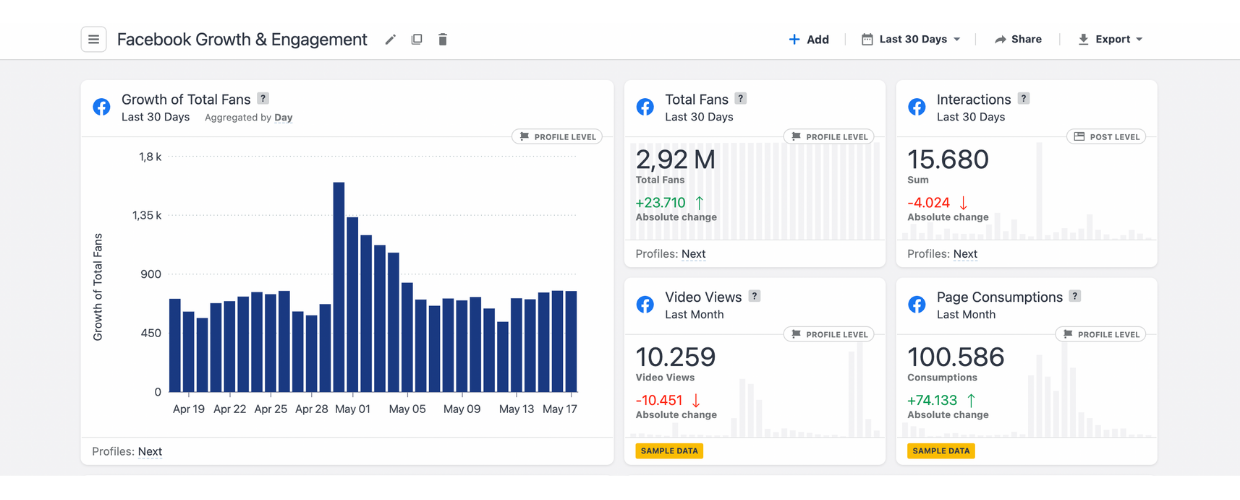 Pricing options: starts at $200 per month and offers custom pricing as well.
5. Iconosquare
This is an analytics and social media performance suite that helps its clients monitor their channel growth and optimize their social media strategy.
With Iconosquare, you can automate your Instagram, Facebook, and Twitter accounts.
Founded in 2011 as Statigram, this tool was created to gather performance statistics about Instagram accounts. Now, it is a powerful analytics, publishing, and monitoring platform for small businesses, enterprises, and agencies.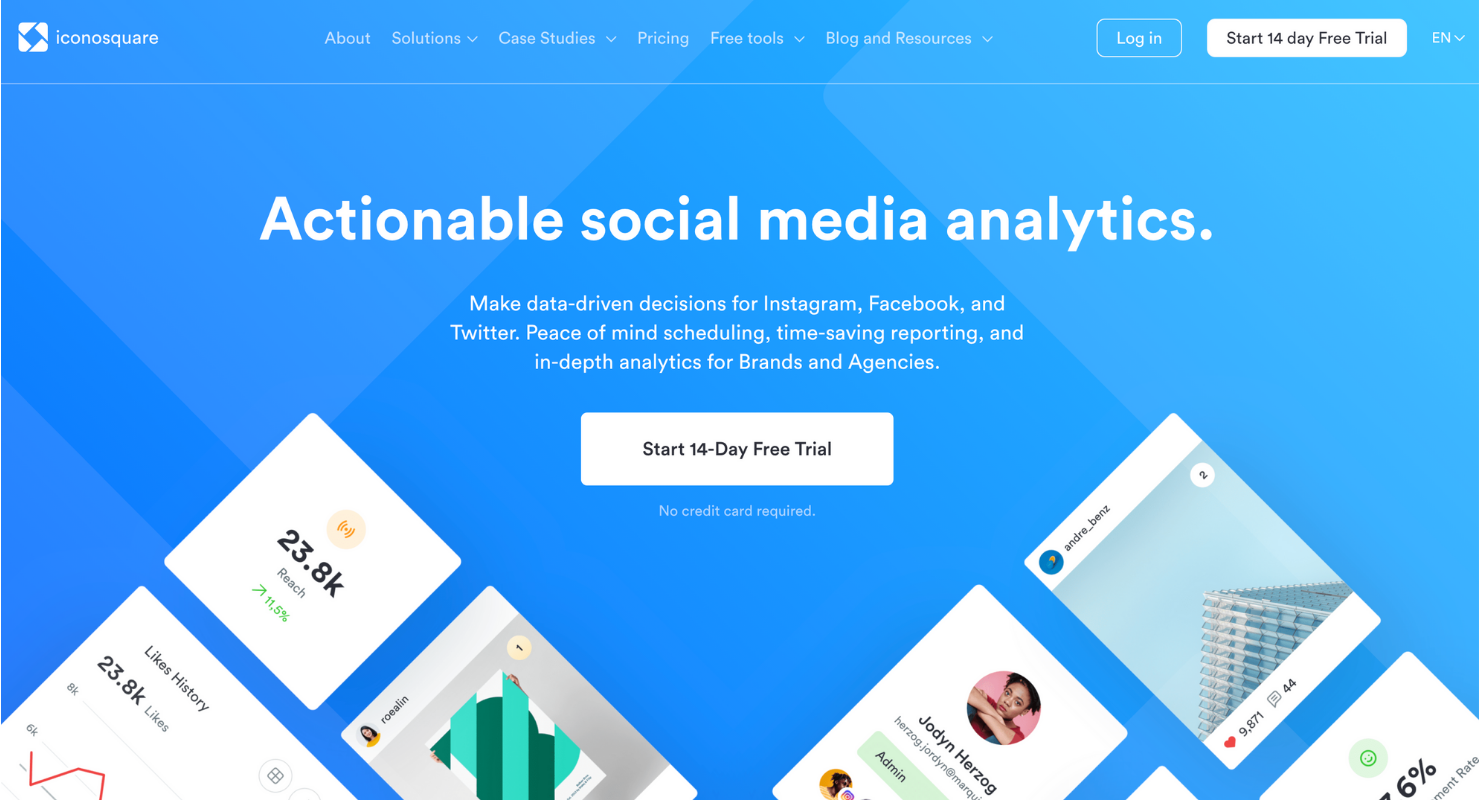 With Iconosquare, you can:

get essential analytics for the accounts you manage
schedule and manage your content calendar
monitor what people are saying about your brand

Pricing options: between $59 and $179 per month.
6. Hootsuite
From scheduling posts and organizing your content, to measuring ROI or generating social media analytics, Hootsuite is a social media analytics tool that comes in handy to every social media manager.
This app gives you the possibility of managing all your social media accounts in one place. It covers Instagram, Facebook, Twitter, LinkedIn, YouTube, and Pinterest.
With Hootsuite, you can make smarter marketing decisions by getting insights of what type of content works best or measuring the impact of your social media campaigns.
You can also help your marketing team be more efficient with pre-approved content.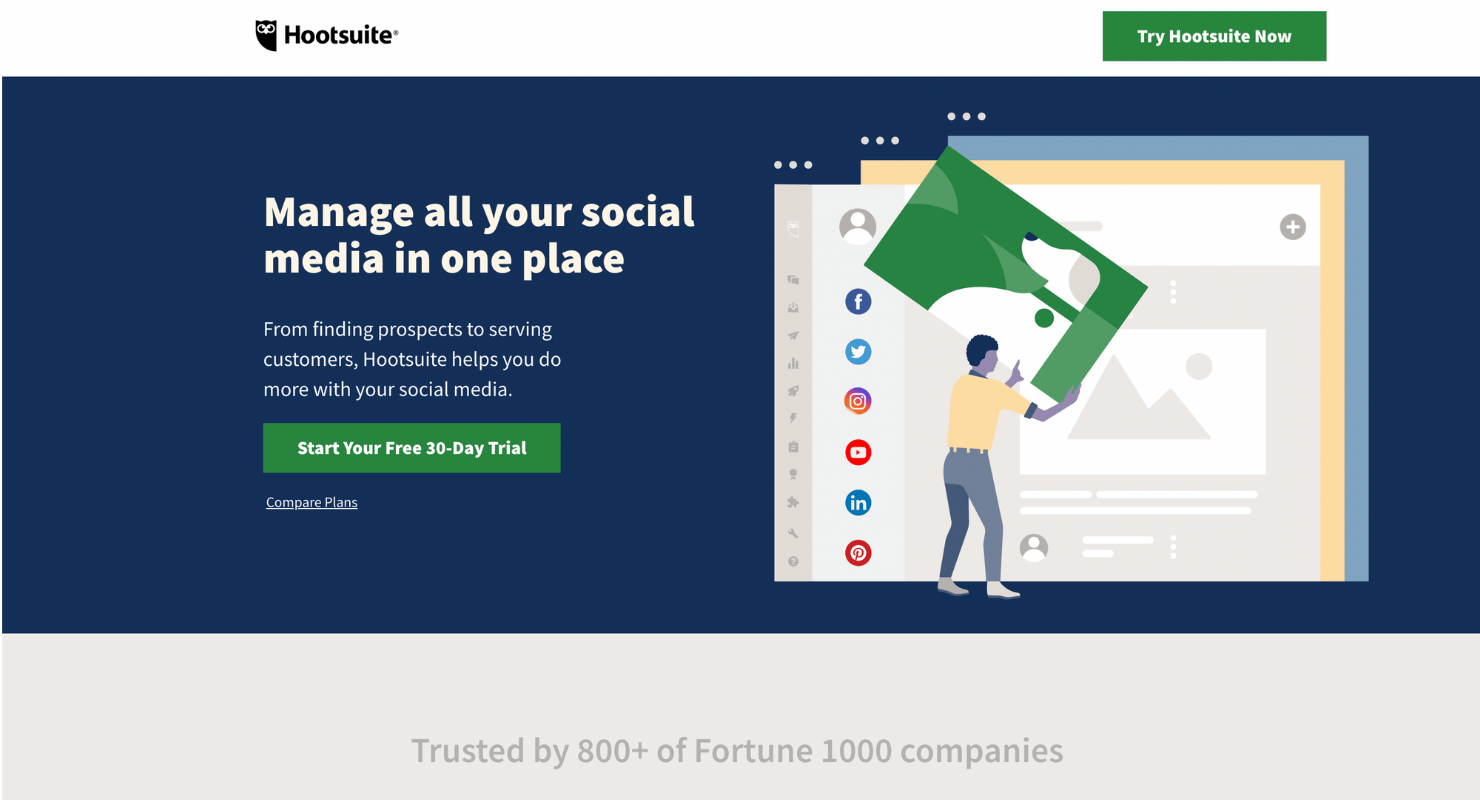 Key features Hootsuite provides:

scheduling social media posts across all accounts
content curation
social analytics
monitoring conversations

Pricing options: from $39 to $599 per month, with custom pricing for enterprises.
7. Sprout Social
As a social media management and optimization platform, Sprout Social allows you to manage your social media publishing, engagement, and analytics of your social accounts in one spot.
With Sprout Social, you can onboard easily by using their comprehensive training and education materials.
You'll also save a lot of time with user-friendly and custom reporting options.
Its social media analytics tool has the advantage of speeding up the process of data gathering by helping you see the bigger picture and thus enhancing your social strategy.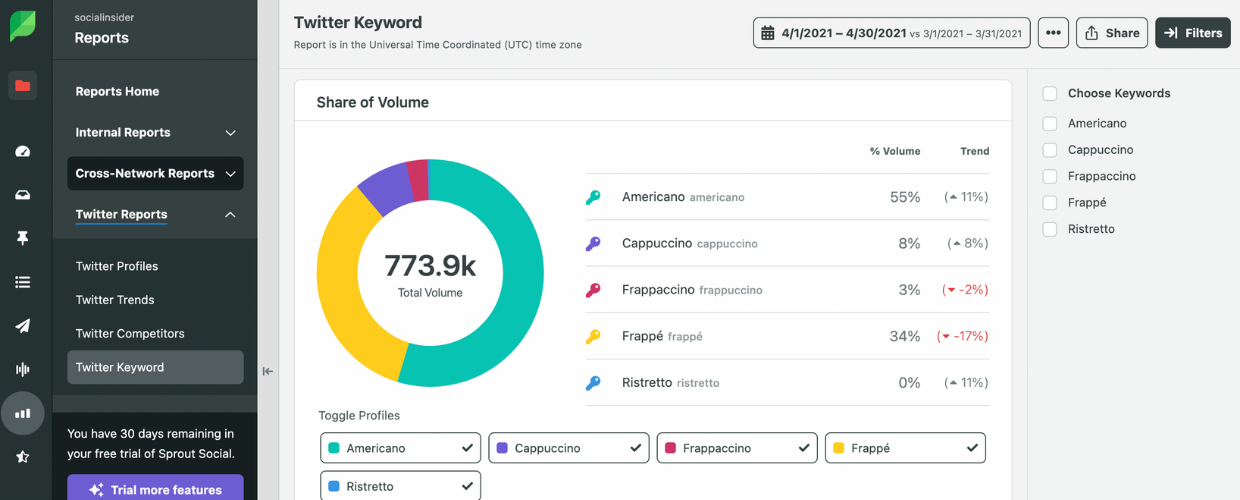 The following are Sprout's features:

analytics
engagement
publishing and scheduling
listening

Pricing options: ranges between $99 and $249 per month.
8. Quintly
Quintly is a simplified analytics and benchmarking tool specially designed for marketers who want to visualize their social media success.
With this app, you can track and compare your social media channels so you can see what worked best in the past and what you can improve in the future.
Their software allows you to integrate your social media data into business intelligent systems, like Tableau or Google BigQuery.
It supports Facebook, Instagram, LinkedIn, Twitter, YouTube, and Snapchat, and they recently launched TikTok analytics, which measures following and followers count or the number of likes and videos.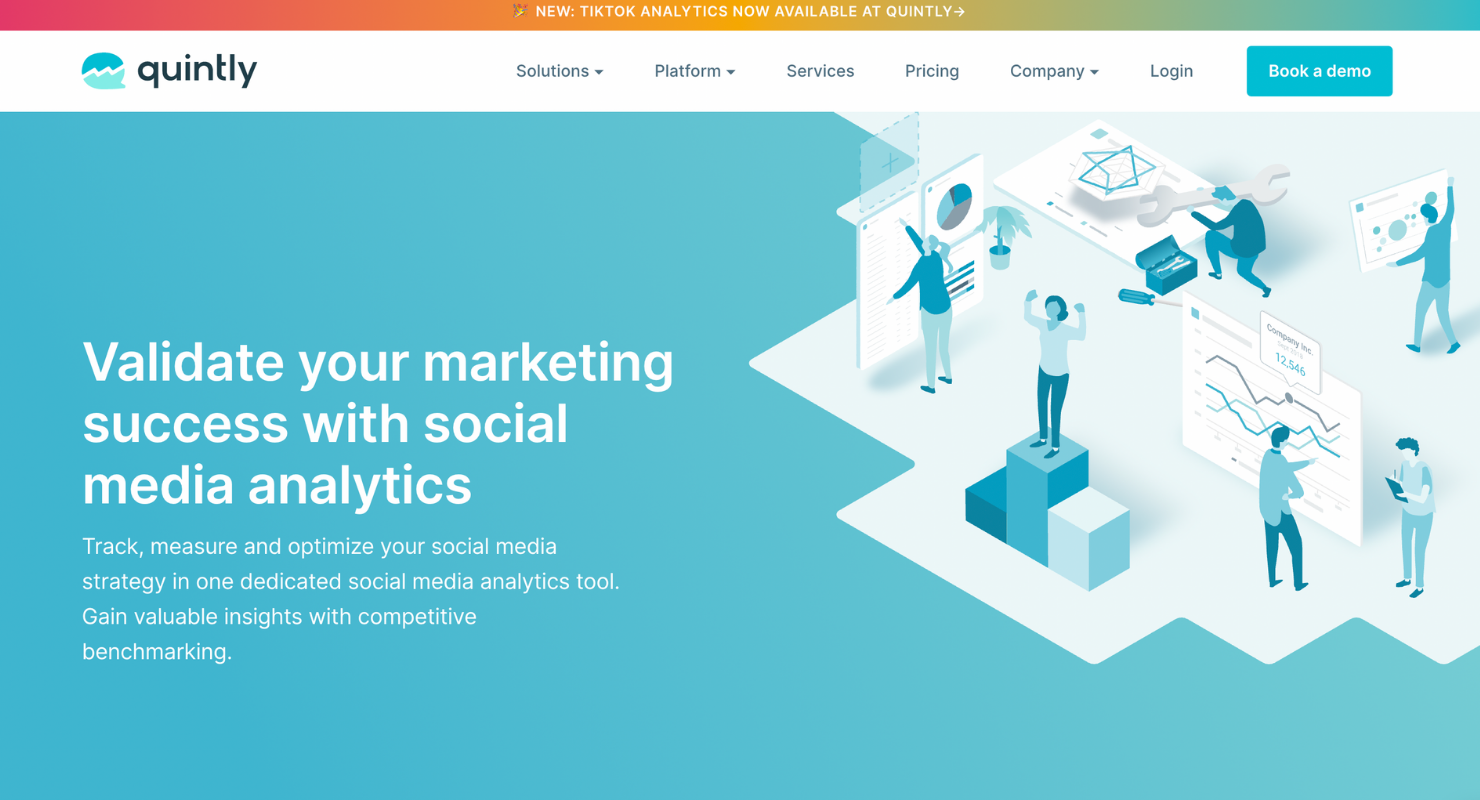 Whether you are a brand, an agency, or work in media, Quintly offers:

social media analytics
custom social media reporting
API and integrations

Pricing options: starts at $300 per month, no access to a free trial.
9. Buffer Analytics
Buffer makes it easier for brands to schedule their posts, analyze their performance, and manage all their accounts into a single hub.
Buffer's product is divided into three tools: analytics, publishing, and customer engagement. It supports Facebook, Instagram, Twitter, LinkedIn, and Pinterest.
Some of Buffer's most interesting analytics features are:

content analysis
social media account analytics
audience demographics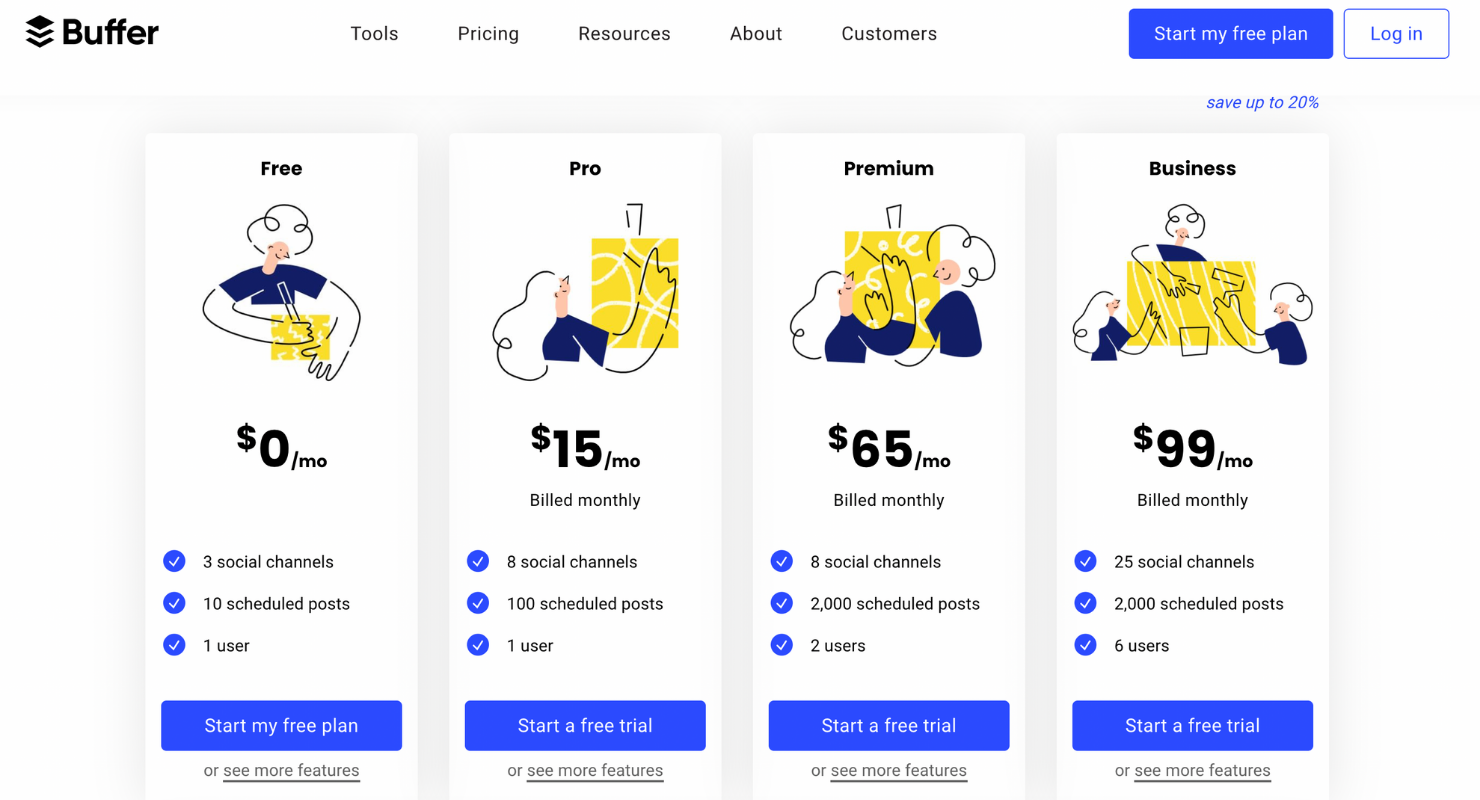 Pricing options: between $15 - $99 per month for publishing and $35 - $50 per month for analytics.
10. Dash Hudson
As a visual marketing platform, it provides solutions to predict performance and measure engagement across your channels.
It is an Instagram-centric tool that allows you to schedule posts and analyze your content's impact on your audience.
With this app, you can accelerate your brand growth, analyze media trends, and predict the performance of your visual assets.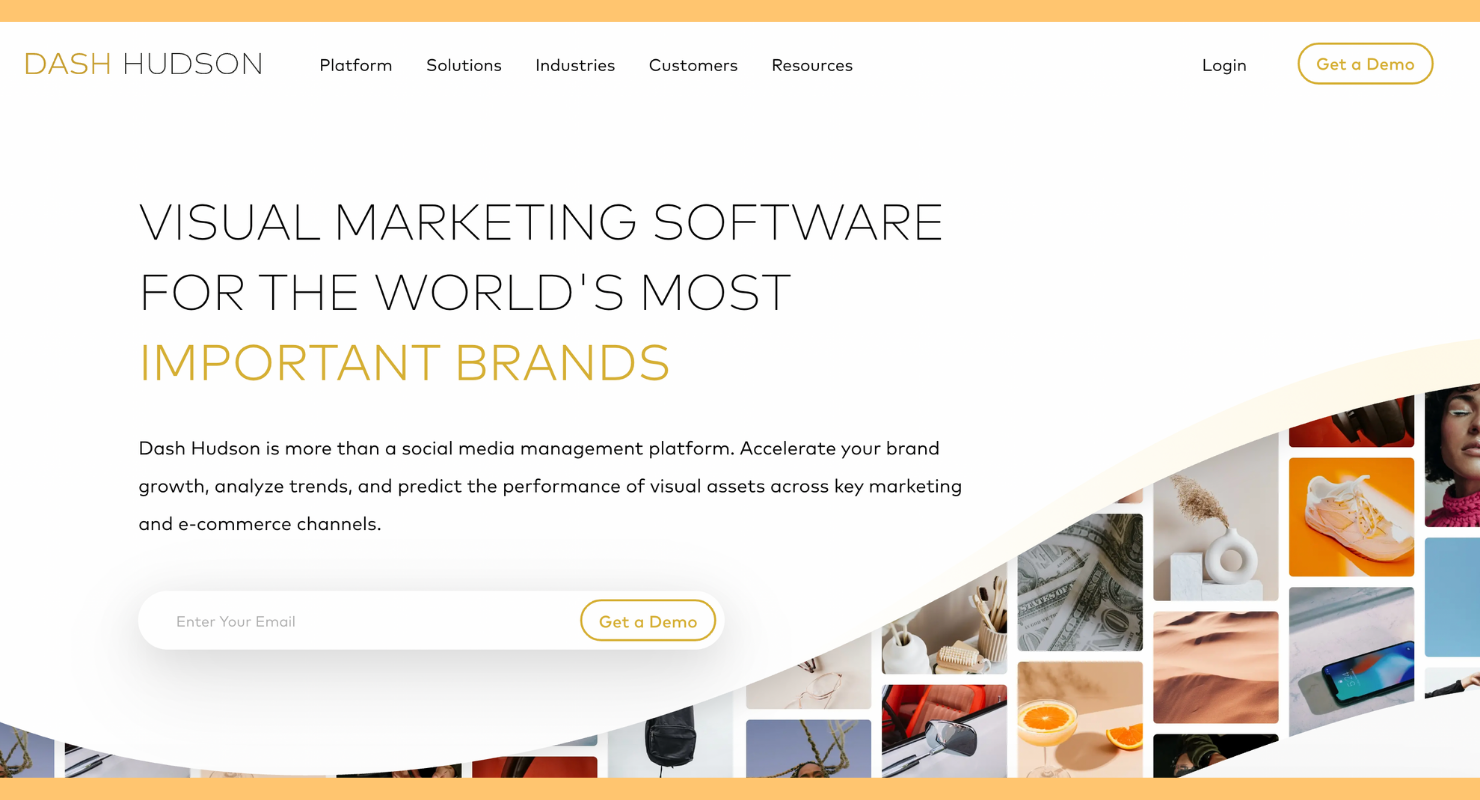 Dash Hudson's solutions are the following:

faster actionable insights
measure influencer ROI
monetize and convert
increase overall efficiency

Pricing options: not disclosed on their website, but you can request a demo.
11. AgoraPulse
If your need is publishing, AgoraPulse is the best choice. They offer publishing, monitoring, social media reporting and team collaboration for Facebook, Instagram, LinkedIn, and YouTube.
Its analytics tool is similar to what you'll find in Facebook Insights, but its plus is that it's easier to work with and provides additional reports you won't find in native apps, such as post recommendations or average fan profiling.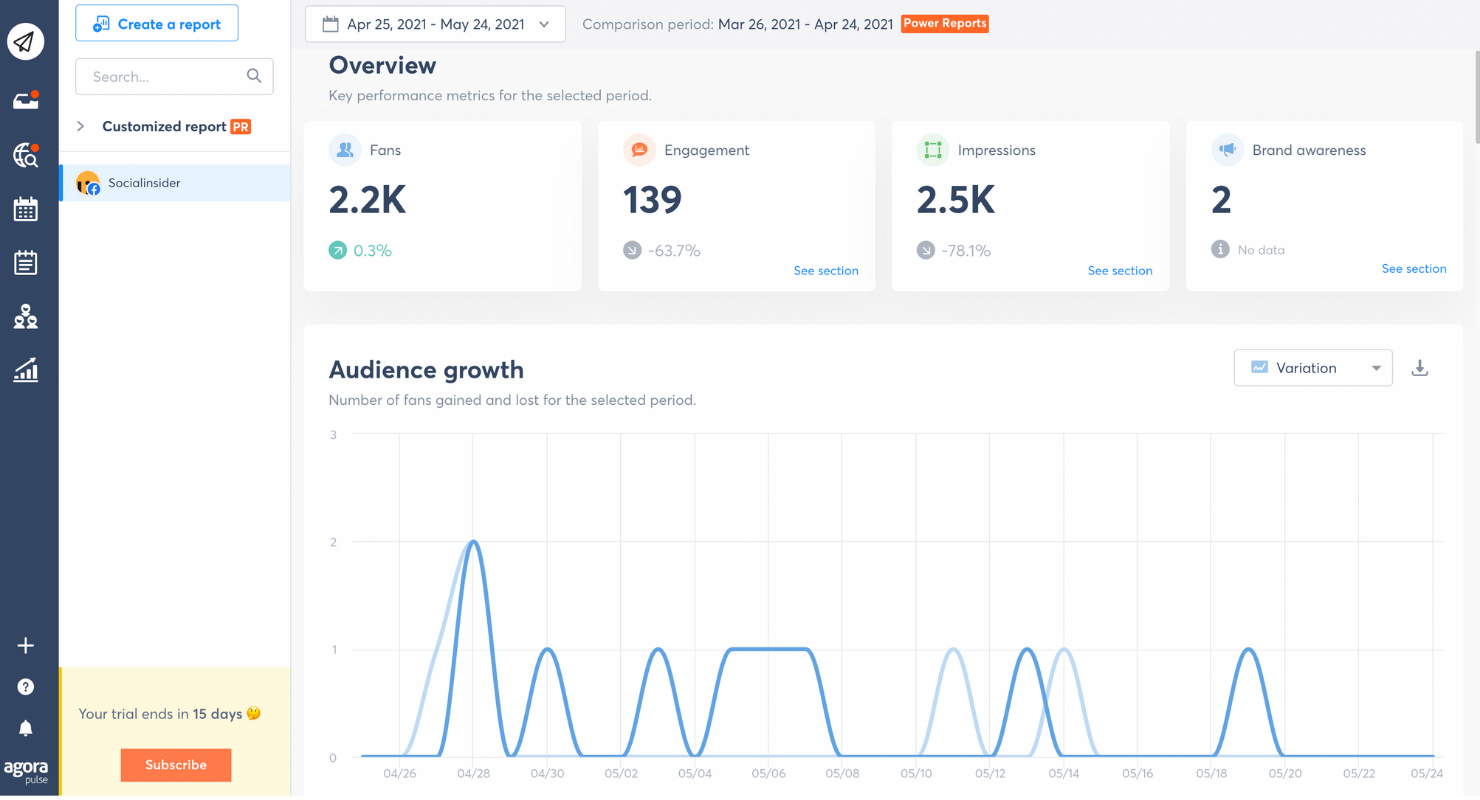 AgoraPulse has the following main features:

social media inbox
social media publishing
social media monitoring
social media reporting

It also has iOS and Android mobile apps with great features, which allow publishing and scheduling on the go. This way, you can plan your content from anywhere!
Pricing options: starts at $99 per month, and they also have a free trial.
12. Falcon

Falcon is an enterprise solution for social analytics, community engagement, social listening, and advertising.
This tool enables its clients to reach their maximum marketing potential by managing multiple customer touchpoints on one platform.
It has an integrated inbox which is all about efficiency, promising to offer the best overview.
Through this platform, you can monitor your brand's perception among your audience and measure the impact of your online campaigns across social media channels.
With Falcon, brands can also evaluate their KPIs and demonstrate social media ROI in easy-to-build social media reports.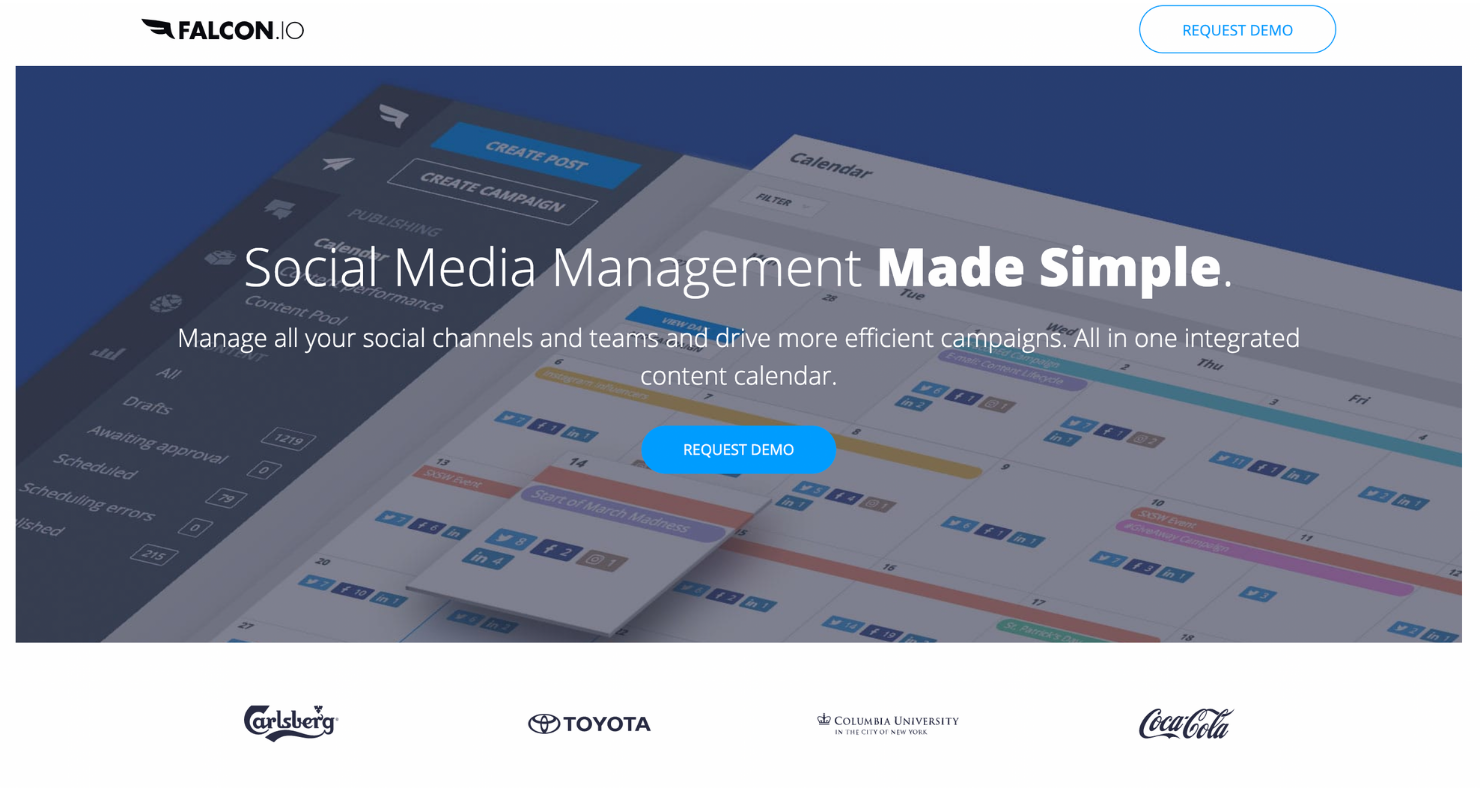 When it comes to social media analytics, Falcon offers:

cross-channel insights
custom social media reports
advanced metrics for Facebook, Instagram, and Twitter

Pricing options: starts at $129 per month.
13. Sendible
With social media management, monitoring, publishing, lead generation, and reporting features, Sendible is here to provide you all the tools you need to impress your clients.
Sendible is an integrated tool from where you can manage all your social profiles and it also allows direct access to Canva, Google Drive, or Flickr.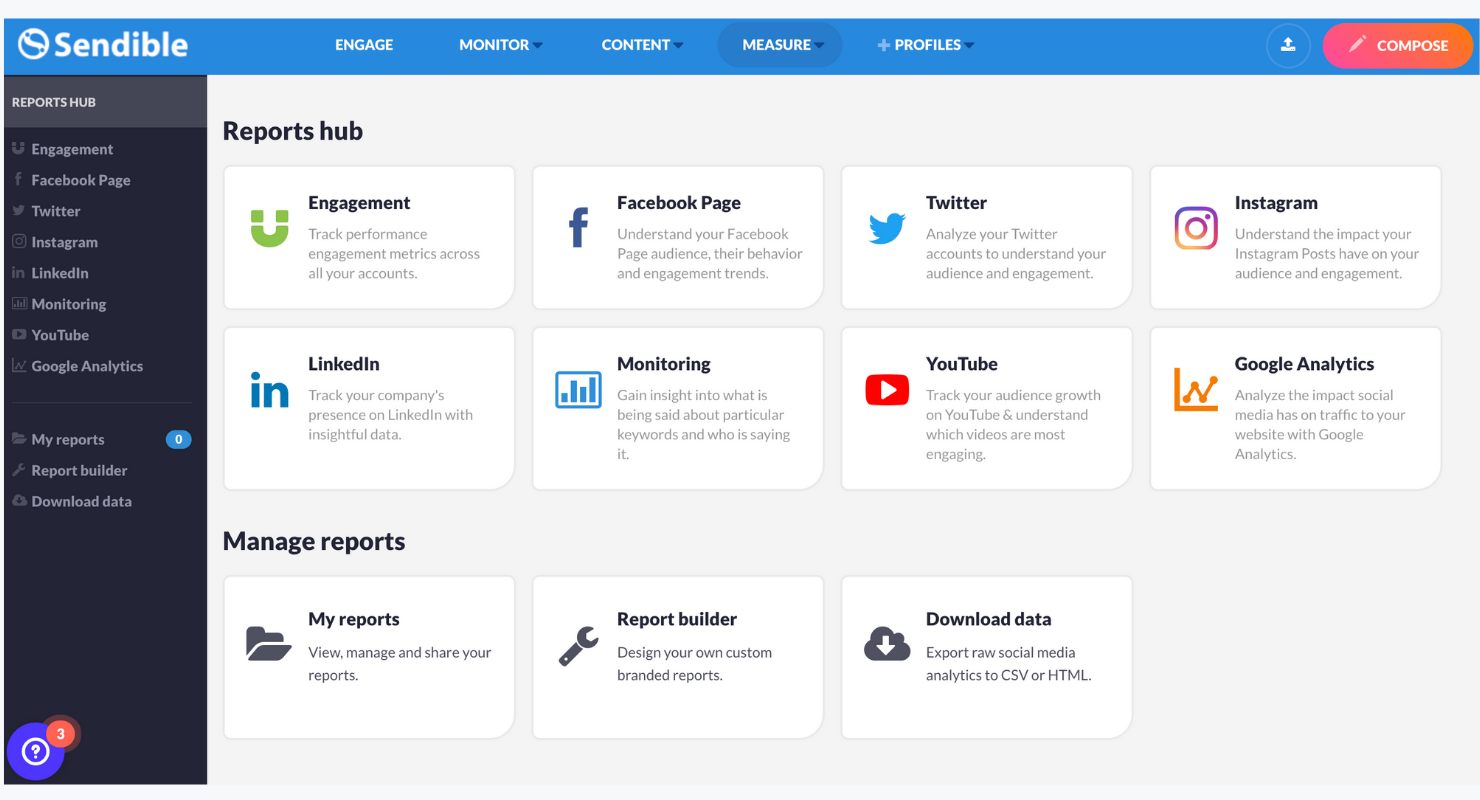 On top of gaining dynamic insights from your social data, this app offers you content suggestions, social media post scheduling, or shared publishing calendars.
Find below some of Sendible's most popular features:

social media publishing
social media collaboration for teams
analytics
listening

Pricing options: between $29 and $399 per month.
14. Sprinklr
Sprinklr is a unified SaaS platform that includes 5 products designed to help its clients monitor and interact with customers and prospects over social media:

modern marketing
modern advertising
modern research
modern care
modern engagement

With Sprinklr, you can interpret customer data at scale, identify opportunities, and build smarter strategies.
Due to its AI engine, this app gives you a better understanding of feedback on your products and services.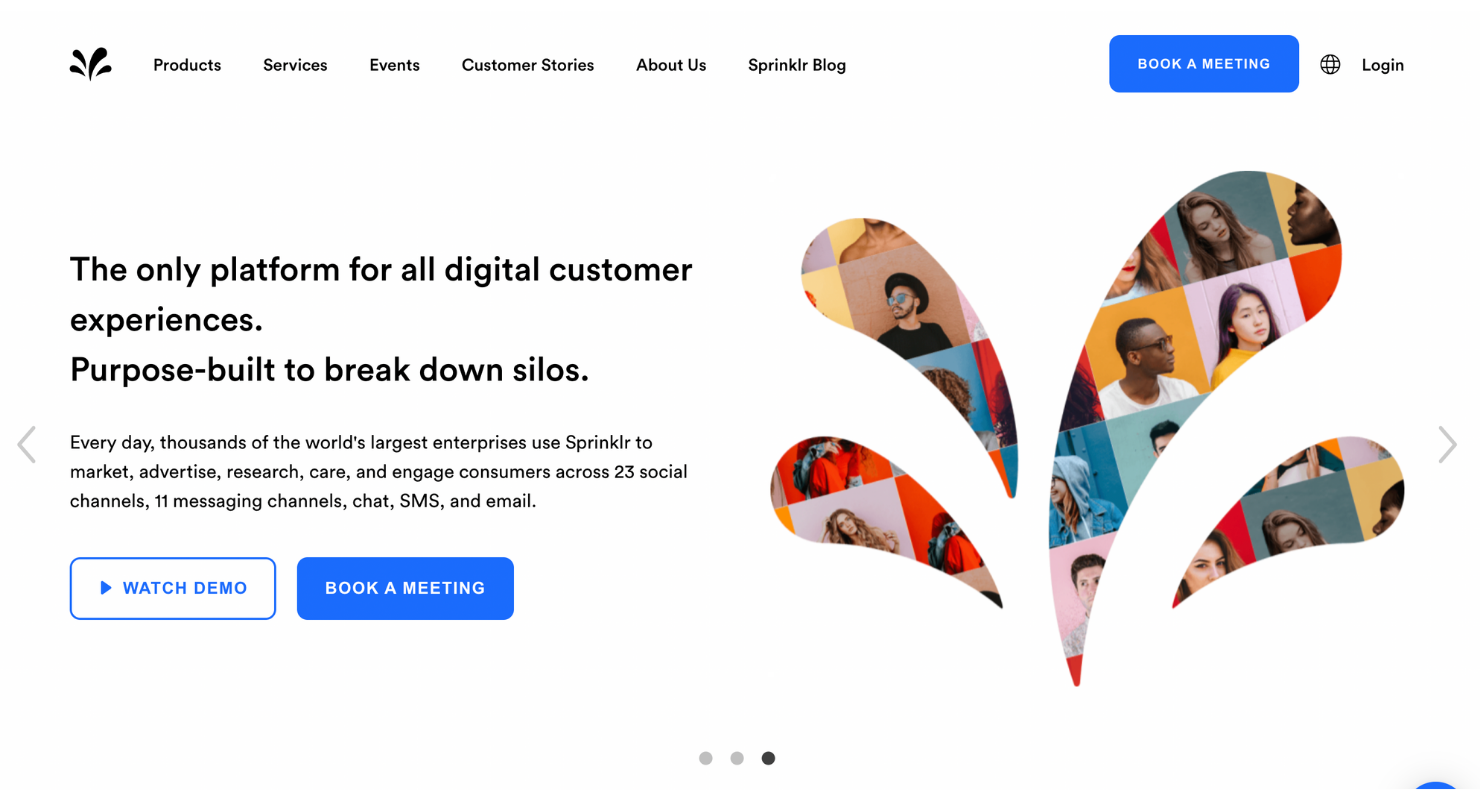 Pricing options: not disclosed on their website, but you can book a meeting.
15. Zoho Social
Zoho Social is a social media management tool for businesses and agencies that provides post scheduling, monitor mentions, custom social media analytics dashboards, and many others.
With this app, you can create intuitive social media reports based on demographics of your fans, influencers, or people you've reached.
You can also compare your fans with other people reached for every post.
Its reporting feature gives you the possibility of analyzing your performance using intuitive graphs and gathering intelligent reports for your clients.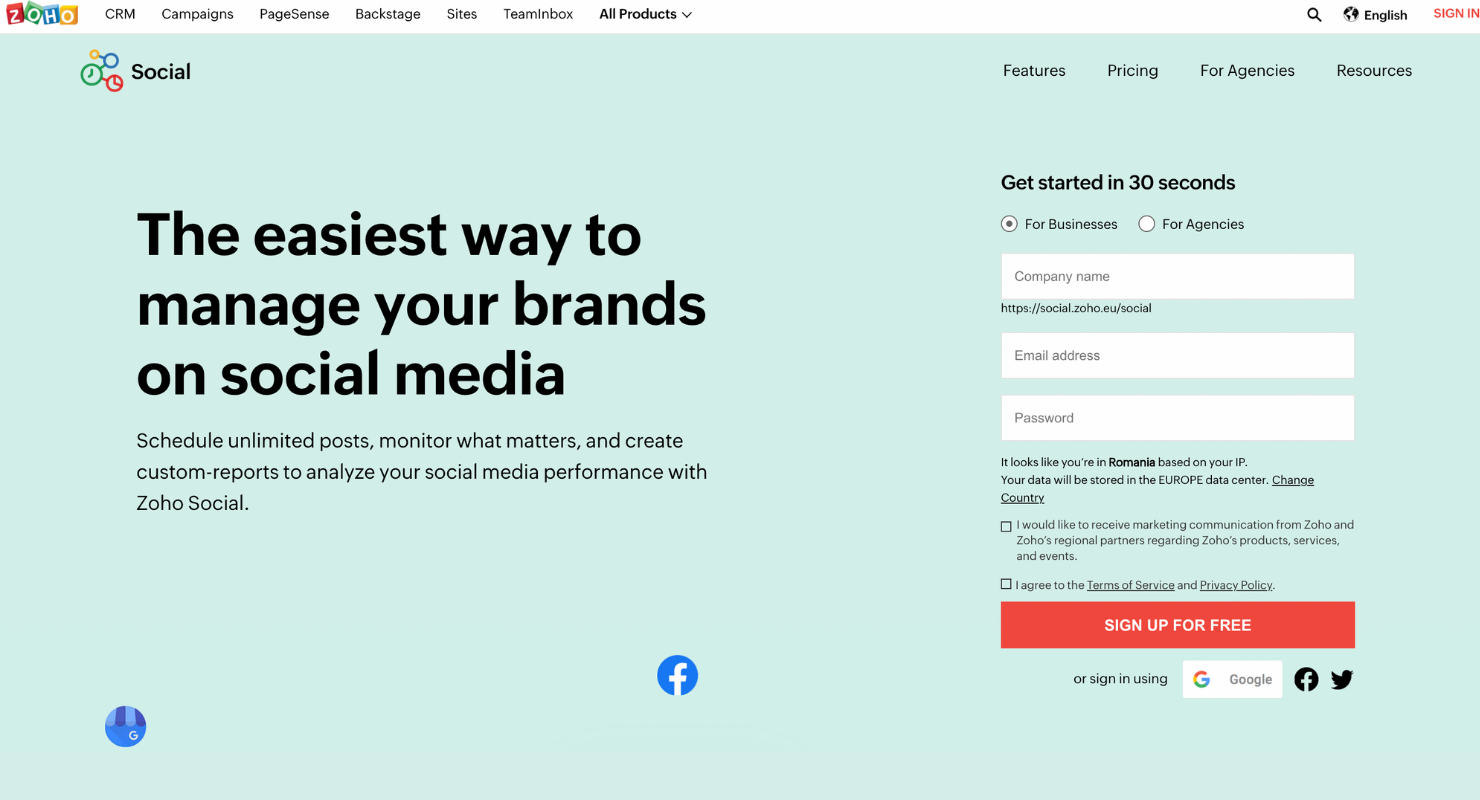 Cool features you can benefit from:

social media monitoring
sentiment scoring
influencer identification
social measurement

Pricing options: $18, $48.8, or $79.3 monthly.
16. Tailwind
This app started in 2011 as a Pinterest analytics and marketing tool and is now a powerful social media analytics and scheduling platform for both Instagram and Pinterest.
With Tailwind, you can schedule posts, create pins faster, discover new content, monitor conversations, amplify your reach, and measure the results all in a single tool.
It is divided into 2 products:

Instagram Marketing - schedule your content, visually plan your feed, increase your reach with hashtag suggestions, or drive traffic with your bio link.
Pinterest Marketing - schedule your content, create Pins instantly, and have access to communities.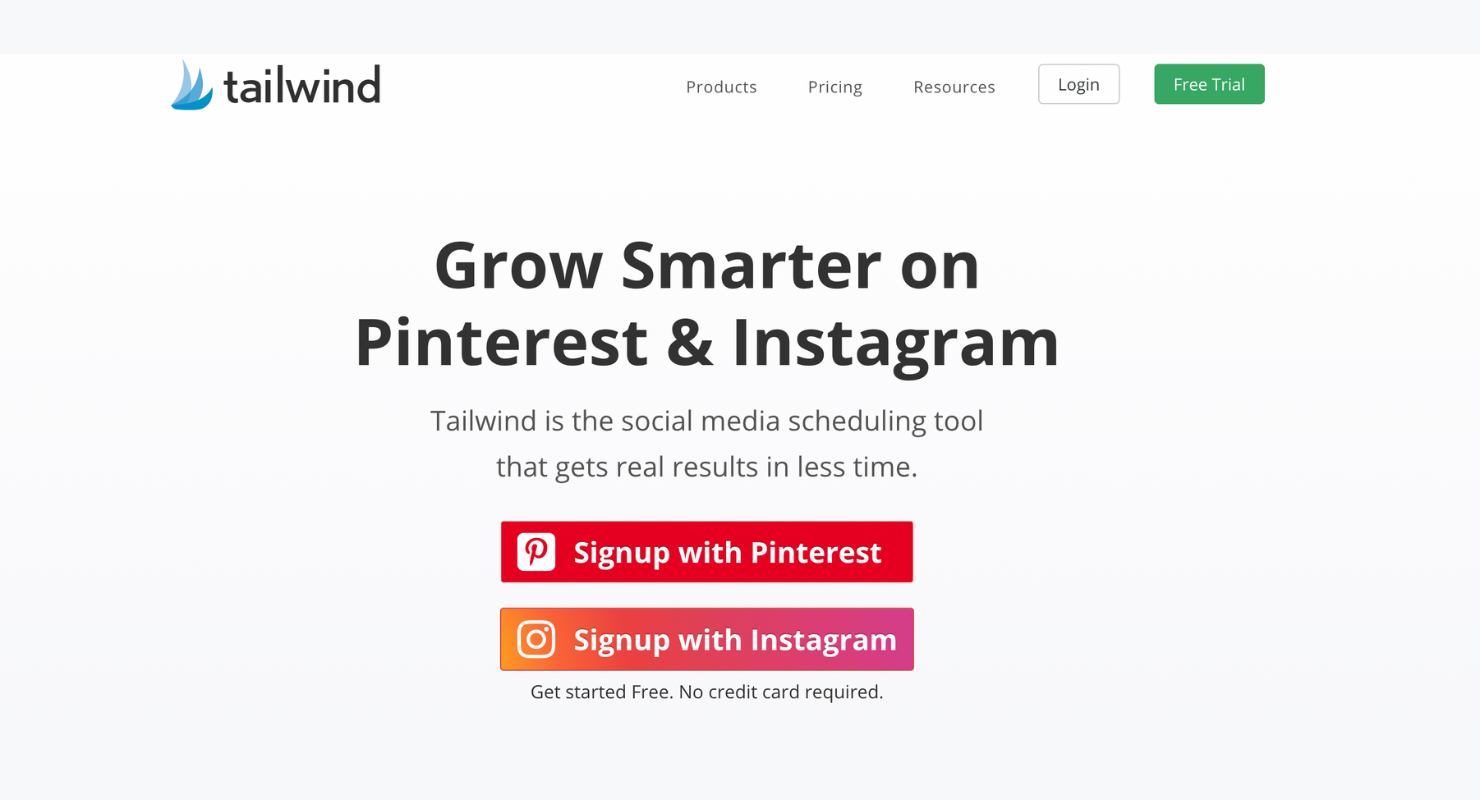 Pricing options: between $14.99 and $59.99 monthly.
17. Brandwatch
Brandwatch is a digital consumer intelligence platform which tracks billions of conversations that take place online everyday, from blogs and reviews, to news or images.
On top of giving you access to a large amount of data, Brandwatch allows its users to utilize the data in order to make sense of customers, their needs, wants, and interests.

You need to follow four easy steps to get actionable insights:

collect posts, comments, and conversations that are relevant to you.
categorize these conversations by criteria that are meaningful for you.
use AI to analyze the data and answer your questions.
share the insights with your team through live reports.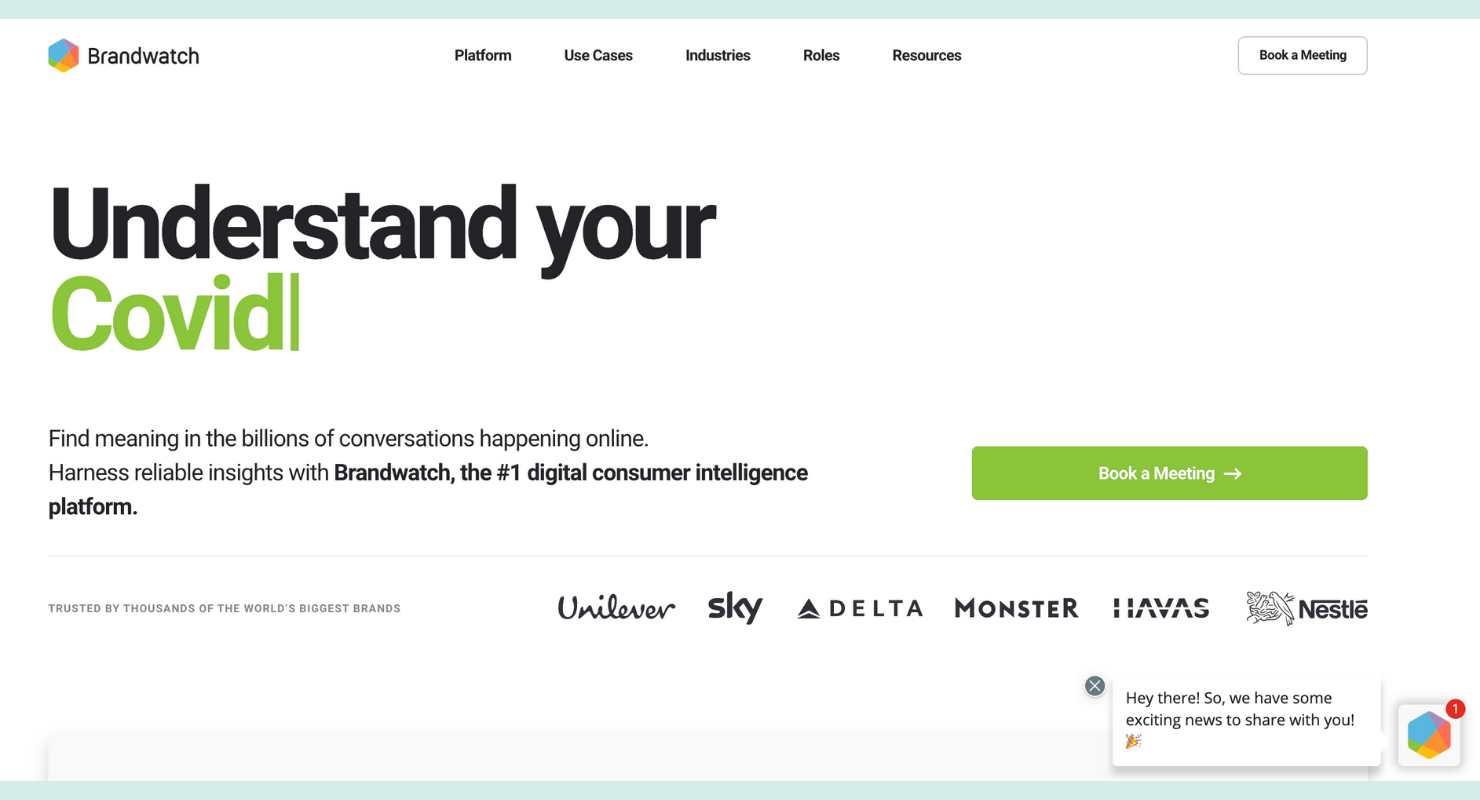 Pricing options: not disclosed on their website, but you can book a meeting.
18. Keyhole
This social listening and influencer management tool helps marketers measure, report, and improve their impact on social media.
Using Keyhole, you'll discover when your users are most active and get an in-depth sentiment analysis of your social strategy over time.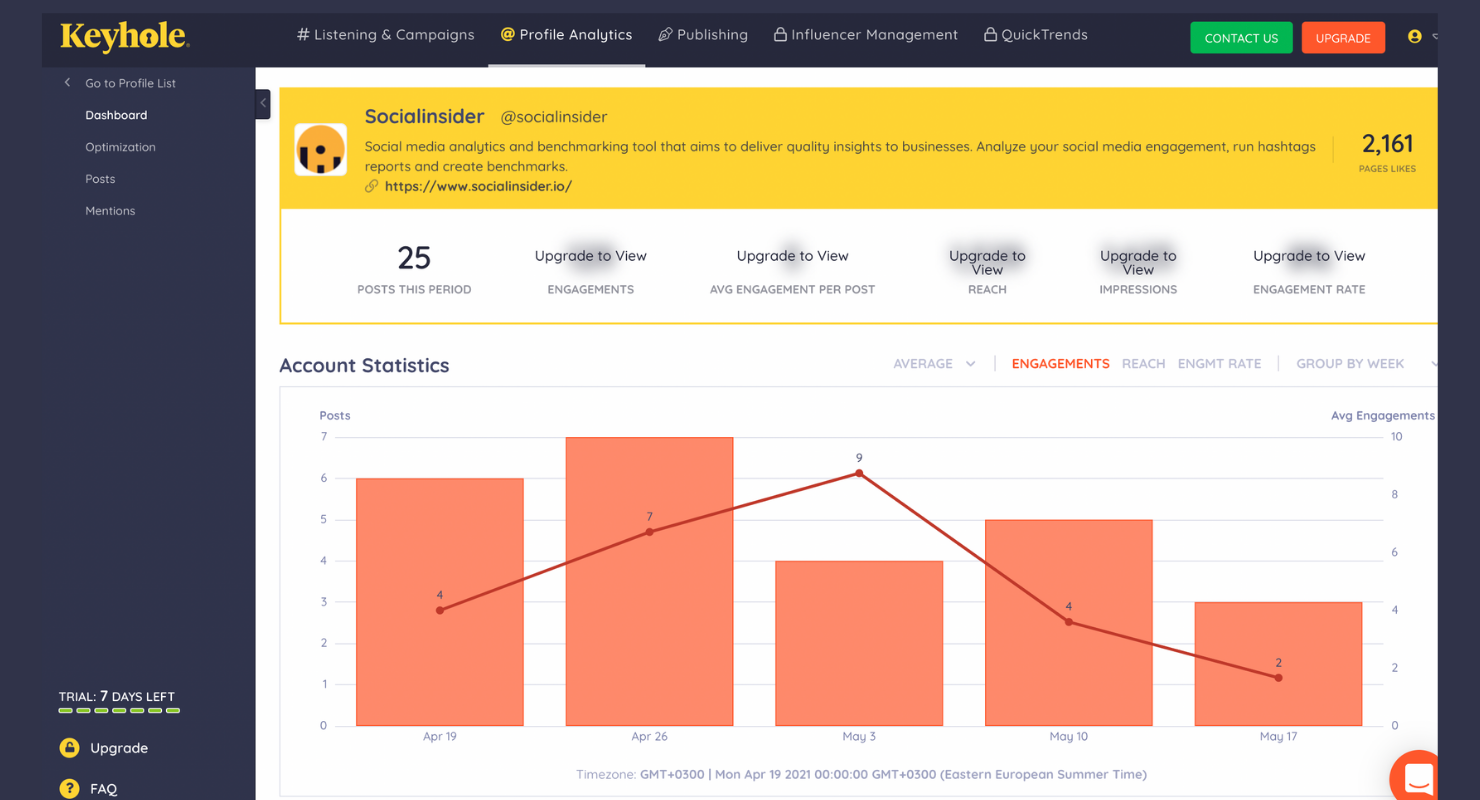 Keyhole provides a pretty comprehensive list of features to choose from:

competitor analysis and benchmarking
campaign monitoring
social media listening
influencer marketing

Pricing options: starts at $79 per month and offers custom pricing for enterprises.
19. Talkwalker

Talkwalker is a social media management tool that focuses on brand and consumer's behavior tracking.
This analytics and monitoring platform generates actionable insights and competitive metrics.
You can also benchmark your brand and campaigns with Talkwalker's KPI frameworks. This way, you can compare your results to the competition and discover what consumers think, say, and do.
With the Quick Search option, you'll discover top influencers to boost your brand and trending stories that circulate in your industry.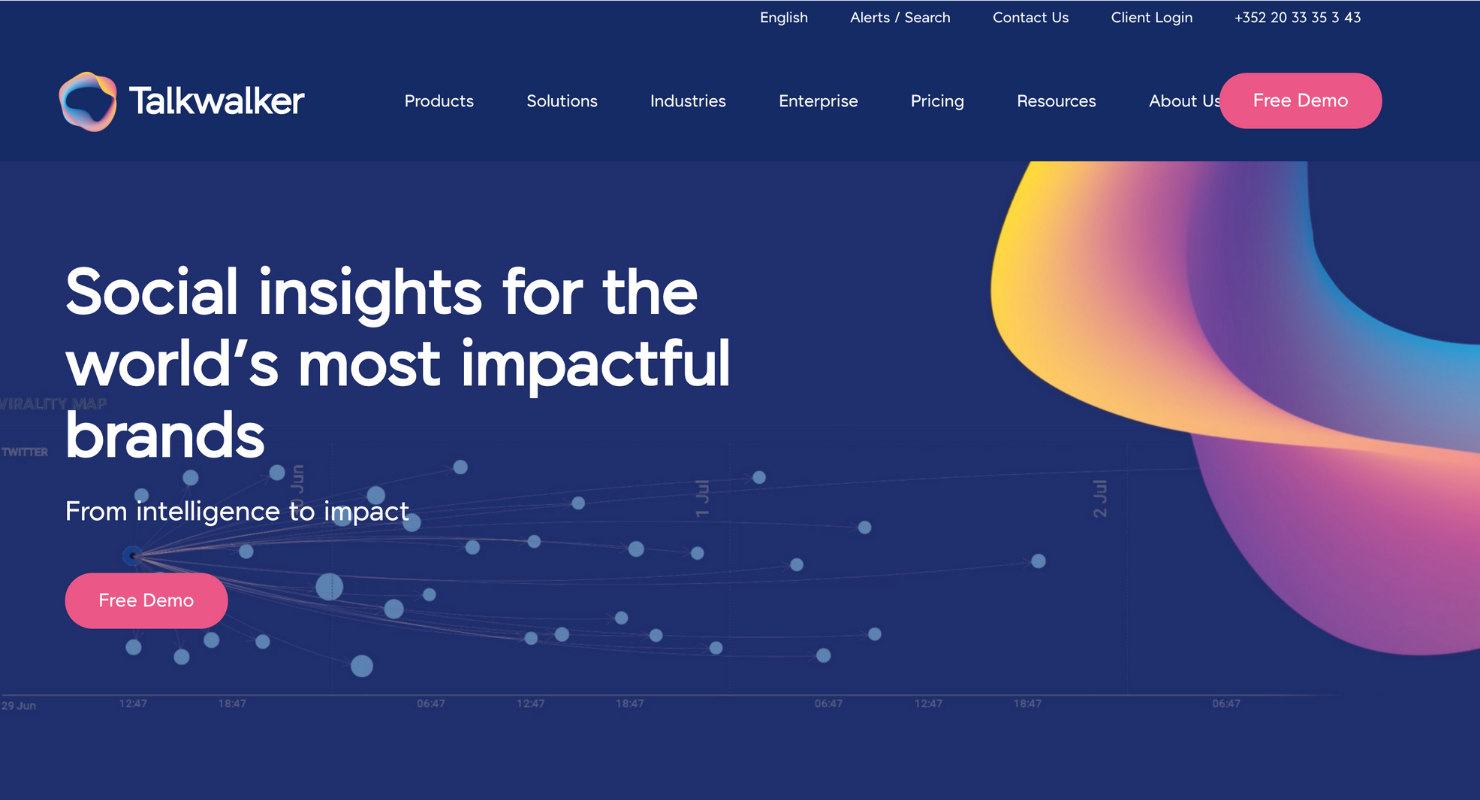 These are Talkwalker's top products:

social media analytics
social media  search engine
social media paid insights
social content ratings

Pricing options: starts at $9,000 yearly.
20. Sotrender
This social media reporting and benchmarking tool covers Facebook, Instagram, Twitter, and YouTube.
Sotrender is a complex social media product that can turn your social media activity into measurable benefits.
With Sotrender, you will cut down the time you need for preparing monthly reports, scout your competitors' strategy, and even manage and organize your online conversations easily with Sotrender's Social Inbox.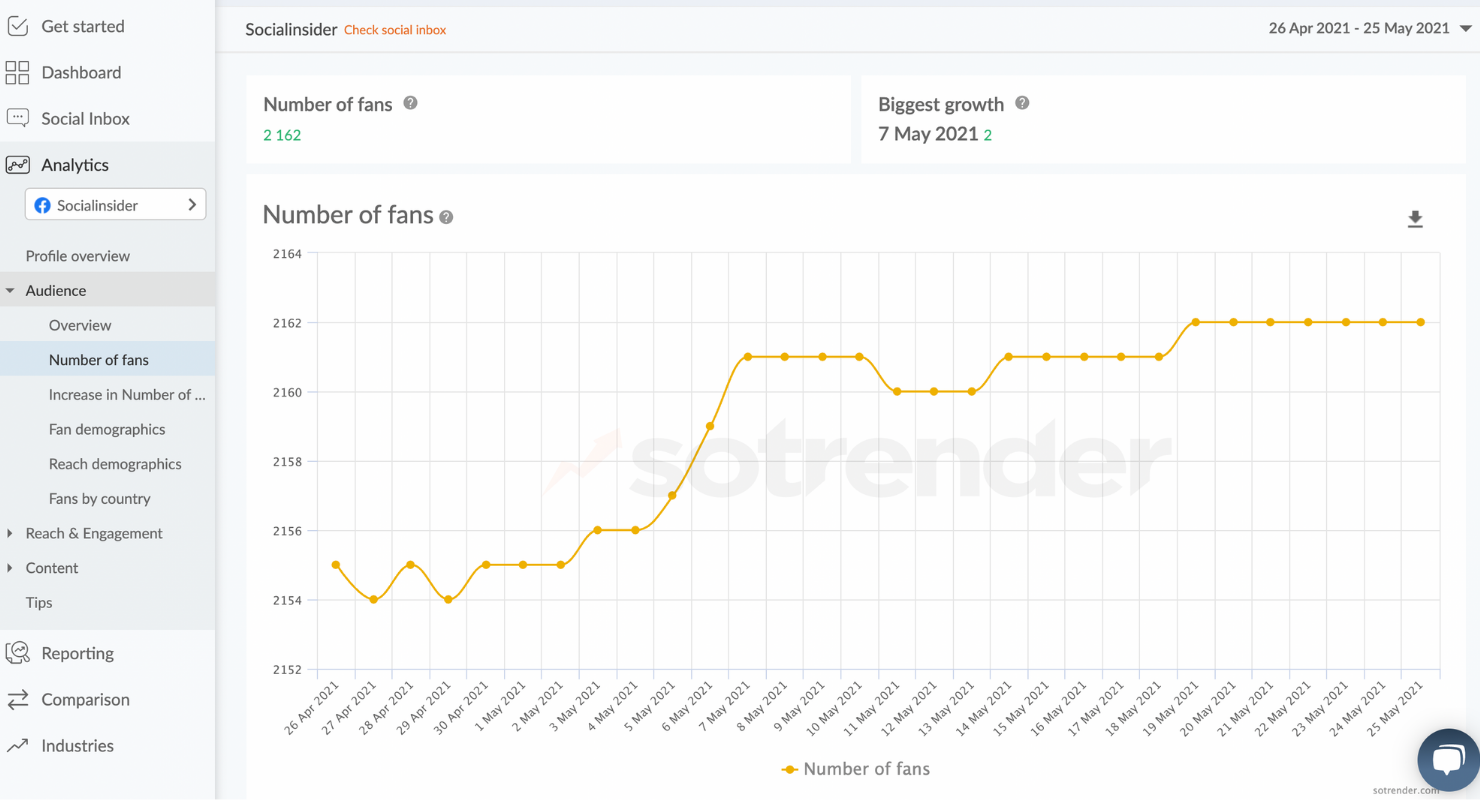 Following are Sotrender's key features:

social inbox
social media analytics
social reporting
benchmarking

Pricing options: ranges between $70 and $350 monthly.
21. Cision Analytics
Cision is a comprehensive end-to-end suite that covers distribution, earned media monitoring, media database, and media analytics.
With this app, you can execute PR campaigns, target the right media contacts, engage with personalized outreach, or measure and monitor your brand.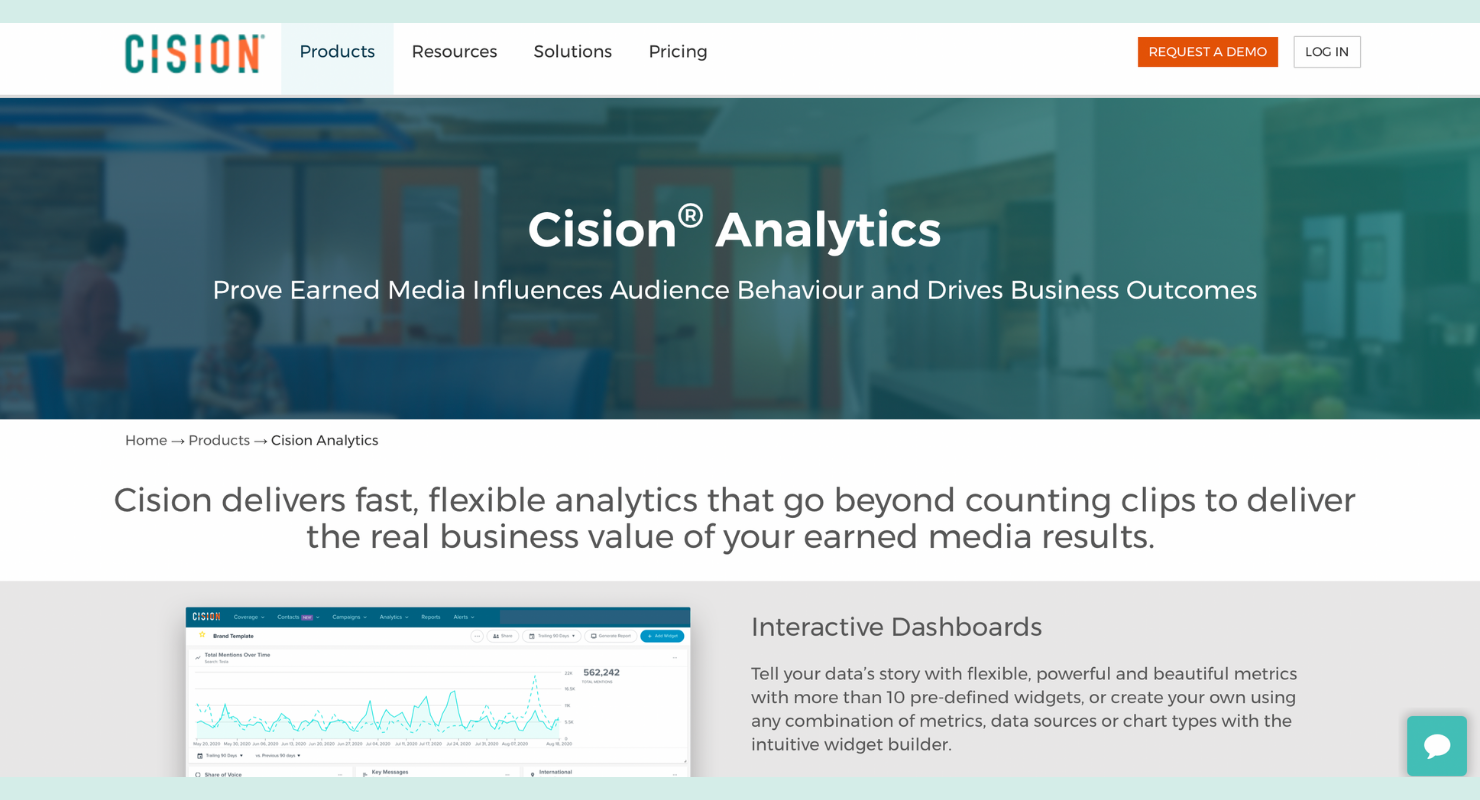 Its top features are:

interactive dashboards
full-funnel measurement and metrics
executive ready-reporting.
Pricing options: not disclosed on their website, but you can request a demo.
22. ZoomSphere
ZoomSphere is an all-in-one digital marketing toolkit that supports several social media platforms: Facebook, Instagram, Twitter, LinkedIn, and YouTube.
With ZoomSphere's social media analytics app you can make your communication fully data-driven.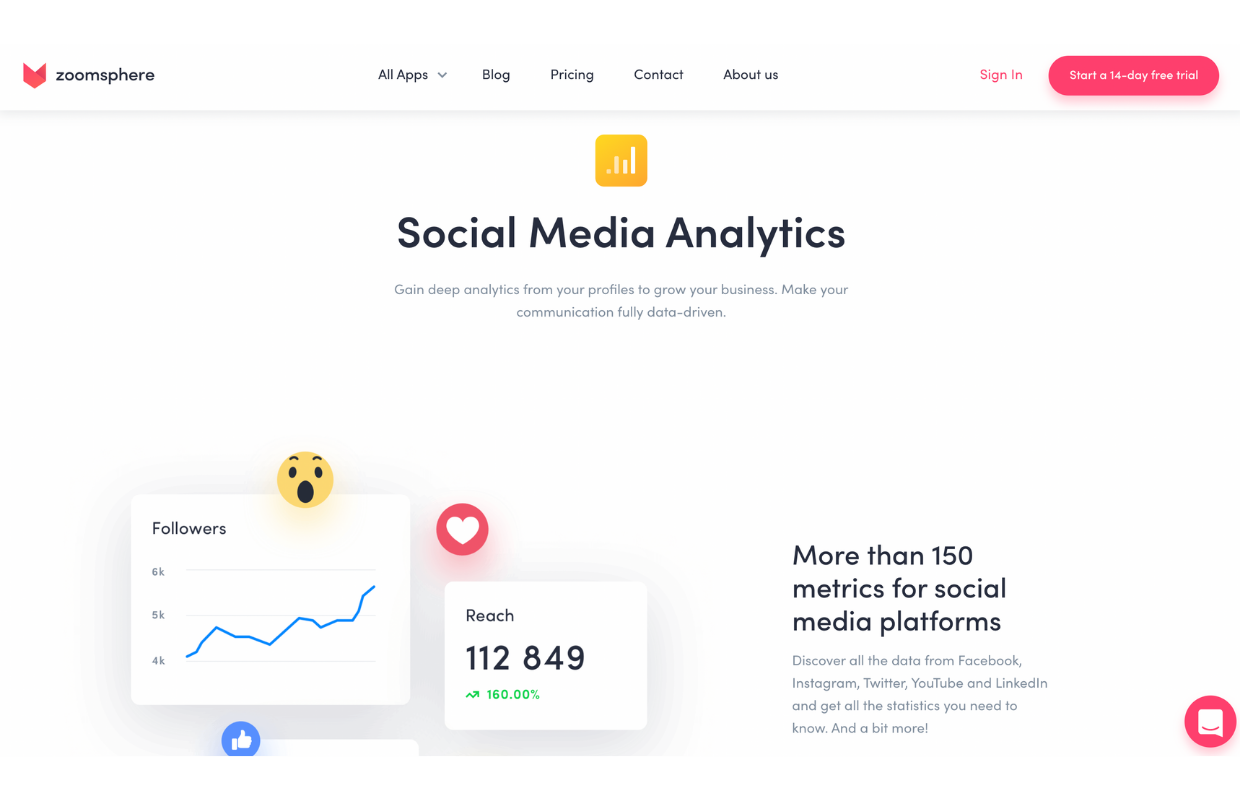 The social media analytics app offers:
More than 150 metrics for social media platforms
Simple categorization
Ready to download reports
Interactive graphs and tables
Pricing options: $105 per month, plus a 14-day free trial.
Final thought
Whether you are an enterprise, an agency, or a small business, you need to know your data.
These tools will help you save time, energy, and effort and will streamline your marketing strategy.
Social media analytics tools provide a staggering amount of options and functionalities to best fit your needs.
There are far more than 22 such social media reporting tools on the market, but I hope this list gives you an overview of what's in store and will help you in your decision-making process.
Most of these tools I've mentioned in this article offer a free trial or demo booking, so you can test them out before deciding what is the one for you and your brand.
Now all that's left to do is to choose a social media analytics tool and start exploring!