LinkedIn is one of the social media platforms that has shifted to new horizons along the years.
Using different approaches and changing its point of view transformed this platform into a gold treasure for employees, employers, and B2Bs.
As a brand, getting access to so much free knowledge from LinkedIn experts and being ready to experiment with various LinkedIn content ideas offers you the chance to adjust your LinkedIn strategy to attract more people.
In what follows, we'll be looking at different types of LinkedIn content ideas and how they could help you improve your LinkedIn strategy.
LinkedIn B2B content ideas to improve your game
1. Why it's important to explore LinkedIn content ideas
Shuffling through a whole list of LinkedIn content ideas can help you test various types of writing and communicating with your audience to see what engages them more.
Depending on your business goals, LinkedIn can help businesses in establishing themselves in the market and generating leads. 80% of B2B leads come from LinkedIn.
Exploring different ideas, from funny memes to lists of people you follow and posts about tips & tricks, can help you develop your marketing team's writing skills.
This will help your brand to better communicate with your audience, testing something and then analysing your audience's reaction.
Through various content ideas, you can find out what your audience's needs are and learn how to address them.
After discovering which types of LinkedIn content ideas work best for you in terms of engagement and number of followers, then it's only fair you stick to those.
Next quarter, you should consider testing something new for your LinkedIn content strategy and so on.
Keep in mind that you have to reinvent your brand once in a while and post much needed data to stay relevant for your audience.
2. Top LinkedIn content ideas
This is the part that you're here for, scrolling through this article. Here are a few examples of LinkedIn content ideas that could elevate your content marketing strategy.
2.1. Use employee highlights
If you want to show your audience the human and relatable side of your brand, it's time to post employee highlights posts.
They are a fantastic opportunity to share employee experiences, strengthen relationships among staff members, and enhance your company's and employer brand.
Employee highlights are also an endless source of content inspiration. You can create content around your employee's history with your company, accomplishments, personality, work anniversaries, challenges, and more.
This way, you'll give potential new leads more information about the people they would be working with.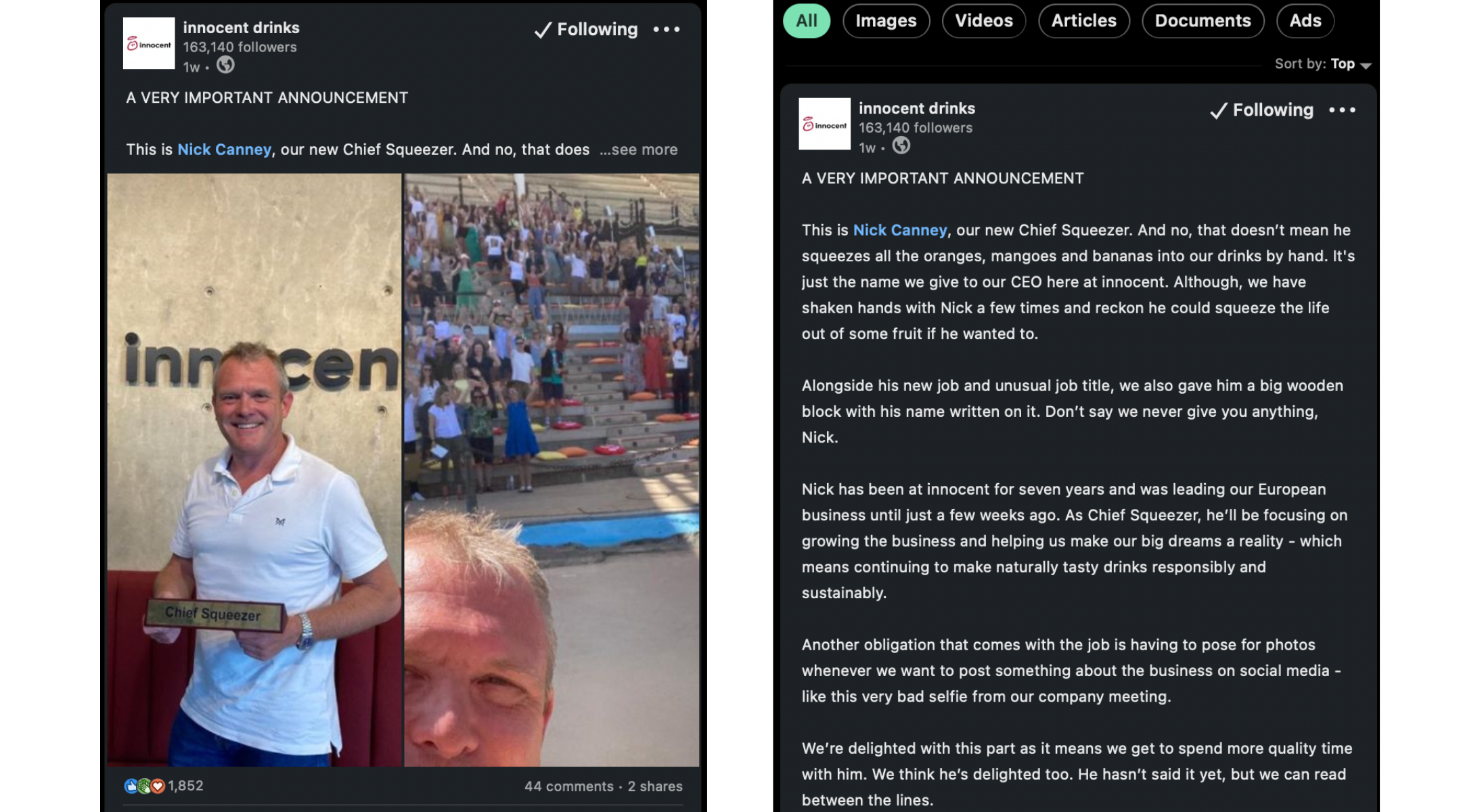 2.2. Send LinkedIn newsletters
Sadly, after following your brand on LinkedIn, many people will stop thinking about it.
This is why LinkedIn newsletters may be a crucial part of your inbound marketing strategy to be top-of-mind for them.
A newsletter can help you increase brand recognition and position yourself as an industry leader.
By creating valuable content, your connections will consider you a reliable source of information.
The main advantage LinkedIn newsletters hold to other types of content is that your subscribers are notified whenever you publish. This increases the likelihood of them actually reading your content.
An article, for example, enters your timeline when it is published. Only those of your connections who scroll through their feed will see it.
If you'd like to give this feature a try, you'll first need to learn how to set up a LinkedIn Newsletter.
2.3. Develop interactive content
In today's oversaturated digital market, interactive content is the key to success.
Research shows that 51% of B2B buyers say interactive content is helpful when tackling business challenges.
Many brands fail to provide interactive content, which causes their content to be ineffective and businesses to struggle.
Polls, surveys, and quizzes are fun, unique techniques for collecting valuable data like audience feedback and buying preferences.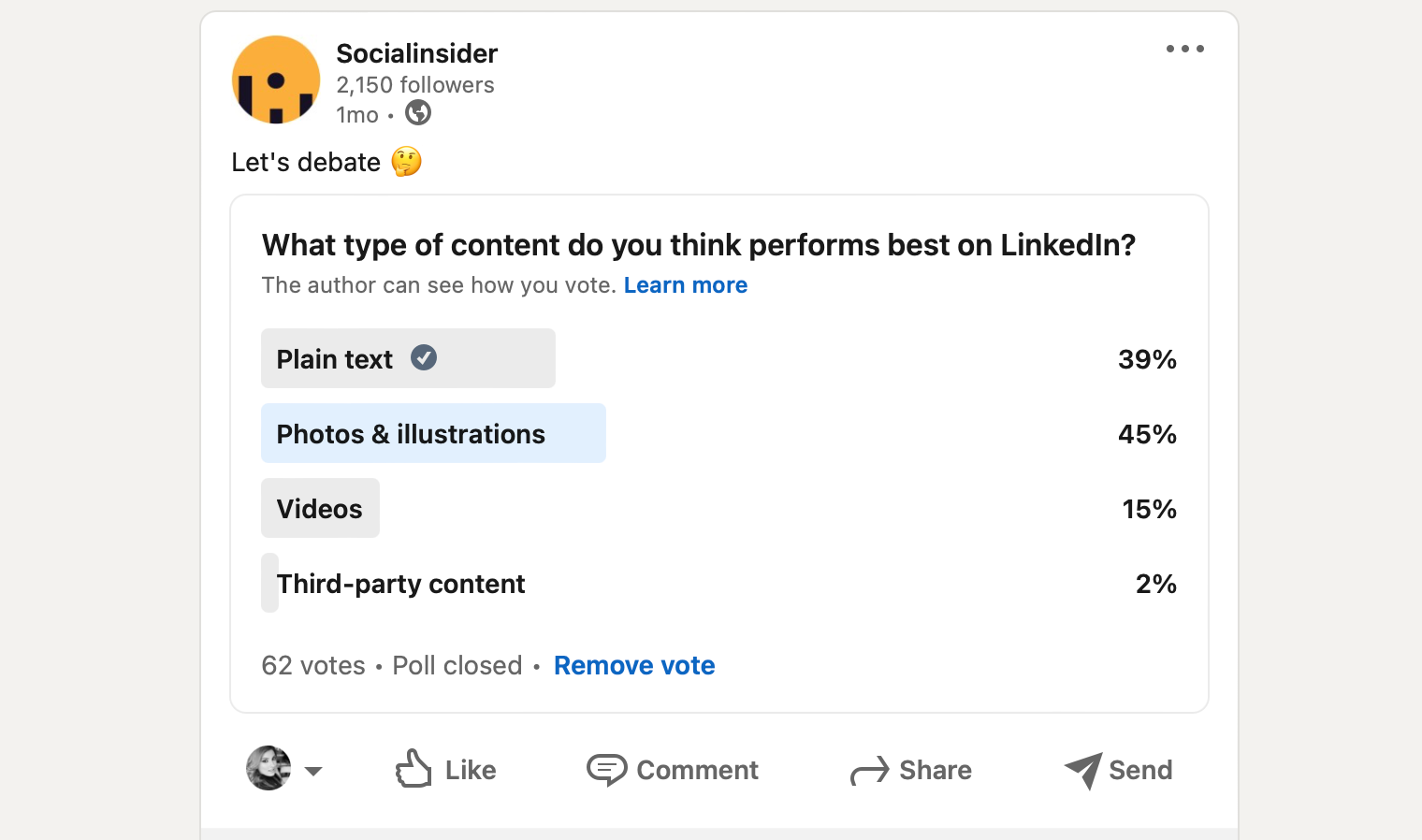 2.4. Highlight corporate achievements
It's always good to take time out from deadlines, meetings, and endless emails to acknowledge even the little wins at work.
Some LinkedIn milestones worth mentioning would be your first 1,000 connections, your first client, or your first publicity opportunity. The list goes on.
Don't allow those significant business milestones slip you by.
Take advantage of the chance to express gratitude to everyone who helped you succeed. Recognizing achievements can do wonders for your company culture.
And who wouldn't want to work with a brand that's on the winning side?
2.5. Post relevant content keeping up with the trends
Staying relevant to your audience means keeping up with everything that's new in your niche and industry. Being ahead of trends is not that easy.
It requires a lot of research and a very creative marketing team so you can adapt the social media trend to your products or services.
2.6. Share relevant charts
Being relevant is one of the greatest missions every brand has. The most intricate and time-consuming type of content consists in charts or stats.
Even if they deliver valuable data, they are also…well, numbers. And we all know that you cannot play with numbers.
You must develop extensive research to be able to collect the right infos and further transmit your audience the right data.
Posting surveys, studies, charts and case studies on LinkedIn requires a lot of attentive research since the numbers on your stats need to be accurate.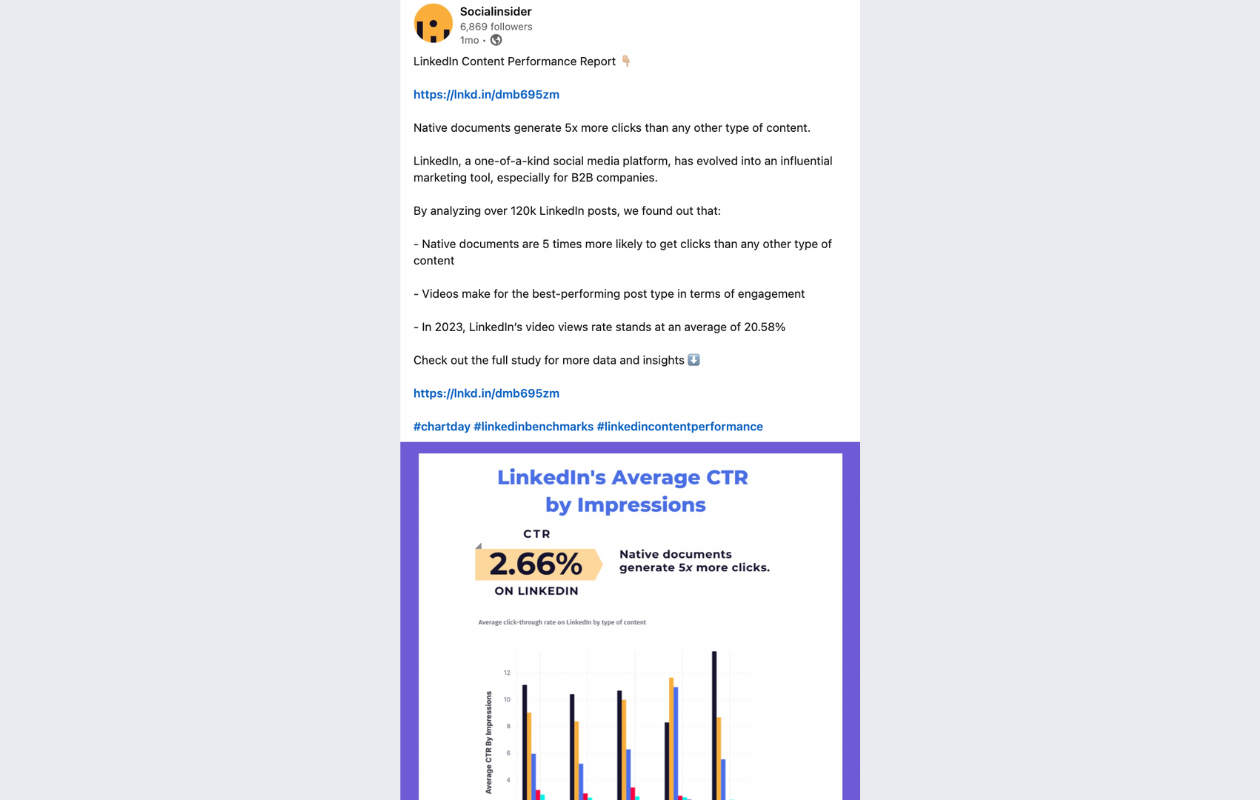 2.7. Show your company's culture and values
Another useful LinkedIn content idea is to showcase your brand's values and culture in your LinkedIn posts.
Since you're addressing a wide audience on social media, this is your chance to be authentic, to show your true colours and be bold.
It's important to show everyone why you're different then the rest of the brands and why that matters.
You should consider posting on LinkedIn some workplace stories or even your employees' achievements. This type of LinkedIn content will also show the human side of your brand.
By showing your company's values and culture you get to have a unique identity and be recognized for it, increasing brand awareness.
2.8. Post customer success stories
When your customers are happy with your products and services, it's clear that you're doing a great job.
Why not share that with your whole community? By posting customer success stories, you get to show everyone that your products or services are a valuable asset.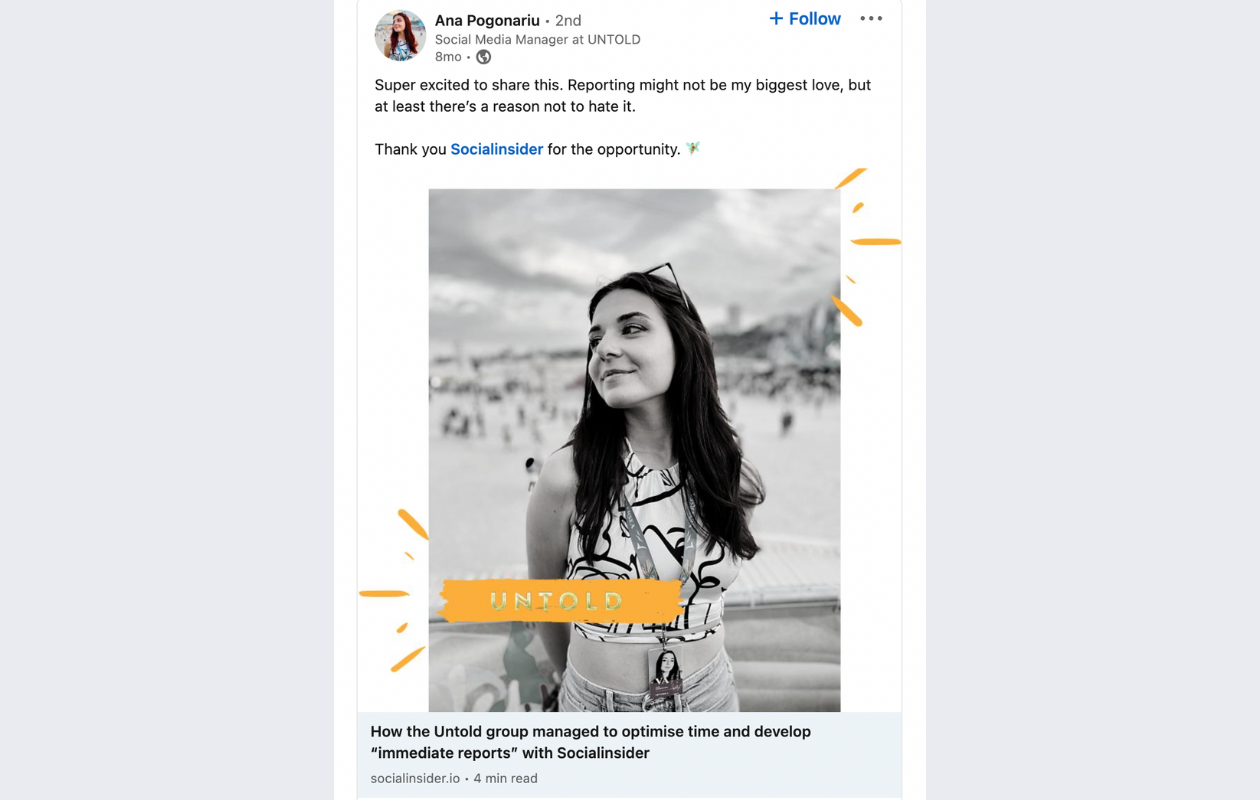 2.9. Ask questions
By using polls as part of your LinkedIn B2B content ideas you get to find out what are the new trends in your industry and niche and what your customers want.
You'll see that generally LinkedIn users would be very willing to answer polls. If you decide to ask your audience questions and post a longer text post ending with a question, then this might increase your brand's engagement.
Polls and questions are your chance to trigger interesting conversations targeted on certain topics.
2.10. Include user-generated content
With this LinkedIn content idea, it's pretty much the same with customer success stories. User-generated content proves that your brand satisfies clients with your products and services.
When people see other people believe in your strengths, then they will also be curious to try your products and services and they want to share their experience with everyone.
You can include user-generated content on your brand's LinkedIn page as photos, testimonials, videos and reviews.
Therefore, you have a wide range of types of content you can choose from.
2.11. Offer your audience guidance, tips & tricks
When frequently posting on LinkedIn, users may come up with different queries or questions in the comment section.
It is important to show them that you are there for them, answering their questions and helping them solve their problems.
By offering guidance, you don't only gain a new customer, but you gain a loyal one.
When it comes to launching new products and services, it's important to show people how to properly use them. Some tips & tricks posts can come in handy for them.
They will surely appreciate your effort to help them correctly use your services and make the best out of them.
2.12. Not this, but that
The type of posts that intrigue more and more users on LinkedIn are the ones that offer advice in a different way.
Posts that highlight "not this, but that" tend to get higher engagement rates and more impressions.
This type of LinkedIn content helps people to discover the dos and don'ts of their sector, niche or industry. And well-documented such posts have a great impact on people especially when they are in a learning process.
2.13. Don't be afraid of integrating memes
I know it's LinkedIn we're talking about, but more and more brands have gradually transformed it into a friendly platform, even if it started as a social network for professionals.
Big brands and professionals have adopted the "go with the flow" attitude and integrated the latest trending memes in their LinkedIn posts to add some spice.
And it works. This LinkedIn content type usually shows great values when it comes to LinkedIn metrics.
2.14. Make your LinkedIn posts skimmable
Long-form content is not to be avoided when you share a story. However, if you want to inform your audience about the latest discoveries and research, it is better if you craft your post in such a way that it pops and it is also skimmable.
Skimmable content is advisable to be used, especially when you are about to deliver big chunks of data.
You need to make it digestible in a way. If the text post is too long, people might scroll right past it. And that's not something you wish for.
3. Best practices on LinkedIn
In the fast-paced world of today, it might be challenging to stand out.
Whether you're just getting started with LinkedIn or you've been around for a while but want to start posting more frequently, here are some of the best practices to maximize your social media efforts.
LinkedIn recommends sharing up to 20 posts per month, which would mean posting one piece per business day.
When it comes to the best posting hour, social media experts seem to have slightly different opinions.
In a recent article regarding the best hours to post on the platform, Influencer Marketing Hub has listed what some of the leading social media SaaS' have to say.
You can start by following these recommendations and, from there, experiment with other posting times to see if you can increase interaction and move toward your objectives.
LinkedIn recommends using no more than 3 hashtags per post.
You may use hashtags on LinkedIn to increase brand awareness and reach a wider or more specific audience with your content.
Depending on the keywords in your post, the platform will suggest some hashtags to add so you can provide high-quality, relevant material.Here are all the ways you can use hashtags on LinkedIn to engage with your audience more effectively.
Use social media tools to manage LinkedIn content
Thanks to multiple excellent tools available on the market, it's now easier to develop and carry out a social media strategy.
Digital marketers can use social media tools to schedule social media content for their brands and manage online communities.
4. Examples of successful posts on LinkedIn
Even if you have now got some LinkedIn content ideas that help you adjust your content strategy on social media, you may still need some examples.
We're here to help, showing you some of the most successful posts from brands of LinkedIn. You won't only see how it's properly done, but you will also get a sense of the goal lying behind that post.
Because LinkedIn content marketing still relies on some main goals that need to be achieved.
This is a great example of LinkedIn B2B content. When using how-to guides, this helps you attract more and more brands that empathize with your concerns and face the same problems.
Offering them a solution in the form of bite-size posts is pure bliss. This type of LinkedIn content is not only educating, but it's a great topic to stir conversation and increase engagement.
Before writing this type of post, you need to make sure that you do extensive research and use comprehensive language.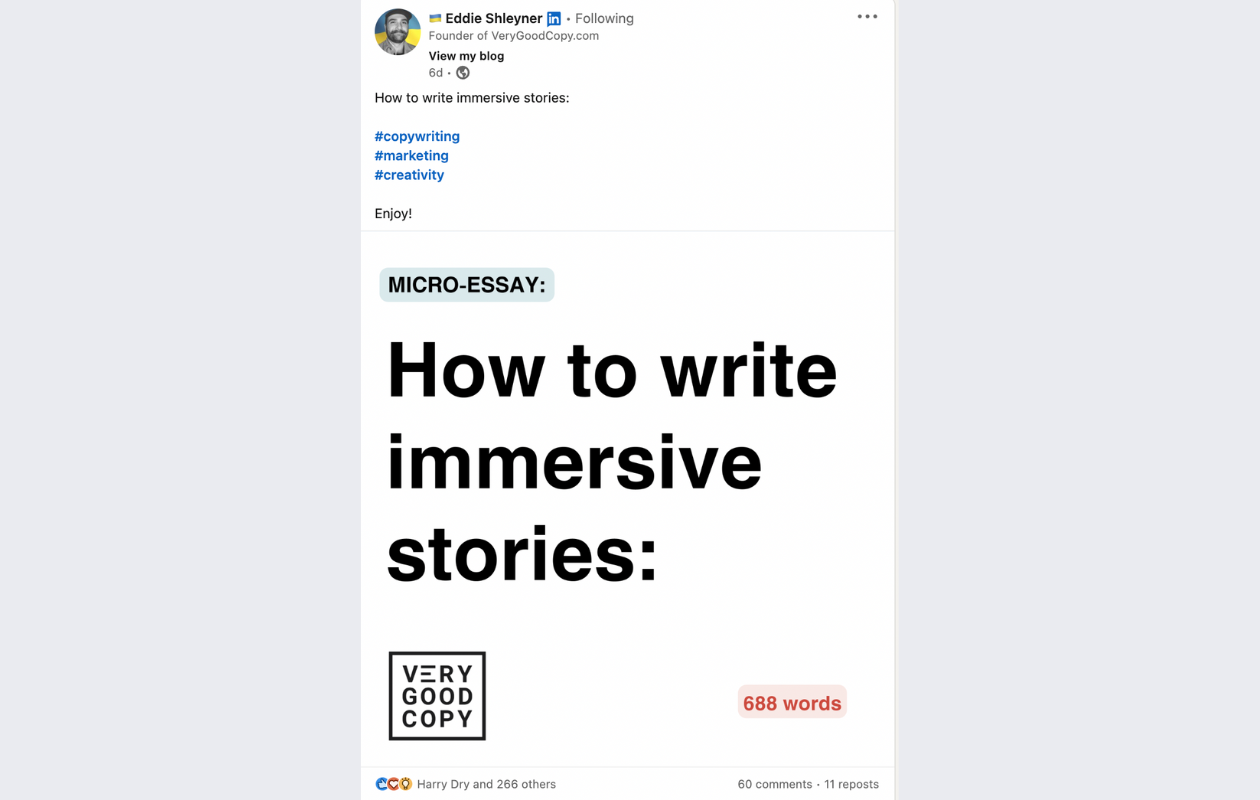 For this LinkedIn B2B content idea you need to choose a design that suits your brand's aesthetics and stick to it.
Decide how many pictures to add and make sure they are all relevant for your post's idea. The text you include should support the images you include.
The key here is to use pictures that can have a great impact on the audience to determine them to interact with your post.
Everyone knows that LinkedIn posts that include the latest news are extremely useful and engaging, especially when the news influences both B2Bs and B2Cs.
LinkedIn B2B content that focuses on news should include the right SEO to be quickly picked up by the social app's algorithm.
We know that news travels fast, but LinkedIn users surely want to see relevant news. That's why you need to make sure they reach everyone while they're hot. Maybe you should even consider boosting this type of post.
Inspiring marketing campaigns
On LinkedIn, brands are not only about competition. Posts about successful and inspiring social media campaigns become viral really quick.
If you decide to make a top with the most inspiring campaigns, you need to consider in-depth research.
Your LinkedIn post has a better chance to become trending if you tag all the brands you've used as examples.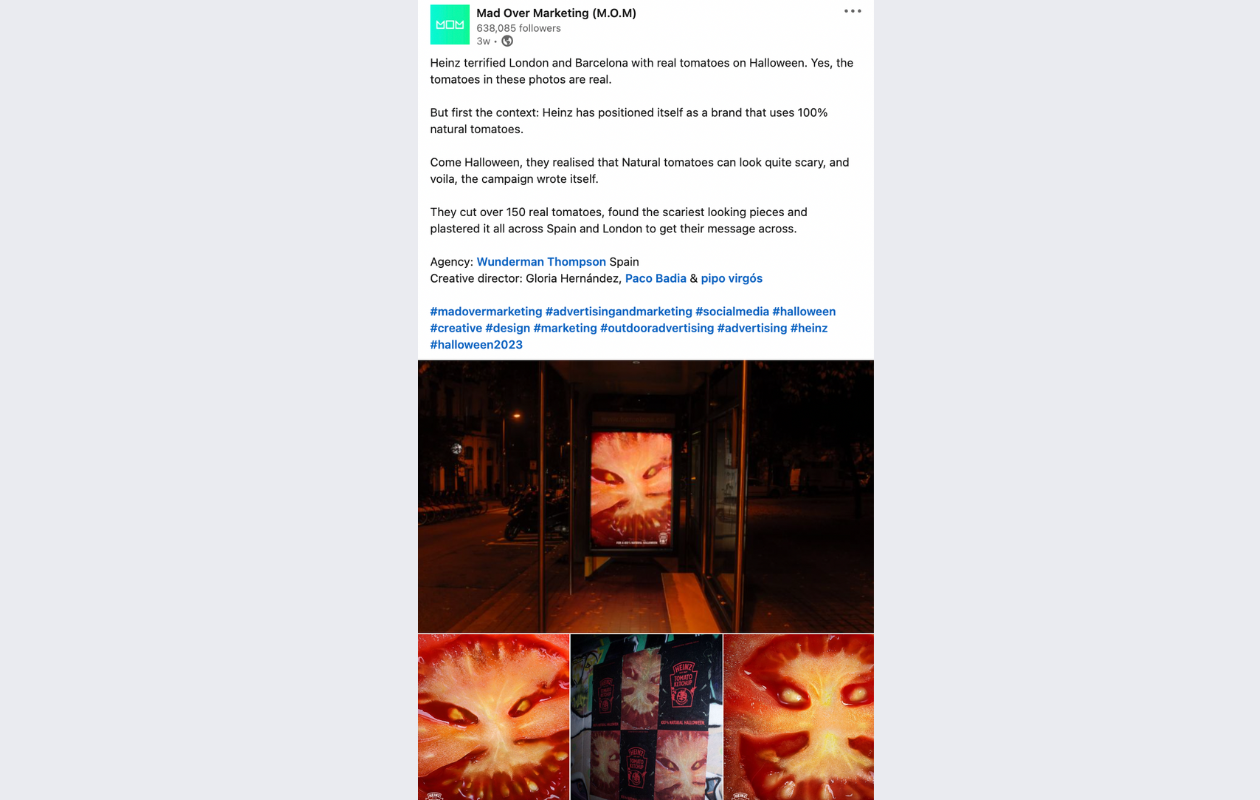 Memes always become trending on LinkedIn, like on any other social media platform. If you associate a thing from your industry or niche with a meme, then you win. 'Cause that's the lucky combo.
Trending funny memes are the key to higher engagement rate and impressions. There's no wonder that a lot of brands use the same meme and only change the text to accustom it to their brand's values and struggles.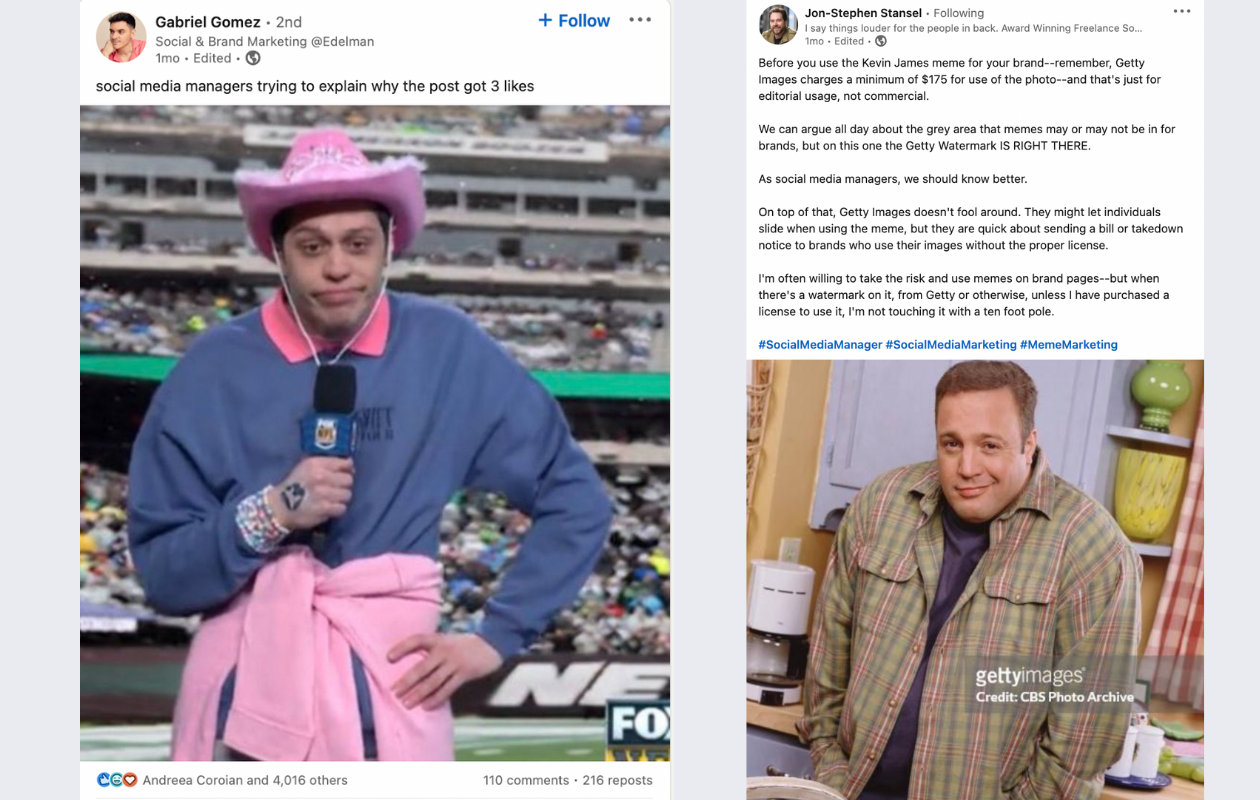 Lately, videos on LinkedIn that use AR have taken over the internet. A lot of brands that use this type of marketing in their LinkedIn content have managed to amaze everyone and increase their follower count.
And if it works for B2Cs why wouldn't it work for B2Bs as well? How about you'd try to use AR to showcase how your audience can use your services or apps? This would be of great use for them, while also increasing your LinkedIn engagement.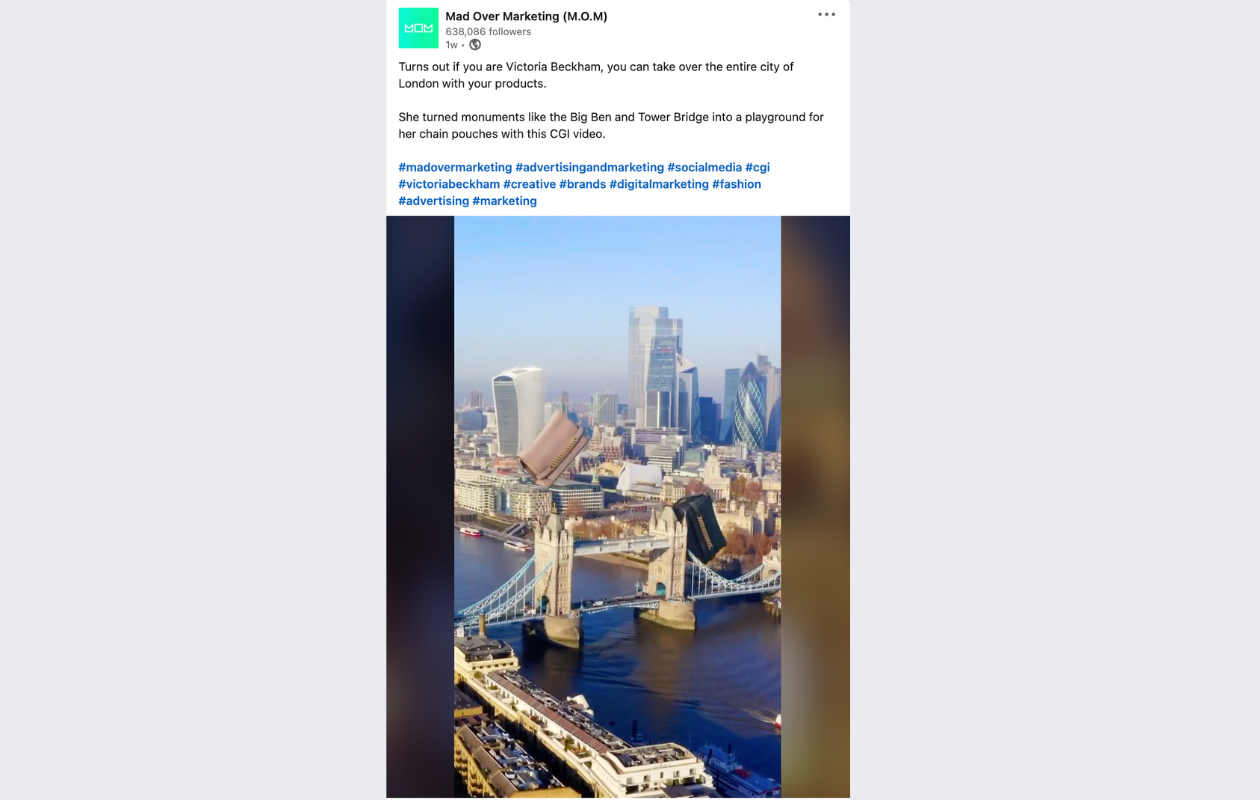 5. How to know your LinkedIn content strategy is working
If you're actively using LinkedIn, but you are not sure of whether your content performs well, it's time you conduct a LinkedIn audit.
An audit of your LinkedIn profile can help you assess your brand's current state and determine what needs to be improved.
Some of the most important LinkedIn metrics you can track through an audit are demographics, impressions, reach, organic engagement (reactions, shares, and comments), and follower growth.
For this, you'll need a social media analytics tool that supports LinkedIn.
Fortunately, we've compared 20 LinkedIn analytics tools to help you decide which is the perfect one for your marketing ambitions and budget.
6. How to build a strategy based on LinkedIn analytics data
When you want to go in depth and see how your LinkedIn content ideas have impacted your marketing campaign, it is clear that you need some powerful tools to rely on.
Retrieving data about your LinkedIn results can be more efficient and accurate with Socialinsider.
Socialinsider now has two different tools, a social media analytics and benchmarking tool and the Instagram listening tool.
By using LinkedIn analytics, you get access to a lot of data about content, engagement, reach, impressions, audience, posts and campaigns.
Let's have an even closer look. Here I added Socialinsider's LinkedIn account and selected the last 6 months as a time frame.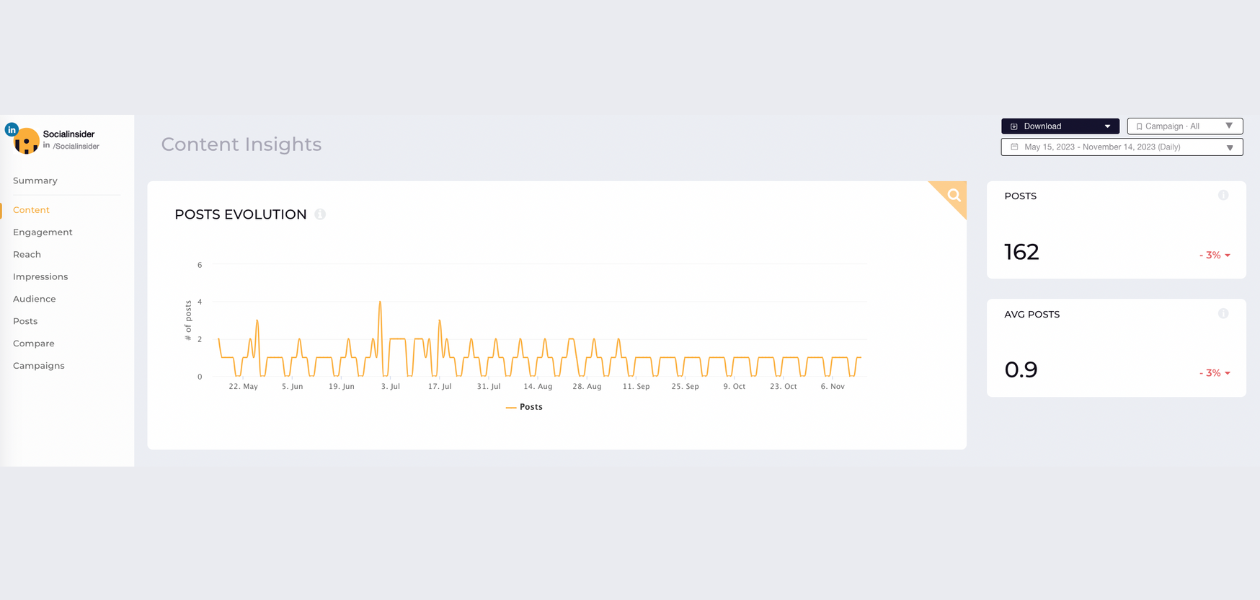 Getting insights about your posts evolution will help you determine whether you need to change the combo between the type of posts you use.
Let's say you've discovered 3 months ago that your luckiest combo of LinkedIn posts is carousels and videos and you kept on pushing these types of posts.
Meanwhile, the performance (engagement and interactions) of these types of posts has changed. This means it's time to reassess your decision.
That's why a LinkedIn audit is advisable, to track your performance and immediately come up with a new plan when things don't work as planned.
You need to perform a periodic LinkedIn audit to be able to improve your content marketing strategy.
Seeing what your top 3 posts are says a lot about the type of content (and infos you deliver) you need to focus on in the future.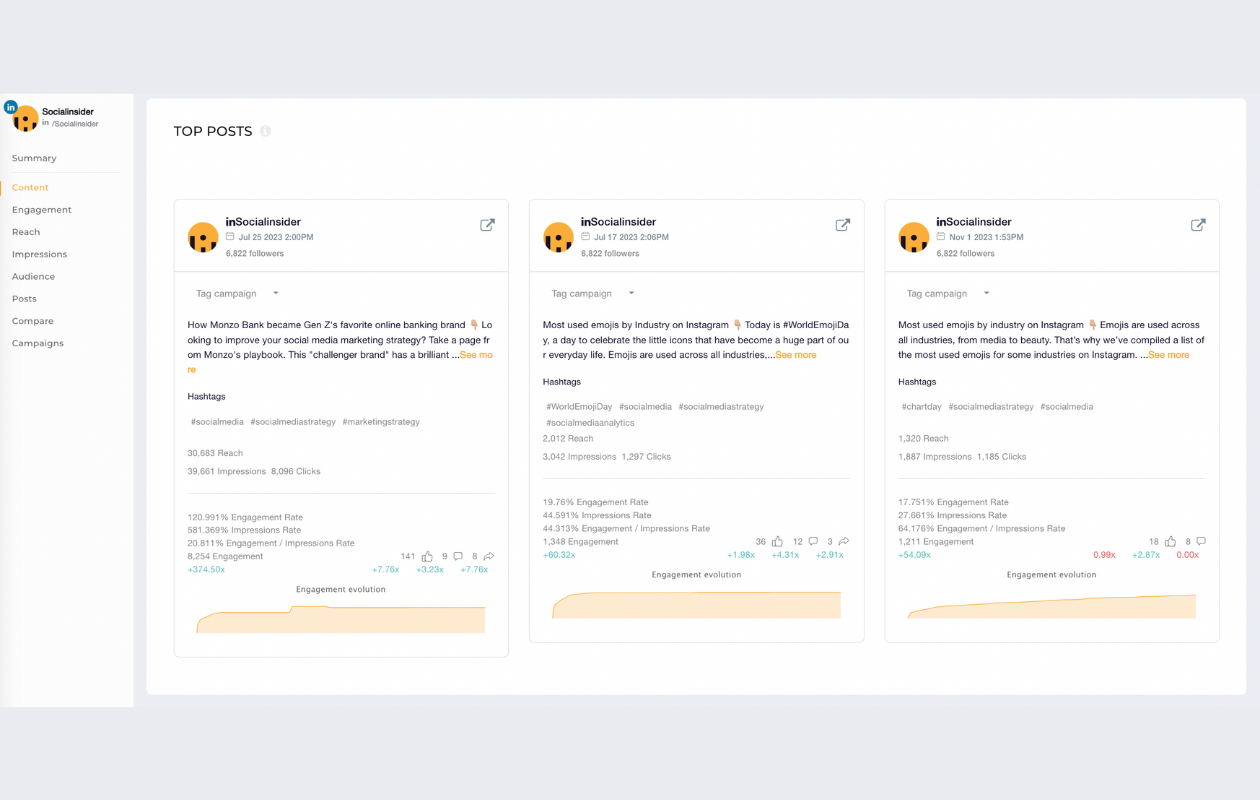 The type of posts which are the most engaging ones will help you determine what kind of posts you need to keep on posting.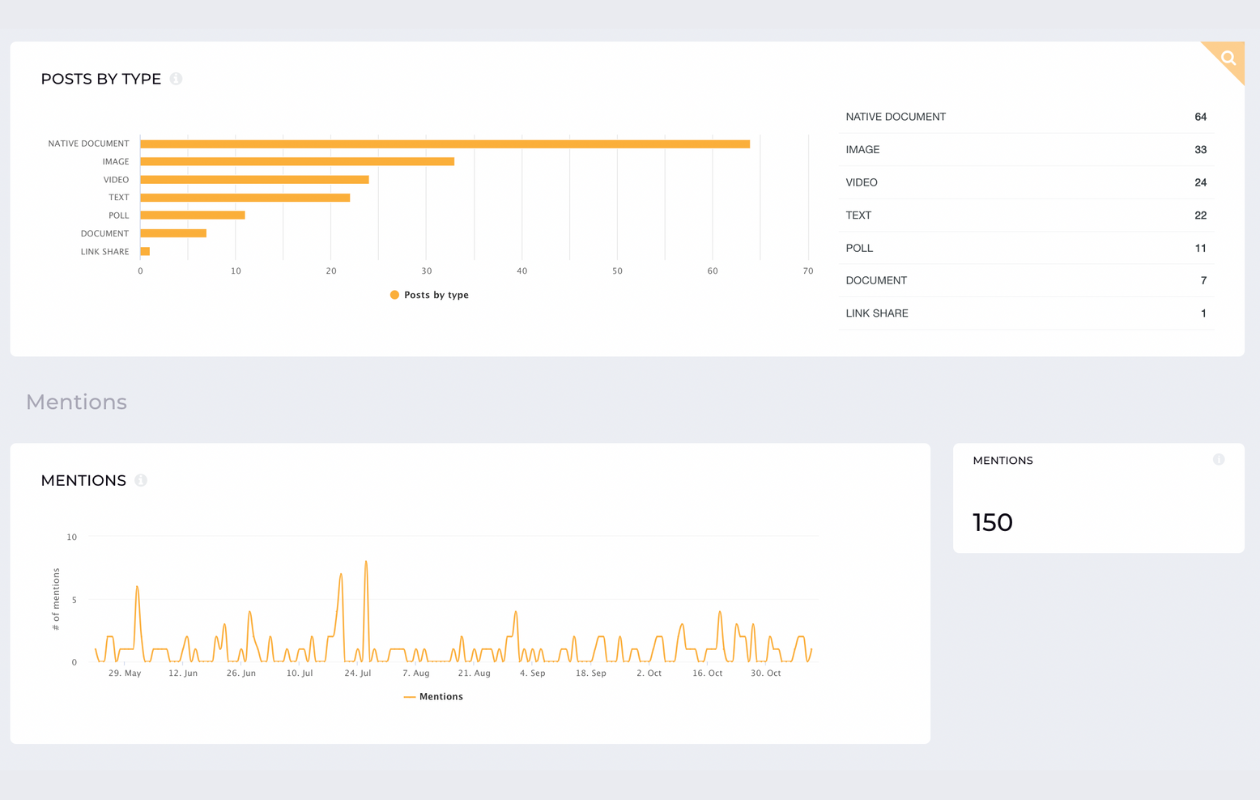 If you need a more in-depth search when it comes to your posts, you can go to Posts and scroll through them, being able to see individual key metrics.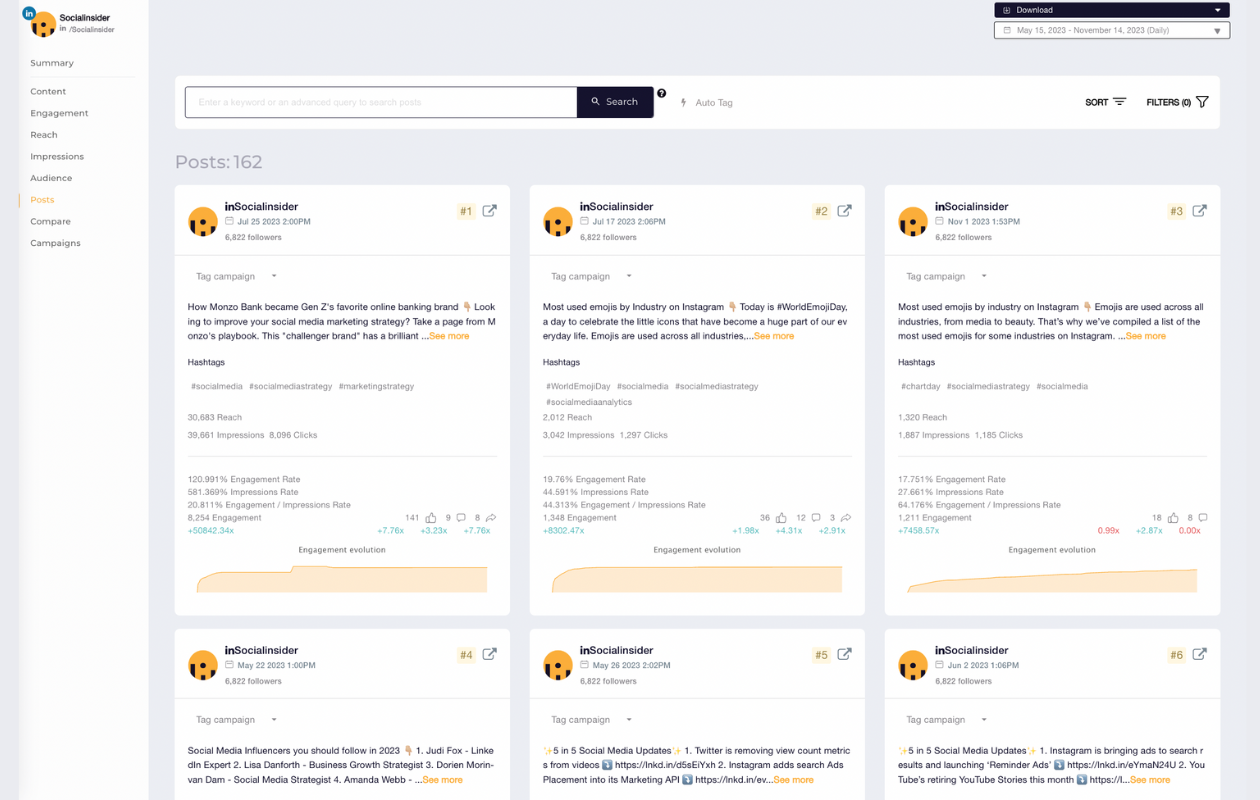 When it comes to specific metrics for your LinkedIn posts, you can look at the Engagement section to discover more useful data that could influence your strategy.
Here you can see posts by engagement.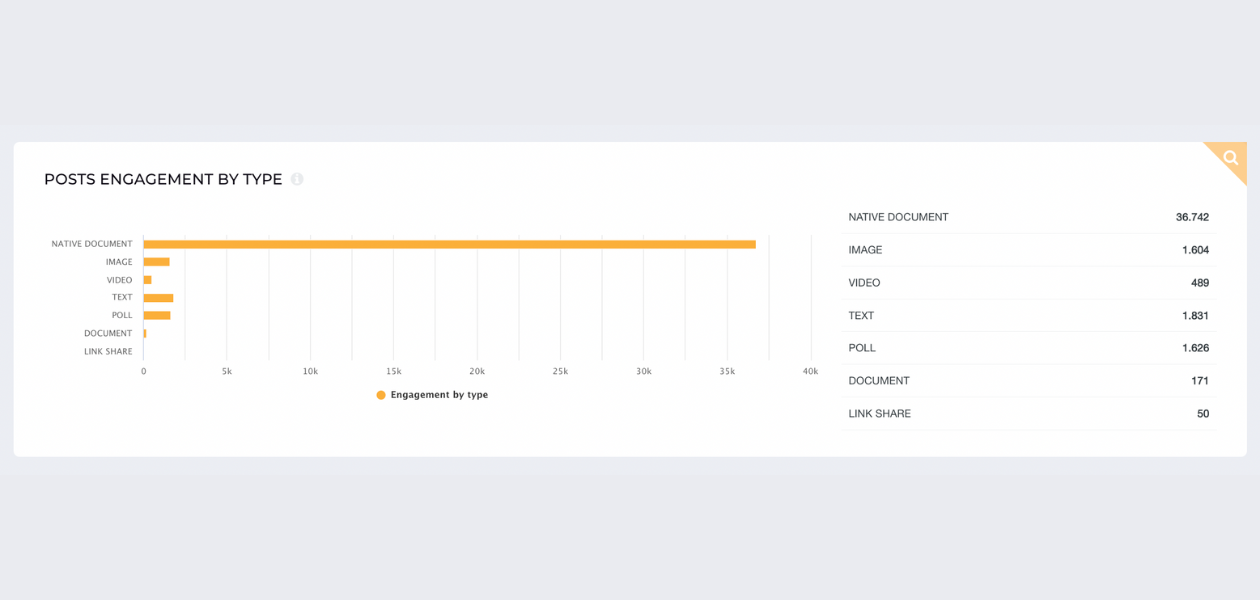 And when it comes to videos on LinkedIn, you have video views evolution and video watch time evolution that matters.
With these values in mind, you know whether you should change something about your videos to make them more engaging.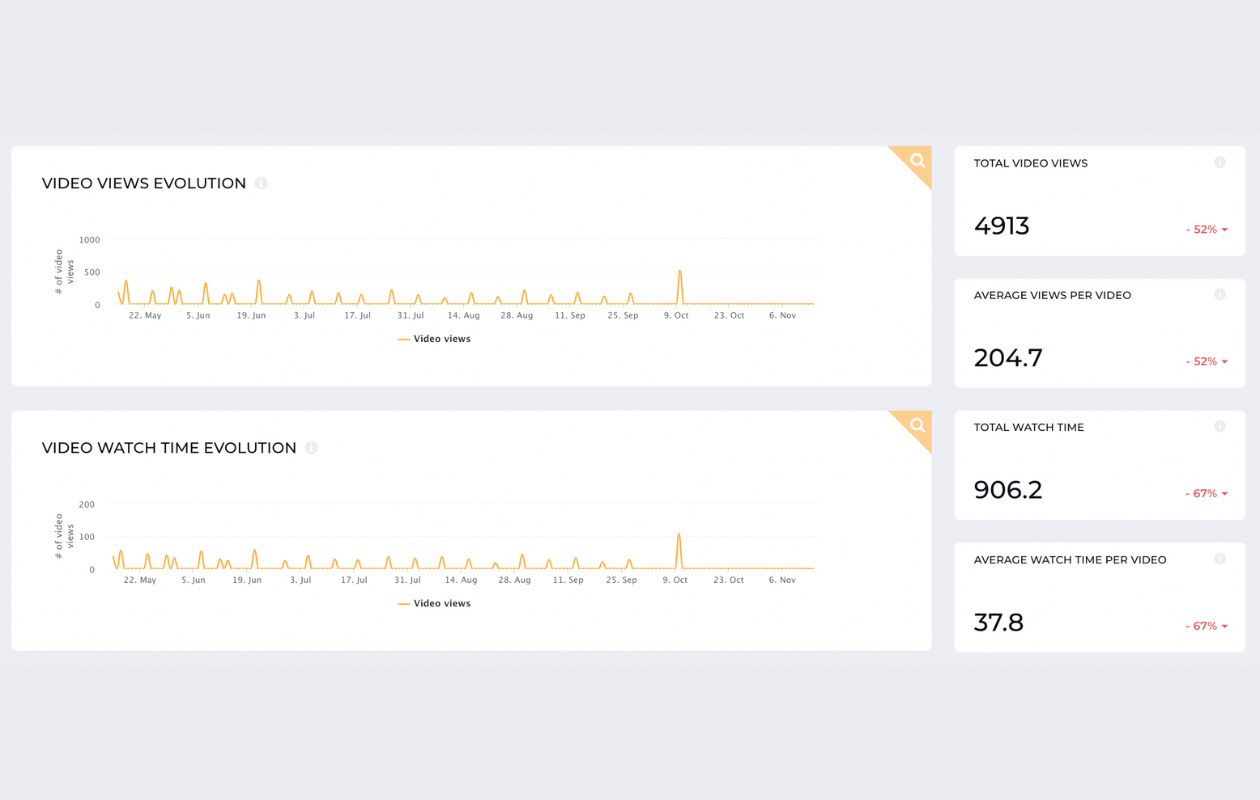 The access you get to all these insights in Socialinsider helps you adjust your content strategy on LinkedIn based on data and past performance.
Adjusting your LinkedIn strategy and completing with new data based on metrics helps you make informed decisions to improve your marketing game.
Final thoughts
To keep up with the constant demand for information and trend changes, you must update and improve your LinkedIn B2B content strategy continuously.
Developing a successful LinkedIn B2B content strategy requires long-term dedication.
As a social media manager or business owner, you will need to share innovative and high-quality content to educate and engage users, and, most importantly, help secure business deals.
Lastly, remember to be genuine — not salesy. A strong voice and quality content will outperform a hollow sales speech anytime. People may detect dishonesty more quickly than you might imagine.
Frequently Asked Questions
1.What are the trending topics to post on LinkedIn?
Post a growth hack.
Write about a personal experience that inspires others.
Share one of your brand stories.
Write about how success has changed your life.
Share info about a job opening.
Share some of your hiring experiences.
Share an interesting stat.
2.How do I go viral on LinkedIn 2023?
You should target at least 3-4 valuable and engaging content posts every week. And don't be shy! Share your thoughts, experiences, and insights with your audience. By posting frequently, you'll stay on top of their minds and increase your chances of catching the viral wave.
3.How to grow 100k followers on LinkedIn?
Write about what you know best: Share your expertise, insights, and opinions on topics that are relevant to your industry, niche, or audience.
Write consistently : Publish articles on LinkedIn regularly and at optimal times.
4.What type of content performs best on LinkedIn 2023?
Newsletters.
Audience polls.
Short clips from webinars.
Create original and lengthy content.
Write articles on the LinkedIn platform.
Produce original data.
Divide long posts into several short ones.
Take advantage of User Generated Content (UGC)