Recently Instagram reached 1 billion monthly active users and 500 million daily users, representing one of the most popular social media platforms.
If you own a business account and you are interested in promoting your ideas and get your content liked and shared you are in the right place.
In this article, you will find out 7 Steps to raise the engagement level for your business account, and your ideas shared in all the community.
At a simple look, marketing your business on Instagram is about the visual and to be seen: you can make your posts serious, inspirational, you can put questions or funny.
You are 100% free to express yourself in any way you want to.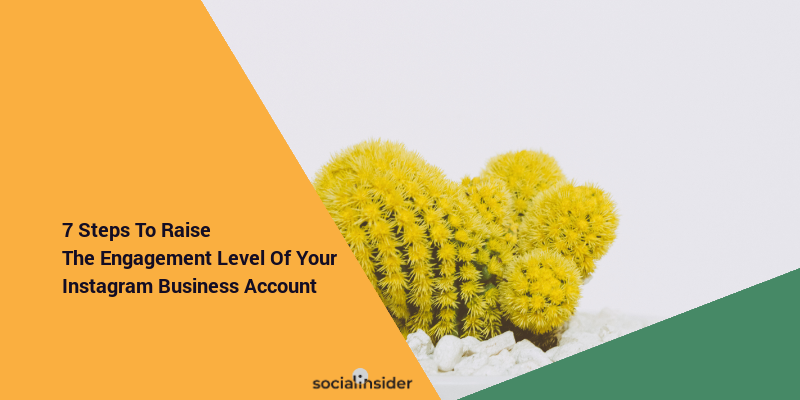 ---
Raise The Engagement Level Of Your Instagram Business Account
Here's a sneak peek at the article:
👉 Complete your profile
👉 Mentain a schedule
👉 Make strong captions
👉 Add a location
👉 More hashtags equals more engagement
👉 Choose the best Instagram filter
👉 Monitor. Measure. Adapt
👉 Use a Social Media Lead Generation Tool
---
#1. Complete your profile
Believe it or not, your profile is an essential element of your account, and if you skip this step for later, you might forget to come back, and then will become never. If people are confident, you are who you say you are; they will be more likely to follow and like your content.
All you have to do is take an hour or less and put the best of you in there, make a strong first impression on new followers by ensuring your profile is complete.
#2. Mentain a schedule
There are a lot of studies that show you the best posting time for social networks. No rule says you must post photos at the same time every day or on the same day every week.
Although, the key is to post with frequency and in time you will make a plan that fits you and makes you feel comfortable.
If you upload daily and then you disappear for a few weeks (even days) you will see it is hard to build a loyal community of followers.
#3. Make strong captions
Taking a good picture is important, but if you want your users to take action, you need a strong caption.
You must know that a strong Instagram caption will provide context to your posts, add personality to your business and encourage your followers to take action.
To have a good caption, you can continue reading the article Learn the art of writing a good Instagram caption and follow the steps that are described there.
#4. Add a location
When you want to level up your Instagram engagement rates, @mentions isn't the only way.
Studies showed that posts tagged with a location receive a higher engagement rate.
Anyone who's searching for Instagram posts in their neighborhood or city will likely come across yours, and this will be an excellent opportunity to start a good conversation.
#5. Use branded hashtags
Hashtags are an excellent way to give your content a visibility boost. They work as a call to action phrase where users can interact with a different brand that they would like to know better.
If you have a business and you promote yourself using the Instagram business account, using a branded hashtag everytime you post a must.
Create a branded hashtag may take you to the next level of engagement.
Four benefits of creating a branded hashtag for your business
Brand identity
Increased traffic
Optimized for discovery
An easy way to measure your efforts
#6.Choose the best Instagram filter and theme for your business
Some viewers probably won't see the difference between the filters, but there is a lot of data behind Instagram filters and colors that is worth seeing. You can choose from a lot of options, and you can pick for your account the filter that defines you the most.
To be easier for you, Canva has a study that discovers Clarendon is the most used Instagram filter not only in the US but worldwide. Other studies show that brightness is the key to attract viewers and more important, likes.
Experiment till you feel comfortable.
Besides the main elements like bio, profile picture, hashtags which helps you to be more visible, the theme should also be a strong focus for your Instagram marketing activities. Find the comfort area for your business and stick with it.
#7. Monitor. Measure. Adapt
It is essential to know what's working and what isn't to increase your Instagram engagement rates.
Measure your Instagram efforts withSocialinsider.
This Instagram analytics tool, give you the possibility to track your posts performance, track comments and measure the number of likes your posts receive. Increasing your number of followers and likes it's a continuous goal that requires time and a very well thought strategy.
#8. Use a Social Media Lead Generation Tool
Social media platforms revamp their services with more new features, brand opportunities, and consumer preferences. If you want to be on top, besides the analytics tools you may use social media lead generation tools.
You can try Woorise, and run beautiful giveaways & contests.
Final thought
If you want to take your Instagram engagement to the next level of engagement, you have to spend time and put all your creativity in there.
Follow each step in this article, and you will see the hearts coming to you every day more and more.
Start a free Socialinsider trial today and track your Instagram analytics! Report and analyze multiple profiles from one dashboard, quickly evaluate your Instagram performance based on the metrics that matter, understand your hashtags performance and get Stories analytics!
---
Related articles: