Ever since we launched the Socialinsider's Instagram analytics tool, we have received numerous reviews and feedback from our users which we have used to make tweaks here and there to improve the tool.
Over the last two years, we have added tons of new amazing features, most of which we never even announced.

That's why I'm writing this blog post.
These features are designed to help you improve your Instagram marketing strategy.
We've added more Instagram metrics to help marketers work smarter such as profile level metrics - profile views, impressions, reach, website clicks, among others that you'll find in Socialinsider's dashboard.
---
Instagram analytics from Socialinsider
Here's a quick overview of what we're about to cover:
1. How to view your Instagram analytics using their native app
2. How to access Instagram analytics using Socialinsider
3. The full list of Instagram metrics available on Socialinsider
4. The timezone for your Instagram analytics: the native app vs Socialinsider
5. How to export Instagram analytics to PDF, EXCEL, or PPT reports
6. How to export Instagram postings as a CSV file
---
1. How to view your Instagram analytics using the native app

You need a business account to be able to access Instagram analytics on the native app. If you are using a personal account, make sure you convert it into a business account before you begin.

Follow these steps to view the insights for your business account:
Go to your profile page.
Tap the button on the top right of the page (the three lines) to open a drop-down menu.
Tap 'insights'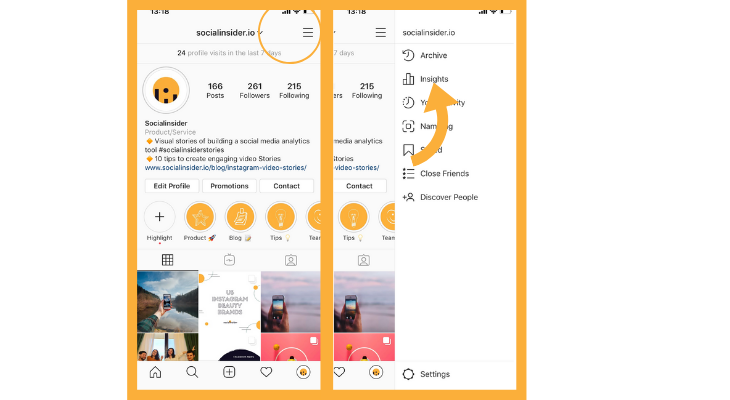 You will find the following 3 categories of insights:

a) Content analytics

b) Activity insights

c) Audience data

Each category offers insights for the last week and here's what they typically contain:

a) Content analytics

This gives you insights for:
b) Activity insights

This gives you an overview of your profile and includes three main categories:

1. Interactions - this measures the actions taken by people when they engage with your account. These interactions include:
Profile visits
Text message
Website clicks
Phone calls
Get directions
2. Discovery - this means how many Instagram users view your content and how they find it. Discovery is measured by:
Profile impressions - this is the total number of times that all your posts have been viewed.
Profile reach - this is the number of unique accounts that have viewed any of your posts.
c) Audience data

This gives you insights into:
The average time hour followers spend on Instagram
Age distribution of your followers
Gender distribution of your followers.
The top location where your viewers are from (cities and countries)
Pro tip!
Instagram only shows stats from the last 7 days. As such, you can't rely on Instagram analytics if you need a more extensive overview. These insights are also available on mobile only, which can be limiting in terms of data reporting and visualization.
If you want to access Instagram insights on desktop, consider using Socialinsider.
2. How to access Instagram analytics using Socialinsider
Socialinsider offers a wide range of marketing and analytics insights into your Instagram account.
It builds on the data you get from native Instagram analytics to give you stats that you can use to make your Instagram strategy a lot more data-driven since it's backed by metrics no one can deny.

To acquire the data, you need to add the Instagram profiles you have admin rights to Socialinsider's dashboard.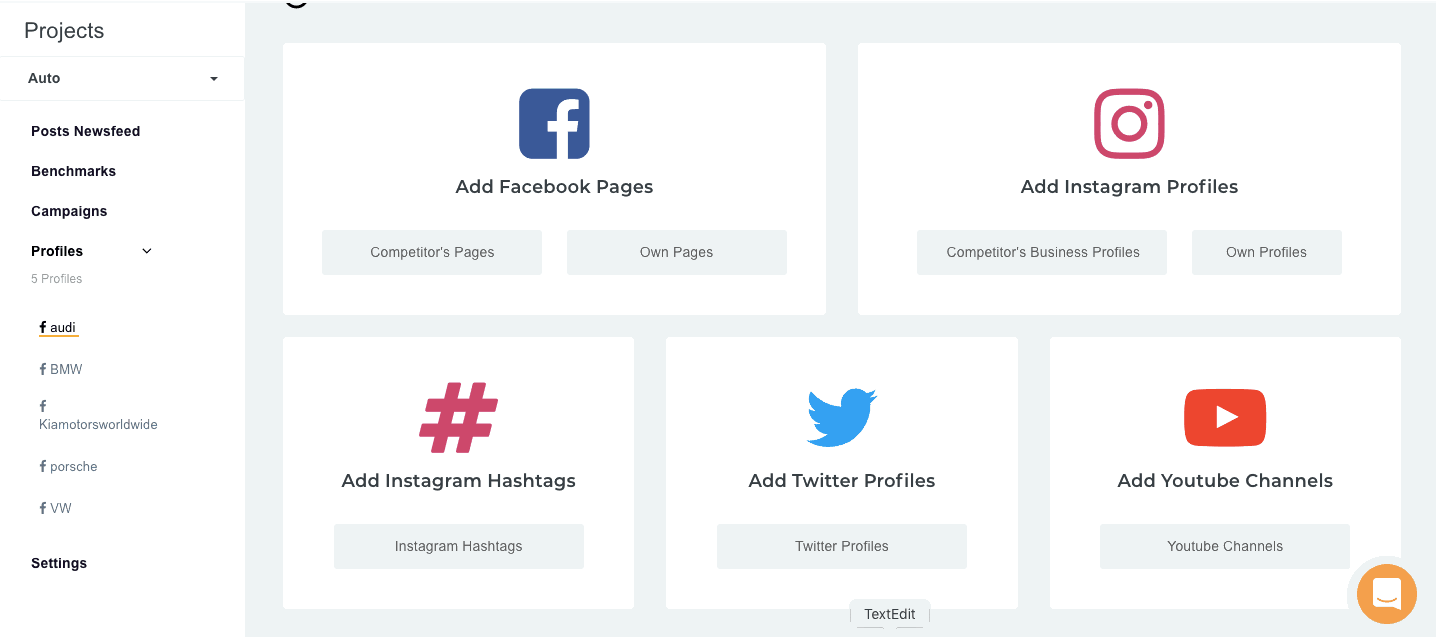 After adding the profiles, the following are some of the Instagram metrics you can get using Socialinsider.
3. The full list of Instagram metrics available on Socialinsider
3.1 Highlights of your profile
a) Followers' growth
Every Instagram user loves to see the progress of their followers growth. Instead of doing subtractions in your head to come up with rough figures, you can simply use Socialinsider to track your followers' growth at the click of a button.
This type of data is vital for understanding if your content strategy is successful or not.
Maybe you are losing followers lately since you started making sponsored posts? Or maybe your follower count is dropping since you are posting too much irrelevant content.
Socialinsider provides actionable data to help you know how to keep and grow your followers' list.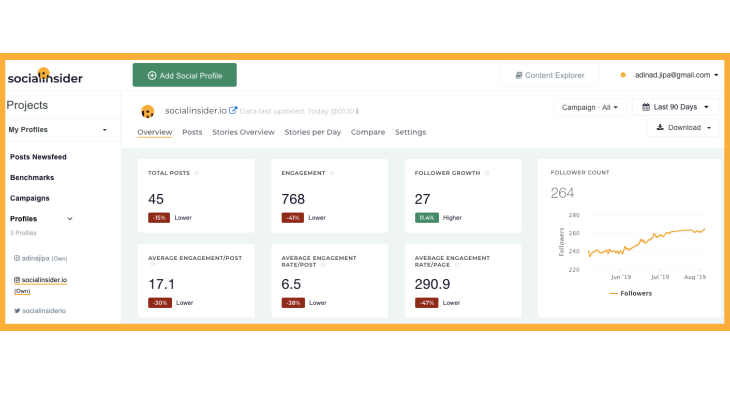 Pro tip!
Followers' growth gets updated every hour. However, Socialinsider only starts tracking this data after you sign up for the platform.
b) Total posts
This metric shows the total number of posts you published in a given period.

c) Total engagement
This represents the total sum of comments and likes on your posts for a given period.

d) Average engagement rate per post
This is computed as a percentage of the total sum of comments and likes divided by the total number of posts. Monitoring this metric is important if you want to get a better understanding of your community and figure out what they prefer to see in their feeds.

e) Distribution of your posts over time and average posts per day
This metric shows your publishing behavior. Combining this data with your engagement data shows you the ideal number of posts per day, per week or month for your audience.

f) Net followers
This is calculated from your losses and gains in followers to show how many people decided to stay or leave you. With this data, you will know whether or not your Instagram marketing strategy is working and some of the changes you need to make.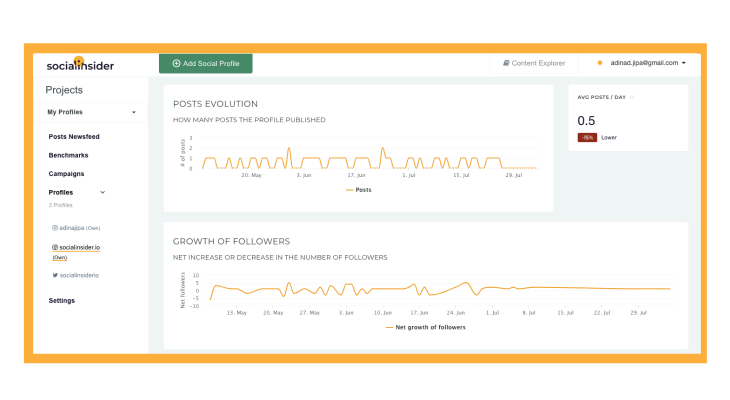 3.2 Hashtag analytics
Socialinsider provides a list of all the hashtags you have used in a certain period ranked by impressions or engagement.
Hashtag analytics feature allows you to monitor the performance of your brand's hashtag compared to the other hashtags you used.

Here's a short training webinar hosted by Razvan Visan - co-founder & dev @Socialinsider - as he walked through how to analyze the performance of any Instagram hashtag with Socialinsider, what data you can get for a specific hashtag, and how to analyze your hashtags based on engagement.
Pro tip!
Depending on your plan, Socialinsider allows you to track up to 30 hashtags and get in-depth insights for all of them. As such, you can use it to monitor the performance of some of your competitors' hashtags as well.
3.3 Stories analytics
Instagram Stories have become huge ever since they were 'invented'. They are now the holy grail of Instagram metrics.

Socialinsider provides various stories analysis from the traditional stats on reach and impressions to other metrics such as taps forward/backward, number of replies, number of exits, and a completion rate on each story.
On top of that, you also get an overview of the best time to post stories to get the most reach, impressions, and completion rates.
Pro tip!
Stories analytics can only be accessed for the accounts you hold admin rights to. You cannot track competitors' or influencers' stories.
3.4 Engagement

Tracking engagement on Instagram will show you how good your content strategy is or if your followers are engaging with your posts.
Socialinsider shows you how your likes and comments are distributed and how many people engage with your feed on average.
3.5 Profile data

What type of content gives you more reach and which specific posts are more effective at getting reach? How many people see your posts? What's the highest ever number of impressions you have ever achieved?

This view helps you find out the number of people that interact with your Instagram profile and whether or not your content is effective at driving traffic.
If you go to the section on profile data, you'll see the following:
Profile reach
Profile views
Profile impressions
Profile interactions
Profile email clicks
Pro tip!
Profile analytics are only available for the accounts you have admin rights to. These insights are not available if you want to analyze your competitors' Instagram profiles.
3.6 Demographic insights
You must ensure that you create the ideal content for your target audience. Demographic insights feature shows:
Geographical distribution of your followers (cities and countries)
Gender distribution of your followers
Age distribution of your followers
Top languages spoken by your followers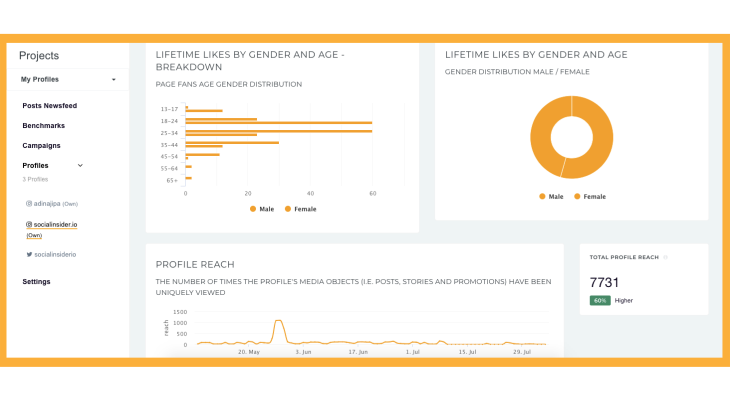 Pro tip!
There are numerous insights that you can take from Socialinsider's data to help you answer the following questions:
Check Growth of Total Followers. Building an active large following on Instagram is vital as it drives your engagement. Check the peaks in your followers' growth and identify the posts and campaigns that cause spikes in followers growth.
Look at the Number of Posts, Impressions, Reach, and Engagement to see if you're reaching your target audience and if they are actively engaging with the content. This is a true indicator of your content quality.
Do I need to change my content mix?
Compare the Post Types and the Most Engaging Post Types. This will show you the types of posts that you should be making more often such as more photos, videos, and carousels. Since these metrics are public, it's possible to check what works for your competitors to seek inspiration.
Does my Instagram content drive web traffic?
Check your Website clicks metric. If the numbers are low, it could show that you need to include a call to action in more posts for people to visit your website.
What type of content drives my engagement?
Check the Posts tab and see your most engaging posts.
4. The timezone for your Instagram analytics

Instagram insights uses the date and time set on your smartphone. Always ensure that your date and time is automatic so that it always shows the correct time and date depending on your location.
Using Socialinsider, here's how to set up the right timezone for your Instagram reports:
Go to your profile and select Settings from the menubar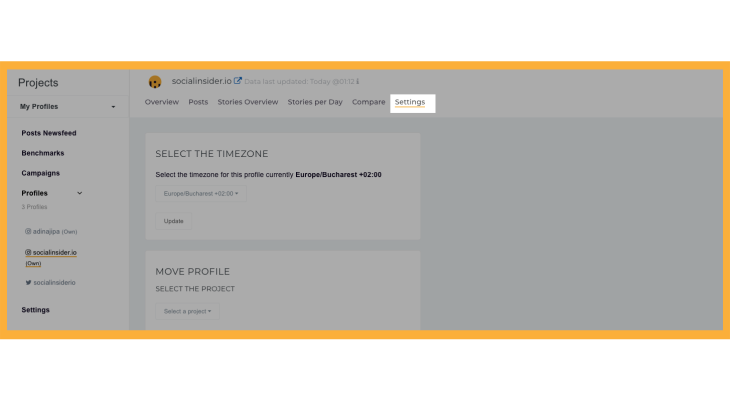 Go the timezone section and choose the timezone needed.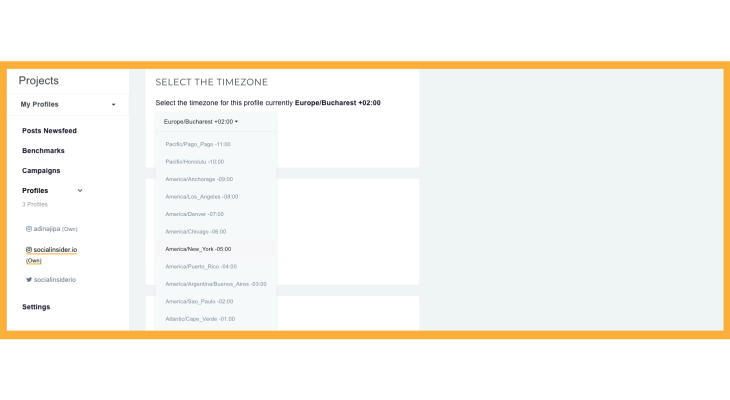 5. How to export Instagram analytics to PDF, EXCEL, or PPT reports

The all-in-one overview on Socialinsider's dashboard provides a more convenient way to report your analytics.
You can easily export a detailed comparative view of your Instagram profiles together with your KPIs of your choice in a single PDF, PPT, or EXCEL report.
That gives you one less thing to worry about when it comes to monthly progress reports.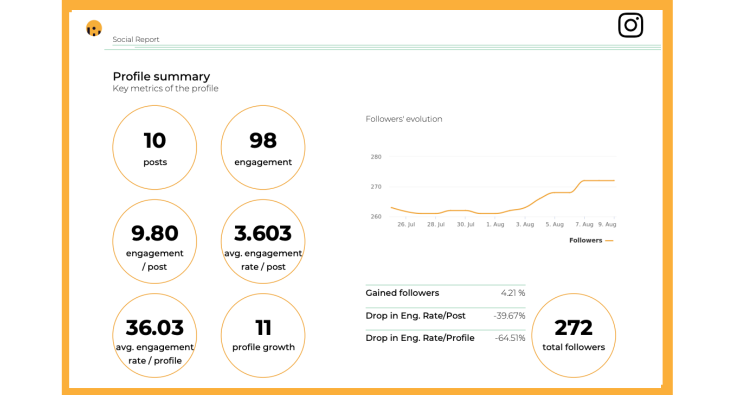 6. How to export Instagram postings as a CSV file
To help keep all your data organized, you can export Instagram postings as a CSV file.
In the profile section, you'll find the Posts tab next to your different analytics sections, like Profile Overview, Stories Overview, Stories per Day.
Select the data range that you'd like to download your analytics for, click the 'Download' button, select 'CSV', and your file will download to your computer.
Pro tip!
Socialinsider allows you to download the Instagram postings for any account you'd like.
Let's say you want to download the posts of your top competitors for a specific data range. Start by adding the profiles into Socialinsider's dashboard, access Posts, then download them a CSV file.

Final thought
Have you started using Socialinsider's Instagram analytics feature? Did I miss any use case for this feature? Share them in the comments below!
To get started streamlining your Instagram strategy, head this way.
---
Related articles: