There's no doubt hashtags can help you reach a large audience on Instagram or get more followers. If you've ever wondered how you can nail the hashtag strategy, we've hitched on 10 useful tips backed by data.
Brands have many questions regarding Instagram hashtags strategies. In short, here's how to best use hashtags:
Is it better to use your hashtags in the post's caption or in the first comment?
The placement of your hashtags should depend on your Instagram KPIs. The decision depends on whether you want more engagement or a high reach and impressions will do.

Which is the right number of hashtags?
There is no clear formula that applies to all profiles. However, using 2, 5, 6, or 8 hashtags has worked best in the past

How are hashtags influencing engagement or a post's reach?
It is already obvious that hashtags help your post reach a wider audience. However, the right number of hashtags, the placement of the hashtags and the decision to hide them or not work towards the final engagement your post will have.

Which are the best tips to fetch followers using hashtags?
Depending on the size of your brand's Instagram account, there are a few tips that will help your posts perform better.

How do you hide Instagram Hashtags?
A lot of posts have hidden hashtags either in the caption, either in the first comment. A simple "dot + return" trick will hide the hashtags.
The issue has been that Instagram doesn't provide much data about hashtags rules, so there have always been controversies regarding the right answers, even among the most experienced strategists.
But new Instagram hashtag studies are surfacing, like the one from Socialinsider and Quuu, helping brands get on the right track.
Dive in to find out the top 10 Instagram hashtags tips supported by data⇣
Using Instagram hashtags to get more engagement
1. Don't always follow what everyone else is doing. 93.8% of posts have hashtags in the caption.
There's an endless debate - caption or first comment when it comes to post hashtags? Well, we've sort of found out what's the general feeling.
If you prefer placing your hashtags in the caption, you are definitely standing in the overwhelming majority. 87% of profiles use hashtags in the caption in 93.8% of the total posts.

This means that only 6.2% of the total posts have included hashtags in the first comment.  
2. Place hashtags in the caption for the most impressions
Adding hashtags in the caption almost guarantees you'll get more impressions, regardless of the size of your Instagram account.
No matter if your account has less than 5k followers or more than 100k, there seems to be the same recipe.
IMPORTANT NOTE!
I'm sure you are using hashtags with each of your Instagram posts because hashtags are a great way to increase engagement.
But let's say you are using ten hashtags - you don't know which one is driving more traffic.
This is going to change!
I found an incredible hack that is showing you how to discover which hashtag drives more traffic to your post.
Step 1. Go to the post you want to do this for and click the "Promote" button
note: you won't be spending any money
Step 2. Select where to send people
Step 3. Budget and Duration - 0
Step 4. Create promotion
Step 5. Go to your home Instagram account and return to the post you just promoted
Step 6. The first time you click "Insights" - scroll down, and you will see how many impressions you got on your post per hashtag.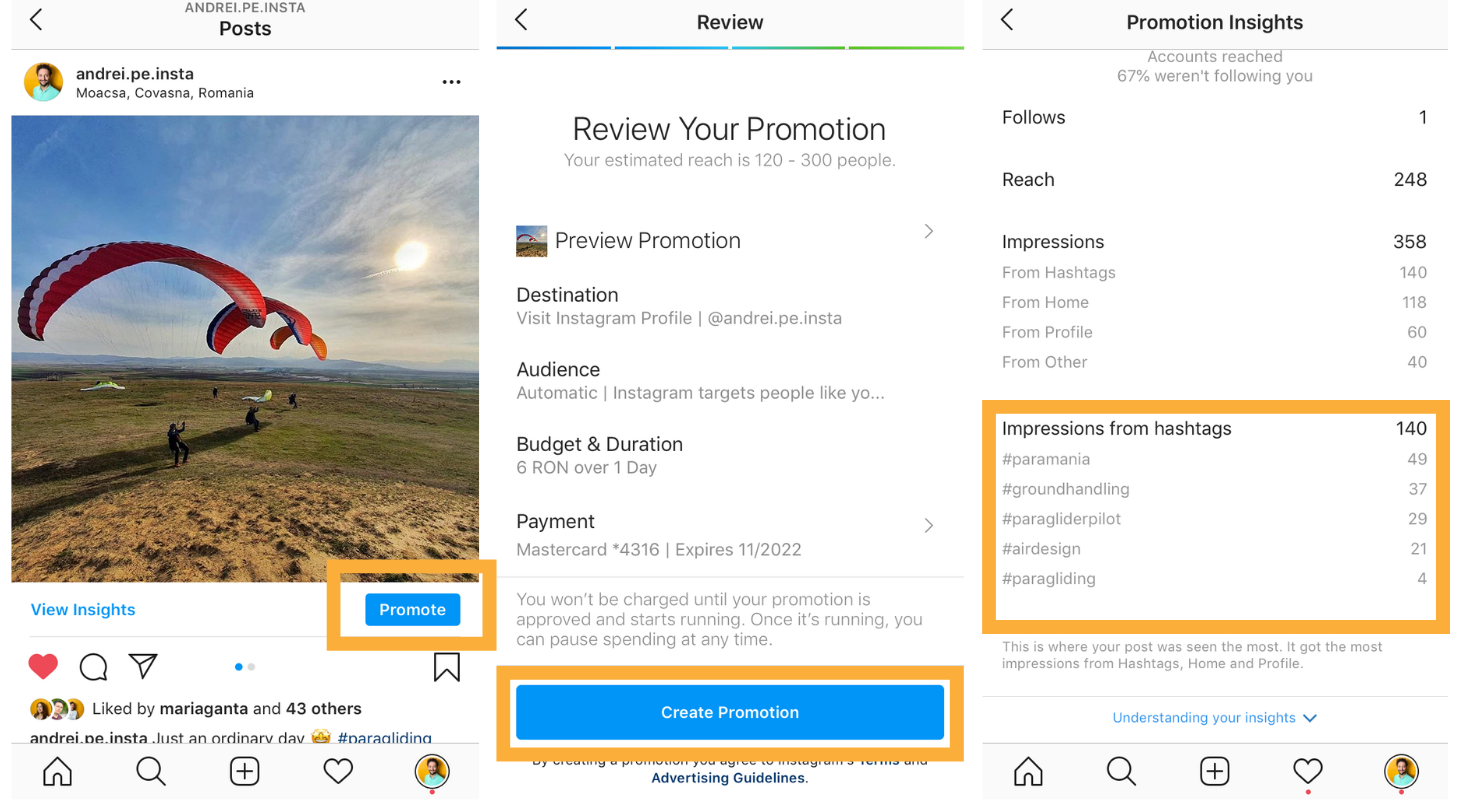 3. For better reach, use hashtags in the first comment if you have a large follower count
Long story short, we've discovered that big Instagram profiles (more than 100k followers) have the best average reach rate when placing hashtags in the first comment.
However,  smaller accounts (up to 100k followers) have a better reach rate when placing them in the caption.
4. Find out the right number of hashtags to add to your Instagram posts.
There is no such thing as a magic formula to nail down Instagram success.
One may wonder if there's such a thing as an Instagram hashtags limit. The truth is that when brands are using hashtags in the caption, most use either 7, either 27 - 30 hashtags.
Which is better?
On the other side of the spectrum, when it comes to hashtags the first comment, most posts contain only 2 hashtags.
But just because brands do it, does not automatically mean they're right. Experiment as much as possible to see your personalised "magic formula".
Bear this results in mind for your future Instagram strategy, but be bold and don't always follow the rules.
5. Using Fewer hashtags usually translates into higher Instagram engagement
If you want to increase your chances to get the top level of engagement, this is the part where things become more complicated.
When in doubt, use the power of data. It never lies and it might bring you concrete answers.
Find out what happens if your Instagram profile has more followers!
What we now know is that the engagement rate per post is not only influenced by the placement of the hashtags in the caption or the first comment, but as well by the size of your profile.
The general discovery was that using between 2 and 8 hashtags seems to bring better engagement, depending on how many followers you have.

Tip❗
If you use many hashtags, things will not necessarily be better. Make sure your post doesn't look spammy and get rid of the ones that are too broad or too popular because they don't help you boost engagement, regardless of your profile size.
6. Choose your Instagram hashtags carefully
Another important aspect is to use the correct hashtags. Besides the placement of the hashtags, it's also important to look at the popularity of the hashtag.
Be canny with your hashtags and use those who are really worthwhile.  You're able to do this by tracking down hashtags to figure out which one brings the most likes, comments, and replies.
Jenn Herman, social media strategist, advises to save the very popular hashtags for the caption.
To make sure you choose the right hashtags, take a look at our Instagram hashtag guide!
7. Hide your caption hashtags
Hiding your caption hashtags may help the post look cleaner, less spammy and uncluttered, eliminating any chance that your hashtags steal your message's spotlight.
But first things first - what are these hidden hashtags and how can you benefit from doing this? 🤔
In short "hiding your hashtags" means creating some space between your message and the hashtags, so that the hashtags can only be seen once you select the "more" option.

Hiding hashtags doesn't require any magic skills other than following these simple steps:
Open a text editor on your device
Type a dot then press "Return" and repeat this a few time - most of the time, posts have 5 dots. Repeat this no less than 5 times
Place your hashtags underneath the dots
Copy all of the text from the editor - line breaks and all of that
Open your Instagram app and start writing a new post
Paste all the text you've written before in the posts' caption
Add your post image, video or carousel
Hit post, and enjoy your engagement!
If you want to post with hidden hashtags in the first comment, here's what your do:
Create your post regularly, but do not add any hashtags. After you've posted your photo, carousel or video, click the comment button, paste the text you wrote in the text editor - where you've added the dots, line breaks, and hashtags -, and click "Post".
Easy as that!
❗Keep in mind that any of the instructions above don't work if you try to type the dots directly into Instagram. That's why skipping the text editor is not an option.
Where is the best place to put Instagram hashtags?
By now you've seen that you can hide hashtags in the caption or in the first comment. So which one works best?
Let's say you own a nice pizzeria in Milan, Italy and every day you bake delicious and very visually appealing pizzas.
This is a great opportunity to spread the word about it on Instagram and to gain new customers.
In order to maximize your reach, you can tag your daily post with relevant hashtags such as #milanfood #tasteofitaly or #milanpizza.
If you've decided to hide them, the next question that pops in is: caption or comment?
If the answer is adding them in the caption, it might help knowing that the engagement rate per post tends to increase when the hashtags are hidden.
Try to consider this the next time you're posting on Instagram.
8. Don't hide the hashtags used in the first comment
As opposed to the strategy of posting hidden hashtags in the caption, hiding them in the comment is not such a good idea.
When using hashtags in the first comment, most brands like to show the hashtags - meaning they're not using the dot and line-break formula explained above.
Apparently, the engagement rate per post is higher for posts with shown hashtags in the first comment, which proves this method to be efficient.

As a plus, profiles with fewer than 100,000 followers tend to get one or two more comments for posts when placing them in the first comment.
9. Best formulas for peak Instagram engagement
Although there is no universal method when it comes to hashtags, the study was able to identify formulas that have worked in the past for most profiles.
To sum up all what's have been written before, bear in mind these key findings from the study:
Small profiles, with under 5,000 followers perform better overall when using 6 hidden hashtags in the caption.
Profiles that are a little bit bigger, with between 5,000 and 10,000 followers, might want to use 5 shown hashtags in the first comment, which has proved to bring higher engagement, despite the reach and impression rates showing otherwise.
In this case, it's important to keep track of your KPIs. If engagement is what you need, then go with it.
Profiles with 10k to 50k followers need to use as few as 2 hashtags and hide them in the caption. This will bring the best engagement, impressions and reach.
Accounts with over 50k followers, but under 100k followers should try using 8 hidden hashtags in the caption.
However, the larger profiles that have more than 100,000 followers can hit their best engagement, reach and impression rates when placing 6 shown hashtags in the first comment.
10. Check your Instagram hashtags with analytics
Good results just don't come overnight. You need a consistency and a good strategy.
This is why you have to make an effort tracking down all of your hashtags and see which one brings more engagement rates.
Because Instagram provides combined data, you can track the performance of each hashtag only by using an hashtag analytics tool.
You'll have the advantage of tracking all of them to see the results. Moreover, you'll be able to see which are your top posts and what are the common elements between them.
Using one of these tools helps you keeping tabs of your competitors as well. You can track down individual hashtags used by your competitors and determine the ones that are performing better.
This is the best way to nose for trending hashtags.
Wrapping up
Increasing your likes, getting more followers and boosting engagement rates on your Instagram page is no easy job.
Try to find your own path to achieve this and set up measurable goals.
Also, don't take anything at face value, see what works in your own case. While the above works in most cases, each Instagram audience in different and may interact differently with your posts.
So how were you using your hashtags? And how many hashtags do you typically use?
To find out if you have the right strategy, check out the study and learn more about the wonders of hashtags.

Related articles: