Last year, in April 2018, Instagram changed its API - I know, it may sound like a geek term, API comes from "application program interface," and it's a way for analytics apps to talk to and interact with Instagram.
Instagram's changes to their API were a surprise for many third-party apps, and some features were removed - including hashtags analytics.
The good news is that Instagram opened up their API last year, and we rebuilt the hashtags analytics feature.
With this product update, you can measure the performance of any Instagram hashtag - yours or the ones used by your competitors, and understand the impact of the hashtag campaigns based on engagement or impressions - if it's your account.
Here's a quick overview of the new features in hashtags analytics:
get insights for any specific hashtag, and not aggregated data as you see from the native app
understand what hashtags you should use for better engagement
discover how many hashtags you can used on Instagram based on industry research
track your competitors' hashtags
measure your campaign's awareness on Instagram by measuring the volume of hashtag mentions.
Let's have a closer look at them.
---
How to measure your hashtags performance with Socialinsider
---
#1. How to start tracking hashtags with Socialinsider
There are two type of hashtags: general hashtags that everybody uses, and in this case you are grouping your posts and images with others who upload similar content, and branded hashtags.
Most of the time, businesses create branded hashtags to develop interest, and to consolidate posts relating to a particular product or campaign together.
If you want to access hashtags analytics with Socialinsider, you have to follow these steps first:
Click to 'Add Social Profile'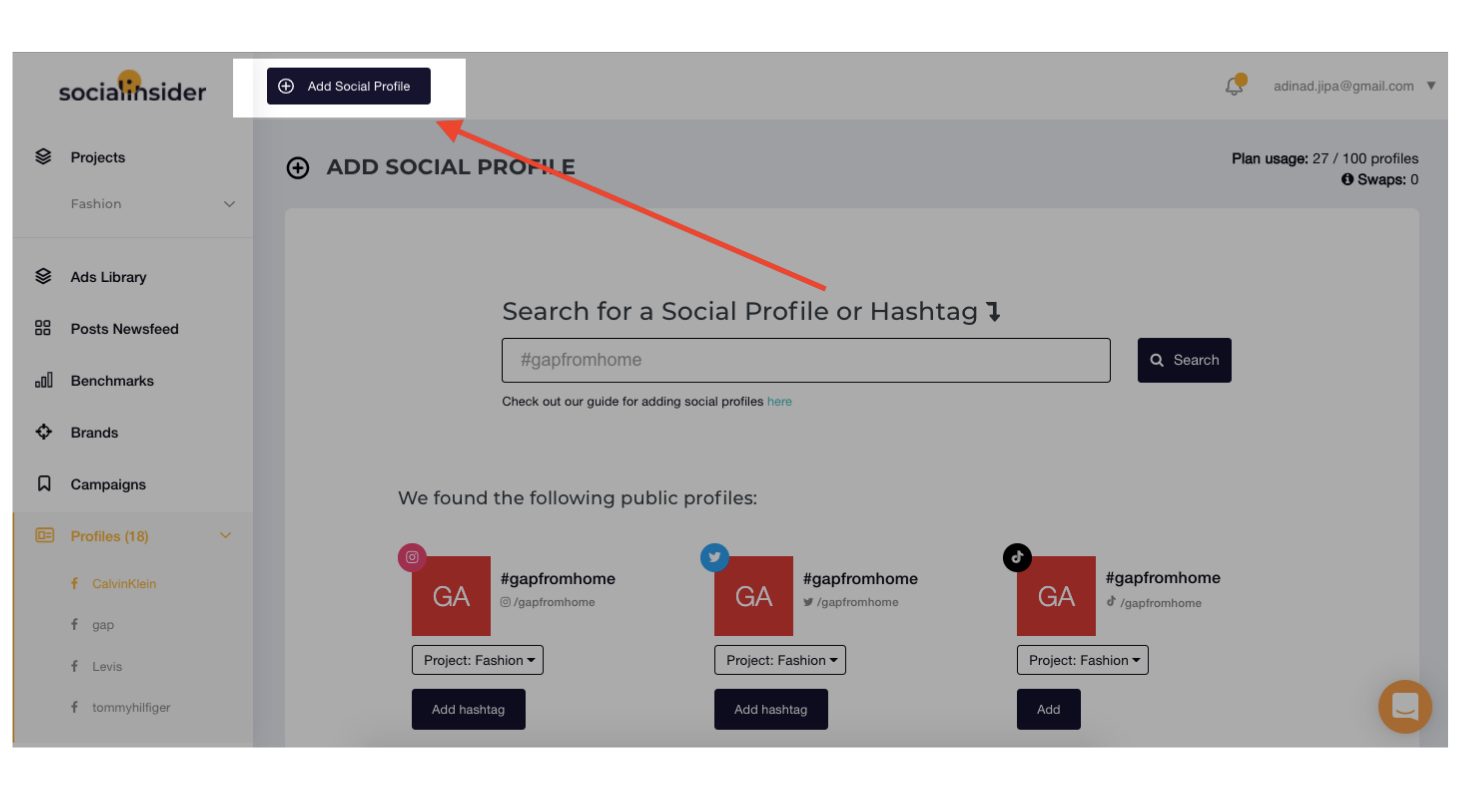 2. Enter the hashtag you'd like to analyze (i.e. #gapfromhome)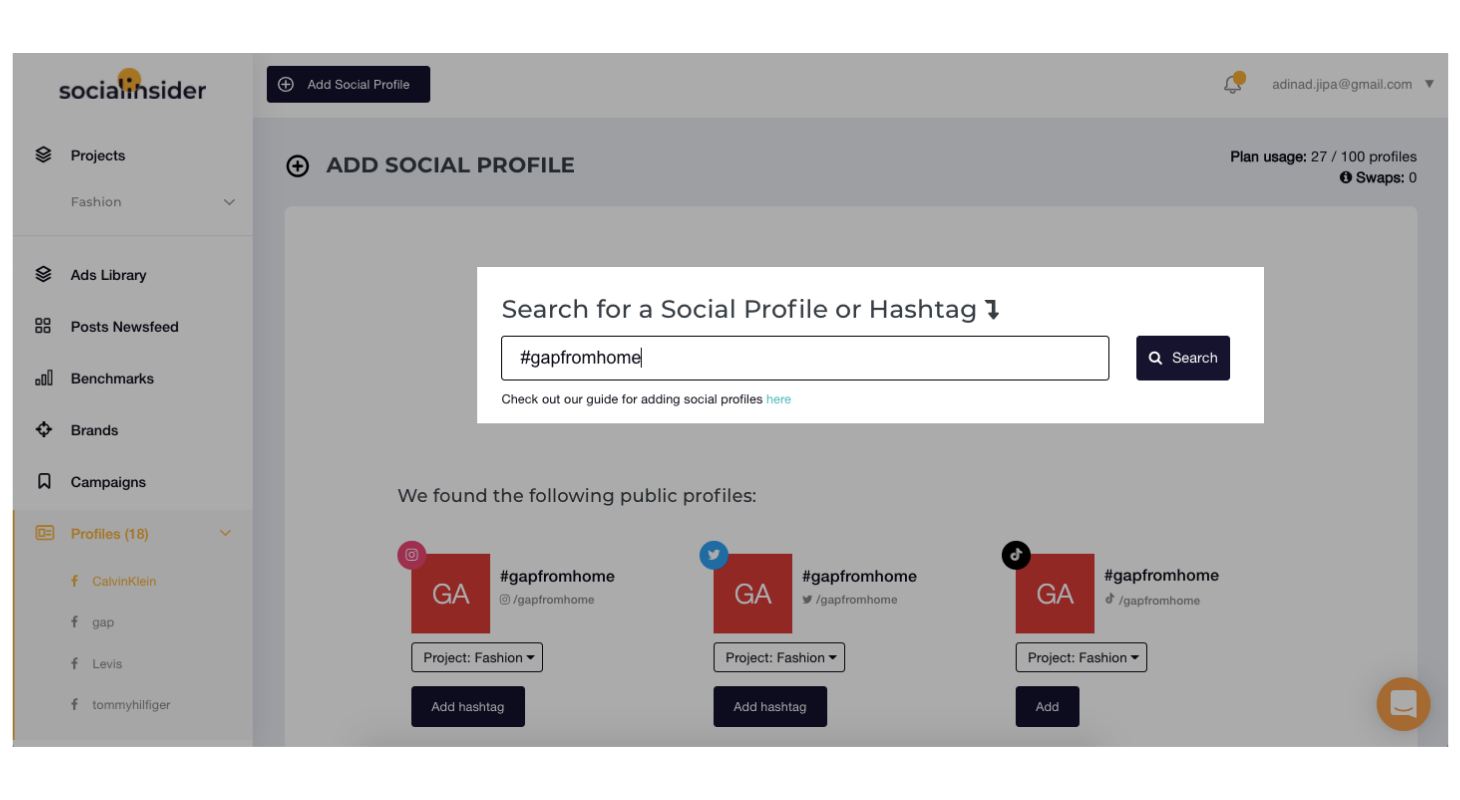 3. Add it to a project (if you don't have one, create it), then click on ' Add hashtag' button.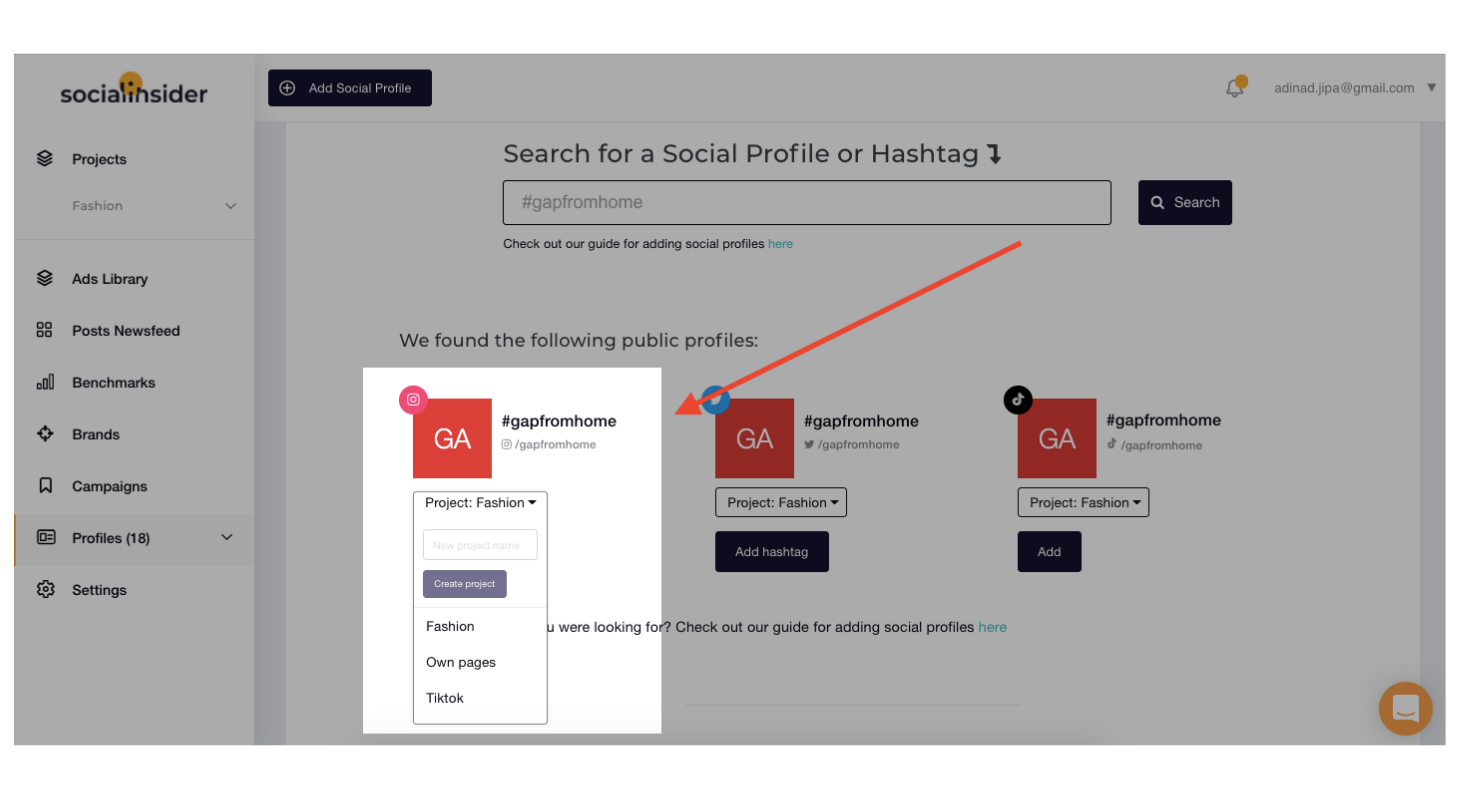 You will find the searched hashtag  in the left side bar of the dashboard.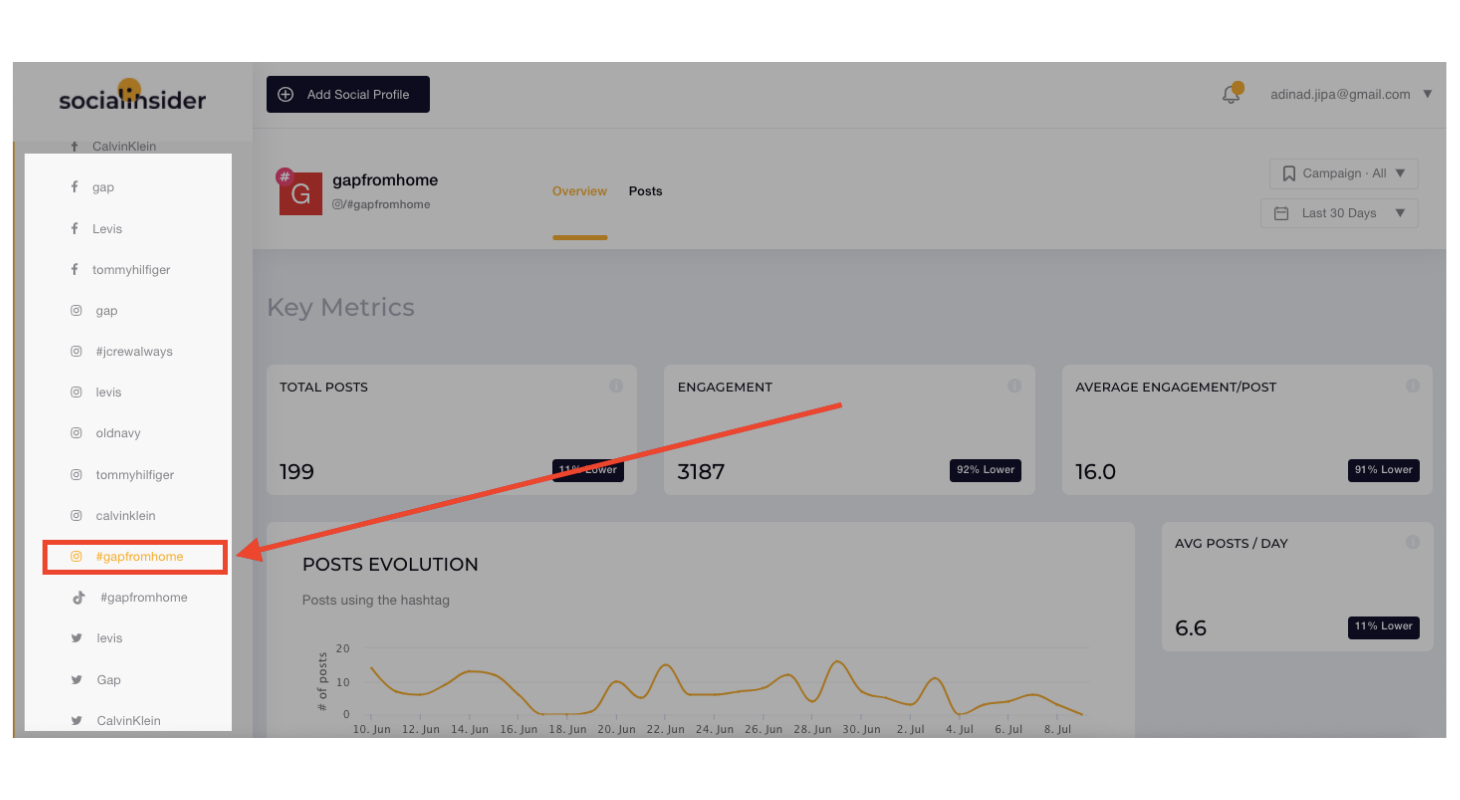 📌 IMPORTANT NOTE
Once you add new Instagram hashtags, you might get this message:
'Can't add this hashtag - It might not exist yet on Instagram or your hashtag quota is exhausted.'
Which it means that we cannot offer insights for that particular hashtag.
You need to authorize your Instagram account with Socialinsider in order to get hashtags insights.
Select 'Add Social Profile', then go to the 'Access insights for the profiles that you manage' section, and click to 'Authorize Instagram' button (available only for business accounts).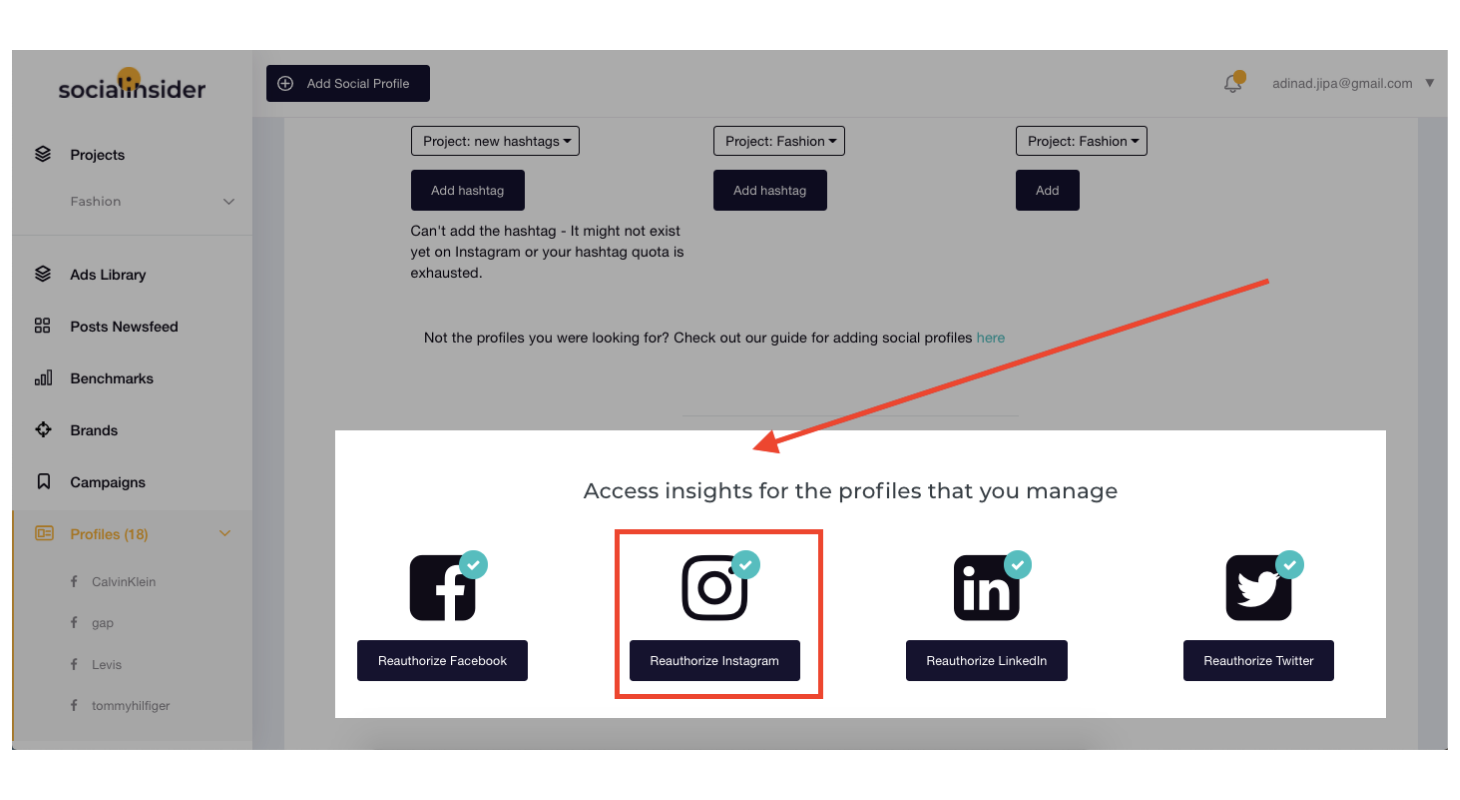 Allowing Socialinsider to access your profile's analytics, will enable us to gather analytics data for the profiles you manage and show you in-depth insights.
#2. What hashtags metrics you get
If you're a brand, hashtags can help you build brand awareness, connect with your target audience, and participate in conversations related to your products.
Here's a list of hashtags metrics you get using Socialinsider:
👉 A list of postings with the hashtag you are looking for
Instagram offers two types of media for hashtags:
recent media - the last posts that were tagged with that particular hashtag in the caption or the comments.
top media posts - postings with higher engagement rates.
For every hashtag you put in the Socialinsider dashboard, we offer insights for the recent media and top media posts.
And this implies three things:
for high volume hashtags you get around 30k posts/month with that hashtag or lower. In these circumstances, we might miss out on some data.
for low volume hashtags - Instagram offers a more accurate volume of hashtag mentions, but we don't know the starting date of that hashtag.
the historical data may be incomplete, and no user data available from Instagram API (names, followers, profile pic).
That's why Socialinsider data is more accurate, starting with the day you added the hashtags, and not for the history posts.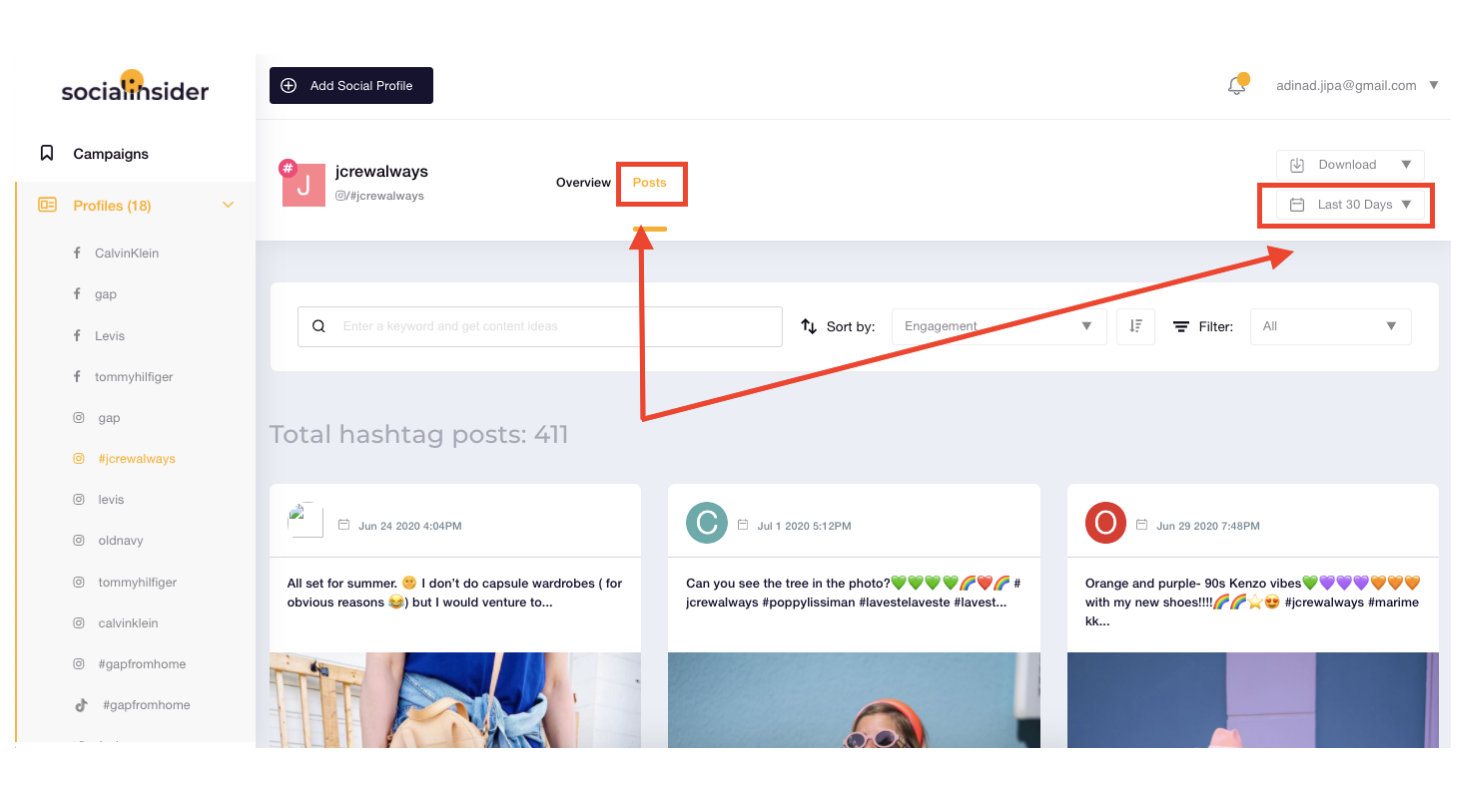 📌 IMPORTANT NOTE
Instagram API doesn't offer the user name or the profile picture of those who are publishing posts with that particular hashtag.
This creates a lot of frustration from our users, but these are the limitations imposed by the platform's APIs.
👉 Engagement metrics
Please note that the engagement metrics are based on the posts given by the Instagram API, and it might not include the total volume of the hashtag mentions.
These engagement metrics are more an overview of what happens with your hashtag. They are calculated based on the list of posts we get from the top media posts and recent media posts.
Engagement - this metric indicates the volume of interactions around your hashtags. Engagement on Instagram is measured as the sum of likes and comments.
Engagement metrics - it indicates the distribution of likes and comments of the hashtags' postings.
Average engagement per post - it's computed as the total engagement of the posts divided by the number of posts.
Please note that the impressions metric is available only for own accounts, and you can see this metric in the Instagram analytics section for your own profile.
Why it's important ⇣
Tracking hashtags engagement shows you how engaging your hashtags are, and how your audience resonates with your campaign.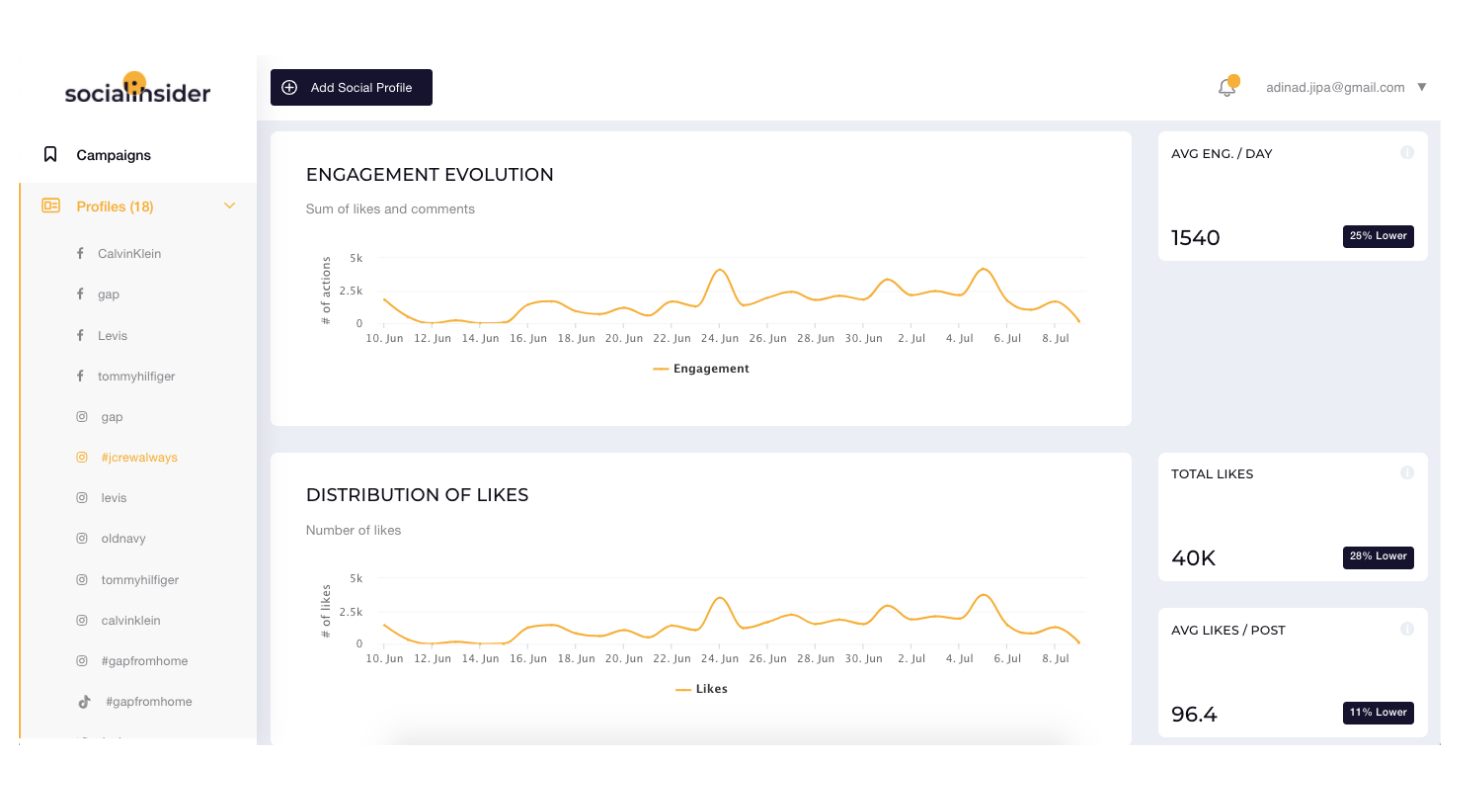 A list of top hashtags used with the hashtag you are looking for ranked by usage - this metric shows you what other hashtags are used with your hashtag on Instagram.
A list hashtags used with the hashtag you are looking for ranked by engagement - this metric exposes the performance of your posts with that hashtag compared with other postings.
Why it's important ⇣
Analyzing these hashtags reveals the perfect combo for your hashtags strategy.
👉 Content analysis
Posts evolution - this metric indicates the postings evolution with your hashtag on Instagram.
Average posts per day - this metric shows you how many hashtag mentions you get on average per day.
Top 3 posts - the most engaging posts with your hashtags based on engagement
Posts by type - this metric gives you insights into the type of content formats used with your hashtags on Instagram.
Post types ranked by engagement - this metrics explains what type of content performs better with your hashtag - photo, video or carousel.
Why it's important ⇣
Measuring the content performance on Instagram helps you improve your content strategy.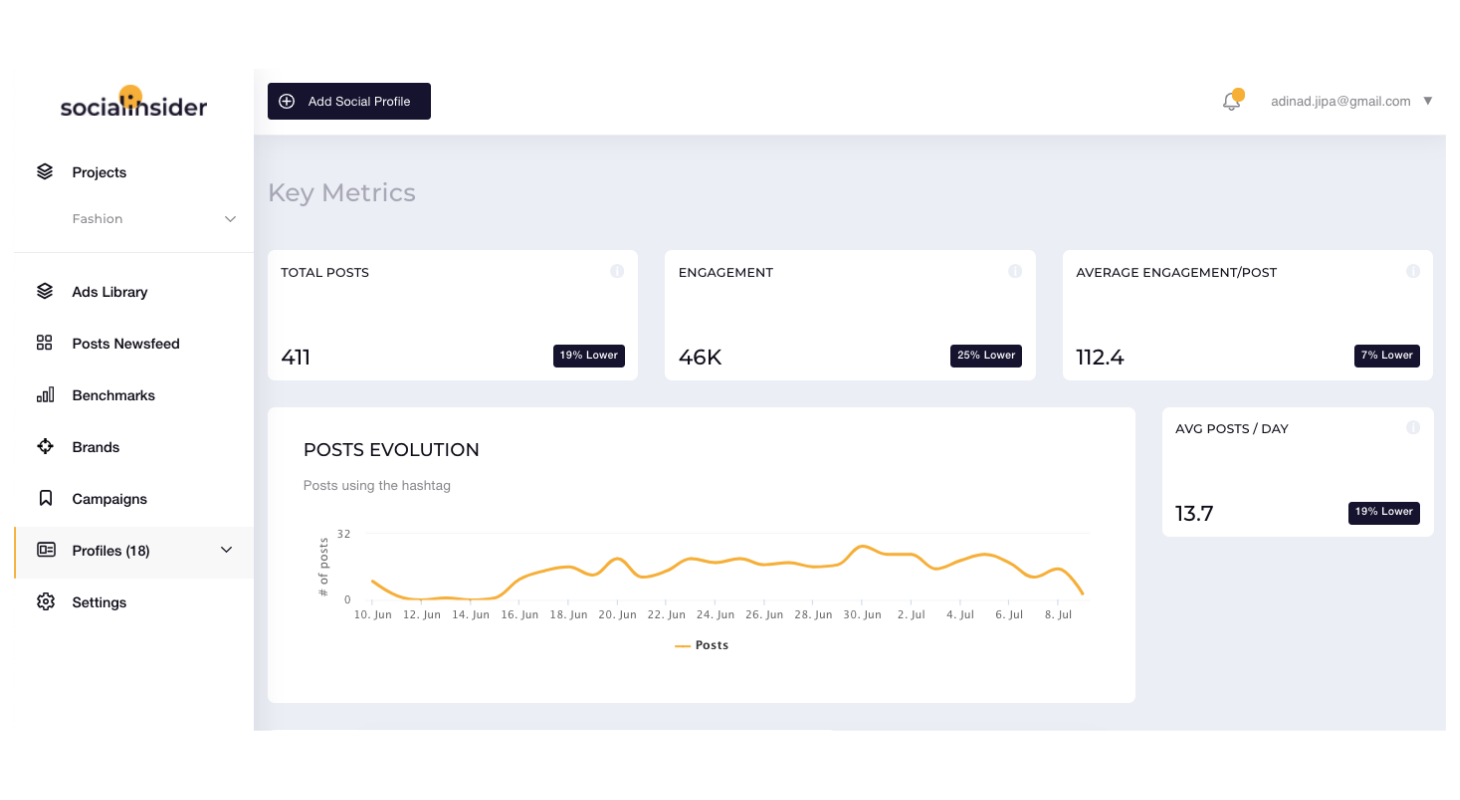 #3. Focus on the hashtags that matter for your brand
Instagram hashtags are still an effective way to get more eyes (and engagement) on your posts, but the huge question is "What hashtags should you focus on?"
That's why it's important to analyze your hashtags with an analytics tool. You can use up to 30 hashtags per posts, but it can be harmful to your brand.
Using Socialinsider, you'll understand what hashtags are the most performing for your account in terms of engagement.
Let's take #coachella2019 for example - the giant annual music festival in California created this year a hashtag that all those present at the event and not only could use it in their posts.
It seems that the most popular hashtag for this festival was #coachella2019 - measured by usage, but when it comes to engagement, the most performing hashtags were: #coachellaoutfit,  #palmspring (location hashtag) or #coachellastyle.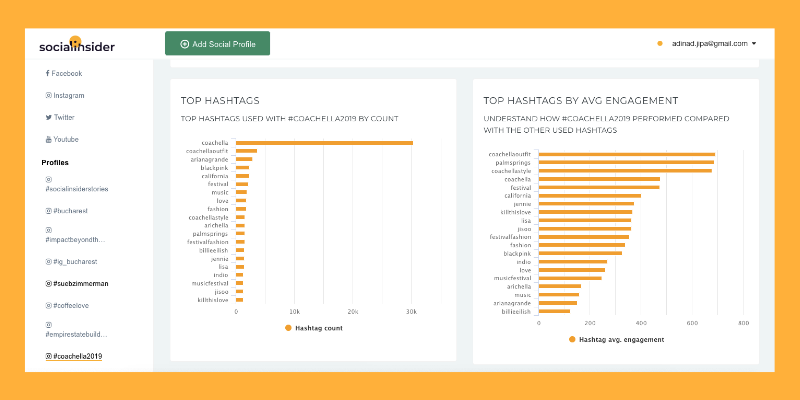 #4. Measure the volume of hashtag mentions
Once you start a hashtag campaign on Instagram, understand how viral your campaign is and how people interact with your messaging.
If you get a higher number of mentions, it means that you have a popular hashtag.
You can see your hashtags postings with Socialinsider. You'll get a list of the posts that contain that particular hashtag which can be exported as CSV.
📌 IMPORTANT NOTE
Bear in mind that social media analytics tools give you only the recent data for a time range. You won't be able to get 100% accurate data about the past.
#5. What hashtag metrics you get using the native app
If you decide to limit the performance of your hashtags with the native app, here are some things you need to know:
the native app gives you aggregated data for your hashtags, and you won't be able to measure the performance for specific hashtags.
Instagram insights native app shows you the hashtags metrics only for your account, and not for the hashtags used by competitors.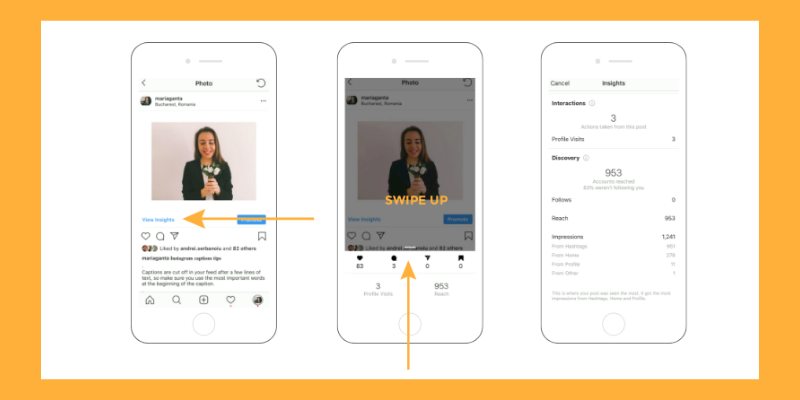 Final thought
Hashtags are extremely powerful in attracting more followers in your niche and increase engagement.
Hope that this product update helps you better define your hashtags strategies on Instagram.
If you have questions about hashtags analytics or how to get started using this feature, let me know in the comments.
In the meantime, you can watch this webinar where Razvan - our co-founder - shows you what data you get using this feature, how to audit your hashtags based on impressions or engagement, and much more.
---
Related articles: