Hashtags can help your marketing strategy in many ways. They can help you reach your target audience and increase engagement.
But, if hashtags are so incredible, wouldn't it be better to use as many as we can? When used in excess, hashtags don't make things better.
On the contrary, they can cause confusion and might not attract the right audience.
If you want to discover how your hashtag strategy should look like in 2022, then keep reading this article.
2022's Instagram hashtags strategy for your business
---
1. How to develop an Instagram hashtags strategy
1.1. Do detailed research before you use hashtags
Instagram is one of the most popular social media platforms at the moment. With more than 95 million users active every day, Instagram can make a change in a business' trajectory.
Hashtags represent a very productive method when you want to promote your business on Instagram.
However, before you start using them, you should make detailed research first.
It is very important to know which hashtags will attract your target audience the most. In addition, when selecting the appropriate hashtags for your business profile, you should also have a look at the most used hashtags on Instagram.
For example, hashtags like #love, #cute, #photooftheday, or #motivation have been some of the top Instagram hashtags in 2018. What is more, if you want to add some of the top trending Instagram hashtags, then you can use #life, #travel, #likeforlike, or #nofilter in your daily posts.
In addition, when you add a hashtag, you shouldn't think that you add it just to increase the engagement rate. Each hashtag has a message behind which will help you contour your business image.
Therefore, how and what hashtags you select will have a pivotal role in how your business evolves online.
1.2. Check what others are doing
Even though your products and services are unique, you need to keep an eye on what the competition is doing. Your business might be on top of the pyramid and bring you the results you expect.
However, this doesn't mean that you shouldn't check what the others are doing. Thus, when you decide what hashtags to use, you should also take a look at the competition's list.
Apart from competition, influencers are also important. They benefit from a lot of trusts from Instagram users and are able to attract masses.
1.3. How many hashtags are enough?
Is there any right number to tell you how many hashtags are enough for your Instagram posts?
A lot of research has been done on this topic. However, when brands are using hashtags in the caption, most posts have either 7 hashtags, either between 27 and 30 hashtags.
Is seven the lucky number for your brand as well? There is no secret recipe to guarantee your success.
You can define the right concentration of hashtags for your Instagram strategy by testing it for a couple of months. You can use from five to thirty hashtags on your posts for a couple of months and measure the results.
Once you start noticing a clear pattern, you can narrow your list and decide which are the most effective hashtags to use for your business.
Also, it is always a good idea to follow your own hashtags. Therefore, you will have visibility on what others are posting while using your hashtags.
On the other hand, you can get out of the crowd and do a step further to in becoming unique. You can create a brand hashtag which will become memorable and make customers attach your brand to that specific combination of words.
1.4. Revise your hashtag strategy periodically
Neightan White, content director at SupremeDissertations says: "One of the best strategies you can use is to identify the hashtags mostly used by the leaders in your industry. Write down each hashtag you find and monitor how many followers it has. The more people use it, the hotter it is. Once you have established a list of 50-70 hashtags, you can combine them in different posts and see which is the most popular formula".
However, even though you found the winning combination, this doesn't mean that your work is done. If a hashtag is extremely popular today, it may be that no one remembers it after six months or one year.
Therefore, the best thing you can do is to revamp your Instagram hashtag strategy quarterly and add or delete from your list.
Trends are changing which means that you should adapt your marketing strategy accordingly and make sure your hashtags attract real engagement.
2. Why you should hashtag on Instagram
Hashtag on Instagram is a true gem for any business seeking to boost business brands and extend business reach to millions of online users. You can use hashtags to:
2.1. Optimize for discovery
Branded hashtags are the best way to optimize your business for discovery. A branded hashtag contains the name of your business, a specific campaign message, or your product.
It, therefore, means that when a user searches a given product, the name of your business will also pop up along with your campaign message.
Using community hashtags along your branded hashtag is another way to boost the number of Instagram users who will be able to see your post.
Community hashtags make your business more discoverable as well as building your audience by reaching out to more users outside of your business niche.
2.2. Increase your profile views
When you hashtag your products or company name on Instagram, you get to boost the number of profile views for your business.
A higher number of profile views have been linked with a higher conversion of business prospects to customers. Since Instagram is a visual platform, you should add high-quality pictures that speak more of your brand and campaign message.
2.3. Promote your brand values
Hashtags are becoming more effective in promoting the brand value particularly with the recent changes that allow users to follow hashtags. This adds a whole new and exciting element to a strategic use of the brand to promote the brand value.
By tagging your brand to particular hashtags commonly used by individuals within your target market, you will be able to maximize your reach and effectively convey your message.
2.4. Showcase your brand advocates
If you are looking for a way to better showcase your brand advocates, then hashtags on Instagram is the best way to achieve this.
When your loyal customers share your business Instagram posts, you get to spread your brand and products more.
Many prospects are turned into loyal customers when they get referrals from friends and family members. Design your post in such a way that it elicits a reaction and boost conversations. This way you will be able to get more brand advocates.
3. When to use hashtags
When is the best time to use hashtags? Well, here are the best moments to effectively use a hashtag on Instagram to promote your brand and products:
Promotions - When promoting a product hashtag come in so handy. Why? With millions of people on Instagram, you can be able to create a hashtag that will carry the message of your products. Use hashtags that promote conversation to generate more traffic to your hashtags. Share your post using the different types of hashtags so as to widen its reach.
Events - The best way to promote an event is to create a strategic hashtag that will communicate to users the details of the events. Events hashtags get followers to create conversations, and friends and fans get to spread the event message. By doing so, you will be able to get your event message to thousands of Instagram users.
Contests - The contest allows online users to establish a deep connection with your products or brand. It, therefore, means that creating hashtags with a contest message will attract both loyal customers as well as those who are interested in winning the product. As a result, there will be high numbers of users who only being attracted by the contest end up being loyal customers. Contest generate more traffic as users enter their entries, other followers are able to see and follows the hashtag.
Product launches - Launching a new product requires careful and intensified approach to get to many people. A hashtag on Instagram will allow millions of people to view your product when it is strategically posted. Thousands of users will get talking about your product in minutes once launched and shared on a hashtag.
Career opportunities - If you want to hire competent and highly qualified personnel, then you have to reach out to a large pool of people to select those with top qualifications. Hashtag on Instagram provides that opportunity for you to reach out to many people. Link your career opportunity message to other popular hashtags that have the same message to reach a wider pool of candidates.
Cross-channel discussions - Getting reactions on Instagram is a desired thing because it generates traffic to your hashtag or even gets your hashtag trending. As a result, you will be able to spread your brand and products to many people strategically.
Targeting a group of Instagram users - Strategically placed hashtag with optimized text can be targeted to a given group of Instagram users. Using words that are mostly searched by a particular group of customers or people can enable you to target and communicate your message more precise and accurate. You can also sample different hashtags used by your target users to further enhance your reach to the right group
4. Types of hashtags
There are different types of hashtags that you can use to enhance your brand or products. These hashtags include:
General hashtags - General Hashtags are hashtags used by many people and attracts a lot of competition. To increase your reach, you can optimize your hashtags using general hashtags (i.e. #regram).
Branded hashtags - This is a hashtag that is unique and specifically describes your business. It often contains the company name, product name, or a tagline. They are best used to promote a specific campaign or group particular user-generated content.
Niche hashtags - Niche hashtags specifically inform the online users of your specialty within a given industry. For instance, you can be in events organizing industry but your niche is in wedding specialty. Your niche hashtag will carry the message relevant to your niche (i.e. - #weeding, #weedingday, #weedinghair, #weedingdress)
Community-related hashtags - Community hashtags connect different users that are of a like-mind of a specific subject. They are great for connecting with Instagram users and boosting your SEO to find followers (i.e. - #momblogger)
Location hashtags - Location hashtags pinpoint your locations and are very appropriate for directing your followers to know where your business is located. This is appropriate for users who are interested in getting your products (i.e. - #myDubai, #NewYork, #visitStocklohm)
5. How many hashtags should you use on Instagram in 2019
You can post up 30 hashtags per post, but a profile with more than seven hashtags looks spammy. Content with hashtags generally attracts more conversations, but many hashtags may make your business look more desperate or attract wrong followers.
Based on our latest research, posts with 27-30 hashtags do not bring the peak engagement.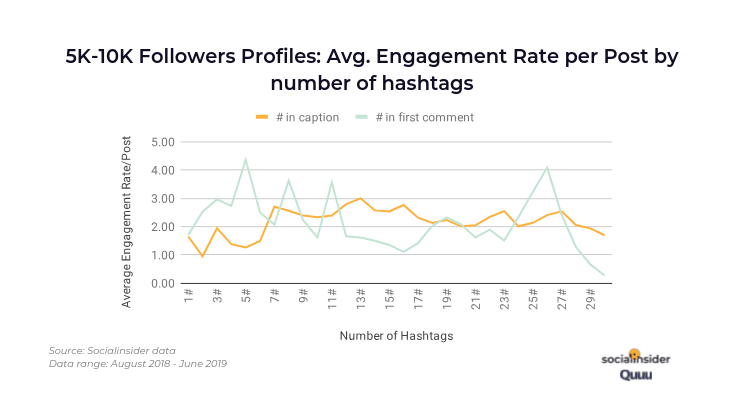 6. How to hide hashtags on Instagram
Hiding your hashtags will help your Instagram post not to look spammy but reach out to many users. Here is how you can hide your hashtags on Instagram:
Option one:
Save all the Instagram hashtags you're targeting in a single paragraph in a text editor app. You can Notes or Evernote to save them.
Add five dots or more, with every dot being on a different or separate line. Ensure each dot falls on a different or separate line.
Copy and paste all the hashtags of your choice below or after the last (5th) dot.
Option two:
You can post the hashtags into the comment section on your photo.
7. How to track your Instagram hashtags performance
Choosing the right tool to analyze Instagram hashtag performance makes it easier to achieve your goals.
7.1. Measure your hashtags performance with Posts Insights
Instagram gives the ability to analyze your hashtags performance which is a great indicator of whether or not you've chosen the right hashtags for your strategy.
To access this data, follow these steps:
Open a post
tap the "View Insights" text below it.
Swipe up, and you'll get a full page of data for that post, including profile visits, follows, reach, and breakdown of how and where your post was discovered.
Under the Impressions metric, you'll find 'From Hashtags' which tells you how many people found your profile post through the hashtags you used.
Final thoughts
Creating an Instagram account for your business in 2019 is one of the best things you can do. Moreover, knowing how to use hashtags and enhance your brand's visibility is even better.
This is the starting point from which you can start building your Instagram hashtag strategy in 2022.
---
Related articles: