In one way or another, we're all storytellers. We've always been, but the rise of Instagram stories has shown us this more than ever.
The idea behind it was straightforward - it allows us all to share a "moment" of our life, and it seems people and companies all around the globe loved it.
Nowadays, more than 1 billion people are using Instagram, out of which 500 million people use Instagram stories. This is an excellent opportunity for your brand - you can post photos or video sequences that disappear 24 hours after being posted.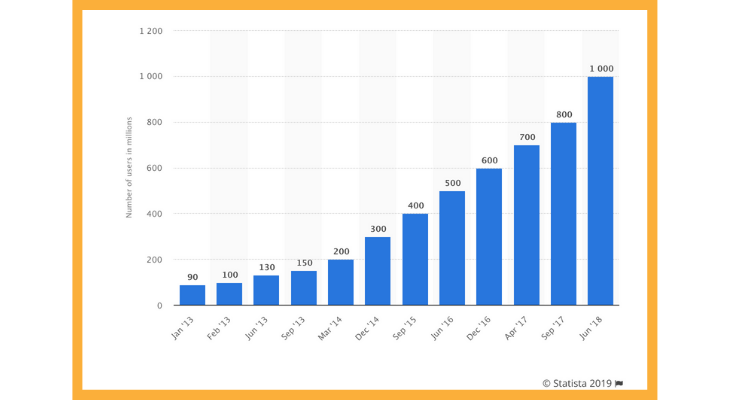 On social media, it's all about outstanding, out-of-the-box content. But it's also about picking the right strategies to make that excellent content shine and to be seen by as many people as possible.
Want to increase your visibility on Instagram and better engage with your audience? 🤔
This article is for you!
Discover how to create outstanding and engaging stories and how to expand your Instagram viewership.
---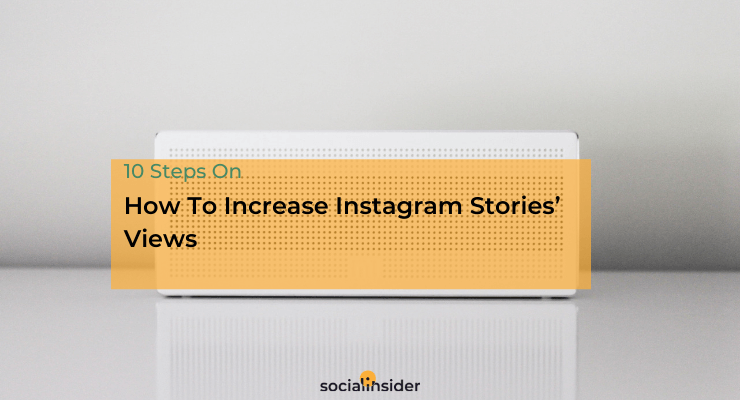 Create outstanding and engaging Instagram Stories
---
1. Focus on the quality of your Stories
No matter how big or little known the brand is - quality is the king.
Whether you're a small or big brand, you want your customers to see you as a reliable source of information. Spread the word about stirring insights from your industry or communicate great products or features releases.
Always do this like a pro - and the truth is that you have to invest your time and creativity.
There are tons of apps you can use to level up your pictures on Instagram. From Canva to Snapseed, they are all made to help you create a genuine experience. Don't shy away from using filters, as well.
📌TIP: Try to make your Stories as relevant as possible for the industry you're in.
Debate with your followers using question stickers or chat stickers and find out their opinion based on what you're posting. Take into consideration their responses and engage.
2. Increase your visibility - include hashtags
We see hashtags all around the social platforms and it's no wonder why: hashtags on Twitter, on Facebook, Instagram, even hashtags on Linkedin.
They represent a creative combination of letters, numbers, and even emojis run ahead by the # symbol.
For companies, hashtags will continue to be a great way to reach new audiences. They pile up under the same "umbrella" their branded content or launched campaigns.
If you are using them in your captions or even in the first comment, they're really a thing on stories as well.
They'll spice up your photo or video or can bring an extra explanation to it. When added correctly, they can boost your story and reach in no time.
After adding the video or photo to your story, there are two ways to use hashtag stickers:
Select the hashtag sticker from the list Instagram provides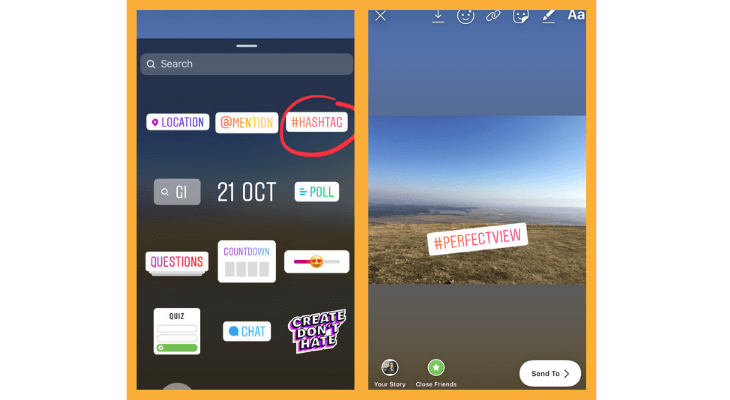 Type hashtags sign (#) followed by the text you want - this way you can add multiple hashtags; you can also change their color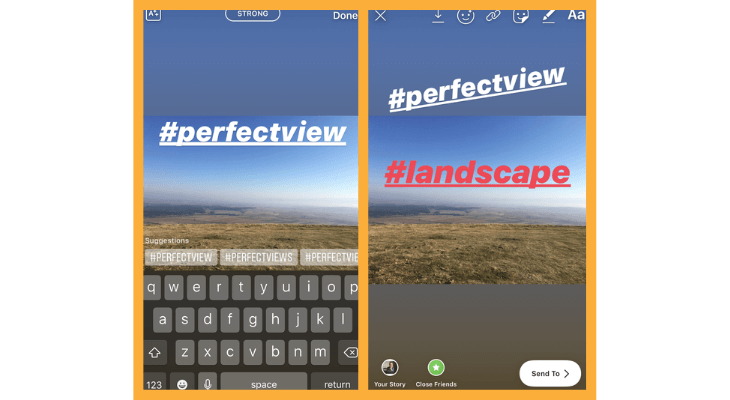 📌 TIP: use hashtags that are related to what you're posting and make perfect sense. Ultimately, it matters who finds them, not how many people.
3. Play with the 'question sticker'
Using a question sticker can encourage your audience to interact and have more in-depth involvement with your posts.
This feature allows you to see who answered, so it's clear feedback from your audience. You might be surprised by the results.
You can use only one question box per post. Once you've posted the story, viewers can answer your question by tapping the sticker on your story.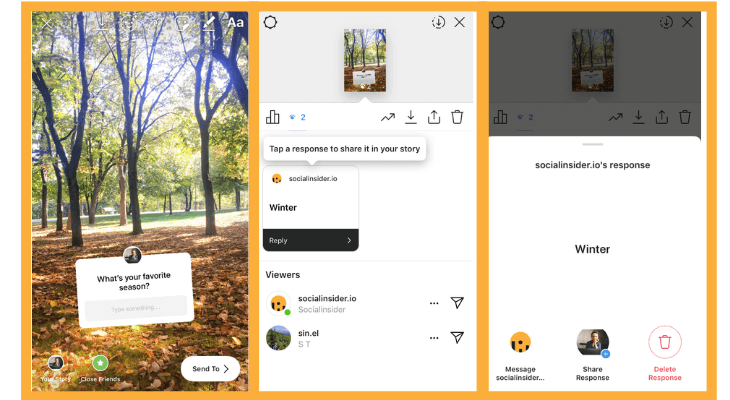 You have the option to share the response or to delete it.
This also works very well the other way around. You can lead your audience to ask you questions to make an impact, but though this may seem pretty obvious, don't forget to answer if you want to get the results that you are looking for.
4. Add interactivity to your stories - try the 'poll sticker'
Poll stickers are all about adding a little bit of fun and interactivity to your stories. They're also great to crowdsource ideas, collect valuable feedback, and find out what type of content your audience wants.
You can use this feature by asking followers what they like or dislike, or you can find out how many things they know about your brand.
Be creative. Maybe add some text next to the slider, and you can create a whole new experience.
5. Don't forget about the 'mention sticker'
After you snap a picture or a video for Instagram, press the sticker icon, and choose the mention. This is an excellent feature inside Instagram story because the mention sticker is clickable, so you can cross-promote between your accounts or help someone else grow theirs.
This enables you to tag other Instagram accounts in your story, and when users click the tag, it takes them to that particular profile, and that account will be notified that someone mentioned them. They have the option to re-share that story - this will increase your profile visibility.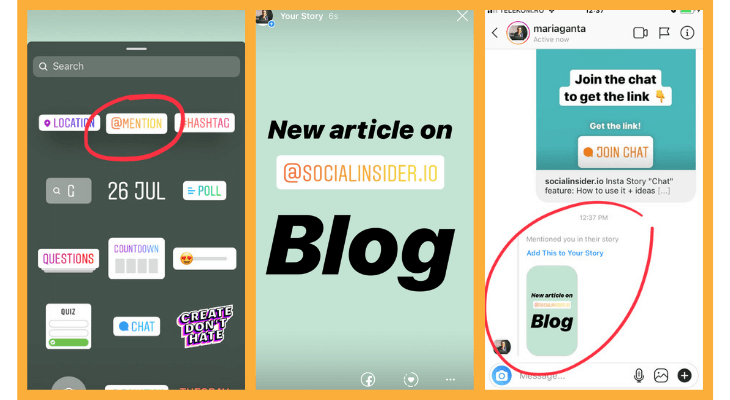 The mention sticker draws attention to campaigns and initiatives and it also can have the impact of humanizing the brand if you use photos or videos with people, such as employees or collaborators.
6. Let your followers know where you are - use the 'location sticker'
There's no doubt you want your brand to be easily found both online and offline. Location tag sticker is a very useful tool for promoting your business and letting your followers know where your business is located.
When using it, you're letting people who are not familiar with your business, but are interested in a related topic, find you directly on the map.
Another benefit of tagging your location into Instagram stories is that it shows that your business is active in the community. Tag events and all sorts of happenings related to your company and its location.
Instagram location tagging feature provides your business the opportunity to gain more exposure and to attract local customers.
⇢ Find out more about why location tagging on Instagram matters, and how can businesses benefit from it, in this article.
7. Build an engaged community - include the 'chat sticker'
The chat sticker can be your silver bullet when trying to build an engaged community on Instagram.
It lets you interact with followers by hosting a real human group chat for subjects that are important for your business, and that can provide real feedback straight from the source.
When you select the chat sticker in your Instagram story, you will have to add a title that is broad for your subject.
Also, keep in mind that all users have to quickly understand the topic so that the chat will have a smooth flow of ideas.
Here's how we are using the chat sticker to announce the release of one of our studies, or a new article on Socialinsider blog. We invite people to join the chat to get the link or the PDF.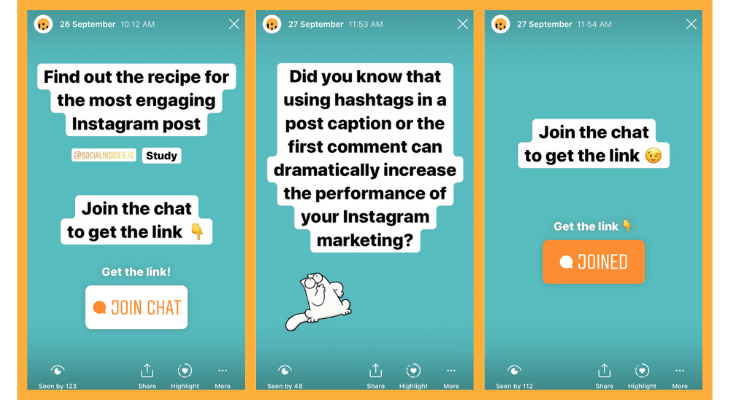 You can initiate a private chat group with up to 31 of your followers, and you can choose who joins the chat and who exits. Also you can delete the chat at any time.
Through the chat sticker, you can share your promotional codes with your followers. This is pretty neat because in this way you can apply a classic marketing strategy that consumers still appreciate very much, into a modern approach used on Instagram.
8. Highlight your most important stories
It's great to make content and stories every day and share them with other users, but as you know, stories disappear after 24 hours, and sometimes, this is not convenient.
Whether you consider your content very good in terms of visual, or you would like your message to be available for a larger amount of time, there's a way to accomplish this goal.
All you need to do is to highlight your most important stories.
This feature allows you to pick your favorite stories and save them so that they can appear permanently on your profile. You can find your highlighted stories right below your bio on your profile page.
Here's how to highlight a story:
Go to the story you want to highlight and press the 'highlight button'
Enter a title
Choose a thumbnail
Done
You can edit, remove, promote or delete your highlights any time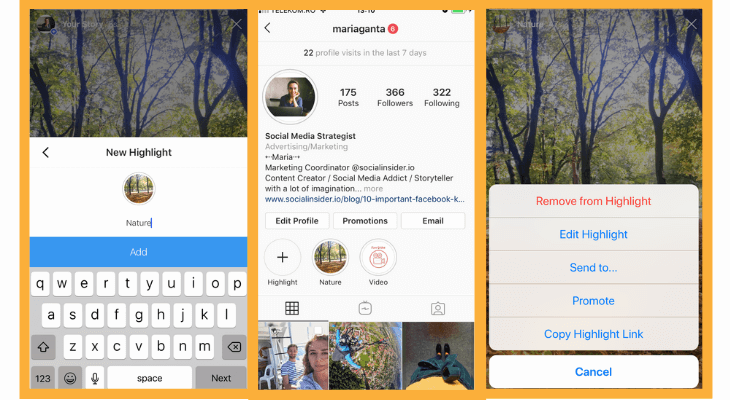 📌TIP: If you are going to choose to highlight some of your stories, it is very important not to skip the stories that have a direct link to your site, so that it is easy for your followers to come and visit your business page.
A good use of stories highlights is that you can promote your products or services or you can include explainer videos or testimonials and reviews that will last more than 24 hours.
9. Use the countdown sticker and let your followers know you're hosting an event
The countdown sticker is another Instagram story tool you can use to generate interest and to make sure that your followers will visit your profile soon.
Once you post the story with a countdown sticker, users will be able to subscribe and turn on the reminder for themselves and share the countdown to their profile.
Also, when your countdown ends, all the viewers that have chosen to be reminded will get notified.
This feature is handy when you are preparing to lay out a new product or service, a webinar tutorial, or a new video on YouTube because it has the qualities of a teaser campaign that helps to generate interest for a pre-launch.
10. Tell your story in a unique way
In both marketing and advertising, the most successful campaigns are those who are built around stories. They generate buzz and are pieces of content with a high added value - the same applies to social media and especially on Instagram.
When setting up your strategy, make sure that the stories and the posts you're creating are part of a bigger picture and are not just randomly selected.
Brand storytelling plays a significant role in influencing your follower's perception of the products or services you promote.
Try to keep a balance between daily content and relevant content. Posting every day doesn't necessarily mean high engagement. Tell a story when you've prepared it and don't create stories just for the sake of creating them.

Use VIDEOS in your Stories. After we analyzed more than 135,000 Stories we discovered that 51% of brands are using video Stories across all profile sizes.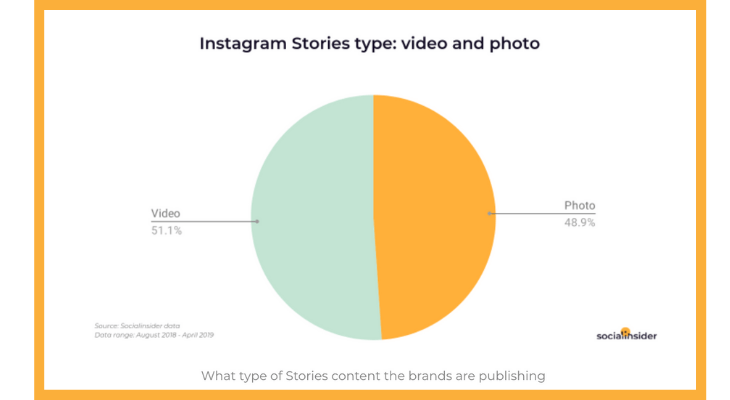 Final thought
Instagram is continuously introducing new features, so don't forget to keep up. They're great, and they can help you to gain awareness, followers and in the end, get buyers.
Because daily stories are becoming more interactive, learn to master them, include them in your content marketing strategy, and make compelling content that generates engagement.
Building a strong communicative relationship with your community will pay off for an extended period.
---
Related articles