When using Instagram hashtags for business in 2018, your most important goal is create content that inspires engagement. In order to keep your engagement rates high, you need to learn how to use hashtags effectively.
There are new rules for Instagram hashtags in 2018 that affect how your followers find your account and view your content. If your hashtags do not abide by these rules, your page will become a ghost town and your Instagram marketing strategies will flop.
Today, I'm going to share with you the new rules for Instagram hashtags in 2018 and how to find the right hashtags for your business:
The new rules for Instagram hashtags in 2018 and how to apply these updates to your business
#1. Relevant Instagram hashtags are more important than before
Because Instagram users are able to use the new "Don't Show for This Hashtag" option to block irrelevant and unwanted content from their feed, it is a must that your hashtags are captivating and intriguing.
If you are encouraging a discussion about books, it does not make sense if you use the word "foodie" in a hashtag.
Of course, anyone looking for images tagged with the keyword will come across your post, but because it does not match their current interest or needs, it will be ignored.
Even more, Instagram uses an algorithm that will detect the inconsistency and a red flag will be raised and your account could be negatively affected.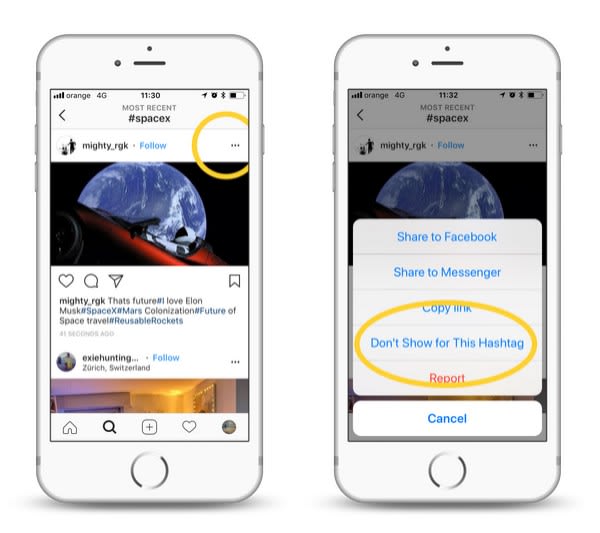 #2. Stop using the same list of Instagram hashtags for each post
If you want to grow a targeted and responsive following, it is a must that you avoid using gimmicky tags that have a high amount of traffic. Hashtags like #likeforlike, #followme, #like4like, #follow4follow, #tagsforlikes, etc. have been used in more than a million posts, and when you use them, the algorithm views your post as less than authentic.
That is why you should avoid recycling the exact same hashtags over and over again. Not only does it look like you are spamming the Instagram feed with irrelevant posts, these hashtags can affect the visibility of your post.
Using unique and various hashtags, your posts will be viewed by more people and your audience will enjoy your content that much better.
#3. Don't use too many or irrelevant hashtags
You are allowed to use up to 30 hashtags with each Instagram post, so you want to be selective when choosing these tags.
You do not want to use irrelevant tags, but you also do not want to include too many. If you have an overload of hashtags, then your post will look sloppy.
Your audience will not read every hashtag, and they may even view a lot of hashtags in a single post in a negative way. You do not want to turn your audience off. You want to appeal to their interest, and you want the hashtags to add value to your content.
So as a rule, if a specific hashtag is unrelated or it simply lengthens your list, do not use it.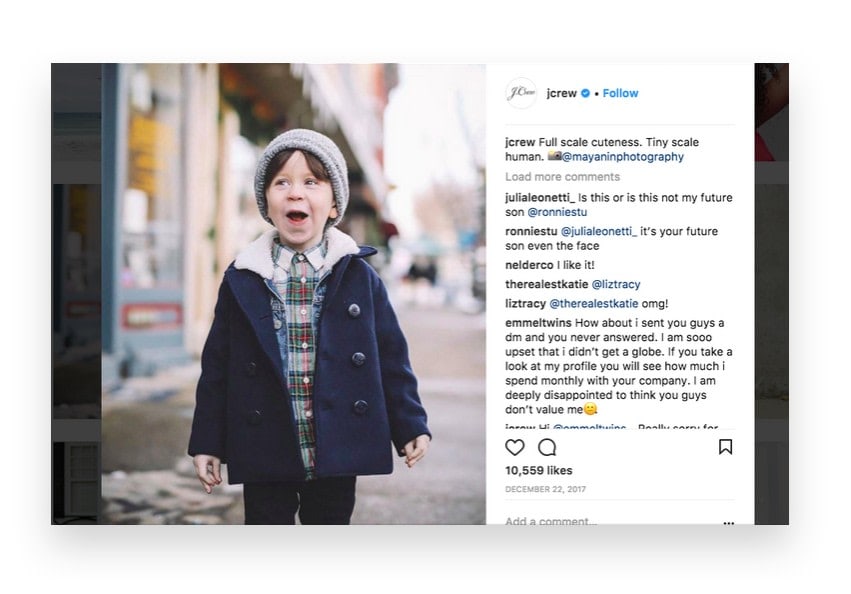 #4. Use specific or niche hashtags
When you want to engage with your audience, the topic you discuss must interest them. Even more, the topic must be intriguing enough and encourages conversations, and the exchange of viewpoints.
That is why it is important to focus on one or two topics when creating hashtags. These hashtags can be centered around a niche or be specific to your industry.
In either case, your tags convey a condensed meaning of the post, so your audience can distinguish right away if your post appeals to them or not by skimming through your hashtags.
If your hashtags are not representative to your specific niche, your followers will scroll past your posts every time.
☝️Click to tweet☝️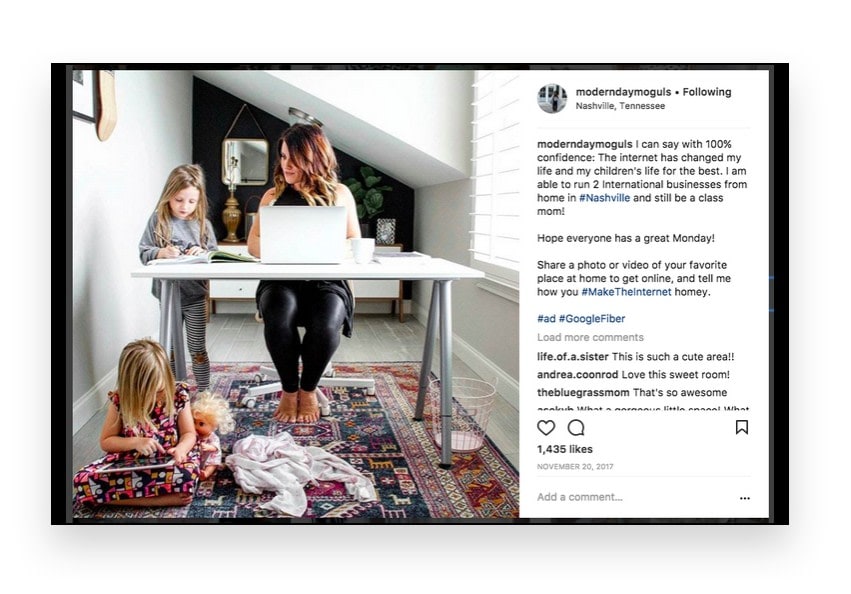 #5. Keep your brand hashtags short, simple, and easy to spell
Hashtags that contain more than one or two words are hard to remember - and sometimes hard to spell.
☝️Click to tweet☝️
You want to use hashtags that are easily duplicated because they are short, sweet and simple. They are memorable and catchy, which inspires your audience to reuse your hashtag in their own posts.
Shorten hashtags make it easy for your audience to search the phrase to find your page, so not only are short phrases inspirational, they leave a trail so that people can find you.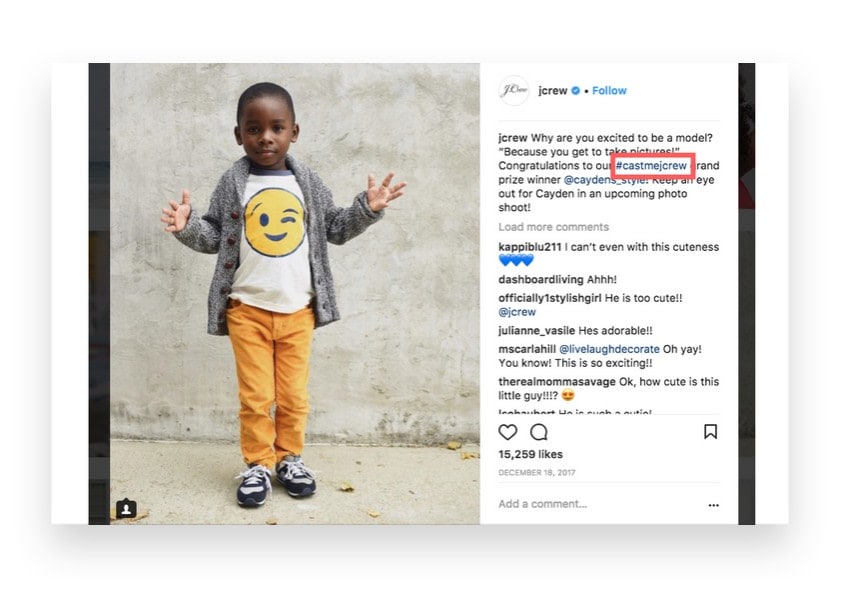 #6. Use Instagram hashtags in your captions instead of comments
The first thing people see when viewing your post is the image and the caption. So it makes sense that you should include hashtags in your captions instead of you comments when you want your followers to remember and be attracted to the hashtag - just as much as the image itself.
Don't worry, Instagram's official help page states that hashtags will show up whether you use them in the caption or the comment.
#7. Following Instagram hashtags is a trend now
Previously, using the "Explore" tab was the most proeminent way to search the platform using hashtags. You could also click on a hashtag listed in a post in order to populate a list of other relevant posts.
Instagram allows users to follow a particular hashtag instead of searching for them. This allows relevant posts to appear in their feed without manually performing a search.
That means that if you publish a post with a hashtag being followed, your post will appear in the feed automatically. It's a better way engage with followers easily, while cultivating new followers who share the same interest.
To follow a hashtag:
Tap any hashtag (example: #fashion) you see on Instagram.
Tap Follow. Once you follow a hashtag, you'll see its photos and videos appear in places like stories, feed and in the Following section of your profile.
To unfollow a hashtag, tap the hashtag and then tap Following.
#8. Use hashtags for your Instagram Stories
There are countless reasons why marketers use Instagram Stories:
they garner a higher response rate.
they offer an improved experience and they are more engaging.
They also offers another avenue for developing creative content, and when coupled with hashtags, Instagram Stories give your followers another reason to engage with you.
But what people do not know is that Instagram geo-locations and hashtags have their own stories attached to them. Explore new ways of connecting with other posts and grow your Instagram business account.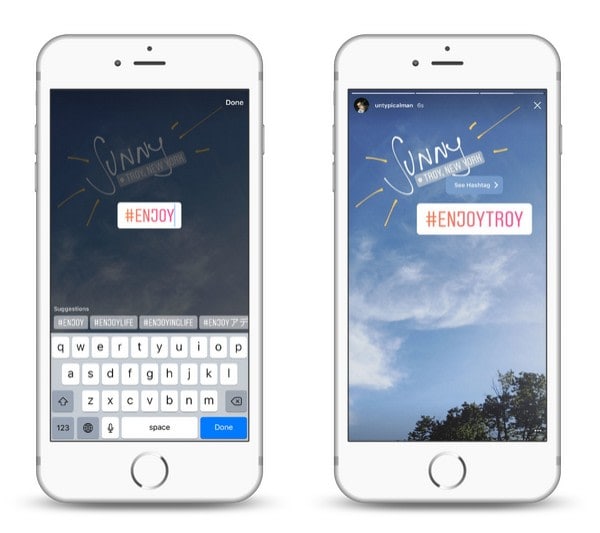 #9. Avoid copying your competitors' hashtags
It is estimated that when you use a hashtag that has 10 million posts attached to it, it will only take 3 minutes for your post to be pushed out of the first 9 in the feed.
That means that your audience has less than 5 minutes to find your post and engage with your before the post will be much less visible. That is why you should avoid using the same hashtags that your competitors are using - at least the most popular ones.
While you want to use your competitors' hashtags for inspiration and direction, you want to be unique and set yourself apart from your counterparts. .
Copying your competitors' hashtags might give you a few extra followers, but for the most part, your growth will be artificial - because it is not targeted.
If you wanted targeted followers who engage with your page frequently, you must use uniquely created hashtags.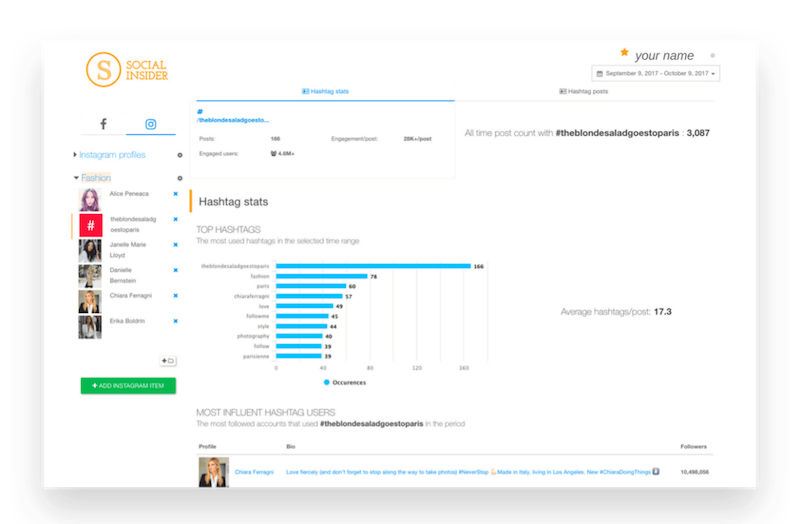 #10. Perform a hashtag research
It is important that you perform a hashtag research before you determine which ones will be more effective for your use.
Look for keywords that are relevant by way of industry, location, events, holidays or brand. Include other social media channels in your research.
Using Facebook and Twitter to see which hashtags are working on those platforms may expose underused hashtags that could translate into high levels of engagement on Instagram.
By capitalizing on the hashtags that attract people across multiple channels, are you more likely to discover keywords that highly responsive - or create some of your own.
Final thought
With these tips, your Instagram marketing campaign will have the reach needed in order to cultivate audience engagement.
Your posts will appear in your followers' feeds with less effort, and you will more effectively attract new followers who are interested in your content.
The trick is to incorporate multiple types of content marketing strategies so that you are not relying only on your chosen hashtags.
You can start tracking your hashtags analytics with Socialinsider! Measure your engagement for postings on Instagram by searching for a specific hashtag, see how many people used the hashtag, how many conversations generated, and the total posts
---
Related articles: