Over the last couple of years, TikTok's growing popularity has encouraged more and more businesses to set up shop on this social media platform.
Its alluring mix of quick-fire videos and authentic content shared has made everyone eager to get in on the action and promote their products and services via TikTok.
However, simply being present on this platform is not enough. You need to be on top of your TikTok analytics to find out exactly what's working and what's not. That will tell you what to do next to improve your content strategy.
Ready to learn more? Let's go!
How to check analytics on TikTok
1. What is TikTok analytics and why does it matter?
Knowing what TikTok is, it is only predictable that TikTok analytics refers to data that helps you build your account analysis.
With the help of native analytics or third-party apps, you can measure the performance of your TikTok content within a specific timespan.
If you're wondering "do personal accounts have analytics?", you might be happy to know that you can get some analytics data for any type of TikTok account.
However, the amount of insights you get is severely limited if your profile is not a Business account and has less than 100 followers.
And if you're managing a brand's social media account, it makes sense to switch to a Business profile anyway.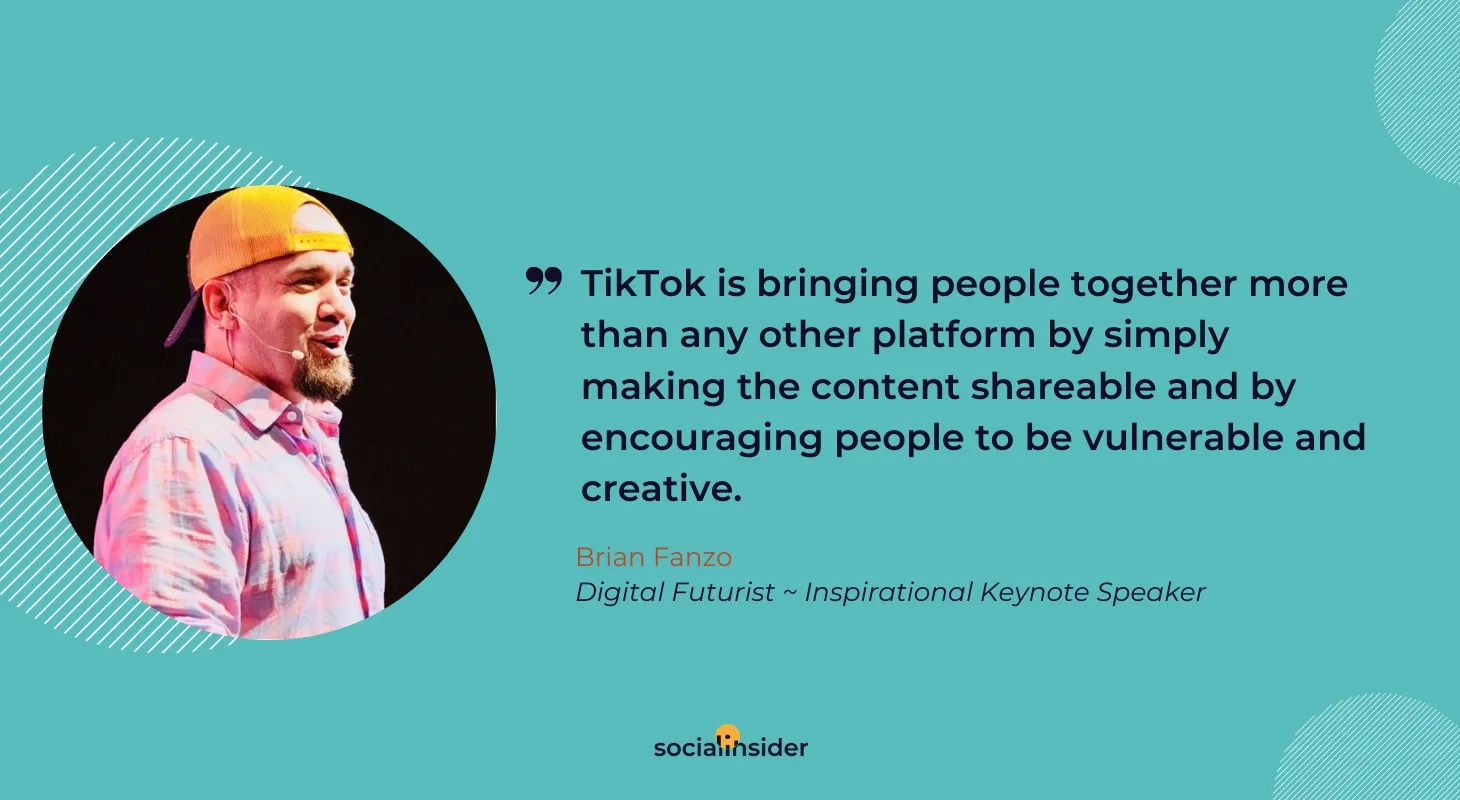 2. How to check TikTok analytics data
To unleash the full force of native TikTok analytics, the first thing you have to do is switch to a Business Account. Here's how you do it:
Go to your profile.
Select Settings and Privacy
Go to Account
Select Switch to a Business Account.
Follow the flow and choose a category for your business
Add your email address and you're all done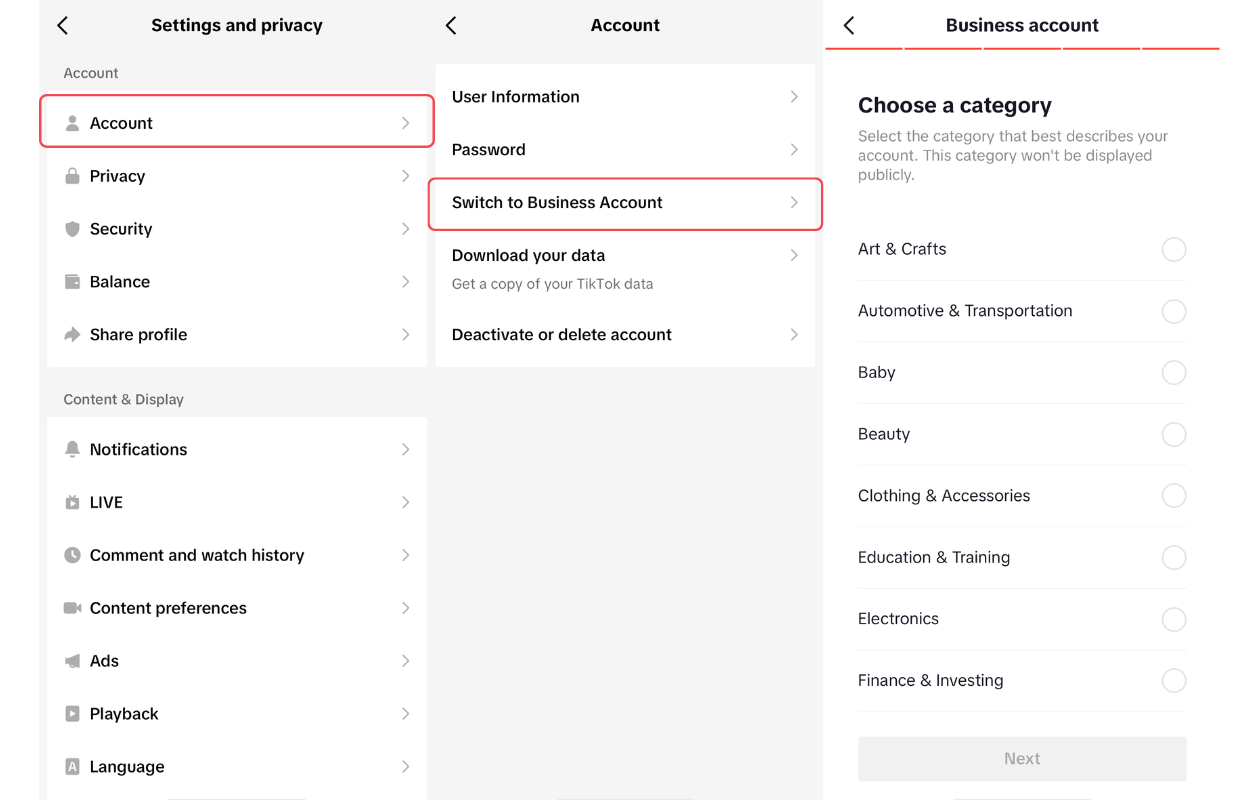 How to check TikTok analytics from the native app on mobile:
Go to your profile
Tap the 3 lines in the right corner
Go to Creator Tools
Select Analytics
Now you can see data for Overview, Content and Followers
How to access TikTok analytics from your web browser:
Go to www.tiktok.com
Log in to your profile
Click on your profile icon and Select "View analytics" from the dropdown menu
No matter if you access your TikTok analytics from your phone or web browser, you will have access to the same three tabs: overview, content and followers.
2.1. What KPIs are available in the native app?
No matter whether you access your TikTok analytics from your phone or web browser, you will have access to the same three tabs: overview, content and followers.
Together, these sections offer insights into your:
Engagement evolution (likes, comments, shares, video/profile views)
Followers growth
Posts performance
Followers activity
Followers gender
Follower demographics
Live videos (if applicable).
There's one more type of data available through the native app, and that's hashtag views - only it's not included in the Analytics tab.
You'll have to search for your chosen hashtag manually and see for yourself how many views it has generated up to that point.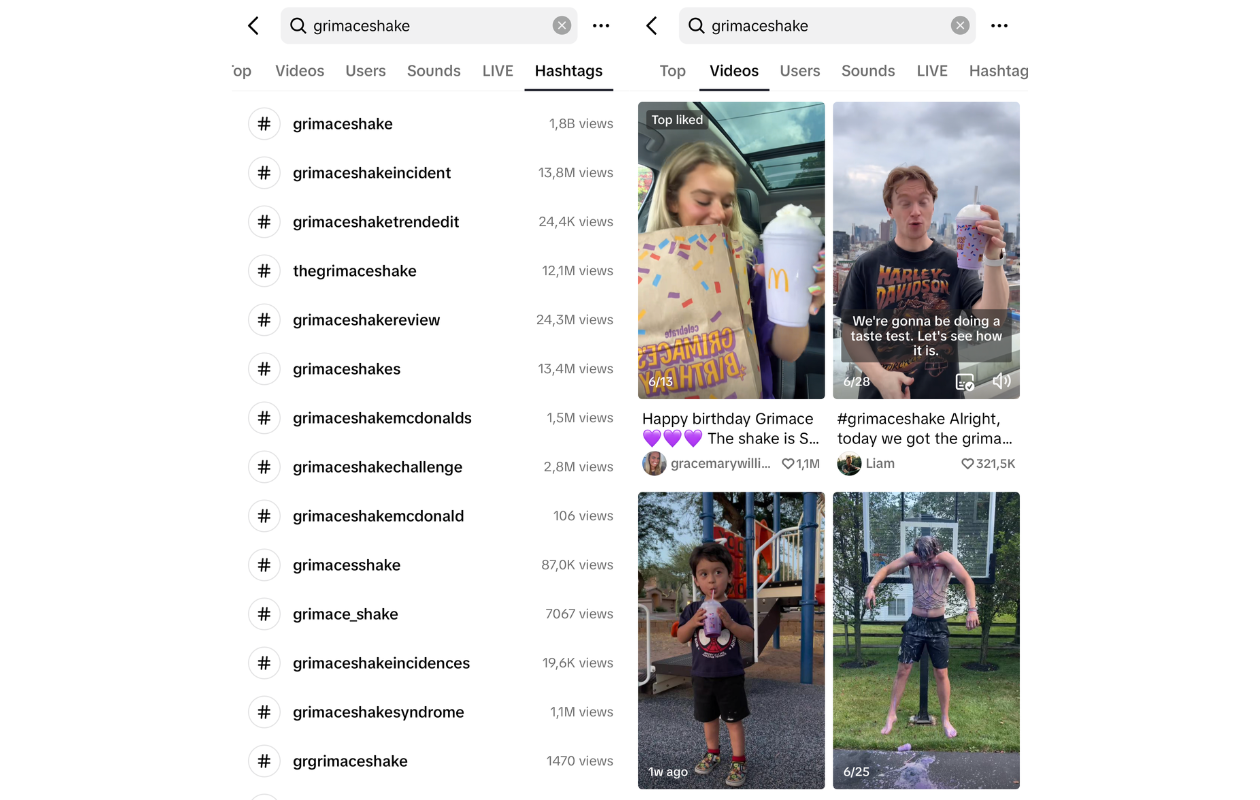 You can also find other related hashtags with varying degrees of popularity, as well as content examples (aka trending videos that include that hashtag).
This kind of TikTok hashtag research is useful for brands in the process of finding new trends to jump on or new influencers to collaborate with on existing campaigns.
The screenshots featured above are from McDonald's latest TikTok campaign centered around their new product - the berry-flavored "Grimace shake".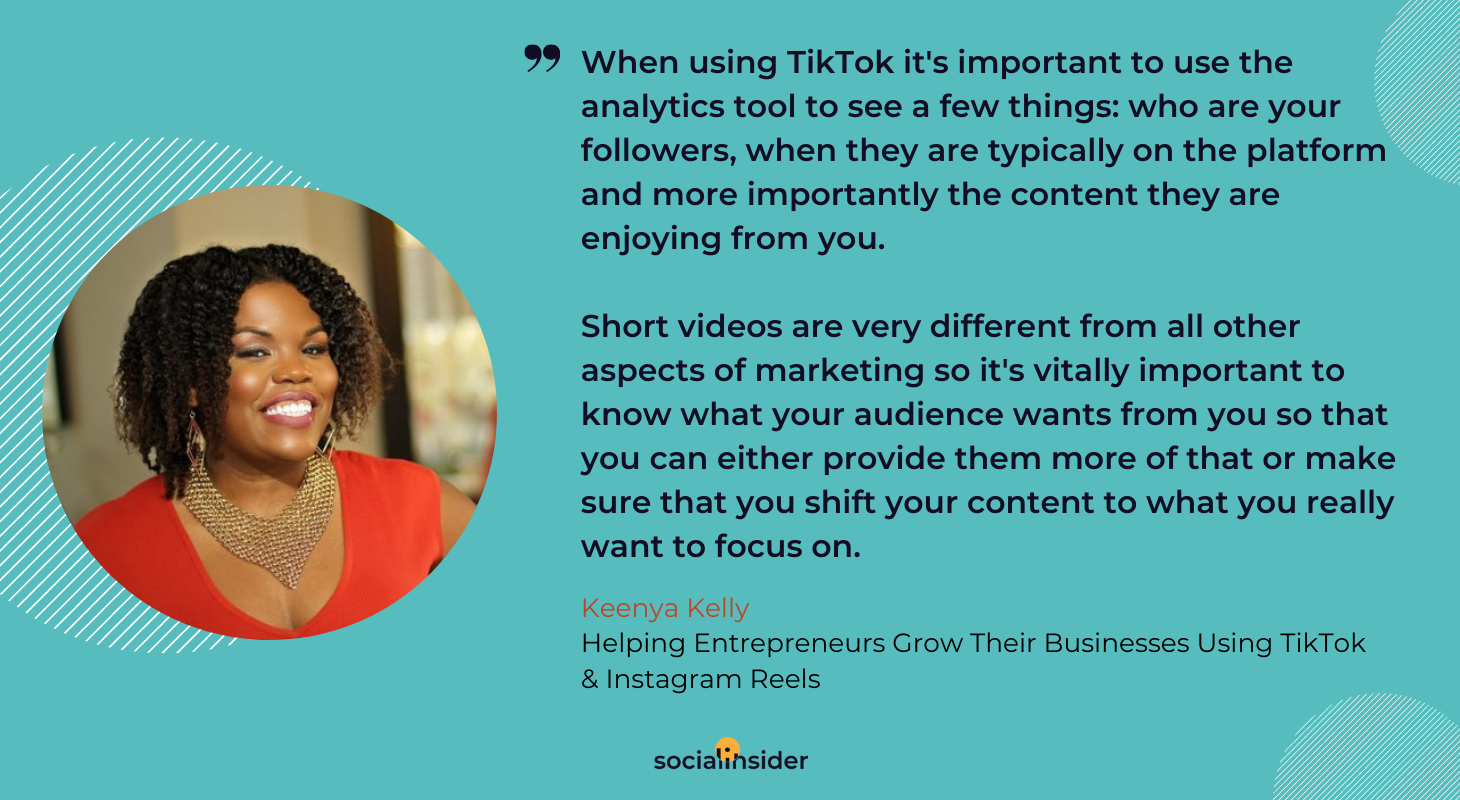 3. Key metrics to focus on in your TikTok analytics reports
Despite being one of the youngest social media channels out there, TikTok has enabled us all to learn quite a bit about its algorithm and the main metrics that matter for people sharing content on this platform.
This wouldn't be a proper TikTok analytics guide without an overview of the most important ways to track performance on this platform.
Whether you're doing a social media audit, a competitive analysis or your regular monthly reporting, here are the main TikTok metrics you should keep an eye on:
Total views
Total engagement
Video watch rate
Engagement rate by views
Engagement and viewership journeys (virality factor)
Hashtag performance
Followers growth
Top posts
Best posting times
👉 Need some help understanding TikTok metrics? Here's a complete guide to TikTok metrics and definitions.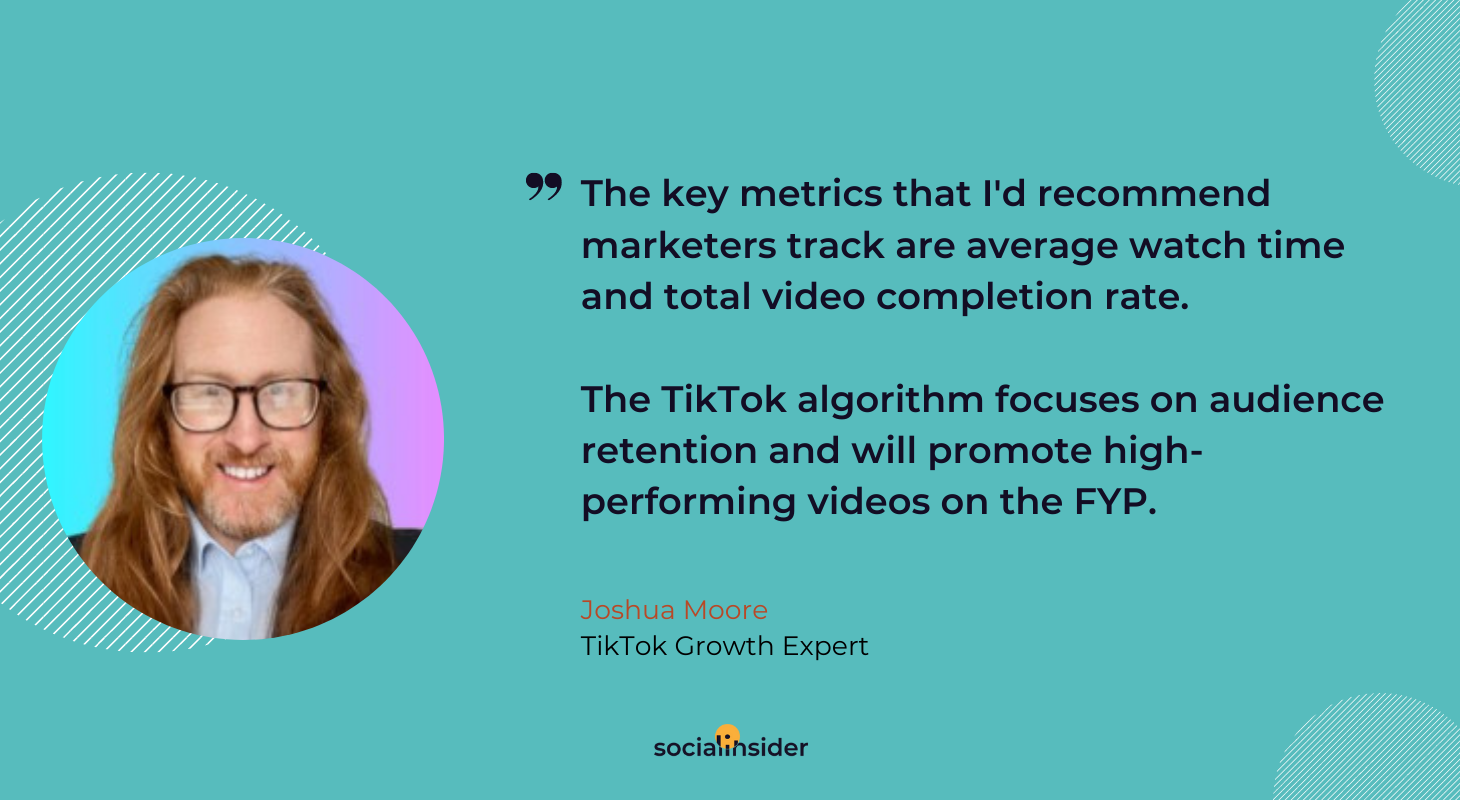 4. How to access your TikTok analytics with Socialinsider
The TikTok analytics data available through the native app gives you a nice head start. But it's quite limited in what it can offer.
You're better off using a professional social media analytics tool like Socialinsider to unlock a whole range of insights for TikTok.
For example, when using in-app TikTok analytics, you can only check data for up to 60 days. With an app like Socialinsider, you can look back a few weeks, months or even years and get plenty of insights about your campaigns.
More importantly, you can get plenty of data on your competitors, which is something impossible to do within the native app.
Now that you know what to look for, you're ready to dive all the way into TikTok analytics with Socialinsider. Thankfully, all the data you're hoping to get your hands on can be found in one single, unified dashboard.
I personally am not a fan of sticking labels on everything, but if there's one thing TikTok is known for, it's its virality.
So, no matter what you're trying to achieve through your social media analysis, chances are you will be looking for data that shows whether your content has the potential to go viral or it has already achieved that milestone.
You will also be looking to see how your community is growing and how much they're engaging with the content you share.
All of these stats, along with the total number of posts for the selected timespan, are available in the key metrics section.

By the way, all you need to do to get this data is connect your brand's TikTok account and authorize it. Once you're logged in, the only other thing you need to set up is selecting a time range for your analysis.
Coming back to your TikTok analytics dashboard, the next batch of analytics data you should spend some time on is your engagement.

You can quickly spot any spikes and maybe correlate them with other changes in your follower count or even video views. You can also see how much engagement your profile generates per day on average and what's the engagement rate per individual post.
Great, you now know that you've had some engagement spikes. But how to replicate them?
Well, your best bet is to head over to the best posting times section.
If the data indicates that your TikTok content performs best when it's posted on Tuesdays at 4PM, then try applying that strategy more often and see if you can further boost your engagement.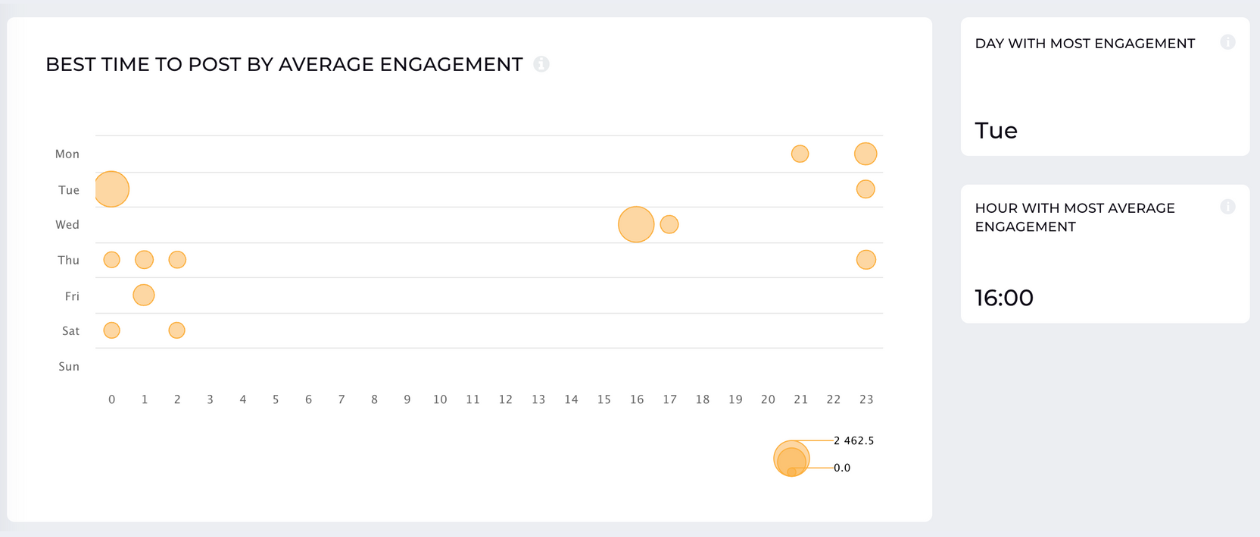 Since TikTok is a video-only platform, views are the bread and butter of any social media analysis. So of course we included this metric in our TikTok analytics dashboard.

Here you can see how your views ebbed and flowed over the course of the selected time period (in this case, 30 days), and how many views your content got in total.
If you're seeing big spikes in your views that don't match your engagement or follower growth spikes, it's possible that your content is not optimized for engagement.
👉 Struggling to grow your TikTok engagement organically? Maybe these 10 TikTok engagement hacks will help you out.
Engagement and views are both wonderful metrics, but on their own, they don't tell you much about the virality of your TikTok content.
We noticed this gap in TikTok analytics and we introduced two new metrics to measure virality on TikTok.
So we put them together and created two new metrics, called Engagement Journey and Viewership Journey, respectively.
By tracking how fast engagement and views grow for each post and how long they stay high, we can now identify which posts have gone viral.  To be extra precise, we also track how long it takes each post to go viral without being boosted, down to the number of days.
Here's how you can access them in your dashboard:
Add your TikTok account to Socialinsider
Select the account from the left sidebar list and take a look at the TikTok analytics dashboard
Choose a post from the Posts section
Click on the "See more" button for more details on each post
Dive into all the insights provided by the engagement and viewership journey metrics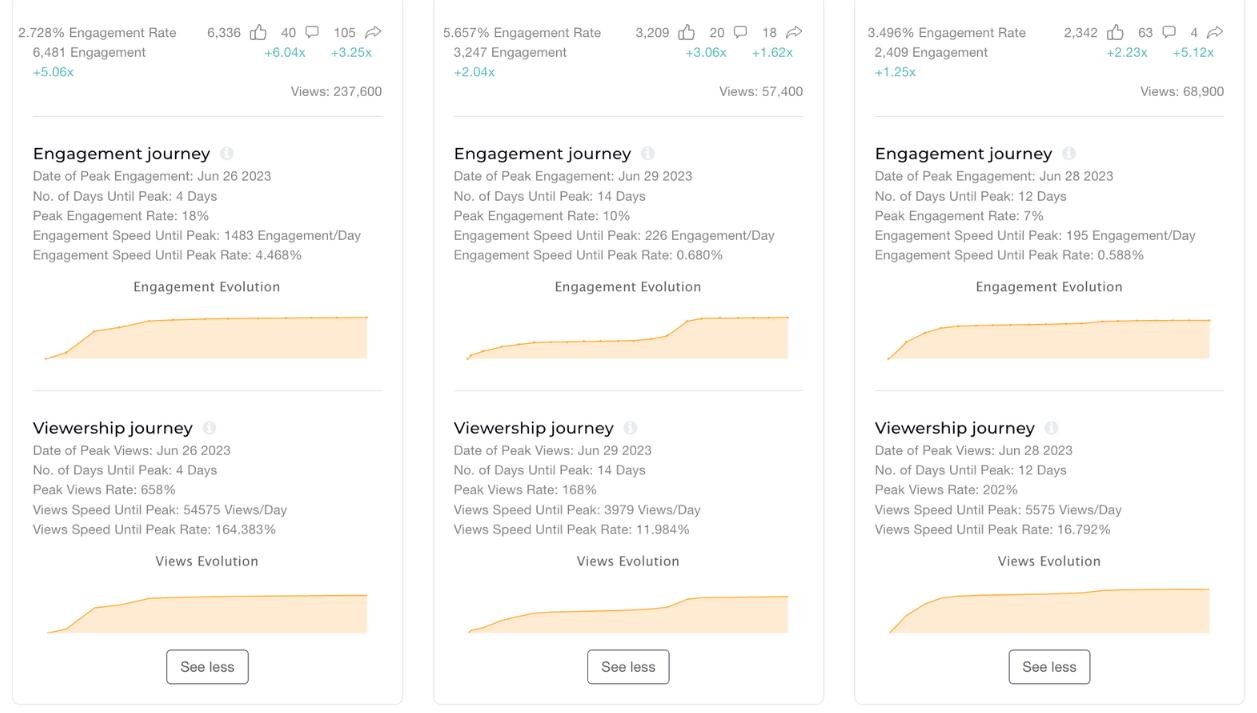 As a bonus, you can also see TikTok analytics for your competitors' profiles and use these valuable insights to improve your social media strategy and fill out gaps in your niche or industry.
Final thoughts
See now why it makes sense to check your TikTok analytics through a third-party tool? The most amazing thing is that you get the full picture of your brand's performance on this platform.
I hope this guide on how to check TikTok analytics serves you well and inspires you to keep checking your TikTok data. Doing this can really help you improve your marketing strategy and better understand your audience.
By looking at data, you will quickly learn what your audience needs and expects from you and you will be able to adapt your content to their needs.