Summer being over has never been a good enough reason to stop traveling, and Instagram and Twitter are the best proof of that - luckily for travel companies.
Prepare your flight discounts, your camera, and your hashtags. 🛫
There's nothing more captivating than the bright autumnal colors piercing into a grey, urban landscape. Or perhaps the incentive of running away from the cold and landing in a breathtaking exotic picturesque scenery that will make all of your Instagram and Twitter followers constantly check your photos, carousels, and videos.
And with Travel Tuesday coming up, there's no excuse not to take advantage to the fullest by optimizing your posts and creating the most engaging campaigns.
To make sure you reach the broadest audience possible, we opened up Socialinsider and took a closer look into some of the top travel hashtags: how to best use them and if they perform better on Twitter or Instagram.
And since when it comes to hashtags less is more, according to our hashtag study, here are 5 of the best travel hashtags, each with their own hashtags combos.
So let's dive in: Lights, camera, hashtags! 📸
Best travel hashtags and their engagement
Final Thoughts: How to use these top Instagram hashtags?
Find out what type of content should you create with your hashtags👇
1. #traveltuesday
The end of November - the beginning of December is the best holiday season for all of the travel lovers out there. Travel Tuesday deals are pouring in.
Whether you're pitching to full-time travelers or people chasing those deals tailored to a moderate budget, this is definitely the best time of the year to work in this industry.
No wonder this Black Friday of the travel industry is extremely popular on both Instagram and Twitter.
On Instagram, the top post (engagement-wise) under this hashtags is a post by Go Pro, with an astonishing engagement of over 200,000.  
But don't feel too intimidated, as the second and third positions have gathered engagements of 28,000 and 22,000 - which are also pretty good scores.
This means that using #traveltuesday in your posts will definitively raise your Instagram metrics.
Tip❗
If you want to compete for that top Instagram engagement, make sure you rise to the standards of the posts within that hashtags. Use the #traveltuesday in posts that feature professional images, rather than carousels or videos.
On Twitter, the engagement is not nearly as high as on Instagram, but that is to be expected. This is simply because of the visual nature of Instagram, as opposed to Twitter, which is more message or news-oriented.
But that doesn't mean you can't have fantastic imagery on Twitter as well. This is probably hashtag with the most visually impressive images on this platform.
Take, for example, @EnjoyNature, the profile with the most engaging post, who keeps sharing amazing high-quality pictures that get retweeted. And apparently, two of these retweets are in the top 3 posts.
On Instagram, posts that use #traveltuesday also use an average of 14 other hashtags. In reality, it's better to use between 2 and 8 hashtags per post, depending on your profile size.
So here are a few ideas of engaging hashtags to write along with your main one:
#travelphotography
#trip
#traveling
#travelbloger
#instatravel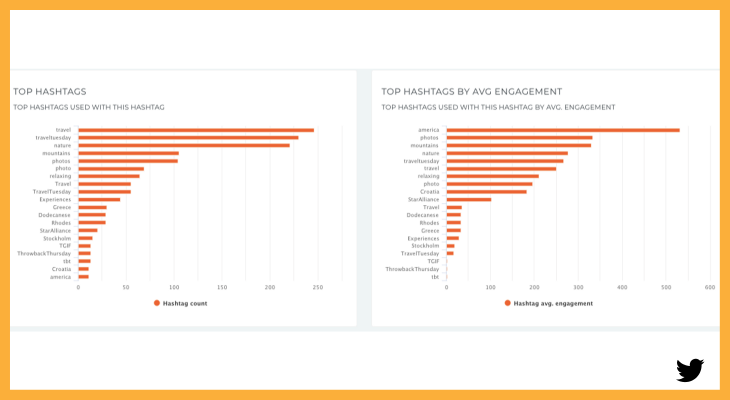 On Twitter, people use much broader hashtags with their #traveltuesday, but the focus is more on destinations. And they seem to be working:
#america
#photos
#mountains
#nature
#travel
#relaxing
So make sure to have a blend of travel and destination specific hashtags in your tweets to get more Twitter engagement.
Learn how to get the best results when using hashtags on Instagram in our comprehensive hashtag study.
2. #travel
Simple and efficient, the original travel hashtag hosts quite a few posts, especially on Instagram.
Using it means excellent exposure, but you also run the risk of having your post get lost in the feed - so use it wisely.
With broader hashtags, it's always better to post them in your text caption rather than the first comment, as Jenn Herman, social media expert, explained in an article about hashtag engagement.
As the biggest and broadest hashtag, take into account the huge competition for a post that uses  #travel.
On the one hand, it can bring you great exposure, with the top 3 posts exceeding engagement scores of over 30K, 40K and 50K.
On the other hand, you also run the risk of not keeping up with standards and having your post completely ignored.
The good news is that you can mix it up and add videos to your post to make it more visible. It gives you bigger chances of reaching that top engagement.
On Twitter, the power of the retweet strikes again, as all the top posts are retweets of the same post and have reached a 1.3K engagement.
At a closer look, this post is actually an announcement of a travel competition, which would explain why it's performing so well despite not even putting in the effort of using an image.

The lesson here would be to always keep in mind the nature of the platform and adjust your message to it. The engagement will follow.
Unlike in the previous case, people that use #travel also add other broad hashtags - and about 13 or 14 of them.
Moreover, some of the most engaging hashtags aren't even directly related to the industry but do bring out a more emotional or cultural side of traveling: #love, #adventure, #art.
Here are the hashtags used together with #travel with the most engagement:
#explore
#landscape
#instagram
#instatravel
#love
#adventure
#art
The same thing is happening on twitter: broad hashtags are winning over engagement.
The only difference is that with Twitter, hashtags are more descriptive of what the post is saying: talking about a photo, a landscape of nature, a garden, or a piece of art.
#art
#photo
#nature
#garden
#landscape
Once more, Twitter posts don't turn to an image to communicate but include hashtags to further emphasizes the message.
3. #travelphotography
This one is simple, intuitive, and extremely effective. #travelphotography is a thread that hosts the Crème de la Crème of breathtaking scenery.
It's those kinds of photos and videos from around the world that make it hard to believe certain places exist.
But they do, and it's your job to send people there to see for themselves, so don't forget to add this hashtag to your most amazing photos.
Tip❗
As a brand, it's often advisable to hire a professional photographer to help you in specific campaigns, especially when you're dealing with such a visual platform like Instagram.
You'd only expect breathtaking photography to take over this hashtag, right? Wrong.
The top two posts are actually videos from @wildlifeplanet, an intriguing Instagram account of over 3 million followers, who capture interest with their videos of wild animals.
The difference happens with the third most engaging post, which features a carousel of sights that should be on anyone's bucket list.
However, this is also a huge page with millions of followers.
Safe to say that large Instagram accounts have an edge when using #travelphotography, and reach engagement of over 100,000.
On Twitter, the top 3 most engaging posts are once more retweets of the same post - but the engagement is barely surpassing 300.
Another commonly used method on Twitter is to link to an image in the post rather than upload it directly. An interesting strategy that might be worth testing.
Apparently, this hashtag is typically used alongside 17 or 18 others - which seems excessive.
But this time the hashtags used seem to be more in theme with the main one:
#landscapephotography
#nature
#landscape
#naturephotography
#travel
#travelblogger
#travelgram
#photography
#picoftheday
Although a few hashtags that are expressing emotional responses are sprinkled in the mix, most of the top engaging hashtags used in this case seem to fit the traveling and photography motifs.
On Twitter, things appear a bit more hectic with hashtags such as #barcelone, #september2019, and #gaudi being the most engaging.
However, lower down the line the hashtags seem to become more relevant:
#adventure
#trekking
#architecture
#nature
4. #tourism
As a brand, you should also take a look at some of the hashtags that are more industry-oriented.
Sure, other travel-declined hashtags such as #travelblogger might be more engaging, but it doesn't necessarily reach your target audience.
Hashtags like #travelblogger, #travellife do not regularly fit a brand posting strategy unless working with influencers and travel bloggers/vloggers.
Something like #tourism, on the other hand, might be more appropriate for businesses, but can also appeal to the individual, as proven by the top posts.
On Instagram, the top posts are all about sight-seeing and are posted by both brands and influencers.
And while engagement doesn't go as high as in the previous case, this hidden gem posted by @discoverearth still surpassed a score of 40,000.
Reserve this hashtag for those rare finds from hidden corners of the world.
Last but not least, another carousel also posted by @discoverearth, with one shot more impressive than the other:
On the other side of the spectrum, true to form, the top posts on Twitter are retweets. It's becoming clear that getting as many retweets as possible should be an important KPI. All top 3 posts are shares of the same message and have an engagement of around 420.
This is the initial post:
When using this hashtag, it's always a great idea to use it together with other above-mentioned hashtags about traveling and photography. And the Instagram data proves it.
Here are some of the hashtags you can write next to #tourism to maximize engagement:
#nature
#travelphotography
#photooftheday
#travelgram
#travel
#travelling
On Twitter, the focus, however, lies with using destinations as hashtags (e.g. #Turkey), as well as emphasizing the benefits of traveling (#history, #culture).
Once more, Twitter proves to be more about discovery, rather than labeling.
Think about using this hashtag when you're promoting city breaks on Twitter.
5. #vacation
Hashtags like #vacation or #holiday are also great for the mix, but between the two, #vacation definitely brings more engagement.
The top Instagram posts from this hashtag feature two influencers with millions of followers and a brand that is also followed by a few million people.
With an engagement of over 40,000 and just under 50,000, you can easily consider this hashtag quite competitive.
In short, high stakes, high reward - especially if you pick the right influencer for your brand.
On Twitter, the habit of retweets bringing in the highest engagement scores continues - still in the hundreds -, but the hashtag itself seems to beg for #vacation pictures this time.
Despite the first ranking post being a brand post, the other two have a more personal approach, featuring people on vacation.
So while on Instagram this thread is the place to show off, Twitter has a more personal touch.
In the case of #vacation, more evocative hashtags join the post. Words like "love", "beautiful" truly have their righteous place in a vacation post.
Here are other hashtags you can use, ordered by highest engagement:
#nature
#wanderlust
#travelblogger
#summer
#love
#travel
#beautiful
#travelphotography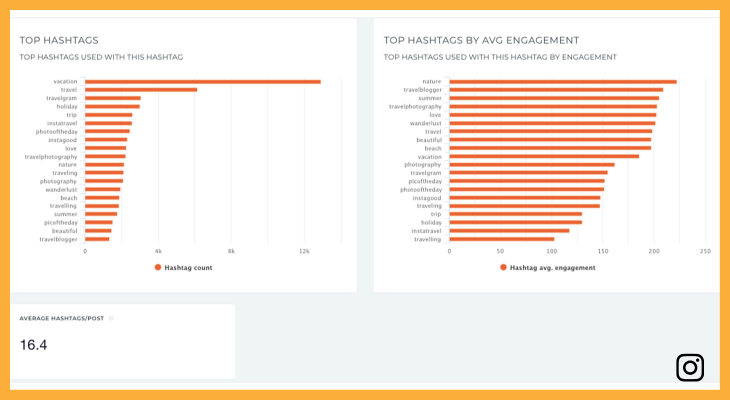 On Twitter, apart from a few hashtags that  are part of a campaign from a famous Taiwanese rapper, most of the hashtags associated with #vacation follow the same line as on Instagram.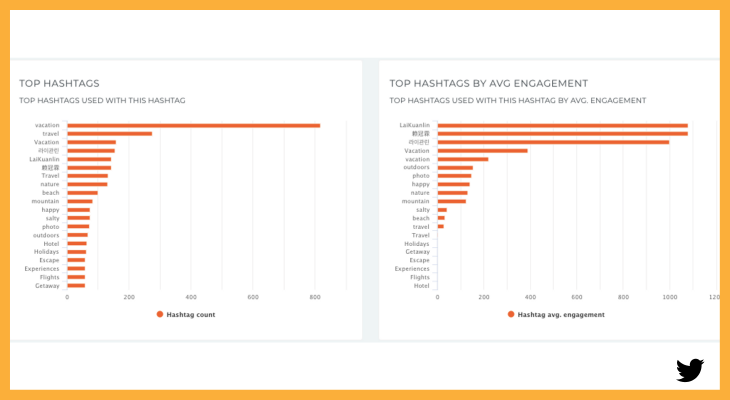 Here's how #vacation is described by hashtags:
#outdoors
#photo
#happy
#nature
#mountain
#salty
#travel
#beach
By what this list is saying, offers for trips at mountain resorts and exotic destinations should clearly be posted with #vacation.
Final Thoughts: How to use these top Instagram hashtags?
Here are some of the strongest hashtag combos engagement wise for travel posts. But you can also use the over 30 hashtags above to mix and match until you find the best hashtags for your particular audience.
Going through these hashtags, one by one, it becomes quite clear that Instagram is their best host when it comes to engagement and the number of posts with hashtags.
It also becomes clear that the travel-related posts like to indulge in hashtags and use up to 20 hashtags, which might not be the best hashtag strategy.
But despite Instagram having by far more engagement than Twitter as a general rule, the same hashtag can actually work on both platforms if you keep in mind the nature of the platform.
Focus on imagery when posting on Instagram, and on the news aspect of your message when posting on Twitter.
Track your hashtags and improve your Instagram and Twitter strategy!
Related articles: