You think you know everything about Instagram?
Well, here are three main things you should definitely know about this platform.
Instagram started 2018 with a change in its algorithm and since then has continued with the changes: introducing music in stories, video chat, the question sticker, being able to see when you're friends are online and the best of all – IGTV.
Today, Instagram is used by everyone - individuals or brands – people are using this platform to boost conversations and raise engagement.
In this article, I will share with you three main things you should know about the Instagram business accounts to promote a specific brand, highlighting the benefits of a business account and how easy you can transform a regular account into a business one.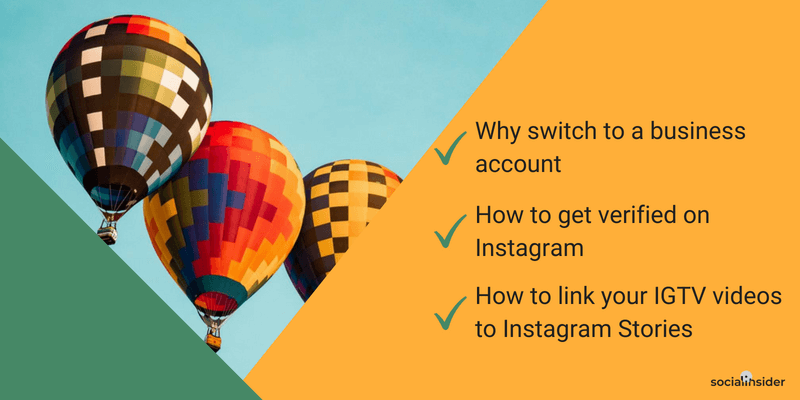 ---
3 Main Things You Should Know About Instagram Business Accounts
---
#1. Why switch to a business account
One of the benefits of a business profile is the ability to add additional contact options. For example, you can add a phone number, an email address, a business category, and even your business's physical location.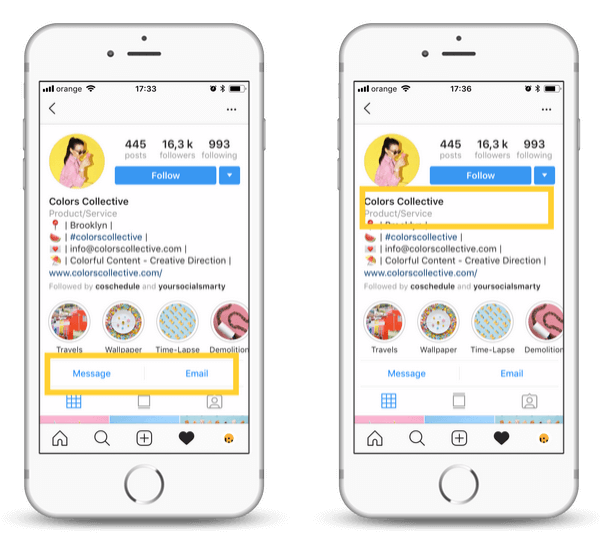 However, the most important benefit of an Instagram Business account is the possibility to see the metrics for own profiles.
#1.1. How to access Instagram insights
This is probably the number one reason brands switch to an Instagram business profile.
You can access the Instagram metrics using the native app, but the Instagram analytics tools offer aggregate data and reports for your account or for your top competitors.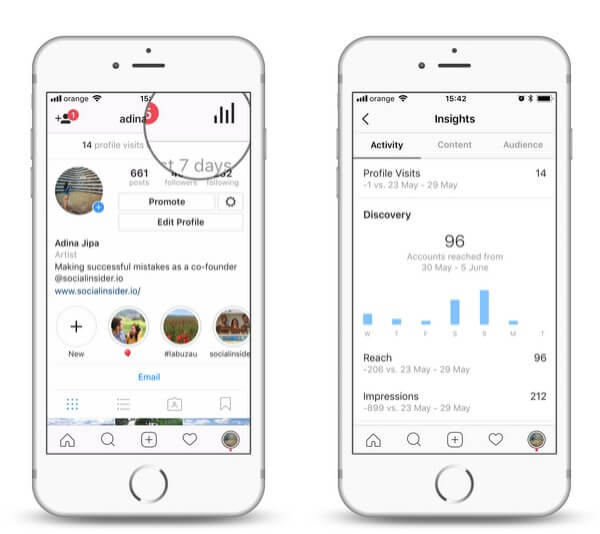 If you are thinking of using a tool to make your job easier, Socialinsider gives you:
Instagram profile growth over time
historical posts data
content performance
engagement reports
the possibility to compare side by side profiles
download Instagram stats as a .ppt, .pdf or .csv file with all the above.
Being able to see all these insights will help you find out what context is working for you, what content to create in the future, and when to share it to get seen and increase the engagement rates.
👉 Continue reading: The Complete List Of Instagram Metrics Every Marketer Needs To Know

#1.2. How to create an Instagram business profile
Login to your Instagram account and go to settings
Tap Switch to Business Profile
Instagram will prompt you to connect to a Facebook business page (you need to have Admin access to the Facebook page)
Choose a category for your profile/business
Fill out your contact details (make sure you put there all the important information)
This five simple stepts will transform your personal account into a business profile in minutes.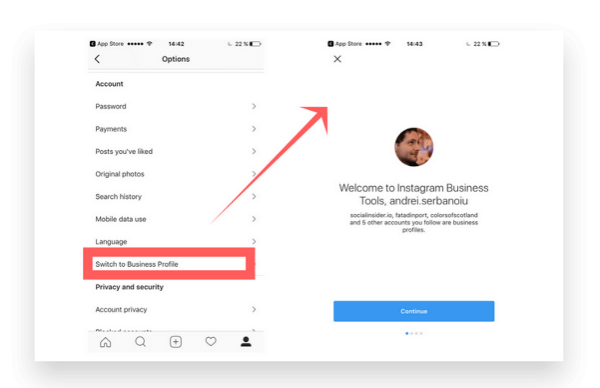 #2. How to get verified on Instagram
If you are looking at what profiles do have that blue tick you will see that most of the accounts belong to the brands or celebrities. It is a way to validate the account, so their fans know it is not a false one.
Right now, according to Instagram, all users can now apply for verification in-app.
To be verified, an account must comply with Instagram's Terms of Service and Community Guidelines. We will review verification requests to confirm the authenticity, uniqueness, completeness and notability of each account. - said Instagram.
To get verified on Instagram, follow these steps:
Open Instagram, and tap on Settings.
Tap on 'Request Verification'
Complete the required information and attach a photo of your ID. Here you'll find the complete list of IDs Instagram accepts.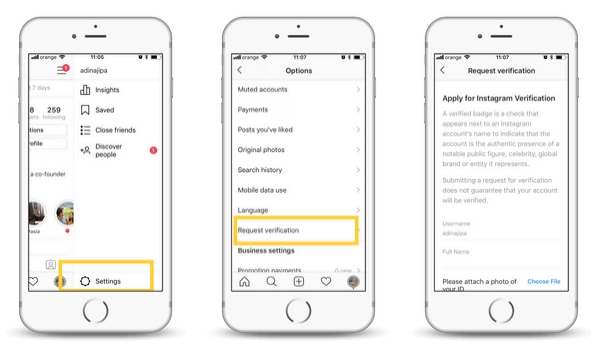 However, Instagram doesn't guarantee that every account you'll get a verified badge and they will never request payment for verification or reach out to ask you to confirm your verification.
Why you should get verified on Instagram
2.1. Gain notoriety on parralel platforms
This means you have to be active on all the platforms you own (Facebook, Twitter, Youtube). Post daily, and be aware of the Instagram Analytics, there is where you get all the information you need for your account, so you can get that blue verification tick faster.
Getting verified on Instagram, you can link to your Instagram profile from your official website, Facebook page or Twitter account, and create a consistent brand image.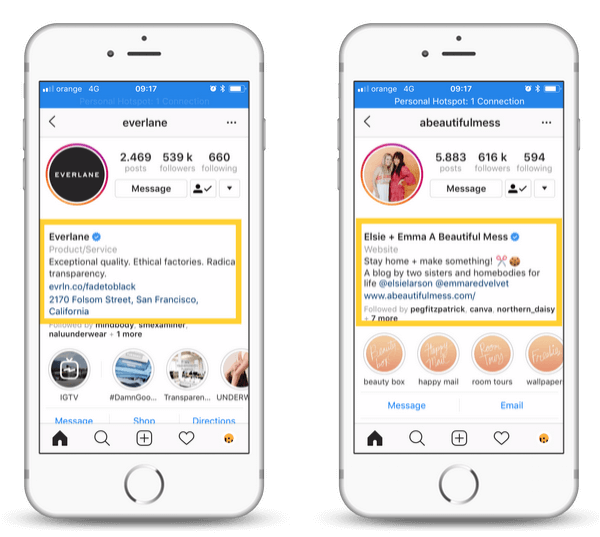 2.2. Add links in Stories
If you want to add links in Stories, you need to have a verified business account or more than 10k followers.
Getting that blue badge means that you can add links in Stories without being limited by the number of followers.
👉 Continue reading: How to add links in Stories!
2.3. Use branded hashtags
Using branded hashtags establish credibility and help set you up as an authority on a specific subject. It is important that you use hashtags they are relevant only for your niche.
You are never going to be accepted as an expert if you create posts that are irrelevant to your niche and followers. Take your time finding the rich niche for you and stick to it.
2.4. Personalize your posts
Remember that the reason that Instagram verifies selected accounts is to guarantee that they are official accounts belonging to actual public figures, celebrities or global brands. You need to ensure that your account differs in some way from anyone else who might choose to use your name or something very similar.
You have to think outside the box and add personality to your posts.
#3. How to link your IGTV video to a Instagram Story
Now you can take your Instagram account to the next level and link your IGTV video to your Instagram Stories.
How you do this? All you have to do is to follow some simple steps:
Before reading the steps, you must know that in order to create a link in Instagram Stories, you must have at least one video on IGTV.
Steps to link your IGTV video to your Instagram Storie:
Open Instagram Stories and upload/take a photo or video in any shooting mode you want
Click Link Icon in upper right
Click +IGTV Video and select a video
Click Done to add to Instagram Stories
You will see 'Linked' to let you know the IGTV video has been linked and the link icon will turn white when linked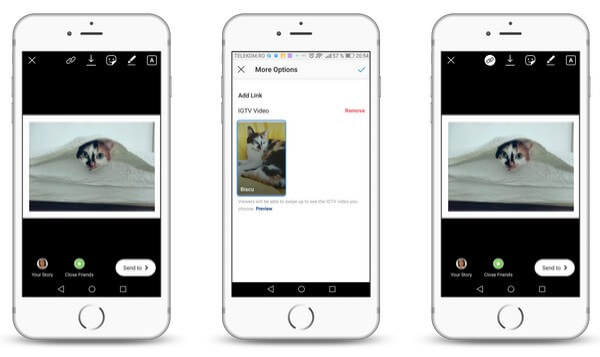 Optional you can add text that reads 'Swipe Up'
Instagram allows only business account with 10,000 or more followers to add links to their Instagram Stories, but now having this option, you can add a link without having this number of followers.
👉 Continue reading: IGTV - A Complete Guide Of Instagram's New Video Platform and how to create your first IGTV video.
Final thought
Sometimes you may wonder what else should I know about this platform.
This article reveals some of the best parts of Instagram and how you can use them to raise your engagement level.
Start a free Socialinsider trial today and track your Instagram analytics! Report and analyze multiple profiles from one dashboard, quickly evaluate your Instagram performance based on the metrics that matter, understand your hashtags performance and get Stories analytics!
---
Related articles: