Every social media marketer struggles to obtain the best results from Twitter, Facebook, and Instagram.
There's no shortcut when it comes to high performing content. The key is to optimize how you craft your content, from message to every element that goes into a post.
That means you should always try to find answers to a few key questions:
Is your caption too long?
Should you use more images or videos?
Is your video optimized for the channel's algorithm?
What types of campaigns work better?
That's where analytics comes in.
All of the answers can be given by data. And we have an Ace up our sleeves.
Socialinsider studies revealed insights on the performances of posts on different social media channels.
It revealed the importance of a few data-proven social media best practices.
Here's what we know will work in 2022 👇
How to improve social posts' performance in 2022
Table of contents
1. Use the right type of post on each social channel
There are specific social media channels where you need to post certain content, and a piece of content might not be suitable to be copied and shared across all social platforms.
The first lesson is that you should be careful about choosing the social media channel before posting your content.
Each platform comes with its base audience who has different expectations from your content.
In the case of Facebook, it is useful to post videos and specially curated content. For Instagram, you should choose stories and high-resolution pictures.
It is better to post blog posts and news related to the industry that your business is a part of regarding Twitter.
Many marketers and brands select Instagram as their preferred platform to share visual content and secure prospective clients' attention.
Our data shows Instagram's average rate of engagement is at 2.26% presently. It is a highly engaging platform compared to Twitter and Facebook.
On the one hand, while Instagram enjoys being the most engaging platform with an engagement rate of 2.26% per post, Twitter, with 195 posts every month, cannot create much engagement.
Instead, it is the social platform that most businesses use for interacting with their audience.
2. Make sure your post's selection is aligned with your goal
No matter which social media channel you choose, ensure that the content you share conveys the message that you want to spread.
If you want to communicate with your targeted audience and interact more with them, videos are the most appropriate and useful tools.
Videos give rise to more comments from the viewers that increase audience participation.
However, if you are trying to increase audience engagement, then carousels are tailored for you.
In fact, carousels have proven to bring in the highest engagement rates per post, which makes them a great avenue to spike that engagement.
Funnily enough, when it comes to sending out messages to large audiences, brands mostly use Twitter as the number one platform on which to post.

3. Find out where your audience is waiting for you
It's not hard to understand that given the informative nature of Twitter, brands tend to feel more comfortable with a quick tweet to announce something.
In a month, brands generally post 60 posts on Facebook, 25 posts on Instagram, and 195 posts on Twitter.
However, just because it's comfortable for brands doesn't mean the audience feels the same way.
The average rate of engagement per post on Instagram is 2.26%, while Facebook is 0.21%, and Twitter is 0.06%. This reveals that though the number of posts on Instagram is low, the clients are more eager to interact with the brands on Instagram.
4. Craft the perfect caption
According to analytics data, the perfect post is an accurate blend of short captions with carousels, videos, or albums, coupled with appropriate emojis.
The post captions containing details about giveaways and contests also perform well. They are among the top performers when it comes to improving the social posts' performance.
Around 20% of the posts on Instagram, Twitter, and Facebook come with captions loaded with emojis. The posts that contain emojis in their captions boost engagement more than posts that do not have emojis.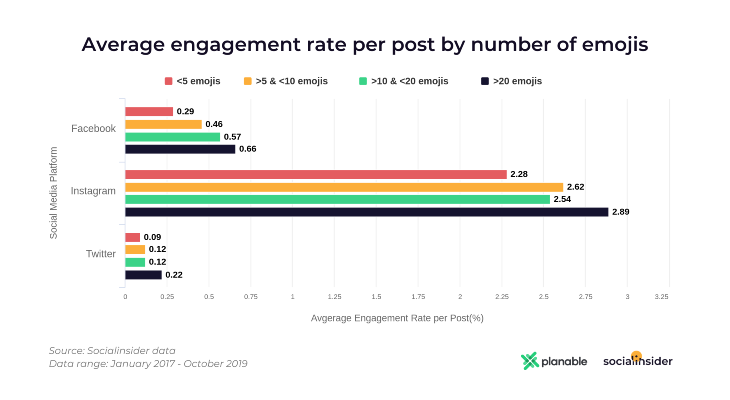 Another nice trick is to include a call to action as 'swipe left' in your carousel caption. Around 4.9% of the carousels consist of messages encouraging the audience to swipe left.
The same carousel research shows that the 'swipe left' mention leads to the increasing of engagement rates from 1.83% to 2%.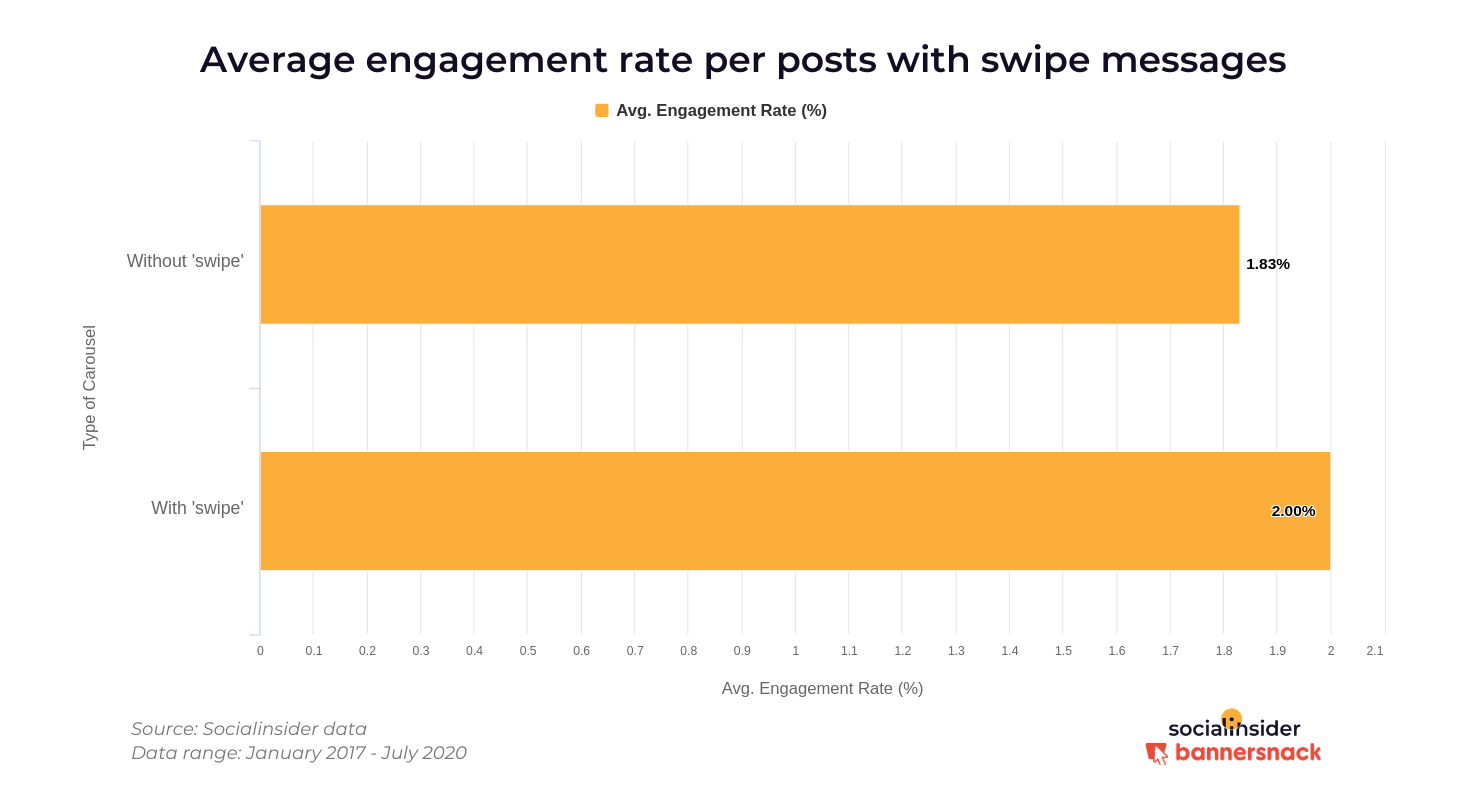 5. Go for vertical videos
Videos have always enhanced the user experience on Facebook. It goes beyond saying that the inclusion of the video format immensely impacted the world of social media.
There's no shortage of experts advising companies and brands to use video content to improve communication and pique the audience's interest.
In 2020, we noticed that 52% of the videos uploaded to Facebook were landscape. It has increased by 5% from what it was in 2019.
However, it's vertical videos generate higher engagement rates since they offer an excellent viewing experience for the user.
The reality is that both social media platforms and websites nowadays have mobile-friendly interfaces. Safe to say, vertical formats are here to say.

6. Create long live videos
Now that we've established that your need to make sure you've picked the vertical format before pressing record, let's address when to stop recording.
The power of videos has grown gradually, with many reputed brands opting for video posts as part of their social media campaigns. Around 15% of the total Facebook content in 2020 consisted of video uploads.
Facebook video posts include both uploaded videos as well as live streaming.
A thorough analysis of the videos posted on Facebook has revealed that live videos have more retention capabilities than previously recorded videos.
The live videos that continue over 60 minutes tend to secure more attention and enhance engagement and communication. Live videos continuing for more than one hour generate engagement rates of 0.86% on average.

7. Create fan-favorite campaigns
If you want to increase the ROI and make your social media campaigns successful, turn to your fans and followers and you can generate niche quality, engaging content.
User-generated content would bring in more attention from the right audience in the proper manner.
You can use customers' stories as your campaign content and make the most of your rich fan base.
Conducting contests and giveaways regularly on your social media handles would also go a long way.
These campaigns help form a better relationship with your clients and make them feel valued and acknowledged, not to mention the fact that they're highly engaging by nature.
Many brands also use national holidays and other celebratory occasions to attract more audience and increase their sales.
We've all been surrounded by that Christmas content.
However, that Christmas spirit doesn't always relate. At times, Christmas campaigns fail to gather much engagement and cannot create ripples among the audience.
Failure of such campaigns based on special occasions might result from poor planning, wrong focus, or even copy mistakes. Rethink your steps, copy, and timings.
8. Perform posts' analysis across social channels
Social media analysis involves gathering the most important data from all the social media channels you present and understanding the story they tell you.
Though social media analysis requires a lot of time, its benefits can hardly be denied: it helps you develop appropriate and effective social media campaigns.
The right campaign will reach the targeted audience through the correct channels and at the right time.
Look at all your social media metrics to get a full picture, from impressions and reach to a breakdown of engagement, and stack your results against your competitors.

Tip❗️ Always make sure that the metrics you choose have real value for your clients and are not merely vanity metrics.

To help you organize all of this data, take a look at our report templates.
At the end of a social posts analysis, you should be able to draft actionable conclusions to improve your content.
Final thoughts
Content is king. Showcasing the right content at the right moment through the right channel and to the right audience is the need of the hour.
Suppose you wish to improve your social media marketing strategy - in that case, all you need to do is follow the principles mentioned above to create more enriching, engaging, and entertaining posts.
Respect these strategies so that you can enhance both brand visibility and brand value.
---
Related articles: