As one of the largest advertisers in the world and the biggest B2B social media platform, we understand how important LinkedIn analytics is for you.

That's why we're excited to introduce LinkedIn Analytics - now you can measure your social media performance in one intuitive dashboard.

We've designed Socialinsider to help marketers gain insights and metrics that would enable them to optimize their LinkedIn company page.
With this product update, you can better see impressions, reach, post engagement, followers analytics, and much more.
Here's how ⇣
Level up your company page on LinkedIn using Socialinsider
Here's a quick overview of what we're about to cover:
---
1. Track all relevant LinkedIn KPIs for business purposes
Easily track the relevant KPIs that matter to your company.
The first thing you need to do before leveraging this feature is to connect your LinkedIn account to Socialinsider.

Because this tool is tailored for professional users, only page admins will be able to connect a company page to Socialinsider.

In order to connect your LinkedIn business page to Socialinsider, all you have to do is follow the steps below in order:
Access your dashboard, go to the right top corner and select the "Add social profile" button
Click on LinkedIn from the list
Sign up using your LinkedIn credentials. Note that you need to authenticate even if you are already logged into your account
Select from the list the company page you want to connect to Socialinsider. Note that you will be able to see only the pages that you are an admin to
Wait for the data to load and then you'll be able to access for the first time the LinkedIn Insights dashboard in Socialinsider.
Important tip!
Using Socialinsider's LinkedIn analytics tool, you'll gain access to more than a year of metrics and other historical data to easily assess the performance of your campaigns and the reach of your page.
Now that you have successfully connected to Socialinsider, let's take a closer look at all the KPIs you'll be able to measure on this platform.
At a glance, you'll be able to better manage and understand:

Your content performance: discover when to post, how often to post and keep a close eye on all the updates you post on your page.
Your followers' growth: explore how many new followers you got in a given period of time and discover all events that have enabled you to grow your reach and get more followers quickly.
Your page interactions: discover if whether your audience likes your page posts or if they are expecting something different from you.

If you dig deeper into the KPIs and metrics offered by Socialinsider, you'll be able to discover new details that will enable you to grow your business.
Here are some of them:

Average engagement rate for each post: you'll be able to see on average how many people interacted with each post during a certain period of time. This way, you'll be able to assess the efficiency of your LinkedIn posts and see what type of content works best for your audience.
Total engagement: understand how and why people are engaging with your page and discover the total number of likes, shares and comments your page received in a certain period of time.
Average reach: this metric shows you the total number of people you usually reach with your posts.
Average impressions: understand how many people see your posts.
Variation of likes & comments over time: find out how many likes and comments your page has got over a certain period of time. This metric is priceless, as it enables you to find spikes of engagement and understand what posts or activities on your page resulted in a spike of interest from your prospects.
Followers' growth: allows you to see how much your fan base has grown during a certain period of time. You'll also be able to easily determine if you grew more by paid or organic tactics and understand what the activities that drove your fans to act were.
2. Improve your content strategy

This product update allows you to closely monitor your posts and gives you precious insights into how well your content marketing strategy is performing. You can visualize a summary of each post you publish, summary that includes the total number of impressions, clicks, comments, shares and hashtags.

Moreover, you can analyze the hashtags, topics, post format and discover the best times of the day for posting.
On this tool, you can sort your posts by impressions, engagement rate, older and newer, so that it becomes easy for you to improve your content strategy.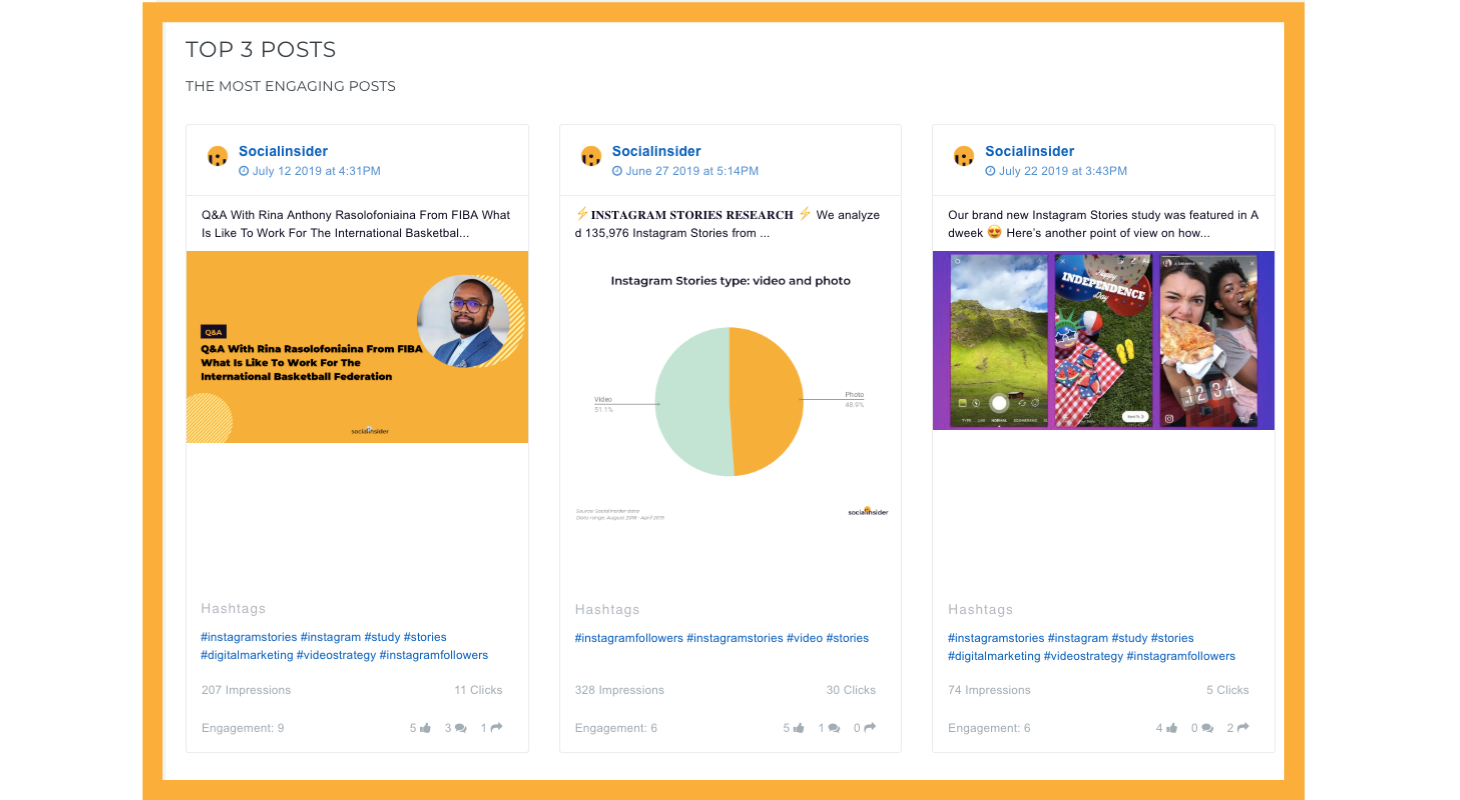 3. Understand your demographics

Another useful aspect of this LinkedIn analytics tool, is that it enables you to dive deep into your demographics data.
Because LinkedIn stores a lot of useful data for B2B professionals and companies, you can understand key aspects of your target niche in order to create tailored messages for them.
4. Easily create reports (coming this fall)

You'll be able to export LinkedIn analytics data starting this fall.
No worries, we'll keep you updated and let you know when you'll be able to easily sort data that you want and create personalized reports to send to your client.

Socialinsider is poised to take reporting to the next level, simplifying this complex process and making it easy for you to extract the right data.
Final thought
As one of the largest social media platforms today, LinkedIn shines when it comes to data. With over 590 million registered users and millions of companies, this huge platform is a game-changer for many startups and companies.

Socialinsider comes at a perfect place in time, offering an in-depth view into the most important LinkedIn metrics.
Make sure to leverage this analytics tool to boost your company page performance and grow your business.
If you have more questions about this new product feature, reach out to us on Intercom or via email.
---
Related articles: