Social media has grown to become a remarkably popular and reliable business marketing channel. It has helped many brands acquire new leads, which often turn into paying customers. In particular, Facebook is a highly favored option.
Facebook gets lots of data from its users (information like location, age, gender, and interests). They have a better idea of who the users are. They also know what the users like. As such, Facebook can easily serve individuals targeted ads, showing them products they're likely to purchase or sites they might like.
Worried about the latest changes in Facebook Ads Manager?
Want tips to step up your game?
In this article, I'll present you a step by step guide to advertising on Facebook in 2017.
---
Table of Content
Facebook Advertising 2017 - Stats at a Glance
These statistics highlight some of the latest important facts about Facebook advertising you'll love to know:
Facebook General Stats 2017
The platform is available in over 70 different languages.
Facebook has approximately 2.1 billion monthly active users (as reported on 11/01/17), while Youtube, Instagram, and Twitter have 1.5 billion, 700 million, and 320 million monthly active users respectively.
There are over 1 billion mobile daily active Facebook users.
Reports indicate that the number of daily active users on Facebook rose by 18% to 1.2 billion in the past year alone.
Between 5 and 10 new Facebook profiles are created each second.
CNN reports that the number of fake profiles currently stands at 83 million.
The average Facebook user spends approximately 40-50 minutes daily on Facebook.
Facebook's Share and Like buttons are viewed across over 10 million blogs (as reported on 10/02/2014).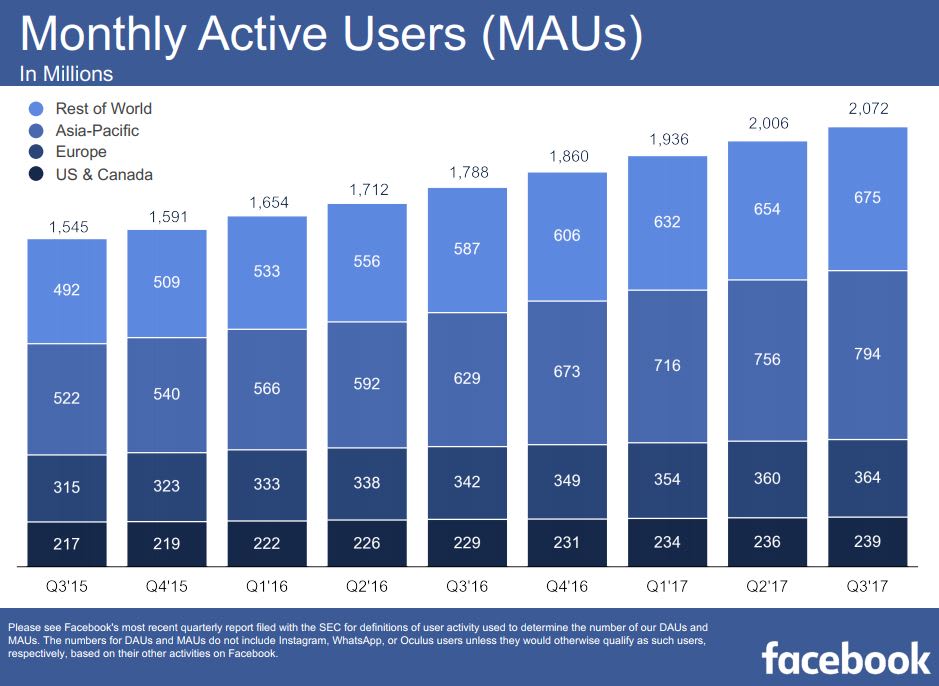 Demographics Stats on Facebook
Approximately 75% of men and 82% of women make use of Facebook
Facebook's most prevalent users are aged 18-29
88% of people aged 18-29 use Facebook
84% of people aged 30-49 use Facebook
72% of people aged 50-64 use Facebook
62% of people aged 65+ use Facebook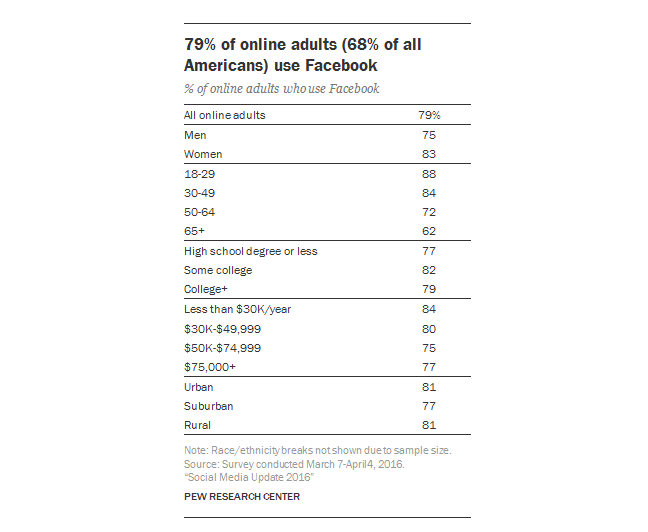 Facebook Advertising Stats
What's Facebook Advertising?
Simply put, advertising on Facebook implies paying to place product offers and promotions which are targeted towards a specific audience on the platform. Facebook ads have been proven to work effectively for both B2B and B2C companies. Many success stories report over 5x increases in their final marketing results after using Facebook campaigns.
It's quite simple to learn how to advertise on Facebook. Virtually anyone can do it. It grants you a rare opportunity to unlock the full potential held by social media advertising. That's actually why we've created this guide.
How to Advertise on Facebook
We've compiled this piece to guide you on all that you ought to know to create successful Facebook ad campaigns. By the end of this read, you'll have enough knowledge on how you can set up Facebook campaigns and create your audience. As well, we include important information you ought to have in mind when it comes to strategy and budgeting.
Why Advertise on Facebook
Perhaps you're unsure whether Facebook marketing is for you? Some of you are probably wondering whether it'll yield the results they're looking for. It's likely that others are curious about how long it takes to manage Facebook ad campaigns.
You'd be hard-pressed to find another advertising network that can keep up with Facebook.
Here are just 5 of the countless reasons why you ought to consider marketing through Facebook:
It's incredibly simple to get started on Facebook marketing. You're guaranteed of fast results, too, even with a low starting budget. And, it won't require much effort. In fact, managing Facebook advertising campaigns is a significantly simpler process than using Google AdWords.
It's never too late to start. There's continuous growth in the number of new Facebook users. In turn, more and more advertising opportunities are being created.
The odds of reaching your perfect audience are surprisingly high. We can attribute that to the highly customizable Facebook target audiences. They render it very possible to reach your targets based on individual interest, location, demographics, actions on your blog, and much more.
Facebook advertising campaigns are hugely customizable. You can customize virtually all elements of your campaign, including the campaign's objective, delivery optimization, and target audience. Facebook is continually incorporating new ad placements like instant article ads and video ads. It offers countless opportunities for the creation of appealing ad formats.
Facebook has added quite a lot of excellent, new features and updates. Advertisers have gained access to uncountable Facebook marketing tools and tactics. And, these are only increasing, day in, day out.
Setting Up Your Facebook Ad Campaign(s)
Perhaps, you're uncertain on how to start advertising on Facebook. You need not worry because Facebook's ad campaign creation is a straightforward and super logical process.
Open the Relevant Accounts
To start, you'll need a Facebook Business Manager account which manages one or more Facebook pages. In this section, you'll find steps you ought to follow to set up your advertising account. That includes the guidelines for using Facebook's Business Manager and Ads Manager.
A. Facebook Business Manager
This tool has been designed to help you manage your Facebook ad accounts and pages. With Business Manager, you'll be able to view who has accessed your ad accounts and pages. Additionally, you can change or remove permissions according to what you want.
You're allowed to possess multiple users and ad accounts, all under your Facebook Business Manager account. Below are simple instructions you can follow to create a Facebook page and an advertising account.
Create your Facebook Page:
Head to Facebook's Business Manager

Click on 'Pages' under the 'People and Assets' tab

Select 'Add New Page'

Choose one of the options given: 'Create a New Page', 'Request Page Access' or 'Claim a Page'

If you intend to claim a page or request access, key in the page URL or name
B. Facebook Advertising Account
Head to Business Manager Settings
Select 'Ad Accounts' under the 'People and Assets' tab
Click on 'Add New Ad Accounts'
Choose from the options given: 'Create New Ad Account', Request Ad Account Access' or 'Claim Ad Account'
If you choose either the 'Request Access' or the 'Claim' options, you'll be required to key in that ad account's ID
Fill in the Required Ad Account Info:
Head to your Facebook Business Manager menu and navigate to 'Ad Account Settings'
Fill in the blanks - you'll be required to enter your company's name and other relevant information, including the address
Navigate to the 'Payments' tab
Click on the 'Add Payment Method' tab and enter your correct billing information
After filling in the required ad account information, click on 'Save Changes'
Fill in Billing and Payment Information:
Navigate to your Facebook Business Manager menu and click on 'Billing & Payment Methods'
It'll direct you to the Billing Page
Here you can add a new payment method or edit the existing ones. Additionally, you can set a limit on your account's spending. Facebook provides a comprehensive guide on how ad account billing and payment work.
C. Facebook Ads Manager
Facebook offers two tools that you can use to set up and manage your ads, namely Power Editor and Facebook Ads Manager. Both of these are free. But, if you're starting you, we recommend setting up your campaigns using the Ads Manager.
The Power Editor is more complex than the Ads Manager. It's used primarily by enterprise-level marketers and agencies for large-scale campaigns.
The Facebook Ads Manager allows you to:
Set up ad campaigns
Create new ads (or ad sets)
Target different audiences
Optimize ad campaigns
Manage ad bids
Track the performance of your Facebook ad campaigns
A/B test your ad campaigns
It's conveniently easy to navigate and use the Ads Manager. It's vital that you familiarize yourself with this tool. Play around with it. There's a significant deal of things to discover here.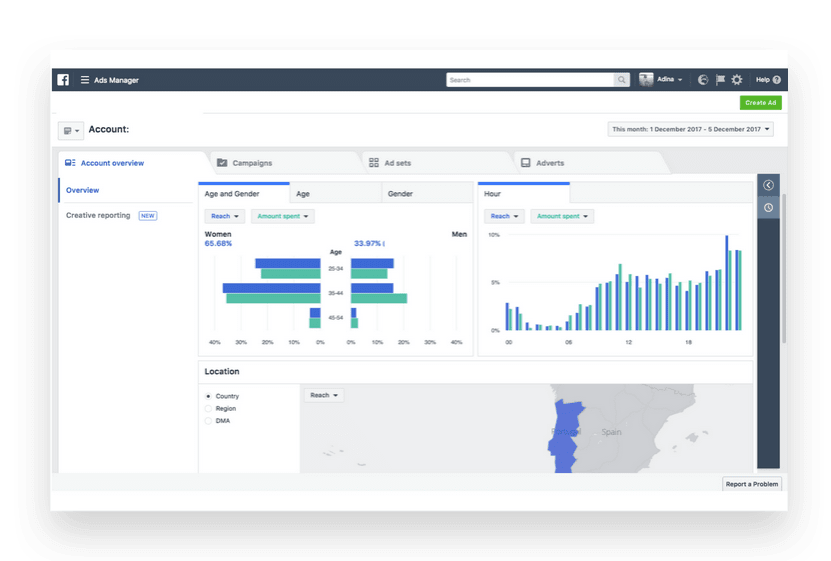 Create your Ad Campaign. Set up your objectives
Navigate to your Ads Manager. Upon clicking on the 'Create Ad' button, Facebook will guide you through the whole campaign creation funnel. All you'll need to do is pick your preferred options and provide the required details.
Here's a simple guide through the steps involved in this funnel:
A. Choose the Campaign Objective
You'll come across an extensive list of campaign objectives to select from in your Ads Manager. Such include brand awareness, traffic, reach, engagement, lead generation, local awareness, conversions, and many more.
Your objective is what will determine the Facebook campaign's ad format, auto-optimization, and bidding options. It's highly recommended that you choose the objective which reflects on your final goal.
In some cases, it may be conversions. Your ultimate goal might be to increase your brand awareness, as well. In that case, you ought to select 'Brand Awareness' as your objective.
B. Name your Ad Campaign
This part is self-explanatory, right? We recommend that you add a date range when naming your ad campaign. That way, you'll have a much easier time navigating between your different campaigns later.
C. Choose ad type and customize it
Your chosen ad type is among the top elements which decide whether or not your ad campaign will succeed. You should, thus, opt for the right ad type. That doesn't mean you must get it right the first time. We actually recommend trying every type. Don't assume what will and will not work in advance. The results might surprise you.
You can select from the different ad types available, depending on your objective. These are:
1. Carousel (up to seven scrollable images/videos)
These are mainly intended for e-commerce. But, they have been proven to be effective in other segments, too.
Carousel ads have images which are scrollable from right to left and back. They give marketers an opportunity to include multiple elements or use one ad to send to various landing pages.
2. Single Image (up to six ads using one image)
You can upload your 'personal' image or make use of free stock images. We recommend using your own images for uniqueness.
3. Single Video (only one video)
Video ads are much effective when targeting a 'cold' audience, that is, prospects who're not yet familiar with your brand or product.
4. Slideshow (A looping video of up to ten images)
The images are displayed in rotation. You can add music from the choices available, as well. Slideshows are ideal if you don't have a great video or in case you're targeting geographic locations with slow connections, which would make videos hard to display.
5. Canvas (combines images and videos)
Canvas ads enable marketers to create a full-page experience on mobile devices. They can be images, videos, or both. However, once the viewer clicks on it, the canvas pops up.
These ads are the only way you can use the viewer's entire screen. As such, you should ensure you're using only high-quality images/videos and get creative.
6. Messenger ads
These make the Facebook Messenger the ad's destination. They will help you by making users start a conversation with you. Yes, they appear on the user's News Feed, just like regular ads. But, when clicked on, they redirect the user to Messenger.
7. Create a Winning Ad
To create winning ads that bring more clicks at a low cost-per-click, you should follow the best design practices. Simple, colorful ads are likelier to catch attention than less colorful ones, right? However, don't get too fancy.
You should preferably place your primary value proposition right in your ad image. That way, your targeted audience will read it as they view the ad. Also, ensure you make use of the appropriate image size in such a way that your Facebook ad looks great on virtually any screen.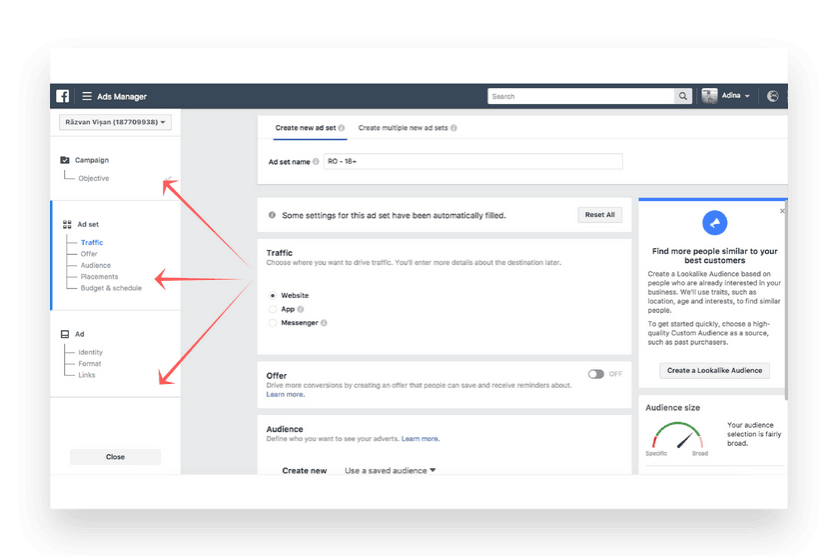 D. Create Ad Copy
It's yet another critical step. You ought to create an ad copy that catches the viewer's interest and convinces him/her to take action (e.g. to make a purchase). Your Facebook ads will have multiple, different fields where you can key in text as you desire.
The Main Ad Text: A maximum of 90 characters
Headline: A maximum of 25 characters
Link Description: A maximum of 90 characters
It'd be wiser to have several descriptions and headlines ready prior to starting the ad creation process.
When dealing with Mobile Ads and News Feed, you'll have several more options, compared to ads placed in Facebook's right column. Case in point, you can select a Call-to-Action button from those offered by Facebook. Such are often very effective in increasing the click-through rate. It's strongly advisable to make use of them if they fit your offering.
Besides, you should keep the ad copy short and clear. Here, your goal isn't necessarily to sell. It's to convince viewers to click on your ad. So, try to be as catchy as possible.
Give them a clear explanation as to why they'd want to click. Sure, freebies and discounts may help, take care not to attract endless cheap clicks which won't convert.
E. Create a Facebook Audience
Advertising is mainly about getting customers/clients, not cheap clicks. As such, knowing who your potential customers really are is of paramount importance for a successful ad campaign. You want to target only people who're potentially interested in what you're offering.
It's imperative that you set up the right target audience for the campaign's final results. Thankfully, Facebook provides a broad range of targeting options, making it quite easy to find the right niche.
Audience Manager
You can make use of the 'Audience Manager' to create your target audience. This tool can be found under the 'Audiences' tab in the Facebook Business Manager menu.
Facebook has three major audience types, namely Saved, Custom, and Lookalike. Each of these gives you multiple, additional options which you can use to create the right target audience.
1. Saved Audiences
You can define these by choosing users' interests, language, age, gender, location, income level, used devices, etc. They can be created both in the Audience Manager or while in the campaign setup process.
2. Custom Audiences
They will probably be your highest-value target audiences. Custom Audiences allow you to re-target those who've engaged with your app or content and even past website visitors. You can create Custom Audiences in different ways, including:
From Customer Files - This method is based on the existing customer files you have, including email listings, app IDs, and phone numbers.
Based on your Website Traffic - It allows you to create re-marketing campaigns for those who've engaged with your website. This method will, however, require that you install Facebook Pixel ().
Based on Users' App Activity - It's an ideal way to reach those who've engaged with your Android or iOS app. But, you're first required to register the app and set up 'App Events'. Facebook has an official guide that will guide you on creating Custom Audiences based on users' app activity.
Based on Engagement - It enables you to target people who've engaged with content you have put up on Facebook. That includes those who viewed your videos, liked your post, saved your page, or clicked on a call-to-action button.
3. Lookalike Audiences
With Lookalike Audiences, you can reach people who seem similar to your existing client database. The chances are that they will convert, as well. You'll be required to indicate the type of users you're looking to reach. Lookalike Audiences will help extend your campaign's reach.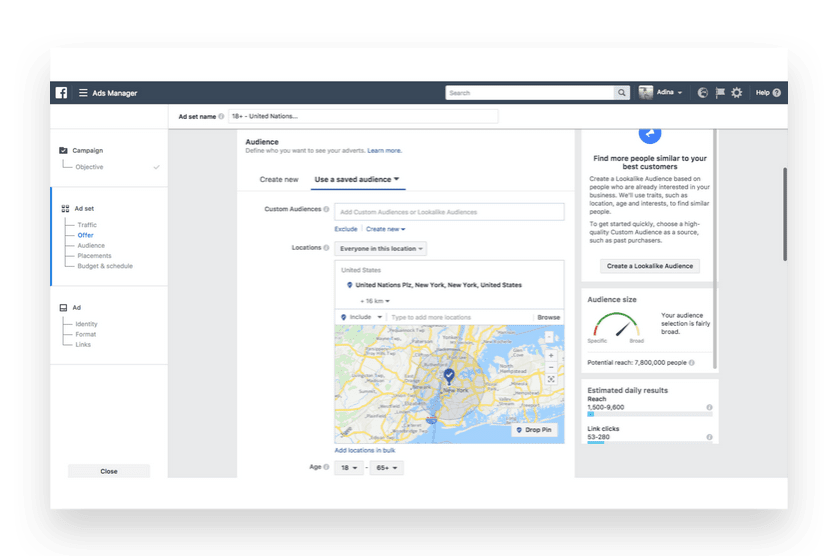 F. Set Up Ad Placement
Ads are designed to appear in multiple, different places, such as in the Facebook News Feed, in Facebook's right-hand column, in the Mobile Audience Network, on Instagram, and in in-stream videos.
Here, you can opt for Automatic Placement. Alternatively, you can customize your ad campaign in such a way that the ads are only visible in select places within Facebook's advertising network.
If you're starting out, you should preferably opt for the Automatic Placements. Facebook recommends different ad placements for different campaign objectives.
Budgeting and Strategy on Facebook
A. Budgeting
Ideally, you should have several campaigns running simultaneously. So, how do you create a budget for such a thing? What is the 'reasonable' amount you should spend? (Particularly if you've never run a Facebook ad before)
Those are good questions. And, you can begin by answering a few more questions, first:
How much are you selling your product/service for?
How many do you intend to sell?
What's your current conversion rate?
It's OK if you don't have answers to these questions. Perhaps, we can start by rough estimates:
Product Value: $500
You Wish to Sell: 10
Conversion Rate: 1%
With some basic math, we can figure out, that to make $5,000, off of 10 sales, you'll need 1,000 clicks/visits. Now, you'll want to figure out how much it'll cost to get the 1,000 clicks. That's what will define the amount you should set aside for the Daily budget (the maximum you'll need to spend each day).
Facebook gives you several options when it comes down to budgeting. These are further discussed below.
This sum will be spent on delivering ads every day during the campaign period. Facebook will, thus, get you results that are roughly worth your daily budget.
Some days, it might spend a little more than your set daily budget when high-potential opportunities are spotted. It'll then lower the amount spent on low-potential days.
Lifetime Budget:
In this case, the total campaign budget will be divided across the campaign dates. As such, you'll be required to specify the campaign dates, which will enable them to determine the average daily spend.
B. Facebook Ads Bidding
You're competing with thousands of other advertisers, and each wants to reach their target. Facebook ad bidding operates on an auction basis. The winner is the marketer with the best relevance score, 'estimated action rates', and best bid.
Over the first days into the campaign, you can expect a little improvement in the results. In turn, that will help you determine what you ought to spend in total. You can adjust the bids to get the most value for your buck.
You have two main bidding options, namely automatic and manual. The latter implies you can control your spend limits. Make use of manual bidding if you're aware of the results' worth to you. Automatic bidding is great, especially if you've no idea on what 'acceptable' limits should be.
C. Facebook Ads Scheduling
Ads Scheduling enables you to customize ad delivery schedules such that your ads reach the audiences on your chosen day or time. For the first campaign, we recommend using the 'Run Ads Throughout' option. Later, you can make use of the reports to figure out what you should change.
You can make use of 'Delivery Schedules' to adjust what you're spending by the time of the day or day of the week. For instance, it's senseless to show ads over the weekend or on weeknights if you're only available from 9-5 to respond to prospective leads and take phone calls.
After some time, you might note that certain times or days bring the best results. You can, therefore, use 'Delivery Schedules' to control when and how your ads are displayed throughout the week.
D. Facebook Ads Delivery Type
'Delivery Type' is yet another tool you'll want to use. It dictates how often you want your ads shown. Case in point, you can have ads displayed as quickly as possible (which will exhaust your budget sooner) or spread them out throughout the day.
Standard Ad Delivery - Your ads are delivered with the optimal speed and at the lowest cost
Accelerated Ad Delivery - Your ads are delivered as quickly as possible and at higher costs
The 'Accelerated' option is relevant to large, enterprise-level marketers with time-sensitive campaigns.
Publish your campaign
After setting up all the necessary campaign elements, including the campaign objective, ad type, target audience, and ad copy, you can click on 'Place Order' and publish your Facebook ad campaign. As you can see, creating Facebook ads isn't rocket science. In fact, it's pretty fun :)
---
Final thought
Facebook has been proven, beyond doubt, that people spend more time on Facebook than other social media platforms. It's probably the cheapest route towards achieving your goals.
This platform is currently regarded to as among the most effective digital marketing channels. It leads the pack with its vast, yet accurate targeting options, optimization, and creativity.
While there's quite a lot to learn about the continually changing possibilities of advertising on Facebook, the above guide gives you all that you need to begin today. You're even a step ahead because, with the above Facebook advertising guidelines, you know how to make the ads work. So, let your Facebook advert start running. It's our hope you enjoyed the read.
Have you tried advertising on Facebook? We'd certainly love to hear about your experience? Would you recommend it to others? Let us know in the comments.
---
Related articles: