Known for its straight-on point approach due to its limited number of characters, Twitter is an excellent social media platform for every brand that wants to build a sleek reputation online and to generate buzz offline.
With more than 330 million accounts worldwide, your business will be in good company if you had plans to join this platform anytime soon.
If you're becoming a pro on Instagram or Facebook, but you're not familiar with Twitter yet, we're here to help you build an effective marketing strategy.
Want to know:
✔︎ How to attract more followers?
✔︎ How to use Twitter analytics and how to discover the best practices?
✔︎ How to create a business account to make the best out of your analytics?
With a broad vision, a lot of creativity and the use of the right tool, you'll learn to master Twitter in 2020. So let's begin ⇣
Twitter Analytics Tools Can Improve Your Marketing Game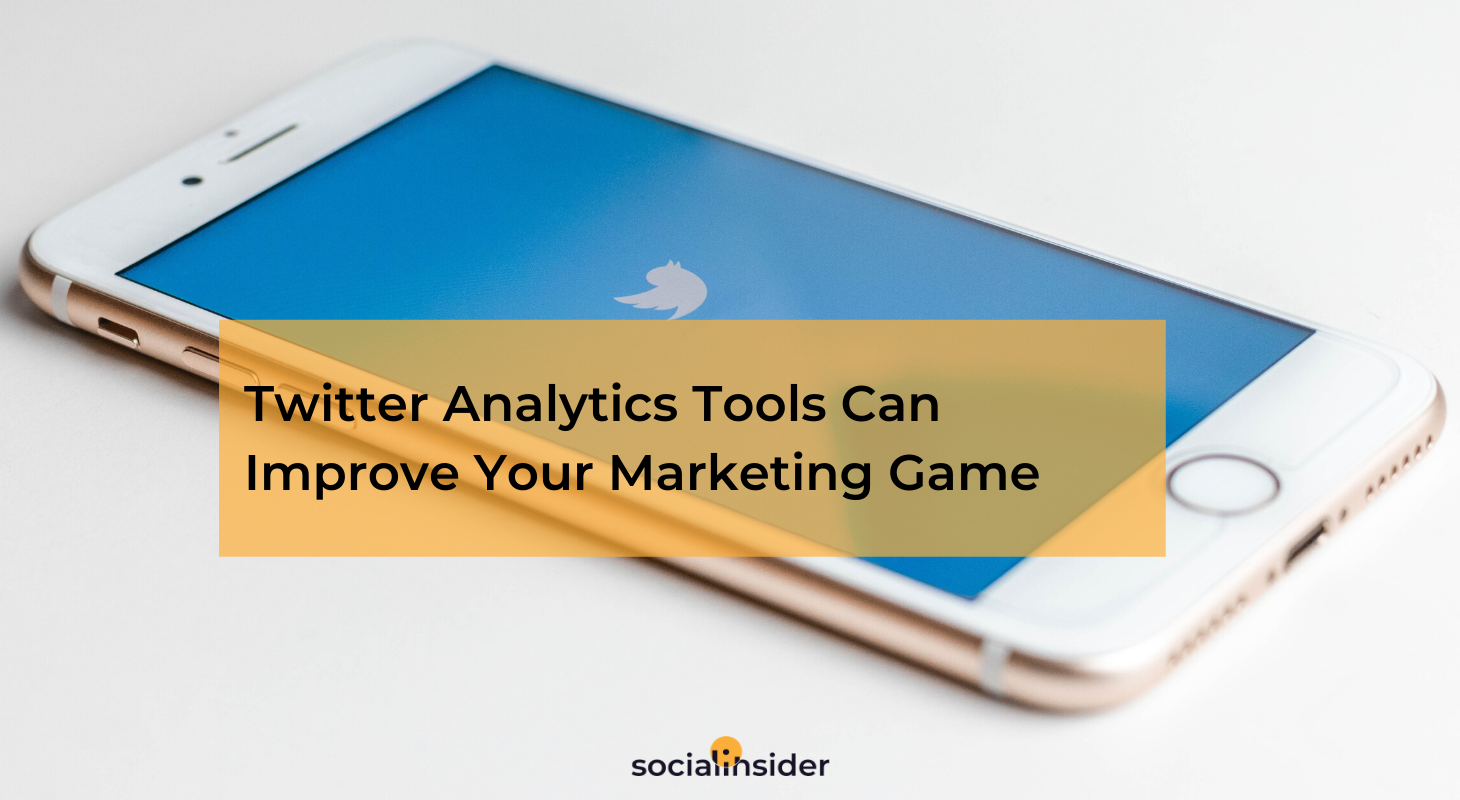 1. Why use Twitter to grow your company
2. Create a Twitter account for your business
3. How to better engage with your community
4. Use analytics to your advantage: native analytic tools versus third party apps
5. Use Twitter hashtag analytics
6. How to post: best practices for Twitter engagement
1. Why use Twitter to grow your company
There are many social media platforms on which your company can be active, but Twitter has often proved to be a striking opportunity to reach the perfect audience and gather more feedback.
Here's what you can do:
No matter the industry, there are people who will want to learn about new ideas and engage with brands who create compelling content.
So businesses that want to make an impact and deliver quality, relevant messages, should make sure their messages are primarily informative and helpful, and not necessarily always centered around their brands.
Keep in mind that due to its character limit (280 characters), you're given the task to summarize your posts, but still communicate in a meaningful and engaging way.
If you're used to posting on Facebook it might sound like a limitation at first, but after a while, you'll find out that this is actually good news. People have a fast-paced lifestyle, so reading a short post might actually be more effective.
Another important aspect is to make sure you understand exactly what your audience expects from you.
By constantly checking your analytics you'll know what type of content is more engaging for your followers.
This way, you can convey meaningful messages tailored to their need and create a connection.
We all know how hard it is to keep up to date, especially when there is a tendency to be inundated with information on a regular basis. And digging to this amount of information can be time consuming
This is why having only the relevant information at your fingertips when accessing your Twitter accounts makes things much easier.
But to do so, make sure you only follow profiles that are relevant to you.
Knowing your competitors on social media and in this case on Twitter is, as a matter of fact, a wise thing to begin with when crafting a strategy.
You can learn valuable things only by looking at the ideas they emphasize. This way you can almost instantly tell what are the trends in your industry.
Do this by following both people or companies who are relevant in your field. Make sure you take notes when a good idea pops in. Try to see patterns rather than brilliant ideas. They might sound great at first, but might not passed the test of time.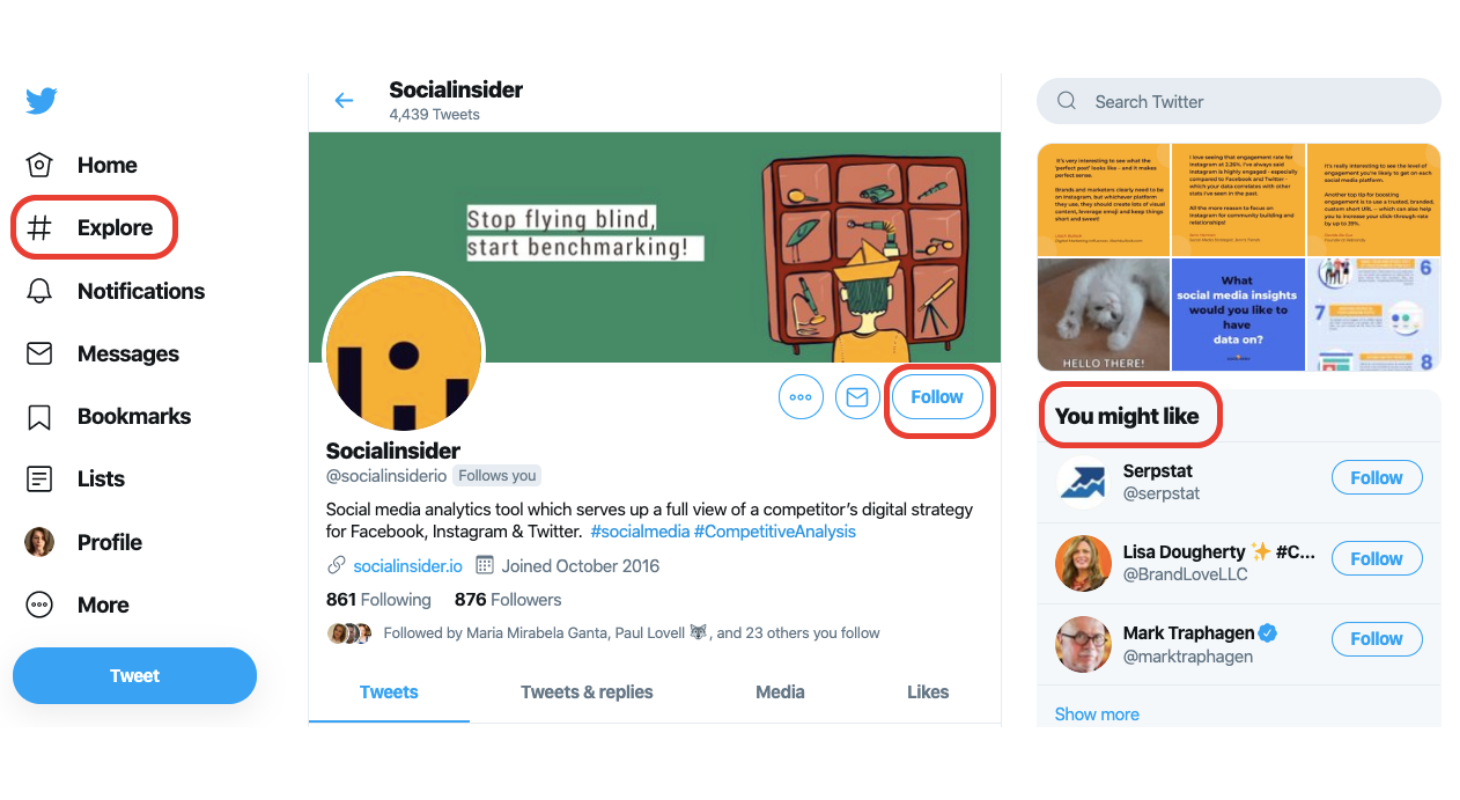 Another way to have a good understanding of your industry is by following hashtags. Twitter puts a lot of effort into making them as visible as possible. Make sure you follow the ones who spark a real interest. Twitter's explore feature can help with that.
After you've done all of this, it's time to spend time reading, looking for innovative ideas. Don't clutter your feed with useless information. Keep things short, but valuable.
2. Create a dedicated Twitter account for your business
Being close to your community shows  that you are paying attention to details and make the most out of social media. Twitter is the place where micro-content is the king.
Analytics can give you all of the insights that can help you understand that community. But in order to do so, you must firstly create a dedicated account for your business.
If you create a strong profile that attracts a great audience, you'll be happily surprised that and where most of the followers will be actively interacting with your company and your brand's personality
So where should you start? Because we've answered the "Why", now it's time to address the "How". Here's a simple step-by-step guide.
Go to Twitter.com and push the Sign up button. Write down your name and an email address. If you already have an account, you can create and add another one directly from your app.
Twitter will ask you to customize your experience. You can skip this part by clicking next. But if you want to "Get more out of Twitter", "Connect with people you know" or to receive personalized ads, then fill in the boxes and press the Sign up button again. We strongly advise doing so.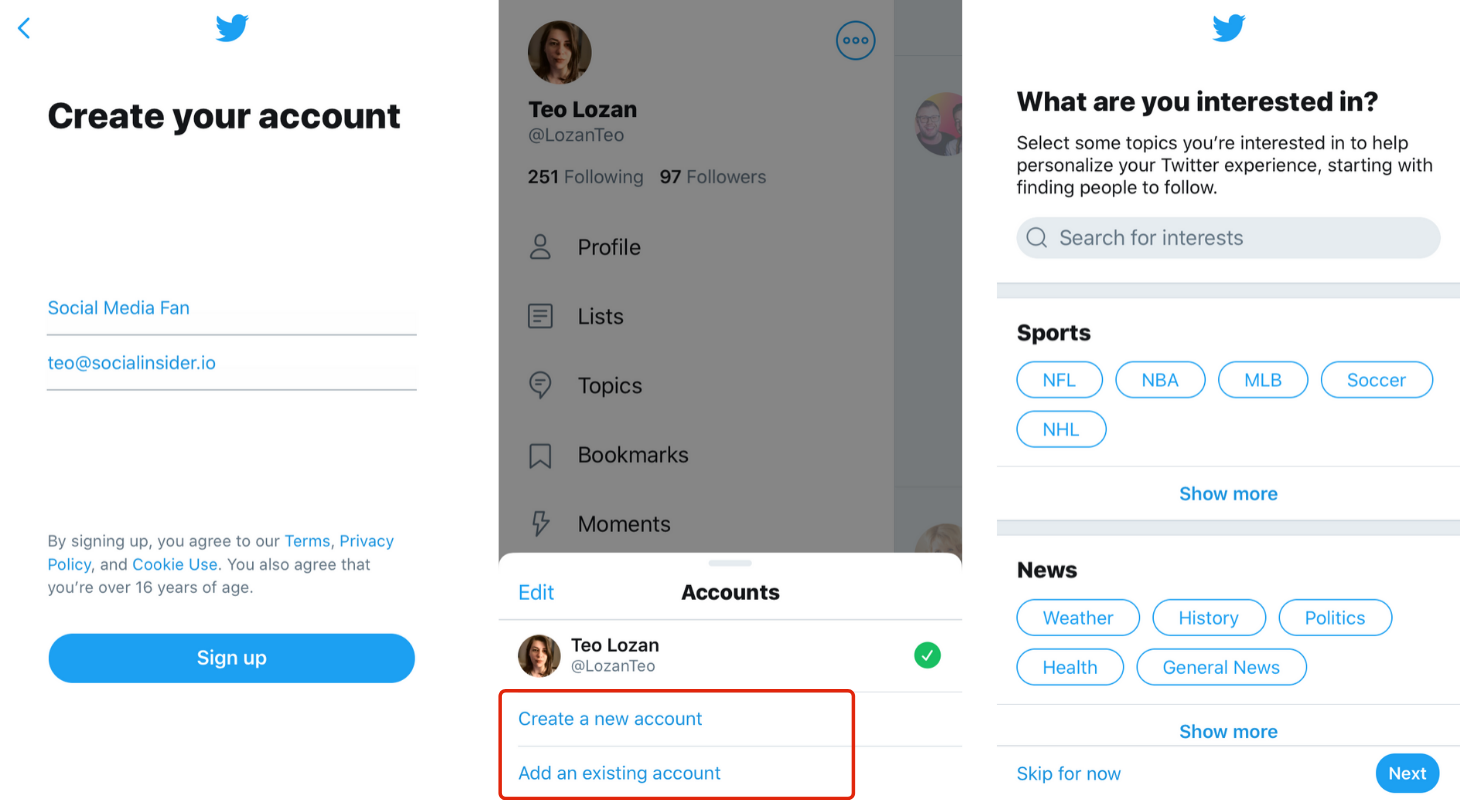 Verify.
You'll be asked to enter a verification code that's sent to the email address you've added. The code is usually sent in an instant.

It's time to choose a proper password. Choose a strong one and make sure you haven't used it before. For security reasons, of course.

Pick a profile picture. Your company logo will do.

Twitter lets you describe your company using a limited number of characters (160).
You are also allowed to skip this step, but we advise against it. Pick your words carefully and create an attractive, clear description. It can gain you more followers.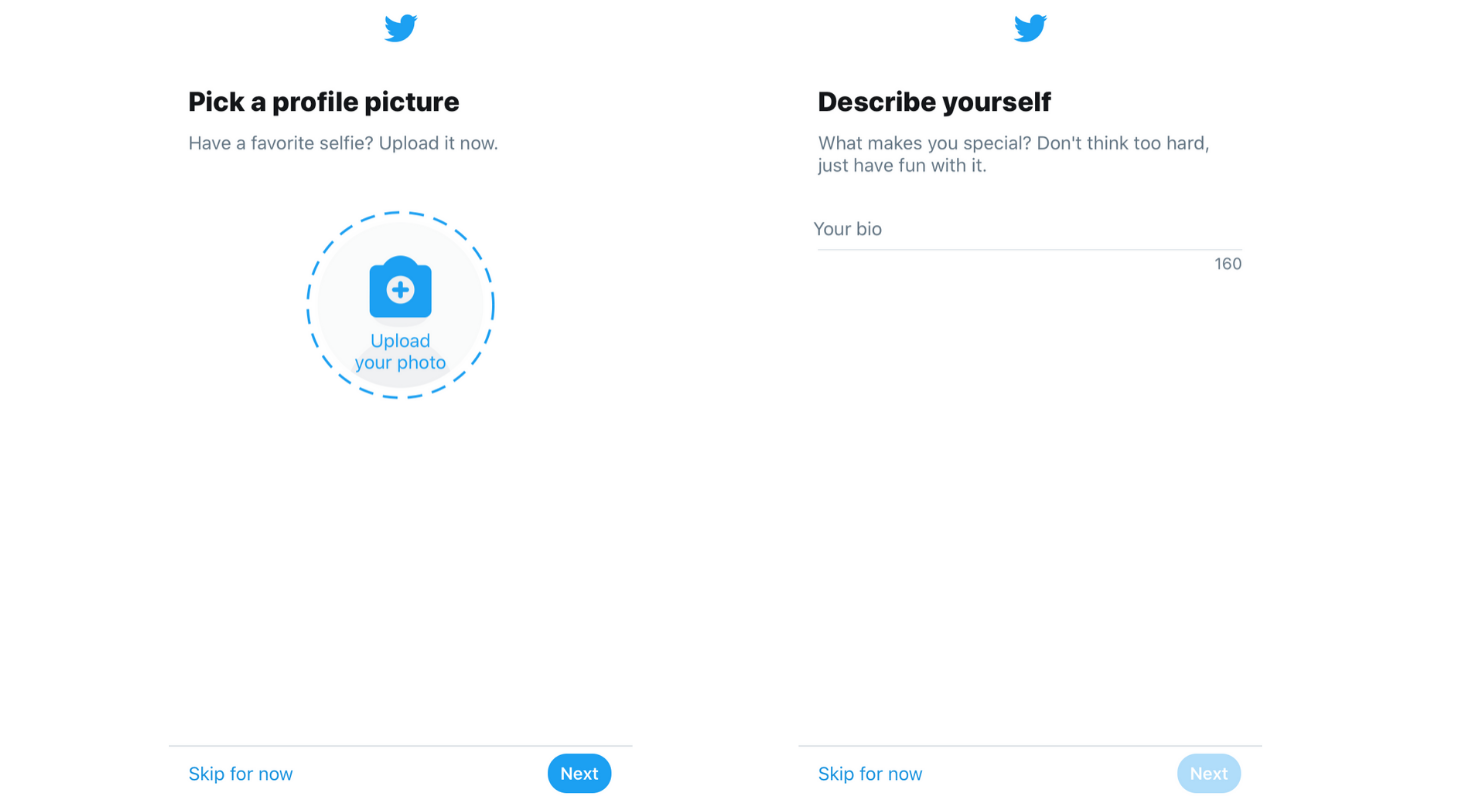 Upoad contacts.
If you have a list of people who are eager to see your first tweets, maybe the company's employees, you can upload their contacts.

Pick your interests. Think of your business needs while doing so.
Twitter will ask you what are your interests in Sports, News, Music, Entertainment, etc, in order to offer you relevant content suggestions. Then you'll find a few suggestions of celebrities, politicians of companies to follow.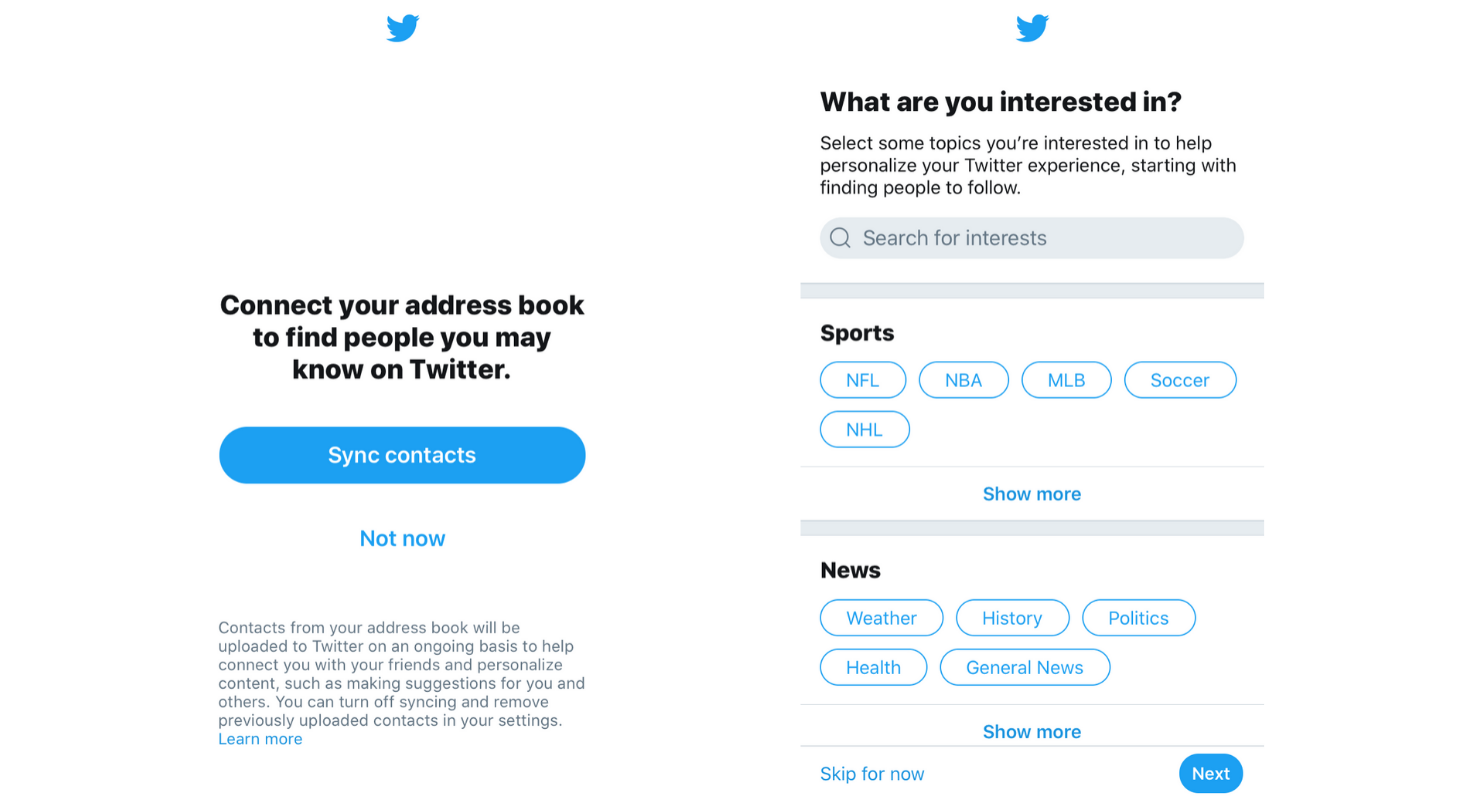 Set how often you'd like to receive notifications and Voila! You're staying right in front of your Business Twitter Account.
If you skipped on some of the steps or would like to make changes, you can always do so from the Profile section.
Now make sure you create a great marketing strategy and align your tweets with the other social media channels!  
You can find a viable solution to manage and align your accounts with the help of Twitter management tools.
Don't be afraid to and be as creative as possible.
Enjoy the ride and post your first tweet!
3. How to better engage with your community
Actively following your community will give you the ability to better understand their needs, interests, and preferences . So make sure you keep an eye on their tweets as well.
For instance, if one of your followers has a tweet that is written very well and is in line with your company's strategy or values, then you can retweet it, like it or even follow that person back. This is a great way to show that you value your community and are paying attention to what they say.
Be as interactive as you can. Start a conversation with your followers on relevant topics or the ones in your industry by making use of your expertise in the field.
Also, People like to get fast responses. Try to respond quickly to comments and messages in order to be perceived as a reliable partner of dialogue.
4. Use analytics to your advantage: native analytics tools versus third party apps
After all the hard work with tweeting and responding to followers, it's time to make the effort to analyze all the metrics.
This is an important step that you shouldn't miss it. This way, you'll know how to adapt your strategy and to create compelling and informative posts in line with your followers' interests.
There are two ways to find out what your data tells you: using Twitter's native app or an analytical tool. Let's dig them out and see what you can get accessing analytics.

This has a few metrics that will help you have a broad image of your activity:
By accessing Twitter Analytics, you'll be able to see you the number of tweets, your top tweets, what tweets have the most replies and which are the result of the promoted ones on a period of 6 days.
You can also see the  impressions for each tweet (number of times a user has seen a tweet on Twitter), engagements (total number of times a user has interacted with a tweet) or engagement rate (the number of engagements - clicks, retweets, likes, follows and replies - divided by the total number of impressions).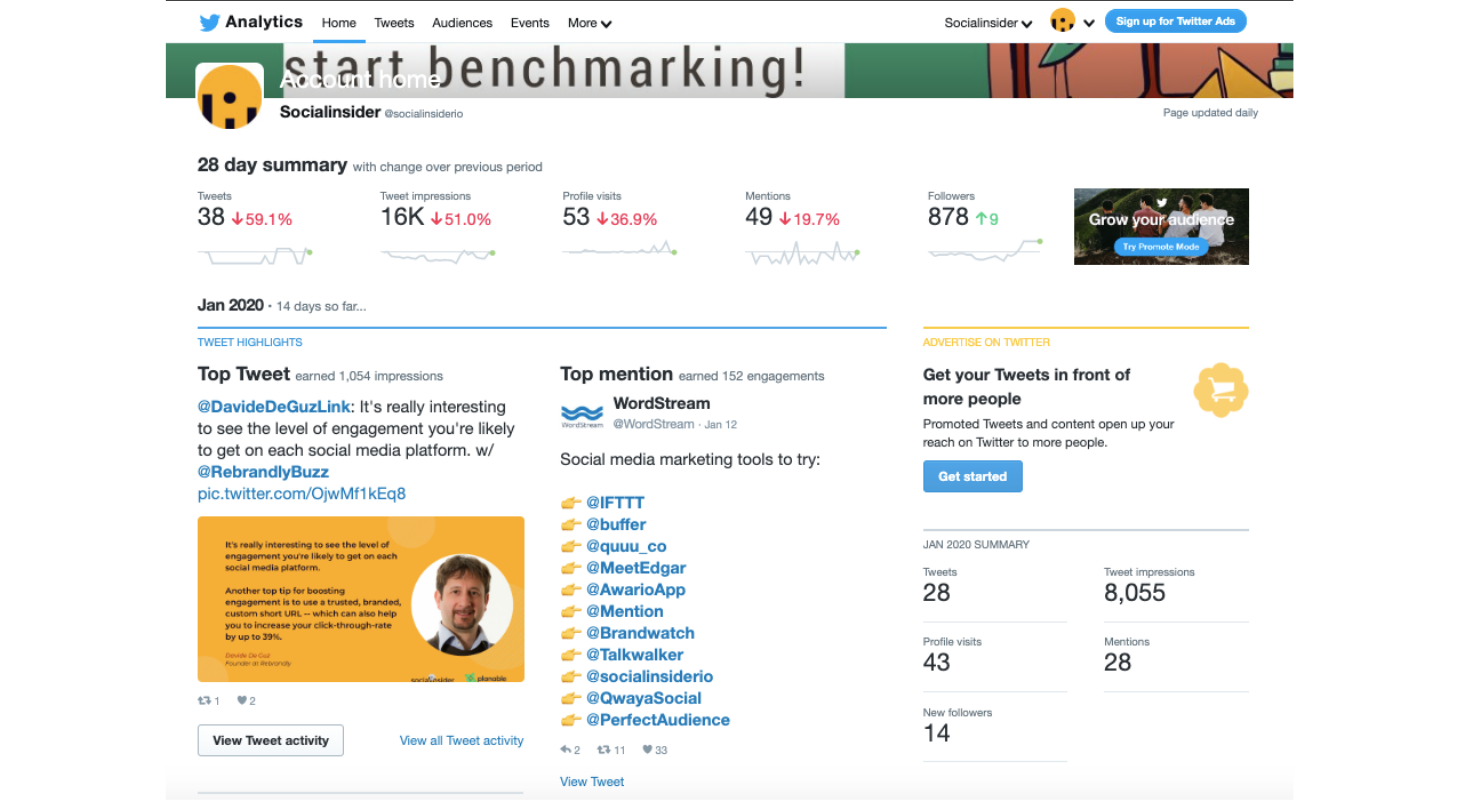 Twitter will also show you how many clicks you've earned in the last few days, how many retweets, likes, and replies.
Looking at this data and constantly monitoring it will allow you to notice your constant growth, as well as a preference for certain posts
Twitter offers a lot of insights, but if you want to have even more information, you'll have to go in-depth with the data analysis and start looking at third party apps
Using a third party dedicated analytics tool you'll be able to have all the above mentioned metrics, plus other relevant ones, as well as download comprehensive branded reports.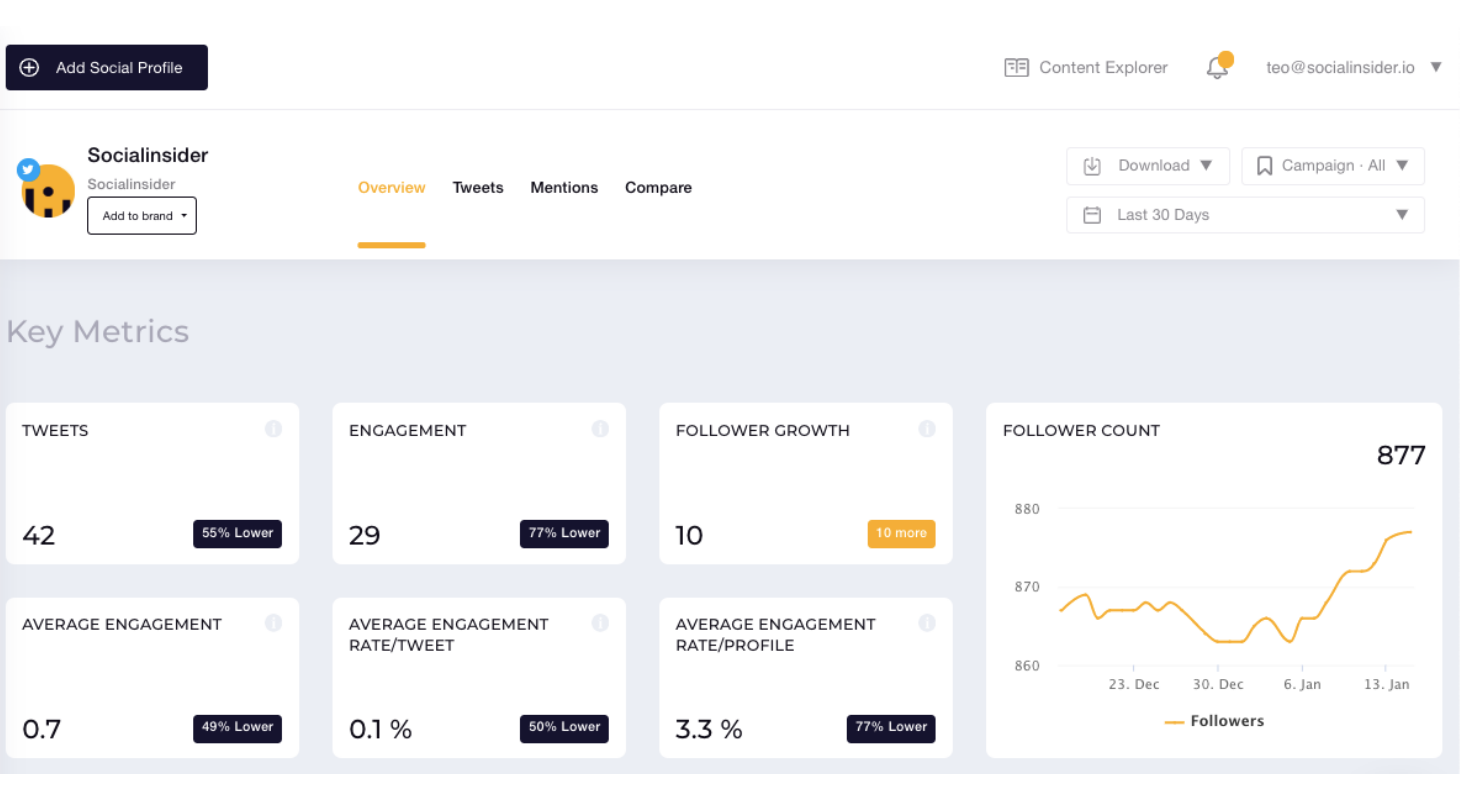 When it comes to tweets comprehensive analysis, using tools like Socialinsider you'll be able to see and download reports that include:
the distribution of tweets
the average number of tweets/day
the average engagement per tweet and profile
your top three tweets
your follower's growth
top three mentions and distribution of mentions, as well as top mentioners.
your best hashtags by engagement
You can also take a look at who are your biggest fans, by going to the top mentioners section.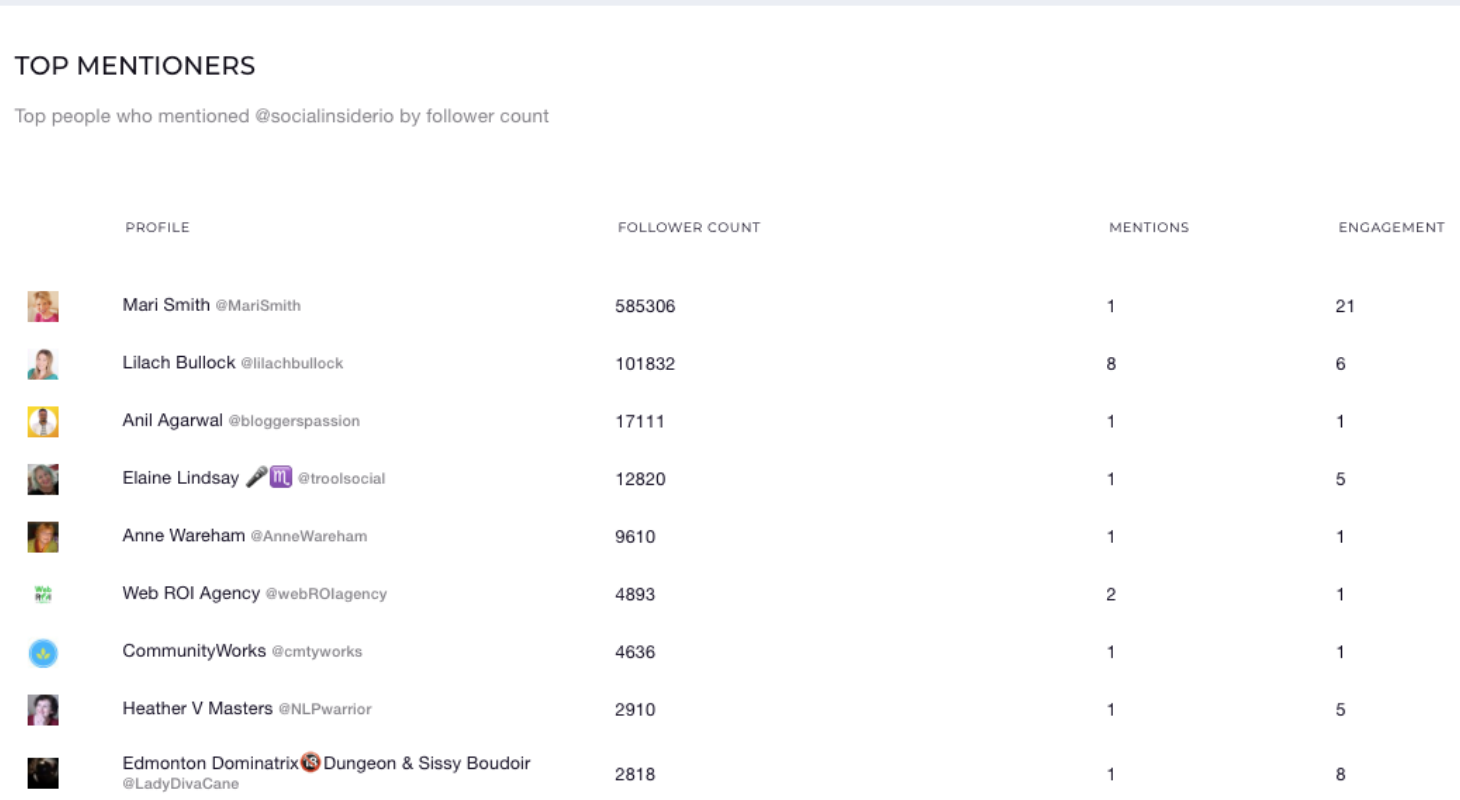 A very helpful metric is the profile activity by hour of day because it lets you see what is the perfect hour to post your next tweet if you want to be seen by as many followers as possible.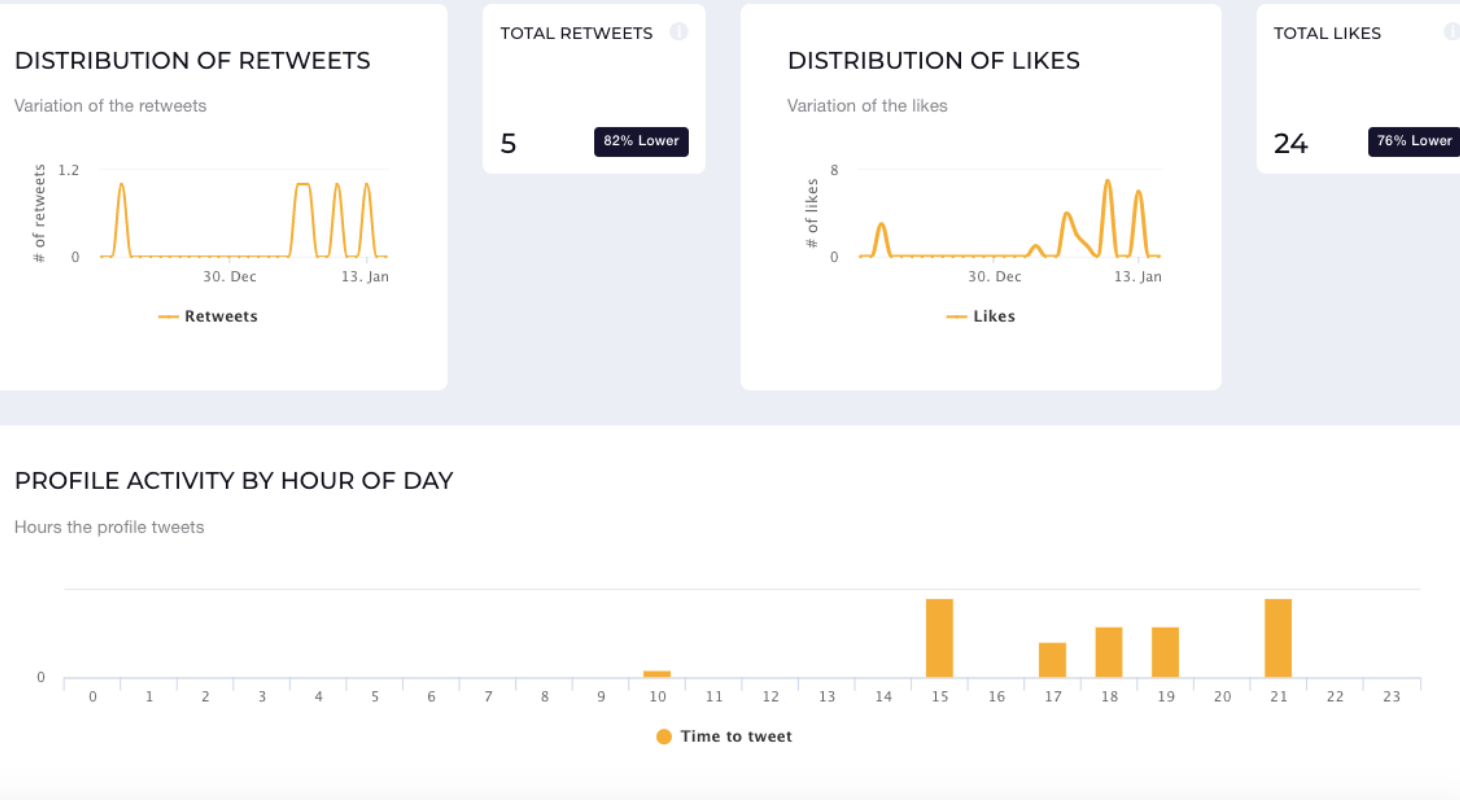 Another useful feature that the native app doesn't have, but is present in tools like Socialinsider is the comparison feature, which allows for instant competitor benchmarking.
This is a handy way to compare your business activity on Twitter with another competitor, measure results side by side, and draw conclusions to improve your own Twitter strategy.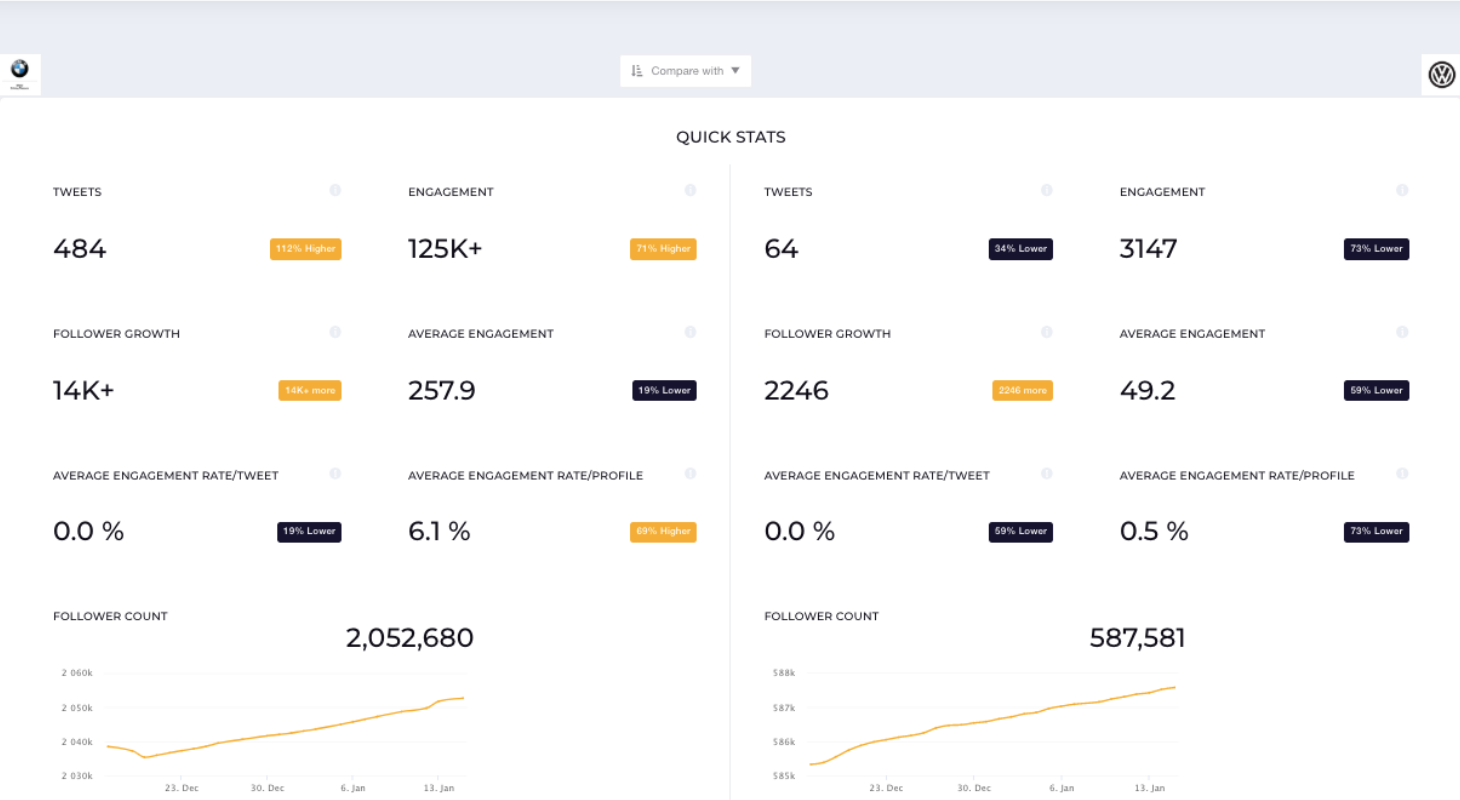 Only a few clicks away you'll be able to access metrics such as the number of tweets, engagement, followers growth, average engagement, average engagement rate per tweet, average engagement rate per profile and the followers count.
Also, you can analyze what are the best tweets, compare post evolutions and learn from engagement evolution.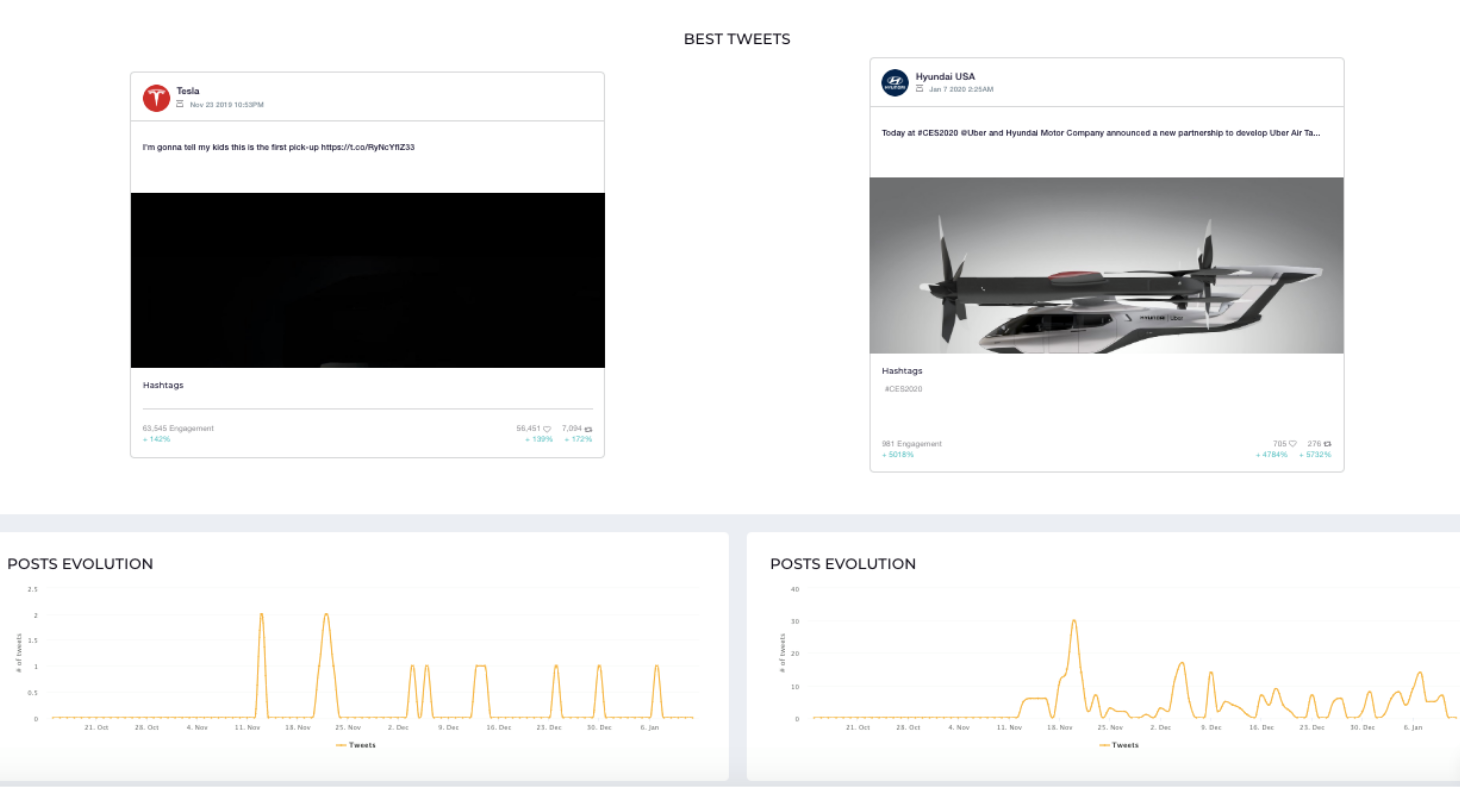 One main advantage is that you can also download full reports, ready to be shown to your supervisors or clients, which ultimately saves up a lot of time.
You can choose between default periods or make your own custom period. Whether you prefer PPT, PDF or XLS files, a specialized tool can help you generate branded reports almost instantly.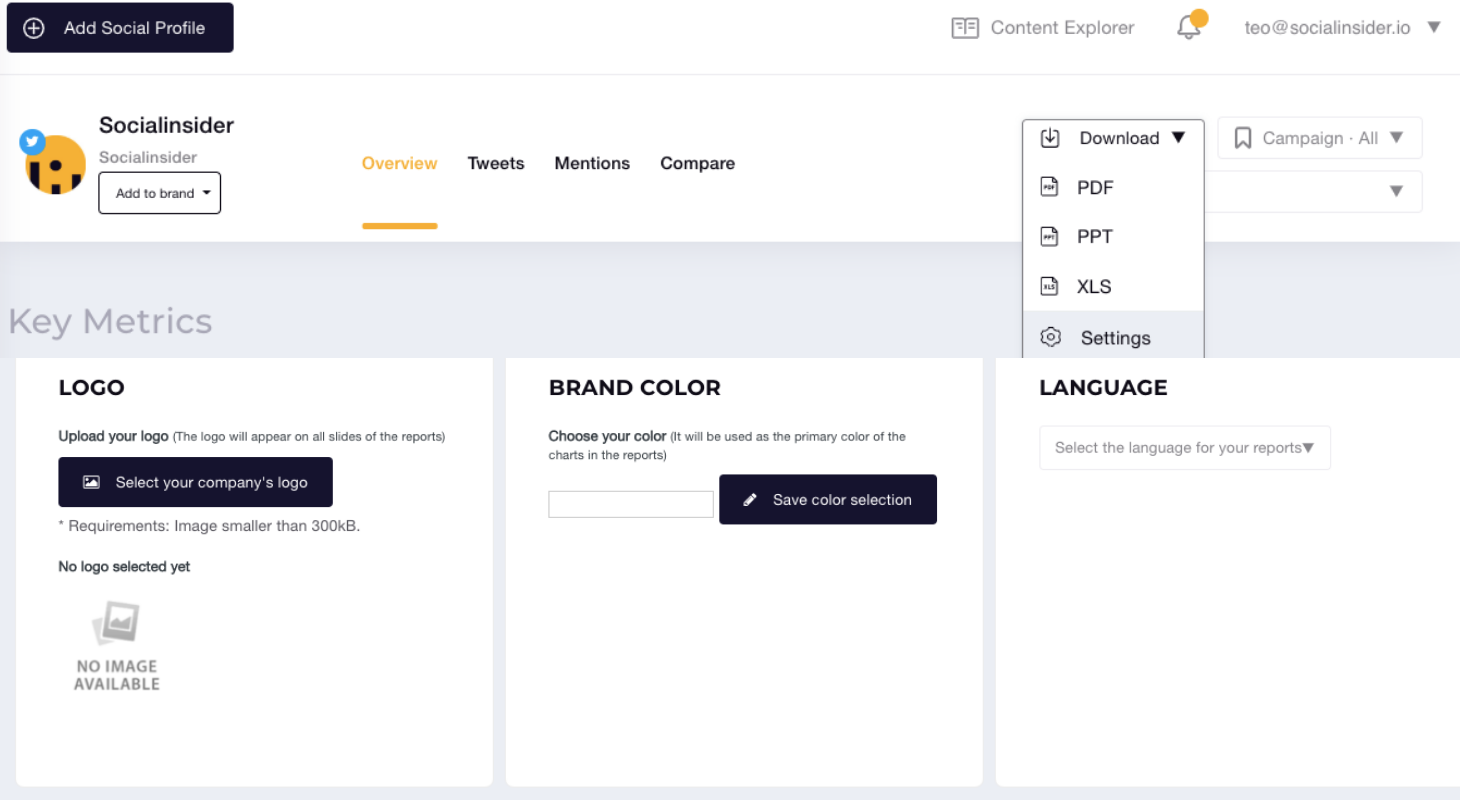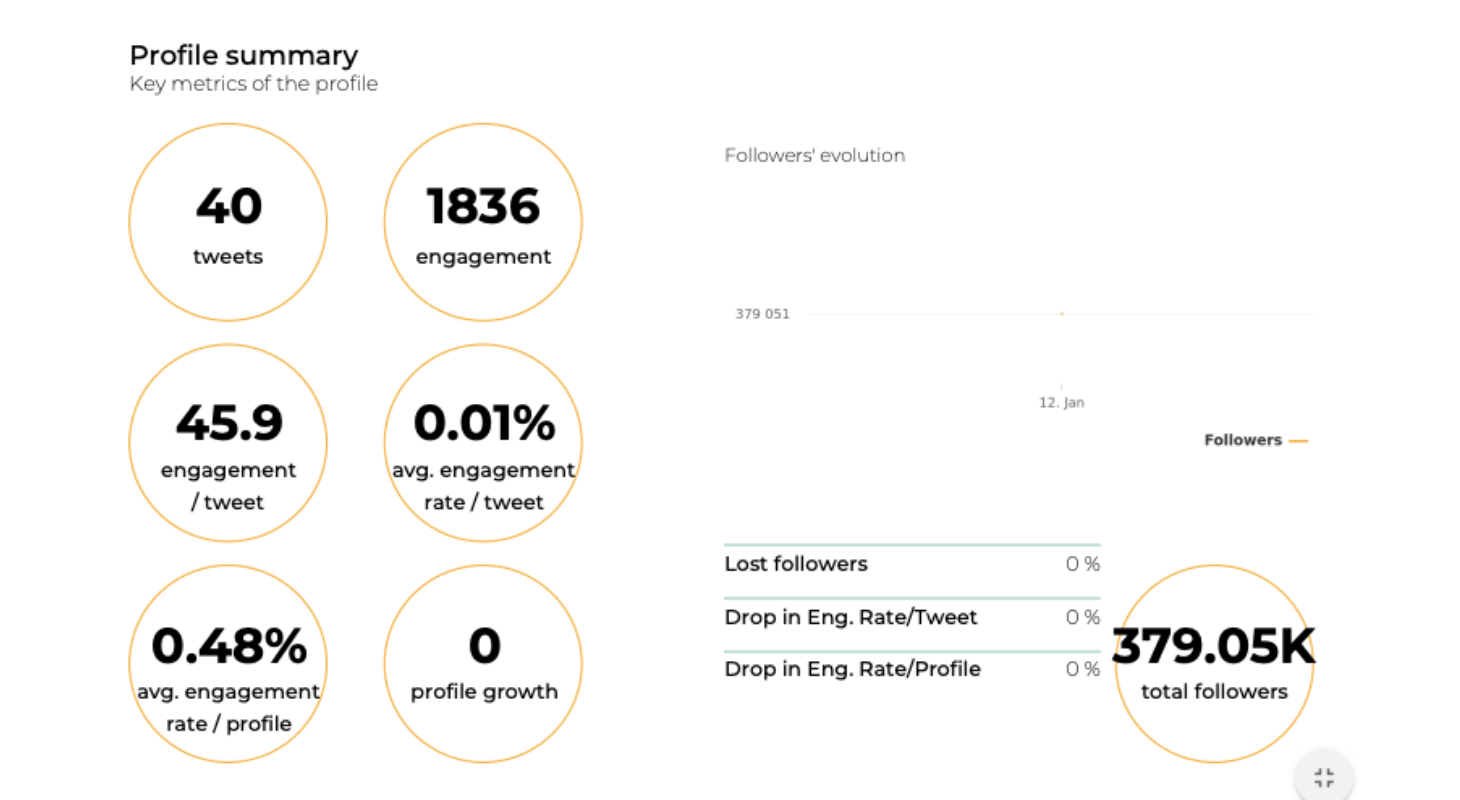 The differences between the native app and a specialized tool are undeniable, but it ultimately all depends on your needs.
Twitter's native app will work fine is you don't have too many accounts to manage, but if you are juggling a lot of pages and want to save some time but still impress your clients, use more comprehensive, relevant data.
5. Use Twitter hashtag analytics
Hashtags are all the rave and they have been embraced by all the important social media platforms.
They actually work as a URL by collecting all the tweets that include them. Branded or non-branded ones, businesses across the internet love hashtags. and this is why monitoring them is a good idea to reach your audience.
Make sure you add content related hashtags that are relevant for your business in your tweets. Then start monitoring them to see how other people use them.
You can track your top hashtags and to better understand what works and what doesn't when it comes to adding hashtags. You can also reach hashtags reach on Twitter.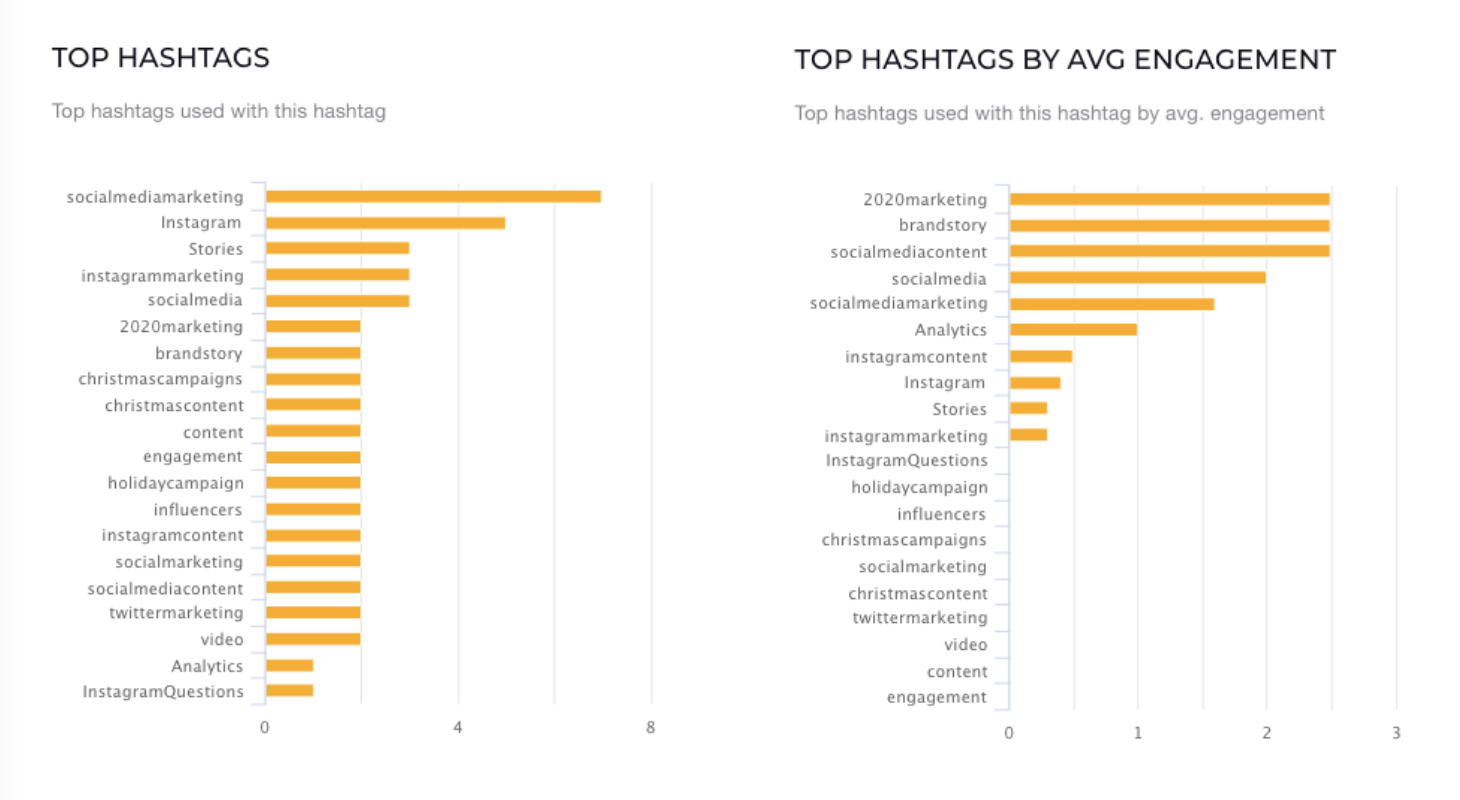 A great way to get yourself know on Twitter is by searching for a trending hashtag and use it in your tweets. Right underneath the Search bar on Twitter, you'll find trending hashtags.
Select the option to have the trends personalized for you and give them a try.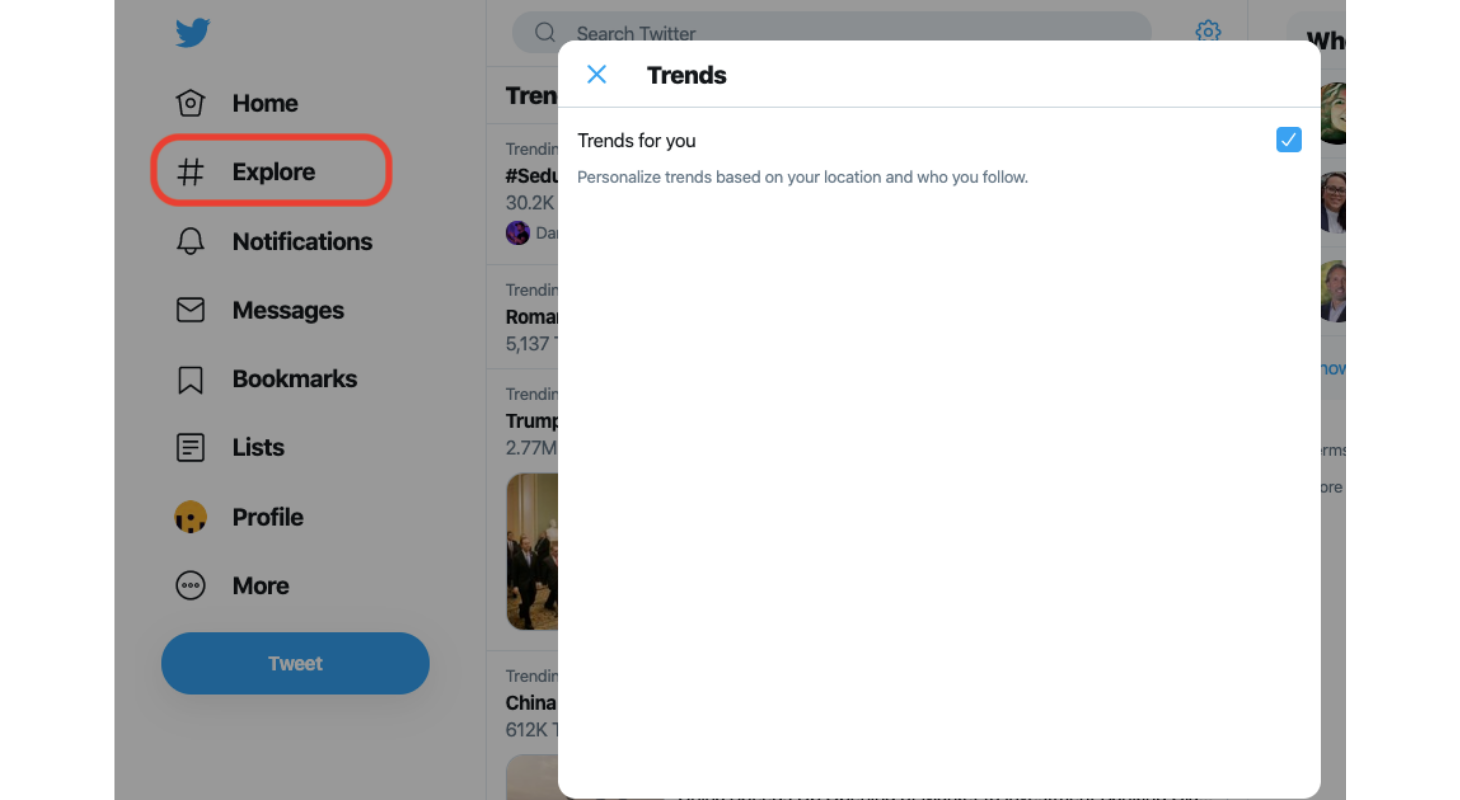 Find out how to use hashtags to boost your Twitter engagement.
6. How to post to get Twitter engagement: best practices
The perfect post on every social media has its own specificities. Crafting a close to perfection post on Twitter is definitely different than writing for Facebook or even Instagram.
When it comes to the type of post, use more videos.
The results from a recent social media study has shown that the most engaging tweets contain videos.
Even though you would expect a more formal approach when it comes to Twitter,  think again. Emojis are not excluded from the equation. They perform really well on Twitter. The more, the better.
Make good use of the character limit.
Even though Twitter is the only platform with a character limit, it seems that the longer the tweets are, the better they perform.
According to the content study mentioned earlier, brands post, on average, more often on Twitter than on any other platform: 25post/month on Instagram, 60 posts/month on Facebook, but almost 200 posts/month on Twitter, 195 to be exact.
This means that the competition for engagement is extremely high.

If you've tried all kinds of things and your engagement doesn't skyrocket and you're willing to get some inspiration, Socialinsider's Content Explorer allows you to discover cool ideas that worked for others.
Let's say your company has just released a newer, better type of eco-friendly car. Then it's time to brag a little bit on every social media, just like Tesla. We all know what's the impact of cutting emissions on our environment.
These two tweets are among the most engaging ones in their niche.
Wrapping Up
Having a plan and constantly keeping an eye on important data for your Twitter marketing strategy means a constant and sustained growth.
Just remember to monitor the most important KPIs, build a community, engage with your followers, discover great ideas from your niche and use the power of data and insights by using an analytical tool for Twitter.
Related articles: