In the last few months, TikTok's growing popularity has encouraged more and more businesses to set up their account on this social media platform.
In 2022, marketers have grown to be bolder when it comes to video content and they've taken up over TikTok.
We can tell that the future looks promising for this social media platform and all those eager to commercialize their products and services via TikTok.
However, simply being present on this platform is not enough. You need to learn everything there is to know about it, including TikTok analytics.
This way, you will know exactly what to do next to improve your content strategy. Ready to learn more? Let's go!
TikTok Analytics
1. What is TikTok analytics and why you need it
Since you know what TikTok is, it is only predictable that TikTok analytics refers to data that helps you build your account analysis.
You can look at insights and metrics regarding your TikTok content by selecting a specific timespan.
This way, you can see how your marketing campaign unfolds. Mainly, TikTok analytics helps you measure your account's engagement.
Everyone can easily access TikTok analytics right from the app, as long as you have a business account.
However, the insights displayed in-app do not offer as many details as marketers expect.
That is why, it is advisable to use a third-party TikTok analytics tool to take a look at the wider picture.
The reason why you need to periodically check TikTok analytics is that it can help you improve your marketing strategy as you look at metrics.
Moreover, keeping track of TikTok analytics helps you better understand your audience.
You will quickly learn what your audience needs and expects from you and you will be able to adapt your content to their needs.
Discovering how your content performs determines you to make changes in your content strategy.
2. How to access TikTok analytics
If you want to see your TikTok analytics, the first thing you have to do is switch to a Business Account.
Here are the steps:
Go to your profile.
Go to Settings and Privacy
Click the Account option
Select Switch to Business Account.
Select a featured category for your account: public figure, music/dance, personal blog, education, media, entertainment, sports, etc.
Add your e-mail address and you are all done
Once you've set up your Business Account, go to Settings and click "Analytics."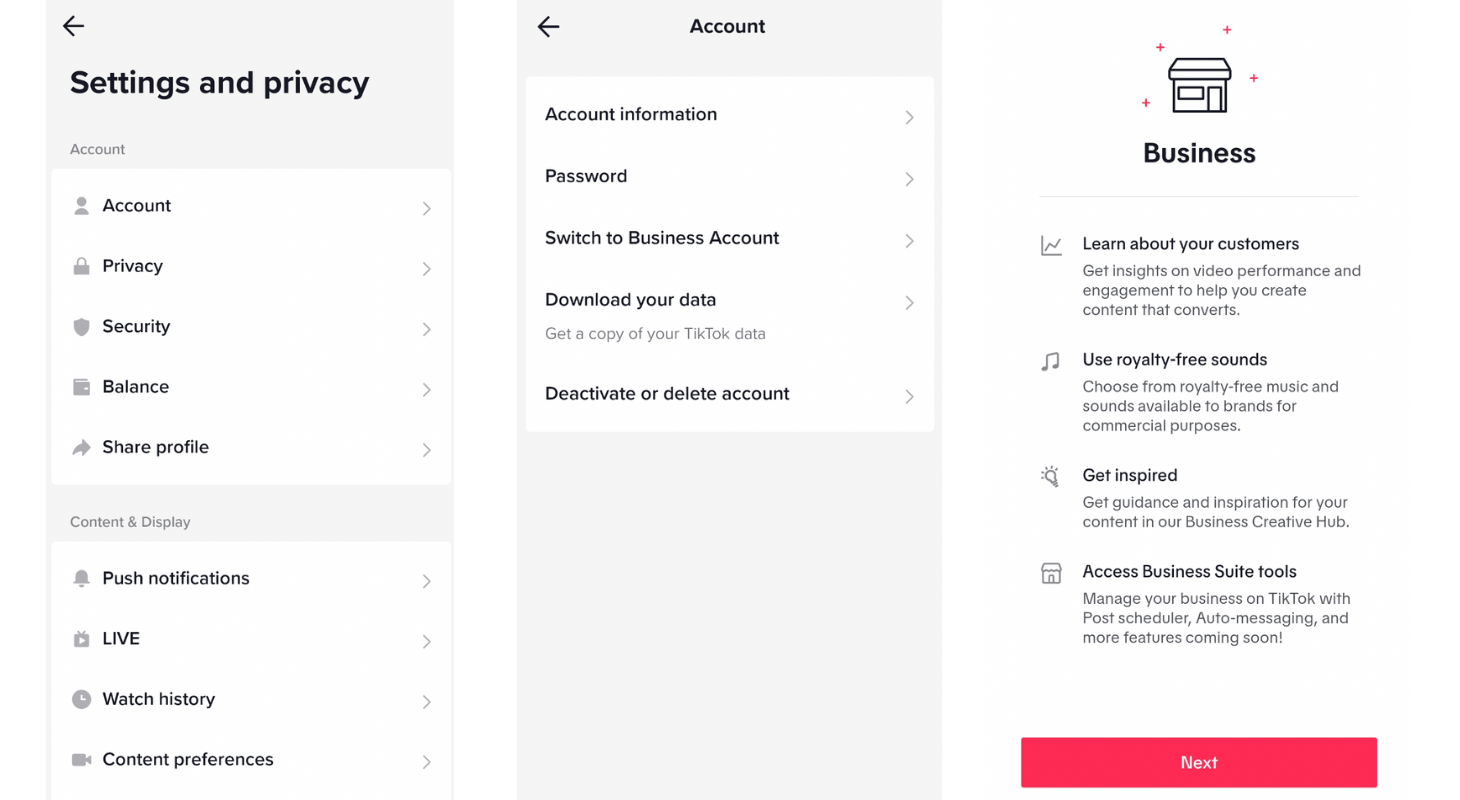 NOTE! TikTok analytics will start recording data after you switch to a Pro account, so you will not be able to see data from the past.
How to access TikTok analytics from the native app on mobile
Go to your profile
Tap the 3 lines in the right corner
Go to Creator Tools
Select Analytics
Now you can see data for Overview, Content and Followers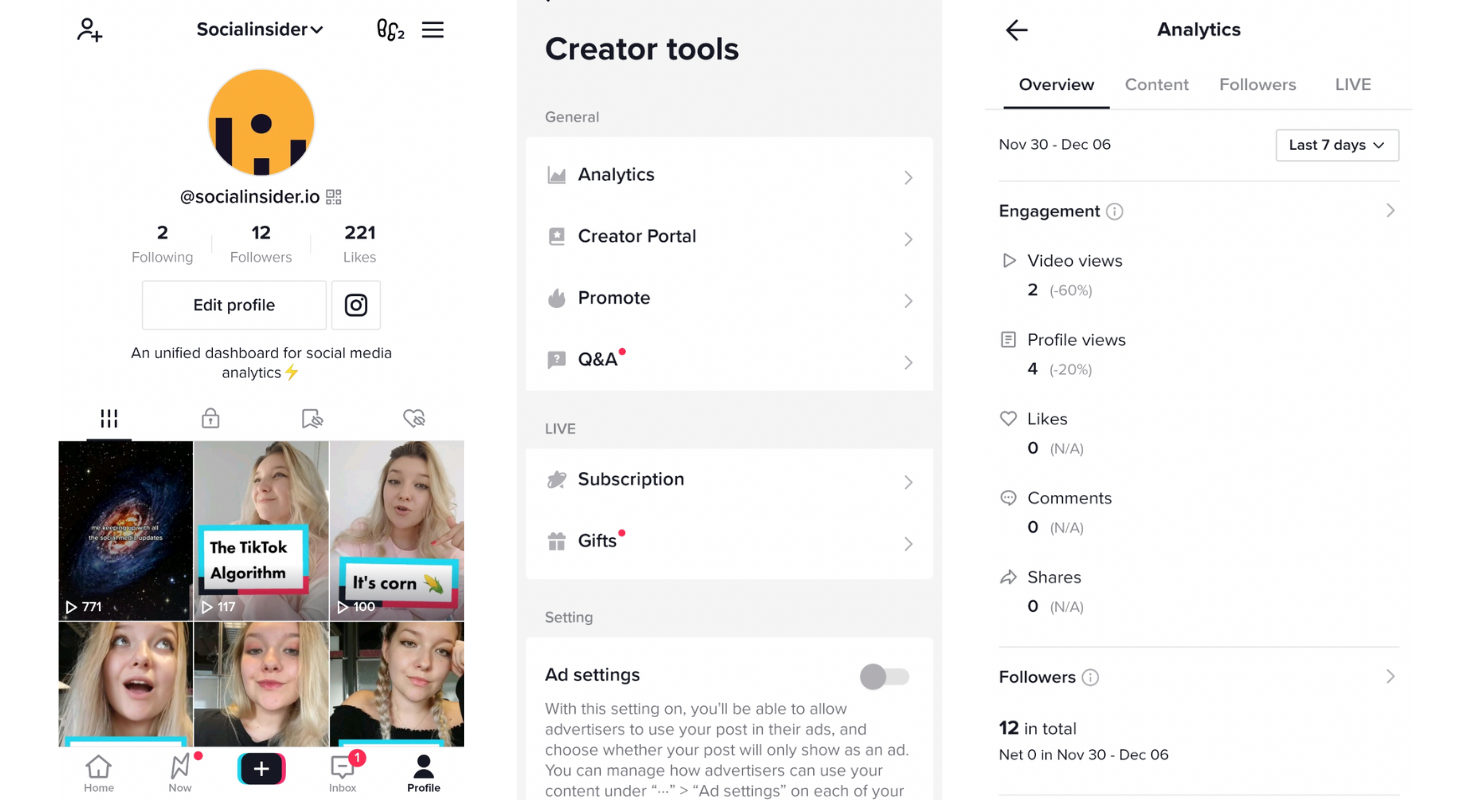 How to access TikTok analytics from your desktop
Go to www.tiktok.com
Log in to your profile
Go to "View analytics"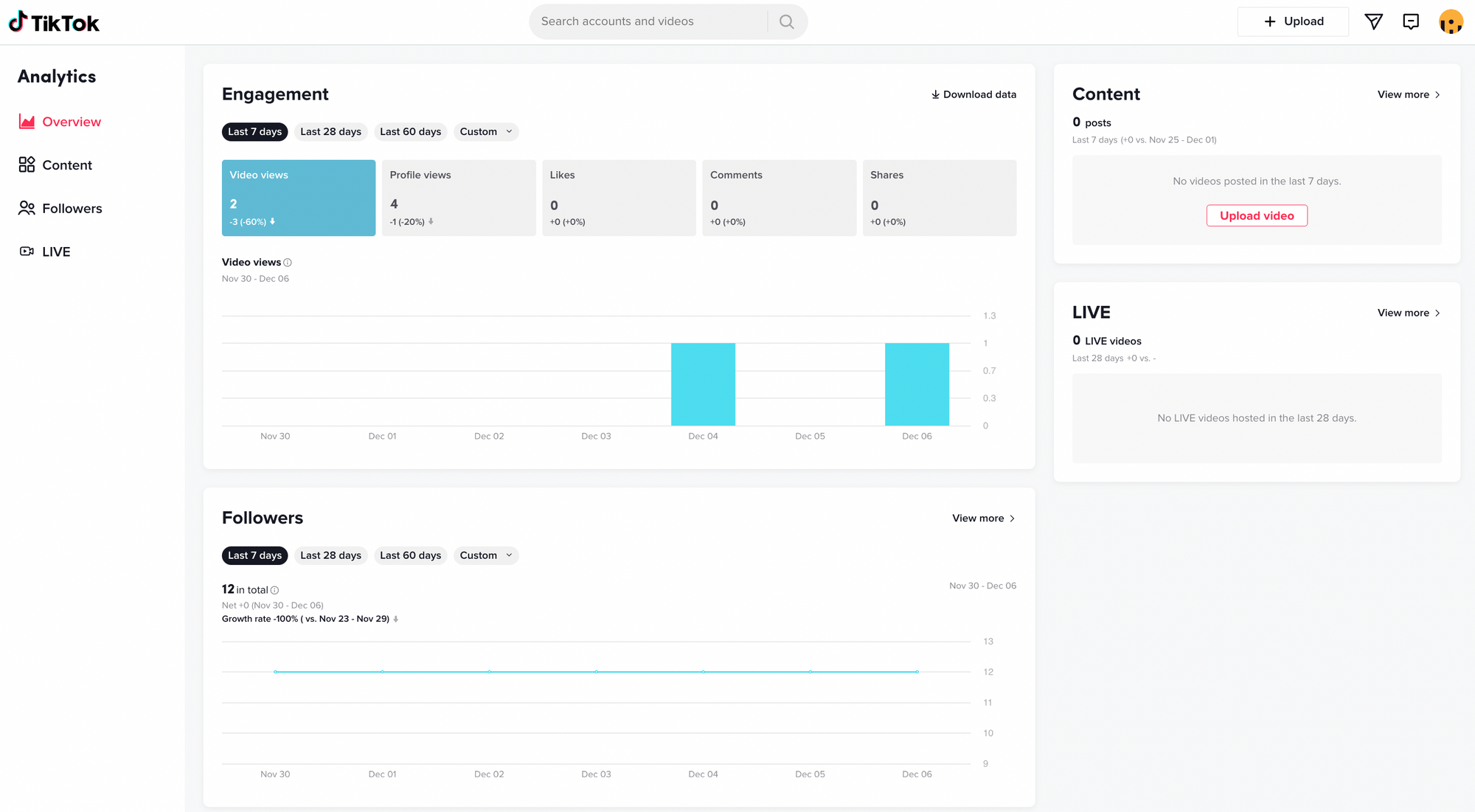 NOTE!
From your desktop, you can download a CSV file with your metrics. (for the last 7-days)
Now that you know how to access your TikTok analytics, let's find out what TikTok data you should analyze to increase engagement and drive conversions.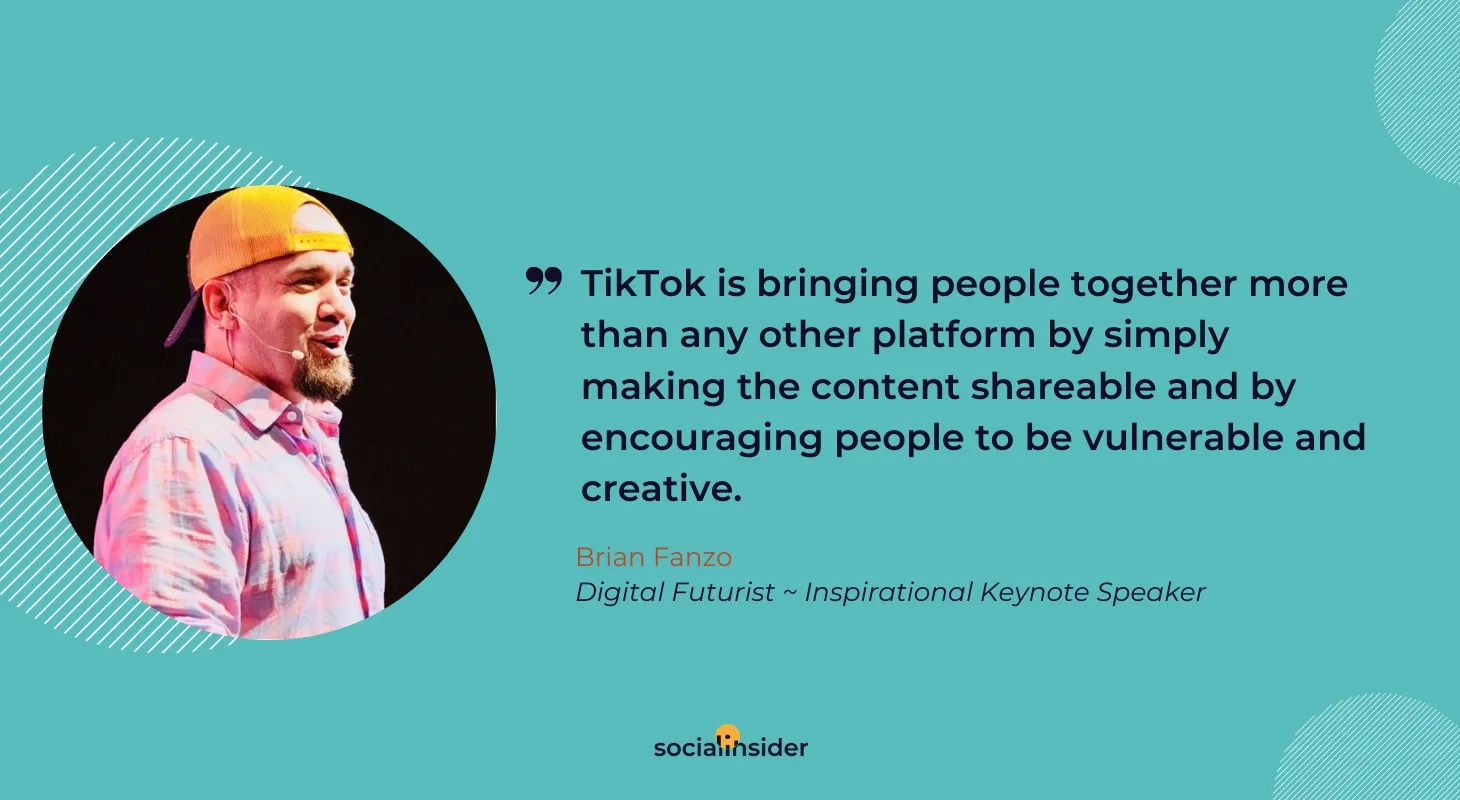 3. TikTok Analytics Profile Overview
The profile Overview tab is useful to understand how your TikTok profile is performing.
From here, you will discover your total video views, profile views, and follower count.
When you go to the Followers tab, you can check your total follower count over a 7- or 28-day period. This is a useful TikTok KPI since you can see how the power of quality content can increase your number of followers.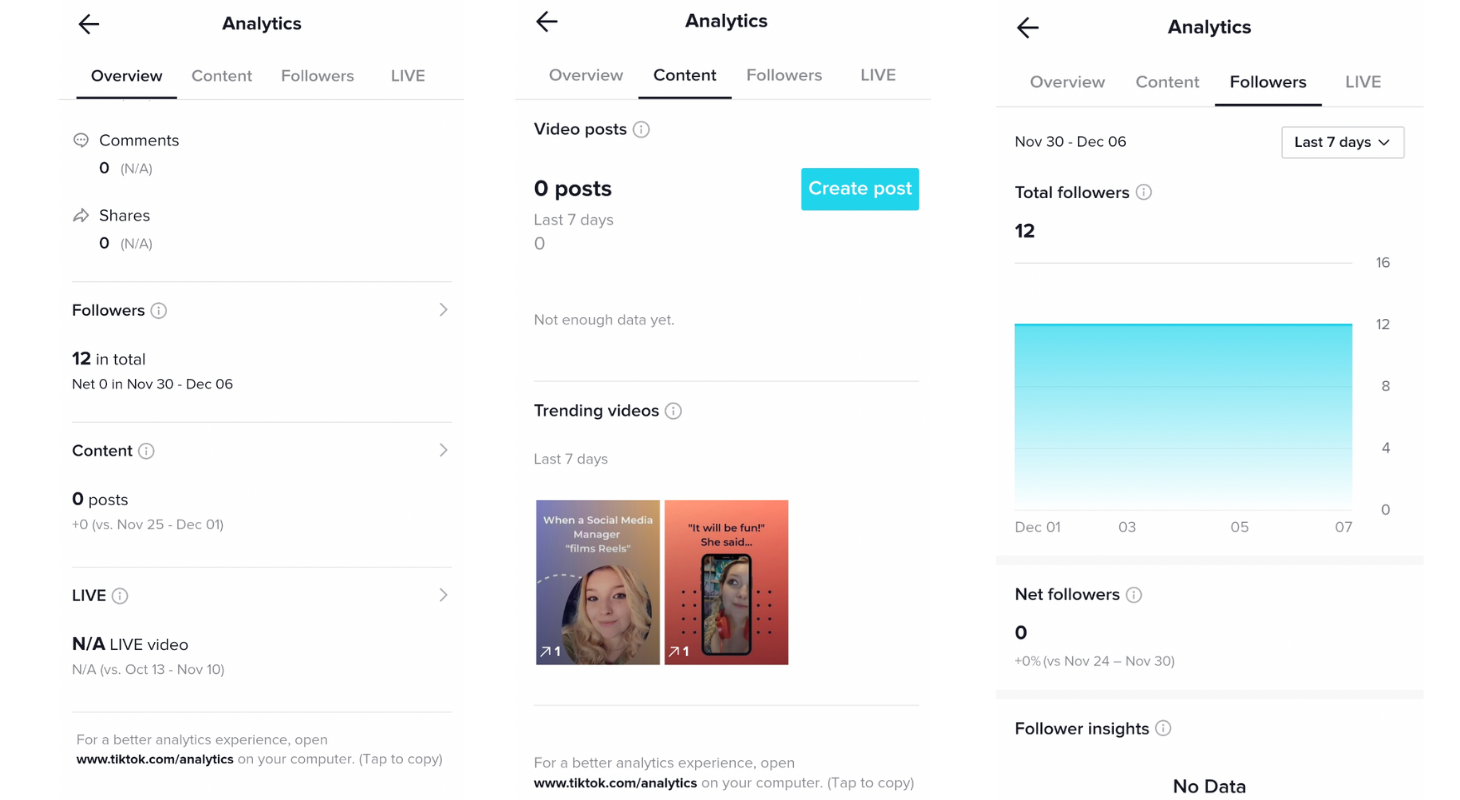 Depending on the virality of your posts, the content will attract more followers if they empathize with your brand's values and ideas.
When the TikTok videos you post are engaging enough and attract users' attention, then they can definitely increase the follower count, a metric that reflects in your TikTok analytics.
If you want to see how many times your TikTok profile was viewed over the past 7 or 28 days, this metric will offer you the necessary insights.
If you are using TikTok to increase your brand's awareness, one of the first TikTok metrics you should keep an eye on is video views.
The total number of times your videos were viewed shows you that your strategy works, and people are seeing and engaging with your TikTok content.
From here, you can see your video views from the past 7 or 28 days. The data is divided by day.
4. TikTok Analytics Followers Data
Looking at followers helps you learn more about the success of your marketing campaign on TikTok. If the number of followers increases, then you are definitely doing a great job.
It means that your content goes right to users' hearts and satisfies their needs.
This is an extremely useful piece of information because you can see when your audience is active and the times your audience is the least engaged on TikTok.
Also, you can see a gender split and a percentage analysis of your audience based on their location.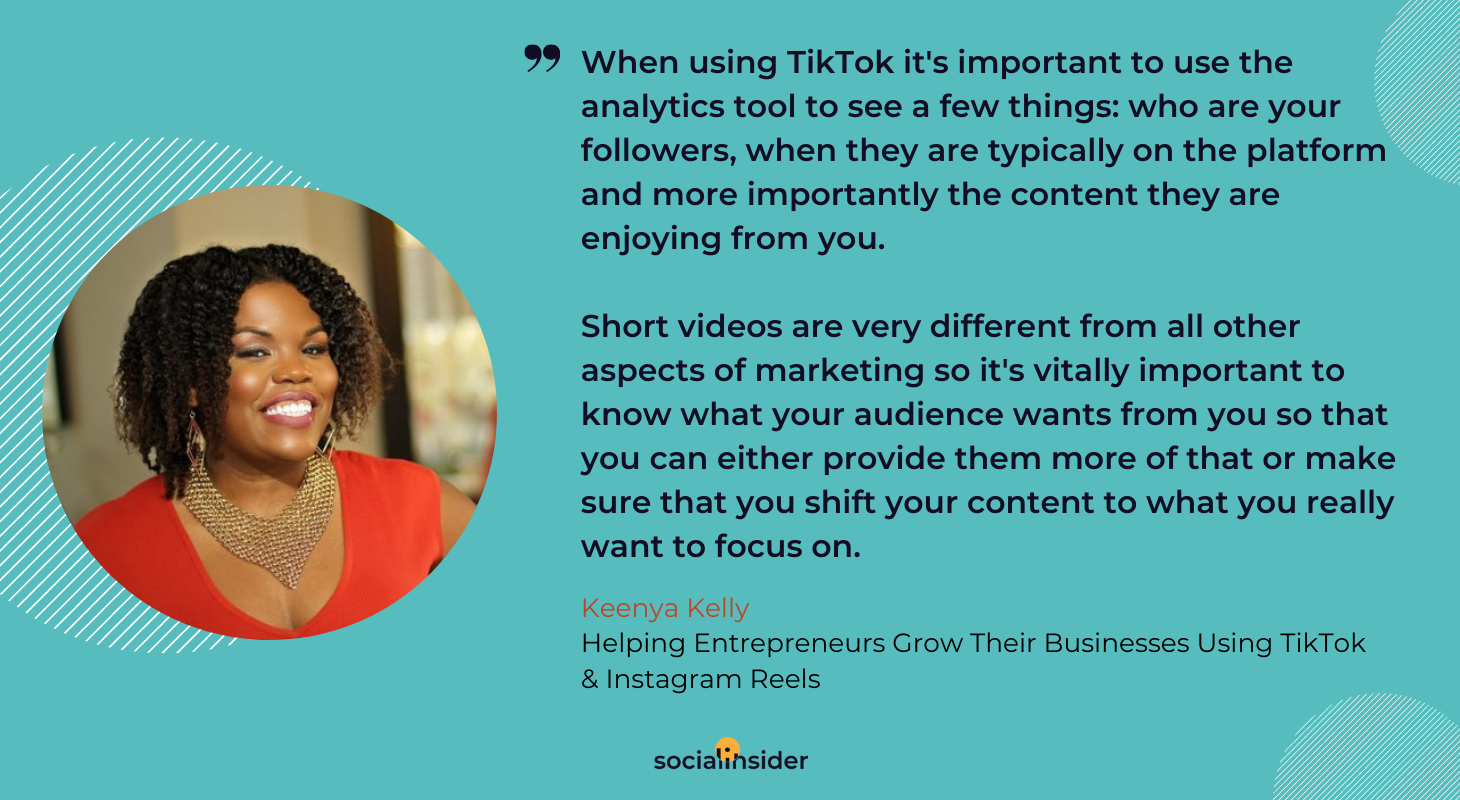 This type of TikTok analytics is extremely helpful because it displays the frequency with which your audience is active on TikTok. Moreover, you can also get insights about the specific dates and hours when they are online.
In-app TikTok analytics also shows insights about your audience's gender. This is very helpful because, depending on the people who follow you (male or female), you can create different content types.
Another useful piece of information you check due to the use of TikTok analytics is top territories. It displays the distribution of your TikTok followers by territories.
Videos your followers watched
From here, you can see videos that are popular among your followers. This is the most important TikTok KPI since you can figure out what your followers want to see and replicate that content in your own way, to suit your brand.
Sounds your followers listened to
This TikTok metric offers you even more details about your audience and what their preferences are.
Like the above TikTok metric, you can use this data to create the best TikTok strategy. You already know what your followers want to watch, what their interests are, and what their favorite songs are.
Now all you have to do is grab your phone and start recording videos that have a high chance of becoming viral.
NOTE!
Make sure you save those songs to your ''Favorites'' so that you can use them later. You can do this by tapping on the song and then pressing the bookmark icon.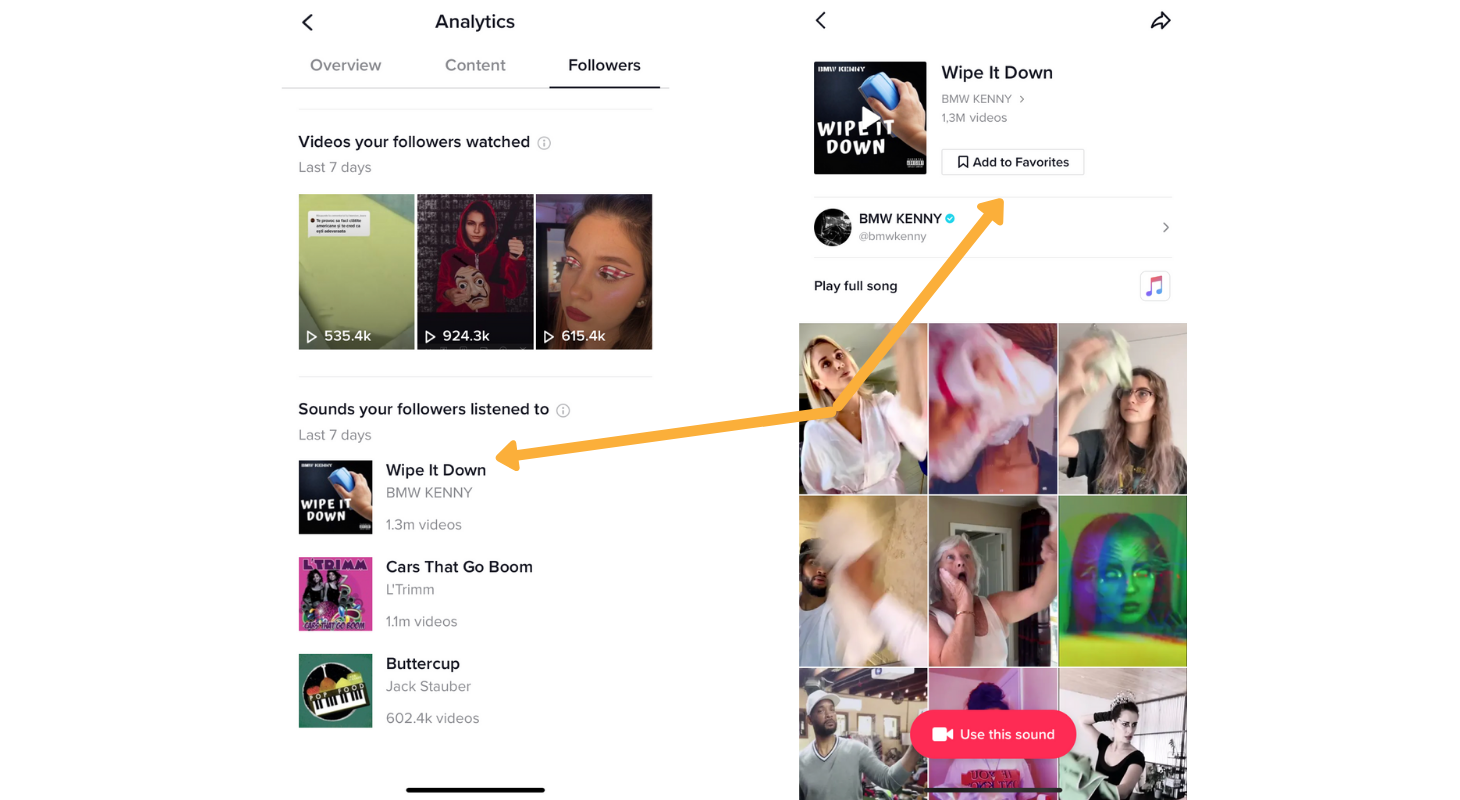 5. TikTok Analytics Content Data
This part of your TikTok analysis helps you get in-depth data about your content. This way, you will know whether or not your content strategy is efficient.
In case you need to adjust the strategy you've implemented, you will have some insights about what your audience expects you to post.
From here, you can dive even deeper into analyzing your TikTok's content performance, by taking a closer look at the following TikTok KPIs.
This TikTok metric shows your best performing posts, with the fastest growth in viewership over the past seven days.
Metrics for a specific post
When you want to see the metrics for posts individually, tap on the video thumbnail to open its unique dashboard
Here, you'll see:
Total like count of post
Total number of comments
The total shares on your video
Getting comments is like getting validation for what you are doing. If you get positive comments, it means you are doing a great job, while negative ones are still useful, since they increase engagement and maybe are a great opportunity to learn how to do things right.
One of your goals should be to make your audience curious about your brand and come back for more, after they see what type of content you post.
Shares are also a good indicator people are interested in your content because it can reach more people and get seen by a broader audience.
The number of likes, comments, and shares per video will help you get a clear view of how your content is resonating with users.
Total play time on TikTok shows a cumulative amount of time people have spent watching your videos. This TikTok KPI gives you an idea of how involved the TikTok users are with your brand.
This TikTok metric refers to the number of times a post has been viewed by users. It is helpful to look at this insight since it can offer you a broader understanding regarding the type of content your audience prefers.
The average watch time on TikTok shows the amount of time people spend watching your videos, on average. It can be a good indicator of your success when it comes to grabbing your audience's attention.
As the name itself suggests, here you can see where your traffic comes from, revealing how people ended up viewing your posts.
By checking this TikTok metric, you'll be able to see the top locations of your posts' viewers.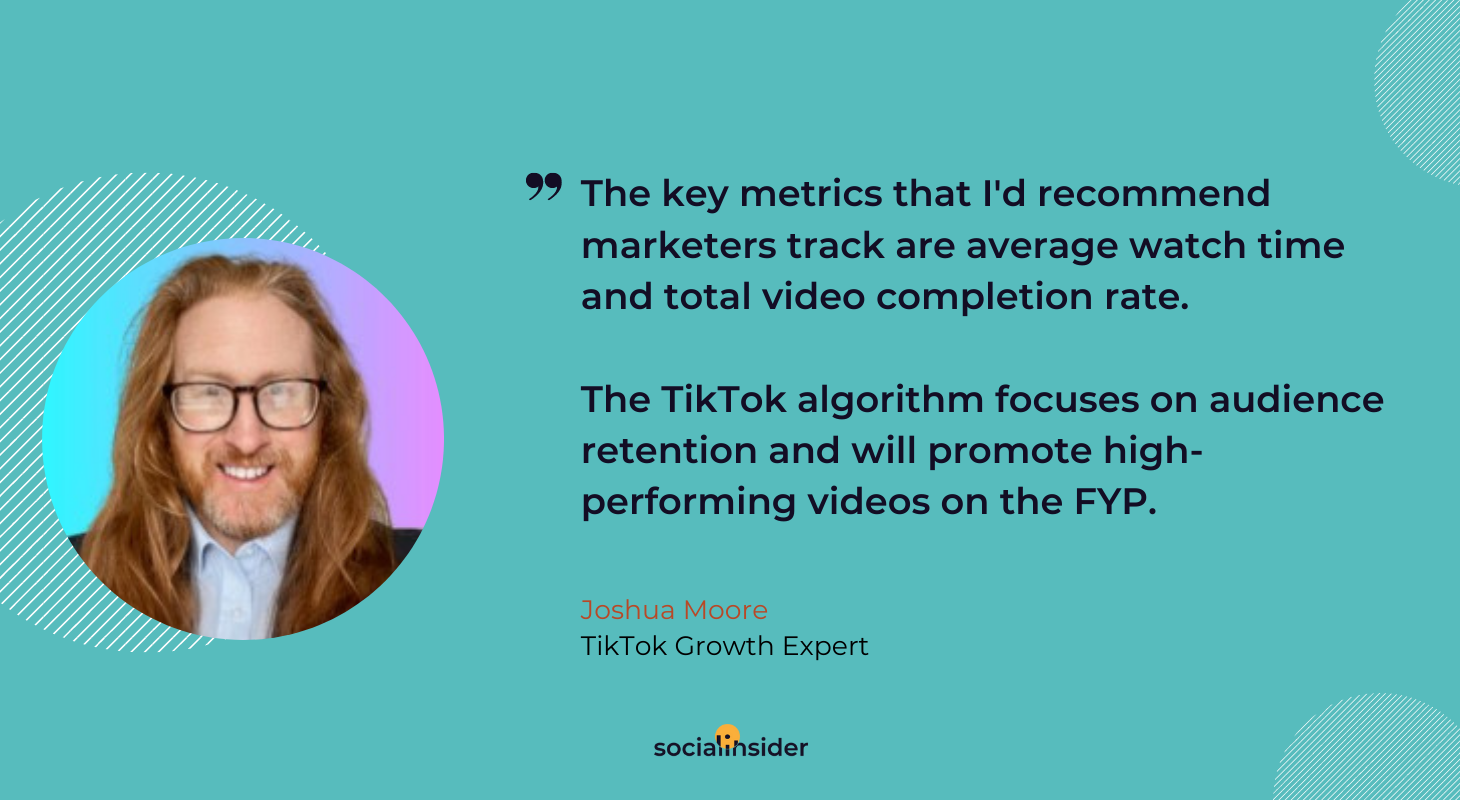 6. Getting TikTok Analytics with a social media reporting tool
Although TikTok's native analytics tool helps gather data for your TikTok profile, it doesn't give you insights about the performance of other profiles that you don't own.
Besides, a specialized TikTok analytics tool offers you access to more metrics than the native app does.
When using in-app TikTok analytics, you can only check data for the last seven days. With an app like Socialinsider, you can look back a few months, even years, getting plenty of insights about your campaigns.
You can even verify the efficiency of older marketing campaigns while searching by hashtags. How cool is that?
With Socialinsider's TikTok analytics feature, you can analyze your performance for more than seven days, and select the time range you need.
Here's a list with all the TikTok data you can track using Socialinsider:
Followers' growth
Total posts
Total engagement
Average engagement rate per post
Average engagement rate per profile
Top 3 posts
Top hashtags
Posts by published hour
Average engagement by published hours
Posts by published day
Average engagement by published day
Engagement evolution
Distribution of likes, comments & shares
Plays evolution
If you want to understand these KPIs better, here's a complete guide with TikTok metrics and definitions.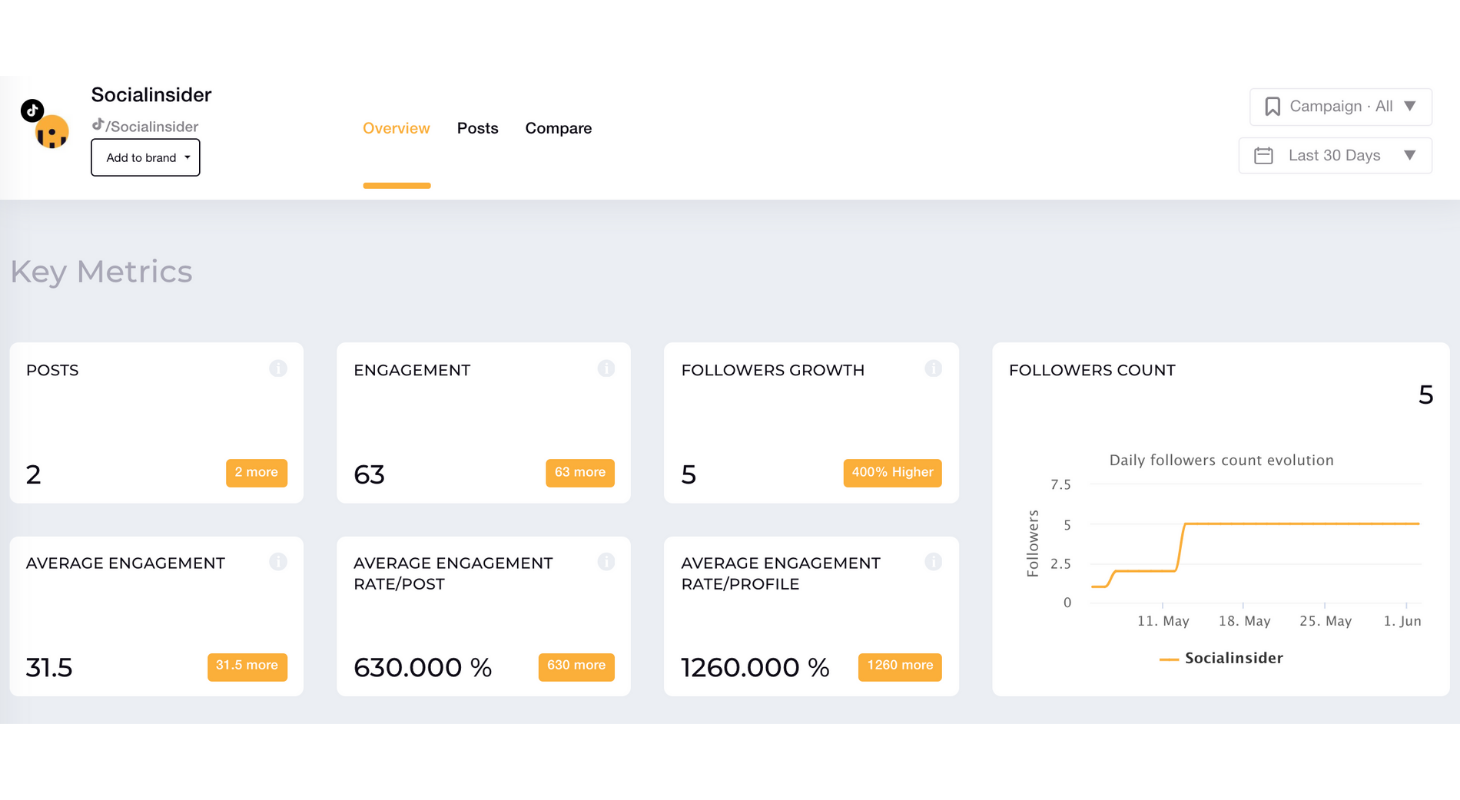 7. Using TikTok analytics for a competitive analysis
TikTok analytics does not only offer you the chance to check your marketing campaigns' efficiency, but it is also a great opportunity to get to know your audience.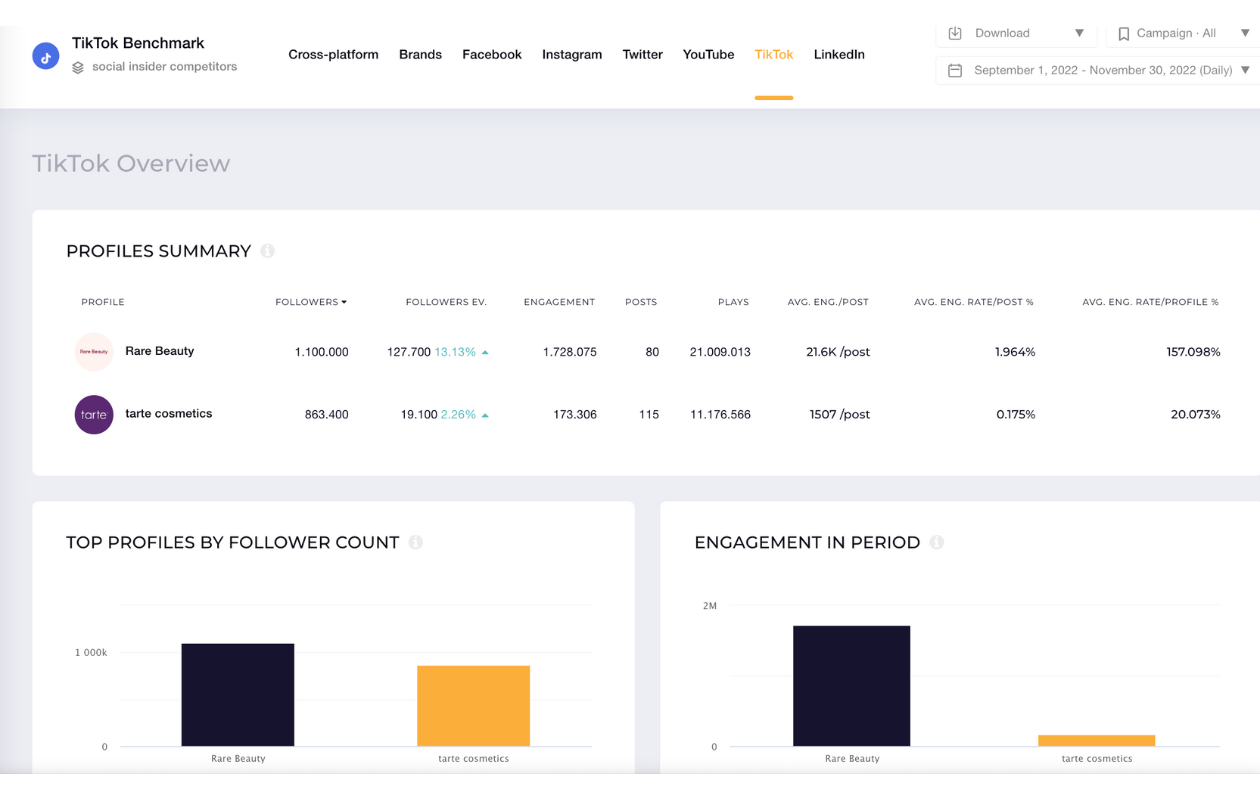 However, if you decide to use a third-party analytics tool for TikTok analytics, like Socialinsider, you will get even more advantages.
For instance, you can develop a TikTok competitive analysis. By periodically checking what your rivals are doing on social media, you can find new ways to become better at developing your marketing strategy.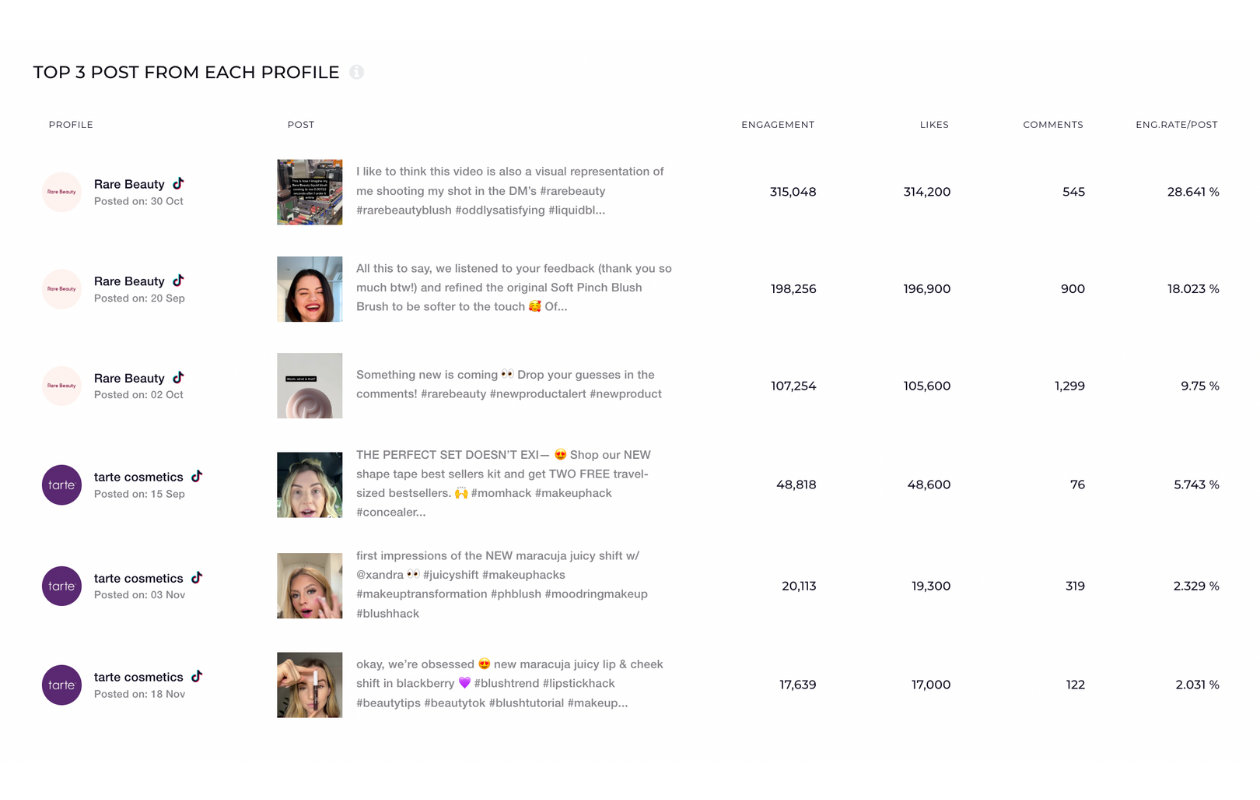 Let's take our example below. I chose to compare two cosmetics brands and I added their TikTok accounts in the Benchmarks section in Socialinsider.
Here you can clearly see a comparison between their follower count, engagement, engagement rate, total plays, best posts by engagement, changes in followers, distribution of posts and distribution of engagement.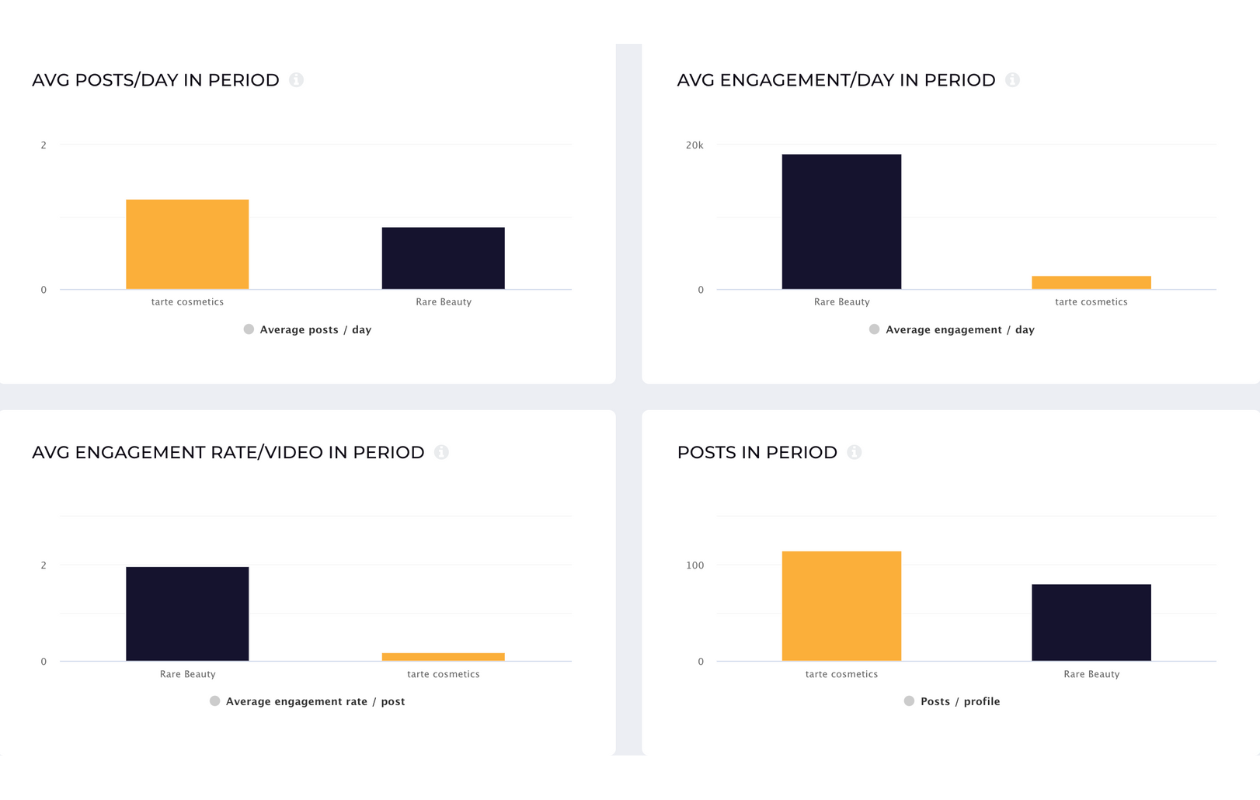 Having the chance to analyze your competitors' campaigns and getting access to their metrics is a huge advantage. All these insights can only be used as lessons to adjust your marketing game.
The thing is that you may also notice they are positioned below you and they may have unsatisfied customers.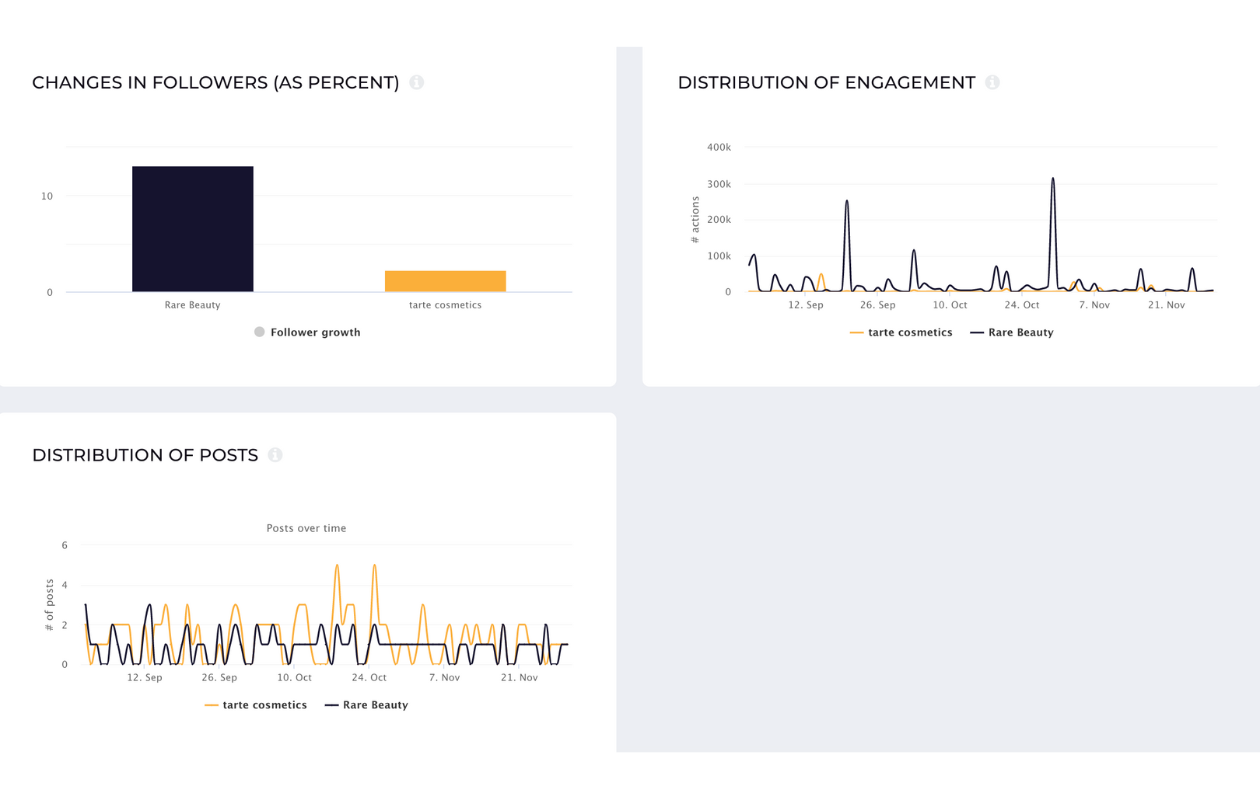 That is where you step in and offer to help their disappointed clients.
Final thoughts
If we still consider TikTok a revelation in the world of social media, then TikTok analytics is a unicorn for most marketers who have just set up their brand's account.
However, things are not as difficult as you might imagine. In the beginning, TikTok analytics might give you some headaches until you learn how to look at all the metrics.
After a while, you will consider it the greatest discovery and help. With all the data you can retrieve from TikTok analytics, you can definitely build a better strategy and a better future for your brand to be one step closer to success.
Hope our explanations are helpful enough to convince you to check TikTok KPIs and use the data in your favor.