In 2020 TikTok was the newest trend in social media, with more than 500 million active monthly users, and from my perspective, in 2021, TikTok should be a must for brands.
If you are using TikTok to promote your business, you should know if what you are doing is right or needs improvements.
There are many TikTok metrics, so to create great content that engages your audience, you need to understand TikTok analytics!
That's why I've decided to write this article, and help marketers discover how to understand, analyze, and evaluate your TikTok Analytics metrics to improve your TikTok marketing activities.
TikTok Analytics
Switch to a Pro account to see your TikTok analytics
If you want to see your TikTok analytics, the first thing you have to do is switch to a Pro Account.
Here are the steps:
Go to your profile.
Go to settings and click the Manage My Account option.
Click Switch to Pro Account.
Select a featured category for your account: public figure, music/dance, personal blog, education, media, entertainment, sports, etc.
Add your phone number: you'll receive a verification code.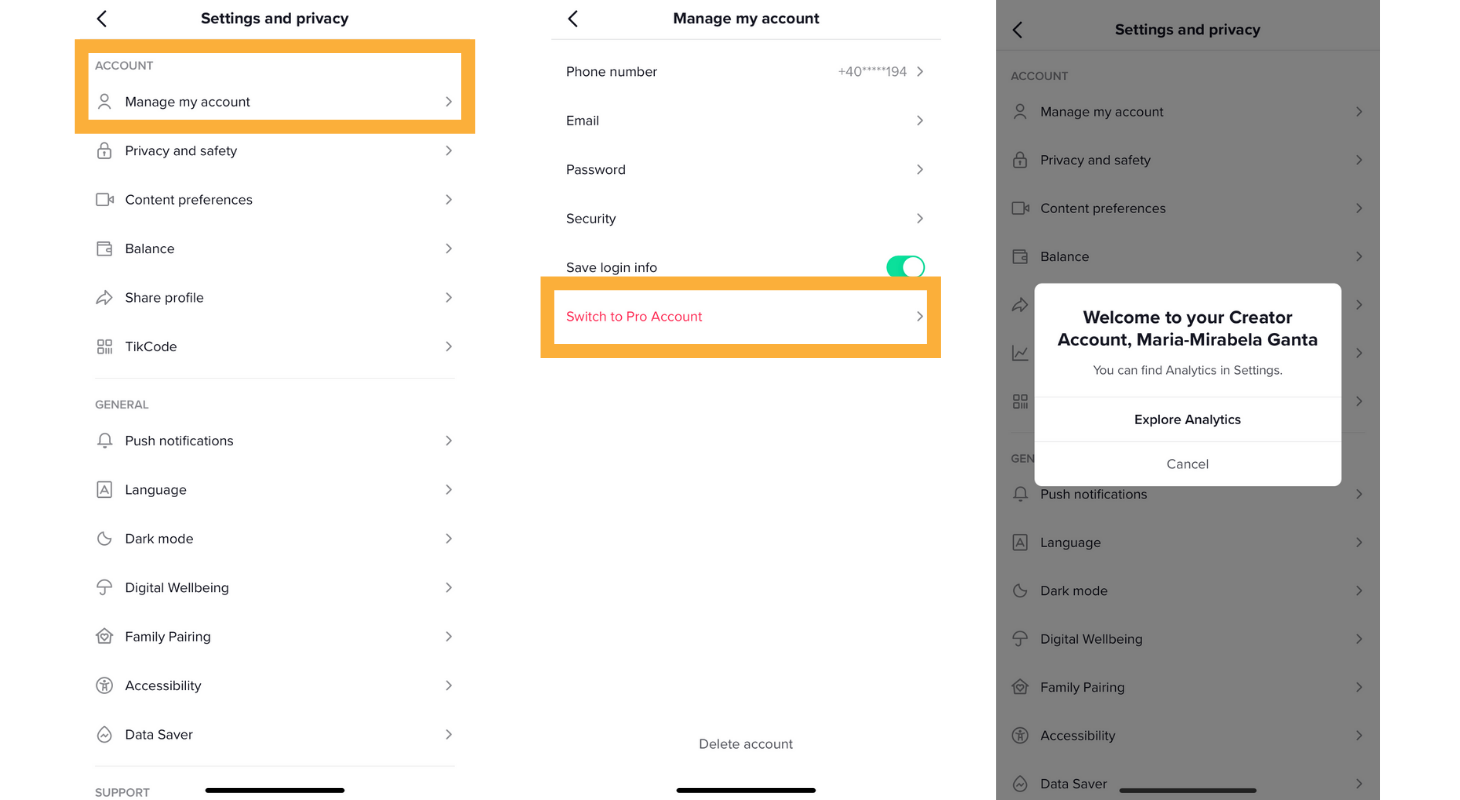 Once you've set up your Pro account, go to Settings and click "Analytics."
NOTE! TikTok analytics will start recording data after you switch to a Pro account, so you will not be able to see data from the past.
Now that you have access to your analytics, you'll see that TikTok analytics are split into three main categories:
Profile overview
Content insights
Follower insights
1. TikTok Analytics Profile Overview
The profile Overview tab is useful to understand how properly your TikTok profile is doing.
From here, you will discover your total video views, profile views, and follower count.
If you are using TikTok to promote your brand's message, one of the first metric you should follow is video views.
The total number of times your videos were viewed shows you that your strategy works, and people are seeing and engaging with your content.
From here, you can see your video views from the past 7 or 28 days. The data is divided by day.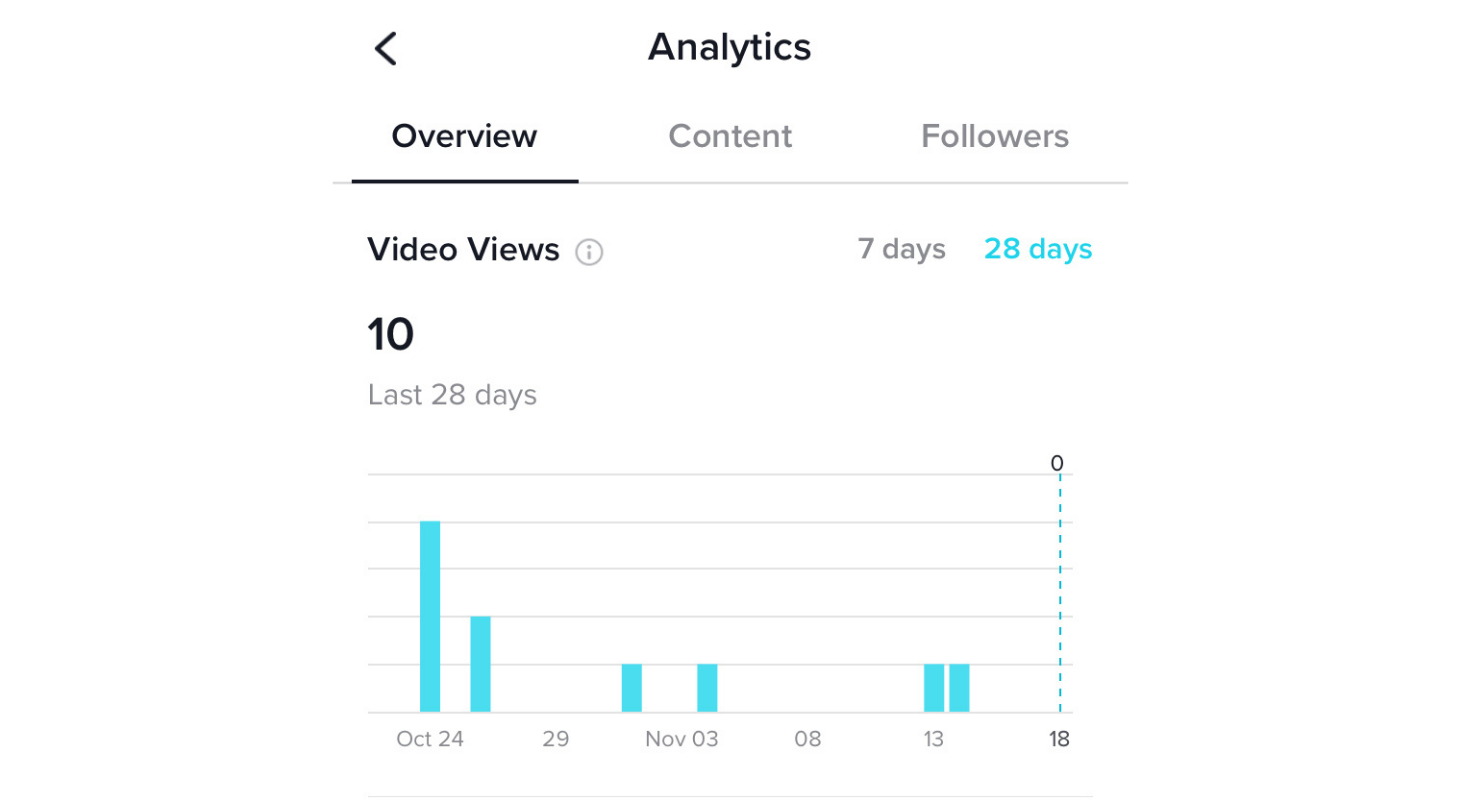 If you want to see how many times your TikTok profile was viewed over the past 7 or 28 days, this metric is for you.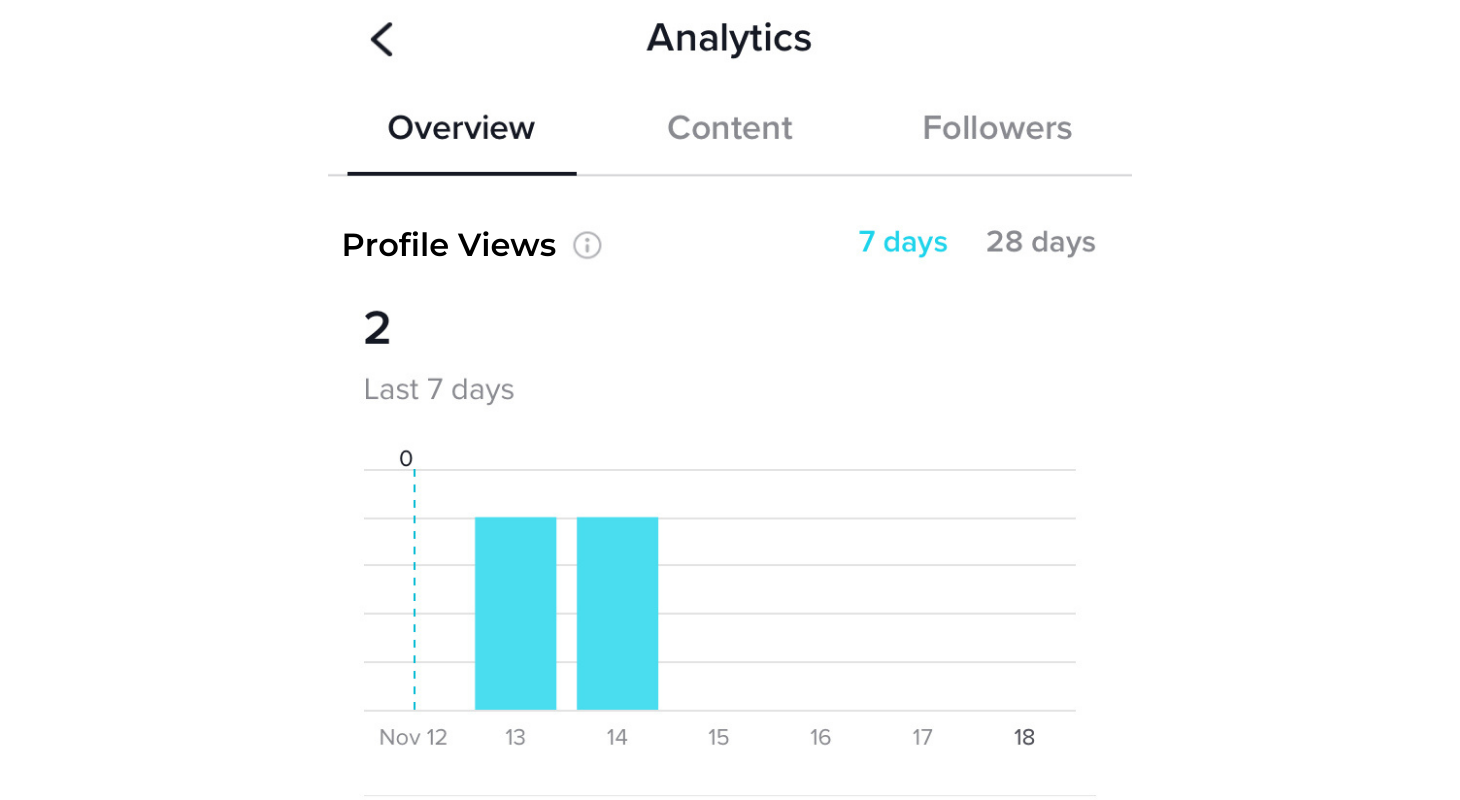 The Followers graph shows your total follower count over a 7- or 28-day period. This is a useful metric because you can see the days that you've published content and discover whether your content was engaging enough to bring new followers to your brand or not.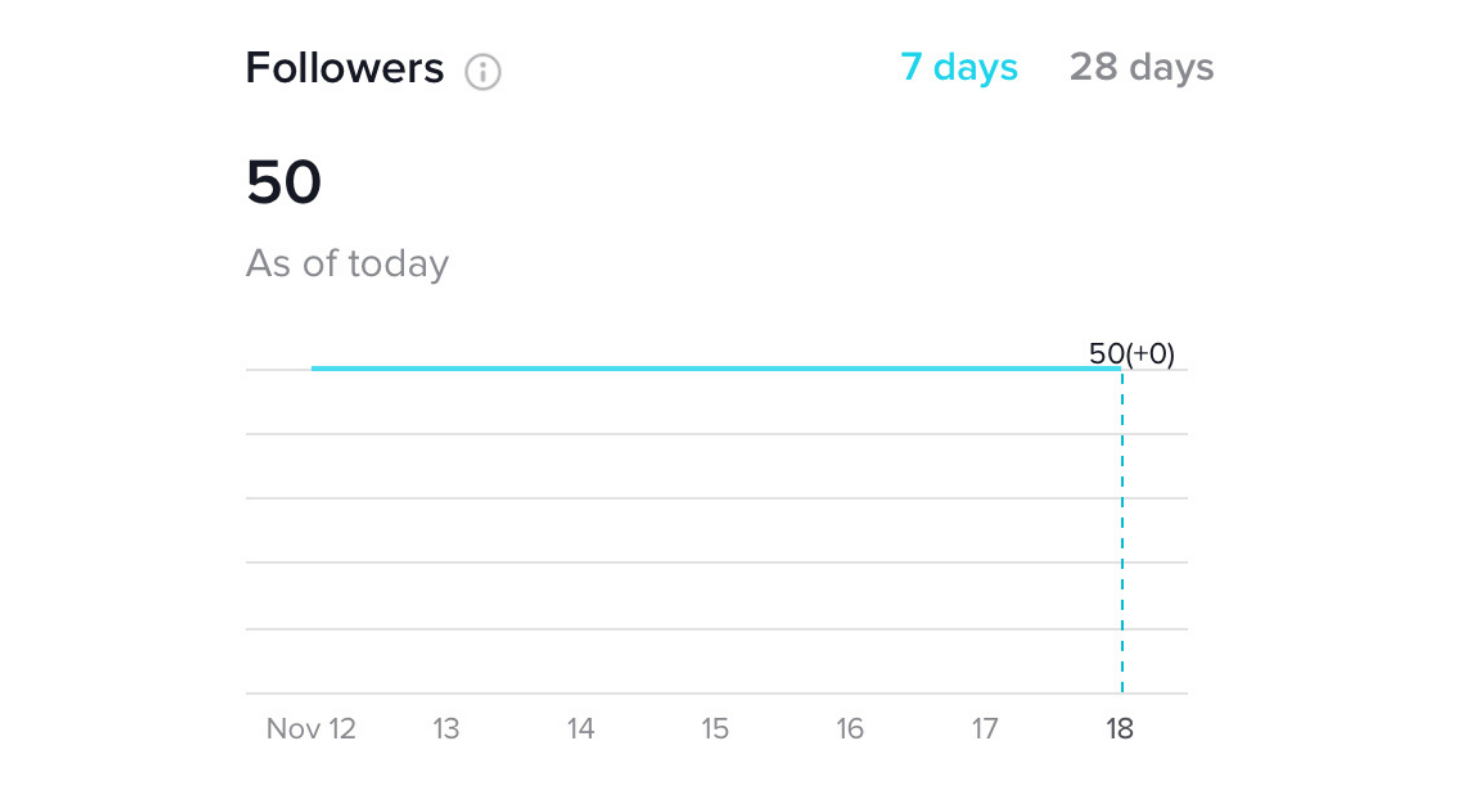 2. TikTok Analytics Followers Data
This is a useful metric because you can see the dates in which your audience is active and the times your audience is the least engaged on TikTok.
Also, you can see a gender split and a percentage analysis of your audience by location.
This metric will show you how many followers you've gained or lost every week. Take a look at this metric because if the number of your followers is not increasing, you have to change your TikTok marketing strategy.
The total distribution of followers by their gender. Important metric, because depending on the people who follow you (male or female), you can create different content types.
The distribution of your TikTok followers by territories
3. TikTok Analytics Content Data
From here, you can see each video post's total views from the past seven days, displayed in order from newest to oldest.
Also, you can dive into each post and uncover insights like:Total like count of post
Total number of comments
Total shares
Total playtime of the video
Total video views
Average watch time
Traffic source types
Audience territories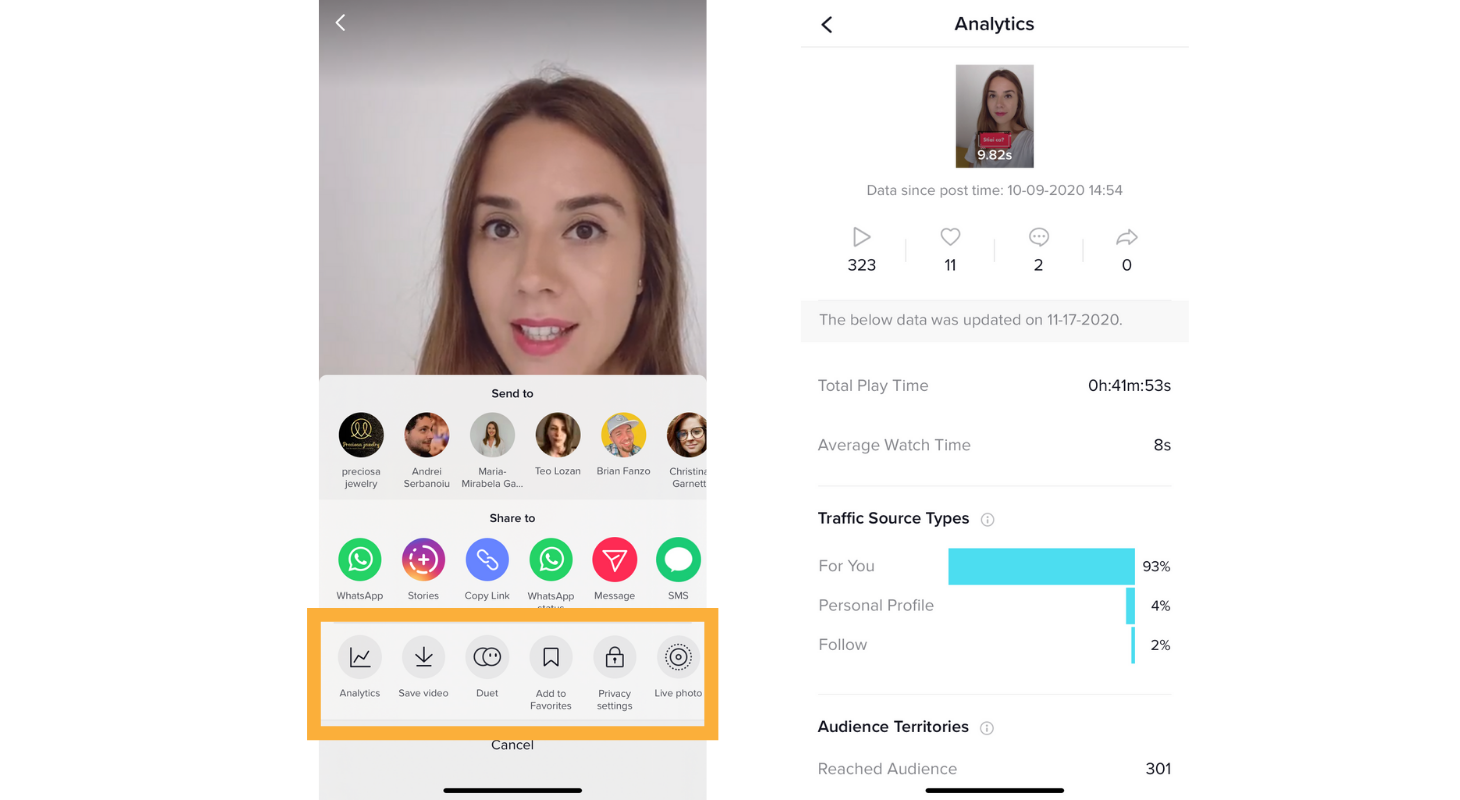 Although TikTok's native analytics tool helps gather data for your TikTok profile, it doesn't give you insights about the performance of other profiles that you don't own.
We all know that taking a look at your competitors is useful - that's why you need an analytics tool like Socialinsider.
As I said earlier, with TikTok's native analytics, you get insights for the last 7 or 28 days, but using Socialinsider you can analyze your performance for more than that and select the time range you need.
Here's a list with metrics you can track using Socialinsider's TikTok analytics:
Followers' growth
Total posts
Total engagement
Average engagement rate per post
Average engagement rate per profile
Top 3 posts
Top hashtags
Posts by published hour
Average engagement by published hours
Posts by published day
Average engagement by published day
Engagement evolution
Distribution of likes, comments & shares
Plays evolution
You can also analyze metrics for a particular post. All you have to do is tap the three dots on your screen to open your post's unique dashboard.
From here, you select "Analytics," and you'll see:
Total plays time
Average watch time
Traffic source types
Audience territories
This insight is beneficial because if you are at the beginning of your journey with TikTok, you can try different content and then analyze each of your posts.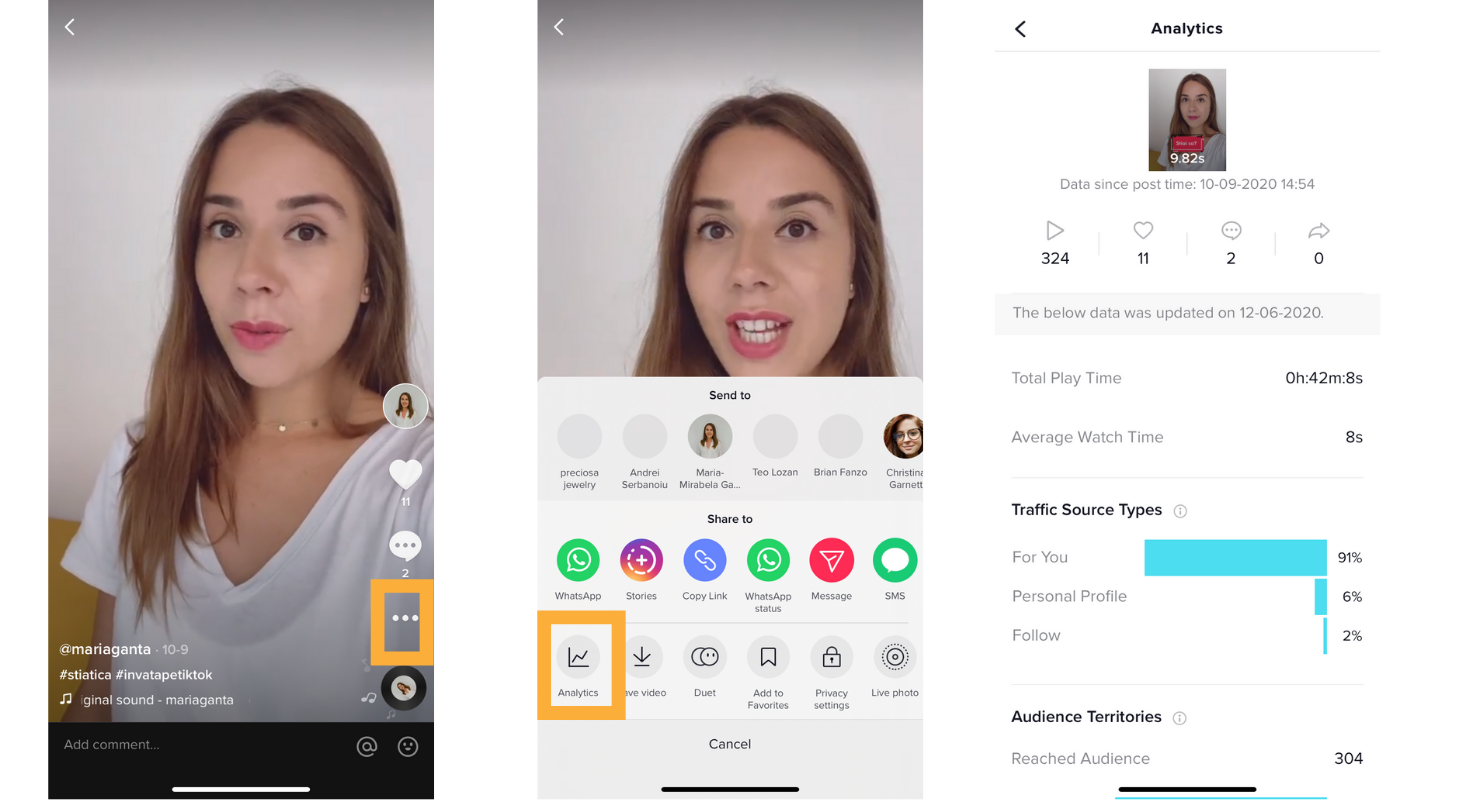 Final thoughts
TikTok describes a unique chance for brands attending to drive more engagement with younger audiences in 2021.
If your audience is between 13 and 35 years old, start planning a TikTok marketing strategy.
And don't forget: understanding the data will help you prepare an effective content strategy for your brand.
---
Related articles