The new year is just around the corner, and one thing we know: social media will continue to be a powerhouse in the marketing industry.
Over 3.2 billion people use social media daily and 54% of those people use it to research products worth buying.
That is a much larger number than most people realize and habits vary wildly within them.
Even with the few dominant social media networks we have, platforms evolve and impact how they are used, how effective social media marketing is and the relative ease of reaching a wide audience.
As social media platforms grow, it's more important than ever to be ahead of the trends and acquire the necessary skills to maximize your social media strategy.
2020 Social Media Marketing Predictions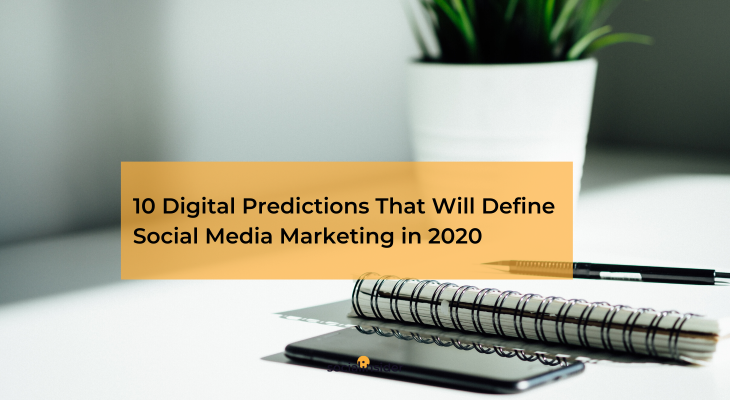 1. The growing use of visual content
2. The rise of alternative platforms
3. Short-lived content: Stories
4. Greater reliance on contests
5. Building social media communities
6. Decreased use of questions as CTAs
7. Shorter messages across social media
8. More pronounced use of emojis
9. The rise of social media influencers and word-of-mouth marketing
10. Expect even more mobile users
1. The growing use of visual content
The appeal of video content will continue to grow in the coming years, driven largely by platforms like Facebook, Instagram, Twitter and YouTube.
So much so that even Zuckerberg himself has been recorded stating that high performing videos on Facebook are the future of the platform.
56% of internet users watch videos on at least one social media network a month, according to a new report by GlobalWebIndex, and one in three of them watch a video made by brands at the same time.
Video content has higher engagement levels than any other form of content, and its use is just below blog posts in social media marketing.
And we can't forget about the rise of live-streamed video. Facebook, Instagram, YouTube, and Snapchat are all pushing for more users to rely on their live-streamed videos, and people are tuning in more than ever.
They are used for product showcases and launches, tutorials and events. Live streams enable people to watch from afar and still be part of the conversation.
Socialinsider reports that videos are the most effective form of content on Twitter, followed closely behind by image posts, despite the fact that Twitter isn't the most visual social media network out there.
2. The rise of alternative platforms
Facebook, Twitter, and Instagram have been the go-to brands for marketers seeking to reach customers for a while, with LinkedIn analytics tools remaining the most prevalent B2B business tool out there.
However, barring Instagram, each of these platforms has seen a gentle to a steep decline in the number of users and engagement levels for the past two years.
On the other end of the spectrum is the short-form video content app, TikTok. The tale of its rise from a niche app used by a handful of teens to a multi-billion dollar company is a phenomenal one, and one difficult to ignore.
Notably, TikTok makes a big deal out of offline promotion of their products, supporting cultural trends that help to develop the platform. This not only draws in more brands but helps them better connect with users.
But don't discount mainstream social media platforms just yet.
Twitter is the platform where most brands interact. On average, brands have 195 posts per month as compared to Facebook's 60 posts per month and 25 posts per month on Instagram.
Twitter is the most preferred platform for brands to interact with consumers. This trend has mostly remained constant for the past two years, and it's expected to remain the same during the coming year.
3. Short-lived content: Stories
While on the topic of TikTok, how can we not mention the revolution started by Snapchat and slowly adopted by almost every other social media network out there: stories.
Stories started as an interesting idea to explore on Snapchat, but Instagram adopted and turned Stories into a feature that would eclipse even its founders.
Short-lived content drives people's curiosities, almost by force. Since the content is only available for a short period before it disappears, it drives people into wanting to know what's happening.
Referred to as the 'fear of missing out,' it's the same phenomenon that makes people want to be part of a joke.
Ephemeral content drives engagement because people are inspired to check their phones constantly in case something new or exciting has been posted by their friends and family.
As a marketing tool, they are just as effective. 15-25% of people swipe up on brand-linked Instagram stories, and 59% of brands use Instagram Stories to link to a shoppable page, show 99firms.com.
So if you haven't considered it yet, it should definitely be part of your Instagram marketing strategy 2020.
4. Greater reliance on contests
By far the most effective types of content on Twitter, Facebook, and Instagram are giveaway posts and contests.
Considering their whole purpose is to encourage users to interact with them and win prizes in return, this shouldn't be much of a surprise.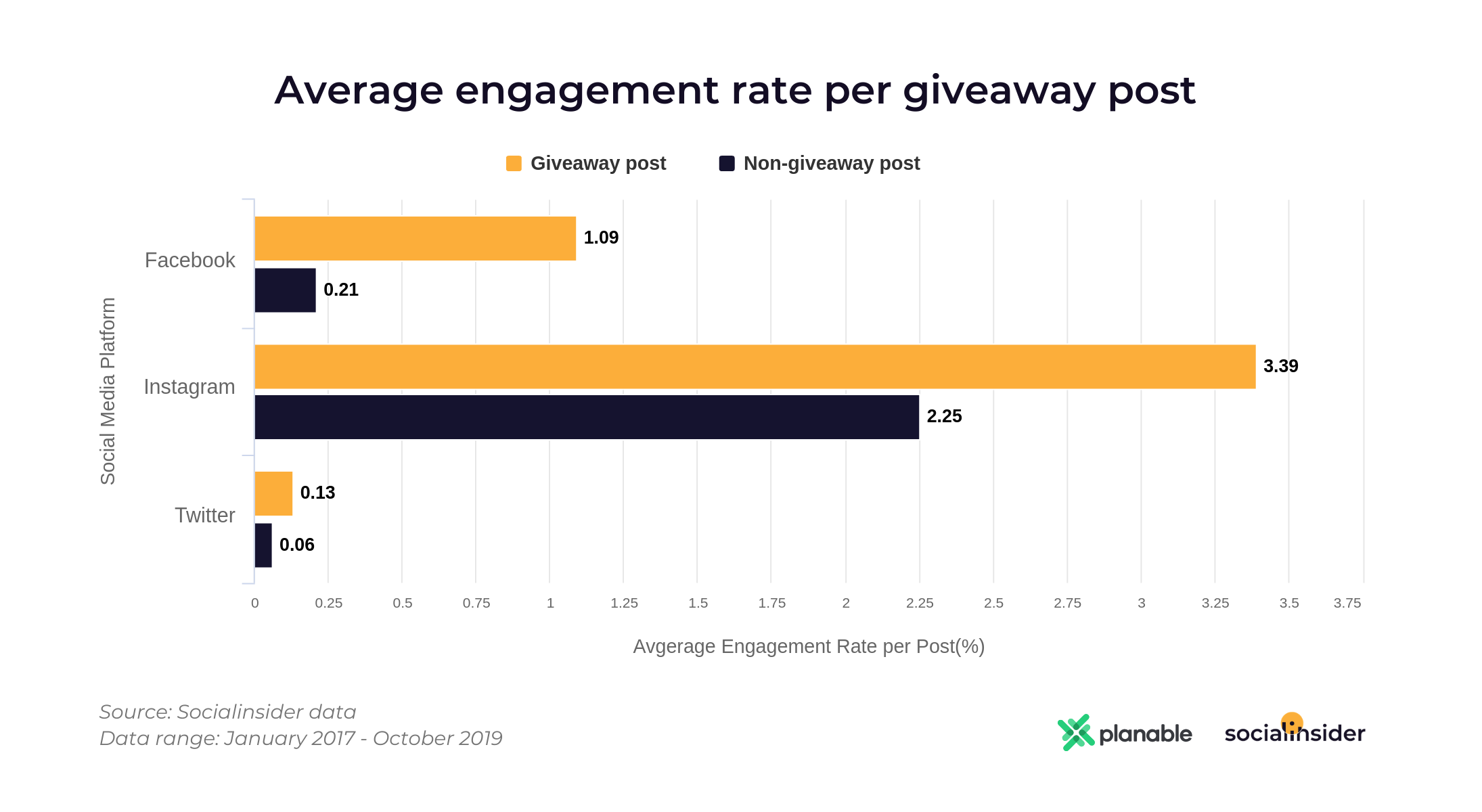 To create a social media buzz and raise brand awareness and interaction, brands will employ greater liberty in their use of contests and giveaway posts.
5. Building social media communities
Another interesting phenomenon that will take social media by storm is the importance of building communities. Being part of a group that has similar experiences and opinions about your brand is going to be a new way to engage with audiences.
Rather than only sharing posts to keep your social media presence up, brands will need to encourage interactions that inspire the visitors to stay. Sharing and liking don't cut it anymore.
Communities aren't a new concept by any means, but the approach towards building them is going to change.
Building a community on social media isn't all about creating a group and hoping people will engage.
To increase trust, it requires measures like chatting in Twitter DMs and adding a personalized element to your brand.
You need to create content that gets people sharing their opinions, asking questions and encouraging conversations overall.
The point is to create a feeling of community and trust between your brand and your followers.
As far as we're concerned, building communities is all about engagement, but not the kind of engagement that's designed to feature you higher in rankings or give you a better standing with algorithms.
It's more like speaking to your customers as you would to a friend.
6. Decreased use of questions as CTAs
It's common practice for brands to include questions in captions, hoping people will interact with them, but as SocialInsider reports, this is more detrimental than beneficial.
According to the report, 9.8% of posts on Twitter, Instagram and Facebook include questions as CTA, and it ironically leads to a drop in engagement, regardless of the platform.
On Twitter, the engagement rate drops to 0.05%, 0.18% on Facebook and 2.12% on Instagram.
Brands will have to adapt to this new trend and find new ways to engage their followers.
7. Shorter messages across social media
The content of different posts will attract higher or lower engagement rates. Short messages under carousels on Instagram and Facebook work best.
Twitter users prefer videos, that's been established. To make them more effective, brands will utilize shorter captions of 10 words or less. These have the highest engagement rate – 0.26%.
On Instagram, carousels with captions of 10 words or less also result in the highest engagement rates – 2.56%.
In what may be a surprising twist to most marketers, images with short captions outperform videos on Instagram. It's important to note, however, that videos do receive more comments than other types of content.
The use and consumption of video content has also seen a gradual incline on Facebook over the past three years and will likely continue with the same trend.
The major exception to the rule is single-image posts, videos and statuses. People need more information when they have nothing else to go by, which means your content has to be longer. Brands should use 30 or more words in these cases.
8. More pronounced use of emojis
SocialInsider reports that the use of emojis increases engagement across the board. On all social media platforms, 20 or more emojis is the ideal count for emoji use.
The number of emojis used depends on the length of your content and the message you have to pass, of course, but emojis act as an extension of the message.
They convey emotions that are difficult to express in words and create a clearer, more evocative post at the end of the day.
9. The rise of social media influencers and word-of-mouth marketing
Thanks to the sudden interest in building more interactive social media communities, word-of-mouth marketing, and social media influencers have risen to be effective, according to Ed Root, professional copywriter at Best Essays. Communities allow brands to engage more closely with people, and, in turn, make it easier to get influencers on board.
Even more interestingly, since the community already exists, it's a lot easier for the influencer to communicate directly with people that are interested in your brand and get others on board.
Social media influencers are likely to remain a part of the social media experience and will offer great benefits to brands, especially with Instagram's continued rise.
10. Expect even more mobile users
Most of the developed world is already online. "The next billion users to get internet access are going to change everything about how the internet functions and how we experience it," states Michael Raymond, an occasional copywriter for like Brill Assignments.
And he's right. In 2015, there were just 2 billion people online. Four years later, that number more than doubled to 4.4 billion.
By 2022, that number is expected to be as high as 6 billion/ In other words, there will be more people with access to the internet than those with clean running water.
The catch? Most of the new consumers are going to be mobile users.
There are now more than 3.5 billion mobile internet subscribers globally and in 2018, for the first time, there were more mobile internet users than non-users, states a Mobile Internet Connectivity 2019 report.
Some changes you should expect as a result of this shift is the increased importance of messaging apps to communicate with consumers, mobile money, digital assistants and visual content.
Again, recall that a lot of people respond much better to visual cues than they do written content. Brands should start rethinking their social media strategies as soon as today.
Wrapping up
Social media should be every marketer's first tool for increasing brand awareness, engagement and reach.
With the platforms we rely on so much seeing such phenomenal shifts in short periods, it's more important than ever for marketers to stay on top of the trends.
And, more importantly, marketers need to learn to speak how their audience needs them to speak: from emojis to short captions and beyond.
Related articles: