Social media competitive analysis is an important aspect for every social media manager . There is a lot that you can learn from your competitors like what they are doing differently to stay ahead of the game and everything in between. Before conducting this analysis, you need to understand the competitiveness of your business environment and identify your digital strategy's potential.
Social media competitive analysis aims at systematically reviewing information about your competitor's products, production methods and costs, financial status, organizational design, marketing strategy and development activities.
It also looks into a company's strengths and weaknesses. With this analysis, you will be able to tell where your social media strategy stands when compared to your competitors.
How to conduct a social media competitive analysis
The first thing that you need to do before conducting a social media competitive analysis is defining who your top rivals are. After that, gather all the intelligence on them and break it down into something you can understand.
Stop wasting your time with the social media reports. Save time and energy while Socialinsider creates in depth reports with stats, Facebook insights, Instagram analytics and plenty of in depth information on your competitors:
Here are 10 easy steps to conduct an effective social media competitive analysis:
Step 1: Define the competitive goals
Before starting your social media competitive analysis, you need to define your goals since the analysis will vary depending on your goals. Deciding on what you want to achieve from this exercise makes it easier for you to measure and evaluate your results.
Step 2: Identify your top 5 competitors
Have you identified your top 5 competitors yet? Before you conduct a social media competitive analysis, it is important that you identify those brands that align with your business, also known as competitors. There is no need to compare yourself with companies like Apple or CocaCola unless you are also one of these globally recognized brands. Such company's objectives are totally different from yours, and they do not have to work as hard as you do to find an audience.
Your task here is to find competitors that are performing close or even better than you. You need to find a company that provides similar products or services to yours. Whether you are an international, national or local company, there is probably a company in your industry that quickly ticks off your top competitor list.
If you are having trouble identifying who your top competitors are, Google is a useful resource. You can simply Google the type of product or service you offer and a few of your top competitors will show up in the SERPs.
Once you have identified them analyze and compare the quality of their products and services with yours. This will help you identify what opportunities can help you outperform your rivals.
Step 3: Choose the social networks you want to monitor
Once you have identified your top 5 competitors, try to find the most active social profiles they maintain. Particularly, search for their profiles on Facebook, Instagram, Twitter, and Google. Also, do not forget to take note of any active presence on lesser popular social sites that you see referenced.
Step 4: Understand how the social networks grow over time
Once you have chosen several social networks, you will need to dig a little deeper to understand how each competitor engages and grows their networks. To do this, you will need to track some specific metrics like:
Profile metrics
How many followers do they have?
What is the average number of posts they make per week?
How many likes, shares, comments or retweets does each post receive?
Content metrics
What type of content do they share?
How many comments are left on their posts?
Do they use social network services like Google Hangouts?
Brand metrics
What tone of voice do they use on their profile updates?
What type of issues do they address on their profile?
How well do their followers interact with these posts?
The type of metric you will track will depend on your company's social media goals. For instance, if you want to grow your brand, you might want to pay attention to the number of followers a competitor has since your results are highly likely to be similar to theirs.
Let's say you are a local airline company and want to see how top competitors perform on social networks. You can use tools like Socialinsider for content inspiration and to get a full view of a competitor's digital strategy for Facebook & Instagram.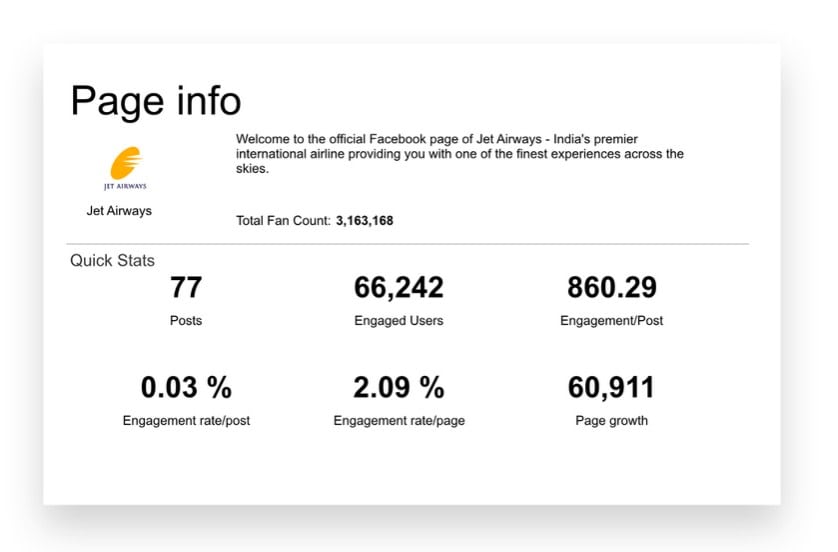 Step 5: Check out their content strategy
Content is an important aspect of social media marketing. Probably, your audience doesn't have the time to engage with generalized content. And just like you, your competitors are always striving to provide relevant and engaging content. When conducting social media competitive analysis, it is crucial that you check out your competitors' content strategy.
Are they providing their audience with curated, original, promotional, or educational/ knowledge content? Check to see what content type they post. Is it text, photos, links or videos?
Do not forget to check the word balance they use in their posts:
common words
uncommon
emotional
power words.
Finally, check to see how often they post on social media - daily or weekly. This will come in handy when you need to choose the content type of your own.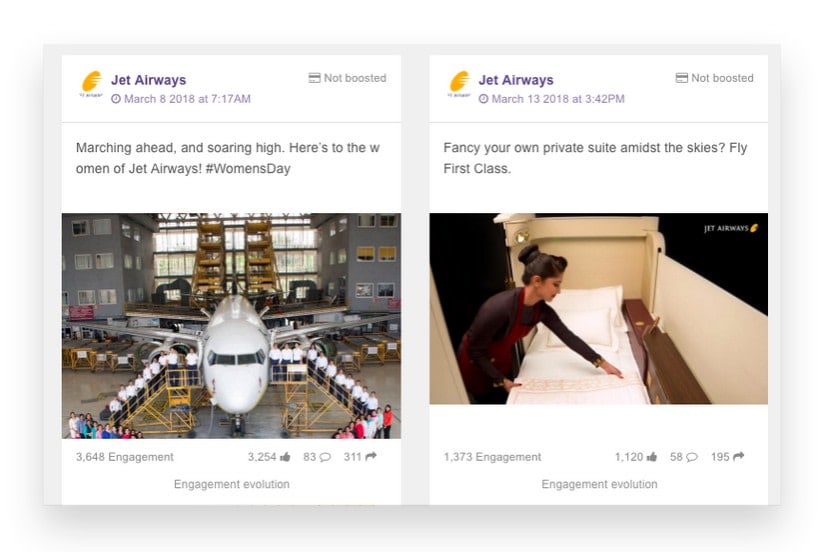 Step 6: Check out their engagement metrics
It is only through engagement rates that you can identify growth opportunities, an important aspect of social media success. To find out how your competitors perform with regard to engagement level, you need to use the following metrics:
Number of the posts they make
Number of replies
Response time
How they respond to clients
Step 7: Understand how people engage with their content
Depending on how thorough you want to be, you can choose to analyze 10 random posts or track a month's worth of data. Take a note of how many likes, comments, shares or retweets each post gets and obtain an average for each engagement.
Step 8: See when people are active on the social networks
Social media provides a good platform to amplify your brand and the content you create. Still, it is not enough to just post content whenever you feel like it. Posting at specific times is better than on other times. Identifying when most users are active in social networks is crucial as it tells you the best time to publish your content. This way, it increases your chances of reaching highly targeted consumers in large numbers.
Step 9: Understand their paid media campaigns
One of the last elements to consider when conducting a social media competitive analysis is paid media. While it might be impossible to find the actual amount your competitors spend on paid media campaigns, there are a few ways to find out if they are spending money to acquire new followers. The first thing that you can do is to browse their Facebook and Twitter pages and look for any sponsored ads. This will let you know if they are paying for Facebook ads. If they appear under the "Who to follow" column on the left side of your Twitter feed, it simply means that they are paying to get more twitter followers.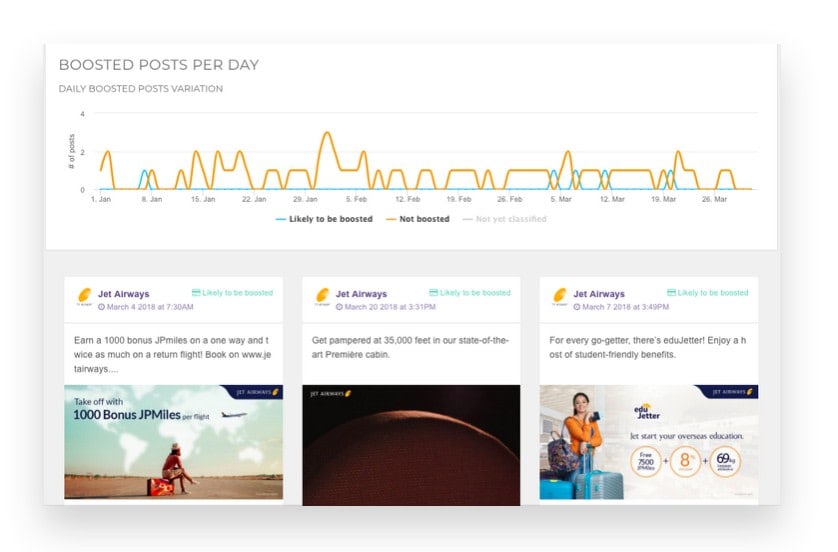 Step 10: Use proper tools for social media competitive analysis
Are you using all the right analytics tools to monitor, evaluate and advance your social media strategy?
Monitoring and assessing social media analytics is crucial to the failure or success of your company. Socialinsider is an efficient social analytics tool. It serves up a full view of a competitor's digital strategy for Facebook & Instagram. In fact, let me tell you a secret: Twitter will be available soon 🚀.
Final thought
Your turn. How do you perform a social media analysis? What tools do you use? What metrics do you follow?
Report and analyze social media performance for multiple business profiles from one dashboard with Socialinsider! Create social media benchmarks for your clients or industry, generate .pdf or .ppt reports, and automatically send them to clients. - *For users on an Agency plan.
---
Related articles: