If you're a social media manager that wants to know everything possible about how to do a competitive analysis, then you've landed in the right place.
We will state by saying that competitor analysis in marketing is a must-do whether you're a newer brand on a market, or the leader in your niche, whether you're working as an in-house digital marketer, or at a social media agency.
By evaluating your social competitors and creating social media competitive reports you'll find out what your competition is doing differently to stay ahead of the game and how your results compare.
The great benefit of doing a social media competitive analysis is that it gives you a chance to look into a company's strengths and weaknesses. And no worries, there are plenty of social media competitive analysis tools to help you through the process.
With social media competitor analysis, you will be able to tell where your social media strategy stands and what you could do to get more leads.
Here's a guide on how to get started on your competitor analysis report!
A 101 guide for conducting a social media competitor analysis
Table of contents
What is a social media competitor analysis?
A social media competitor analysis is a way to spy on your competitors' activity and results in order to understand what their strengths are and how you stack up.
With the help of analytics tools, you'll get data on your social media competitors organic posts, ads, or stories.
You'll learn:
How they craft content
How much engagement each type of content receives
What formats they use in their content
What types of posts they use more frequently
How many people comment on their posts and which are the most popular posts
How long or short are the captions
What messages do they address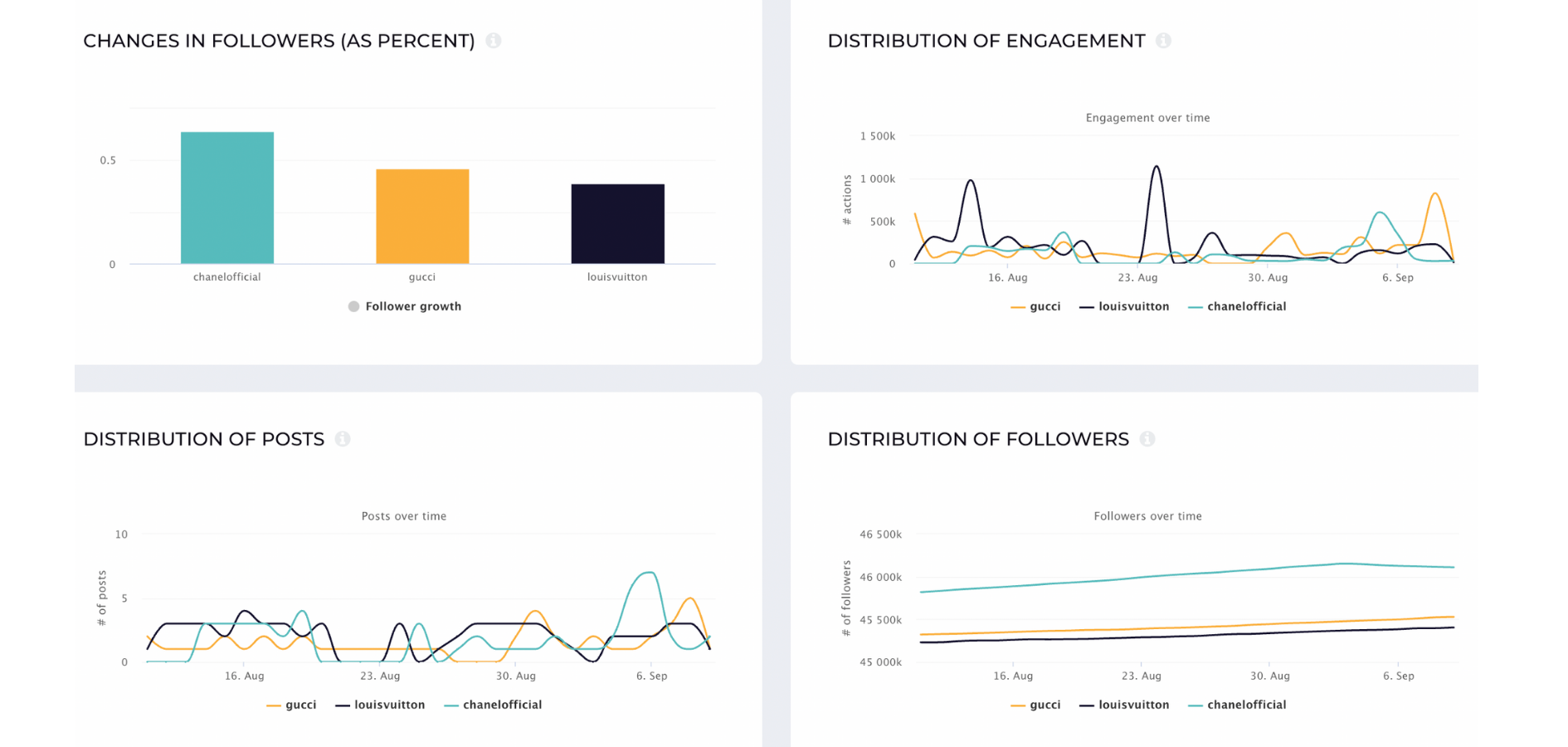 What is the main goal of conducting a social media competitor analysis?
Competitor analysis give marketers the opportunity to not only look outwards, to understand the competition's strong suits, but also inwards, towards their own brand.
By researching competitors and evaluating their social strategies, you can discover more social media insights on your common audiences and understand what performance metrics you need to improve.
It will answer some of these main questions:
Is my social media effort good enough?
Am I better than my competitors on social media?
Could I be getting better results?
Have I identified all of my potential audiences?
What else could I be doing?

What are the tools and techniques of social media competitive analysis?
There are a number of dedicated analytics tools that can offer data on competitor performance and help you transcribe those numbers into a presentation-ready competitor analysis report.
Socialinsider, for example, prides itself for being a social media competitive analysis tool with on-point data that can help you quickly understand what take-aways you need to gather, without getting lost in numbers and stats.
Here is a list of great competitor analysis tools to get you started!
How do you do a social media competitor analysis?
So it all sounds great in theory, and you already have your analysis tools in hand. But where do you start?
Don't worry, we've got you covered.
We've made a short to-do list to guide you along the way. All you need to do is follow these 10 steps and tick them off as your social media competitor analysis advances.
Step 1: Identify your top competitors
Have you identified your top 5 brand competitors yet?

Before you conduct a social media competitive analysis, it is important that you identify those brands that align with your business, meaning your brand competitors.
Your task here is to find companies that provide similar products or services to yours.
It's all about brand competitors that are performing close or even better than you, and whose audiences intersect with your targets, whether you are an international, national or local company.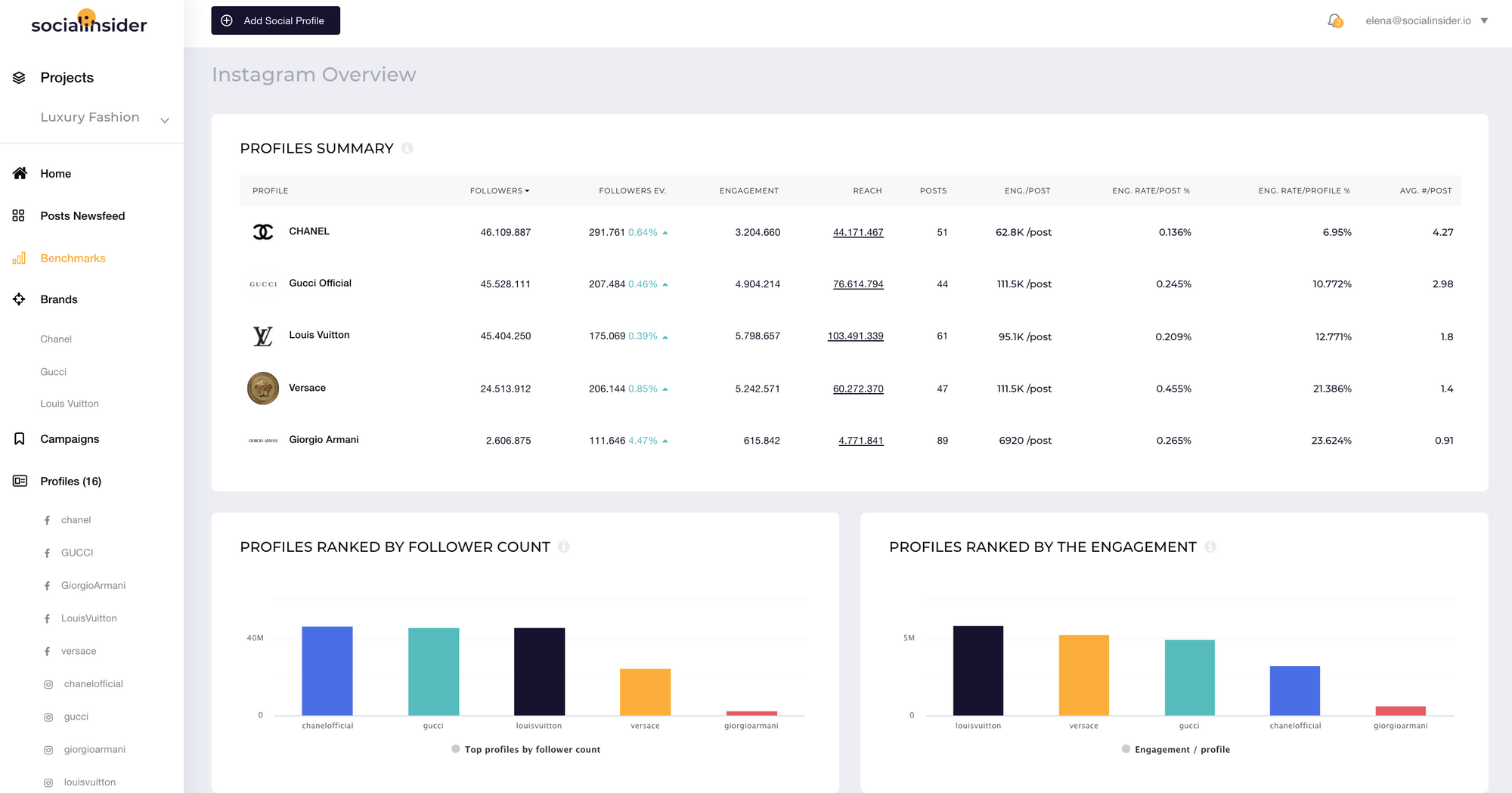 If you are having trouble identifying your top brand competitors, Google is a useful resource. You can simply Google the type of product or service you offer and a few of your top competitors will show up in the SERPs.
Once you have identified them analyze and compare the quality of their products and services with yours, as well as the methods they use for promotion purposes.
This will help you identify what opportunities can help you outperform your competitor's brands.
Step 2: Define the competitive goals and KPIs
Before starting your social media competitor analysis, you need to define your goals.
Your social media competitor analysis needs to serve a purpose and offer some answers. Digging through data without a clear purpose creates a lot of confusion and waste of time.
Ask yourself what you need to know:
Improve social posts messages
Focus efforts on the right social media platform
Optimize paid social media
Improve organic reach

Deciding on what you want to achieve from this exercise makes it easier for you to measure and evaluate your results.

Step 3: Choose the social networks you want to monitor
Once you have identified your top brand competitors, try to find out on which platforms they're the most active.
Facebook competitor analysis
For being one of the oldest social media platforms, Facebook has developed a lot over the years, coming up with a lot of features that digital marketers can use and get creative with in order to increase their brand's sales.
Depending on your business' area, there may be some tactics that your audiences would love to experience, but you haven't discovered them yet, like having a shop section enabled, just to state an example.
The good thing is, if you discover, when doing your Facebook competitor analysis, that your primary competitors are doing something that your community seems to love and you haven't tried it yet, it's a clear sign you should start doing it.
Instagram competitor analysis
If you haven't noticed this by now, let us tell you, among all the social media platforms, Instagram is the king of engagement nowadays.
Therefore, not keeping an eye on how the whole digital landscape looks for your industry may cause a huge loss for your business.
Which means conducting a regular Instagram competitor analysis is an absolute must.
But it all depends on your audience, if they hang out on this social platform.
Of course, in the case this social media network is not for you, when doing a social media analysis across all your platforms, you'll be able to see which one brings the best results for your and direct your efforts more into that direction.
Also, if you don't have an Instagram presence, but when doing your competitive analysis you realise most (if not all) of your competitors have one, well, the next thing that needs to be done is pretty obvious.
Step 4: Follow how performance on social networks grows over time
Once you have chosen several social networks, you will need to dig a little deeper to understand how each competitor engages and grows their networks. To do this, you will need to track some specific metrics like:
Profile metrics
How many followers do they have?
What is the average number of posts they publish per week?
Where are they more active?
How many likes, shares, comments or retweets does each post receive?
Content metrics
What type of content do they share?
How many posts do they boost?
How many ads to the run?
Do they use live videos?
What is the image post to video post ratio?
Do they use other social network services like TikTok?
Brand metrics
What tone of voice do they use on their profile updates?
What type of issues do they address on their profile?
How well do their followers interact with these posts?
What branding methods do they apply
The metrics you need to track depends on your company's social media goals.
For instance, if you want to grow your brand, you might want to pay attention to the number of followers a brand competitor has since your results are highly likely to be similar to theirs.
You can use analytics tools for content inspiration and to get a full view of a competitor's digital strategy.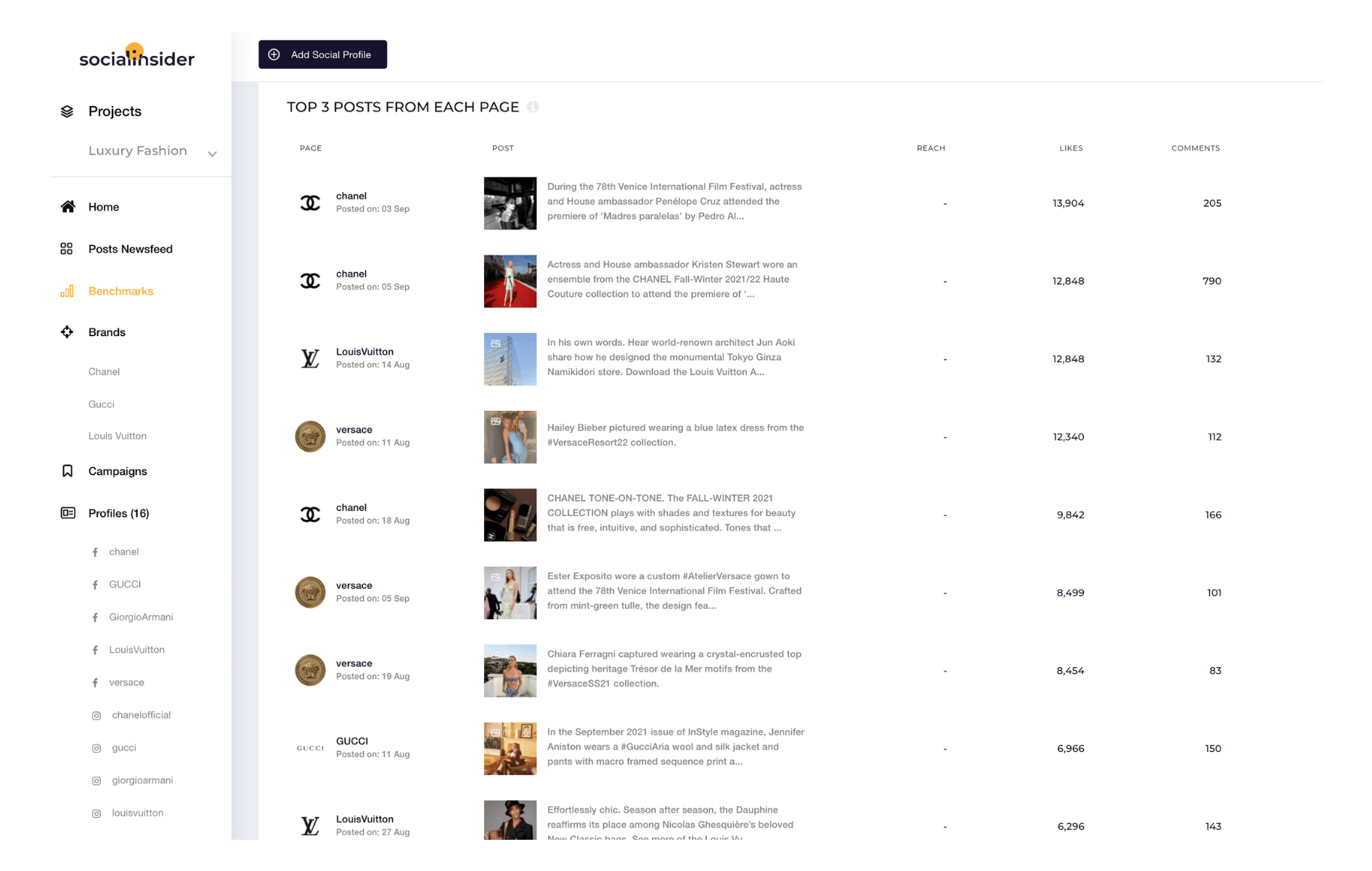 Step 5: Check out their content strategy
A well-defined content strategy is an important aspect of social media audience.
People are not interested in generalized content, that does not serve a purpose or answer one of their needs.
Just like you, your brand competitors are always striving to provide relevant and engaging content.
Which is why you need to know if they're doing better than you, and if their content strategy includes anything you might have overlooked.
Are they providing their audience with curated, original, promotional, or educational/ knowledge content? What type of content do they post? Is it text, photos, links or videos?
Pay attention to:
messages
format
caption
hashtags
campaigns
Finally, check to see how often they post on social media - daily or weekly. This will come in handy when you need to make decisions on your own content calendar.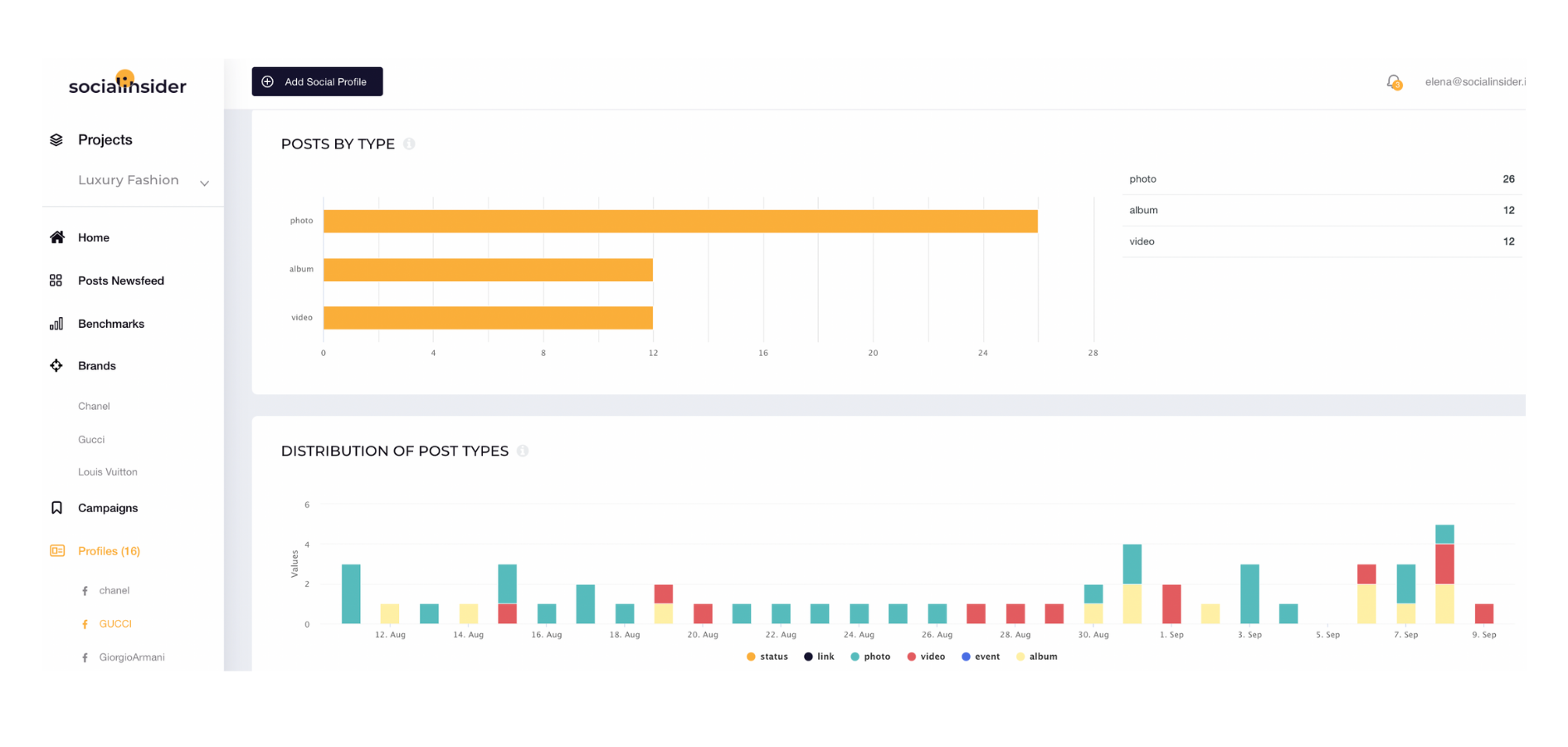 Step 6: Check out your competition's engagement metrics
It is only through engagement rates that you can identify growth opportunities, an important aspect of social media success.
To find out how your competitors perform, you need to follow these aspects:

Number of the posts they publish
Number of replies
Number of likes
Response time
How they respond to clients

This means you need to keep an eye on the following metrics:
Profile engagement and engagement rate
Post engagement and engagement rate
Boosted posts engagement
Engagement evolution (day to day or month to month)
Post types ranked by engagement
Hashtag engagement
Likes, Comments, Shares

Step 7: Understand how people engage with your social competitor's content
Depending on how thorough you want to be, you can choose to analyze 10 random posts or track a month's worth of data.

Take a note of how many likes, comments, shares or retweets each post gets and obtain an average for each engagement.
Step 8: See when people are active on the social networks
Social media provides a good opportunity to amplify your brand awareness.
Still, it is not enough to just post content whenever you feel like it. Posting dedicated, well-research content that brings value to your customers, at specific timings, is the way to go.
Identifying when the most users are active in social networks is crucial as it tells you that's the time to connect with them. This way, it increases your chances of reaching highly targeted consumers in large numbers.

Step 9: Understand your competitor's paid media campaigns
One of the last elements to consider when conducting a social media competitor analysis is paid media.
While it might be impossible to find the actual amount your brand competitors spend on paid media campaigns, there are a few ways to find out if they are spending money to acquire new followers.
The first thing that you can do is to browse their social pages and look for any sponsored ads on each platform individually.
If they appear under the "Who to follow" column on the left side of your Twitter feed, it simply means that they are paying to get more twitter followers.
And while you can't get data on brand competitor ads campaigns, you can use social media competitor analysis tools to identify boosted posts and see how they perform.
Look at engagement, the number of boosted post, the ratio between boosted posts and regular posts, and you'll get a glimpse into their strategy.
Step 10: Use proper tools for social media competitor analysis
Most social media managers are always looking for ways in which they can automate the process of conducting a competitor analysis and crafting a competitive analysis report.
Monitoring and assessing social media analytics is crucial to the failure or success of your company, but it's also important to choose the right tool for you.
Do you need to report to clients? If so, you should pick a social media analysis tool that focuses on strong reporting and saves you time.
Do you oversee a multi-market brand across multiple markets? Then you'd need a tool that offers an overview of your entire brand (and your competitor brands) across platforms.
The goal is to understand what you need to automate and what features you need to work with.
Find the right social media analytics tool that offers all the metrics that are relevant to you, and can cover all the social platforms on which your brand is present.

How do you write a social media competitive analysis report?
Using competitive analysis templates and going about these competitors analysis reports manually might work once or twice, but you'll quickly learn that it requires a lot of time.
It can be done, by following and writing down:
Audience metrics
Content metrics
Engagement metrics
Paid media stats
Hashtag analysis

However, these are stats you can quickly receive up-front and in a presentation-ready competitive analysis report with analytics tools.
❗️To get a step-by-step on your social media competitive analysis report follow this guide with a free template included 👇
Final thought
Hopefully, I've succeeded in answering all your questions about how to perform a competitive analysis.
Remember, social media competitor analysis is an important aspect for every social media manager eager to implement successful social strategies.
Clear objectives and a bit of spy work can go a long way. The key to successful social media is in the data, and it's all right in front of you.
All you need is a little digging and some trusted social media tools.
Your turn. How do you perform a social media analysis? What social media tools do you use? What social media metrics do you follow?
Report and analyze social media performance for multiple business profiles from one dashboard with Socialinsider!
Create social media benchmarks for your clients or industry, generate .pdf or .ppt reports, and automatically send them to clients.
---
Related articles: