Want to know how to create a Twitter strategy for your business that tons of people will share your content?
Writing a 280-character message on Twitter sounds easy enough, right? Open your Twitter app or a scheduling tool, and there you have it.
Except.. nones interacts with your content on Twitter. And that's not a good feeling.
So how do you write something amazing on Twitter?
How can you transform your Twitter account into an actual tool that generates leads and builds up your brand?
Stay with me -  in this blog post, I'm going to show you how to use our analytics tool to level up your Twitter account, covering from technical bits of Socialinsider to real and relevant strategies.
Here we go!
6 ways to use Socialinsider's Twitter analytics feature
Tweak your tweets with a competitors' research
Keep track of analytics
Measure your KPIs
Keep track of your mentions on Twitter in one intuitive dashboard
Analyze your hashtags performance
Compare side by side profiles
1. Tweak your tweets with a competitors' research
Let's say you have a business, but you don't know how to promote yourself to get to the top, to be seen, or you want to be better than your competitors.
One of the best ways to make the most out of this huge platform when doing marketing is to take constant peeks at what your main competitors are doing.
In parallel with setting up your own strong Twitter presence, you need to discover what the competition is up to. You need to see what they are doing better than you, so you can mimic them in the least, or even better, find ways to beat them at their own game.
You can spy on them freely by following them on Twitter, monitoring their tweets and replies, analyzing their followers' database and keeping up with their external content.
Otherwise, you can use Socialinsider to keep track on your competitors' actions.
Here's how:
Start by adding your competitors in Socialinsider's dashboard
For each competitor's Twitter account, you'll be able to see:
how many tweets they are posting and what campaigns they are running on Twitter
their followers' growth - this metric is available since the day you've added the profile in Socialinsider. Twitter doesn't give us the followers' growth for past data.
what's their average engagement rate per tweet
their content strategy: top 3 tweets, top 3 mentions and a list with their Twitter postings which can be downloaded as CSV.
a list with their top mentioners - you'll see who's mentioning your competitors on Twitter ranked by the followers' count. You can use this list to improve your influencer program. This data shows you what type of content you should share on Twitter for getting shares and mentions.
top hashtags - what hashtag your competitors are using on Twitter and which one brings higher engagement.
their engagement metrics.
You can create Twitter benchmarks, access your competitors' postings, or compare side by side Twitter profiles.
Your competitors are the first place to look at when you want to improve your Twitter strategy. The second is analytics.
2. Keep track of analytics
Another way to take your Twitter content strategy to the next level is to make sure you are using analytics in your advantage. The Socialinsider's Twitter analytics tool offers you precious insights on how to optimize your Twitter presence.
For instance, you'll discover:
what type of content performs better
how your followers interact with your tweets
who mention your brand on Twitter
who are the people who share your content.
You can use this tool to compare your followers to your pre-established buyer personas and see if they match. Additionally, you can find insights about each one of your tweets. You can discover who responded to your tweet or who interacted with it.
3. Measure your Twitter KPIs
In order to be successful in your niche in 2019, it is imperative to measure your Twitter KPIs. Experts recommend you focus on tracking and measuring certain KPIs that show you whether your business is growing or not.
Here are some Twitter KPIs you should measure:

Engagement: it includes anything from retweets and replies to clicks and hashtag mentions. It is imperative to measure your engagement rate for each tweet you post in order to determine what type of message works best in your niche. If you see that a certain branded hashtag you use is retweeted more than others, focus on using it. Also make sure that you add in new hashtags in the mix in order to take advantage of trending topics and events.
Performance: this is another important KPI you should measure. Take a closer look at the engagement rate more than you look at the number of impressions in order to determine if you are on an ascending trend.
ROI: this is by far the most important KPI you should measure in Twitter, as it is the one keeping your marketing department funded and the only one that has the potential to give you an increase in budget.
Growth: you definitely have to grow your business if you want to keep leveraging the power of Twitter. At this point, you should not measure just the number of new followers you receive, but you should look at the total number of engaged followers who are constantly engaging with your content.
4. Keep track of your mentions on Twitter
Your Twitter mentions are the lifeblood of your presence on this powerful platform.
Thus, it is imperative to track all your Twitter mentions and respond to any complaints customers might have. Customers can either mention you by name using @yourcompanyname, by brand or by using one of your hashtags.
However, sometimes people will mention you in a personalized hashtag that only contains part of your company name.
That's why we're super happy to bring Twitter mentions to Socialinsider's dashboard.
Now you can access analytics and mentions in one intuitive dashboard, plus you'll get a list of people who mentioned your Twitter account.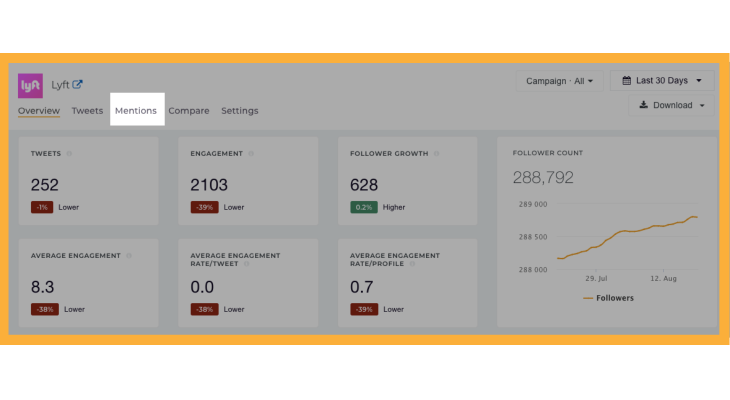 While keeping track of your company's mentions on Twitter, you can also find new relevant topics, plus you can discover new people interested in your company and you can include them in your Twitter advertising strategy.
5. Analyze the performance of your hashtags

Ultimately, the best way to leverage the power of Twitter for your brand is to see how good your hashtags are. Basically, a hashtag is a phrase or a keyword used to describe a certain topic, company or trend.
You need to discover new hashtags and be creative at integrating your brand with trending topics.
Moreover, you have to measure the engagement of each hashtag and Socialinsider might be a great help here.
Discover what hashtags are the most engaging on Twitter and how to search for influencers, trending topics, and content with ease using Socialinsider's hashtags analytics tool.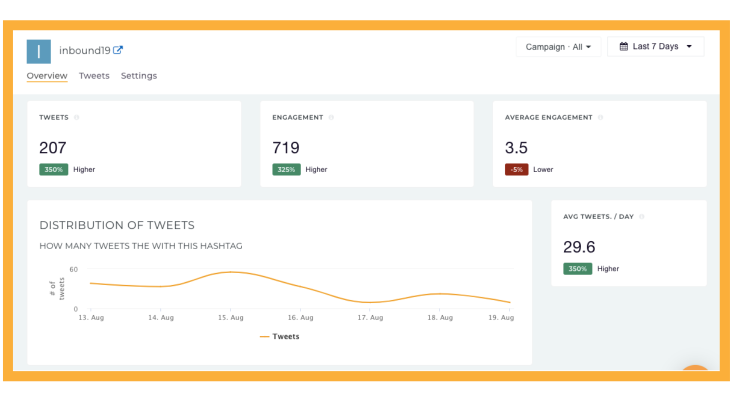 You can measure your hashtag reach on Twitter by getting the number of social media accounts who use your hashtags on Twitter.
Wondering when you should start analysing your hashtags on Twitter? Here are a few scenarios:
When launching a hashtag campaign:
Tracking an event on Twitter:
Measure your brand awareness:
Track the user-generated content:
Learn more about hashtags discovery on Instagram in this product tour.
6. Compare side by side Twitter profiles
To optimize your social media performance, you should not only look at your Twitter account's performance but also keep an eye open at how your competitors are performing on social media.
Being able to compare Twitter profiles you'll get the chance to see how your Twitter efforts compare to those of your competitors.
Final thought
At Socialinsider, we believe that clients hire agencies to come up with new ideas and manage their budget efficiently. Social media managers should have adaptable tools to track their campaigns and better prepare their pitches.
Happy to see Twitter analytics tool updated with more options for social media analysis and content discovery.
In the meantime, we would love to hear more from you about what you're building, what platform features would make your reporting more easier.
Join the conversion in the comments.
---
Related articles: