In this episode, we'll talk about LinkedIn - one of the most important B2B social media platforms. From my perspective, there is no better person to talk to about this platform than Dr. Natalia Wiechowski.
She is a LinkedIn trainer, personal branding expert, keynote speaker, and the Middle East's leading edutainer. Also, she's the author of "Personal Branding with LinkedIn."
Years ago, she quit her job and started a new journey. She went on a  sabbatical where she changed the way she thinks, talks, and her day-to-day routine. That was the moment when she founded Think Natalia.
Let's discover the person behind thinknatalia.com and some LinkedIn "secrets."
Listen to this podcast on:
Learn how to become a LinkedIn expert in 2021
How did you start your career?
I started in the educational sector, worked there for three and a half years, then decided I don't feel it.
I like some aspects of it, but there's something that I don't resonate with. Then I changed into the private economy, and I worked in marketing.
Then, as a teenager, I knew how I want to feel when I become 30, and the feeling was so far away.
After talking to my family, my mentors, I decided to quit my job and go on a sabbatical, and for nine months, I created a list with all of the exciting things for me - and I started trying different things.
Writing for a magazine, being a model, working in an agency, photography, and along the way, I finally found my dream career.
How was to say "I quit"
Of course, it was hard because if it was easy, everybody would do it. I was scared. I was afraid of being judged. I was uncomfortable.
But everybody that I studied then, and I started to read books of influential people. I started listening to motivational speakers and entrepreneurs from all around the world - everybody talks about this comfort zone, and I thought, that's I guess what they talk about.
So I knew that as long as I don't die and I don't physically harm myself, there's only growth.
Why LinkedIn
I started on Instagram and Facebook because that's what all of my friends did. After my sabbatical, the first thing that I created was a blog, a place where I could share my journey.
I realized very quickly that I need traffic; I need to tell people about it. So they were two options, at least back then: invest in Facebook ads, Google ads oo you use social media?
So Facebook and Instagram, for some reason, didn't work at all.
Then I had Twitter, and I was so afraid of Twitter. I knew that it is a platform where a lot of people like to rant and start wars. So no, thank you.
Then there was YouTube, and back then, I was so afraid to speak, like getting me in front of a camera - oh no.
So the last logical consequence was for me, LinkedIn. So I tried it, and I read everything about it, and I tried different things. In the beginning, I got so much negative feedback because people said what I'm doing is not professional, but I just kept on pushing content, content content.
One day, two of my posts went viral, and this was when I realised LinkedIn is for me.
What do you love about your job
I love the fact that I can change that any time, this freedom, independence, this flexibility makes me incredibly happy.
What is personal branding?
So some people say it is self-marketing.
Some people call it impression management.
Jeff Bezos said that "It's what people say about you when you're not in the room."
The essence is that your personal brand is a mix of your stories, what you stand for, how people perceive you, and everything around that, which has a huge impact on whether people do business with you or not?
This is how I see personal branding.
It is nothing that you can touch, but it is everything around you, your communication, your perception, your social media channels, your blog, your colors, your content, the way your move talk, your friends, all of that is your personal brand.
The benefits of personal branding for individuals
So for the individual, what's essential when you have your own business and you are seen as a top personal brand, as the expert, as a guru, you have a higher status. People will treat you a tiny little bit better.
When you have your own business, you can also charge way more money, especially when you're a cultural consultant, because you turn into a premium or luxury product.
The benefits of personal branding for companies
As a brand, you can work with your ideal clients. You can build strategic collaborations with great suppliers with great clients.
You can choose your clients, especially when you work in services and you are so high in demand. That means you don't need to work with people you don't want to work with.
Grow our LinkedIn connections as a person
First of all, you need to understand that your LinkedIn profile is not an online CV because many people think that. See your LinkedIn profile as a landing page or as a web page.
Make sure that when people see your page, they want to spend a lot of time there. You need to tell your story, to portray yourself in an attractive professional yet approachable way. Have a great picture, have a great background picture, use a title that is inviting.
The second step, make sure that you create content and the third step - create connections. Connect with people, figure out how your dream network looks like, and connect with those people.
Grow your LinkedIn following as a brand
As a brand, you can create a page. Some people call it a company page. And on the company page, you have 100 credits per month, inviting people to like your page.
And whenever somebody accepts that invitation, you get the credit back, but whenever somebody declines or ignores it, that credit is gone, and then you need to wait for another month until this tank is filled up.
Another smart and sneaky way to grow your company page is to encourage your employees whenever they post something to tag your company page at the end of the post.
Also, make sure you respond to all the posts where your company name was mentioned.
How often should we post on LinkedIn?
The secret formula is consistency, and that's something that a lot of people can't do.
You need to understand it is a long-term game. You're not preparing for a 400 meter or 100-meter run. You're training for a marathon, or you're talking about kilometers here.
Show up and engage with your audience - this is really important. If someone took their time to post a comment on your LinkedIn post, make sure you take your time to answer those people.
LinkedIn Stories - how to increase engagement
I have mixed feelings about it because I'm an avid Instagram Stories user. There I have filters, the swipe up function, funny ears, I can repost, use hashtags, and tag locations. With Instagram, you have many more options to edit your Stories, and with LinkedIn Stories, you don't. But I find it useful that they are there.
What I do is I focus on Instagram Stories, and at the end of the day, I download all of my Instagram Stories I upload them all on LinkedIn, and I realized that a lot of people watch the stories and they, they regularly comment.
I think I have more engagement on my LinkedIn Stories than on my Instagram Stories, which is super interesting.
They are a great conversation starter.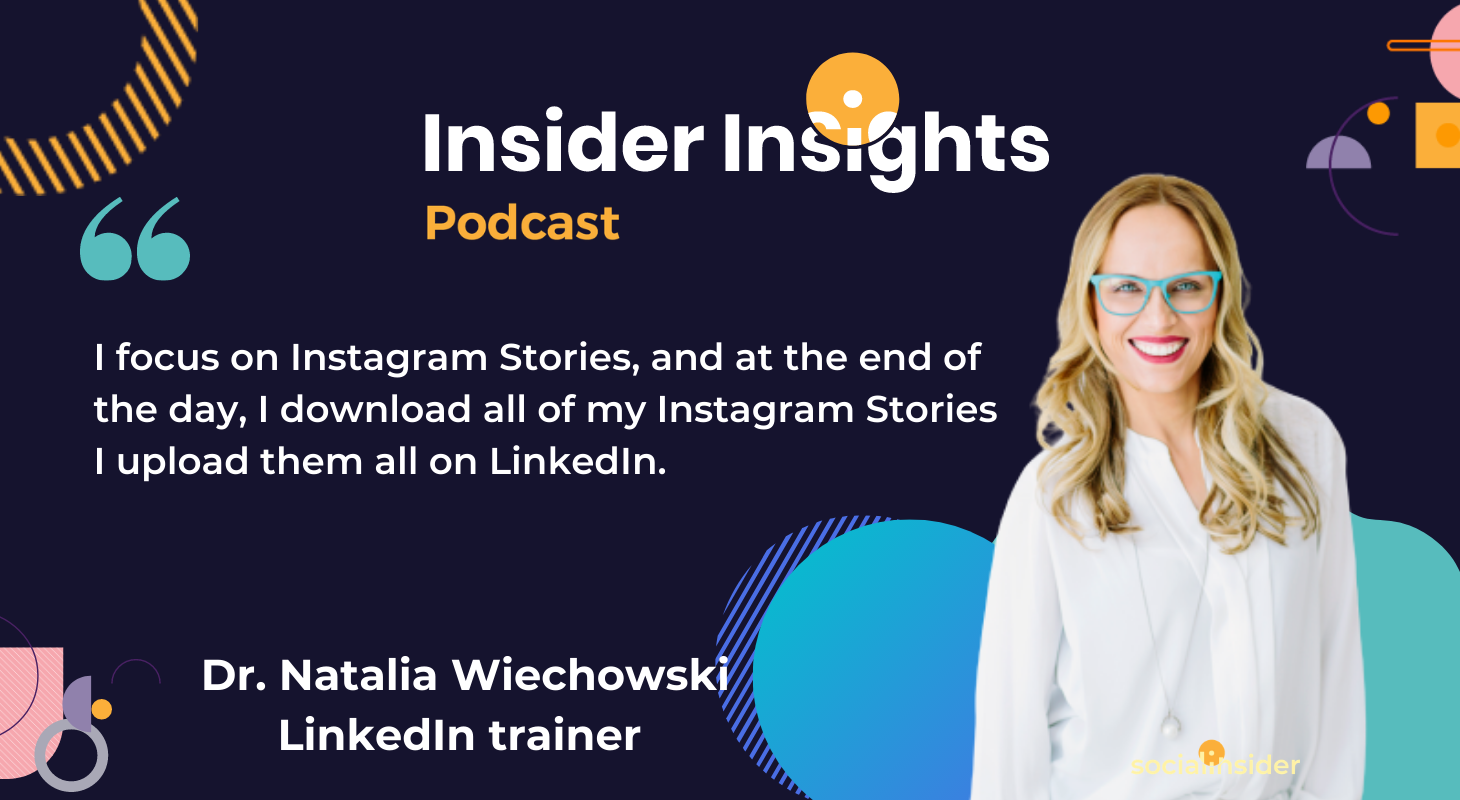 Type of content to share on LinkedIn Stories
I would use it as a tool to start the engagement and to start conversations.
And how do you do that?
You need to make people curious. You need to give them behind the scenes access.
Have maybe one or two maximum, three stories like that, and a full story needs to have a call to action.
What do you want people to do?
Future plans
I want to find more ways how to express myself creatively. As I said in the beginning, I love what I do right now, but I have the feeling that I can do so much more. I'm looking into how I can become a better edutainer and work on the skill of comedy humor.
That's a skill that I'm working on a lot right now. Also, on my list is to work on my YouTube channel.
So, for now, I'm focusing on how I can become more expressive,  funnier, and how I can help even more people.
Links to references
Dr. Natalia Wiechowski on social media:
LinkedIn
Facebook
Instagram
YouTube
Personal Branding with LinkedIn
thinknatalia.com
Handbook - Your Guide to Stories
Listen to this podcast on:
Spotify
Apple Podcast
Google Podcasts
Related articles: