Very often we are so skulked into the work and our daily tasks, that we often do automatically, that we miss a lot of opportunities that are right in front of the nose.
Today we want to invite you to learn from the experience of recruiters and use it in your everyday work.
#1. Employer branding and marketing strategy are inseparable
"Your customers are your employees and vice versa." This thesis has been promoted by the best world companies for several years, and not for nothing.
The brand loyalty of company's employees creates a chain reaction from word of mouth and feedback loop and attracts more customers. People want to use not just a product or a service, they want to understand who stands behind its creation and imbued with the atmosphere and values.
Who else but your employees can inspire your product, advise it to their friends, and those to your friends, indirectly advertising the company in social networks, spreading information about values ​​and life inside the company.
It creates a good "advertising rear" to the product that you are promoting.
The recruiters and HRs are fighting for loyalty to the brand of potential candidates, but, in fact, this is an inseparable part of the entire marketing strategy as a whole.
#2. The best tools for lidogeneration: email aggregators and extensions for getting contacts
One of the most popular ways of obtaining a large number of valid direct contacts for email campaigns is the use of extensions for Chrome. The recruiters and sources use a large number of extensions to obtain direct contacts of the candidate, but, in fact, such tools give the unlimited opportunities for marketing and lido-generation.
The main advantage is that you can get a personal email of any person by extracting them from the profiles of social networks. The dozens of extensions are available today. They vary by the availability of different social networks. The majority works only with LinkedIn profiles, but some of them allow you to find contacts from Facebook, Twitter, GitHub, Meetup, etc.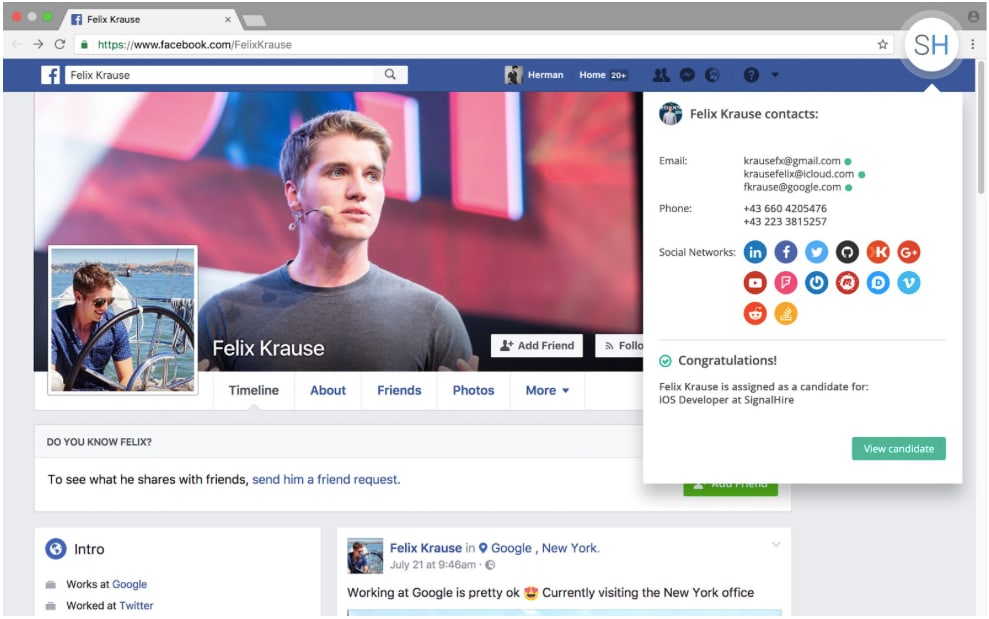 Depending on your target audience and mailing list targets, you can easily reach the data from the right contacts. Almost all the extensions for recruiters give from 10 to 100 free contacts, and then ask to purchase your package with additional contacts and opportunities (getting contacts in bulk, exporting contacts to Excel, etc.).
The crucial difference between all the extensions is the quality of these contacts.
Be careful when choosing. For example, those extensions that give hundreds of free contacts often cheat users by their mass character.
In fact, they give out a lot of invalid contacts, which are generated simply by the logic of the domain names of companies or provide outdated emails. Those who ask to pay for a package more often provide the information about valid, invalid and catch-all emails, so you can immediately get only 100% valid emails and foresee a high reply- and open- rate on your newsletter.
The problem is that the accept-all domains do not send you any notifications and take all the mail to their domain, but, in fact, the user does not receive your email. Such a danger inherits us in the issue of almost all the aggregators.
In addition, we recommend the use of paid extensions with good quality of contacts to ensure that you are mailing is only on personal emails to generate more leads.
#3. Boolean Search for targeting the audience
The recruiters and sourcers use Boolean Search almost every day in order to find the maximum possible number of suitable candidates. But digital marketers understand that this logic can be used in other areas of business.
Boolean searches allow you to combine words and phrases using the words AND, OR, NOT (otherwise known as Boolean operators) to limit, widen, or define your search. Most Internet search engines and Web directories default to these Boolean search parameters anyway, but a good Web searcher should know how to use basic Boolean operators.



A marketing manager can research their target market and build a very targeted campaign. In fact, the options are almost limitless.
Lots of the big social networks like LinkedIn, Twitter and Facebook allow you to use the Boolean operators and find information on the location, reviews, subscribers of a specific topic and communities.
Boolean search can help you, for example, find what people in online communities are saying about your products or services, particularly within a particular niche.
For example, on Twitter, you can use the familiar Boolean operators and find information about particular brand names put in quotation marks. It's possible to refine your search by using hashtags, dates or location too. You can also find tweets on certain topics. All this information on users can be used to create a portrait of your target audience. Social media is wonderful for obtaining immediate feedback or for finding the good information your business can use.
For promotional activity on Facebook, you can use Boolean Search together with graph search when you're beginning a new campaign and find those with similar interests in target markets. Boolean search and Open Graph let companies find out more regarding their potential target market than previously imagined because of Facebook's millions of users.
In addition, Boolean Search can be the excellent tool for analyzing how your brand is being perceived, how customer service is working, and how communication flows or doesn't.
To find out what positive things people are saying about your company online, perform a simple Internet search with the name of a specific product, along with words that connote satisfaction, such as "love". A search might be constructed using the AND operator as such: "your company name" AND love".
Blog Author:
Customer success at SignalHire Talent Acquisition Platform with an interest in blogging about recruitment, social media recruiting, candidate sourcing. Curious to create educational content to help recruiters of small businesses, tech companies, startups, non-profits learning how to hire the best talent with the help of the BigData technologies.
Report and analyze social media performance for multiple business profiles from one dashboard with Socialinsider! Create social media benchmarks for your clients or industry, generate .pdf or .ppt reports, and automatically send them to clients. - *For users on an Agency plan.
---
Related articles: