No matter how much it has already been dove into it, Instagram is the number one platform people don't get tired of.
So, as a marketer, you must know that when it comes to social media, the first thing that's in everyone's minds is this fun and cutting-edge platform.
In a recent case study we conducted about fashion, we discovered brands from this industry tend to place their bet on images, as for the preferred type of content for publishing.
But in agreement with their activity's domain and best approaches, other industries may benefit more from choosing video formats to deliver their messages.
That's why we decided to compare the performance of regular video posts and IGTVs and better understand which one returns higher engagement rates.
IGTV posts performance in 2021
1. IGTV brings higher view rates only for middle sized accounts
2. Across all kinds of accounts, regular videos bring higher engagement than IGTVs
3. IGTV is the least used feature on Instagram
No time? Here's a PDF version of this study so you can read the IGTV metrics later on 👇
1. IGTV brings higher view rates only for middle sized accounts
First of all, we must state that in such a challenging and competitive digital landscape, your social media outcome will benefit a great deal by integrating video content more.
With this in mind, the next step is to go a little deeper into the matter and choose that particular type of videos which will get you closer to what you want to achieve.
With regular posts in feed, IGTVs, Stories and Reels, Instagram gives you plenty of video options, each of them differently serving brands to meet their objectives.
If we talk about the average video views, by analyzing the user's preferences it becomes clear that overall, normal video posts in feed are the ones that perform better, although IGTVs are not so far behind.
This can be explained by the fact that an IGTV, for being longer than a regular video in the app, loses people's attention faster.
This particular type of post requires a deeper interest manifested by the users. In order to have the patience to watch it, people must be really into the subject.
Still, there's hope for it, if we take a look at how the situation looks for middle sized accounts (between 10 - 100K followers) which seem to do a pretty good job at keeping their followers hooked in viewing something that is longer than one minute.
Creating a deeper connection with their audience is an objective a lot of businesses put a lot of effort into, and in some cases, IGTV may be the way to do it.
This profile's secret may be that they turn to lives (which are automatically converted into an IGTV at the end of the session) and through this technique they succeed in keeping their community involved.
2. Across all kinds of accounts, regular videos bring higher engagement than IGTVs
In our recent Instagram engagement study we discovered the smallest (under 5 K) and largest profiles (with more than 100K followers) can count on carousels for higher engagement.
But without neglecting the power of videos, there's worth mentioning that if we switch to middle sized accounts, higher engagement rates are brought by videos.
Now, by bringing IGTV in this game of proving the efficiency of generating engagement, we found this feature, although appreciated at its integration, did not make the users so crazy about it, having the lowest values across all profile sizes, being outrun even by images.
As we said earlier, it takes an audience that's really devoted and aligned with the brand's values and direction to interact with posts in an IGTV format, because of the time that needs to be invested. And we all know time is what users lack the most.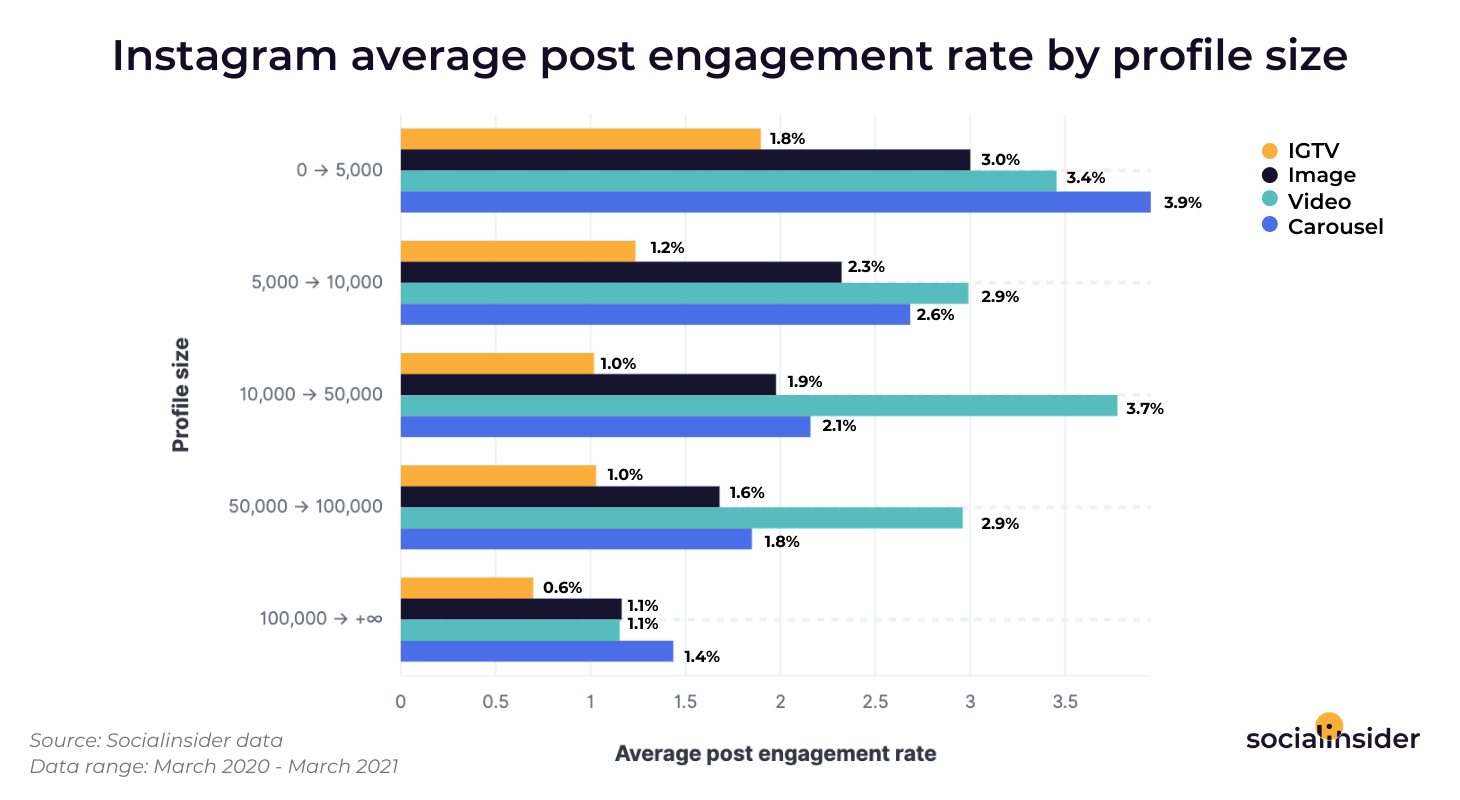 Even though IGTVs win in the views chapter for accounts under 100K, the situation does not look the same when we talk about engagement.
Because even if there's the intention of watching, people may not have the patience to view an IGTV until the very end, especially in case of very long ones. So, in this situation, the abandon rate is higher compared to videos.
In the context just stated, by not receiving the full information, people will not consider the IGTV's useful enough to engage with it.
3. IGTV is the least used feature on Instagram
We've seen that in terms of engagement, IGTVs are somewhere behind, pretty far away from videos. But the numbers should be looked at by comparing the data from every aspect that's relevant.
Which means that the low levels of engagement registered by IGTVs can also be caused by the fact there are not so many posts of this type on the platform.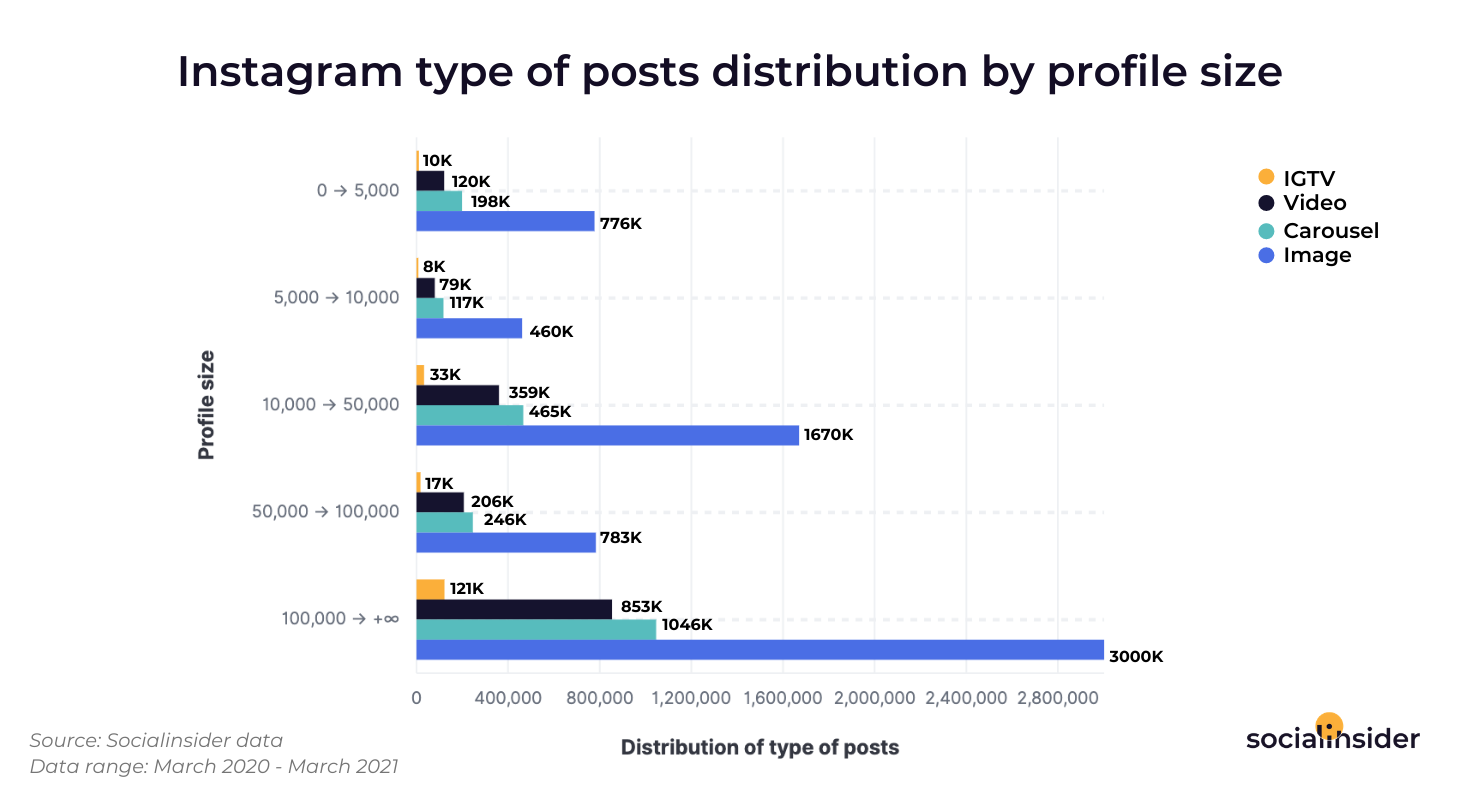 Now, that's a huge difference, right?
With IGTV initially being created as an alternative to Youtube videos, the feature did not enjoy this much of a success, users being somehow reluctant to use it, as obvious.
But again, with Youtube being the world's second largest search engine, it does not come as such a surprise, this being a pretty hard battle to fight.
Final thoughts
Now, even though the usage of videos seem to bring more gains, an equally accurate statement would be that you should not overlook the benefits IGTVs can still bring to your business. Because, if used properly, it remains a powerful marketing tool.
But, what's also worth mentioning is that you must test and see which variables work best for your accounts, as the length, for example.
Because there's no secret receipt you should follow 100%, all there's left to do is go out there and try.
Methodology
The findings of this IGTV study are based on the analysis of 10,563,463 Instagram video posts, coming from different profile sizes, which form a total of 60,737 business accounts, divided into 5 major categories:
profiles under 5K followers: 29,147
profiles between 5K - 10K followers: 4,475
profiles between 10K - 50K followers: 11,759
profiles between 50K - 100K followers: 4,424
profiles with more than 100K followers: 10,932
Average video view rate: a metric that shows the amount of times a piece of video content was viewed by your followers on average.
Engagement: is the sum of likes and comments a post has gained.

Average engagement rate (by followers): represents the interaction level an account receives through the content published. It's expressed as a percentage and is calculated by dividing your engagement to the number of followers, and then multiplied by 100.
Related articles: