In this episode, we'll get a sneak peek into what it means to work for one of the most successful advertising agencies in the world: Ogilvy New York.
Ebrahim Shakir, Associate Strategy Director at Ogilvy New York is here to share with us what he learned in his decade-old career in marketing and advertising, half of which was spent in the Ogilvy offices.
We'll talk about his career path, social media best strategies, tightening relationships with clients, and successful campaigns.
Listen to this podcast on:
Campaigns and Social Media in a Top-Tier Agency
Learn about the Life of a Social Media Manager👇
Meet Ebrahim Shakir
I've been currently looking at Ogilvy for over five years. I've worked across Asia and the US, as I used to be in the Singapore office and now I'm in the New York office.
I focus specifically on digital and social strategy.
I help brands understand the different gaps and the different opportunities they have within their ecosystem. And my team and myself, we identify and build out robust strategies that basically help them meet their business goals and objectives.
Start of an advertising career
So I started off in my career actually in publishing, I used to work for Singapore press holdings. So I started off very early. Then I tried to understand more of the print world.
Back then in 2011, social and digital was not as strong as it is today.
I then moved on to working for a company that was the biggest Apple reseller in Asia, because Apple was not selling in Asia at that time.
So my role basically was to integrate online and offline and build their social digital channels from scratch to basically drive sales in offline stores.
So that's when I started realizing I had an inclination towards digital. But that was my first big challenge, trying to build that out across Asia for a company that was dominant in retail sales.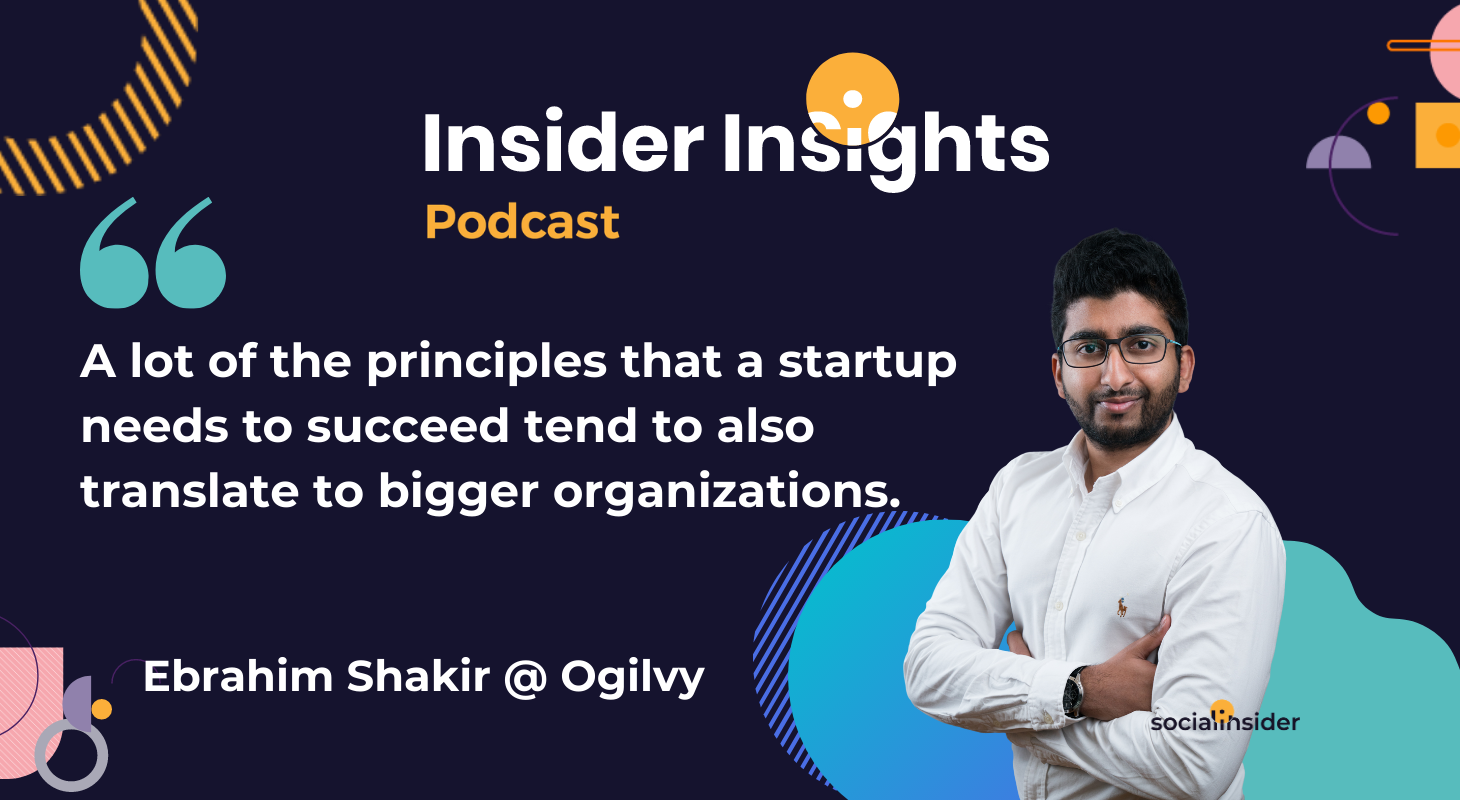 After that, I spent a couple of years working in startups and I worked in different companies - which I strongly encourage a lot of people to do early on in their careers.
When you work in new companies, startups, there's a lot of challenges, you're required to wear a lot of different hats. You're expected to do a lot of different things, and that really gives you exposure to what is needed to succeed for a business. And you start to realize that a lot of the principles that a startup needs to succeed tend to also translate to bigger organizations.
You start to learn what I believe is the most critical skill for all strategists. You start to learn how do you simplify complex problems and find solutions for them. Um, and that's how I started off. And then I moved into the agency world and I joined Ogilvy.

The big leap from a company, from the startup world into a big agency
Yeah. That is definitely a leap.
When you start off at an agency, it's a steep learning curve. There's a lot of things you need to learn. Agency life is very fast, It requires a lot of dedication and also a lot of passion.
I believe you need to enjoy the work to be at an agency. I felt that leap was big, but it was something I enjoy. I always wanted to work at Ogilvy. And I enjoyed the culture.
The team I was in was a very, very good team and a team that had a bit of a startup mindset. So a lot of those principles sort of carried over and. When I joined it, it was back in 2015 where social was really booming, but still a lot of things we needed to figure out.
The move to Ogilvy New York
So I spent over three years in Singapore, and a lot of my role developed into more of the Asia business.
And I was very keen to start a new challenge, try something new. After three years, I felt I wanted to explore something new, but I was not yet at the point where I wanted to leave Ogilvy.
So the best option was to explore a different market.
And I was very fortunate that I had bosses and I had a team that was very supportive in finding those opportunities for me. And they moved me to the New York office. And I was excited because I felt besides Singapore, which is like the hub of advertising, more or less in Asia or Southeast Asia, New York was the advertising capital of the world.
So I figured there's no better place to be in advertising than in New York. So that sort of prompted a lot of my move here.

Adjusting to a different market: similarities
I feel like the core principles are there. And if you have exposure to different markets, I feel you are actually at an advantage because you bring different perspectives, you look at it in different ways.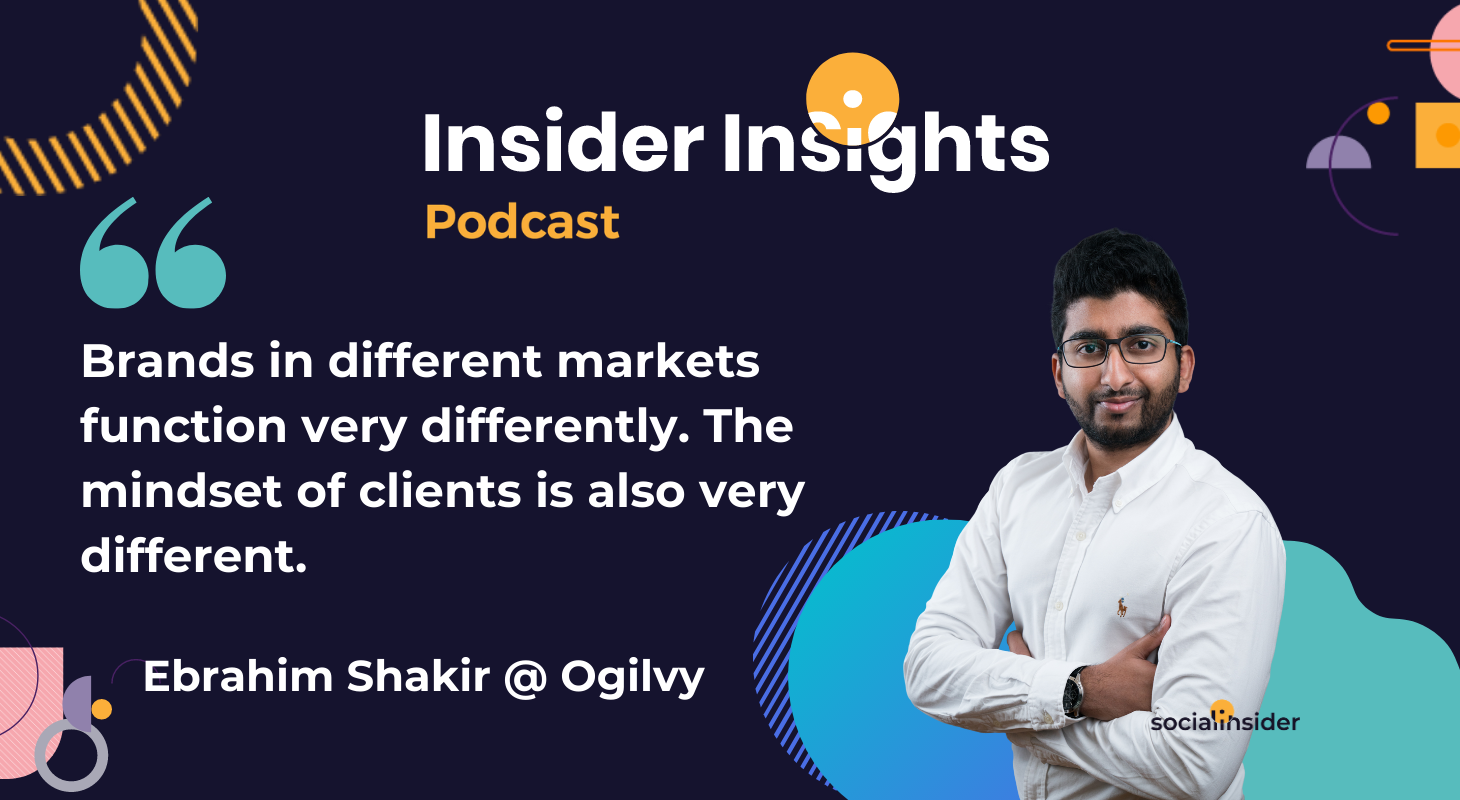 I think the biggest thing to realize is brands and companies in different markets function very differently.
The mindset of clients is also very different.
So if you are able to work in different markets, you understand different mindsets, you also have exposure to different kinds of opportunities and problems, opportunities you might have identified in Asia that no one is thinking about in North America you can bring that to the table and be like 'this is what they're doing there. We should try it.'
Working in an agency versus working on the client-side: main differences, advantages, disadvantages
I would say the biggest difference is you need to figure out what your personality is and what you enjoy.
Because at an agency, you tend to get exposure to a lot of different brands. In my time, working five years, I've worked across multiple verticals from automotive to education, to food and beverage, to tech.
The kind of problems each brand face are so different and learning how to work with a brand, for example, like, IBM, you need to learn the full-depth of what their company does and understand their product. So that comes with a lot of different understandings.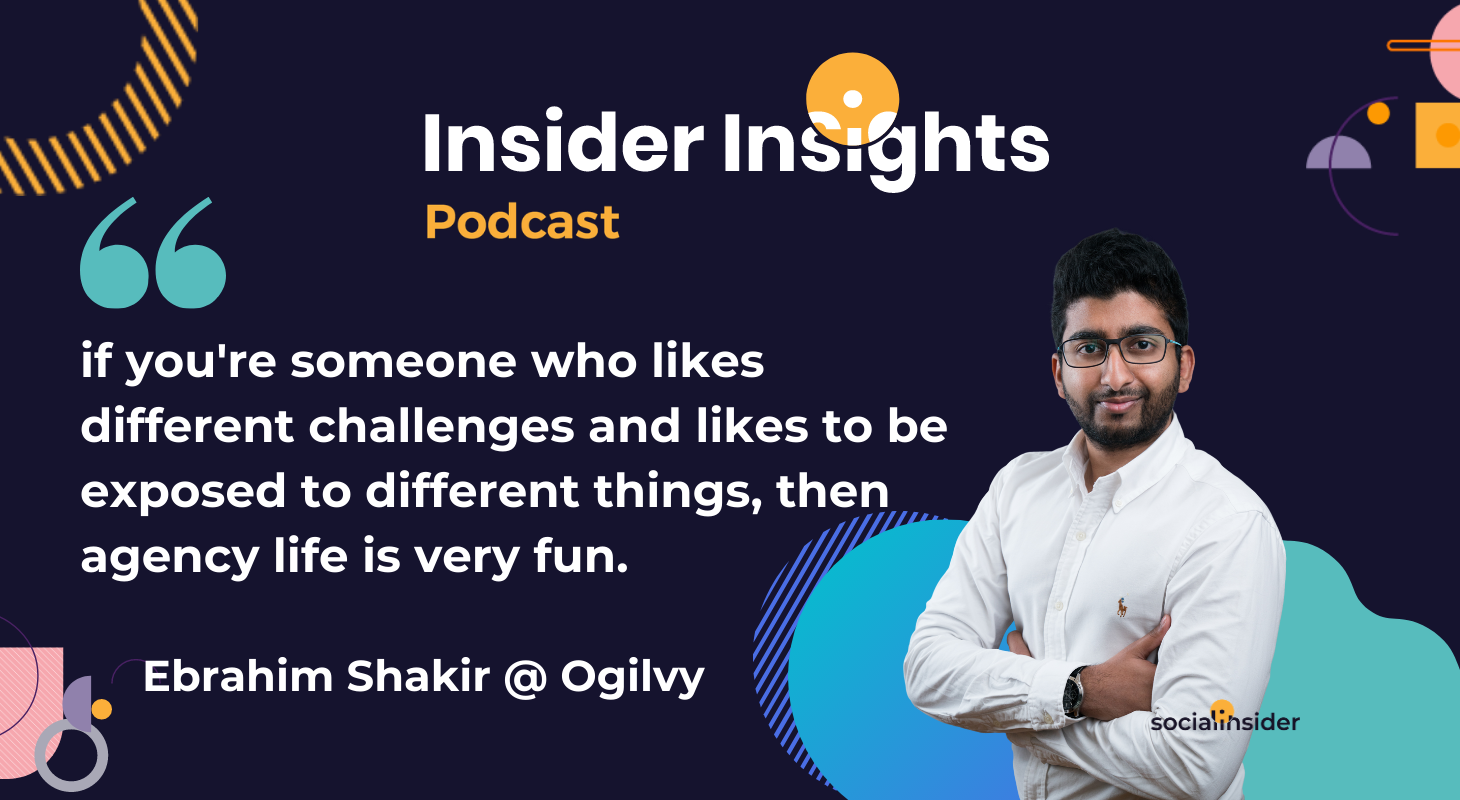 What that basically means is that if you're someone who likes different challenges and likes to be exposed to different things and working on potentially one brand might be more boring to you, then agency life is very fun because there's always something new.
You never get bored. And if ever you feel like, you know, you've reached whatever you want to reach with one brand, you can always raise your hand up, go move to another brand. That ensures that you're always doing something new.
But if you feel you like to stay focused, you feel more grounded just working on one brand and really going as deep as you can and understanding that brand and finding the solutions, then working on the brand side might be more beneficial.
Creating a successful social media campaign
To make a successful campaign you need to have a few things at least. The first one is you need to be extremely clear on what your objective is and what you're trying to achieve.
Because every brand, every person who's trying to build something on social is trying to achieve something different.
You could be trying to achieve a brand name, where you want people to know who you are. Or you could be on the other end of the spectrum and you could be trying to drive sales.
So being extremely clear on what the objective is and what you're trying to achieve sets you up for the right kind of success you can specifically measure and ensure that you're doing what it takes.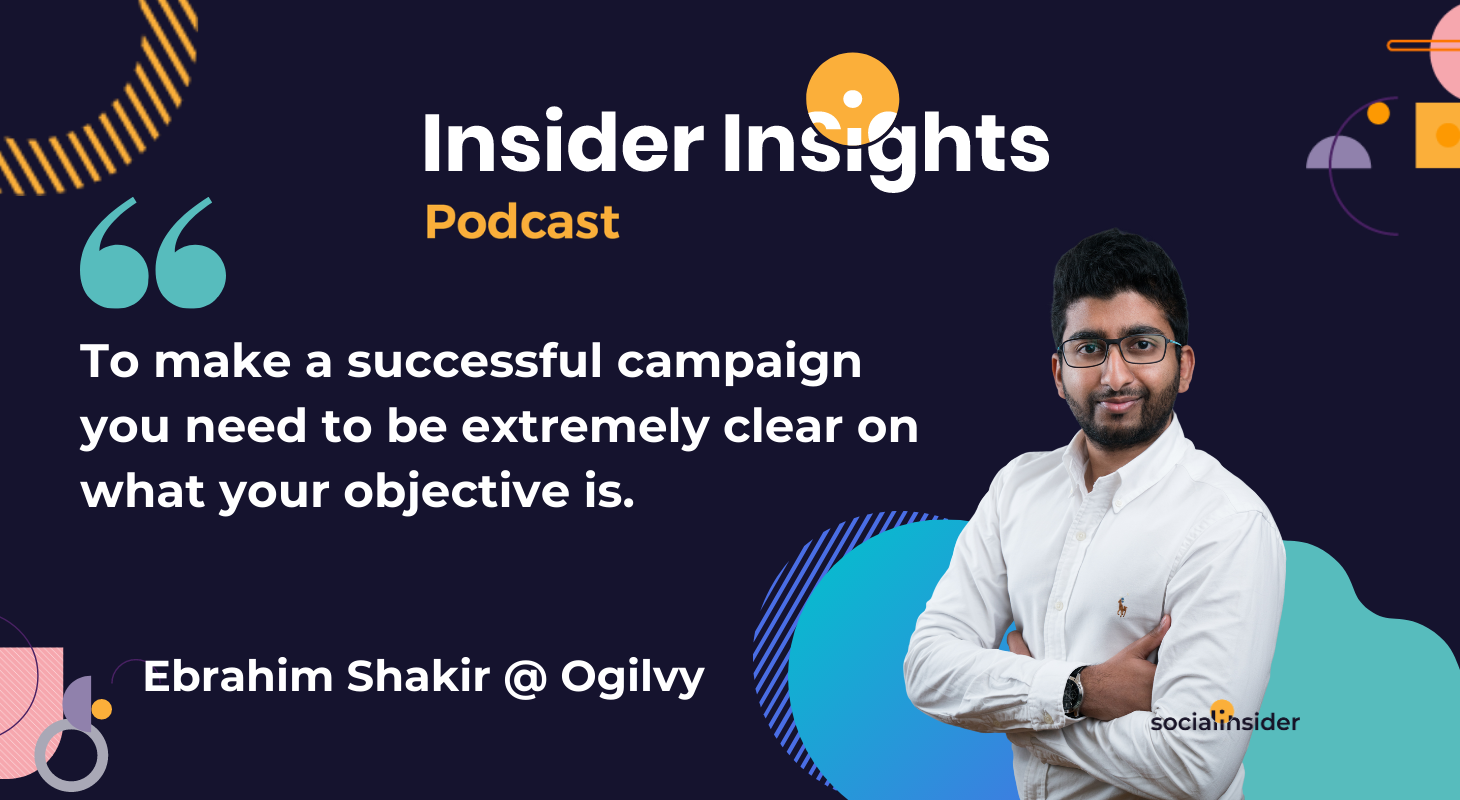 Beyond that, everything else comes down to your creative, your media strategy, all the different elements that mix into your ecosystem, the way you want to build your user journey, and basically how complex or how simple it needs to be, based on that objective that you set.
Want to learn more about what it takes for social media managers to create successfull campaigns? Listen to our previous podcast episode!🎙
Successful campaigns beyond metrics
What I deem as a successful campaign is if it's able to drive social change, I believe that if you're able to one, drive a behavioral change within your audience, and two, if it's social change, then it's a huge added bonus.
There are campaigns where it shifts the mindsets of people.
There was one campaign we did in Brazil, where we created a song for women to sing in a stadium to speak out against domestic abuse. And it gained a lot of awareness and traction about this being a big topic.
In Singapore, we did a campaign once for Nestle, where we were bringing awareness of the level of stress and pressure that's being put on kids during their examinations and how it's leading to a lot of very grave consequences.
So I do believe a greater measure beyond the business objectives is if a campaign can bring about change and especially behavioral change within an audience
Social media pet peeves
The one pet peeve would be that I think (there needs to be) a realization that people are on social media because they want to be entertained.
They want to enjoy the content. They want to be engaged. And every time you build an ad, that's a disruption to their enjoyment of the platform. So when you build an ad that is so far off, it's not what they're looking for.
Adjusting to unforeseen events in social media
You have to be agile. You have to be flexible enough that when you look at things, you can pivot things.
When you look at things that are changing on the spot, you need to be able in a calm, composed way to look at the data and sort of understand what is causing this and then make a decision.
Because a lot of times when something goes slightly wrong, people panic, and you're like, okay, let's change the cost.
But that's not necessarily always the best thing to do.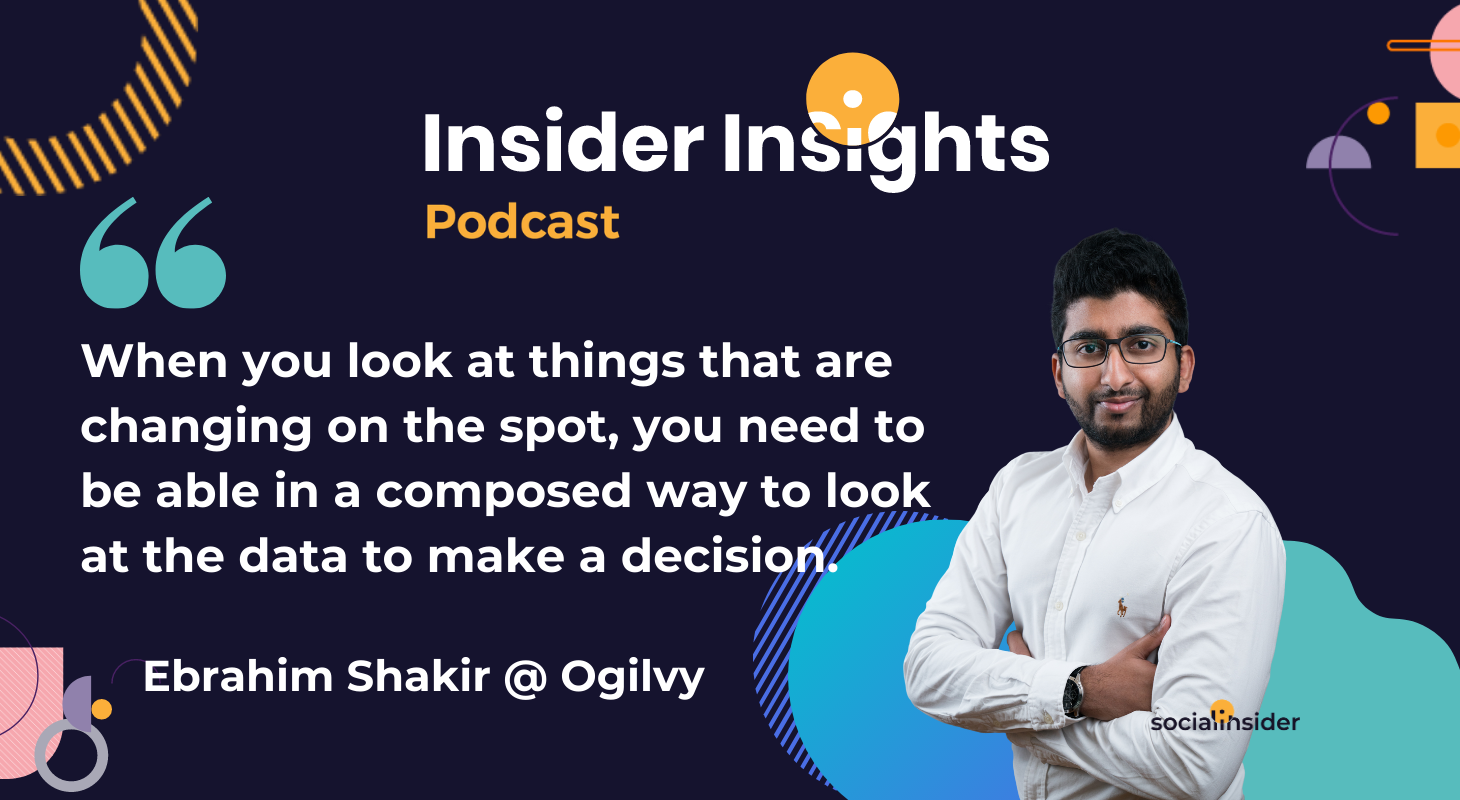 Sometimes, you run a campaign and suddenly you have, for example, 10 people who have commented on something and being extremely negative. And it's very easy to get affected by that and be like, 'okay, let's pull it down.'
But then if you look at the data and you say, wait, okay. So 2 million people were served this video. Out of that 25% of them watched it to the end, enjoyed the video. They actually ended up going to the website. They wanted to search more about your brand and X percentage of them actually liked the video.
So you look at the numbers in totality and (...) make those decisions based on the numbers.
Explaining the need to invest in social media
A lot of it depends on the size of the client. If you have a client whose budget is $10,000 to convince them to spend all that money on social, it might be hard.
If you have a client who's budget is 50 million, who understands very complex ecosystem, the nodes of the channel mix, and you have a media agency that can explain all of it, well, social media is one of the platforms that most clients are like  'that's where I want more of my budget to be'. So I think it really depends.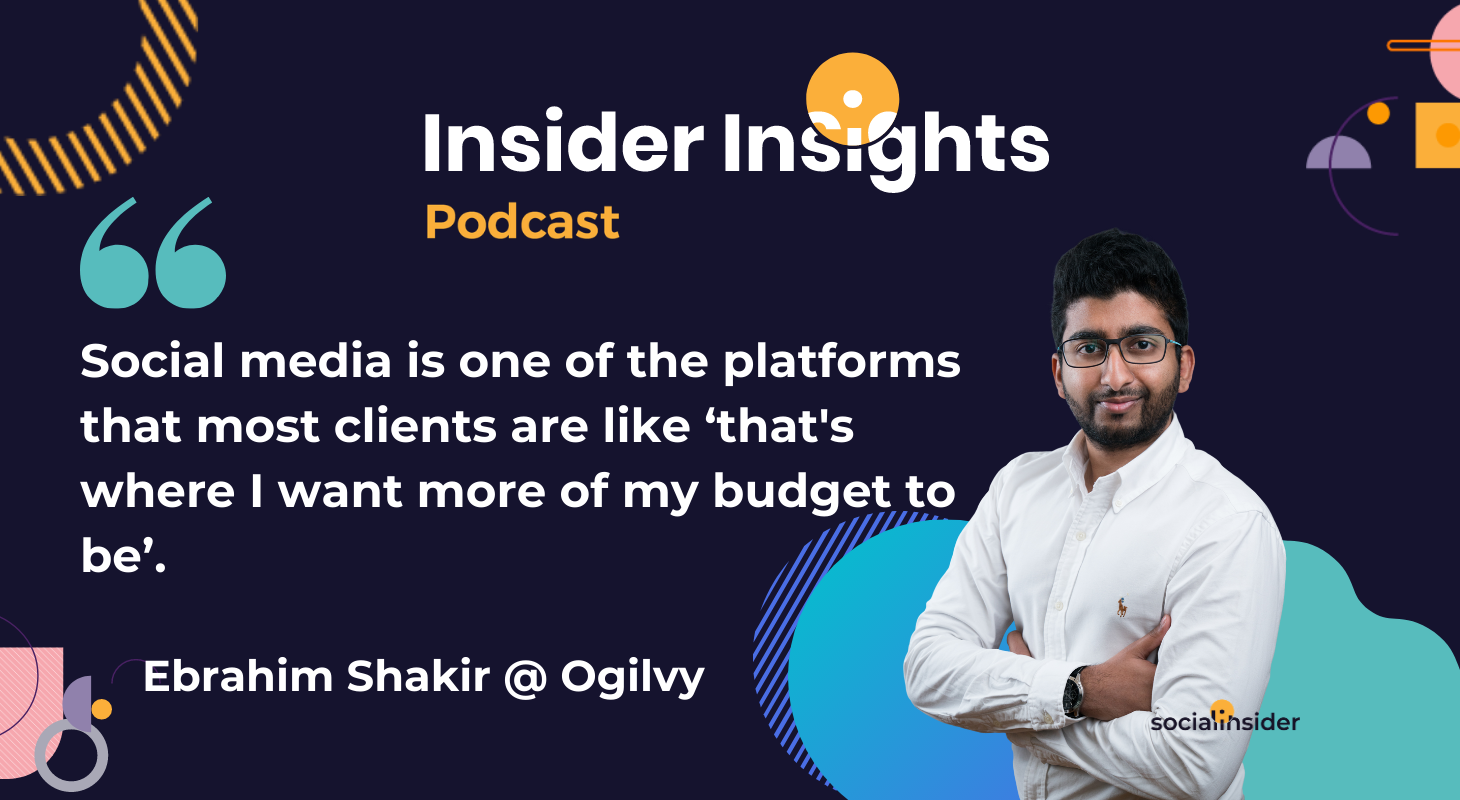 Improving the client-agency relationship
I think you need to be genuinely passionate about what the client is trying to achieve.
I think if you are not passionate about the brand, if you don't care about the product, I think it's hard to build a strong client relationship.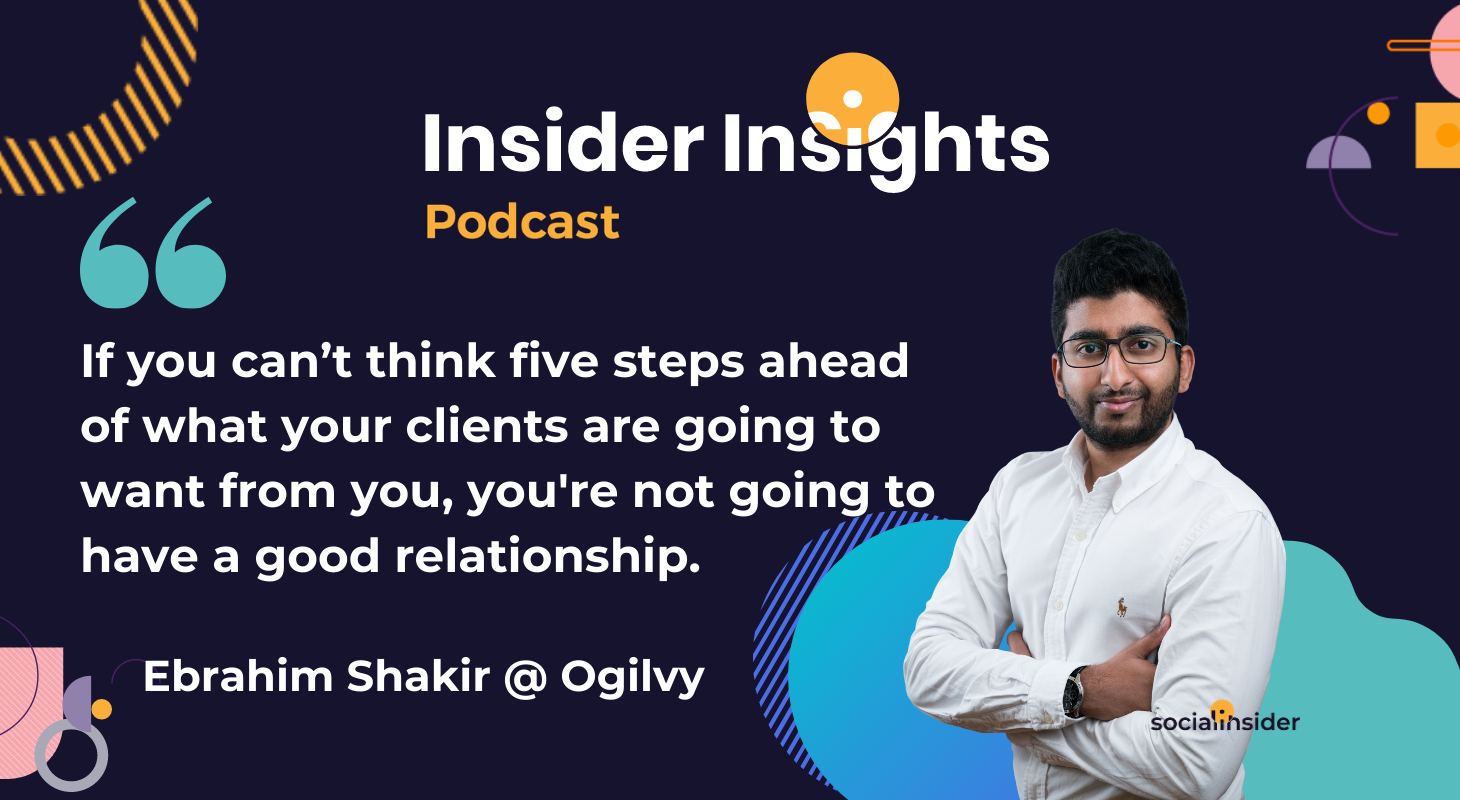 A lot of the brands I've worked on, I have been deeply passionate about the brand and I make it very clear: my plans are that I want to see this succeed.
And I think a large part of a good relationship is being able to listen. You need to be able to understand what are the needs of your clients.
And if you can't already think five steps ahead of what your clients are going to want from you, you're not going to have a good relationship.
But if you know every single thing, if you know how they think, what they want, what their goals are, and what you want to achieve, you're going to be delivering things to them that they are going to really enjoy.
Links to references
Ebrahim on social media
Ogilvy on social media
Socialinsider on social media
Mentioned campaigns
3. Anthem against domestic abuse sung on stadium.
4. Nissan's support during Coronavirus
5. Colin Kaepernick Nike ad
Kaepernick has been a polarising figure since 2016, when, as a player for the San Francisco 49ers, he refused to stand during the national anthem. At first he sat as a protest, then later sank to his knee. The protest was intended to draw attention to police killings of African Americans and other injustices.
Listen to our previous podcast episode about the life of a social media manager!🎙

Related articles: