Life on Twitter has changed in the last few years. At first, people used to pay so much attention to what they were posting on Twitter, but now they seem to have lost interest. We can't blame them.
According to our latest study, Twitter is almost dead for all industries. Everything you post as a brand on Twitter brings you an engagement of 0.07%. Only if you are a politician you can reach out to 0.45% engagement.
But not all of us are politicians and not even they have an easy life on Twitter.
And even so, this doesn't mean that you should take a vacation from this social platform. If you do it properly, you have nothing to lose.
But what if your competitors are really active on Twitter?
In this article, I will share with you a few key points on the importance of conducting a competitive analysis on Twitter, the way you should do this process, and how this will help you improve your performance this year.

Let's get into it!
How to research your Twitter competitors
How to perform a competitors analysis on Twitter
a) Identify your competitors
b) Make a list of top competitors
c) Competitor hashtags
d) Create precise competitive analysis goals
---
1. The benefits of conducting a competitive analysis
You may be familiar with this concept, but you also know that it's not an easy process, even if you are. It requires time, energy, and a good strategy that comes with all of these. In other words, a competitive analysis is still a challenge.
Of course, there are ups and downs, but the benefits are the ones you should consider first - this way, you will definitely feel motivated enough to start doing this more often.

Conducting a competitive analysis is an essential step for every successful company. Everything will lead to insights that will help you improve your performance on social media and attract more people. This can't be a bad thing, right?
But this is not all.
Let me tell you more benefits of starting a competitive analysis:
It helps you identify the value of your product
You can better understand your customers - find out what are their needs and what they love the most in your product or other similar products
You will know what your competitor is doing right - which will help you improve your marketing strategy
You will also know what your competitor is doing wrong - which helps you identify areas of opportunities in the marketplace
Learn what's missing in your industry
It provides you with a benchmark against which you can measure your own growth
Wondering how to create social media marketing benchmarks in 2021?
2. How to perform a competitors analysis on Twitter
There are a few steps you should follow in order to conduct a productive competitive analysis on Twitter. And to make your life a bit easier, we created the list for you.
a) Identify your competitors
This is the first thing you should do. If you don't have much information about your competitors, there are a few ways to find them on Twitter:
Via hashtags: most definitely you and your competitors use similar hashtags. You both target the same audience, so your strategies could be pretty close to each other.
For example, if you are the proud owner of a bookstore in Berlin, try to look for hashtags like #bookstoreberlin, #bookshopberlin, #berlinbooks, #booksinberlin and so on.
Search and discover which hashtags you all have in common and see who's using them and how.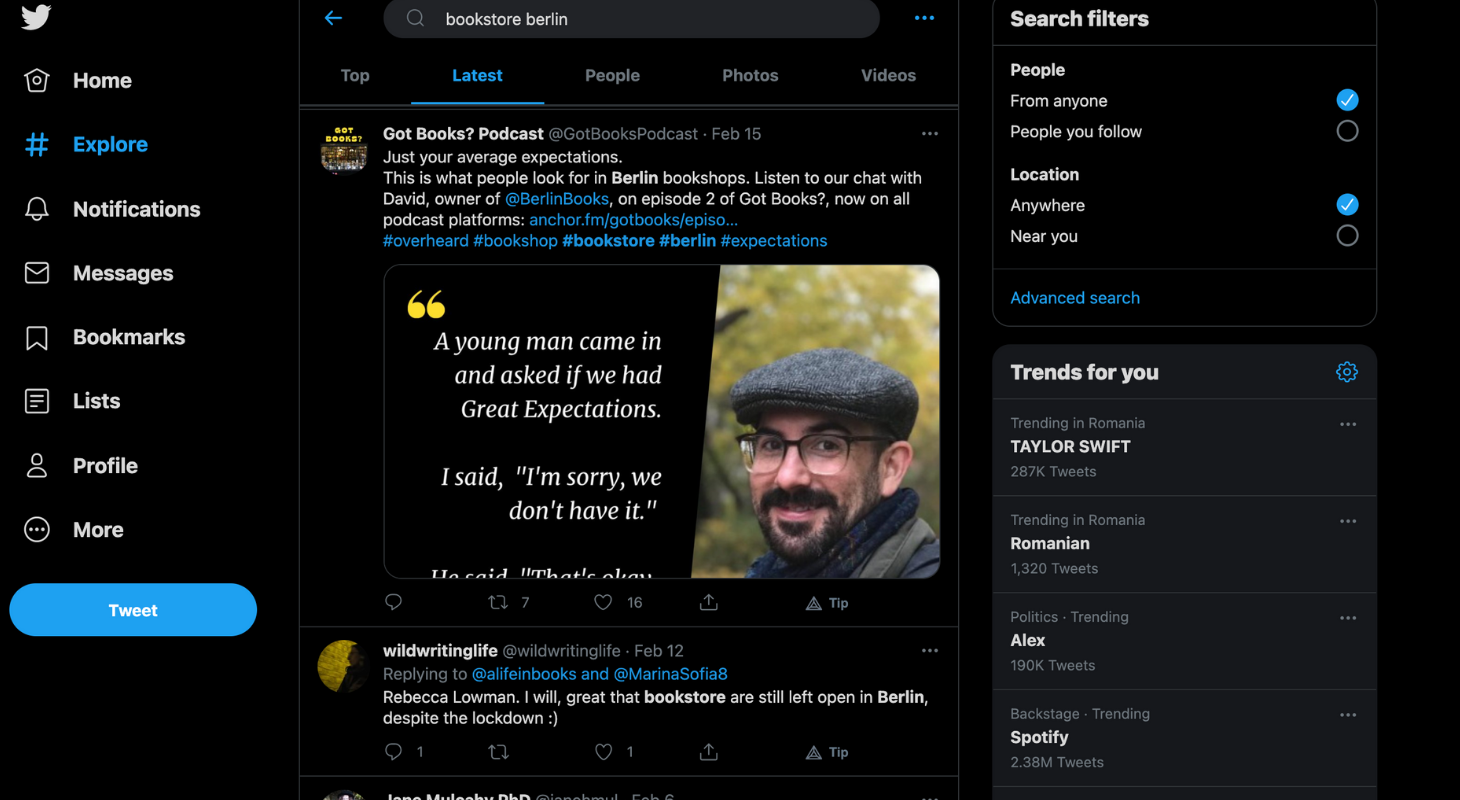 Twitter analytics: chances are, your followers are also following some of your competitors. You can discover a few interesting things in the Twitter analytics section.
Google: a quick Google search won't make your hands fall. Try some keywords and phrases that you aim to rank for. You could type "Berlin bookstore"/ "Best bookstores in Berlin"
You will probably get redirected to their Twitter, Facebook, Instagram so you have plenty to choose from.
b) Make a list of top competitors
This should be a must-list for you. Twitter provides a nice and easy way to create lists. You can group your competitors so it will be easier for you to track them.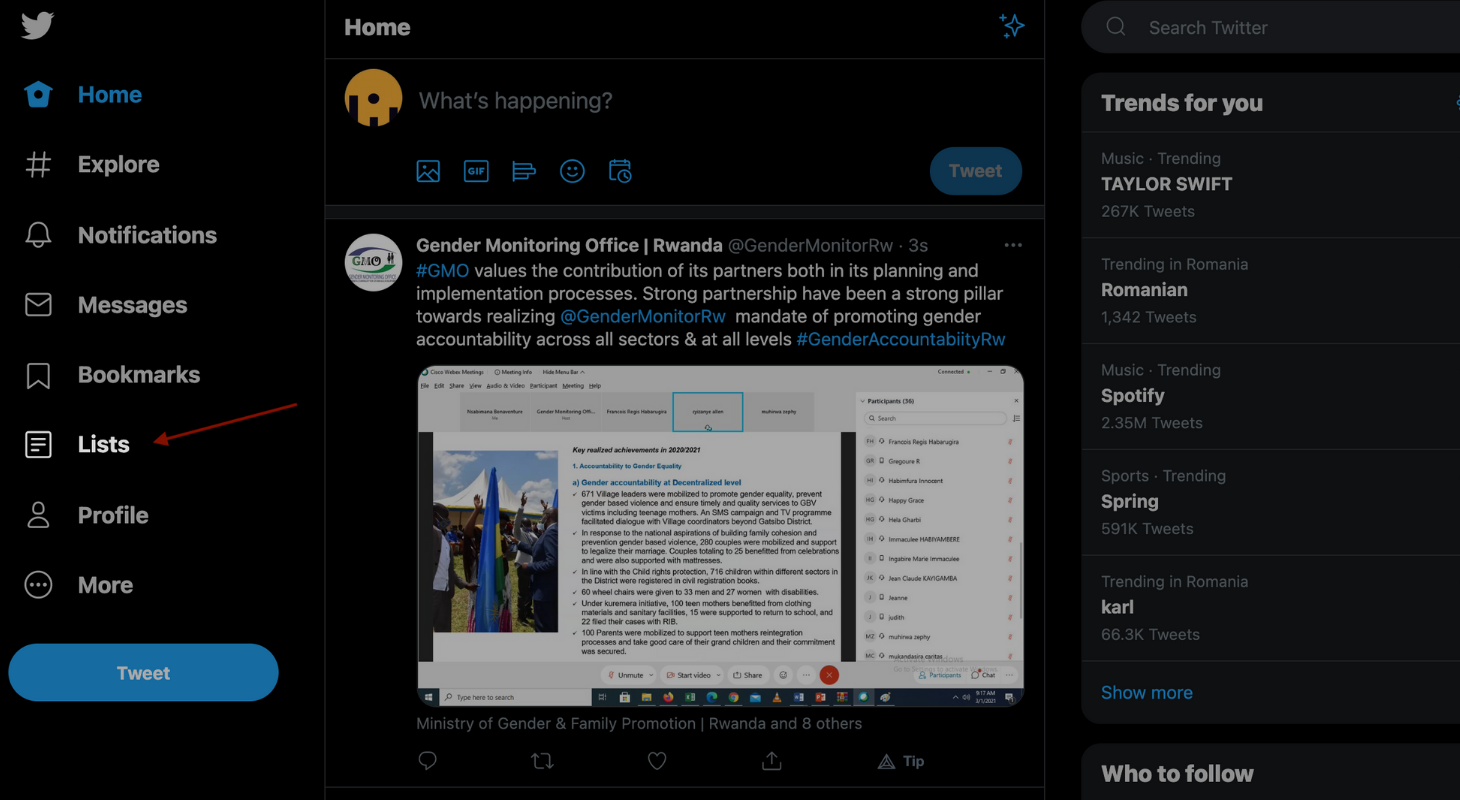 The list can be private or public, but I imagine that you'd want to keep yours private. You can also create as many lists as you want.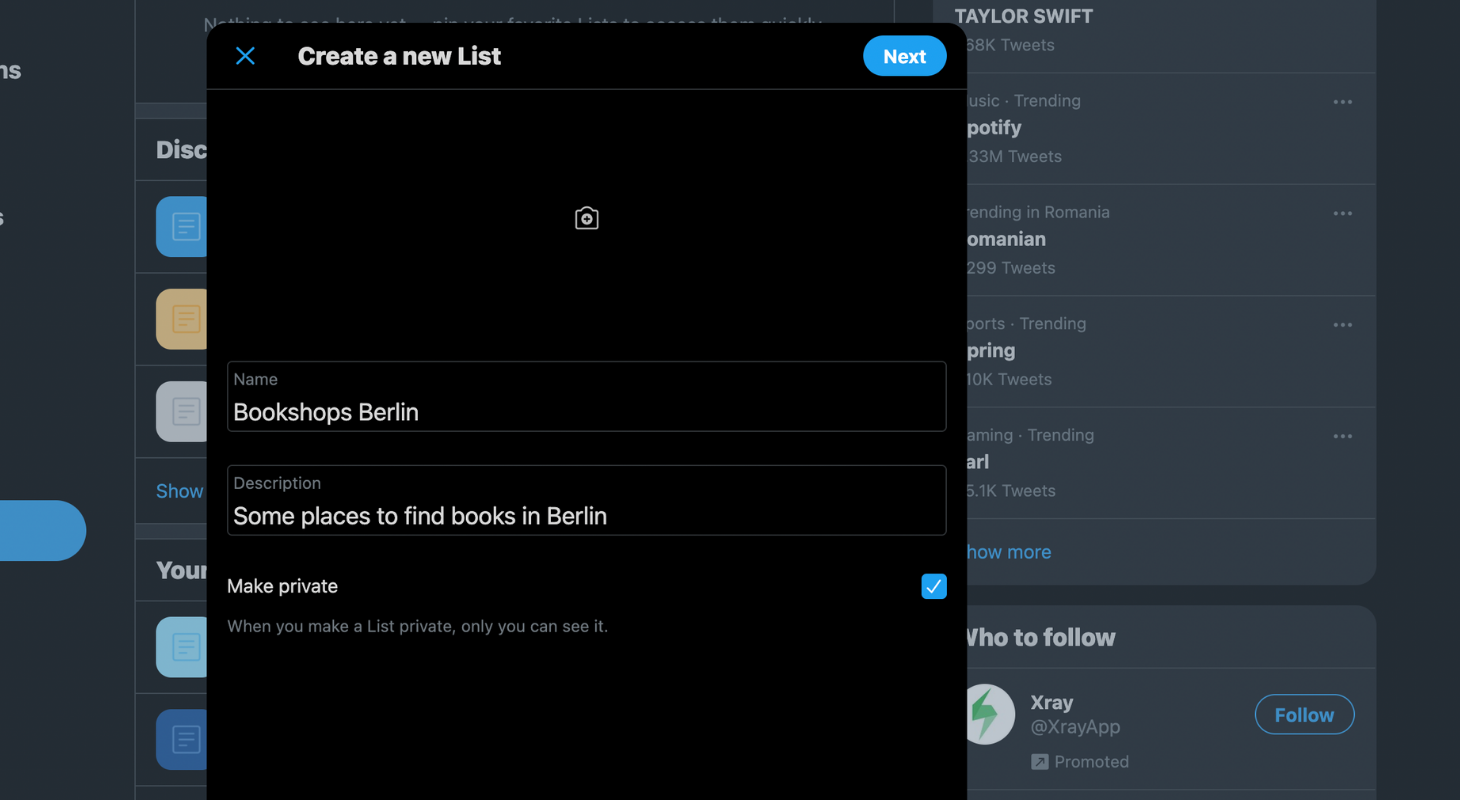 Be sure to decide on your top competitors. Too much is too much and it won't be useful in any way if you will have a never-ending list.
c) Competitor hashtags
Hashtags are an important part of social media. When it comes to your Twitter competitive analysis, the hashtags can help you improve your postings performance big time!

You have to monitor hashtags to grow your Twitter profile, but you should also think about the hashtags used by your competitors - what did they use when they launched their latest product or when they posted something related to their work?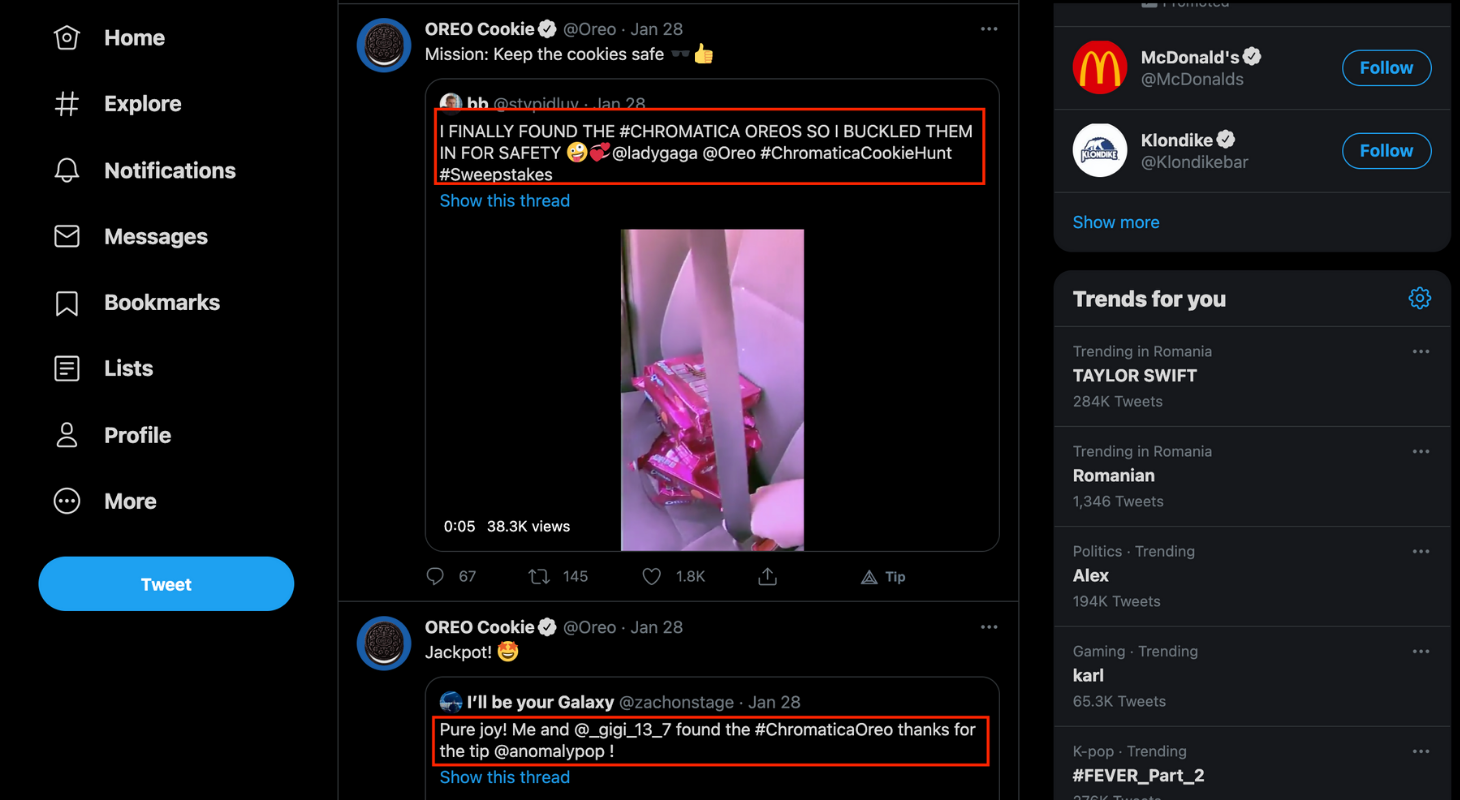 I chose to look for the latest OREO release. They recently dropped a new flavor - a sweet limited edition cookie created in collaboration with Lady Gaga. Inspired by her album, Chromatica, and her fans, the pink-colored OREO golden sandwich cookie is filled with green creme.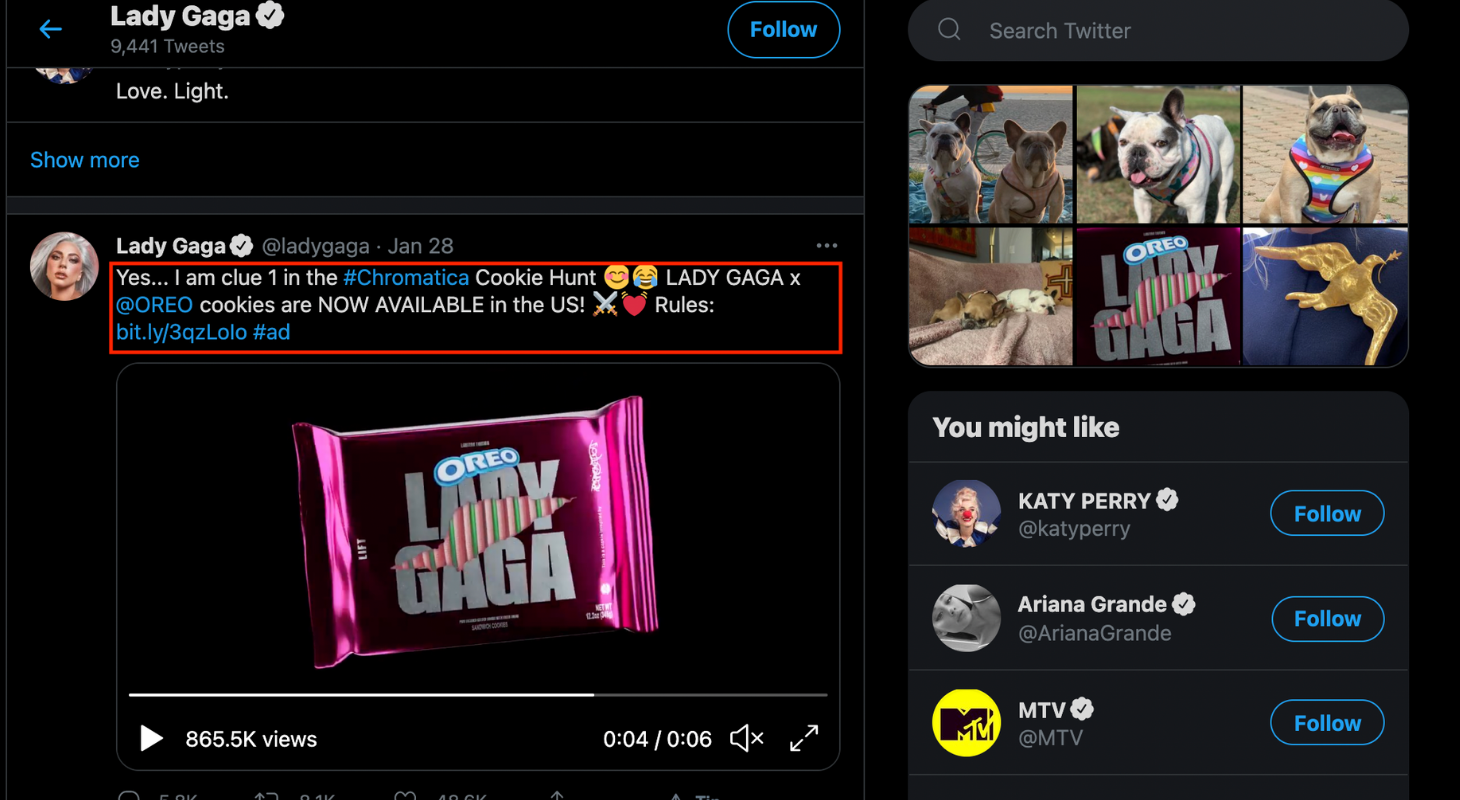 The queen herself tweeted about the cookies - she used the hashtag #Chromatica and shared a nice video of the sweet release.
Wondering how to use Twitter hashtags for better engagement?
d) Create precise competitive analysis goals
There is no doubt that this is an important step. The purpose of the entire competitive analysis is to achieve something, and that 'something' is your ultimate goal.

This is the only way to be a step ahead of your competitors. To determine your exact goals, you should make a good analysis of your competitor's feed.

All the information you're gathering needs to find a dedicated place in your notes. Making lists is the key.

By looking at the strengths and weaknesses of your top competitors will help you determine the threats that arrive. Consider how you can make the most of your strengths, and see what you can learn from your competitors.
3. Key metrics to track in a Twitter competitive analysis
The next step in your competitive analysis on Twitter is to make sure that you are taking into consideration the right key metrics. To do so, here is a list of the most important ones:

Engagements - total number of times a user has interacted with a tweet.
Engagement rate - sum of the reactions, comments and shares divided by the number of posts, divided by the number of followers the profile has, all multiplied by 100.
Follower growth - check how your competitors are performing by considering the new followers they have.
Mentions - see who has mentioned your page or your competitor's.
Tweets by type - even if the image is the most preferred type of content, maybe some of your competitors are performing really well when they post some creative videos.
Timing - this means that there may be a specific timeline when the profile publishes the tweets.
Top hashtags - the most used hashtags by that profile.
We recommend using specific tools to gain competitive advantage.
When using the Twitter's native app, you'll get insights only for your accounts such as: impressions, reach, mentions, followers, profile visits, and the number of tweets.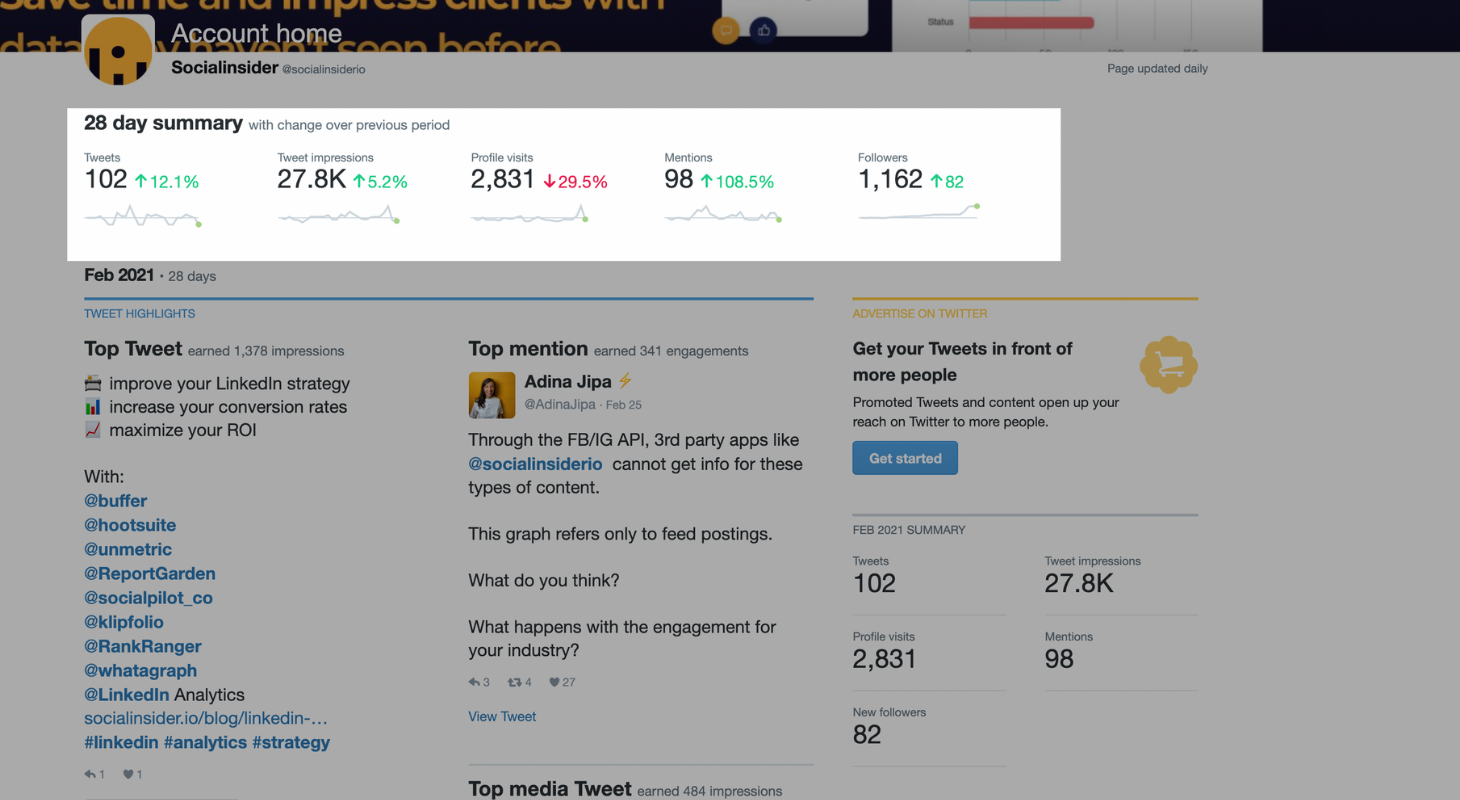 Twitter offers these insights, but if you want to see Twitter analytics for other accounts, you'll have to go in-depth with the data analysis and start looking at specific social media analytics tools.

Using a dedicated analytics tool, you'll be able to have all the above-mentioned metrics, plus other relevant ones, as well as download comprehensive branded reports.
When it comes to tweets comprehensive analysis, using tools like Socialinsider you'll be able to see and download Twitter reports that include:
the distribution of tweets
the average number of tweets/day
the average engagement per tweet and profile
your top three tweets
your follower's growth
top three mentions and distribution of mentions, as well as top mentioners.
your best hashtags by engagement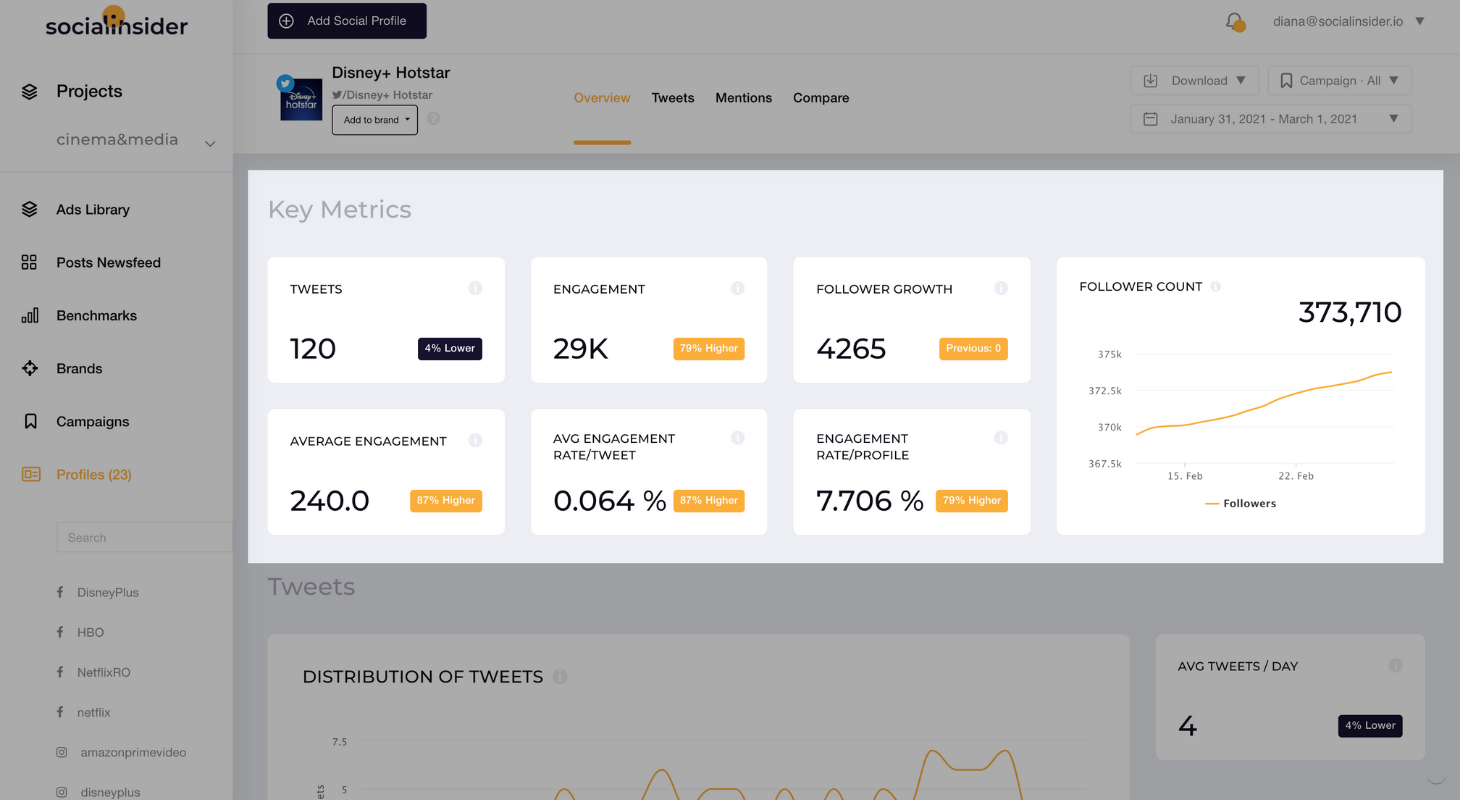 Here is the example for the Twitter page of Disney+. These are the most important key metrics and you can perfectly see how this page has performed in the selected period of time.
You can also take a look at who are your biggest fans, by going to the top mentioners section.
But since we're talking about Twitter competitors analysis, one of the most important features that an app like Socialinsider has is the comparison feature, which allows for instant competitor benchmarking and compare Twitter performance.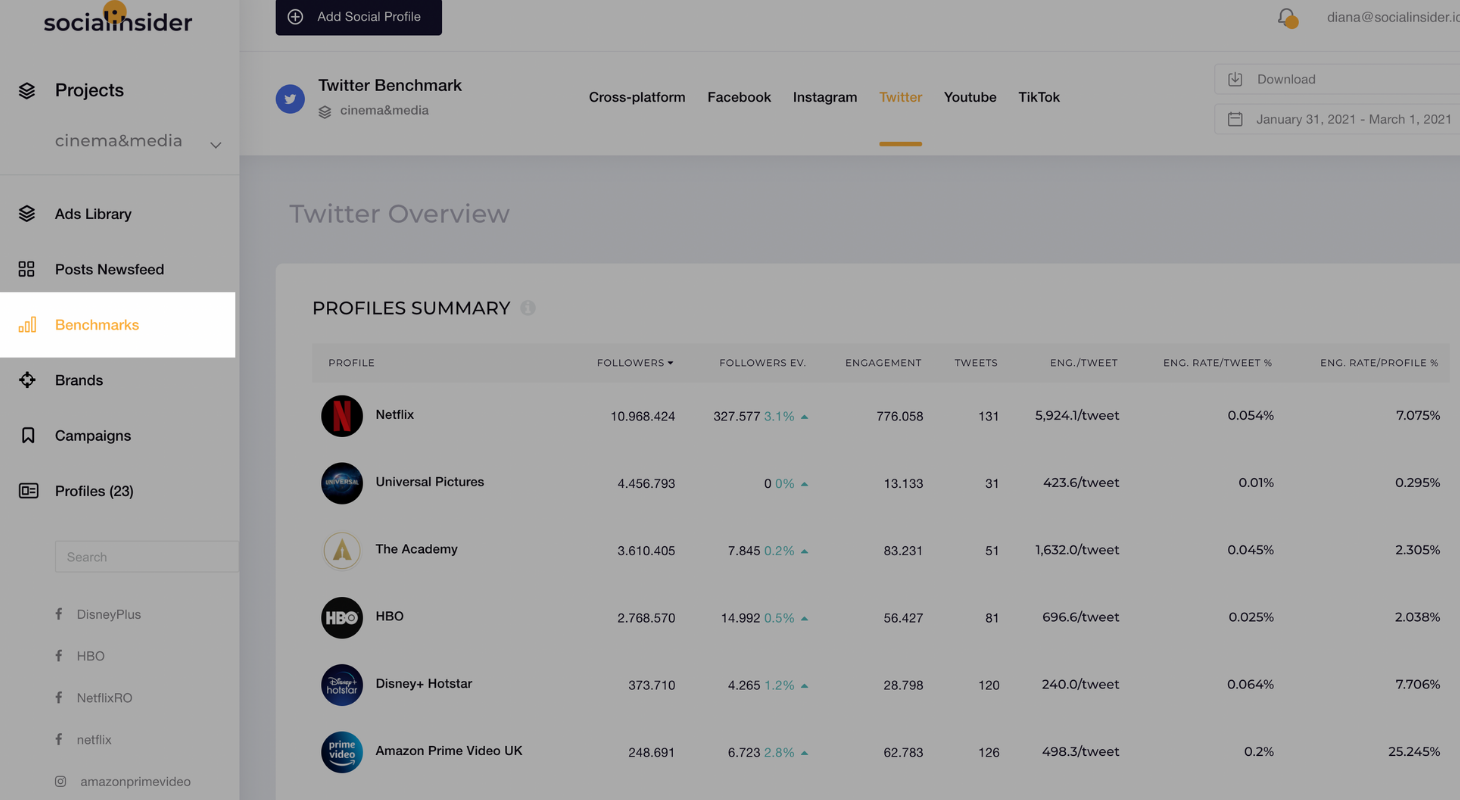 This comes in handy when you want to compare your business activity on Twitter with one of your competitors, measure results side by side, and come up with new strategies to improve your Twitter performance.
Final thought

Conducting a competitive analysis on Twitter can't do you any wrong: this way, you'll get access to some valuable insights that will help you grow your business.

This is how you'll know exactly where you stand in the industry,  what to do to improve your marketing strategy and to make your business grow.
---
Related articles: