With a new and improved version of online streaming and video content, TikTok is by far the fastest growing social media platform worldwide.
While the new subculture created around TikTok may not be clearly defined, one thing is certain: TikTok is a fast growing social media force (as per our 2022 TikTok benchmarks study).
To help you adjust your business message according to the latest trends in TikTok marketing, we'll go over the most important TikTok analytics and statistics in this article.
Powerful TikTok stats for 2023
1. TikTok user stats
As of September 2021, TikTok reached 1 billion active users on the platform, and the numbers are growing day by day.
Experts predict that in 2023 TikTok will amass up to 840 million users.
Let's see some specific TikTok user demographics to understand better which segment group is more active on the app.
1.1. TikTok users by age
​​​​Because its primary users are people born in the last two decades (Gen Z), TikTok's growth is not going to stop anytime soon.
According to Statista, U.S. users between the ages of 10 and 19 make up TikTok's largest user demographic (25%), while 22.4% are aged 20-29.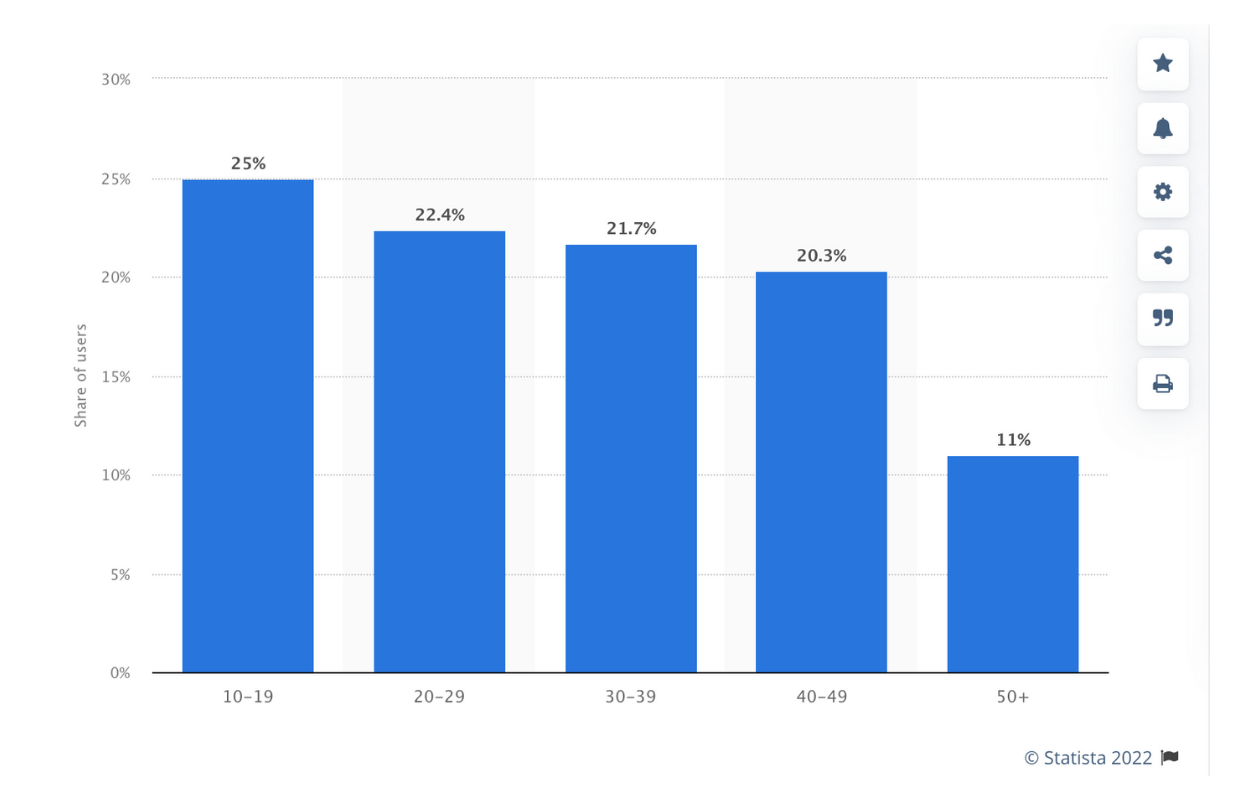 What makes this platform so popular among Gen Z? In a nutshell, it's TikTok's design and capability of letting users express themselves creatively that attracts so many young users.
Nevertheless, the average age of TikTok users is changing constantly as more older people are starting to use TikTok.
1.2. TikTok users by gender
When it comes to gender, TikTok users are almost evenly split. Looking at its own ad audience stats for July 2022, TikTok reported out that 56.2% of its users are female and 43.8% are male.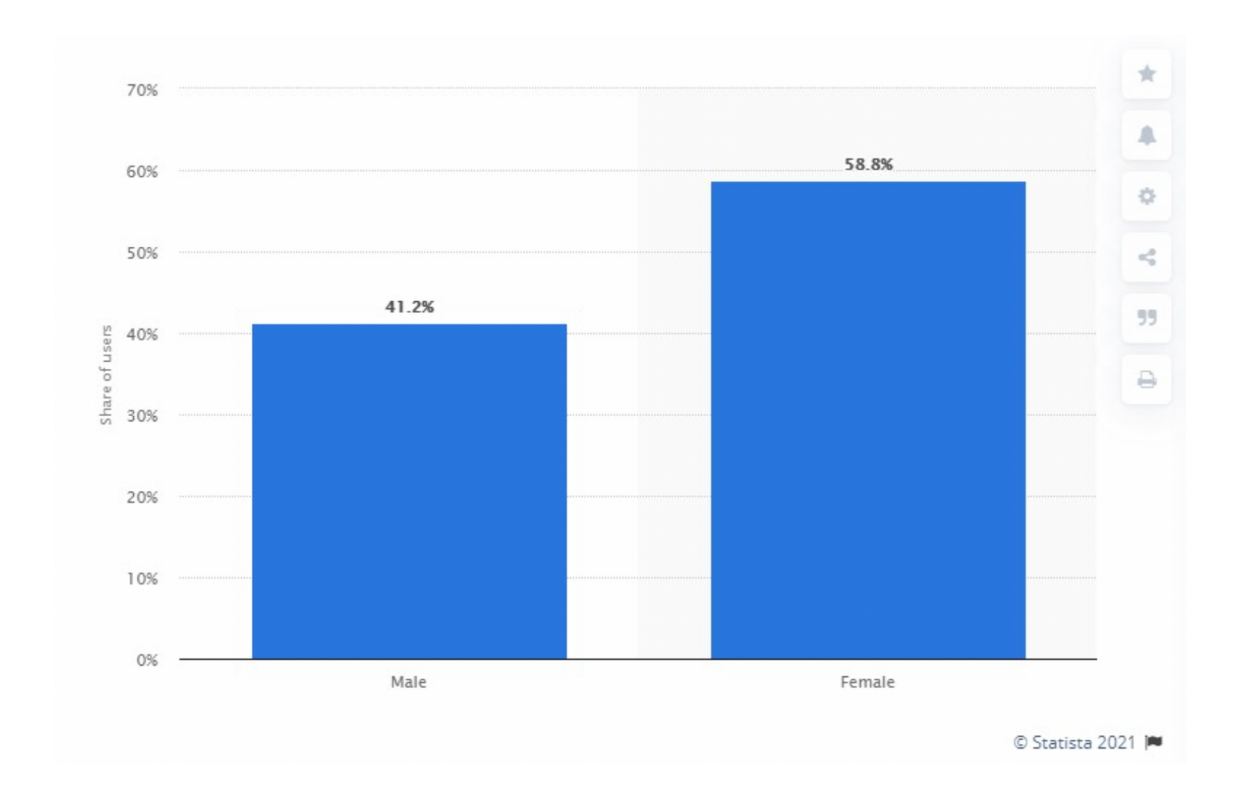 Female users in their teens accounted for 16.4% of TikTok's active user accounts in the United States.
What's more, the majority of TikTok creators are female (53.79%).
1.3. TikTok user behavior
9 out of 10 TikTok users open the app several times per day, which means 90% of users open the app on a daily basis.
Overall, more users prefer watching videos and interacting with shared content instead of uploading content themselves.
2. TikTok engagement stats
According to our Reels vs TikTok benchmarks study, TikTok is definitely outperforming Instagram when it comes to engagement, having an average engagement rate of 7.11%, six times higher than Reels.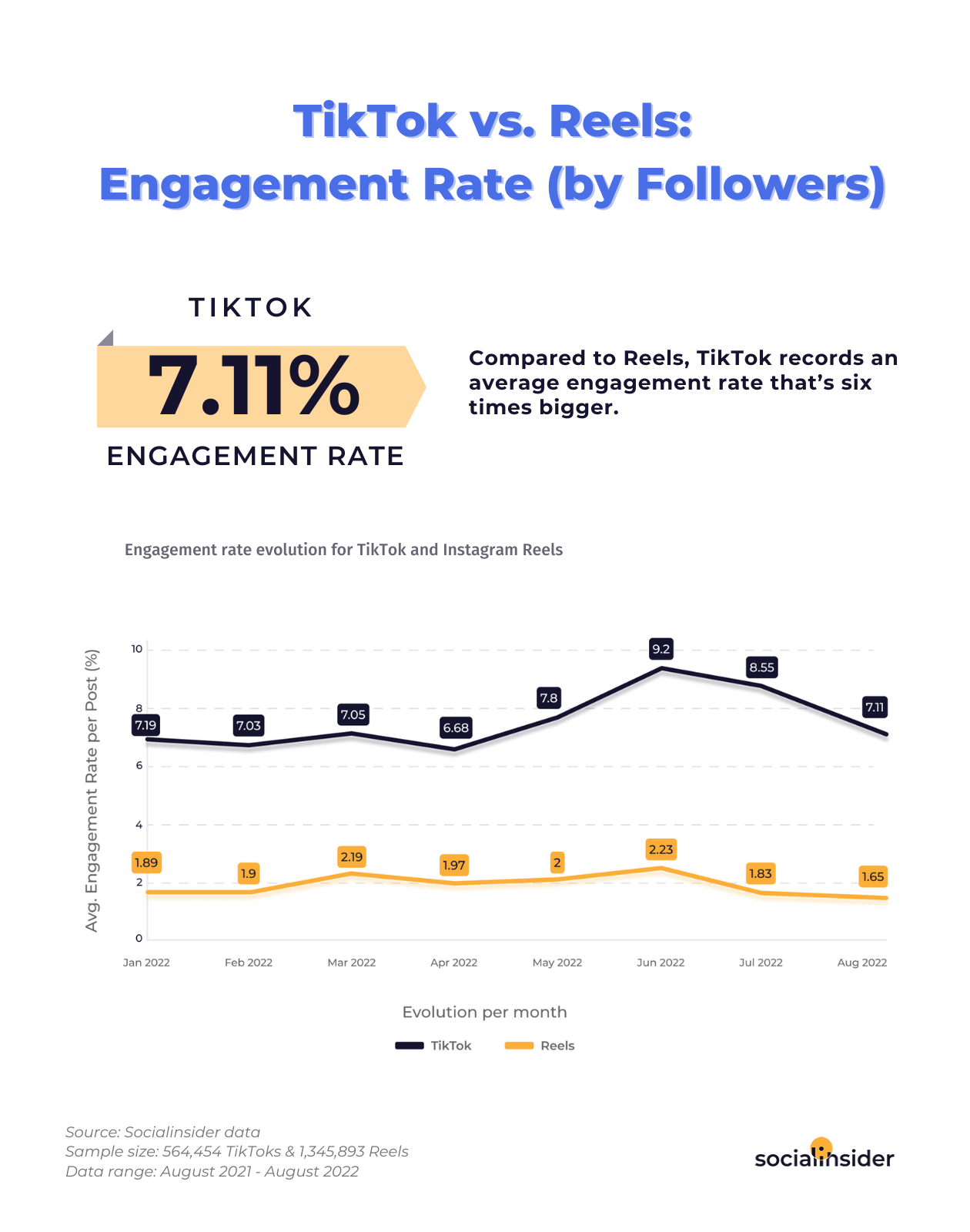 Users are generally much more involved on TikTok, actively shaping the algorithm by interacting with the content that is being shared.
That explains why TikTok has an average comment rate of 0.09% - almost double than that of Instagram.
This means that brands without a TikTok presence should jump on the trend because a powerful TikTok marketing strategy can skyrocket your engagement rates.
2.1. Average time spent on TikTok
An average TikTok user spends 52 minutes per day on the platform, while 90% of users access it daily.
In 2022, the average time spent per month on the platform was a whopping 28.7 hours, compared to 22.8 hours in 2021.
According to TechCrunch, young users spend far more time on TikTok than any other video platform, including YouTube.
2.2. TikTok user interaction statistics
Without a doubt, TikTok is the most engaging social media app out there, with an average session length of 10.85 minutes.
A recent Influencer Marketing Hub study showed that TikTok user profiles with 100,000+ followers have the highest engagement (5.30%),  while Instagram has 1.10% and Twitter has 0.30%.
3. TikTok download stats
Since its launch in 2016, TikTok has managed to accumulate a billion downloads by February 2019 and another half a billion in the next eight months, which is quite impressive.
Let's see some more exciting stats:
3.1. TikTok has been downloaded 3 billion times
In 2022, TikTok hit a major milestone. The platform now has a total of over 3 billion downloads globally, quickly overshadowing other social media platforms to have had over a billion downloads, such as Facebook.
It's the first app outside of the Meta universe to hit this mark.
3.2. TikTok was the most downloaded app in 2021
Business of Apps reported that TikTok was the most downloaded social media app in 2021, with 656 million downloads in that year alone.

By Q2 2022, TikTok was the most downloaded app on the Apple App Store, with over 60 million downloads in a single quarter on iPhone and iPad devices.
3.3. TikTok download stats by country
Although TikTok was very popular in its home country, China, the app saw significant growth in downloads in India in 2019 and 2020.
In 2019 alone, 323 million TikTok downloads came from India alone, this TikTok statistic making India the most significant contributor to the app installs, with 611 million downloads to date.
According to TikTok, the app is available in more than 150 markets worldwide and it is the #1 downloaded app in over 40 countries.
4. TikTok video stats
As mentioned earlier, TikTok is a social media platform for sharing, creating, and watching short videos that are catchy and entertaining. Engaged TikTok users are actively liking, commenting, and sharing content.
And there's no doubt that video content is the future of social media marketing. Here are some essential TikTok video stats that you should know about.
4.1. TikTok had over one million daily video views in 2018 after its launch
Considering the format of TikTok videos, it's very easy to fall into a rabbit hole of watching 50-60 second videos for hours on end.
What makes TikTok videos even more addictive is that due to the carefully curated algorithm, your FYP feed will be full of posts that match your interests, which will keep you scrolling.
So there is no surprise that TikTok had over 1 million daily video views in 2018 after its launch. You can only imagine what these numbers look like now.
4.2. The #Raindropchallenge has 1.2 billion views as of 2021
One challenge that gained more than one billion views on TikTok is the #raindrop challenge. This challenge went viral in 2018, and it has gained massive interest since then.
To complete the challenge, creators pretend to stop rain from falling and then move their hands to cause the drops to shift.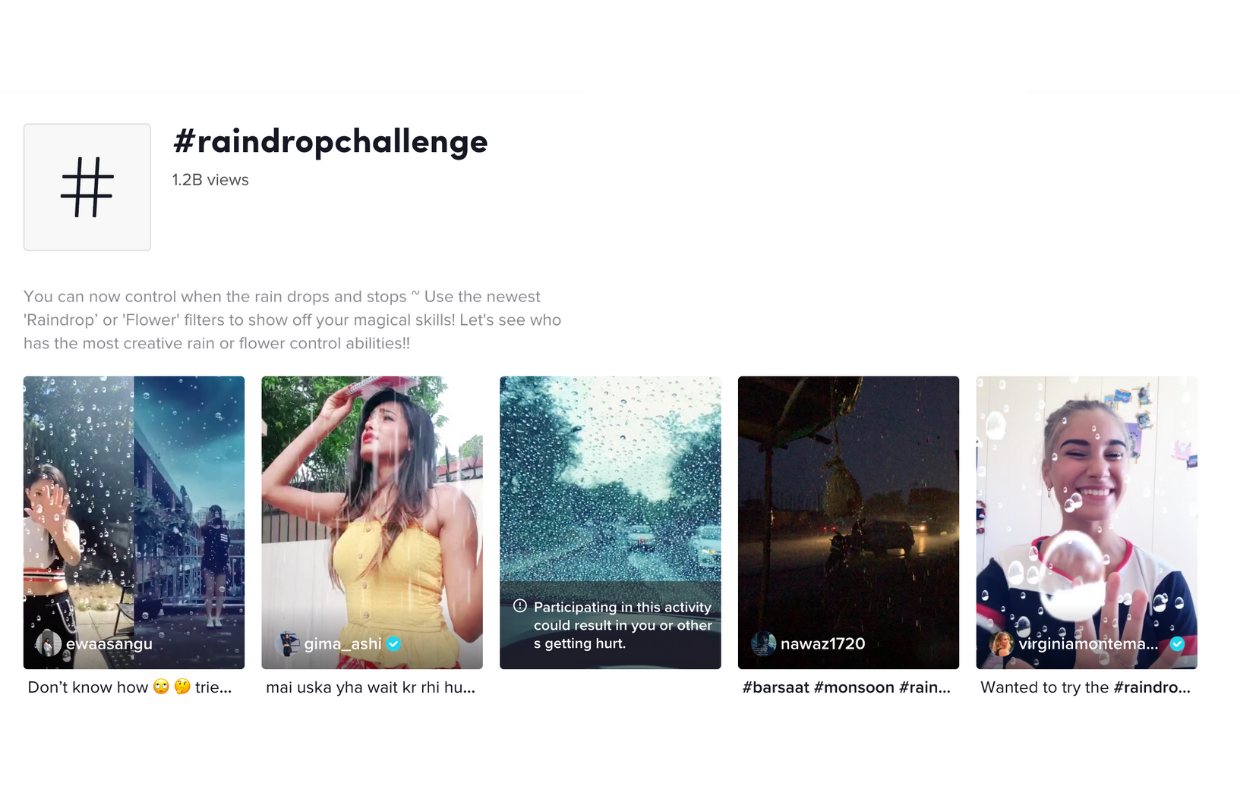 Hashtag challenges are a great way to engage your users since they're easily shareable. These challenges can either be created by TikTokers or brands to promote their products or services.
4.3. TikTok's most popular video in 2020 had 547.1 million views
One of Bella Porch's videos attracted 547.1 million views and close to 45 million likes. She used Millie B's "M to the B" as a soundtrack and went viral in no time.
By comparison, the #1 video in 2022 for US users is a one featuring a pastry chef who creates an enormous giraffe figure out of chocolate. The video has so far been watched over 308 million times.
5. TikTok financial stats
With TikTok's increase in popularity, it's only fair that the app's earnings have risen proportionally.
According to Sensor Tower data, TikTok is the top-grossing non-gaming app worldwide for February 2021, having registered more than $110 million in user spending.
Let's examine revenue growth and financial TikTok data, so you can plan better TikTok marketing strategies going forward.
5.1. Nearly 80% of revenue comes from China
According to Influencer Marketing Hub, approximately 79% of TikTok's revenue was from Douyin in China, 8% from the United States, and 3% from Turkey.
More specifically, in December 2020, China brought in a revenue of over $120 million.
This is extremely important to mention since a few years ago, before the arrival of ads, 42% of revenue came from the United States, as per the same source.
5.2. Americans have one of the highest spending on TikTok coins
This may seem odd since it doesn't happen on the other major social media platforms, but TikTok users spend real money on the app to purchase coins.
TikTok coins are used to reward favorite creators by purchasing gifts and giving them away during live streams.
Coins are available in bundles from 100 to 10,000 that range in price from 99 cents to $99.99. According to Sensor Tower data, the 100 coin bundle is the most popular among users, followed by the 500 coin bundle priced at $4.99.

5.3. TikTok generated an estimated $1.56 billion revenue in Q3 2022
TikTok's quarterly revenues have only grown in the past few years - and they don't seem to be slowing down.
In 2021, TikTok generated an estimated $4.6 billion revenue, a 142% increase year-on-year, as per Business of Apps.
Moreover, TikTok is valued at $50 billion, while Bytedance, TikTok's parent company, is valued at $250 billion.
As TikTok is one of the most profitable startups in recent times, the platform offers many advertising options to connect with a broad user base.
6. Top TikTok creators
Like any other video-first social media platform, such as YouTube, Vine, or even Instagram, TikTok has opened its doors for content creators.
Because TikTok has established itself as the perfect platform for videos to go viral, reaching millions of users, especially youngsters, the app is home to many famous faces.
It's also the perfect place to welcome new superstars overnight, thus offering great ways for businesses to promote their brand and products and reach wider audiences.
Here are the top five TikTok creators:
1 – Khaby Lame - 153.7 million followers
2 - Charlie D'Amelio - 149.4 million followers
3 - Bella Poarch - 92.6 million followers
4 - Addison Rae - 88.8 million followers
5 - Will Smith - 72.9 million followers
7. Top TikTok categories
As of July 2020, the most popular TikTok content categories (by hashtag views) had over two billion views, according to Statista.
The app's most viewed content category was entertainment content, with a total of 443.3 billion hashtag views. Dance received 150.3 billion hashtag views, making it the second most popular category.
The most popular TikTok categories are:
Entertainment – 535 billion hashtag views
Dance – 181 billion
Pranks – 79 billion
Fitness/sports – 57 billion
Home reno/D.I.Y. – 39 billion
Beauty/skincare – 33 billion
Fashion – 27 billion
Recipes/cooking – 18 billion
Life hacks/advice – 13 billion
Pets – 10 billion
Outdoors – 2 billion
In a similar vein, our 2022 Reels vs TikTok benchmarks study revealed that News and Entertainment make up the top interests, followed closely by Games, then Apparel / Accessories.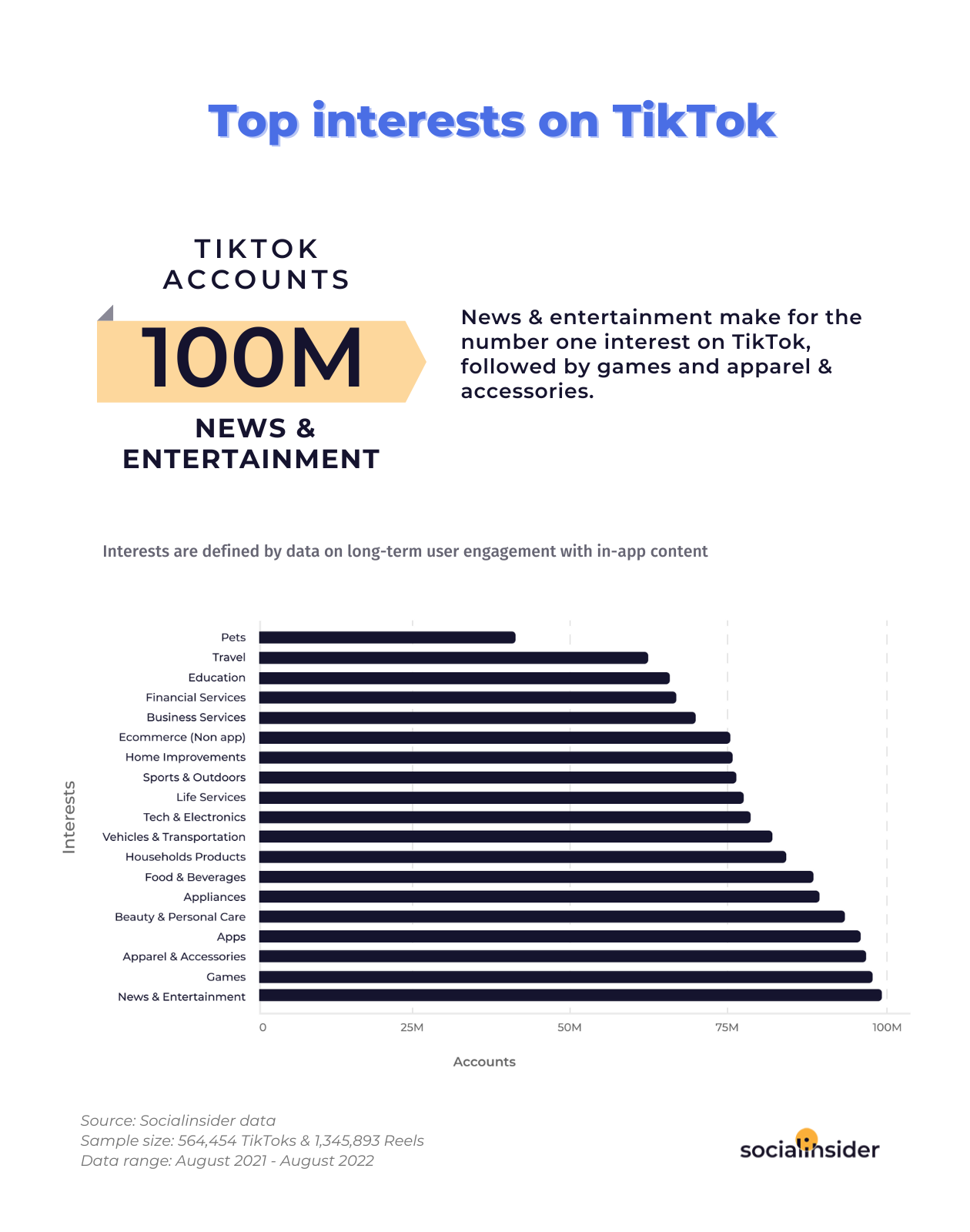 Our data on top TikTok interests can give you an idea on whether your business has a good shot at performing well on the platform, depending on the industry you find yourself in and the way you choose to present your brand on social media.
What's next?
Without a doubt, TikTok is here to stay and most likely dominate the social media industry for the foreseeable future.
To take full advantage of this, moving forward, marketers are planning to devote time, money, and creative energy to TikTok, focusing primarily on the Gen Z audience.
This will definitely help accelerate TikTok's growth in 2023 and complete its transformation into a multi-purpose social app, where users go to laugh and be entertained, but also get the latest news and learn new things every day.
Final thoughts
Even though TikTok is a relatively new social media platform, it has demonstrated that it has shown massive potential to steal the spotlight of giants like Facebook or Instagram.
And what better way to showcase the platform's success than through powerful statistics about TikTok?
Next time you're planning your social media strategy, consider giving TikTok a shot and keep these handy stats on TikTok in mind.