The ability to share photos, opinions, events, and more in real-time has transformed the way we live and, also, the way we do business.
This is one of the reasons why number of people who using Internet has surged over the past year, with more than one million people coming online for the first time each day since January 2018.
According to some studies there are 3.48 billion social media users in 2019 with the worldwide total growing by 288 million (9%) since this time last year.
If you're using social media to promote your business, or to generate conversions, I'm sure that at least once you've asked yourself:
When is the right time to post?
What should I post for better engagement?
How many hashtags should I use? 🤔
That's why, today, I'm going to share with you Shane Barker's essential social media tips and tricks, and what you can add to your strategy for better engagement.
---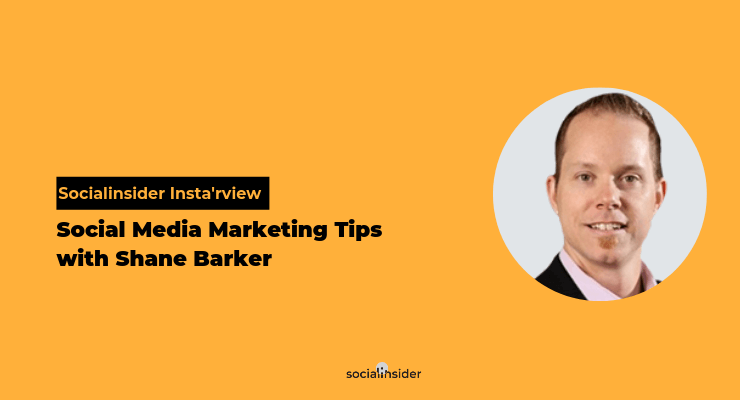 Essential Social Media Tips & Tricks
---
Behind the social media person that everybody knows, and digital marketing consultant with over 18 years of industry experience, Shane is a person like any other: with a routine, a job, and a pretty busy schedule.
Like in case of other social media experts which I talked to, Shane's path was not straightforward.
He started his career in the restaurant industry and took on multiple roles like a bartender, server, and corporate trainer of all staff. Even though it's not an easy industry, he managed to succeed.
Let's find out more about Shane and his brand social media.
#1. Who is Shane Barker and what is he doing on a regular day?
Shane Barker: "I hit the road post my journey on Instagram Stories. At 9 am, I start meetings that usually last till 4 pm.
Monday - Friday are sales and podcast interview days + training.
Tuesdays, Wednesdays, and Thursdays are marketing, real estate, interviews, other podcasts, and team meetings."
#2. Who were you before becoming a social media expert that everybody knows?
Shane Barker: "I was in the restaurant industry for quite a while and was responsible for opening a chain of restaurants called, "Chevy's Mexican Restaurant" around the US."
#3. What social media book would you recommend me and why?
There are several social media marketing books to know in the industry, so I asked Shane what book he'd recommend me or any other person interested in learning more about social media strategies, tips&tricks.
According to him, Gary Vaynerchuk's book, "Jab, Jab, Jab, Right Hook" is a must-read for any social media marketer.
Shane Barker: "I think that Gary is really brilliant at his job and this book reveals some of his hard-earned lessons and advice that we can all benefit from."
📝 In this part of the interview, you may want to grab a pen and paper because it's time to reveal some social media tips that Shane is using on social media.
#4. What's your advice for someone who wants to become a social media expert?
Shane Barker: "Applying that to a social media context, my advice for marketers is to think about how consumers use social media.
What is it that they want in their feeds?
What interests them, and what doesn't?
And once you understand that, try to incorporate it into your content and deliver it to their social media feeds as natural as possible.
Instead of pushing your content, you need to make it look like native content that is relevant for your target audience."
#5. Where do you find inspiration for your articles?
Shane Barker: "I conduct thorough keyword research to select the topics for my content. I look for all relevant keywords in my niche and choose the ones that I can effectively target.
So, my topic selection is an elaborate process that requires a lot of research and is not inspired by random thoughts or ideas."
#6. What is your favorite social media channel and why?
Shane Barker: "My favorite social media channel is Twitter because of its unmatched networking capabilities.
Twitter is a great platform to interact with people, engage in conversations, and build your brand. And, you don't need to create fresh, well-researched content for it.
You can tweet about anything and everything related to your industry. So, it is much easier and faster to build a network and a personal brand on Twitter than it is on any other channel."
Shane Barker: "When it comes to my social media strategy, I prefer keeping things simple. I post a mix of useful and relevant content for my target audience across different social media platforms.
Here are some everyday social media sharing activities that I perform daily:
Promoting at least one of my blog posts per day
Sharing 4-5 posts from other useful industry sources
Sharing lead magnets across various social media platforms
Apart from this, I also engage in social media conversations and interact with my audience regularly. I make sure that I don't take too long to respond to audience queries and am quite active on most social media channels."
#8. Are you looking at analytics when you plan your content strategy for Instagram, Facebook, Twitter?
Shane Barker: "Yes, I do look at some insights that fuel my content strategy. These are usually analytics on the past performance of my content and social media accounts.
Some of the key things that I look at to formulate my content strategy are:
What type of content performs best for each platform? This is based on analytics on my previously-posted content over a period of time.

What types of posts get the maximum number of impressions?

What are the demographics and preferences of my audience?
#9. Do you have a strategy when it comes to hashtags for your social media content?
Shane Barker: "Hashtags are useful marketing tools that every marketer should use to reach more people on social media.
However, there is always a dilemma that marketers face when it comes to the selection of hashtags.
On one hand, you want to use the popular ones that a lot of people follow. And on the other, you want to use some niche ones for which you can feature in top posts.
My strategy is to use a mix of hashtags of different popularity levels. I always segment my hashtags and use some from each segment.
I usually use ten popular ones with millions of followers to reach a broader audience.
Then I include ten less-popular ones with 500K to 1 million followers
I also add 5-10 niche hashtags that are most relevant to my content to reach a relevant audience who will be interested in my content. Moreover, these are the ones where I stand a chance to be featured in top posts.
Being a digital marketer, I am always interested in listening to my peers and have a whole collection of social media marketing quotes from them that I like. Here's one of my favorites:
"A brand is no longer what we tell the consumer it is – it is what consumers tell each other it is." – Scott Cook, co-founder Intuit
Final thought
In this interview, Shane gave me some essential social media tips and tricks for social media managers, small business, and not only.
Here are some highlights of this interview:
📌 Promote at least one of your blog posts per day
📌 Share posts from other useful industry sources
📌 Use a mix of hashtags of different popularity levels
📌 Use analytics and see what types of posts get the maximum number of impressions
📌 Analyze the best times to post
📌 Find out what type of content performs best for each platform
📌 Think from consumers' perspective
I'm sure that in this industry are a lot of 'secrets,' and I'd love to hear what's yours. Let me know how do you promote your business, and what is your most important social media tip. 👇
---
Related articles: