Instagram is that photo and video sharing app used by millions across the globe. More than just a social platform for users to share their experiences with family and friends, now it's a vital tool for business owners and marketers to create visual narratives about what makes them, and their products different from everything else that's out there.
In this article, I am going to share with you the story of a woman who's helping from entrepreneurs to global organizations understand the power of Instagram.
Maybe some of you know Jenn Herman from Instagram or her blog, but here's the story of an entrepreneur and Instagram expert - Jenn Herman.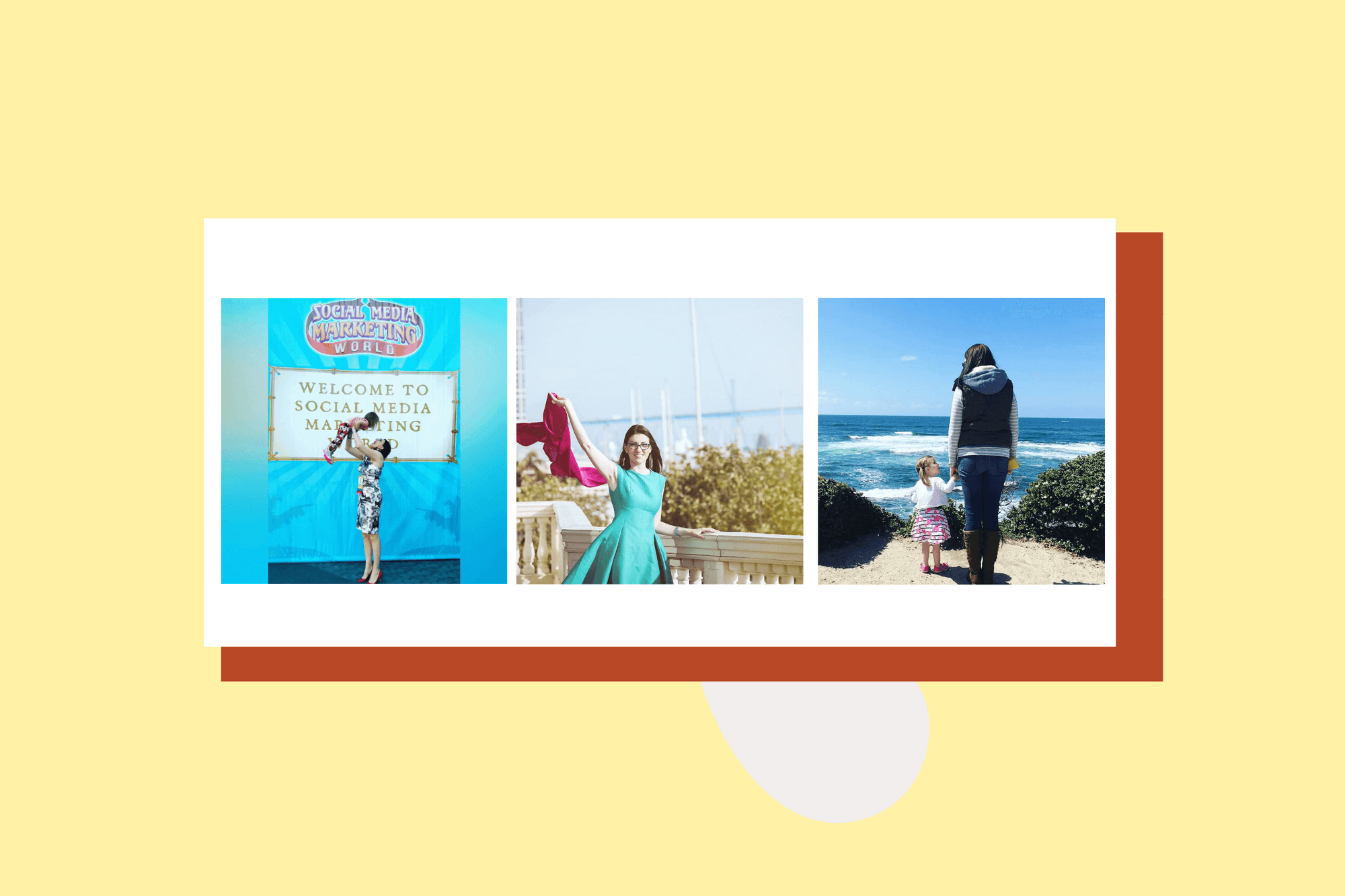 ---
A sneak peak of the article!
---
#1. Who is Jenn Herman and what is she doing?
Imagine this: a full time job as a director of marketing for an aerospace company, running Jenn's Trends as a "side business", speaking at conferences, hosting webinars, guest on podcasts and blog content. Let's not forget about the most important full time job as a single mom to an adorable toddler who has strong opinions on fashion.
"Jenn Herman is one giant glittering ball of "life is crazy", as she describes herself.
In 2018 she co-authored Instagram for Business for Dummies with Eric Butow and Corey Walker.
This book shows you how to use Instagram to connect with your audience in a meaningful way as you showcase your products and offer a unique insider's view of your brand.
Jenn: I am the world's forefront blogger on Instagram marketing and I am a leading expert on Instagram tactics and strategies.

I am a single mom to an adorable toddler and I am slightly obsessed with things that sparkle and glitter. Oh, and shoes! I'm addicted to fabulous shoes. ✨
#2. Jenn's Trends - how did it all start?
Beginnings are beautiful. Starting something new offers excitement, an opportunity for change, exciting and uncertain all at once. All you have to do is be open. Maybe someone will appreciate what you are doing.
I asked Jenn how was for her starting Jenn's Trends. Where came the idea and how she managed to stay focus with a full-time job, a child and a new beginning.
Jenn: Jenn's Trends started on a random Sunday in January 2013. I was struggling with getting the executives at my day job to understand how social media worked and why we needed to "pull back the curtain."

As I overcame some of these challenges, I realized others might benefit from this knowledge and understanding. And since I'm not one to sit idly by and do nothing on my weekends, I launched a blog, just like that. I had no strategy, no goals, no schedule.

I just started blogging and creating content. I had no business plan to generate money. It was a hobby. A few months later, I found out about Social Media Marketing World, a major conference in San Diego, where I live. I couldn't afford the ticket to the conference, but I went and hung out at the hotel where the event was and met a ton of people.

I also had my epiphany that night and realized I knew what I wanted to do - I wanted to speak on that stage. I wanted to educate people and be a speaker.

So, I found a direction and purpose for the blog and made it my mission to be recognized as a speaker. I built a network of amazing people. Three months after the conference, I finally joined this app called Instagram and fell in love. At the time, no one was blogging effectively about how to use Instagram for business use or marketing.

So I started blogging about it as I experimented with things and learned about features. In the process, I became a ranking authority in search engines for people looking for Instagram information, and I started getting invited to speak on stages about Instagram marketing. And in 2015, two years after my epiphany, I spoke at Social Media Marketing World for the first time. 2019 will be my 5th year as a speaker there.
#3. Who were you before Jenn's Trends?
Sometimes life can be tricky, and you can wake up one morning realizing that you want to do something else and that you're not living your dream, even if you don't know what that dream is yet. It just doesn't feel right.
That's how it was in Jenn's case. She wanted to be a veterinarian, so she went to university to pursue an undergrad in Biology. After a couple of years Jenn realized she wanted to do Forensic Science, so that was the moment she changed her whole career path.
Jenn: Life can be crazy.
We can say she did it all: Degree in biology, Master in Forensic Science, bartending and waitressing, sales person for a restaurant company, and after some years she got a job in Human Resources at the company she's actually working now as a Director of Marketing.
Jenn: Before Jenn's Trends, I never would have imagined this life or career.
#4. What does Instagram mean for your business?
Every day, brands are incorporating Instagram strategy for business growth. Videos, gifts and photos are driving high engagement rates, and the reason why Instagram has become so huge is because it builds a global social network by connecting people via visual elements alone, making it a powerful medium of capturing and sustaining people's attention.
For Jenn, Instagram means a lot, and it's been paramount in building her brand and community. She understood the power of this platform, and daily she's helping people appreciate the real potential of Instagram for their business.
Jenn: I have so many people that I first met through an Instagram post who are now friends and colleagues.

I've also garnered multiple interviews, referrals, and clients because of the content I share on Instagram. I generate website traffic frequently, especially when I share a blog post and have plenty of emails directly from Instagram every week from people wanting help or to hire me.
Every two weeks, Jenn is hosting a live broadcast.
Jenn: I post regularly, I share breaking news about Instagram features or updates, and I host a live broadcast every two weeks.
#5. What is your Instagram strategy?
Even if you're selling physical goods or services, Instagram has become a central part of the social media strategy which requires planning, execution, and measuring the results.
Jenn: I only post highly relevant content for my audience.I've learned that they most appreciate the Instagram news and updates so I make a big deal about those posts, with lots of details and information in the caption.
Instagram photos generate higher engagement rates and looking at her analytics Jenn realized that photos with her get much higher engagement.
Jenn: Even though I don't want to post endless photos of myself, I do. Because my audience knows immediately it's me, I have something to update them on, and they will read it.
Talking to Jenn I understood that knowing the people behind the "hearts" and "comments" it's really important.
They are on your profile because they trust you and they believe that they can get something from your posts. Because of that is important to have a strategy and give to your audience the best you can.
Jenn: Whenever I travel, I also document a lot of the behind-the-scenes in my Stories to let my audience see the real side of my "glamorous" life and understand everything I go through to bring a presentation to life.
#6. What's the role of the Instagram analytics for a company or brand which uses Instagram as a marketing channel?
Tracking the right Instagram analytics is essential for growing your audience and becoming more influential on the platform. That's why I asked Jenn what her opinion on this topic. Here's what she told me:
You need to be creating the content that your audience most wants and most engages with and your analytics will tell you which content this is.
Jenn: The analytics component is mandatory for anyone using Instagram for business or marketing. Being able to get the demographics of your audience will help you better understand who your audience is (who you're talking to) so that you can create more content surrounding their needs and preferences.

Analytics should be reviewed regularly and tracked for not only short term data but for long term trends. Knowing when your slow times are if you have seasonal audiences or other factors, will help you plan for those lulls with various campaigns to maximize your exposure and maintain momentum.
#7. What is your advice for someone wanting to build influence on social media?
Some of you probably look at Instagram influencers and wonder how they do it or how they manage to be in top. Jenn told me the two important things you have to do and I share them with you:
1. Be authentically yourself
2. Have an opinion
Jenn: Stop trying to be like anyone else in any way. Just be you, whatever that means. You'll attract a stronger more loyal following when you embrace the things that make you unique and when you own your thoughts and opinions.

The more you have an opinion, the more you stand out from the noise. And as you build that audience around these criteria, they will trust you and maintain that loyalty in a way that translates to conversions for clicks, sales, etc.
#8. What do you see as some of the most significant social media trends for 2019?
I asked Jenn what's the most significant social media trend that businesses should integrate it in 2019.
One of the biggest trends for social media in 2019 is more private conversations.
Jenn: People are moving away from public brand profiles to leave comments publicly. Instead, they are sending direct messages or chatting in groups where their comments are more private and the conversation is more personal.

These types of conversations are hard to measure with traditional metrics but should be considered as part of your branding and community development on social media. Another trend, which is continuing from 2018, is live video. And Instagram makes going live so easy so it's a great way to embrace this trend.

Show your true brand personality and be transparent through the use of live video. Aim to go live at least once a month and each broadcast should be at least 10 minutes.
Continue reading: 2019's Social Media Tactics From Top 10 Digital Marketers
#9. What is your biggest goal for 2019?
Jenn's story was one of the most beautiful I've ever heard. A story about ambition, courage, and determination.
It made me realize that nothing is impossible and that life always prepares you surprises. You have to be patient, and you'll be surprised.
There's only one question left: What is her biggest goal for 2019?
Jenn: My biggest goal for 2019 is to increase my revenue. I have big goals for this and I plan to incorporate both Instagram and Facebook ads into my strategy this year to better build the business revenue I'm aiming to achieve.
Final thoughts


If you really want something, you can do it.
Nothing is impossible, as long as you try it.
Listen your audience.
Take a look at your analytics, they will told you what you should do next.
Be authentically and tell your opinions.
Use more private conversations in 2019.
Start a free Socialinsider trial today and track your Instagram analytics! Report and analyze multiple profiles from one dashboard, quickly evaluate your Instagram performance based on the metrics that matter, understand your hashtags performance and get Stories analytics!
---
Related articles: