If you wonder which social media network is more efficient in terms of tactics, engagement, measurement, paid, and audience, Facebook is a leader. In 2017 these are the changes in terms of the most used platform:
Facebook increased from 93% to 94% in 2017.
Twitter declined from 76% to 68% in 2017.
LinkedIn dropped from 67% to 56% in 2017.
Instagram jumped from 44% to 54% in 2017.
YouTube declined from 53% to 45% in 2017.
Pinterest dropped from 40% to 30% in 2017.
Snapchat increased from 5% to 7% in 2017.
Today I'm going to present you some powerful Facebook stats your business cannot ignore in 2017:
General Facebook Stats
Facebook is the most important social network for marketers by a long shot. According to a Social Media Examiner study, 62% of marketers chose Facebook, followed by LinkedIn at 16%.
Before starting your campaigns, read these general stats to understand how the platform works and what are your users' needs and wants.
1. Facebook Monthly Active Users
According to the company's newsroom, Facebook reached a new milestone in June 2017 hitting 2 billion monthly users.
Compared with other social networks, Facebook is the largest social app regarding the monthly active users metric:
YouTube has 1.5 billion
WeChat has 889 million
Twitter has 328 million
Snapchat has an estimated of 255 million
LinkedIn has 500 million users from 200 countries
Demographics of Facebook
Find out in-depth Facebook demographics and understand which segment group is more active on Facebook.
2. Eight-in-ten online Americans now use Facebook
In the latest social media report, Pew Research Center claimed that Facebook is the most popular platform where "nearly eight-in-ten online Americans (79%) now use Facebook."
In the US, 83% of women and 75% of men use Facebook.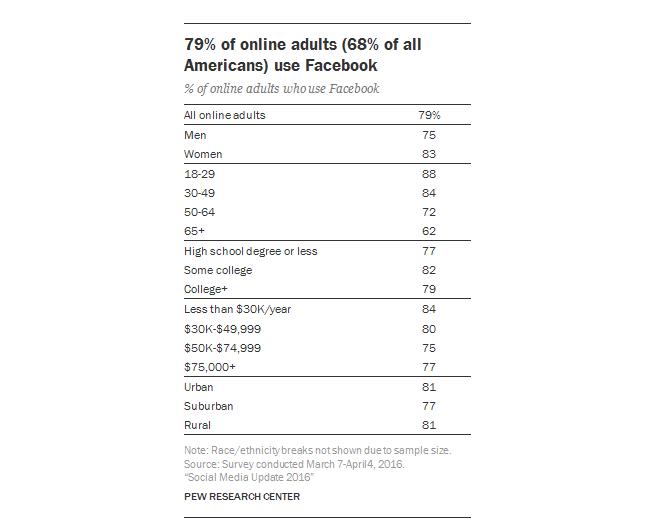 3. Young adults (18-29 years old) are the most representative on Facebook. People aged in 65+ are the least.
If your buyer persona is represented by people aged at 50+, then Facebook should be your primary platform for promoting your products or services. Older adults are joining with an increasing number on Facebook versus the other social networks.
Here's a breakdown per age for the Facebook usage:
18 - 29 age - 88%
30 - 49 age - 84%
50 - 64 age - 72%
65+ - 62%
There is a huge difference between the usage of older adults (65+ age) on Facebook compared with other social networks:
10% use Twitter
20% use LinkedIn
16% use Pinterest
Less than 10% of 50+ year old use auto-delete apps like Snapchat
4. 72% of Facebook users finished more than college
When it comes to education, Facebook has the highest educated audience, 77% of their active users have a high school degree or less. In the US a breakdown per education is represented by:
77% have a high school degree or less
82% have some college education
79% finished more than college
Facebook Usage Stats
Get a preview of how people use Facebook, how businesses advertise and how B2B marketers act on this platform. Here are some stats about the Facebook usages:
5. 65 million business pages are on Facebook
Most of the pages are free, only four million businesses are promoting their products or services on Facebook.
In Q4 2016, Facebook told investors that there are now 65 million local businesses using their pages to connect with customers.
According to a study from Locowise, more and more people are using Facebook to contact brands, and in 2016 42% of customer service responses happened during the first 60 minutes.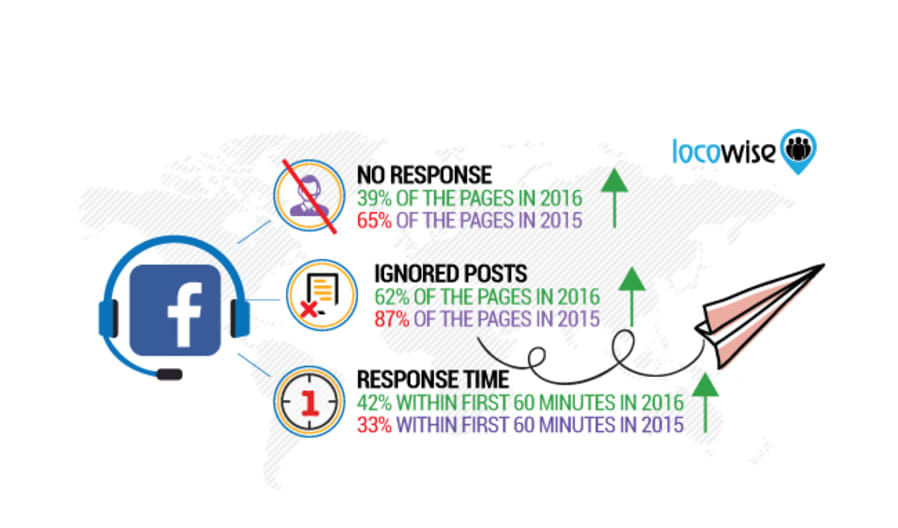 6. Average time spent by the US people on Facebook - 35 minutes per day
Adweek noted that the average person spent:
7. On average, US people access Facebook 8 times per day
According to comScore, Facebook is again out in front concerning engagement and how 'addictive' the platform is it for its users. Throughout the day, people access:
Facebook - 8 times per day
Instagram - 6 times/day
Twitter - 5 times/day
8. 312k status updates are shared on Facebook every minute
Every 60 seconds on Facebook, there are:
384 new signups
128 new mobile users
160k messages are sent through the app
312k status updates
53k shared links
106k friends requests
145k uploaded photos
9. Facebook has passed LinkedIn as the most important platform for B2B marketers in 2017
According the the latest study from Social Media Examiner, Facebook dominates in the B2C space, and in 2017 43% of b2b marketers select Facebook as their number one choice, while LinkedIn has 37%.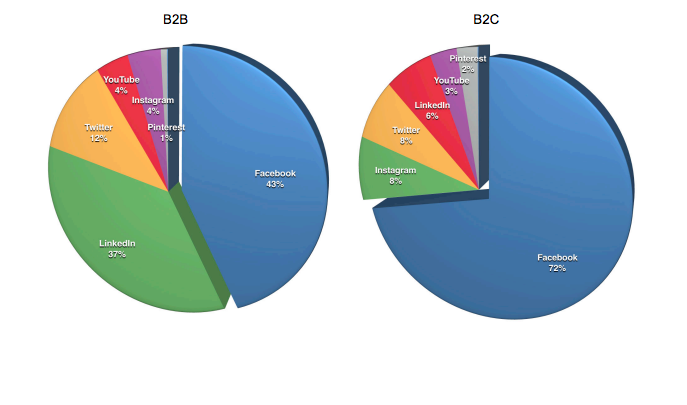 Facebook Mobile Stats
Mobile is important especially for the customer care. Read how Facebook on mobile evolves and how to integrate this channel into your daily activities.
10. US people spend 5 hours per day on mobile
Compared with 2015, in 2016 on average the US consumers increase their time spent on mobile devices with 20%.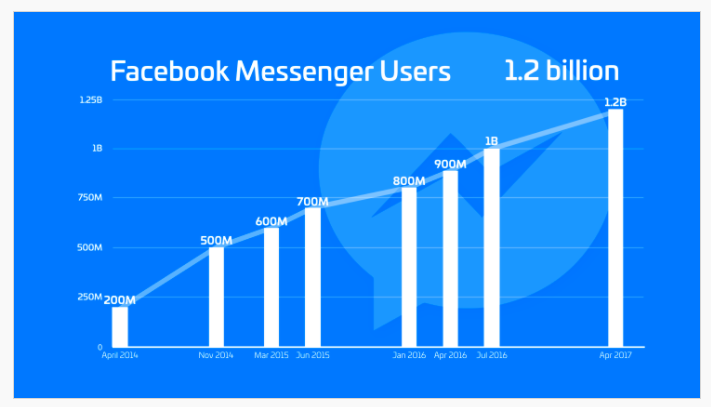 Make sure your online presence, in general, is responsive because the US people spent 5 hours per day on mobile. 50% of time spent is in social, messaging, and entertainment applications.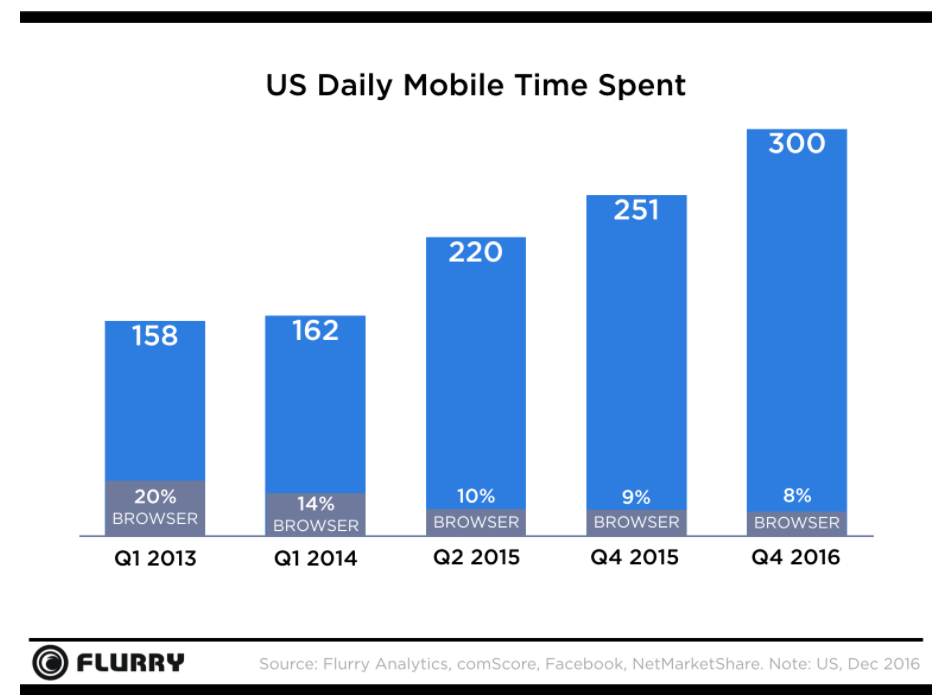 11. Facebook messenger has 1.2 billion monthly active users
Facebook messenger is the most popular SMS replacement in the Western world with an impressive active user base of 1.2 billion. Facebook messenger offers for brands the opportunity of sponsored messages and a carousel of ads in the inbox without interrupting the user experience.
How could you do that?
One creative for some brands is by creating chatbots for improving the customer care. KLM is doing a great job using the chatbot and human interaction for helping their customers to find the flights back. On average, the KLM chat responds to 13 messages per minute during peak times, and they increase the speed of their responses by 20%.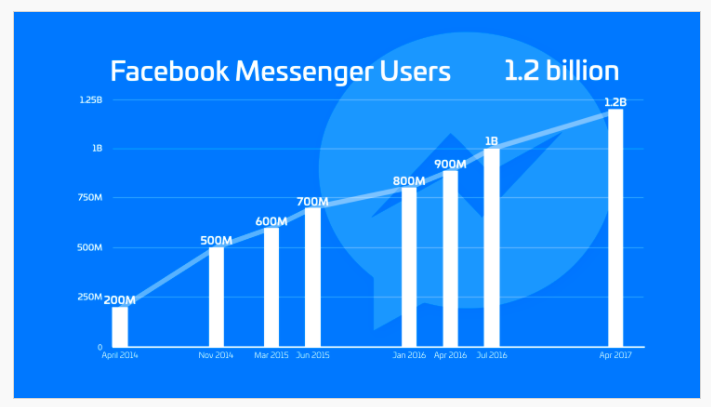 Facebook Video Stats
Marketers should consider 'reality planning' rather than 'communication planning.' In a world where more and more traffic is coming from video and brands got a 6.3% engagement rate for branded Facebook videos, use these stats to affirm your decisions for Facebook video content and why it's important for your digital strategy overall.
12. 100 million hours of videos are watched every day on Facebook
Basically, Facebook is eating the Internet, becoming a serious competitor for Youtube. And it has all the tools to attract more and more people to become a compelling video platform.
If you didn't invest time and energy in digital video, you should reconsider your strategy. Digital video is booming.
According to Cisco, traffic from online videos will constitute over 80% of all consumer internet traffic by 2020.
13. 44% of SMB plan to spend money promoting their business through Facebook videos
Facebook the most impactful social media network. 75% of professional marketers and SMB owners agreed that video marketing has a direct impact on their business, but still, 1 in 4 marketers and SMB owners are behind their competition when it comes to digital video.
14. 85% of Facebook videos are watched without sound
According to Digiday, brands should reconsider their strategy when creating videos for Facebook because 9 in 10 of people watch videos without sounds. Marketers should create content tailored to the Facebook platform because:
15. People spend more than 3x more time watching a Facebook Live video compared with non-live content
According to Facebook Newsroom, people find out more exciting the live videos versus the regular videos, because they are looking for genuine, unique, spontaneous, instant content, and not edited content. That's why Facebook live videos are watched 3x longer than regular videos.
16. People are 1.5x more likely to watch video on mobile than desktop
According to Facebook stats:
people are 1.5x more likely to watch video on smartphone than computers
in 2017 watching online videos has increased with 71%
millennials are 1.35x more likely than older generations to say that it's easier for them to focus when watching online videos.
17. One-in-five videos on Facebook are live streams
Facebook offers a new way to create connections, an easy way to share multi-sensory, collective and simultaneous experiences. 20% of Facebook videos are live streams.
When Facebook launched its live streaming video platform 'Facebook Live', The New York Times noted:
'These videos represent a potentially transformational form of journalism because they let stories unfold organically, live, and with the audience able to change the experience.'
Facebook Advertising Stats
Measuring results, not seconds.
Every marketer wants to benchmark its marketing actions on Facebook to get more value of every dollar or minute spends on this platform. Measuring is the key to understand if it's a suitable platform for your business. Here are some stats for Facebook advertising:
18. 74% of add recall is achieved in 10 seconds of Facebook ads campaigns
Once you decide that Facebook is your game, then video content on Facebook should be a primary task for every social team.
Facebook partner up with Nielsen and they conducted a study to define the value of a Facebook video. In fact, the researchers discovered that 74% of the value of a Facebook video ads happens in the first 10 seconds, and data show that people who watch under three seconds of the video ad created up to 47 percent of the total campaign.
This study offers great value for marketers because based on their insights they should experiment with shorter and creative video ads to drive value for their brand.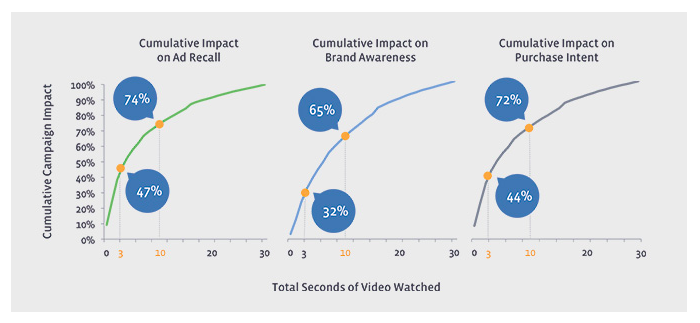 19. 93% of marketers use Facebook advertising regularly
But many marketers are unsure about their Facebook marketing actions. A study from Social Media Examiner shows that a significant 40% of marketers don't know if their Facebook marketing is working and 53% have seen declines in their Facebook News Feed exposure.
The same study confirms that Facebook advertising dominates because 93% of marketers use Facebook advertising regularly where three million business actively advertise on Facebook, and 70% of them are outside the US.
20. The Average Click-through Rate in Facebook Ads across all industries is 0.90%
If you struggle with your the click-through rate in Facebook ads, Wordstream gathered some data across eighteen industries: Apparel, Auto, Beauty, Consumer Services, Education, Employment & Job Training, Finance & Insurance, Fitness, Home Improvement, Healthcare, Industrial Services, Legal, Real Estate, Retail, Technology, and Travel & Hospitality and the average Click-through Rate is 0.9%.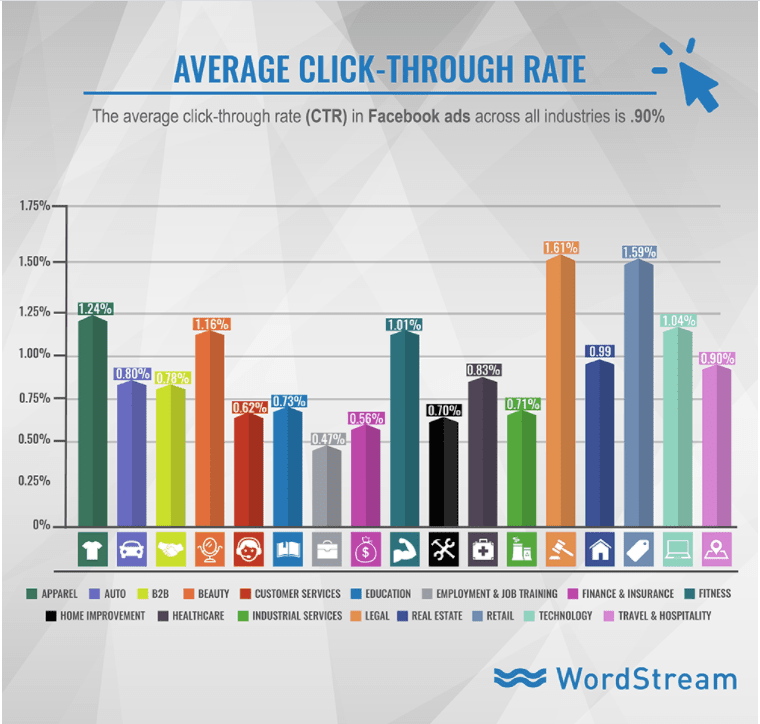 21. The Average Cost Per Click in Facebook ads is 1.72%
The same analysis from the Wordstream reveal that the average Cost Per Click in Facebook Ads is 1.72% for the Apparel, Auto, Beauty, Consumer Services, Education, Employment & Job Training, Finance & Insurance, Fitness, Home Improvement, Healthcare, Industrial Services, Legal, Real Estate, Retail, Technology, and Travel & Hospitality industries.
---
Measure your Facebook results against your top competitors with Socialinsider.
Start with a 7-day account and conduct competitive analysis in minutes.
---
Start a free Socialinsider trial and get in-depth, easy to read graphs displaying your Facebook insights like
followers' evolution, average engagement rate per post, reach, impressions and history data. Research your competitors on Facebook and optimize your page's growth.
---
Related articles: